My girl Ina Garten has never let me down.  Literally, I've never made a recipe of hers that I didn't love.  Plain and simple: she is my Boo.  So, when I returned from a whirlwind trip at 1am, and was having dinner guest that same night, I knew what needed to happen…a Roasted Lemon Thyme Chicken.
I grabbed my Boo's cookbook – Barefoot Contessa at Home – and went to work.  The recipe calls for a capon, which she delicately describes as a rooster that has been altered to become a hen.  Basically, they are larger than a typical chicken (about 8-10 pounds) and are great to serve if you're having a few friends over for dinner.  My grocery store didn't have the capon, so I substituted it for 2 whole chickens.
The recipe says to salt your chicken and wrap it in plastic wrap for up to 2 days.  Umm, I don't have 2 days let alone 2 hours.  So, I salted my birds and let them sit for about an hour.
While waiting I melted my butter, cut up my carrots & lemons, and sliced my onions.  I followed the recipe almost exactly: put the birds in the oven and 90 minutes later, was rewarded with the most heavenly smell wafting through my house.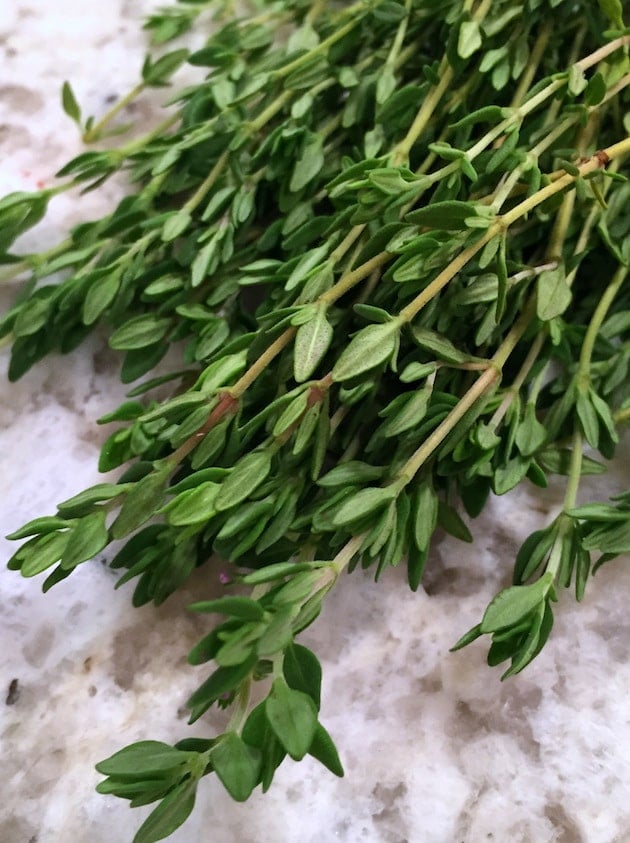 You may be interested to know the rest of my down and dirty dinner menu that night, it included; White Wine Gravy (see recipe below), the most scrumptious Roasted Fall Vegetables, a delightful Autumn Salad and a Salted-Butter Apple Galette with Maple Whipped Cream.  What can I say – this girl is on fire!!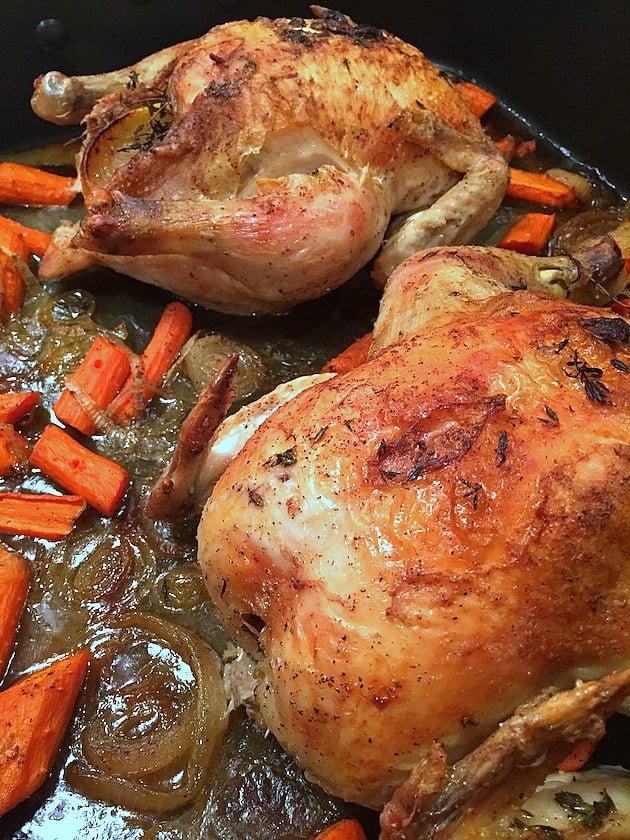 There are so many wonderful things about this roast chicken recipe… It doesn't require a fridge full of ingredients, it's quick and easy to assemble, and the meat turns out tender and juicy while the skin stays golden brown and crispy.
What are you waiting for??… Invite some friends over and get cooking!
Roasted Lemon Thyme Chicken
So many wonderful things about this roast chicken recipe…it doesn't require a fridge full of ingredients, it's quick and easy to assemble, and the meat turns out tender and juicy while the skin stays golden brown and crispy.
Ingredients
2

roasting chickens, 5-6 pounds each

salt & pepper

1

large bunch of fresh thyme

2

lemons,

quartered

4

tablespoons

butter, melted

(1/2 stick)

2

large yellow onions

thickly sliced

1

pound

carrots cut diagonally into 2-inch chunks
Instructions
Preheat the oven to 425 degrees F.

Remove the chicken giblets. Rinse the chickens inside and out. Remove any excess fat and leftover pin feathers and pat the outside dry.

Liberally salt both chickens and let sit for 1 hour in the fridge. Pat the chickens with paper towel to remove excess moisture.

Sprinkle inside the cavity with salt and pepper then add the thyme, and quartered lemon.

Brush the outside of the chickens with 2 tablespoons of butter and sprinkle with salt and pepper.

Tie the legs together with kitchen string and tuck the wing tips under the body of the chickens. And place in the roasting pan.

Toss the onions, carrots with the remaining melted butter, season with salt and pepper and sprinkle around the chickens in the roasting pan.

Roast the chickens for 1 1/2 hours, or until the juices run clear when you cut between a leg and thigh.

Remove the chickens and vegetables from the oven. (If the vegetables aren't browned, transfer the chickens to a platter and cover with aluminum foil. Return the vegetables to the oven to cook while the meat rests.)

Allow the chickens to rest for 20 minutes, carve and serve on a platter it with the vegetables.
Because I'm a saucy girl, I cannot pass up the opportunity to make a rich, silky gravy from the pan juices of these chickens.  And keeping with our quick and easy theme – it can be whipped up in about 10 minutes.
White Wine Gravy
Rich silky gravy made from pan juice and white wine
Ingredients
Pan juices from the roast chicken and veggies

2

tablespoons

flour

2

tablespoons

room temperature water

1/2

cup

white wine
Instructions
Pour the pan juices into a sauce pan and cook on medium high.

In a small mixing bowl add 2 tablespoons of flour and 2 tablespoons of room temperature water and stir together. The mixture should be a little runny.

Slowly whisk the flour mixture into the simmering pan juices. Keep whisking until there are no lumps then let cook for 3-5 minutes. The color of the gravy should darken a bit as the flour cooks.

Slowly whisk in ½ cup white wine and let simmer for another 2-3 minutes. You may need to add a little salt and pepper depending on your taste.