This Parmesan Crusted Chicken is a really easy recipe that's perfect for a weeknight dinner but also so delicious you could serve it for company. The chicken is really tender and the coating adds a tasty cheesy garlic flavor.
There's a reason this is one of the most popular recipes on Taste And See - don't take my word for it... try it out for yourself or pin it for later!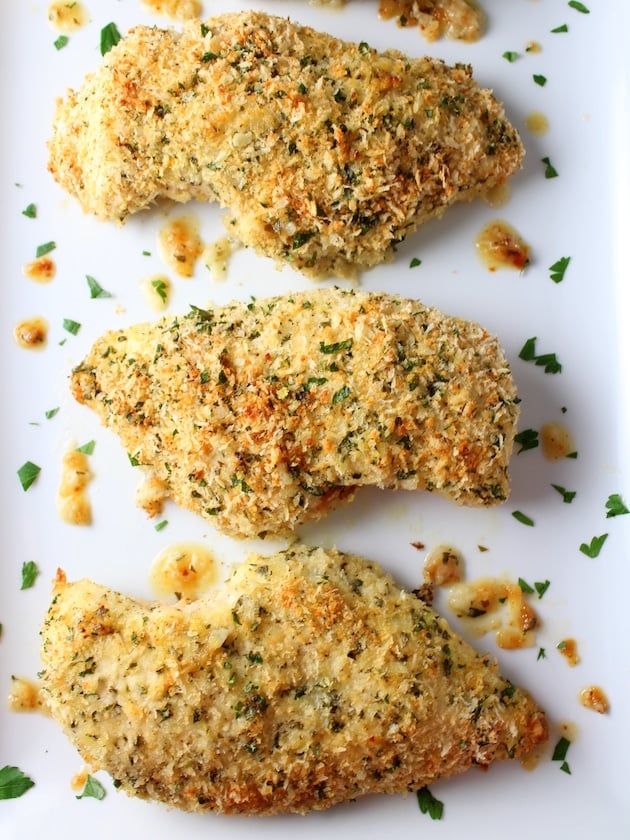 This post contains affiliate links, which means we'll earn a small commission if you buy the linked products, at no extra cost to you.
Jump to:
The most delicious Parmesan Crusted Chicken Recipe!
I know what you want - it's what we all want!  More options for delicious, quick, and easy weeknight dinners – right!  This baked Parmesan Crusted Chicken Recipe totally fits the bill.  It's easy enough to make for a quick weeknight dinner but also elegant enough to serve for company.
I didn't really think about it, but I guess in a sense I'm re-gifting this recipe. It comes straight from the plains of Oklahoma. When we lived there many years ago our dear friends Todd and Allison would make this for us.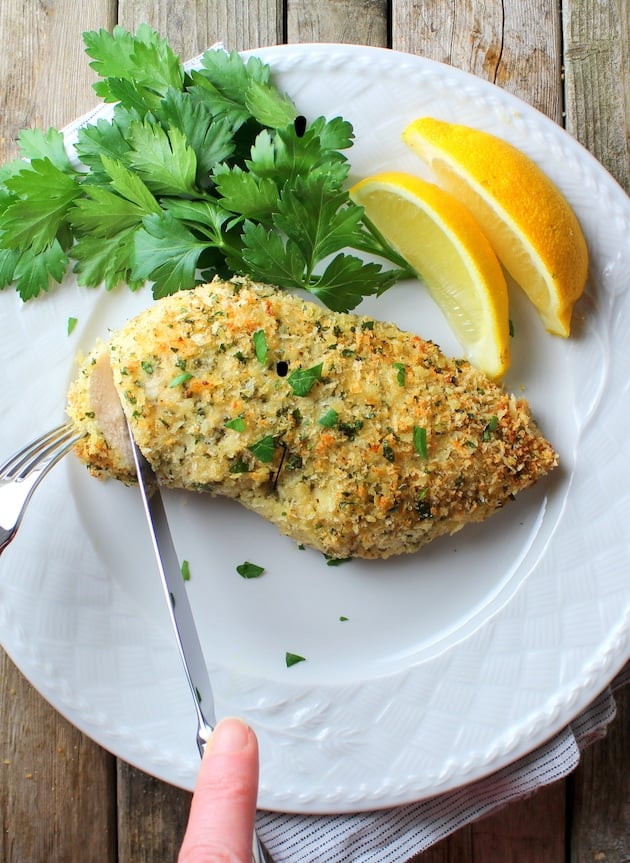 I remember it vividly… Jojo greeted us at the door doing the pee-pee dance and maybe letting a little slip (we eventually moved the greeting outside - you know, less clean up that way). I should clarify, JoJo was their adorable Pomeranian.
The most delectable smells of garlic and cheesy goodness waffle through the air. Todd putting the finishing touches on the Atomic Salad (now that's a recipe you want for sure). Allison entertained us, getting us drinks and offering to help Todd (praying he didn't take her up on it). She's not so much for cooking but she can set a mean table and make you laugh - a lot. Love that girl!
Then the moment we'd all been waiting for…sitting down to the most mouthwatering meal anyone could ask for. What can I say we've had some great times with good friends and always enjoyed wonderful food. Thanks, Todd and Al!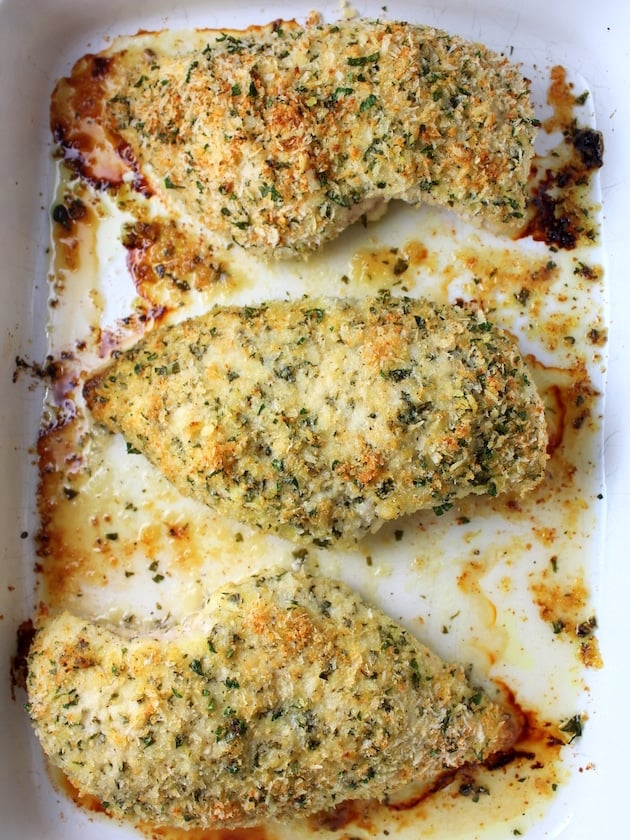 As you can tell this Baked Parmesan Crusted Chicken holds a special place in my heart and in my belly.  It's a really simple recipe but super tasty.  So if cooking isn't your jam, this recipe will be.  
It's so easy - you literally mix, dip and bake. The chicken comes out golden on the outside and tender and juicy on the inside. I love the fact that you get that nice crusted chicken without having to fry it!! 🙂
How to make Parmesan Crusted Chicken:
There are not a whole lot of ingredients or steps involved to put this together.
You basically mix your breadcrumbs, Parmesan, fresh parsley, salt and pepper in a shallow pie dish (or plate).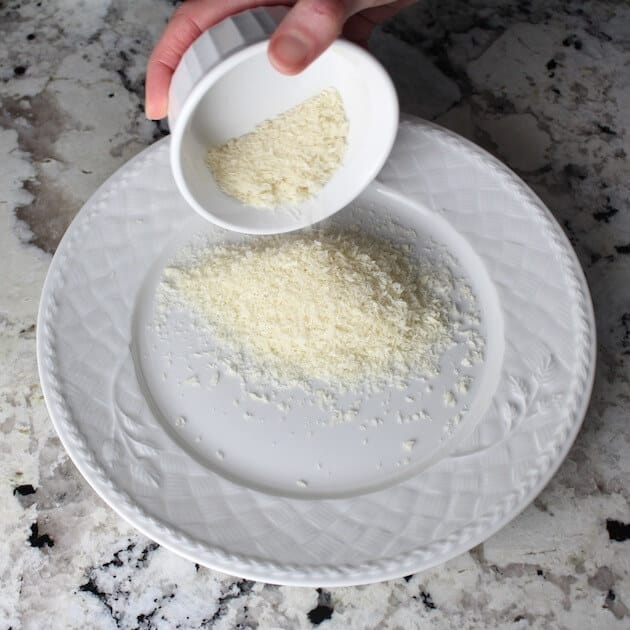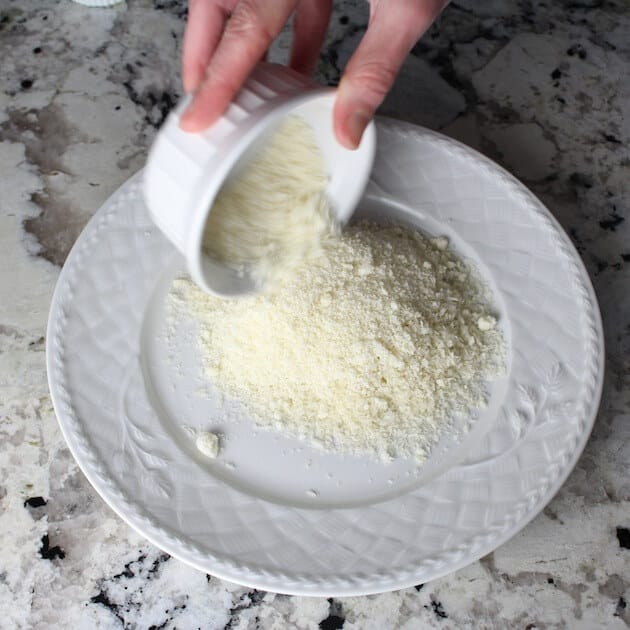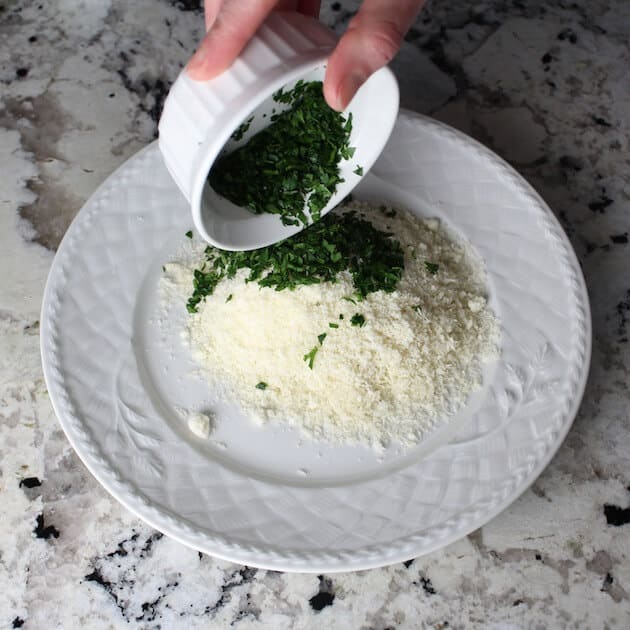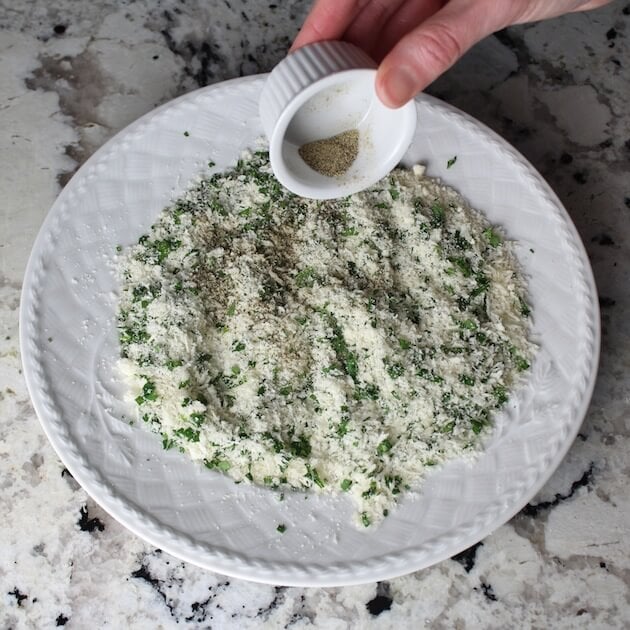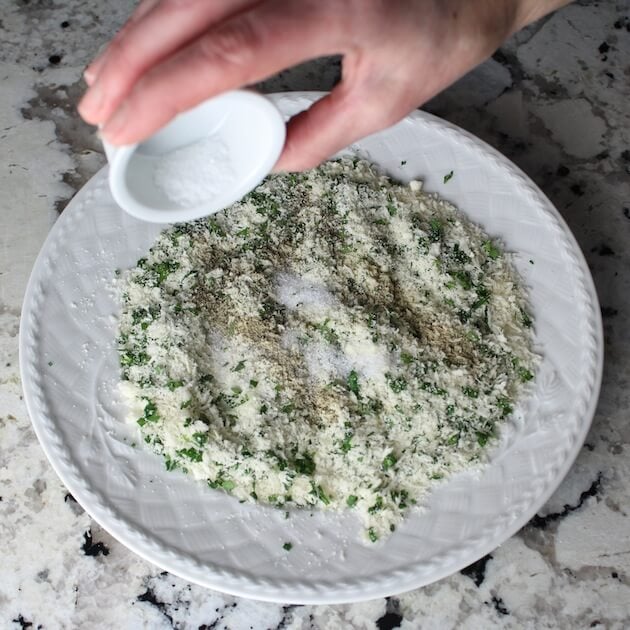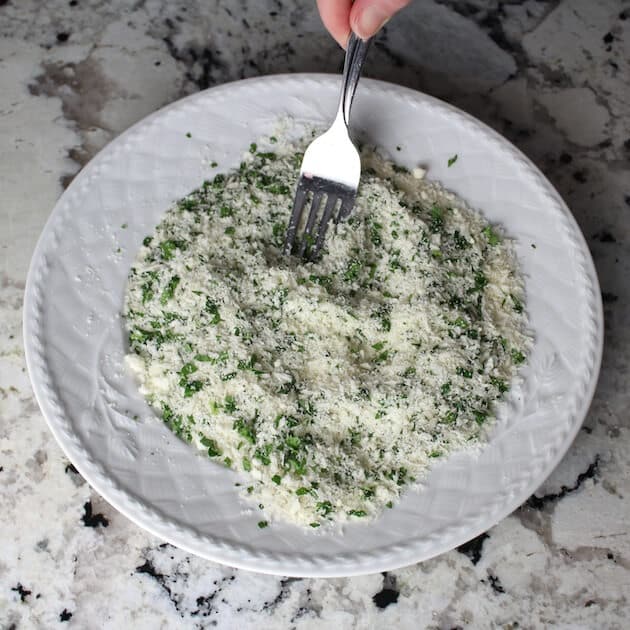 Then in another dish mix the melted butter, fresh lemon juice and minced garlic.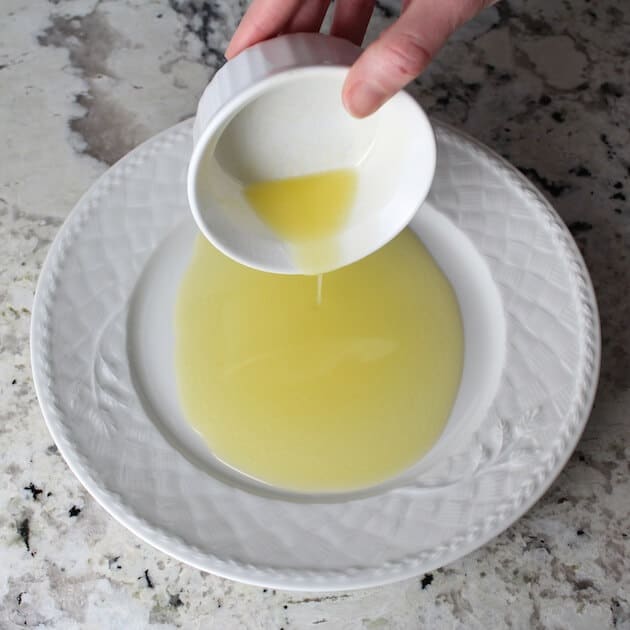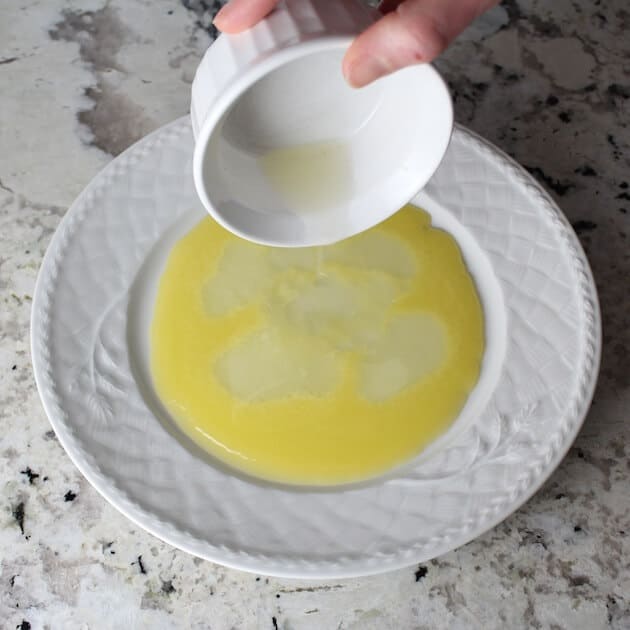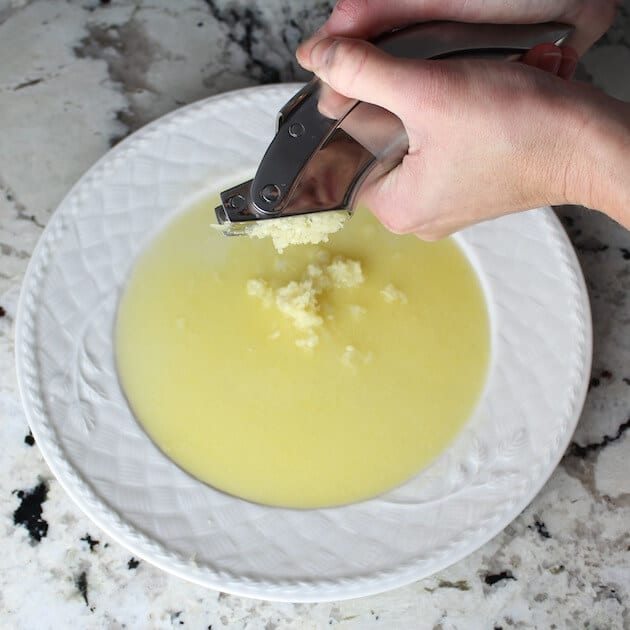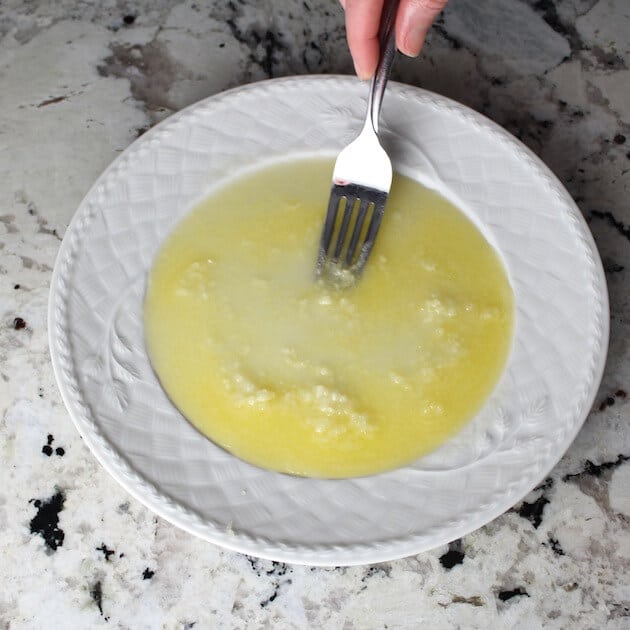 Dip both sides of your chicken breasts in the butter dish, then in the breadcrumbs.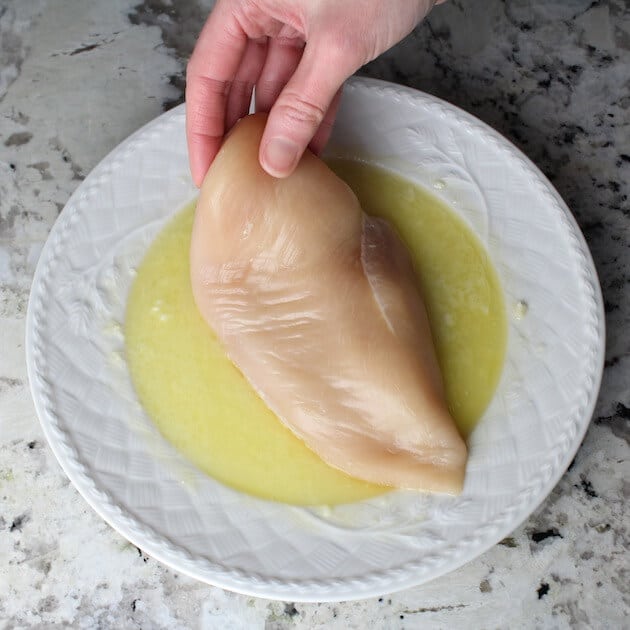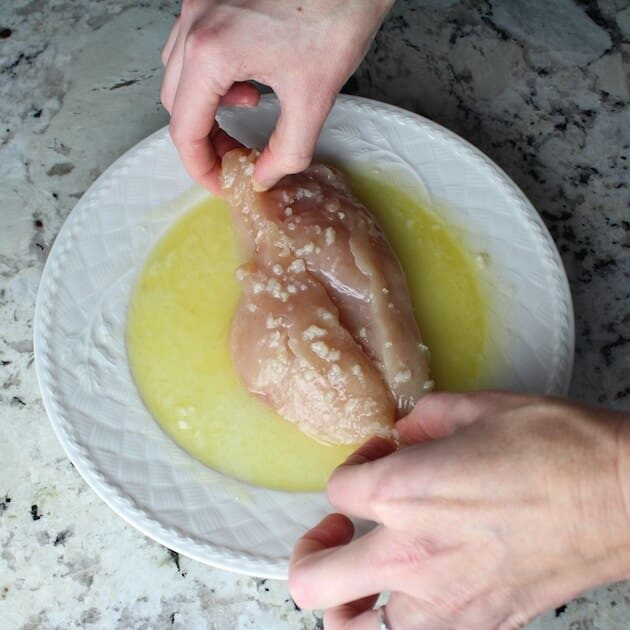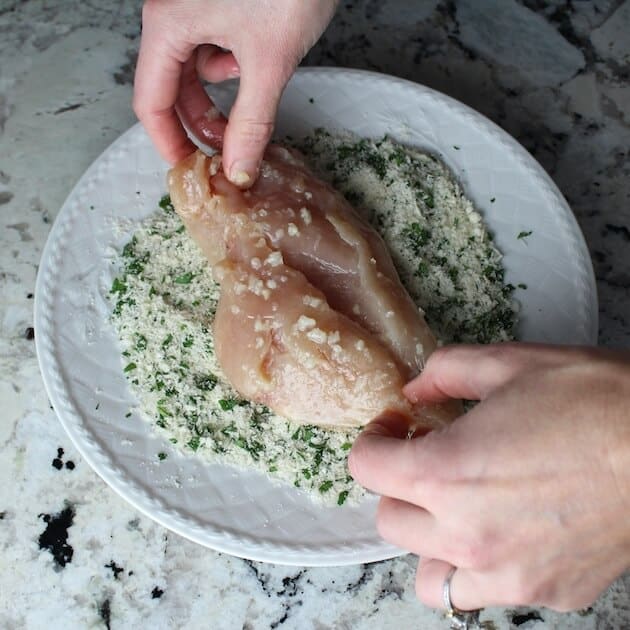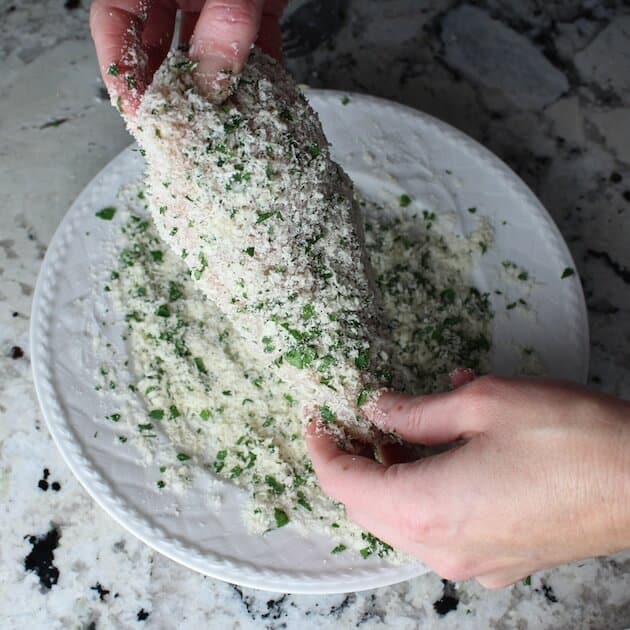 Bake on 350 for 35-40 minutes in a 9x13 baking dish... making sure that the internal temp reaches 165F with a handy digital meat thermometer...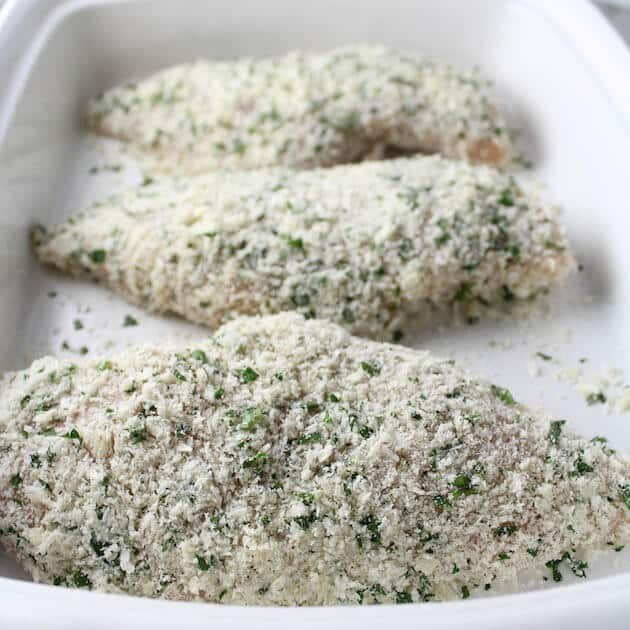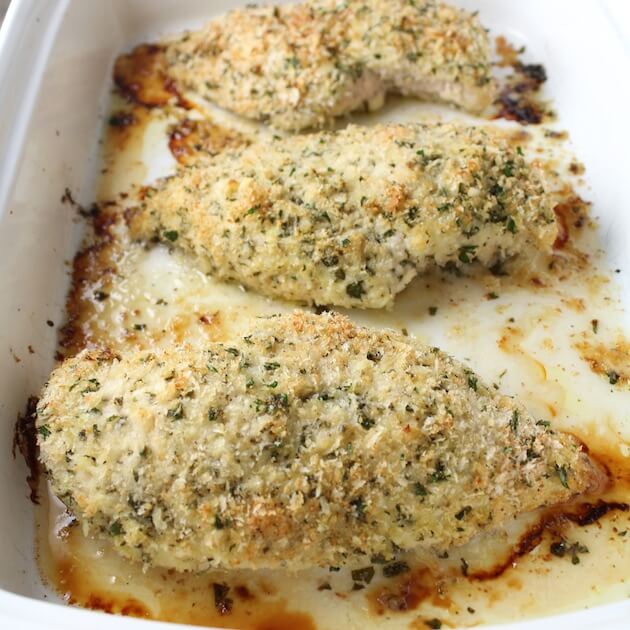 ... and DEVOUR!!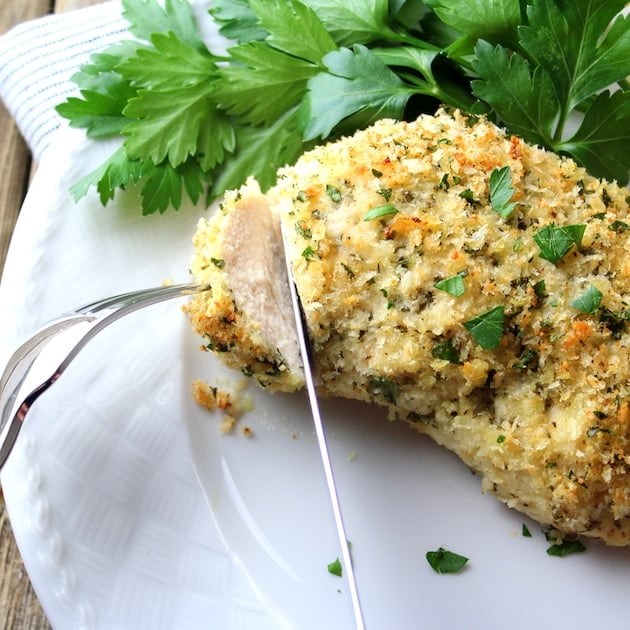 ... And that's all there is to this delicious Parmesan Crusted Chicken. This a simple recipe that's easy and something the whole family will enjoy! I'd suggest pairing this parmesan chicken recipe with this tasty side dish... low carb Brussels sprouts with balsamic glaze.
So, now I'll let you make it and experience it for yourself... get ready, this one is worthy of the weekly rotation!
Yield: 5 servings
Parmesan Crusted Chicken (Oven Baked)
This is such an easy recipe - perfect for a weeknight dinner. The chicken is cheesy, moist and so delicious.
Ingredients
5 boneless skinless chicken breasts trimmed of any fat
1 cup panko bread crumbs (or gluten-free bread crumbs if desired)
⅔ cup grated Parmesan cheese
3 tablespoons minced parsley
1 teaspoon salt
¼ teaspoon pepper
¼ cup melted butter
3 tablespoons fresh lemon juice
2 garlic cloves, minced
Instructions
Preheat oven to 350 degrees.
Mix the bread crumbs, Parmesan cheese, parsley, salt, and pepper together in a shallow pie dish or a deep plate.
Mix the butter, lemon juice and garlic together in another shallow pie dish or deep plate.
Dip both sides of the chicken in the butter mixture - coating it well.
Quickly, place the chicken on the bread crumb mixture and toss the crumbs up over the edges and top of chicken breast using either your hands or a spoon. Then gently press the chicken so the crumbs on the bottom side stick to the chicken. Now turn the chicken over and again press that side into the crumbs.
Place chicken in 9x13 baking dish and repeat steps 3 and 4 with the rest of the chicken. Depending on the size of the chicken breasts you may need to use additional pans.
When all chicken is prepped, bake for 40 minutes or until a meat thermometer reads 165 degrees when inserted in the thickest part of the chicken breast.
Notes
If the butter and lemon juice mixture starts to congeal, microwave for 20 seconds.
Be sure to use grated Parmesan cheese, because shredded cheese won't stick to the chicken as nicely.
For a gluten-free version just swap out the Panko bread crumbs for your favorite gluten-free bread crumbs!
Nutrition Information
Yield
5
Serving Size
1
Amount Per Serving
Calories

426
Total Fat

18g
Saturated Fat

9g
Trans Fat

0g
Unsaturated Fat

7g
Cholesterol

138mg
Sodium

986mg
Carbohydrates

10g
Net Carbohydrates

9g
Fiber

1g
Sugar

2g
Protein

44g
This nutrition card uses an estimate provided by an online nutrition calculator. This estimate is not a substitute for a professional nutritionist's advice!
I would love to connect with you! Leave a comment and follow me on Instagram, Twitter, Facebook, & Pinterest!
Looking for more amazing chicken recipes?
Grilled Lemon Rosemary Chicken Thighs
Shredded Mexican Chicken (Instant Pot)
Ranch Chicken Broccoli Casserole