Pesto Potato Salad with Peas – who would a thunk it???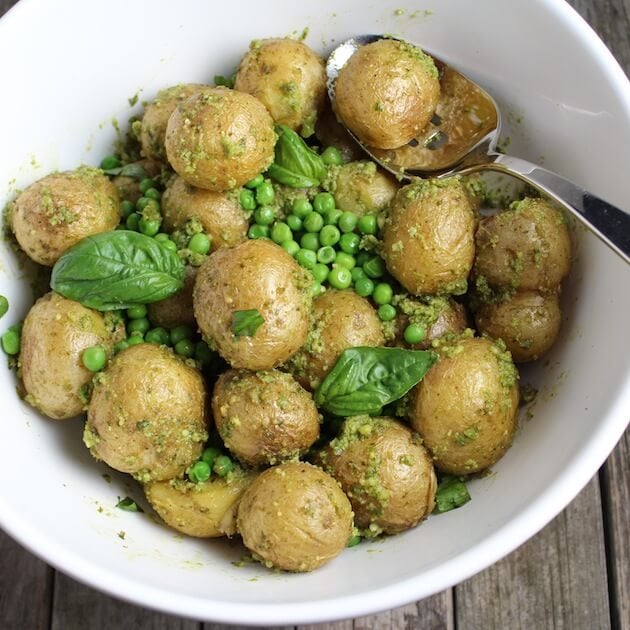 So as you may well know I'm on a mission to set you up for success with this year's Super Bowl menu!!?? I mean, no pressure people but it's Super Bowl 50… kind of a monumental one…so go big or stay home and eat oatmeal by yourself!! JK You should definitely order Chinese cause all the pizza places will be on like a 3-hour delivery backup. Back to my menu – I'm so distractable. Squirrel! SEE!!!! How do I get anything done???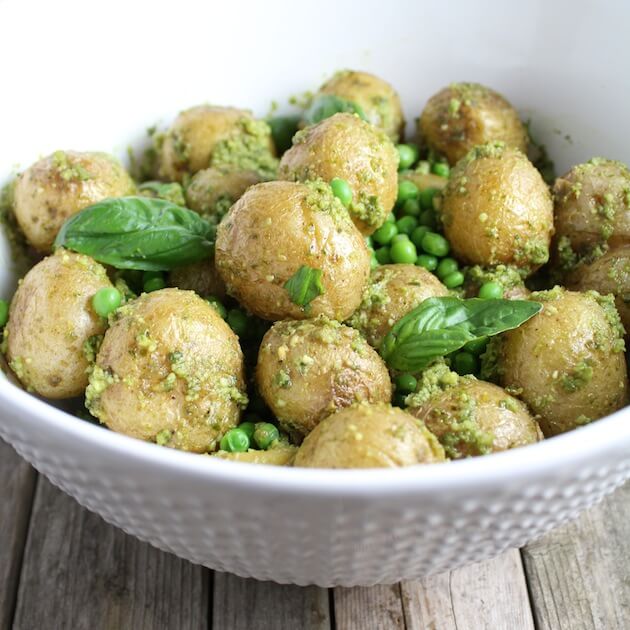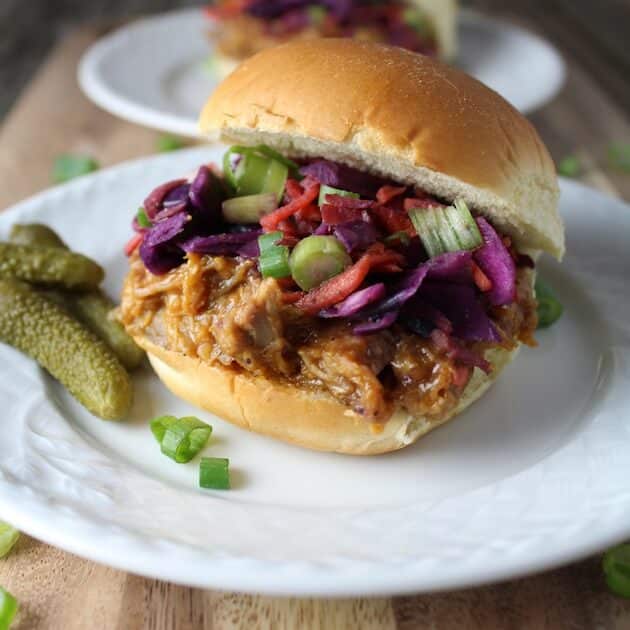 Anyways, BBQ rocks!! And I think you should totally make BBQ Pulled Pork Sliders with homemade sauce and Tangy Warm Cabbage Slaw for your Super Bowl Partay this year. It is out of this world – crazy-great, slam the oven door, good! Not. Even. Joking. I've served them a bunch of times and they are definitely a homerun, slam-dunk and touchdown all in one.⚾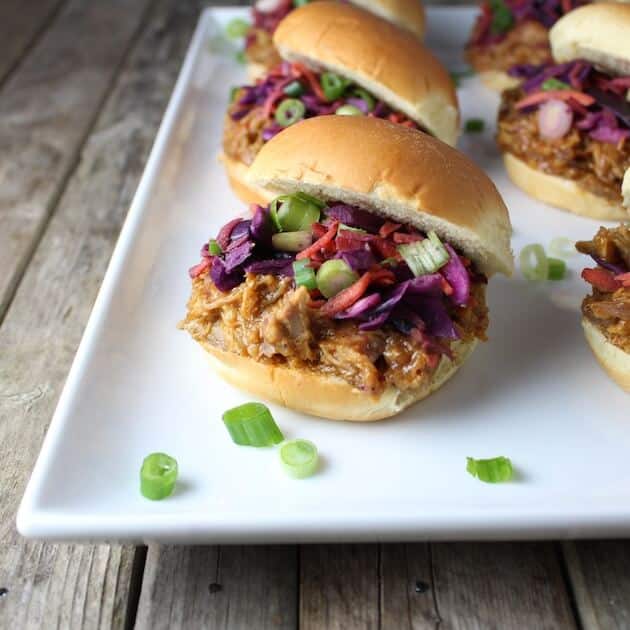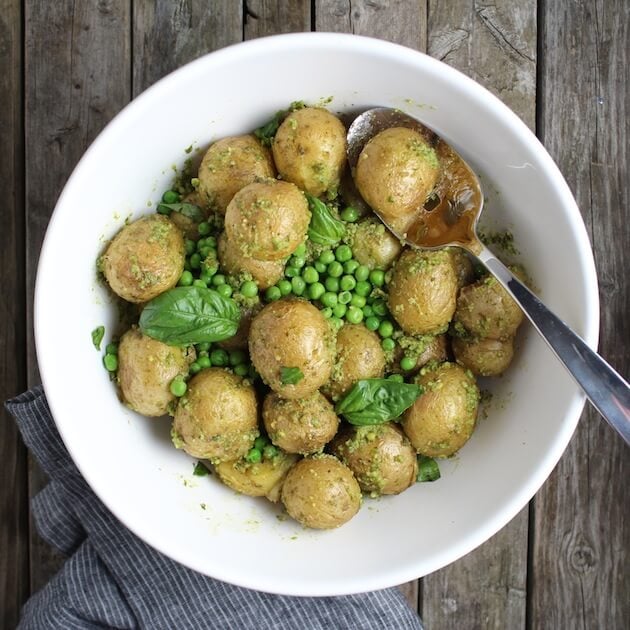 Now that we've settled that – what to serve them with? I'm so glad you asked, 'cause I'm your girl when it comes to planning food menus!! I love figuring out food pairings! It's like putting together an outfit, but for your plate. Awww, plates have feelings too.
I did a bit of thinking and looking, and I found the most perfect potato salad for this SB50 extravaganza…Pesto Potato Salad with Peas!! Isn't that fun to say? Not only is it fun to say BUT it is lip-smacking good.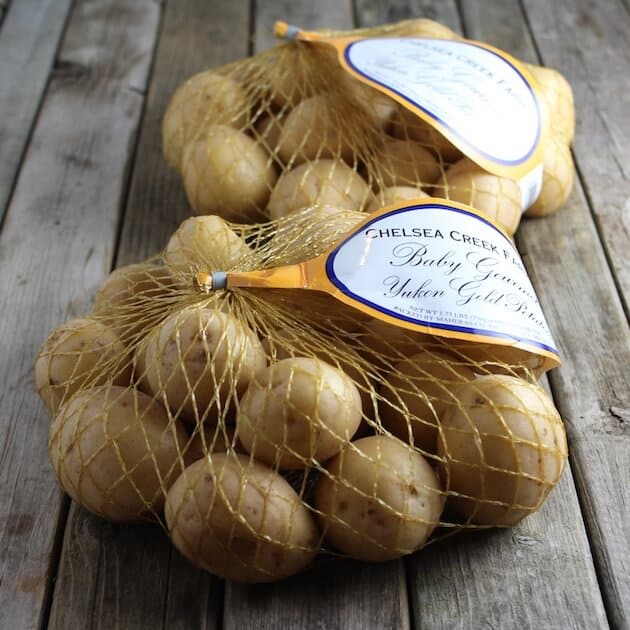 You basically steam the baby Yukon gold potatoes in a bit of butter on the stove for 30-40 minutes and when they're finished fold in the pesto and peas. It is simple, super easy and amazingly exquisite. This method of steaming the potatoes came for my boo Ina Garten and I have not turned back since. It is THE most fool-proof way to have stress-free, super-easy, with no babysitting, delectable potatoes every time. Truth talkin' people – I don't play when it comes to food!
This Pesto Potato Salad is the perfect side dish for any menu - especially your BBQ Super Bowl menu starting line-up. Stay tuned for more game-changing, finger-licking side dishes that will rock your football socks off!!!✨
Or if it's no longer football season, I love pairing this potato salad with my Parmesan crusted chicken recipe!
Yield: 10 servings
Pesto Potato Salad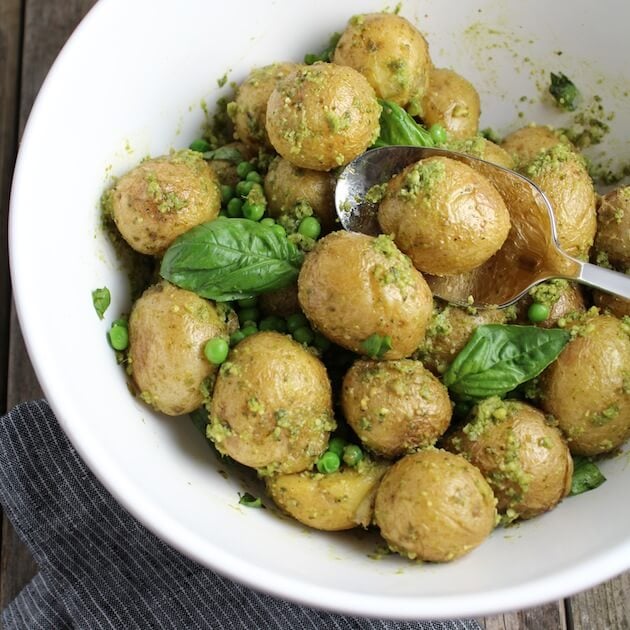 Serve this yummy potato salad warm or at room temperature.
Ingredients
4 tablespoons unsalted butter, (½ stick)
3 pounds small Yukon gold potatoes, skins scrubbed
2 teaspoons kosher salt
½ teaspoon freshly ground black pepper
½ cup pesto, (homemade or store-bought)
½ cup frozen baby peas
Instructions
Melt the butter in a large heavy-bottomed pot. Add the whole potatoes, salt, and pepper and toss well. Cover the pot tightly and cook over low heat for 30-40 minutes, until the potatoes are just tender when tested with a fork.
Meanwhile, defrost the peas in a colander. Then cook them in the microwave for 1 minute and set aside.
From time to time, shake the potatoes without removing the lid to prevent the bottom ones from burning. Turn off the heat and allow the potatoes to steam for another 5 minutes. Be careful to not overcook them. Add in the pesto and peas, toss and serve warm or room temperature.
Garnish with fresh basil or parsley.
Nutrition Information
Yield
10
Serving Size
5 ounces
Amount Per Serving
Calories

270
Unsaturated Fat

0g