Thanks to Pepperidge Farm® for sponsoring this Sprouted Grain Chicken Pesto Sandwich... all opinions, recipes, and photos are my own!
This Sprouted Grain Chicken Pesto Sandwich is a new and healthy take on a classic!✨ We're taking chicken salad to a whole notha' level with some sun-dried tomatoes, basil pesto, Greek yogurt... and this new Pepperidge Farm Harvest BlendsTM bread!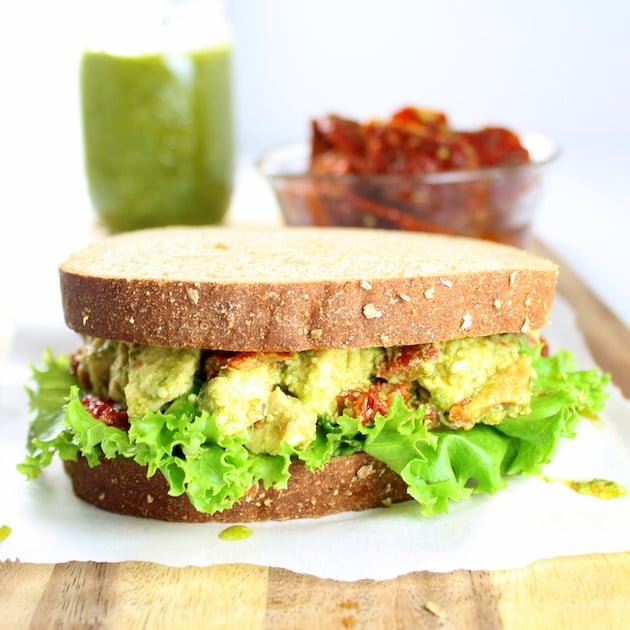 As I've mentioned before I really don't like to be wasteful. This extends into most areas of my life, and especially where food is concerned. This tendency/borderline obsession can be difficult to manage when you're testing new recipes, and making multiple dishes weekly to post on your food blog. #foodbloggerproblems✌️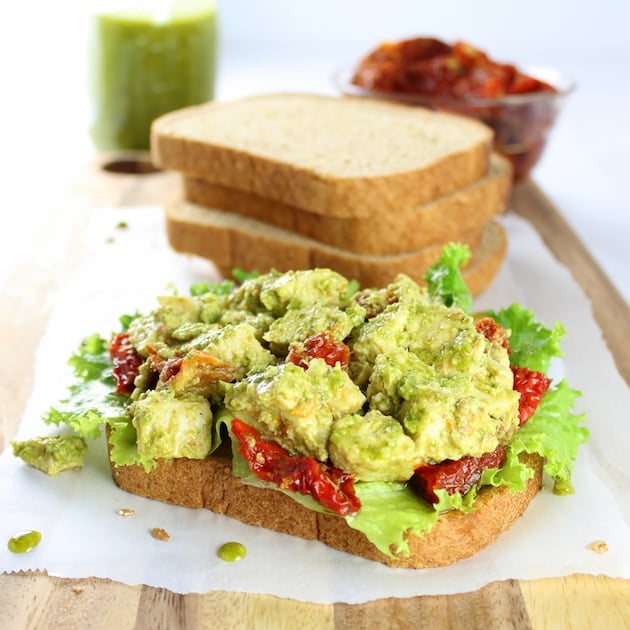 I make these recipes that serve 4-6 people and it's just me and the B man to eat them. So our options are: freeze them, eat tons of leftovers, or give the food away.
That first option isn't really an option anymore since both my refrigerators' freezers are completely full. I guess I could always invest in a large standalone coffin-sized freezer but that's just buying me time and essentially prolonging the inevitable of throwing it all away. Since frozen food still has a shelf life and two people can only eat so much. Plus this might scare my neighbors.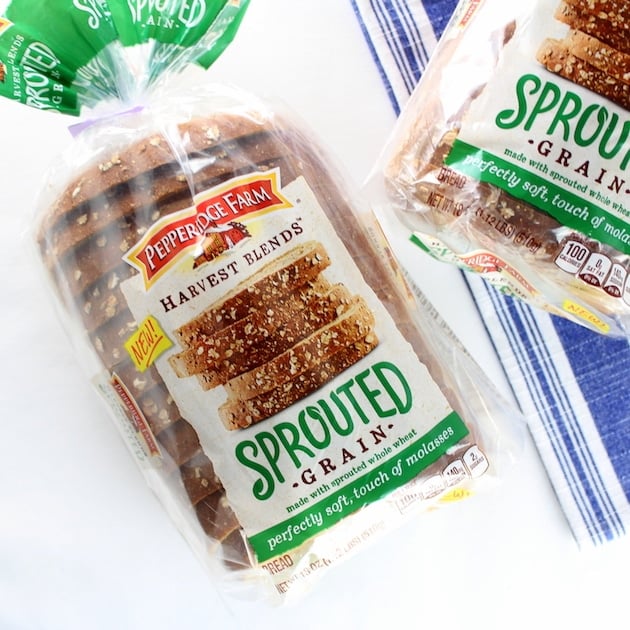 The second option is not necessarily that feasible either 'cause frequent overeating doesn't really look good on anyone. After all what goes in your mouth has to end up somewhere and I'd prefer for it to not be on my hips.
Cause my hips definitely don't lie, if you know what I mean. LOL Funny/not funny.
So that leaves the final option… giving it away. With everyone's diet restrictions and preferences this isn't as easy as it sounds. In fact it can be quite difficult.
I have a few people that are easy (meaning not picky) and eager recipients. My girlfriend Pam is one of them. She's always so grateful to receive any of my food creations and I'm just as grateful that she will take them off my hands. It's a win-win for everybody.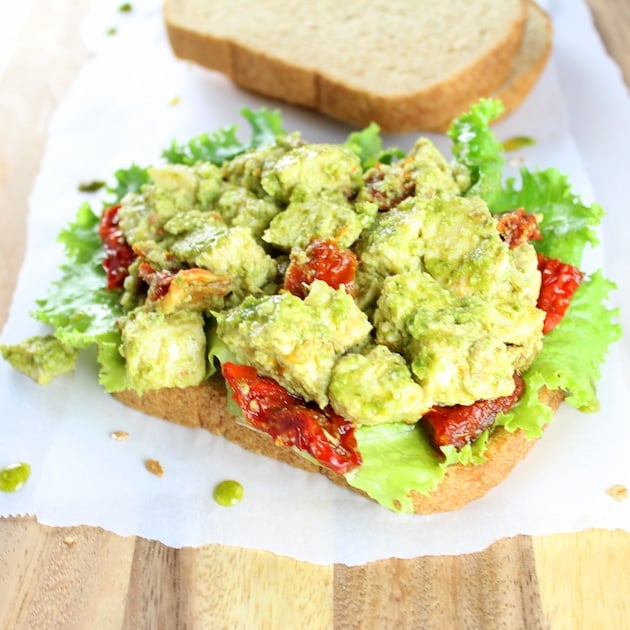 Yesterday I reached out to ask her to help a girl out since we're traveling over the next week and my latest culinary masterpiece - this delicious Sprouted Grain Chicken Pesto Sandwich – needed a home. Way too good to not be devoured.
It's made with boneless skinless chicken breast, pesto, sun-dried tomatoes, Greek yogurt, green leaf lettuce and Pepperidge Farm's new Harvest Blend Sprouted Grain bread. As you can see for yourself, this isn't any ordinary bread. It has great, fresh-baked taste, it's hearty and filling and has a super soft texture. Did I mention it's perfectly soft, made with sprouted whole wheat, and a touch of molasses? Yum!!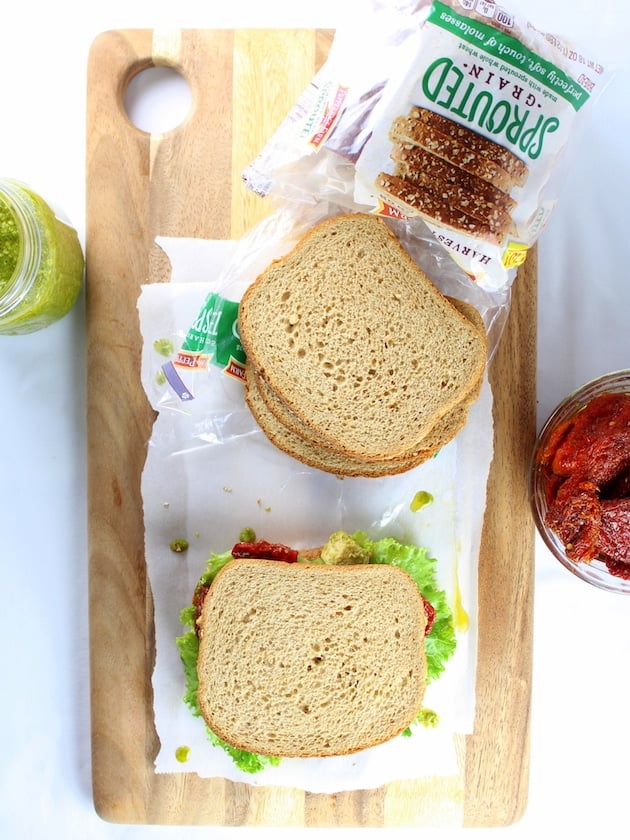 My friend was more than happy to take this delectable treat off my hands. She's had a lot going on the last month so a pre-made meal for her family is a welcome treat – especially this meal.
She makes her way to my house for the pick up, we're chatting, I'm packing it all to go and showing her what's what. Little did I know she hadn't eaten since breakfast (it's now 4pm) and she was salivating at the sight of all this yumminess.
She loads up her car, takes off to handle the rest of her busy life, and I get a text message.
"Okay, confession time. I am starving. Traffic is horrible and I just made a sandwich with your chicken salad and a rolled up piece of bread that you gave me. I hadn't eaten since this morning before I left the house.
You may have saved my life! By the way, it is delicious. I venture to say that I am the most content person sitting in this traffic jam on Route 9 and the 'Ham.
Using my fingers!
Desperate times call for desperate measures."
This was of course music to my ears… one, I love a good laugh and two, my Sprouted Grain Chicken Pesto Sandwich just saved someone's life!!! Not to mention it didn't go to waste!! It's a really good day to be alive my friend.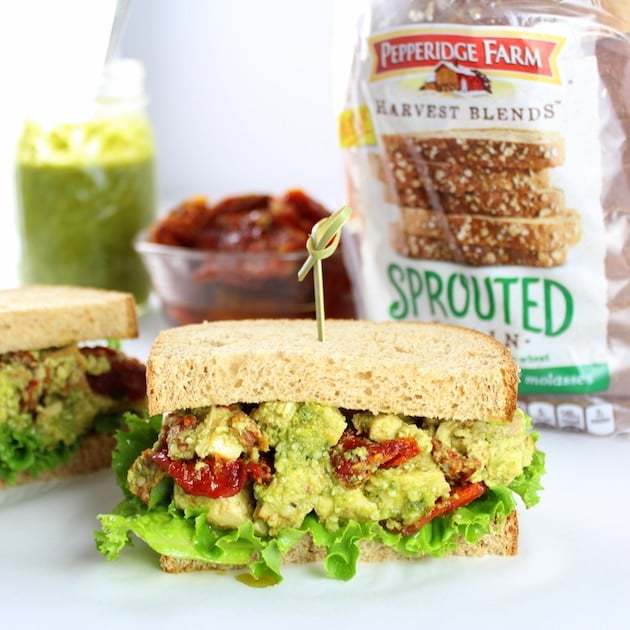 After I composed myself I texted her back… "Did you wipe your hands on your shirt??"
She continues to make my day: "I was so hungry while you were showing me all the food, I almost asked if I could make a sandwich there to take with me"
Then she answers my question about wiping her hands, "I have so much more class than that Holly! I used my handi-wipes before I made my sandwich and then wiped my hands on my black yoga pants! For real!
Super yummy Holly!"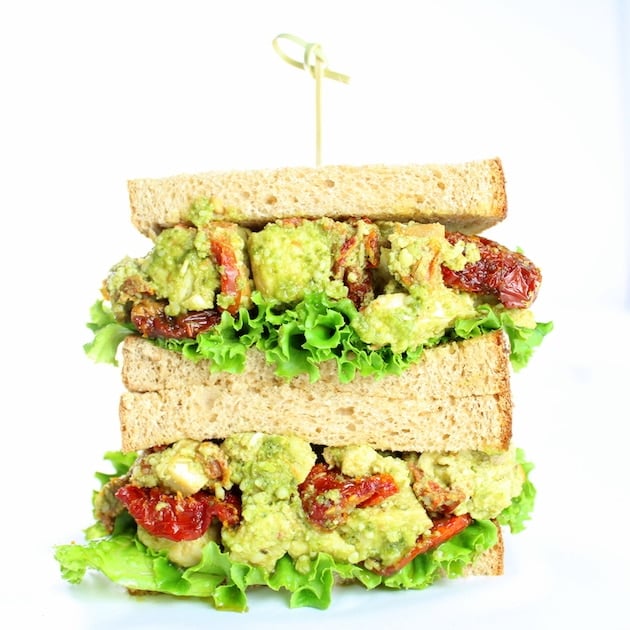 There you have it my friend, a first-hand testimonial… the Sprouted Grain Chicken Pesto Sandwich is not only "super-yummy," but "lifesaving" as well. Woohoo!! (Disclaimer: This sandwich may not actually save your life, but it will most definitely prevent your stomach from eating itself.✌️)
Plus it's just 6 ingredients and it's full of amazing flavor and tons of protein. What more could a girl ask for! Well maybe a second handi-wipe but that's what God created black yoga pants for – right!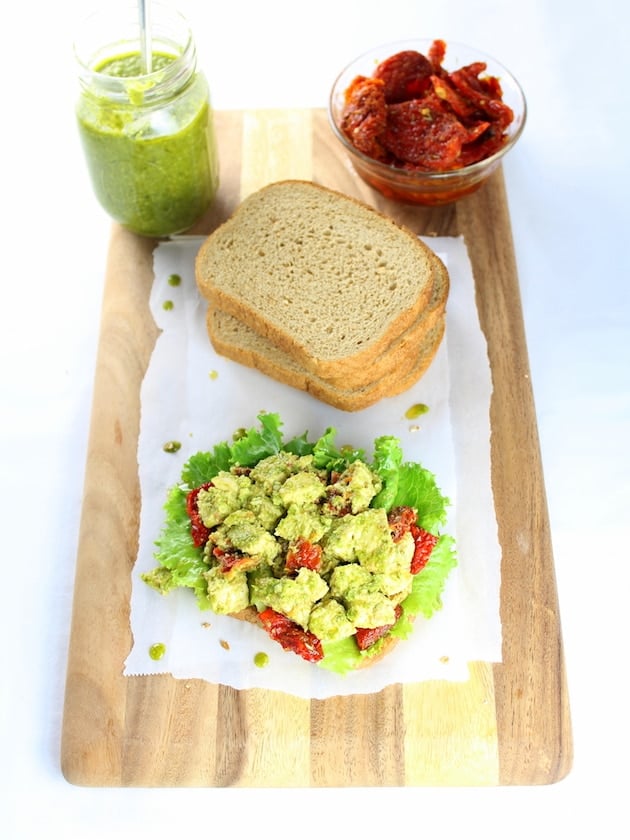 This sandwich is not only delicious, it's easy to put together. You add water, salt, pepper and 1½ pounds of chicken breast to a pot on the stove and bring to a boil. Then turn it down to a simmer and cook for 8-10 minutes. Be sure to use a meat thermometer to be confident the chicken reaches 165 degrees.
Remove the chicken from the water and let it cool, then chop it into ½-inch pieces. Chop up 5 ounces of sun-dried tomatoes (in oil). Mix together your pesto, tomatoes, Greek yogurt, chopped chicken and ½ teaspoon salt. Next it's time to assemble. Start with your soft Sprouted Grain bread, then layer on some green leaf lettuce, add your creamy chicken salad mixture and finally cap it off with more hearty bread.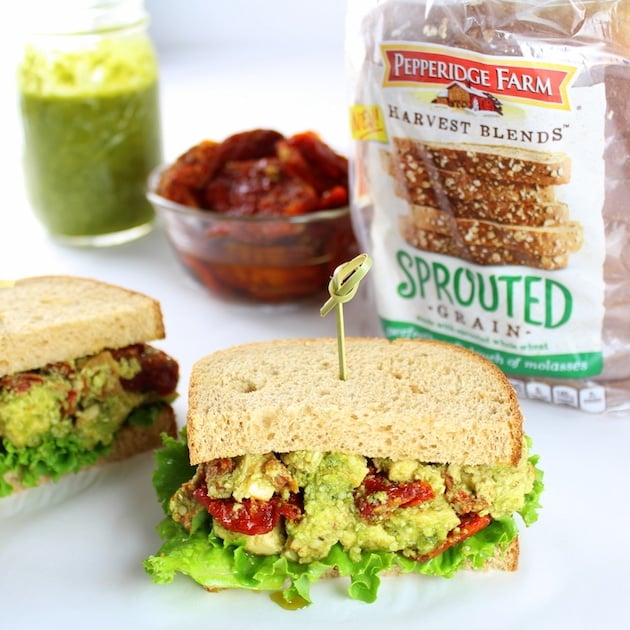 Then behold – a fun and delicious twist on a classic… the Sprouted Grain Chicken Pesto Sandwich!✨ Happy Eating!!
Yield: 6 servings
Sprouted Grain Chicken Pesto Sandwich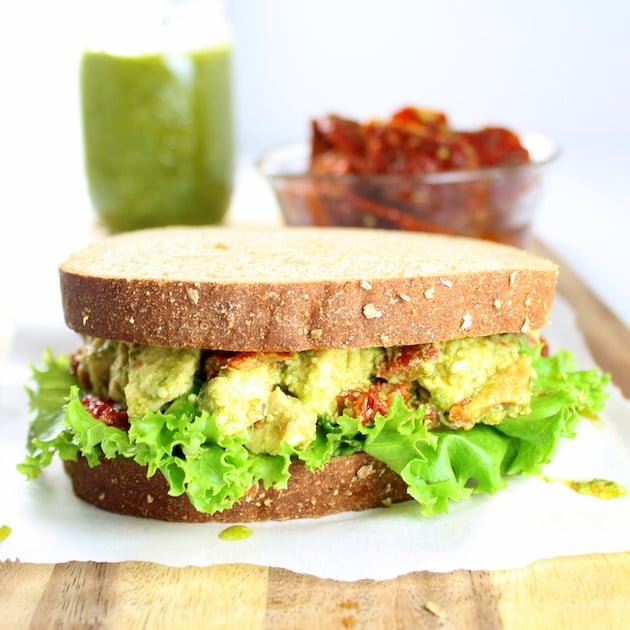 Hearty and healthy, this sprouted grain chicken pesto sandwich is loaded with flavor
Ingredients
1 ½ pounds boneless skinless chicken breast
1 cup store-bought pesto sauce
½ cup plain low-fat Greek yogurt
6 ounces sun-dried tomatoes in oil
Green leaf lettuce
Pepperidge Farm Harvest BlendsTM Sprouted Grain bread
Instructions
Trim excess fat from chicken breasts.
In a large pot, add chicken and fill the pot with enough water to cover the chicken by an inch. Add 1 tablespoon of salt and a teaspoon of pepper.
Bring to a boil and reduce heat so that the liquid is still simmering - just hot enough for bubbles to barely break the surface. Cover pot and continue to cook for about 8-10 minutes, or until a meat thermometer reads 165 degrees.
Meanwhile, in a large bowl, combine pesto, Greek yogurt and ½ teaspoon salt then set aside. Rough chop the sun-dried tomatoes.
Once cooked, remove chicken from the pot and allow to cool. Chop into ½-inch pieces - or adjust the size as you prefer.
Add chicken and sun-dried tomatoes to the yogurt/pesto mixture, and combine thoroughly.
Rinse/dry lettuce, then build sandwiches to your liking using the sun-dried pesto chicken, lettuce, and Harvest BlendsTM Sprouted Grain bread!
Notes
When mixing the yogurt and pesto it may seem that the two ingredients separate. This won't impact the finished product - when everything is mixed it comes together nicely.  To minimize this effect you can blend the two ingredients in a food processor for a few minutes.
Nutrition Information
Yield
6
Serving Size
1 sandwich
Amount Per Serving
Calories

350
Unsaturated Fat

0g
Thanks to again to
Pepperidge Farm
for sponsoring this post. All opinions, recipes, and photos are my own!
I would love to connect with you! Leave a comment and follow me on Instagram, Twitter, Facebook, & Pinterest!