Chicken Fig Saltimbocca is easy enough to make on a weeknight but special enough for company.  Perfectly balanced with savory prosciutto, herbaceous sage, fresh sliced figs and a sweet balsamic fig sauce.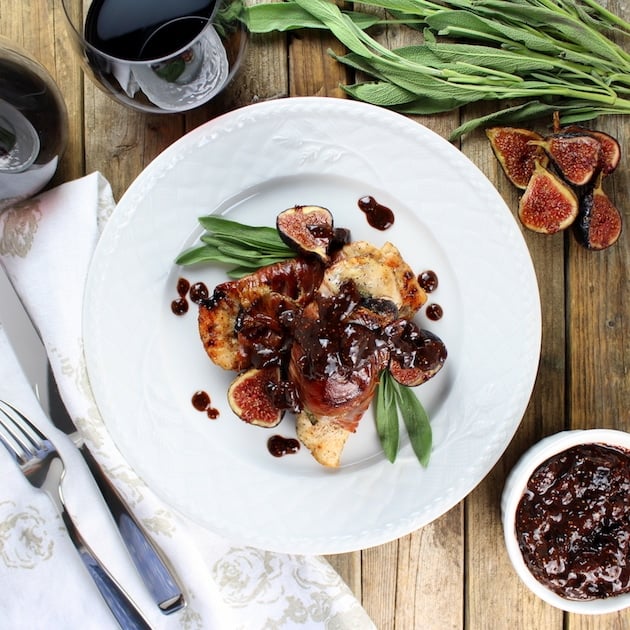 We just got back from a quick and last-minute trip to NYC.  We drove down on 9/11 without even realizing the significance of being in that city on that day.  We got in too late to go by the 9/11 Memorial but we made our way over the next day.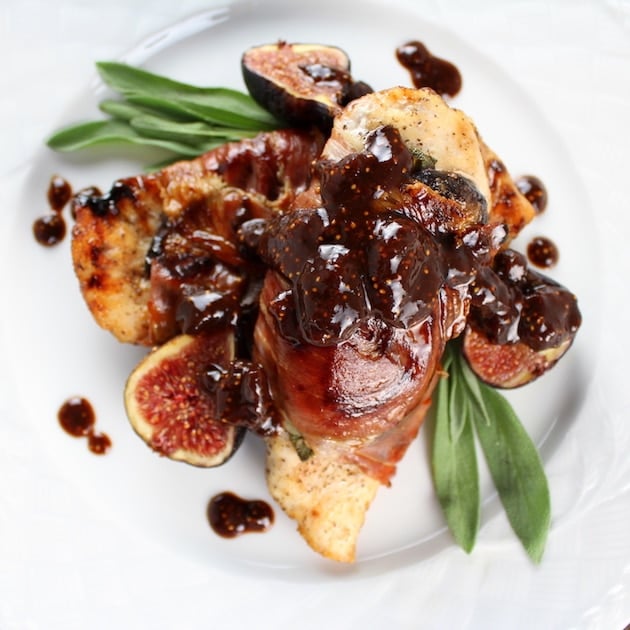 It was a sobering experience, although the memorial area is more about celebrating life than mourning death.  There were trees planted in honor of those who passed, 2 huge infinity fountains with the names of every victim (nearly 3,000) etched on the marble that formed the perimeter wall.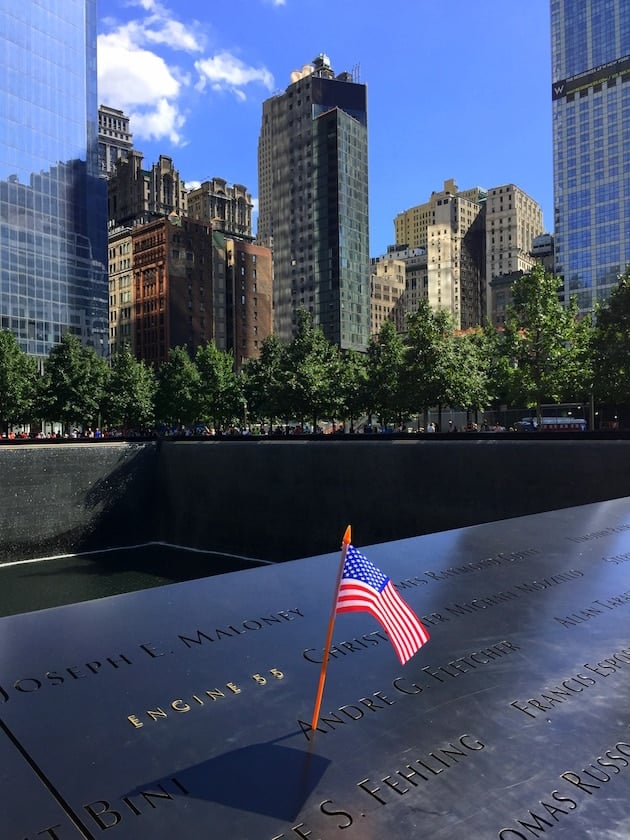 There was also the museum which we didn't have time to tour.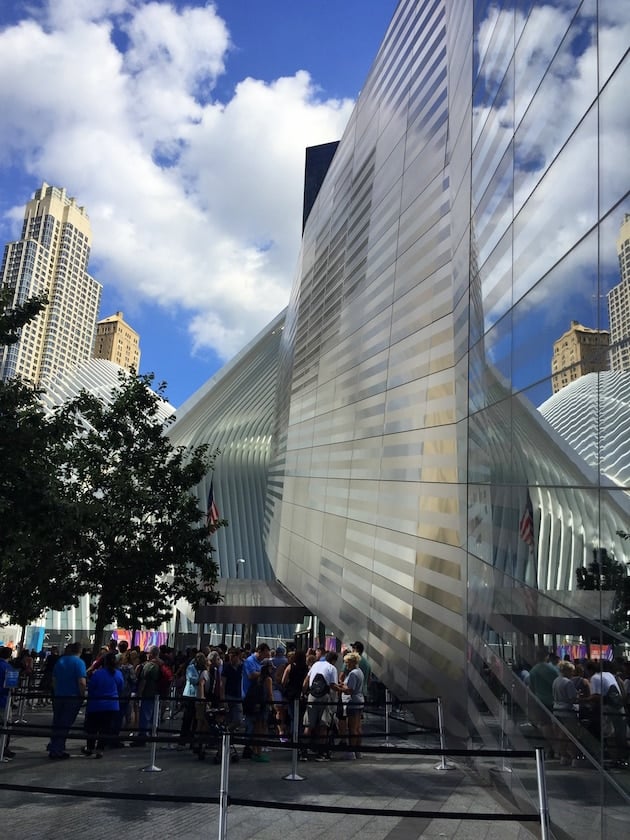 The new World Trade Center was bright and futuristic, full of tourists and lots of fruitful commerce.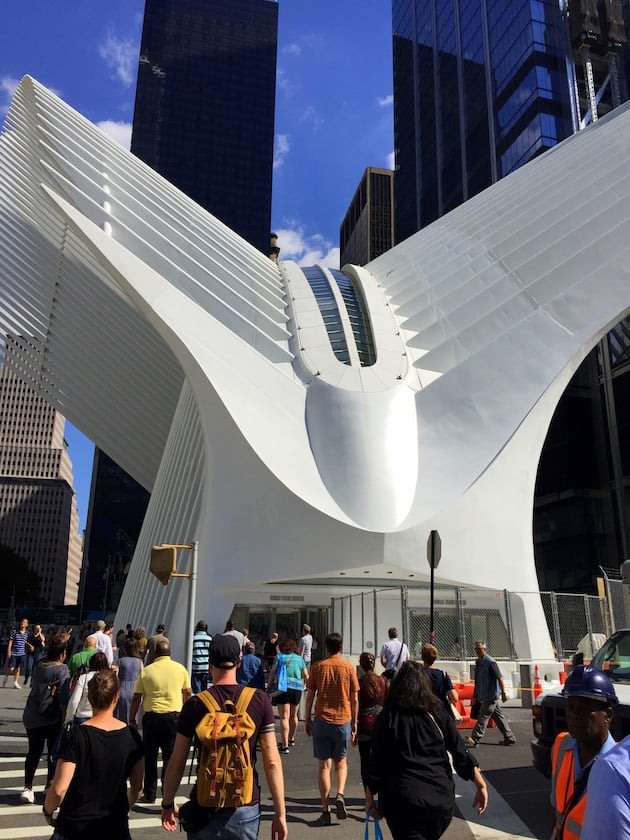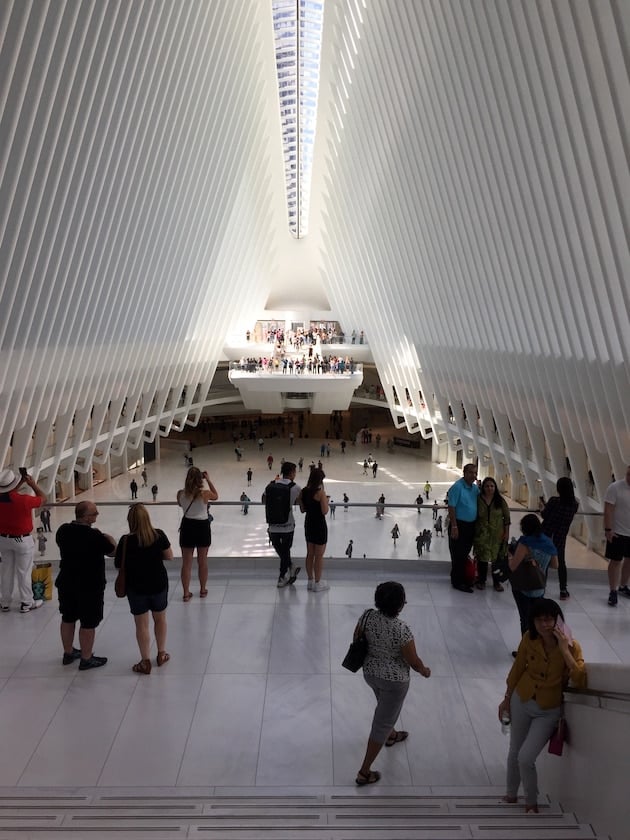 9/11 will forever be one of saddest days in American history, but it does not define our country.  To quote one of my favorite scriptures: "we are not of those who shrink back and are destroyed, but of those who have faith and preserve their souls" (Hebrews 10:39).  We will never forget, but we will never be defeated.
The memorial is something everyone should visit at least once while in NYC.  Pay tribute to those who suffered at the hand of extreme evil, and be reminded that life is a gift and to live each day we're given with gratefulness.?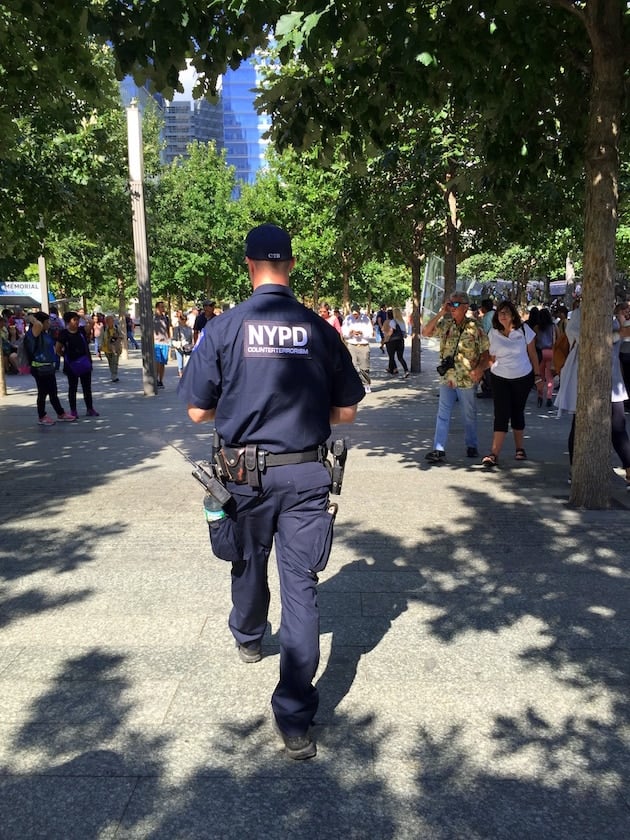 I'm so grateful for my family…the biological ones, and the crew I married into.  My people are everything to me.?  When we make the trek down to the city, it's usually to spend time with those we love.  B's (and my) cousins Daryle and Lenke, live in Brooklyn.  They're the ones who introduced us to Elderflower liquor, and therefore receive mad props for our delicious Elderflower Margarita creation.?  I know, we owe them big-time!?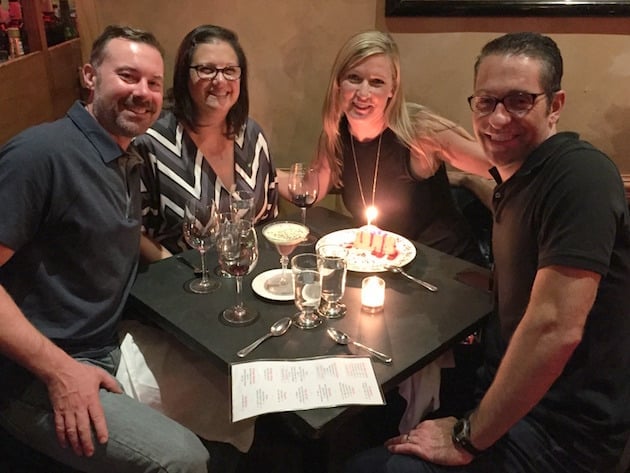 During this visit we had a wonderful pre-birthday meal at Henry's End – a Brooklyn Heights neighborhood institution serving big flavors in a small bustling space.  It was delicious!  The wine list was award-winning, the food decadent, and the service impeccable… but the company was the highlight of the evening.  It was a wonderful night and my love cup was completely full.  #bostonlovesbrooklyn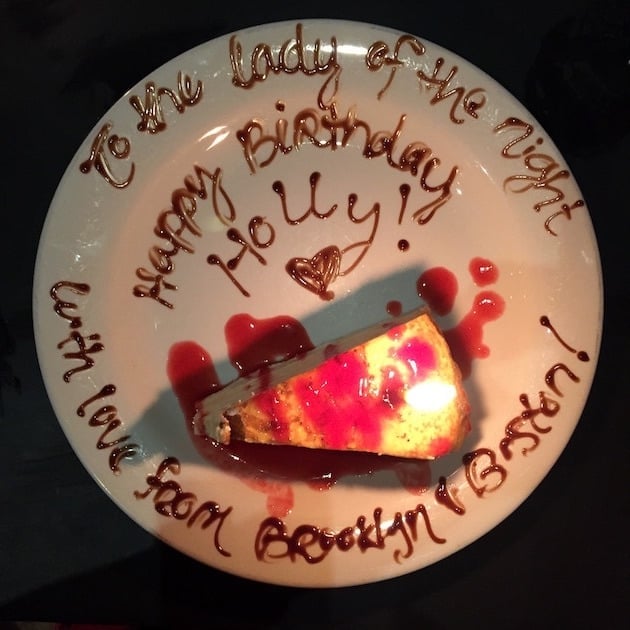 Speaking of the delightful family I married into… B's (and my) 93-year-old grandma lives on her own in a Manhattan apartment with a bit of help from her aides that stop by daily.  She's pretty amazing, always welcoming, and a little bit bossy, which I guess is where the B man gets it.  Lest you get the wrong impression, in our family being bossy is totally BOSS!??  We like it when people speak up and tell us what they're thinking, and what they need.  None of that passive-aggressive stuff going on with us.? #aintnobodygottimeforthat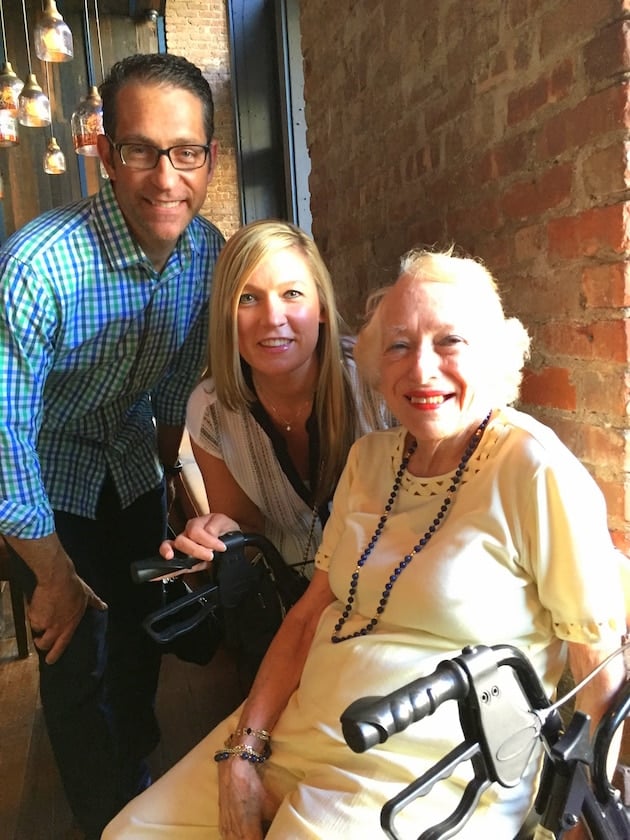 We try to get down to visit Grandma and the cousins as much as we can, but it never feels like enough.   I'm sure you can relate… life is busy and extra time seems nonexistent.  But we do what we can and keep on steppin'.??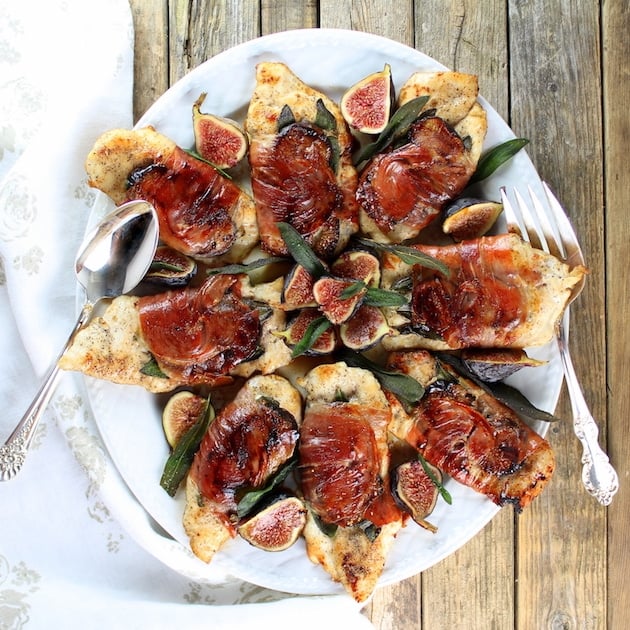 As you know we celebrated my birthday while we were away.?  Yep – 29 and holding, that's me. #foreveryoung #atleastinspirit  We not only celebrated at Henry's End but we also visited Bobby Flay's restaurant Gato – AHH-mazing every time.?  We had the privilege of trying it out last summer and it was so good that I knew I needed to go back (big thanks to the cousins for suggesting it – both times.)?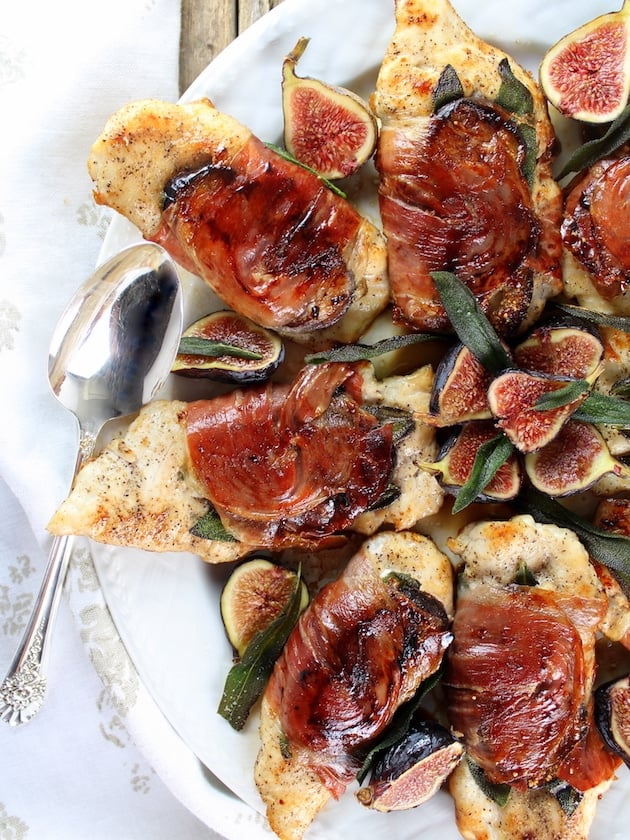 It was just as delicious as the first time, and that is actually a pretty big deal.  So many times restaurants aren't consistent with their food and service, but not Gato… they were on point.  B and Grandma had the Porter House Pork Chop with tomato pan juices, romesco, and polenta.  I was considering the Charred Beef with Valdeon blue cheese, brown butter, red wine, & broccoli rabe-farro but the B man steered me in another direction.  He knew I was also considering the Rabbit with fregula sarda (Israeli Cous Cous), pine nuts, fresh peas, crispy ham, and carrot hot sauce.  He encouraged me to go big (or small really) on my birthday.  He was absolutely right – although potentially controversial it was an epic culinary experience.? #sorrybunnyfufu  #petadontemailme
We also ordered a side of Charred Carrots with parsnip chips, harissa, and yogurt.  I had to experience it because I have a very similar recipe here on the blog.  Bobby's were delicious but if I'm honest, I like mine better.  If you're interested, Bobby Flay, here's the recipe: Honey Harissa Rainbow Carrots  – xoxo.
I've mentioned Grandma is 93, and speaks her mind, but she is also about 4 feet 9 inches, a cancer survivor, and weighs as much as a wet noodle.  Not frail, just teeny tiny and so adorable!?  PS: One thing Grandma has taught me is the key to aging gracefully: wear red lipstick everywhere you go!??  Yep – even to the gym.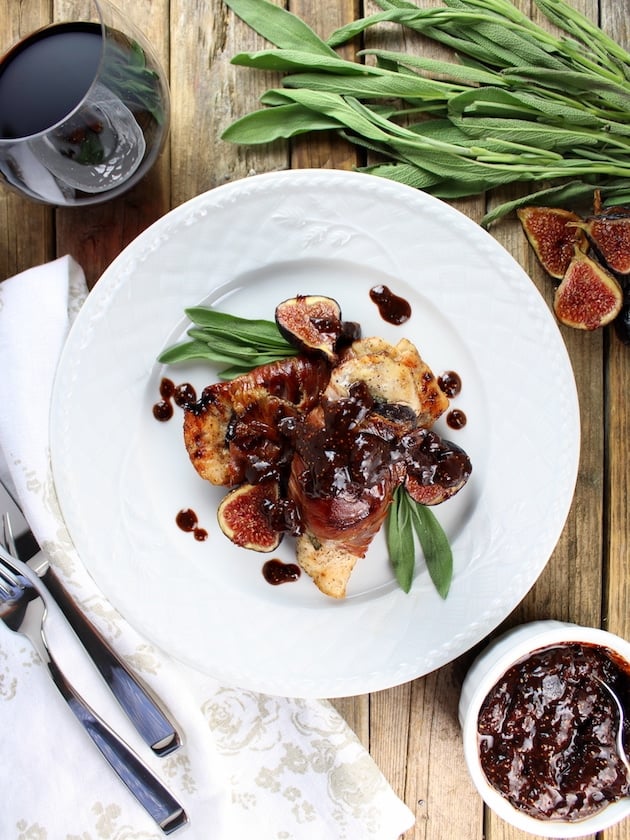 Not long after we were seated at the restaurant she leaned back against her chair and realized she was in a bit of pain (the chair was hitting on a sensitive part of her back).  We mentioned it to our server and voila… a homemade cellophane package of napkins fashioned into a pillow showed up minutes later. Above and beyond my friend.  Trust me you've "gatto" got to Gato!?
Yayyy for NYC, Cousins, Grandma June and my 29th birthday for the 10th time!?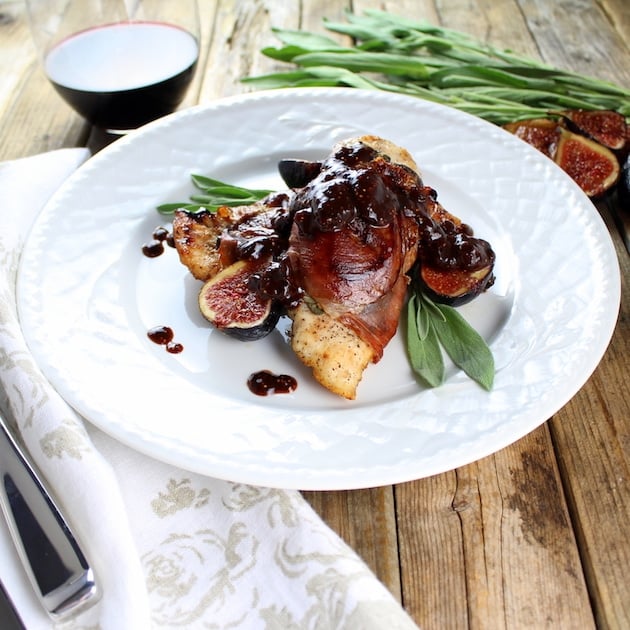 We made it back home and we hit the ground running.
Writing, shooting and posting our latest masterpiece "How To Save Dough In The Kitchen… Without Clipping Coupons!"  If you haven't already check it out my friend… It has tons of money saving tips!?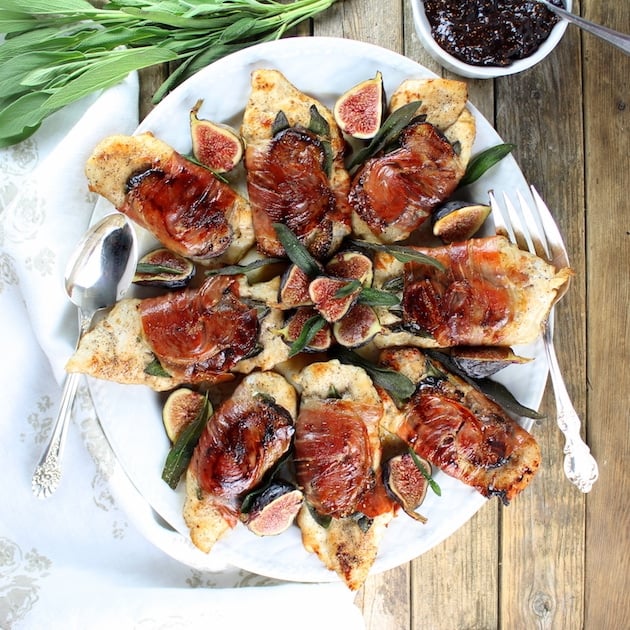 Which brings me to today's recipe… Chicken Fig Saltimbocca!  Words can't describe how delicious it is – you're gonna just have to give it a try.  I've made pork and chicken saltimbocca more times than I can count.  It's hearty and salty and so herbaceous.  The only thing it's missing is sweetness!  Cue the fresh figs.  Talk about deliciousness.?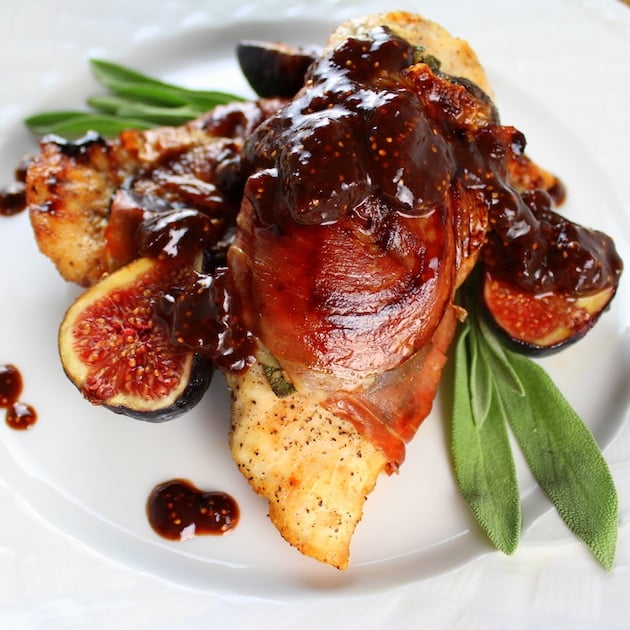 First I quarter six black mission figs.  Then add in about a ¼ cup of balsamic vinegar and let it simmer until the figs break down and the mixture thickens.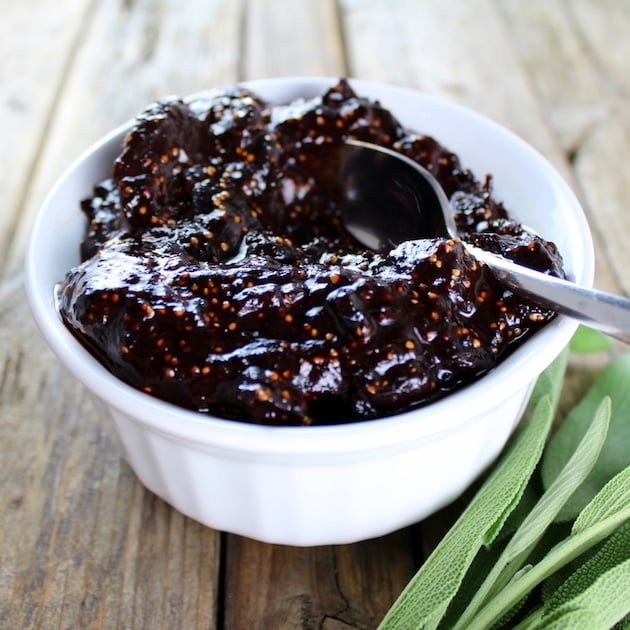 Next I go to work on my chicken.  I pound out 4 breasts until they're ½-1/4 inch thick.  The main thing is that they're all the same thickness.  If they become too large I cut them in half or even thirds so they're more manageable.
Then I remove the stems from 4 more figs and slice them cross-ways into 4 slices each.  I salt and pepper my chicken, place two or three fresh sage leaves on each piece, add two slices of figs on top of the sage, then carefully wrap each piece in prosciutto.
Next I heat some olive oil in a large sauté pan to medium-high heat and place the wrapped chicken pieces into it to cook.  After 4-5 minutes I flip them over and finish cooking until a meat thermometer registers at 165, about another 4-5 minutes.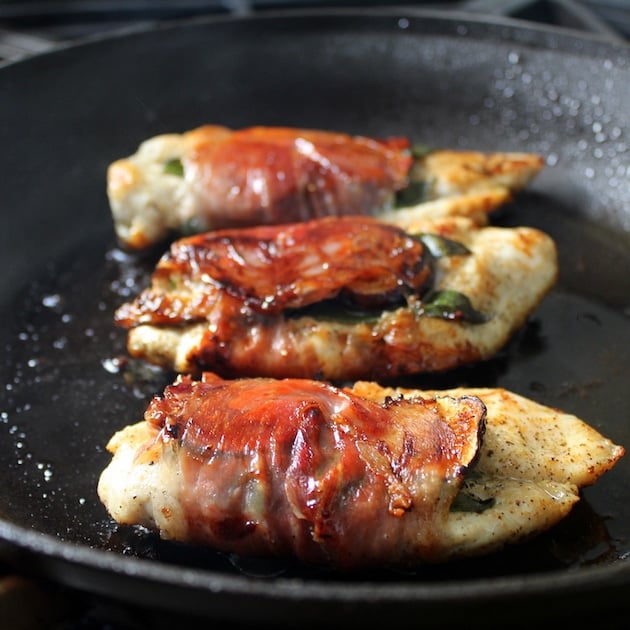 Place them on a platter and cover until all the chicken is cooked.  Lastly, I throw 8-10 large sage leaves into the sauté pan and "fry" each side for 30ish seconds.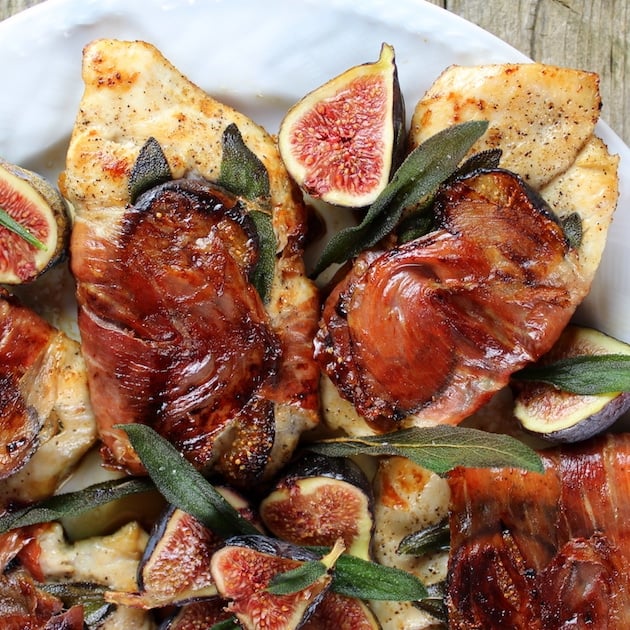 Now it's time to assemble.  I plate the chicken, add a few dollops of the fig balsamic sauce and finish with some crispy sage leaves.  It's so delicious and the perfect balance of savory and sweet.?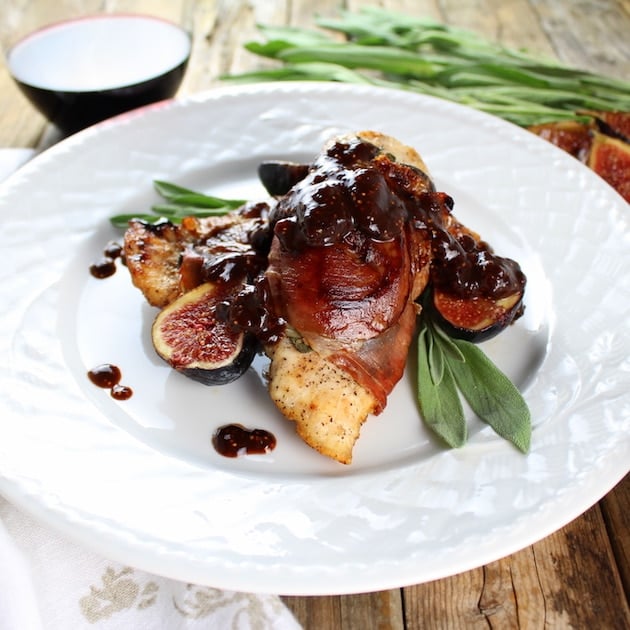 Chicken Fig Saltimbocca is easy enough for a weeknight meal but so special any dinner guests would be completely wowed.?
Figs are only in season until October, so be sure to grab some from your local grocer and give this yummy dish a try!
PS:  You can make this mouthwatering meal all year long by swapping out dried figs for the fresh ones in the balsamic fig sauce.
I would love to connect with you!  Leave a comment and follow me on Instagram, Twitter, Facebook, & Pinterest!
Looking for more chicken dinners?  Of course you are!  Try these!