Pan-Seared Sea Scallops with Corn Puree – a delicious, decadent low-calorie meal full of protein and flavor.  With dry-cured chorizo, cherry tomatoes, shallots and scallions, it's the perfect way to bid summer goodbye.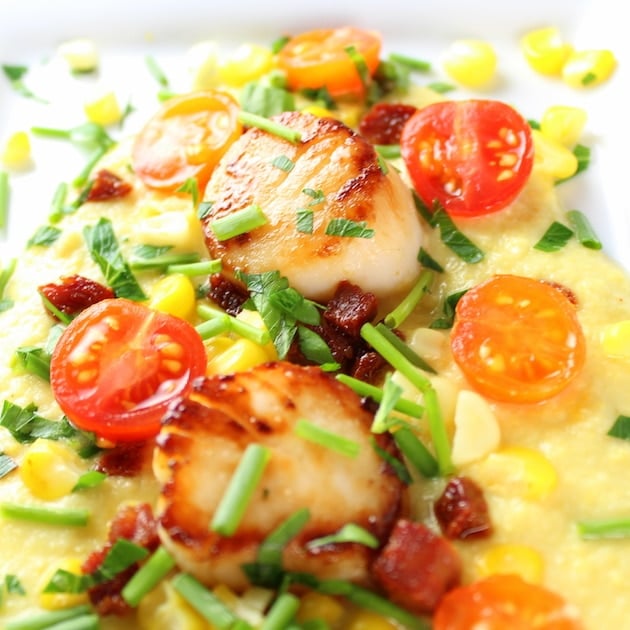 Hey ya'll!  Me and B are kicking it in KC!!  And in case you were wondering it's still summer here.  A steamy 90 degrees, full sun without a cloud in the sky.☀️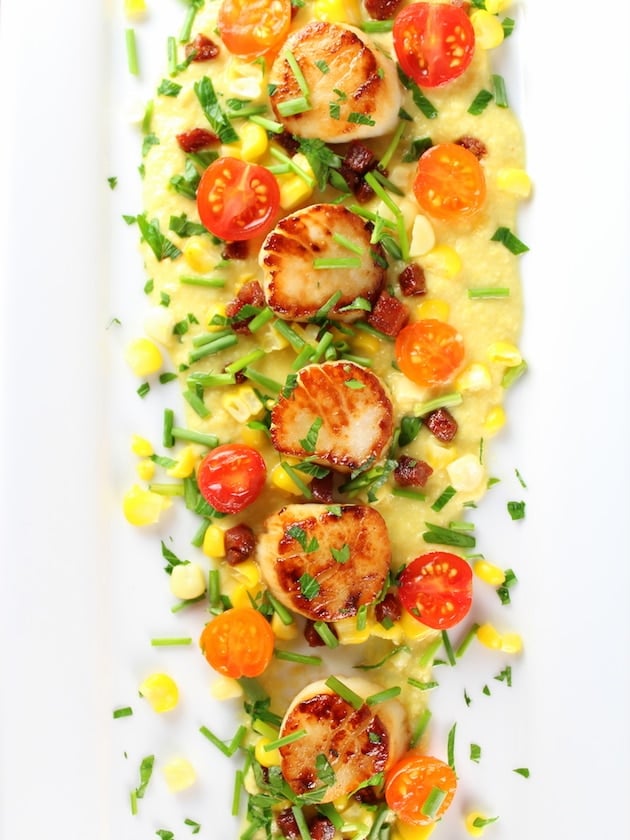 We've been here a few days attending a food blogger conference.  It has been informative, motivational and inspiring.  But my favorite part was connecting with so many other food bloggers that I admire, like Trevor & Jennifer from Show Me The Yummy!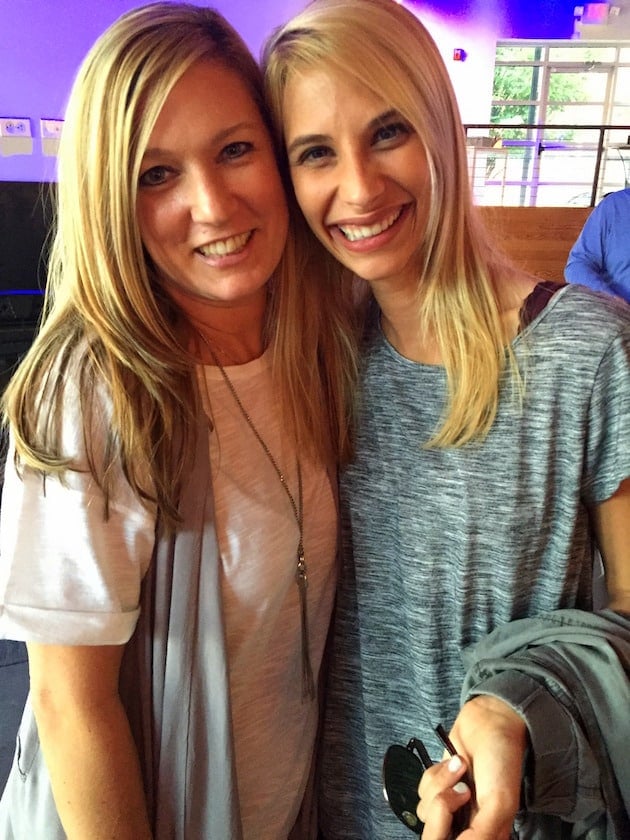 The first day we participated in a workshop on how to shoot food videos.  We were getting the 411 on all those Tasty videos that you love to watch.  Stay tuned cause Taste And See is gearing up to get into the video game (pun intended).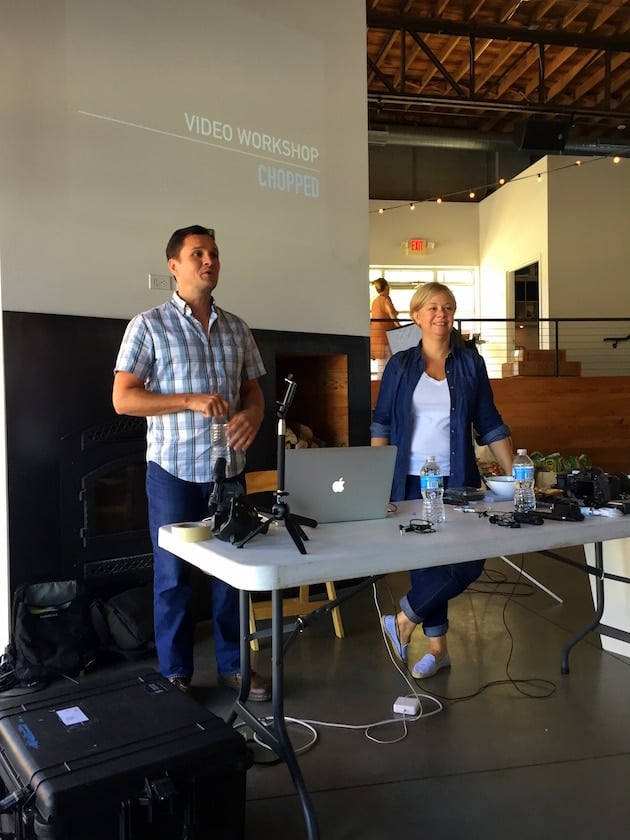 During that training session I met a new BFF – Chellie (and her husband Karl) from Art From My Table.?  She's super-sweet, so relatable, and hilarious!  Plus she's from Michigan, not too far from where I grew up, and I literally felt like I had known her all my life.?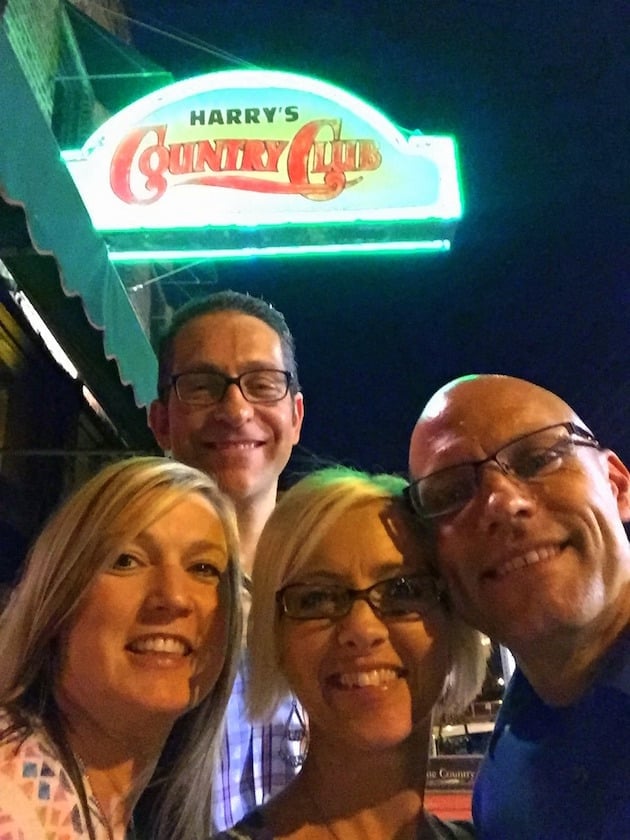 Later in the evening we made our way over to a cocktail party hosted by Mediavine Publisher Network, where I met so many other fabulous food bloggers like Kathryne from Cookie and Kate, Ali from Gimme Some Oven, Traci from Vanilla And Bean, & Tessa from Salted Plains.?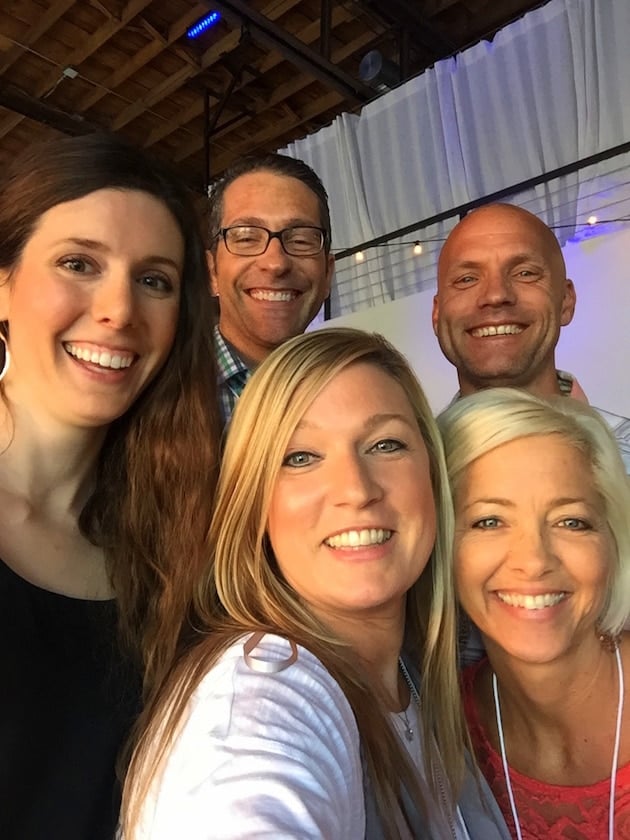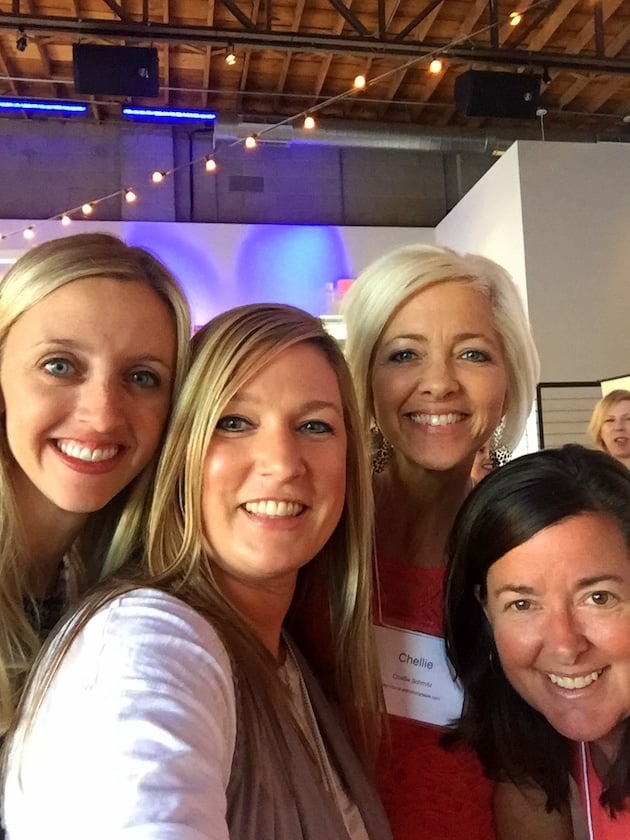 I already follow their blogs, so it was pretty exciting for me to get to meet them face-to-face.?
The next day was full of lots of informative sessions and panel discussions.  It was all so helpful and inspiring.  I can't wait to start applying what I've learned.
Although the conference occupied most of our time while we were there, we made sure to hit a few must-see local food joints.
I have two favorites I have to tell you about.  Neither one is glamorous but the food is off the charts.?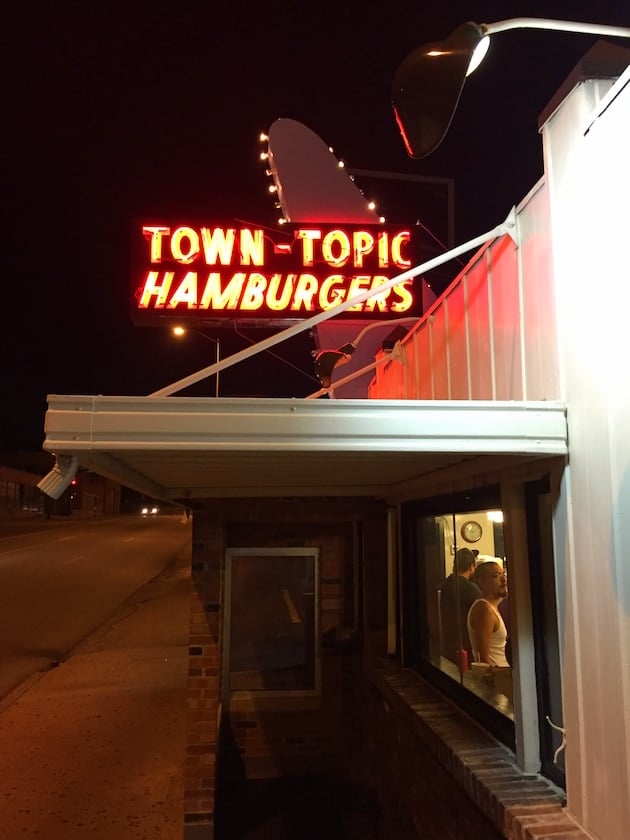 Town Topic Hamburgers is a tiny diner-style spot serving up breakfast all day long, plus tasty hamburgers, fries, onion rings, legendary shakes…. and the finishing touch on any meal, fresh homemade pie.  I think the whole building could fit inside my living room.  But what it lacks in size, it makes up for in character!?
We stopped in late after our blogger cocktail party and scored two seats at the counter.  We ordered cheeseburgers and onions rings.  Both were super yummy – literally the best onions rings I've ever had.  The perfect amount of batter on the perfect amount of onion with the perfect amount of seasoning – seriously I can't stop thinking about them.
We met a few friends while we were there noshing away – Jasper and "Gypsy Steve."  They live in the area and were enjoying some of their favorites… the Biggie and the Truck Stop Omelet.  Apparently the B man and Gypsy Steve are starting a new travel reality food show… something involving an RV and traveling around eating food.  Think Tiny House meets Triple D.  I think their concept needs some refinement before it's ready to be pitched to the Food Network, but Guy Fieri beware!⚠️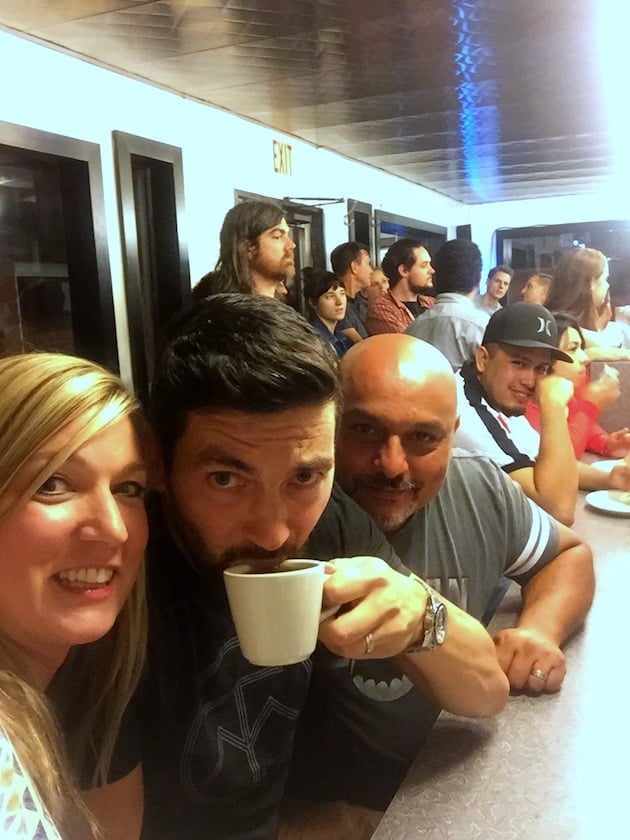 I don't think I could talk about Kansas City grub without mentioning BBQ.  As many of you already know, Kansas City BBQ is a thing.  The area is renowned for its own style of slow-smoking and slathering BBQ with a thick tomato and molasses based sauce.  Arthur Bryant's is basically a KC institution, and came highly recommend by almost everyone we met. They've been around since the early 1920's and are still serving up some of the world's most famous and tasty BBQ.♨️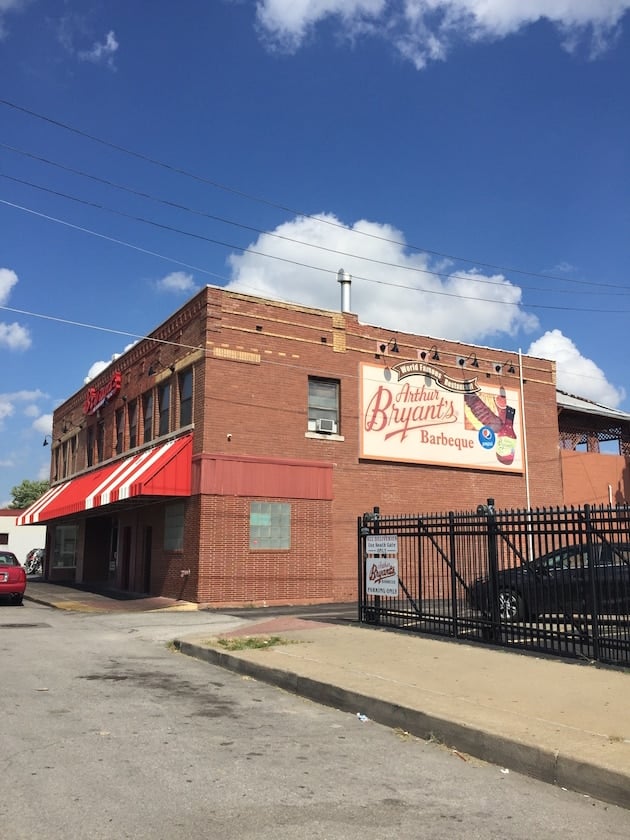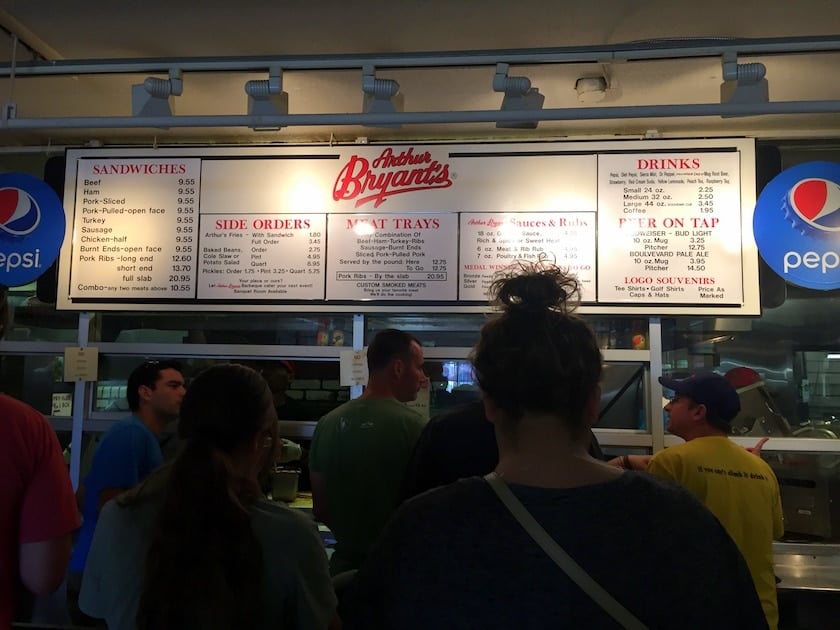 As you can see it's another local spot with tons of character.  It's pretty low-key when it comes to décor but that's alright by me, 'cause I'm all about the food.?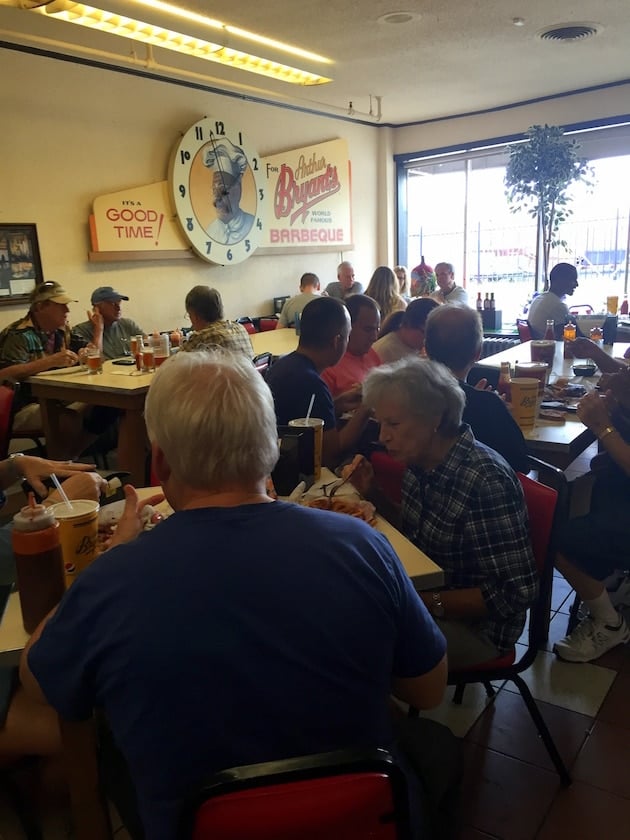 You head up to the front of the joint and get in the amusement park style line that winds back and forth until you reach the window.  Then one of the cooks asks for you order (BTW no substitutions unless you call ahead), and you keep moving down toward the cashier while your food is being made.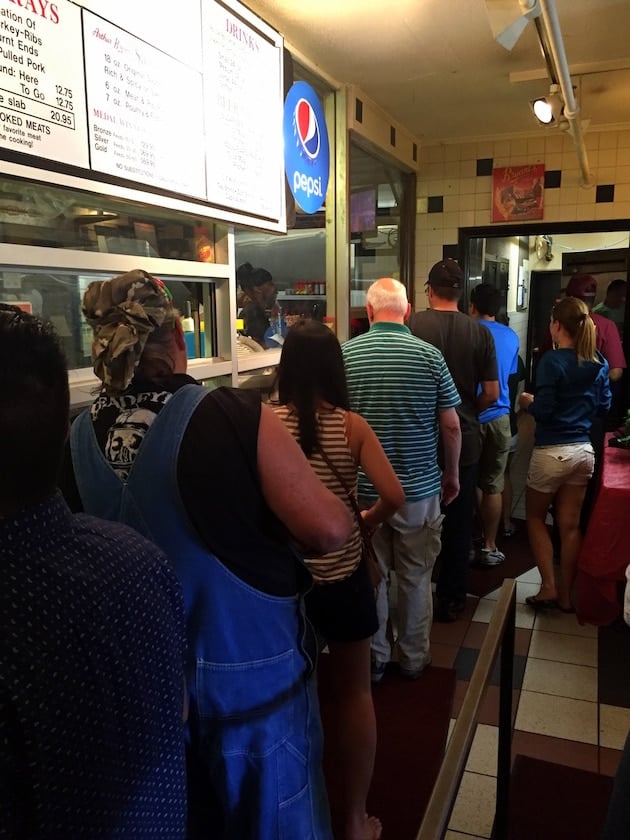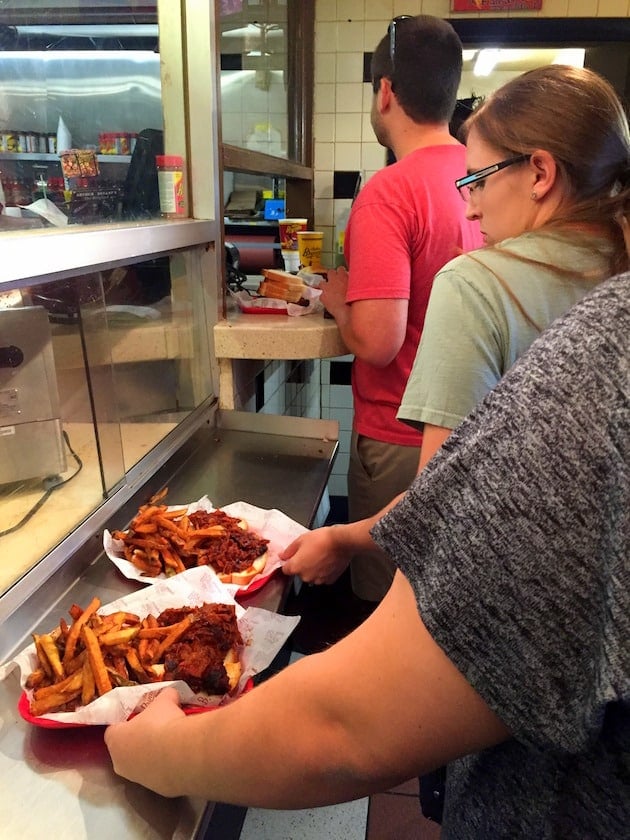 B ordered the special: Pig in a Bun with Slaw and Fries, sans the slaw.  Basically a pulled pork sandwich smothered in BBQ goodness.  I ordered the Burnt Ends Open Face Sandwich (this came highly recommended by Jasper and Gypsy Steve – it's a thing in KC so I took heed.)  We thought we were ordering it "to go," but soon realized this was not finger food.  A fork, knife and MANY napkins were definitely required.?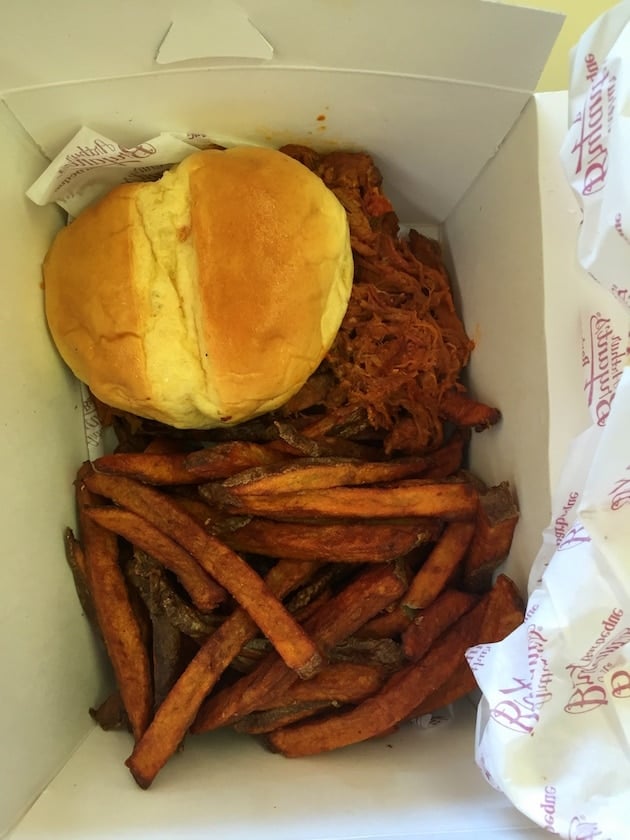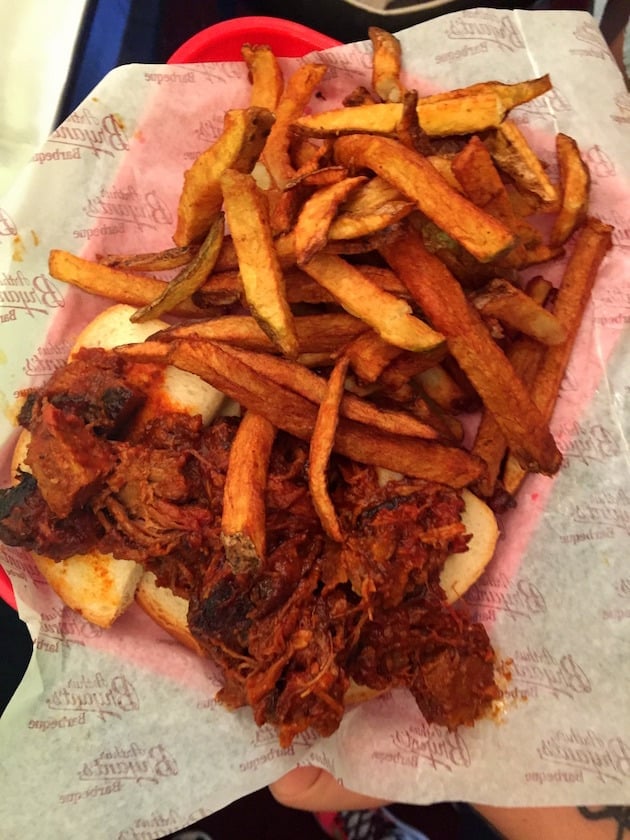 We pulled up a couple chairs to dig in.  It was literally "heaven on white bread!"  For the Burnt Ends Open-Face Sandwich, they place several pieces of white bread down and top it off with ridiculously tender, juicy chunks of pork end meat that were slightly charred.  Then they top it off with some of their famous BBQ sauce, a mound of French fries, and some sliced pickles.  And if you're really into your sauce, there are three to choose from on every table: the Original, Sweet Heat, and Rich and Spicy.
Out of this world tasty fare my friend.?  If you're in the area be sure to stop by Arthur Bryant's, but go early 'cause rumor has it they tend to sell out of their most popular items!
All this food talk is making me hungry.  And since it's still feeling summery around here, how about some Pan-Seared Sea Scallops with Corn Puree!??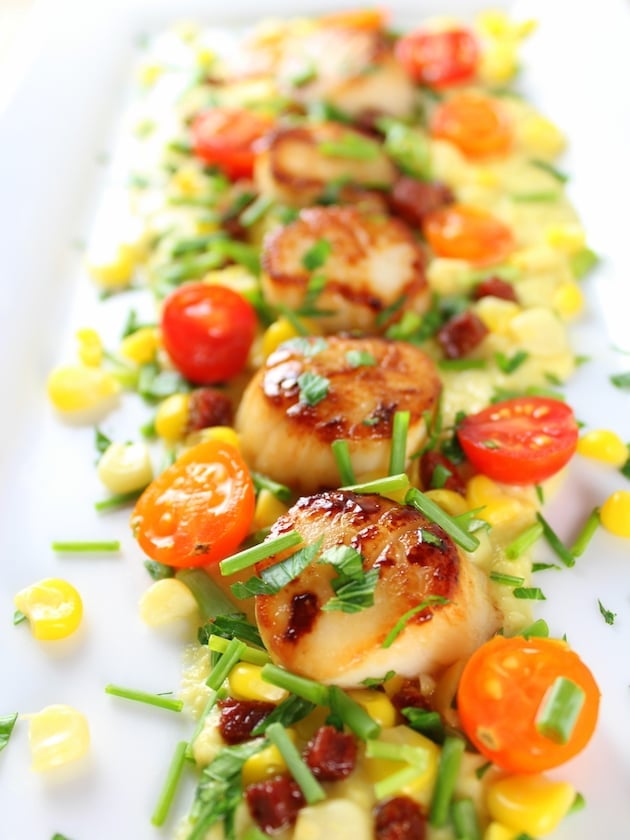 You cannot beat this combo; it's like they were made for each other.  The delicate, caramelized scallops with the smooth, sweet creamy corn!?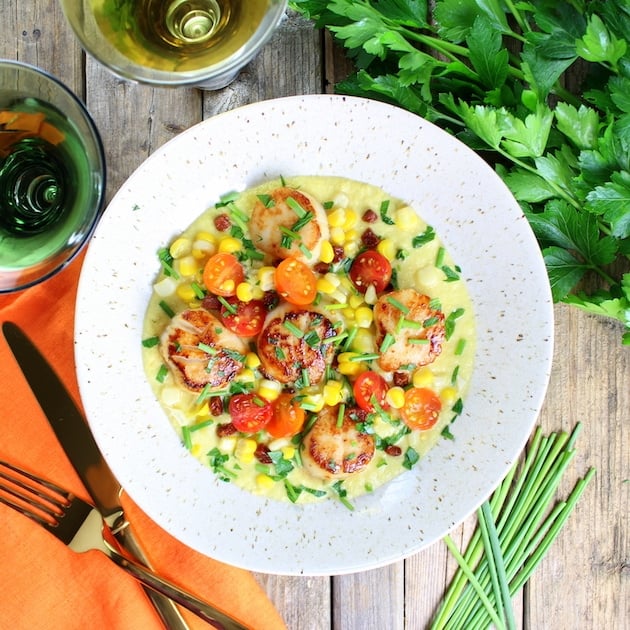 And just to "sweeten" the deal even more I added some dry-cured chorizo, cherry tomatoes, shallots and scallions to the mix.
I used some end-of-the-summer fresh corn from our local grocer, but you could also use some frozen sweet corn as well.  I boiled the corn on the cob for five minutes, let it cool, then sliced the kernels off the cob.  At the same time I sautéed a sliced shallot until it was translucent, added a few tablespoons of butter, and removed it from the heat.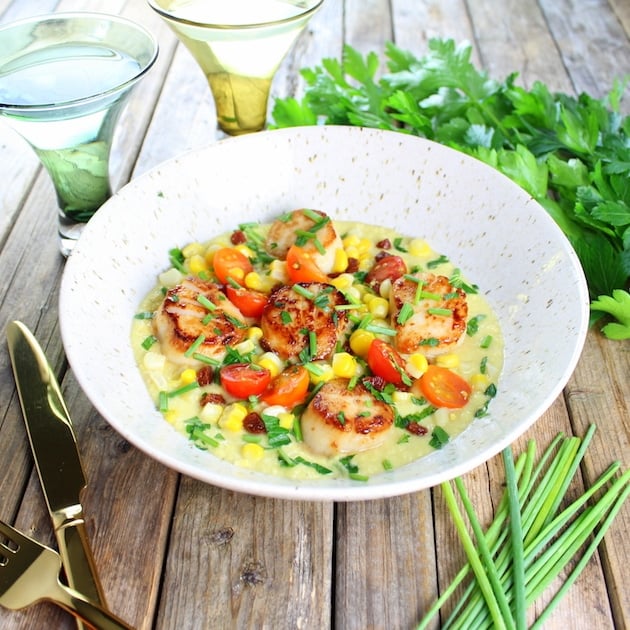 Then added most of the corn, cooked shallots, chicken stock, almond milk, a pinch of cayenne and a little salt in the food processor and blended it until the mixture was smooth and set it aside (when corn is pureed it can be so creamy on its own, so I don't see the need to add any heavy cream to the dish).  The chicken stock and almond milk thin it out a bit and create a silky richness to the dish.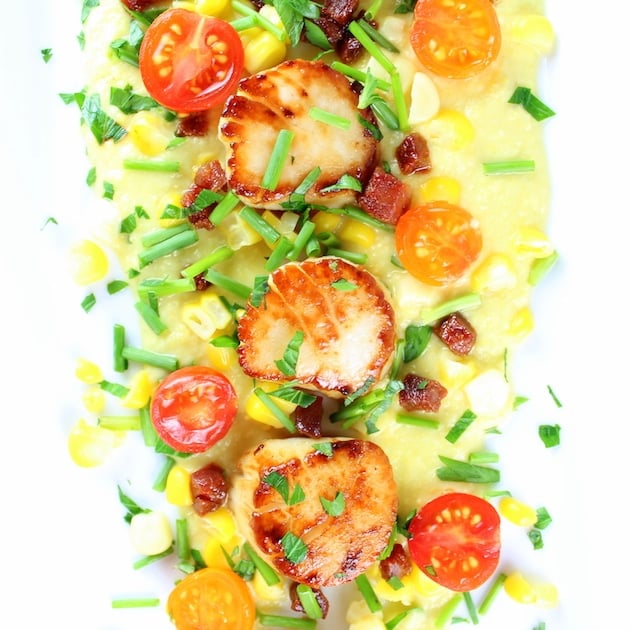 Much like shrimp, scallops only take a few minutes to cook and when over-cooked they get a rubbery texture.  So a quick pan sear is all that's required.
I sautéed 3 ounces of finely chopped chorizo in a cast iron skillet.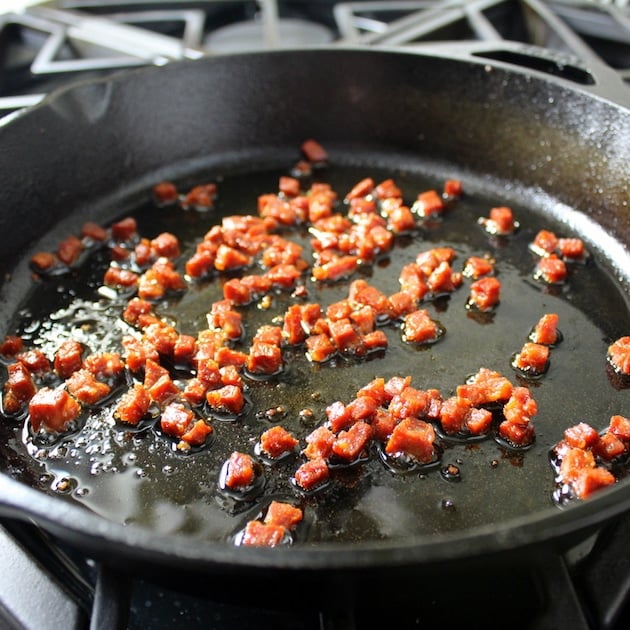 Then used the oil from the chorizo to sear the scallops for 1-2 minutes a side.  Not only was it an efficient use of all the spicy pork had to offer, it gave the scallops amazing flavor.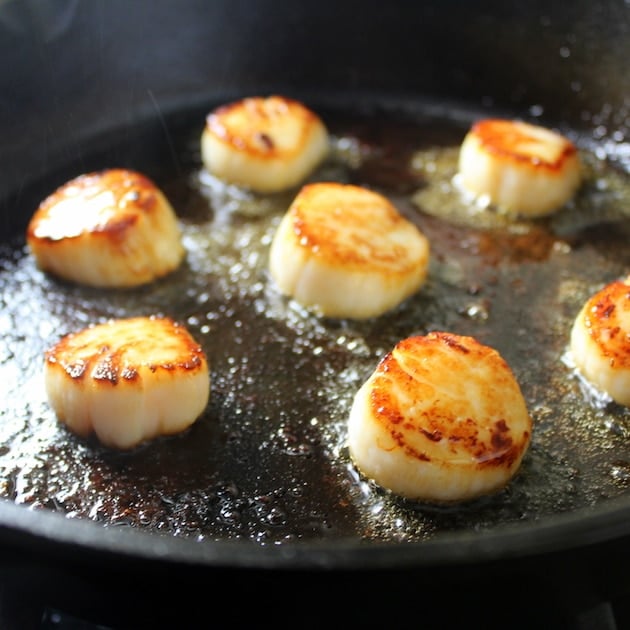 To assemble this creamy goodness, you spoon some corn puree onto your plate, place four or five seared scallops on top, sprinkle with some of the reserved corn kernels, cooked chorizo, chopped fresh cherry tomatoes and scallions.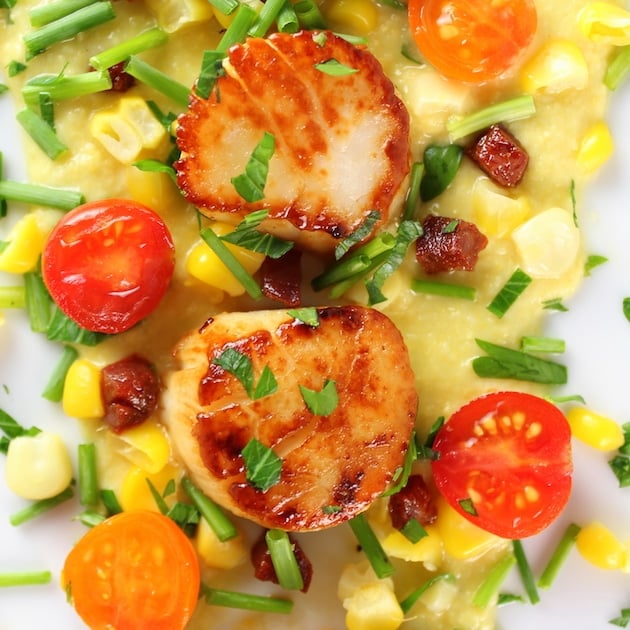 With the short cook time on this meal, it all comes together pretty quickly.  Which makes it a great meal for a date night in, so you're spending less time in the kitchen and more time enjoying the one you love most.❤️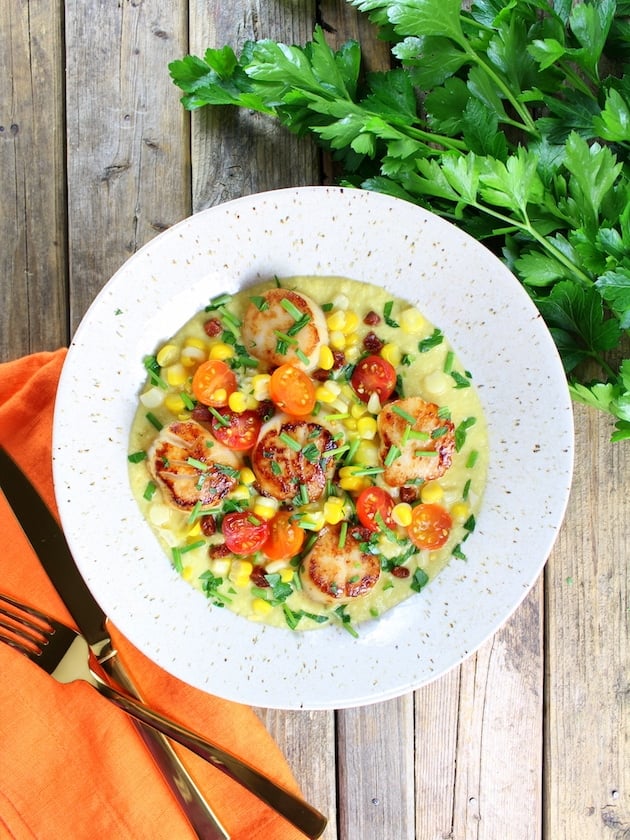 These caramelized Pan-Seared Sea Scallops with Corn Puree are an indulgent meal that's full of flavor and low on calories!
I would love to connect with you!  Leave a comment and follow me on Instagram, Twitter, Facebook, & Pinterest!
Looking for more amazing seafood entrees?  Try these!
Fish Tacos With Mango Guacamole: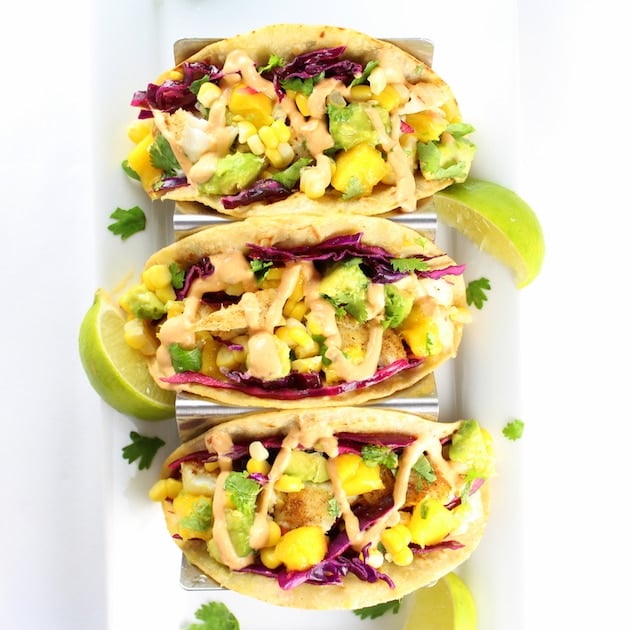 Buffalo Shrimp With Blue Cheese Grits: