I'm excited to share my easy and delicious take on this Baked Chicken Caprese recipe with you today!
I've been making this recipe for many years now. I got the inspiration from the South Beach Cookbook. They have a similar recipe, but I omitted and added things like I always do.
You start out by cooking the chicken on the stove to give it some beautiful golden color and then finishing it in the oven. This method will deliver juicy, moist golden baked boneless chicken every time. Seriously. No. Jokes.
Delicious chicken breast without flour, without butter, without eggs, without breadcrumbs and without skin…so good!
About 10 plus years ago B and I decided we needed to clean up our diet and shed a few unwanted pounds, so we actually tried the South Beach diet. It was very educating to say the least. I learned that all carbohydrates are not the same… there are good ones and, well, not so good ones.
I also learned about protein, and which cuts of meat are leaner than others (thus healthier). For example chicken breast, pork loin, top sirloin, eye of round or top round roast or steak, are all very desirable cuts of meat. Also, look for meat graded as "choice" or "select" instead of "prime" because prime has more fat.
It was all very eye-opening.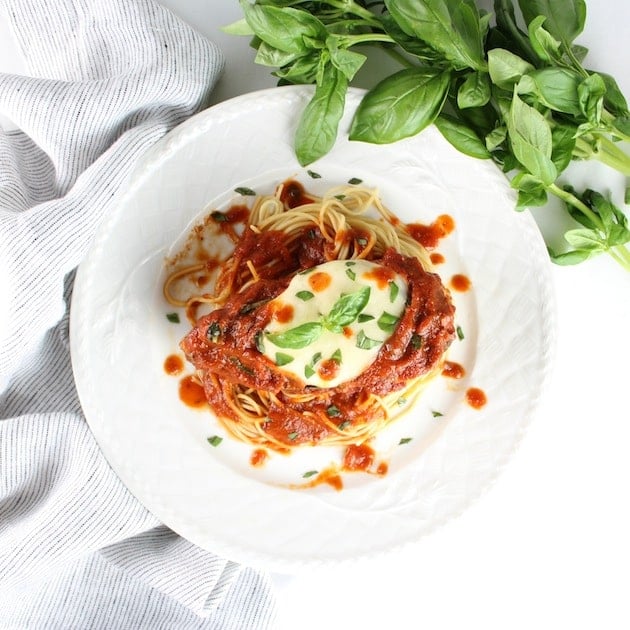 The diet or lifestyle, as I like to call it, has four phases and as you pass into the next phase you add more foods back into your meal plan. At the end of the fourth stage we decided we felt better than ever and wanted to take our newfound knowledge and make it our new way of eating.
Of course everything in moderation, 'cause sometimes you just gotta eat chocolate cake.? (Can I get a woop woop??) As a result, we lost weight, gained energy, knowledge and a new clean-eating lifestyle. Yay for us!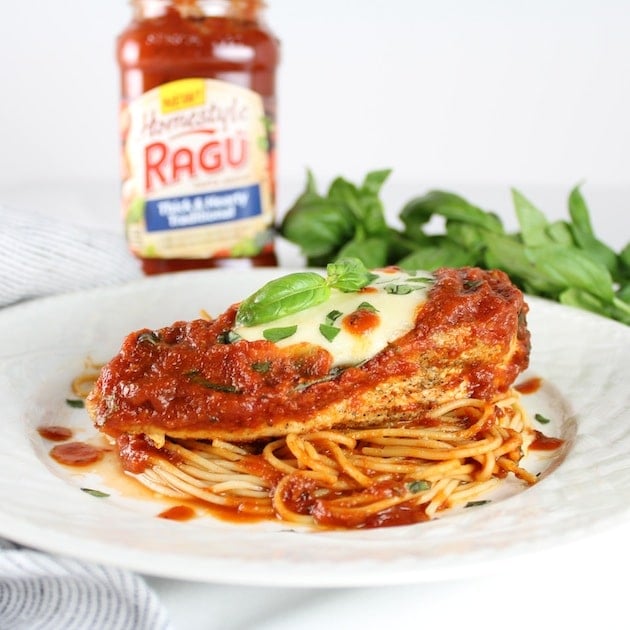 Today's recipe is one that we would make and eat regularly because it fits perfectly into our homestyle way of cooking… it's flavorful and oh so satisfying. I like to make it and serve it with some yummy Roasted Parmesan Broccoli, or a simple or Arugula Salad - or both 'cause it's all really good for us!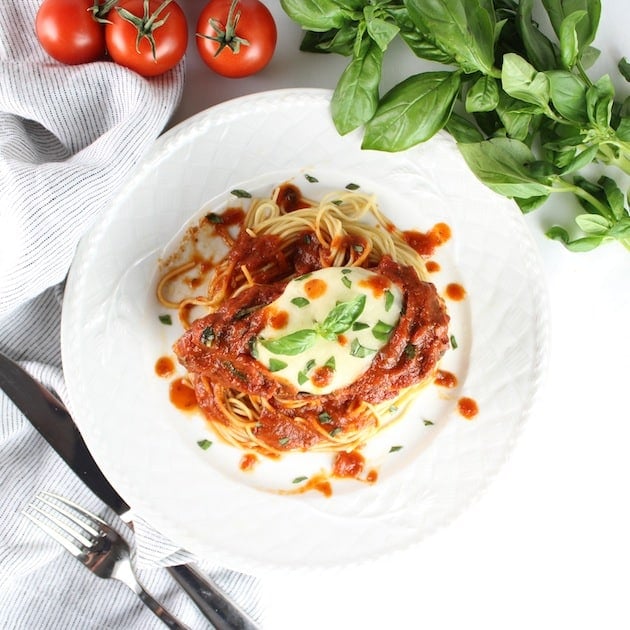 Now-a-days there are some really great pasta options out there. You've got whole wheat, extra protein-infused, gluten-free, veggie pasta and even zoodles (zucchini noodles) thanks to the all-impressive new kitchen gadget the spiralizer. There are just so many wonderful options to choose from.
For today's recipe I chose the protein-infused thin spaghetti. The thing about protein is it helps balance out the simple carbs in our diet. If you eat some simple carbs by themselves your body will convert them into sugar (technically "glucose") really quick. This will make you feel happy, energetic and full - but not for long. Soon you will be hungry and be lacking energy. Interesting isn't it?
It's all about balance. If you add some protein with those carbs it changes everything. Protein takes longer for your body to digest so it doesn't spike your blood-sugar and it helps you to feel full longer, basically balancing out those carbs. Don't you just love it when a plan - or should I say meal - comes together!
A quick example for you on the benefits of eating a balanced diet…My girlfriend's daughter was a sugar lover. She would eat dessert for every meal if she could. My friend noticed this behavior and decided to have her daughters blood sugar checked. She found out that her precious cherub was pre-diabetic (meaning on the verge of being diagnosed with diabetes).
The doctor told her to essentially remove ALL carbs/sugar from her diet – even the "good" ones. Even removing certain veggies from her diet like green beans because they are higher in carbs. She was also told to eat only very lean protein.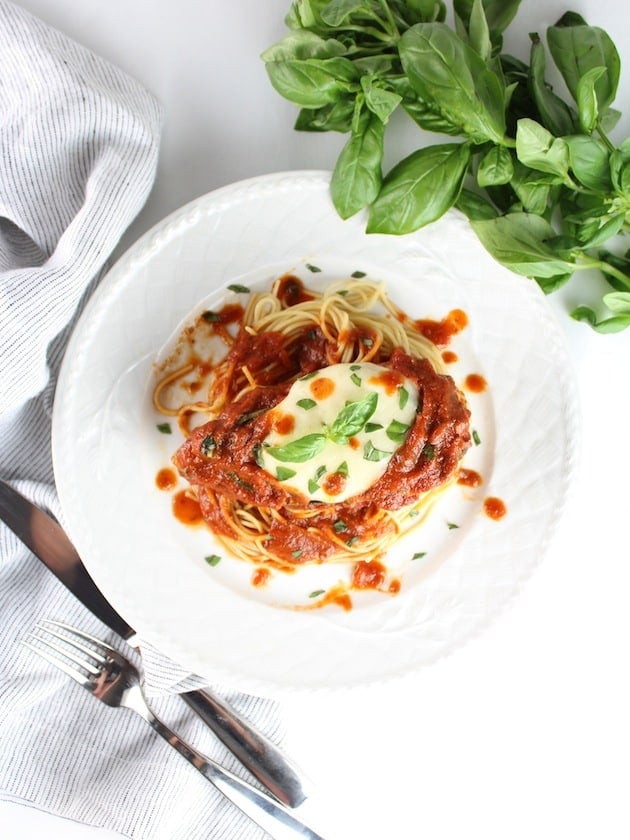 So it was filet mignon every night for that poor kiddo. She was told that if she stuck to this plan she could possibly reverse the pre-diabetic condition completely. And that's exactly what she did. Six to eight months later, she was in clear. But that doesn't mean she went back to her sweet and sugary ways. Oh no – this was a lifestyle. Not that she couldn't eat any sugary/refined carbs, but if she was going to partake of a brownie or chocolate chip cookie she just needed to make sure she had consumed high quality protein like a nice sirloin steak or chicken breast for dinner. Again, it all comes back to balance. I'm sensing a theme here.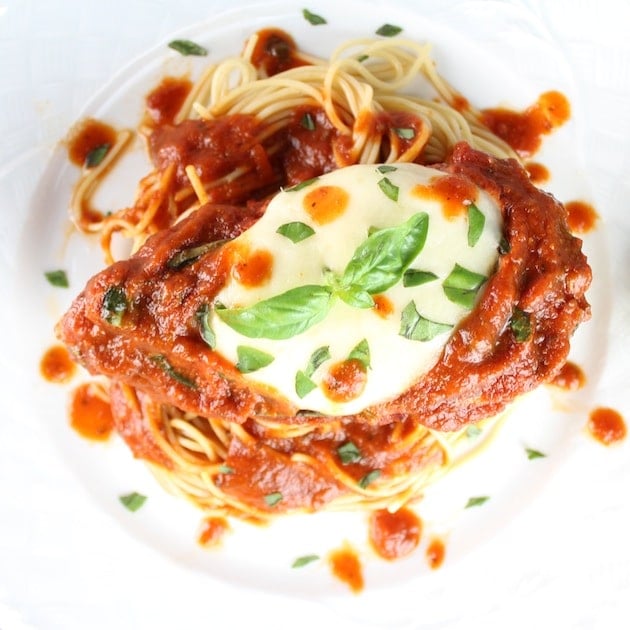 You didn't know this was a post on food education – did you?? Well it is I guess but it's also so much more! They say knowledge is power so you should feel really strong right now. Especially after you make this delicious, protein-infused and wonderfully balanced Baked Chicken Caprese. '
Like I said it's just how the B man and I roll, it's part of our family's homestyle cooking.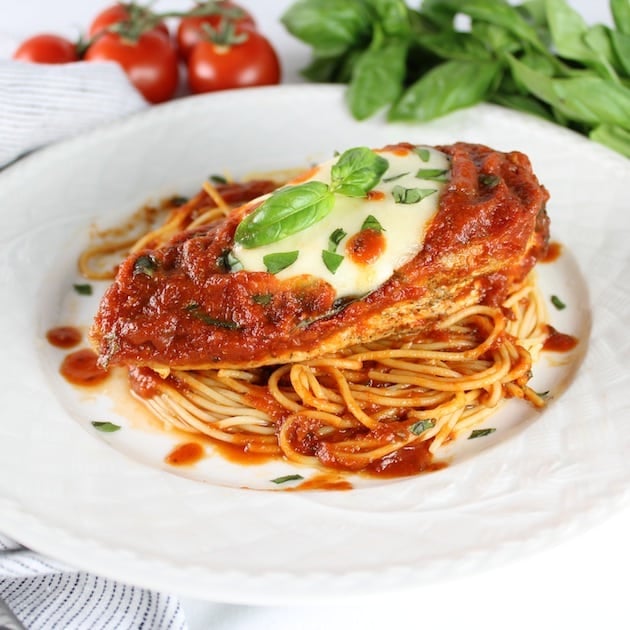 Not only is this dish tasty, it is also really easy and quick to make. AND just when you thought it couldn't get any better…it does! It also requires less than 5 ingredients!! Trifecta of recipes going on here, my friend. Here's what you'll need to make this delicious dish: four boneless skinless chicken breasts, some fresh basil leaves, fresh mozzarella cheese, garlic powder, of course salt and pepper and some tasty pasta sauce.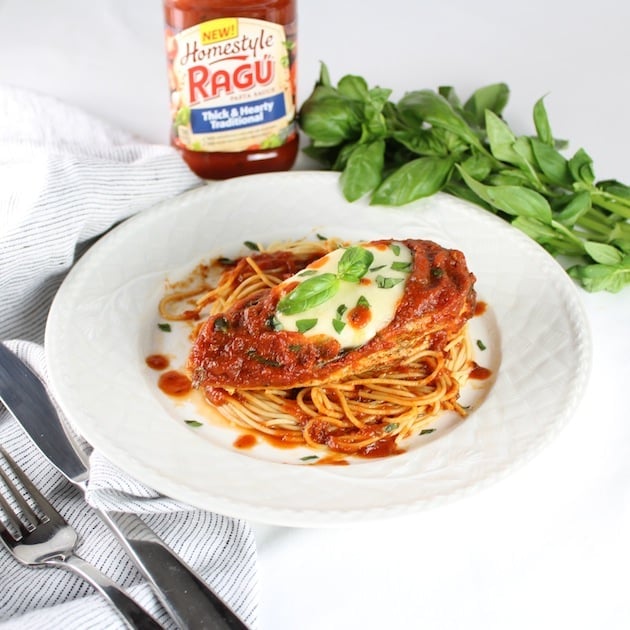 Annnnd we're moving on.
You start by prepping your chicken breast. Rinse and pat dry each piece of chicken. Make sure it's really good and dry. Trim off all the fat or loose pieces meat. Then sprinkle some salt, pepper and garlic powder onto both side of each chicken breast.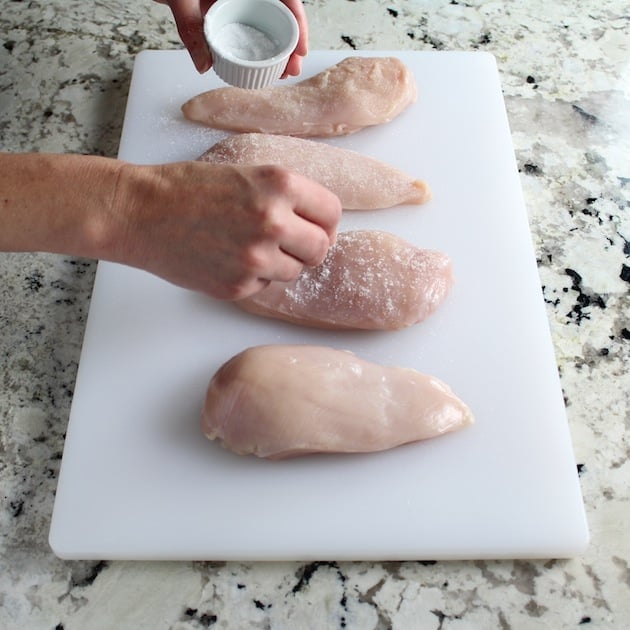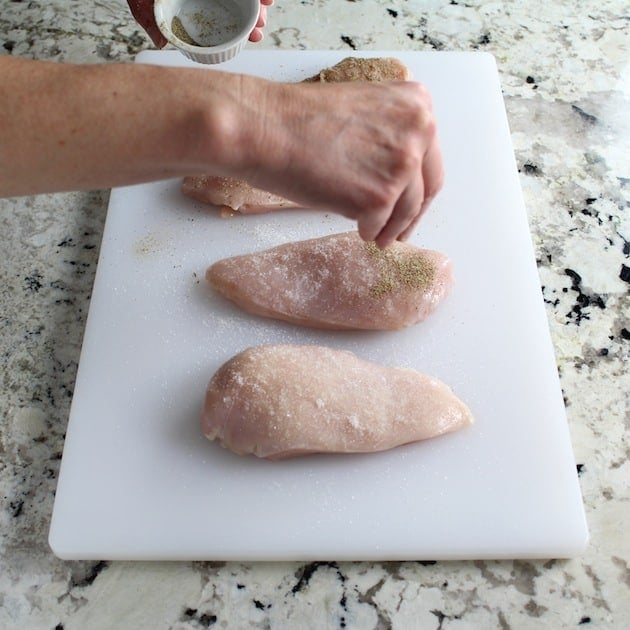 Next, go ahead and preheat your oven to 450 degrees, and add a little olive oil to a sauté pan on medium high heat.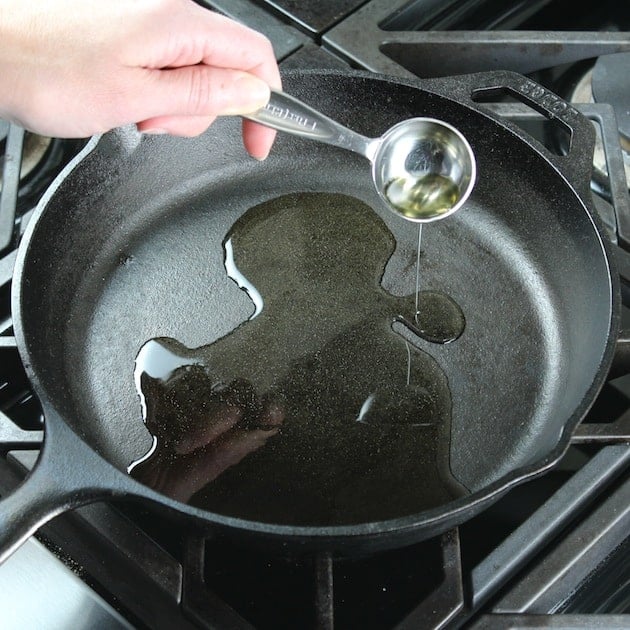 Once that's heated up, add your chicken to the pan (don't overcrowd the pan because it will take longer to cook… you may need to do this in batches or use 2 pans at the same time). Let each breast cook for 3-4 minutes a side. Each side should have some nice golden color to it.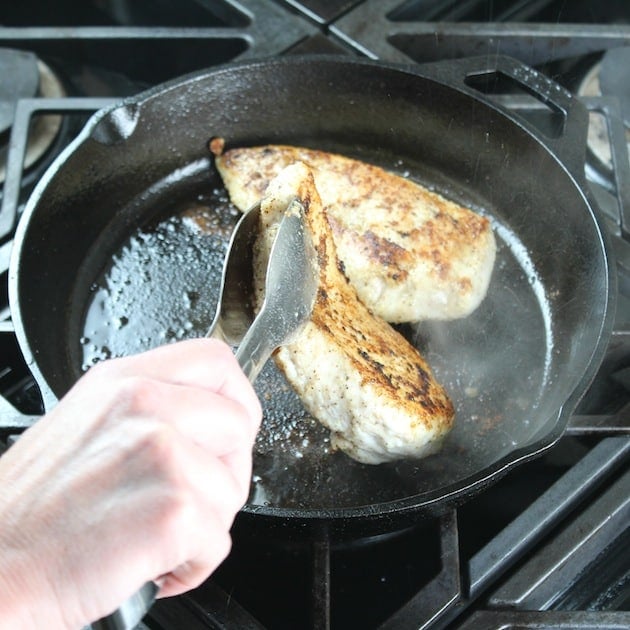 Next, you're gonna place each breast in a 9x13 or a baking dish large enough to hold them all, and bake them on the middle oven rack for 15 minutes at 450 degrees.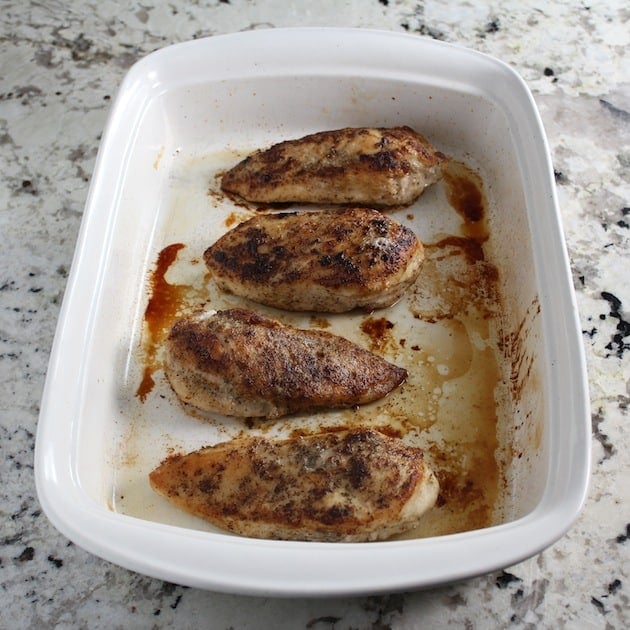 Pull them out, turn the oven temp down to 350 degrees, and quickly spoon the pasta sauce onto each piece of chicken, then top them with 2-3 pieces of fresh basil and one slice of fresh mozzarella.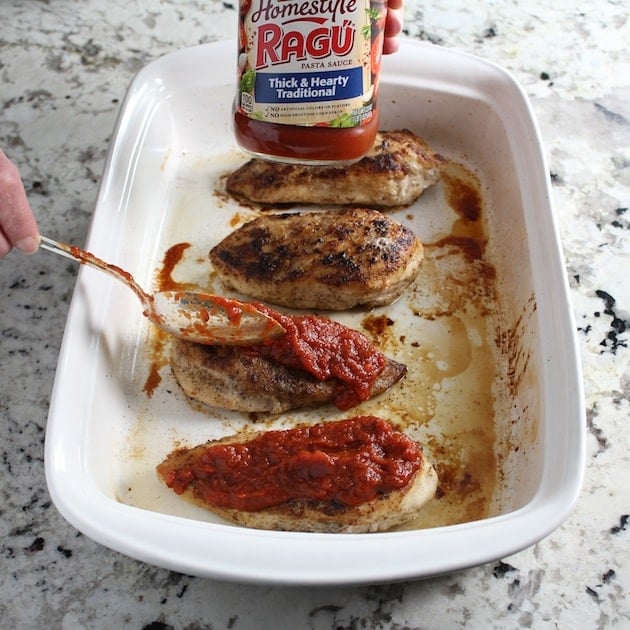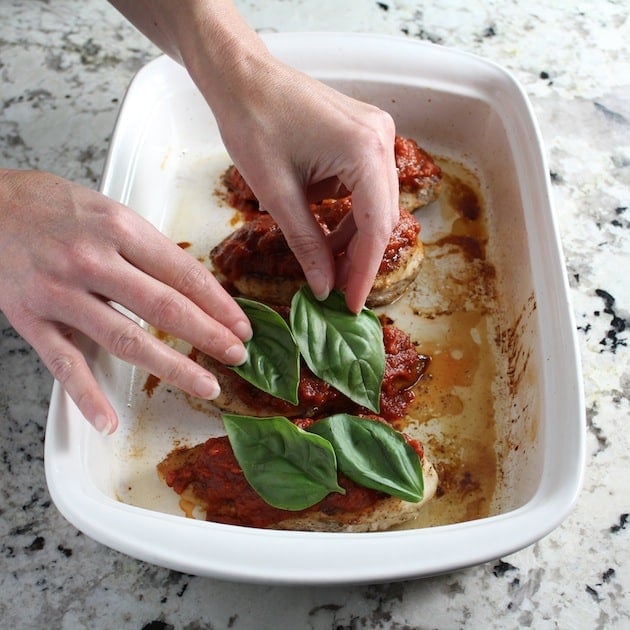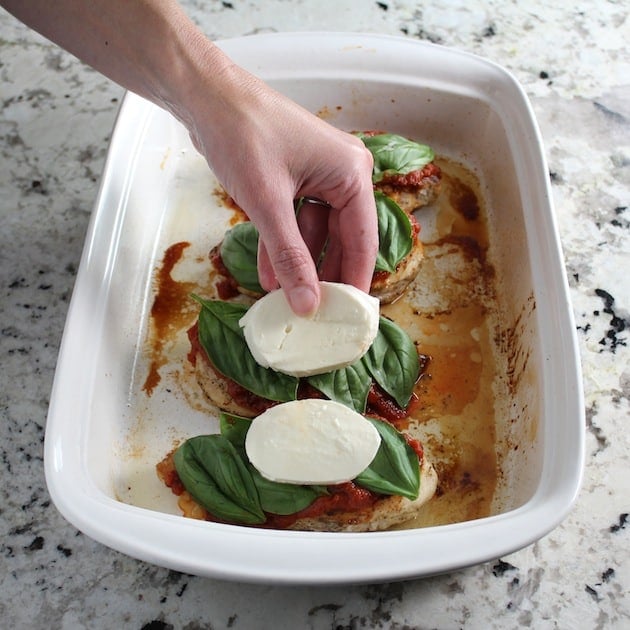 Return the chicken to the oven for 5 more minutes - or until the cheese is melted over the chicken breast but not sliding off the sides (the internal temperature should reach 165 in the thickest part of the largest chicken breast).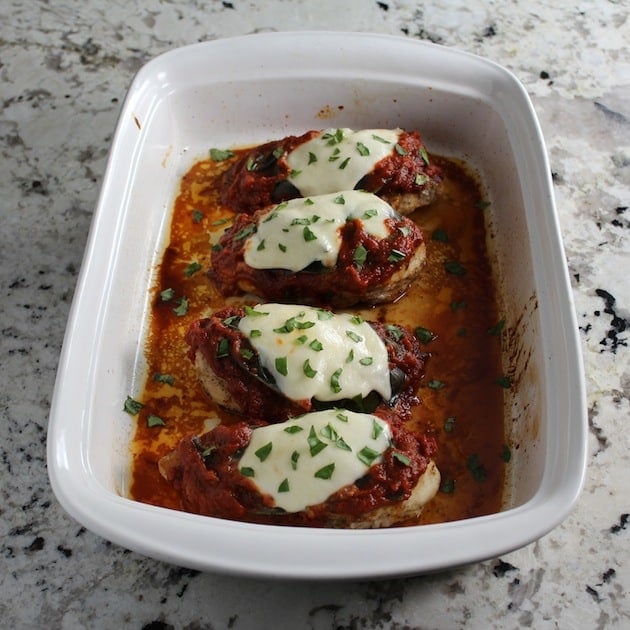 Using a meat thermometer will ensure that you have yummy oven baked boneless chicken without drying out. Trust me if you're wondering "why is my baked chicken dry" or "why is my baked chicken tough," it's probably because you're over cooking it - plain and simple.
For the love of yard birds everywhere that sacrificed their lives for your eating pleasure, invest in a meat thermometer and please stop overcooking your chicken. Sorry, I don't mean to beat a dead chicken but I'm very passionate about you eating delicious juicy baked boneless skinless chicken breast.
Soapbox is broken down and put under the bed – I promise.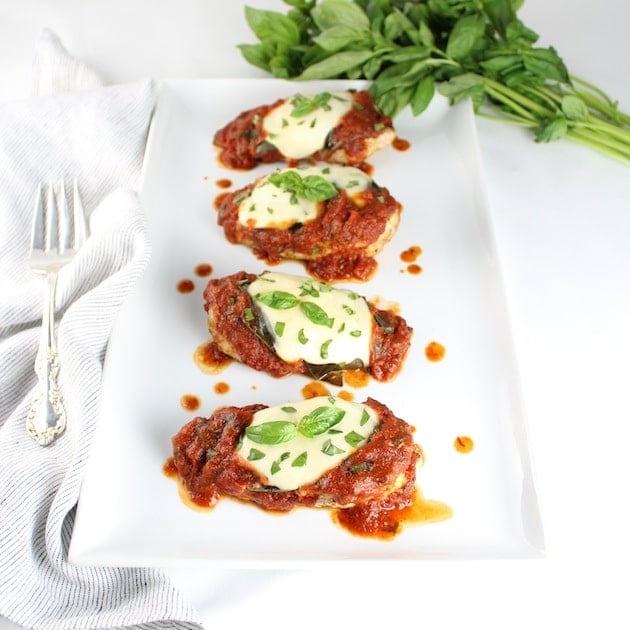 In honor of making this meal as quick as possible I suggest cooking your whole wheat, veggie, or protein-infused pasta noodles while the chicken is getting all happy and baking in the oven.
Now it's time to assemble and dig in! Swirl some noodles on your plate, spoon on some more Ragu sauce if you're saucy like me, top it with your Baked Chicken Caprese and enjoy your delicious and perfectly balanced dish.
This is such a quick, easy and tasty meal, sure to become a family tradition for the weekday recipe line-up!
Yield: 4 servings
Baked Chicken Caprese
Baked Chicken Caprese: delicious, easy, healthy 5-ingredient meal, perfect for weeknights: fresh basil, fresh mozzarella, garlic powder, Ragu pasta sauce.
Ingredients
4 boneless skinless chicken breasts
2 teaspoons garlic powder
1 teaspoon salt
1 teaspoon pepper
2 tablespoons olive oil
8 ounces fresh mozzarella
15 large basil leaves, rinsed & dried (hold back three of these for garnish)
1 23-ounce jar Ragu Homestyle "Thick & Hearty Traditional" pasta sauce
4 servings angel hair pasta, (substitute your preferred pasta/ gluten-free)
Instructions
Preheat oven to 450 degrees.
Rinse and pat dry each piece of chicken, making sure it is well-dried. Trim off all the fat or loose pieces of meat.
Sprinkle salt, pepper and garlic powder onto both sides of each chicken breast.
Add olive oil to sauté pan on medium high heat, then add your chicken (cook in batches if needed).
Cook each breast for 3-4 minutes a side, until it has a golden sear on both sides.
Place the chicken in a 9x13 baking dish, and bake on the middle oven rack for 15 minutes at 450 degrees.
Cook pasta while the chicken is in the oven baking.
Remove baking dish and reduce oven to 350 degrees. Quickly spoon the Ragu Homestyle sauce onto each piece, top with 2-3 pieces of fresh basil and one slice of fresh mozzarella. Return the chicken to the oven for 5 more minutes - or until the cheese has melted, Ensure chicken reaches a minimum internal temperature of 165 degrees.
Serve over pasta and garnish with remaining basil.
Notes
You can also garnish with fresh chopped tomatoes if desired.
Nutrition Information
Yield
4
Serving Size
1 chicken breast
Amount Per Serving
Calories

514
Total Fat

25g
Saturated Fat

9g
Trans Fat

0g
Unsaturated Fat

14g
Cholesterol

143mg
Sodium

1881mg
Carbohydrates

19g
Fiber

4g
Sugar

11g
Protein

51g
This nutrition card uses an estimate provided by an online nutrition calculator. This estimate is not a substitute for a professional nutritionist's advice!