This Loaded Lemon Iced Tea is like sipping on summer! And with only three ingredients it's the perfect low-maintenance cocktail for those hot summer days and warm summer nights!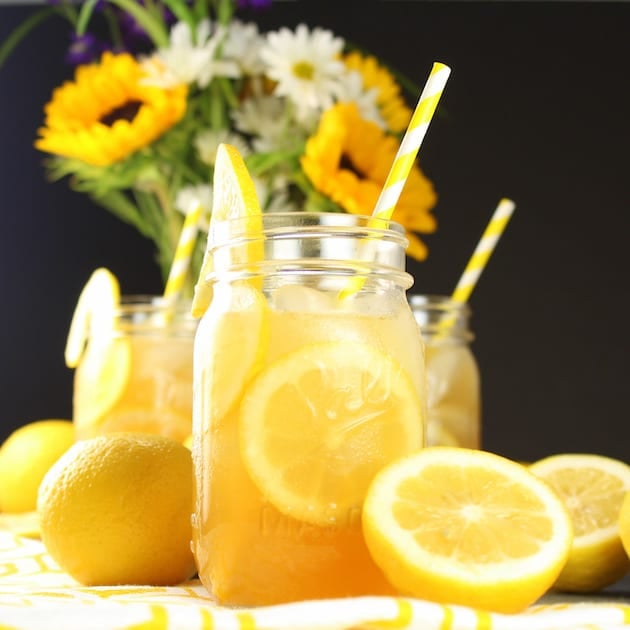 As you may already know I love the flavor of lemon.🍋 I love using it in marinades for meats like these Grilled Rosemary Lemon Chicken Thighs, in smoothies and desserts like a Raspberry Lemonade Smoothie and Lemon Oreo Ice Cream, and I especially love using lemon in cocktails like my Loaded Strawberry Lemonade and now this Loaded Lemon Iced Tea.✨
I'm not sure how I initially stumbled onto this yummy concoction. I think I was doing some experimenting (oops I mean "research") with whiskey-based drinks and voila – summahtime in a glass!☀️
It's actually quite interesting because this libation has zero, zip, nada amounts of tea in it. But some how it tastes like the good ole' days - trying to stay cool sitting on the porch swing, sipping on sun tea.💛 Mmm, mmm! Sign me up!🙋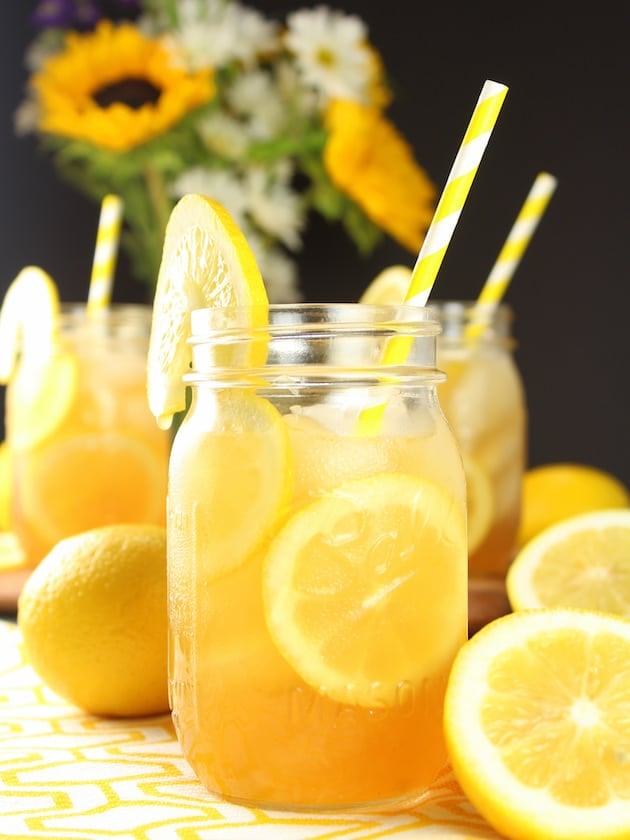 I think it's a little bit crazy how certain ingredients can be combined to create a flavor that completely tastes like something else. It's all science and I cannot pretend to begin to understand it all.🤔 But when I think about how whiskey is made – basically distilling fermented grains like wheat, rye, and corn, then aging it in wooden casks that give the whiskey its own distinct aroma, flavor and color, it helps me wrap my brain around it all.
So different whiskeys will have different flavor profiles; all depending on what grain was used, what type of container was used to age it, and how long it was aged.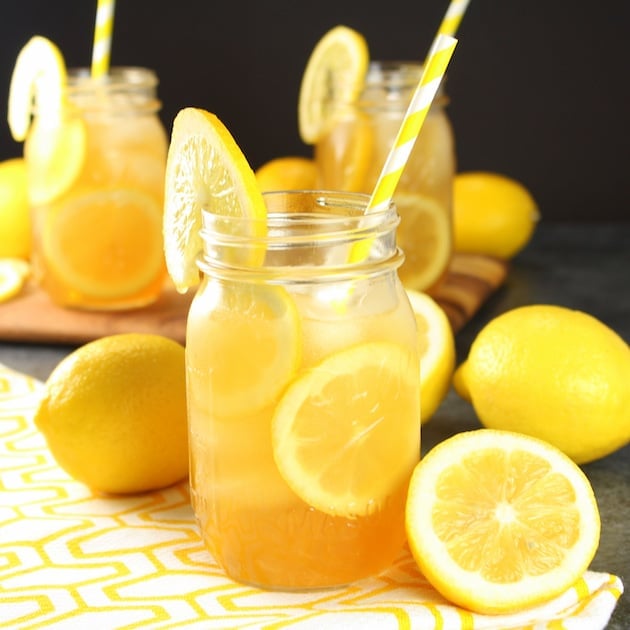 When I make this Loaded Ice Tea I always use Jack Daniel's Whiskey. After looking into it a bit I discovered they use 80% corn, 12% barley and 8% rye in their recipe. They use toasted and charred American White Oak barrels to coax the wood's natural sugars out and caramelize them. Oh and they only use each barrel once to ensure that same consistent Ole' No. 7 flavor so many have come to enjoy.👌
But don't worry they are all about repurposing and recycling – they sell their used barrels to hot sauce makers, beer brewers, and Scotch whisky distillers who will reuse them several more times.🙌
We'll go ahead and wrap up science class for today and move on to making this tasty treat!👇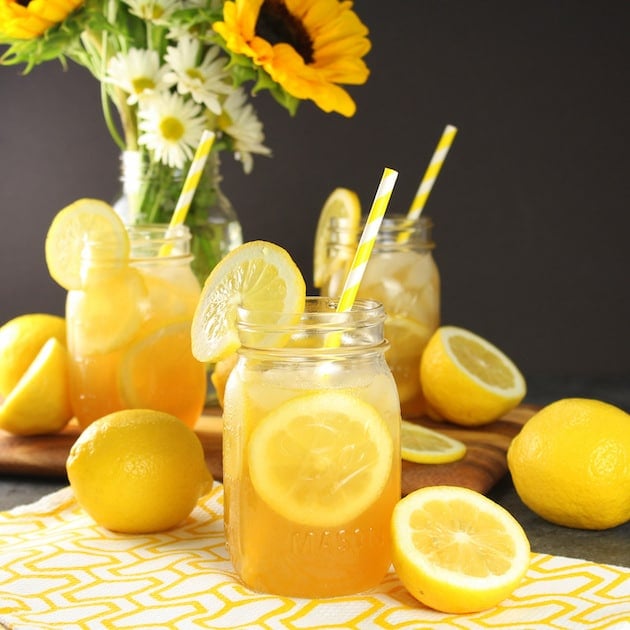 Like I said it only requires 3 ingredients: 2 shots of Jack Daniel's No.7 Whiskey, juice from half a lemon, and 1 tablespoon of pure maple syrup.
Combine with ice in a cocktail shaker and shake well. Then load your glass with some fresh ice, a few slices of lemon, and fill 'er up! Now head out to the back porch and soak up as much summer as you can!😎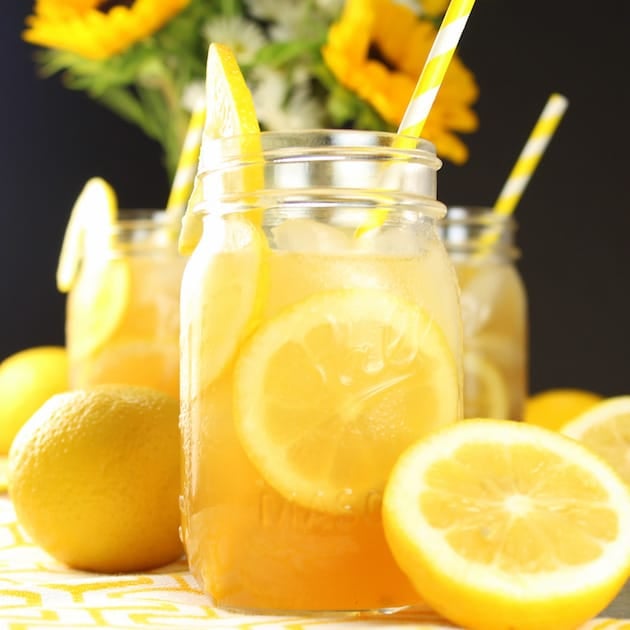 I would love to connect with you! Leave a comment and follow me on Instagram, Twitter, Facebook, & Pinterest!
Yield: 1 drink
Loaded Lemon Iced "Tea"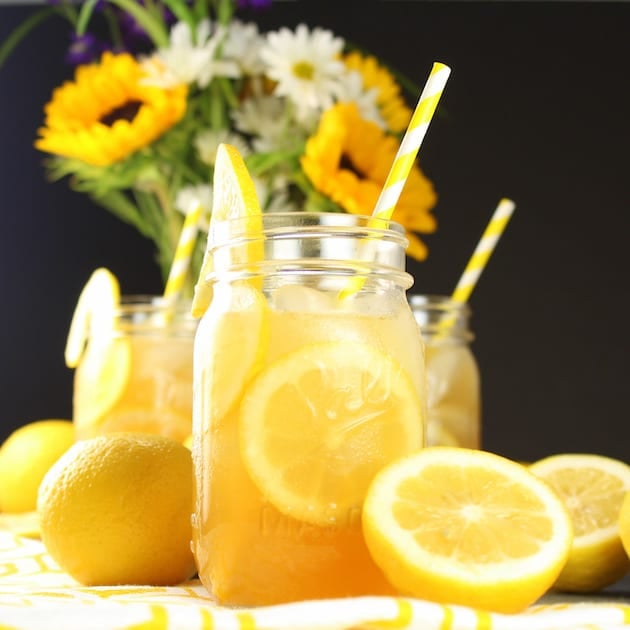 This Loaded Lemon Iced Tea is like sipping on summer!
Ingredients
2 ounces Jack Daniel's Tennessee Whiskey
½ lemon, juiced
1 tablespoon maple syrup
lemon slices for garnish
Instructions
Combine all ingredients in a martini shaker with ice and shake vigorously.
Serve up or on the rocks, garnish with lemon, and enjoy!!
Nutrition Information
Yield
1
Serving Size
1 cocktail
Amount Per Serving
Calories

295
Total Fat

0g
Saturated Fat

0g
Trans Fat

0g
Unsaturated Fat

0g
Cholesterol

0mg
Sodium

3mg
Carbohydrates

16g
Fiber

0g
Sugar

13g
Protein

0g
This nutrition card uses an estimate provided by an online nutrition calculator. This estimate is not a substitute for a professional nutritionist's advice!
Still Thirsty? Try these!
Honey Mango Strawberry Margarita