Do you ever feel like you spend more time decorating and cooking than enjoying your time with friends and family over the holidays?  Ready for Thanksgiving Made Easy??
Yes – I can totally relate!
But the last several years we've taken a simpler approach.  Dare I say it – we've invested in disposable Thanksgiving tabletop items!  Don't judge people – once you try it you'll never go back.
I must admit I was not completely on board with this concept at first but after reaping the benefits of minimal clean up time and time again – I'm never going back!!
I've taken the time to round up some of my must-have disposable Thanksgiving tabletop items for this year — and yes, they are fancy and totally Thanksgiving table worthy!  So, you've got the best of both worlds: a beautiful table-scape, and easy cleanup.  #winningX2
And because we all appreciate one stop shopping, from our couch, in our PJ's – we've sourced all of our products and décor from Amazon.  Plus, since Amazon Prime is a thing, you can get all of this delivered to your doorstep before Turkey Day!
(this post contains affiliate links.  Read more here.)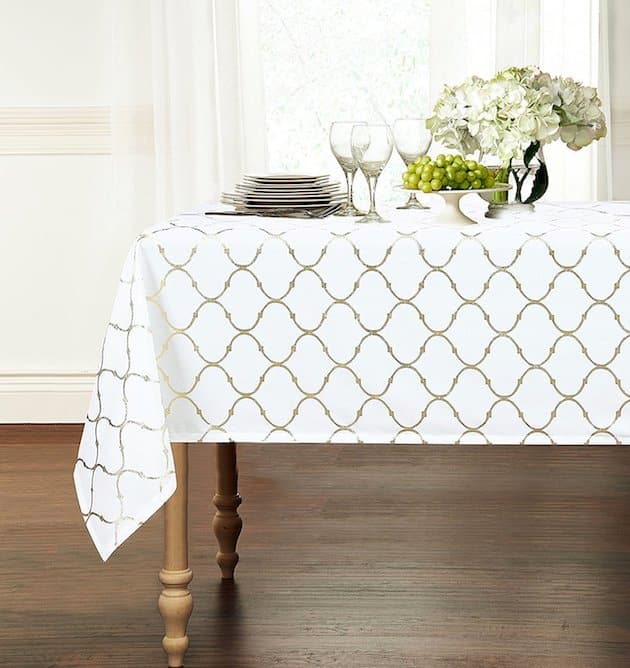 The one item you may consider not being disposable is the tablecloth.  It's not too labor intensive to hit it with a little stain spray and throw it in the washing machine.  Then you can reuse it again and again for years to come.  I love the metallic lattice pattern on this one
.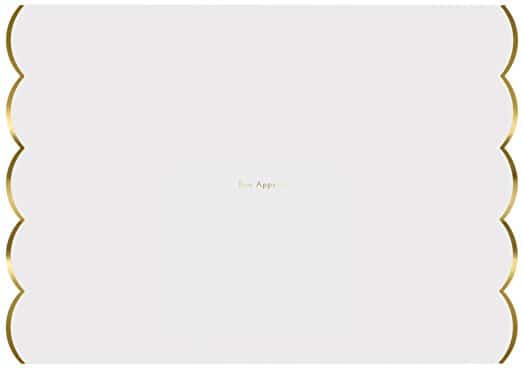 If you're not into the whole tablecloth thing but still want to protect your table from spills and dress it up a bit these disposable placemats with gold foil trim are a pretty option.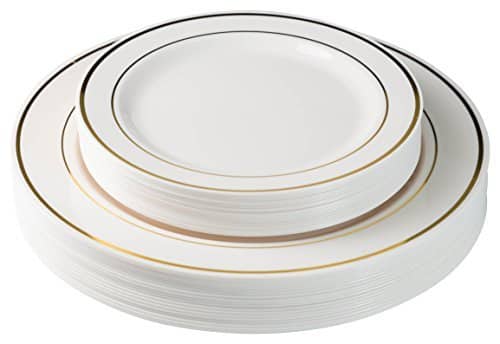 Can we talk plates?  Many disposable plates are just not sturdy enough to hold all that turkey and dressing.  But if you opt for the plastic ones you'll be all set.  For an understated look go for clear plastic plates
but to make it a bit more elegant try these sturdy white plates rimmed with gold foil
.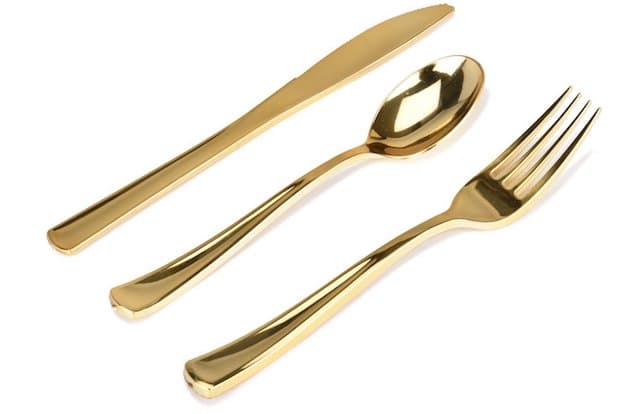 Disposable heavyweight gold silverware is perfect for the occasion. It adds some bling to the table and they look like the real deal. This set offers 100 forks, spoons and knives
.  So enough for dinner, dessert and second dinners.  Not sure about you but that's totally a thing in our house.
These gold trimmed plastic tumblers
 are so adorable.  If you want something a bit more understated but just as nice these clear ones
 are a great option.
Of course, napkins are a must.  I like these I like these gray and gold marbled ones
 or these fun napkins with branches and berries
.

What's not to love about these heavy-duty clear but fancy serving trays
.
And let's not forget about the kiddos.  Growing up we always had a kid table – which we loved.  It's a great way to let the kids have a bit of fun and allow the adults to do the same!  Here's a kit that will make them feel special
.  Or just pick up one of these activity tablecloths
and keep them busy for the entire meal.
And after the tryptophan or the carb coma kicks in, you're going to want some hot coffee or maybe just a hot toddy.  These glittering gold cups
are perfect for hot or cold beverages.
And how about some floral garland
, a Give Thanks banner
or fall party puffs
 to make the room feel all fun and festive!?  Pro tip:  The puffs could also be arranged as a centerpiece down the middle of the table. #mindblown
If you're like me and have a long-standing love of flowers your table-scape could benefit from a live fall floral centerpiece.  I recommend placing a call (a few days or a week a head) to your local grocery store, florist or even online to our favorite floral provider ProFlowers and ordering a pave' style arrangement or two.  You know, the short ones that allow you to see all your fabulous guests.
Well, what do you think!??  Isn't this a fabulous way to dress up your Thanksgiving table with virtually no clean up required?  What can I say – I'm all about helping you have a wonderful stress-free holiday season and enjoying the rich company of family and friends!
From our house to your Happy Turkeyday Day!  Gobble gobble!