Easy Zuppa Toscana Soup - Low Carb Gluten Free! Loaded with tons of flavor from spicy Italian Sausage, fresh herbs, Parmesan cheese, tender kale, and cauliflower… all in a rich, creamy broth. This low-carb and gluten-free version of Olive Garden's Zuppa Toscana soup recipe is a healthy twist on the classic you'll make time and time again!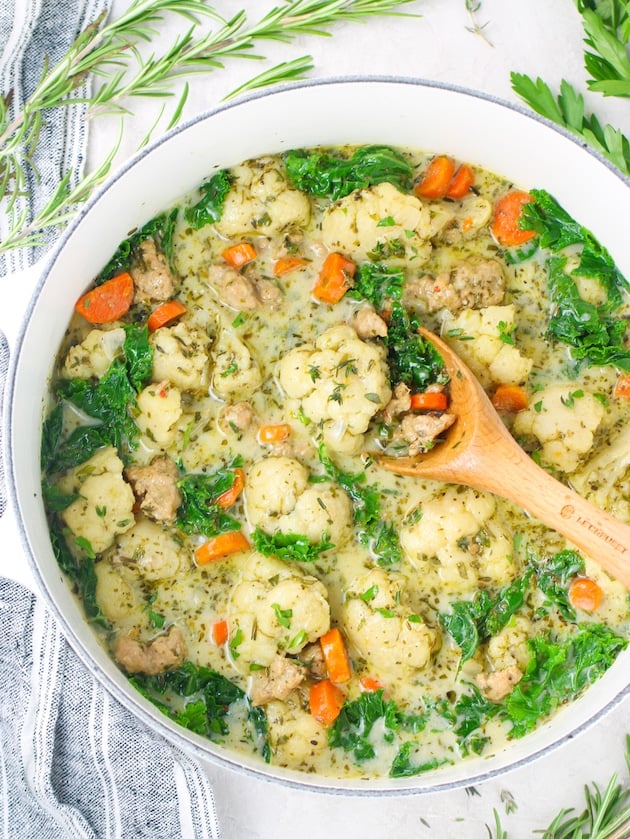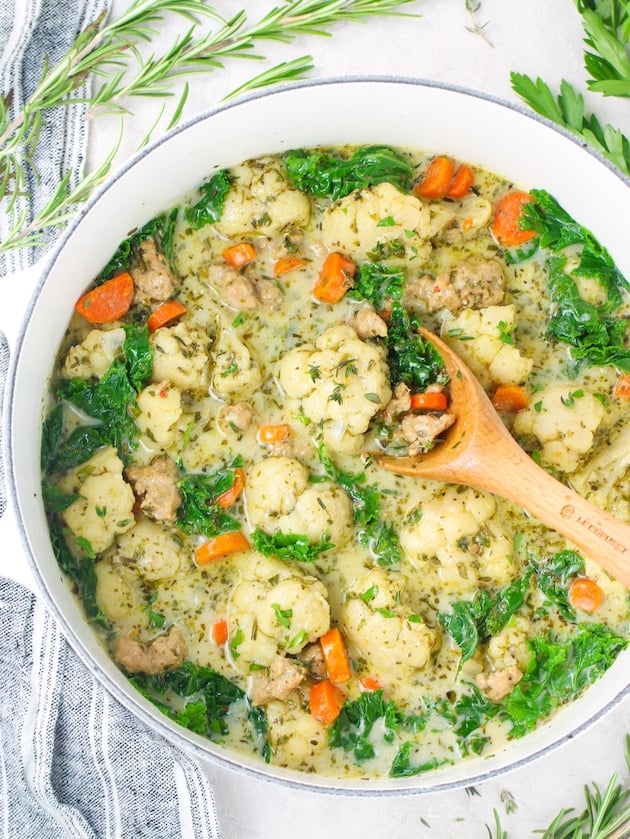 Jump to:
I almost can't contain my excitement – it's soup season! Well, if you're me every season is soup season, especially when you live in Florida and there are no seasons.
Sorry, let me correct myself there is "a" season and it's "hotter than snakes a$$ in a wagon rut" season all year round. Don't lose your cookies - I was merely quoting a movie (Good Morning Vietnam) so please, no hate mail, drop your rocks.
My deep and heartfelt love of soup means I will always be slurping on it, whether it's 20 degrees or 120 degrees.
I'm feeling an ode to soup coming on. It's probably more of a litany or a list of praiseworthy attributes.
Before we go there I want to share some of my favorite soups with you...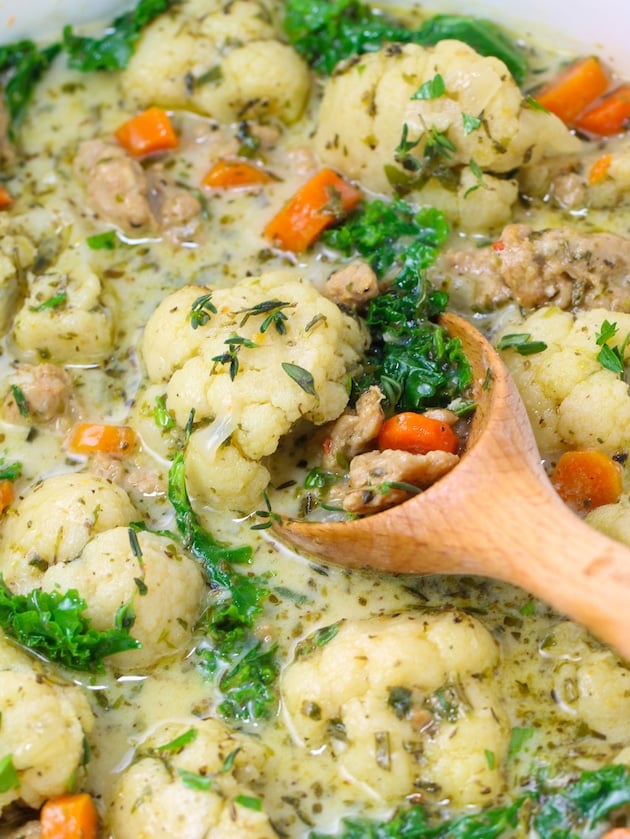 Why Soup is the most amazing thing you can eat:
It's a complete meal in a bowl. You've got your protein, your veggies, and your carbs. And you can adjust it to whatever diet you're following. Like today's recipe… a low-carb version of Olive Garden's famous Zuppa Toscana Soup Recipe.
It is an inexpensive but satisfying and filling meal. Many soups call for pasta or beans - both are hearty, filling, and economical. Many soups are so versatile you can swap out the protein (which is usually the priciest ingredient) for whatever meat is on sale at the grocery store.
There's minimal cleanup because you usually only need one pot.
It's full of lots of broth or juicy sauce. I'm all about the sauce - I literally drink my turkey gravy on Thanksgiving. Plus, you're hydrating – #winning!
You really can't mess it up. If it's too salty add more liquid or a pinch of sugar. If it's too runny you thicken it with cornstarch, a flour + water slurry, or arrowroot. If it's too thick you add more broth or water.
Soup is comforting and cozy and feels like a warm hug. I get all the feels when I'm slurping down some of my homemade Instant Pot Chicken Noodle Soup Recipe, or my Creamy Chicken Mushroom Soup (low carb) mmm, or there's everyone's favorite, Italian Pasta Fagioli Soup. All amazing and heartwarming.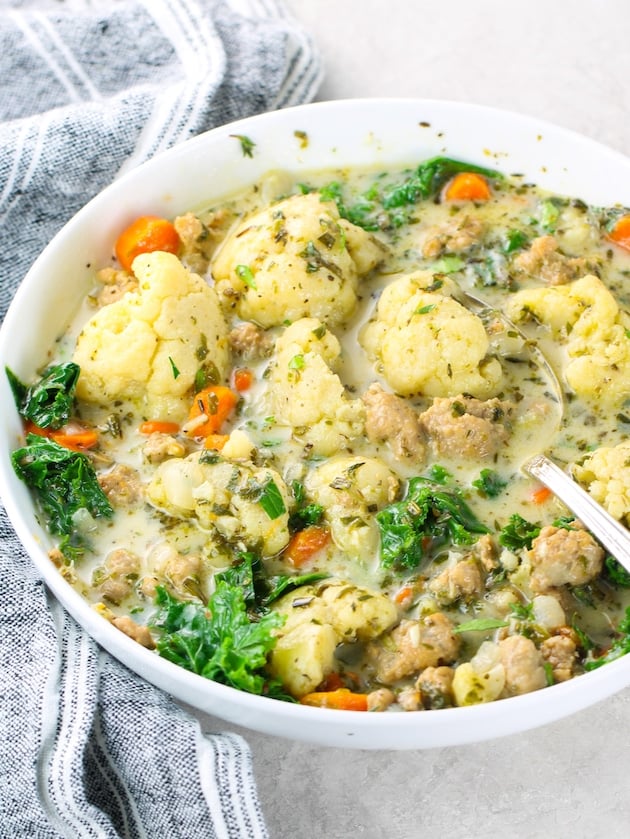 As you can tell, my affinity for soup runs deep. And, I must tell you my latest soup creation is another delicious concept. Allow me to introduce my new soup baby… Low Carb Zuppa Toscana!!
You most likely know this tasty medley from savoring it at Olive Garden. They have an amazing version with spicy Italian sausage, fresh kale, and russet potatoes in a creamy broth. Yes - it's a fantastic Zuppa Toscana Soup Recipe.
Mmm, my mouth is watering.
My Low Carb version is just as flavorful and delicious but I swap out cauliflower florets for the potatoes and I don't use any flour thickeners so it keeps it low-carb and packed full of nutrients.
Whether you're following a low-carb diet or just trying to be a little healthier and add more veggies into your diet, this zuppa is for yuppa. (I know that's not a word but it's fun to say. Go ahead try it… zuppa for yuppa. Ok, maybe not.)
Annnd we're moving on.
What is Zuppa Toscano?
So that you know, the name "Zuppa Toscana" just means "Tuscan Soup."
There are a lot of variations on a classic Tuscan soup, but the Olive Garden version is probably the most famous here in the United States.
By making this Zuppa Toscana with cauliflower instead of potatoes, we're creating a lower-carb version without sacrificing flavor.
And you can make this soup with sweet or hot Italian sausage. I'm all about spicy food, so you know I normally use spicy sausage.
This soup includes the powerhouse super food veggie: kale. If you aren't a fan of kale, you could swap it out for fresh spinach. But I would recommend just adding the spinach to each bowl when you're serving it up (not into the whole pot while it's cooking. It will get overcooked and slimy).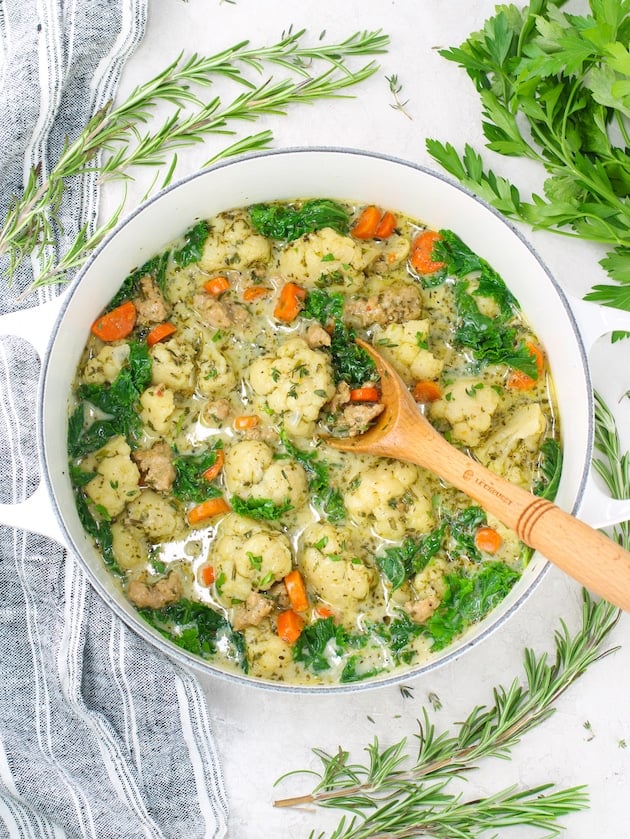 I'm excited for you to experience this yumminess. Take a look at the recipe below for all the instructions that make this low-carb soup a masterpiece.
Yield: 5 Servings
Zuppa Toscana Soup – Low Carb and Gluten Free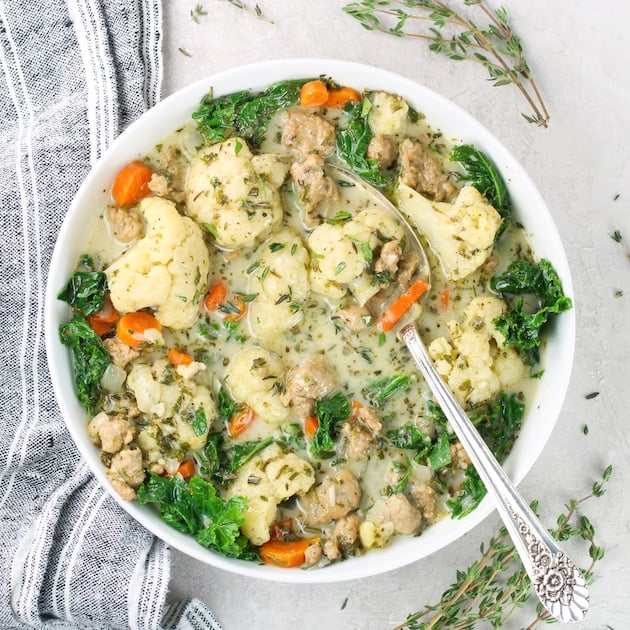 Ingredients
1 pound mild or spicy chicken or turkey Italian Sausage *See note
1 large onion, diced
3 carrots thinly sliced
5 cloves fresh garlic, minced
1 tablespoon oregano
1 teaspoon Italian Seasoning
¼ teaspoon crushed red pepper flakes (optional)
1 teaspoon salt and pepper (optional)
⅓ cup fresh parsley, chopped
4 sprigs of rosemary (whole)
8 sprigs of thyme (whole)
32 ounces chicken stock (more if too thick)
1 large head of fresh cauliflower, broken or cut into 1½ to 2 inch florets
½ cup heavy cream (or half and half if you prefer)
4 cups (4 ounces in weight) fresh kale, or baby spinach if you prefer
⅓ cup grated Parmesan cheese, more for garnish
Instructions
1. Using a large soup pot or Dutch oven, add olive oil and cook sausage for 5-6 minutes on medium to medium high heat. Stir occasionally and break up the meat as it cooks into bite-sized pieces.

2. Add the onion, oregano, Italian seasoning, red pepper flakes (if using), and salt and pepper. Cook, stirring frequently, for about 3-4 minutes

3. Add the parsley, pour in the stock and give it a good stir. Place the lid on the pot and bring to a boil (simmer for about 5 minutes).

4. Add the cauliflower and make sure it's submerged in the liquid as much as possible. Place the lid on the pot, cracked, and simmer for 6 minutes.

5. Remove the lid and turn the pot off, remove the thyme and rosemary stems.

6. Then stir in the heavy cream. Fold in the kale, and mix in the Parmesan cheese. Taste and season with more salt, pepper, parsley,

7. Garnish with more Parmesan cheese and chili flakes if desired.
Notes
I like using spicy or mild Italian chicken or turkey for this recipe. There's less fat than pork and the flavor is still amazing.

If using spinach instead of kale, I recommend you just add the spinach to the bottom of each bowl as you are serving it.

Nutrition Information
Yield
5
Serving Size
1 Bowl
Amount Per Serving
Calories

457
Total Fat

19g
Saturated Fat

9g
Trans Fat

0g
Unsaturated Fat

9g
Cholesterol

137mg
Sodium

2011mg
Carbohydrates

35g
Fiber

11g
Sugar

11g
Protein

42g
This nutrition card uses an estimate provided by an online nutrition calculator. This estimate is not a substitute for a professional nutritionist's advice!