This Low Carb Chicken Mushroom Soup is a creamy and soul-warming bowl of delicious comfort food. With three kinds of cheese, three kinds of mushrooms, and the most tender, flavorful chicken - this Chicken and Mushroom Soup Recipe will be a new family favorite!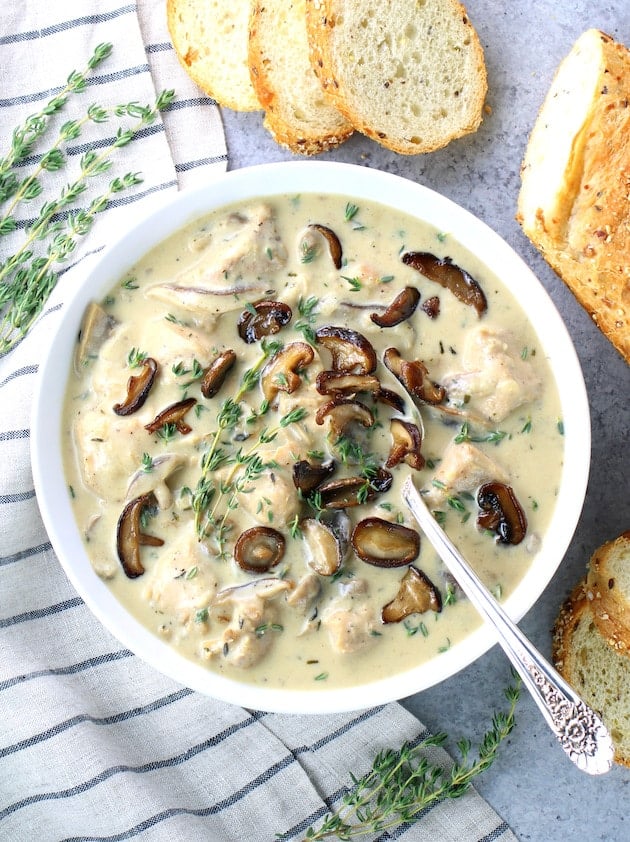 Jump to:
So back in the day, right out of college, I was working hard and waiting tables at a newish restaurant in town. It was called Grady's American Grill – anyone out there remember it? I have to say their food made a lasting impression on me.
They had the best Grilled Chicken Pasta… it was creamy and cheesy and so rich that I could only eat half an order.
Their bread pudding was award-winning and made me a bread pudding lover to this day.
Their broccoli cheese soup was off the charts – way better than Panera's – I'm just saying. I loved working there and I LOVED eating their food.
… Especially their Chicken Mushroom Soup! It was creamy and cozy and full of tender chicken and hearty mushrooms. My mouth is watering as I'm describing it.
For the past decade, I've been making it at home and perfecting my recipe. And now I'm sharing it with you!!
I give you the most delicious low-carb soup creation: Chicken Mushroom Soup!!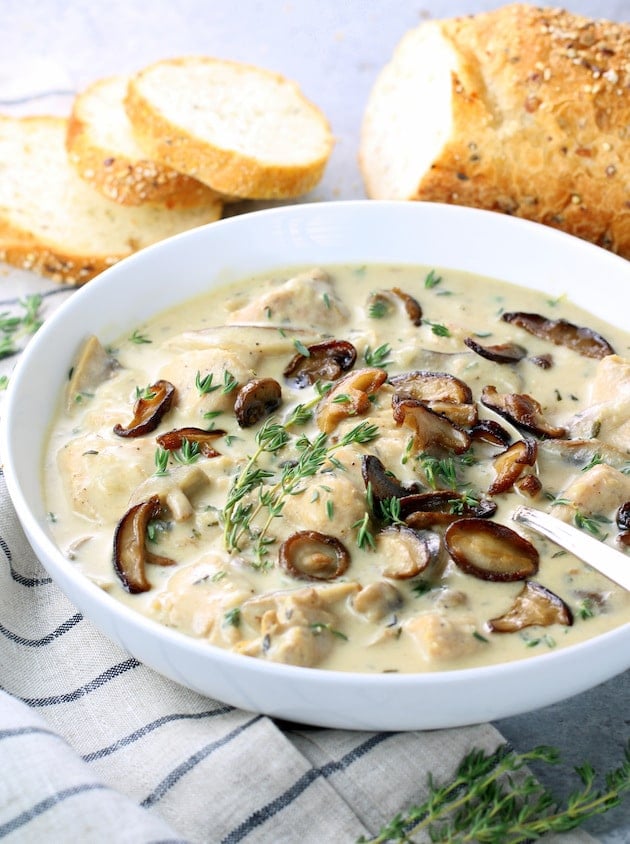 Here's what give this Chicken Mushroom Soup so much flavor:
And as you probably guessed, it's loaded with mushrooms – three different types to be exact: white button mushrooms, baby portobello mushrooms (aka cremini mushrooms or baby bella mushrooms) and shiitake mushrooms (my favorite)! They really give this mushroom soup recipe some rich and earthy depth that is truly mouth-watering.
If you're wondering about the calories in mushrooms they are actually quite low. There are only about 15 calories in one cup of raw mushrooms and only about 2.3 grams of carbs.
Mushrooms are also a good source of soluble fiber and have been found to have high levels of antioxidant compounds that may help prevent some cancers.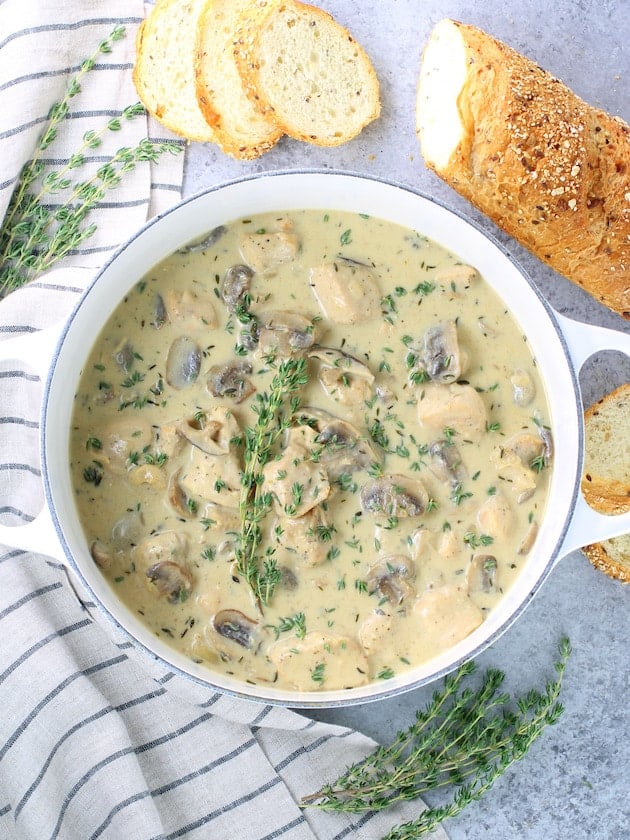 If you like mushrooms you're gonna love this this Chicken Mushroom Soup Recipe!
It's loaded with so many delicious ingredients… tender chunks of chicken breast, sautéed onions and garlic, fresh thyme, Parmesan cheese, Monterey Jack cheese, cream cheese, marsala wine, and chicken stock. So much yumminess in one pot my friend!
Plus, it just happens to be low-carb and gluten-free! #alwayswinning
Of course, if you wanted to make it even more hearty and filling you could add some cooked wild rice, and penne pasta or serve it with some hearty wheat grain bread. Any of those would be delicious.
Or serve it just the way it is for a low-carb chicken and mushroom soup.
How to make chicken and mushroom soup:
Start by seasoning the cut-up chicken with salt and pepper. Saute the chicken in a large Dutch oven over medium-high heat in some olive oil, then remove it from the pan with a slotted spoon.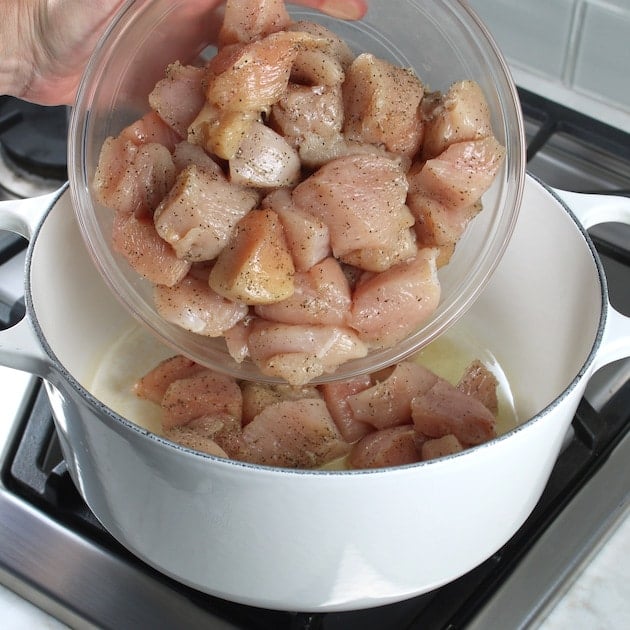 Add mushrooms to the pot, stir, and saute for 6 minutes. (If you want to reserve a few tablespoons of the mushrooms for garnish – remove them from the pot and set aside.)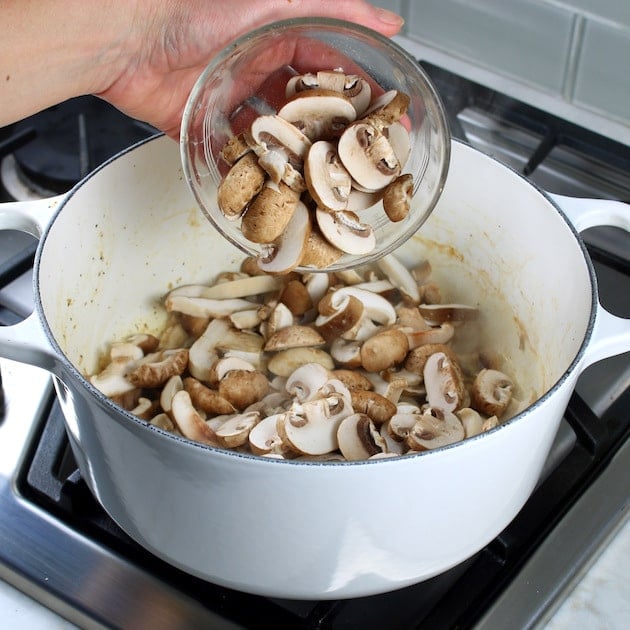 Next, add the onions, garlic, thyme, sage, marsala wine, salt and pepper and saute for 4 more minutes.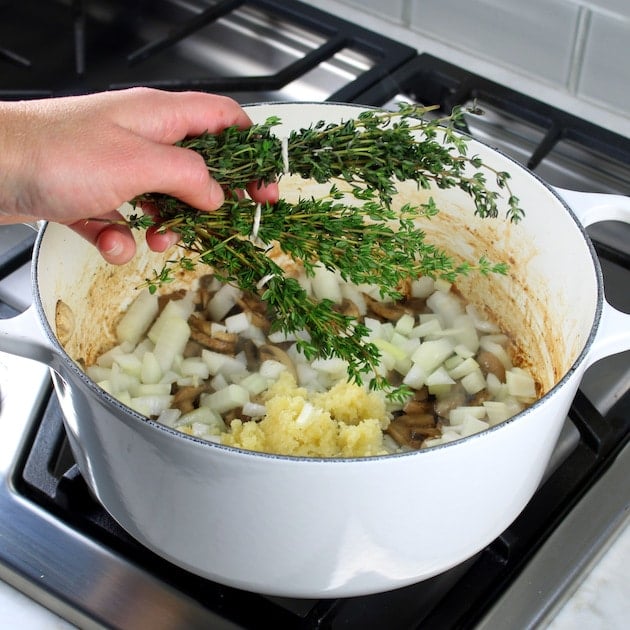 Add the chicken stock and bring to a simmer.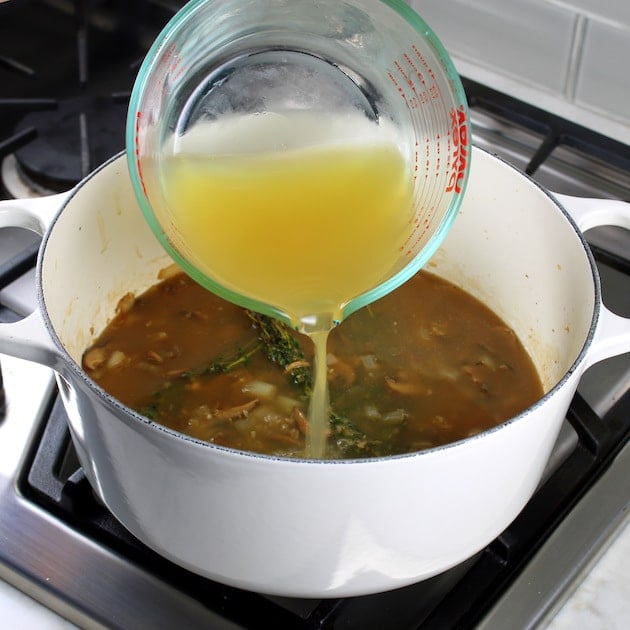 Add the chicken back to the pot and simmer the soup for 10 minutes uncovered.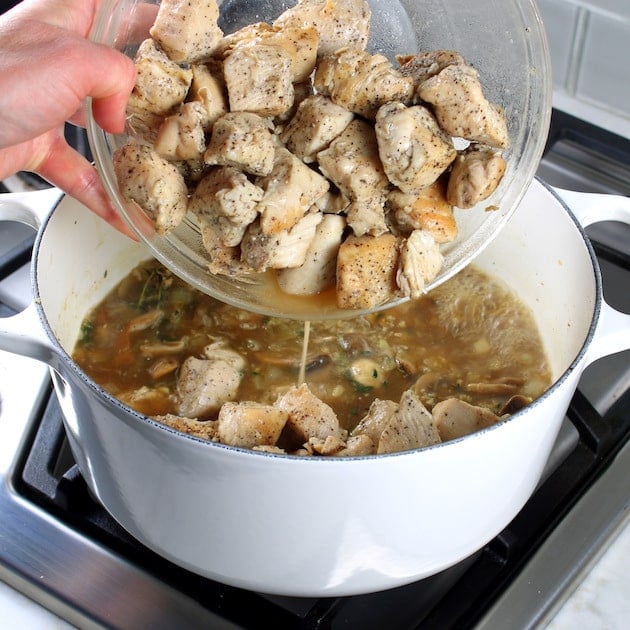 Remove the thyme stems and whisk in the cream cheese, parmesan cheese and Monterey Jack cheese until smooth.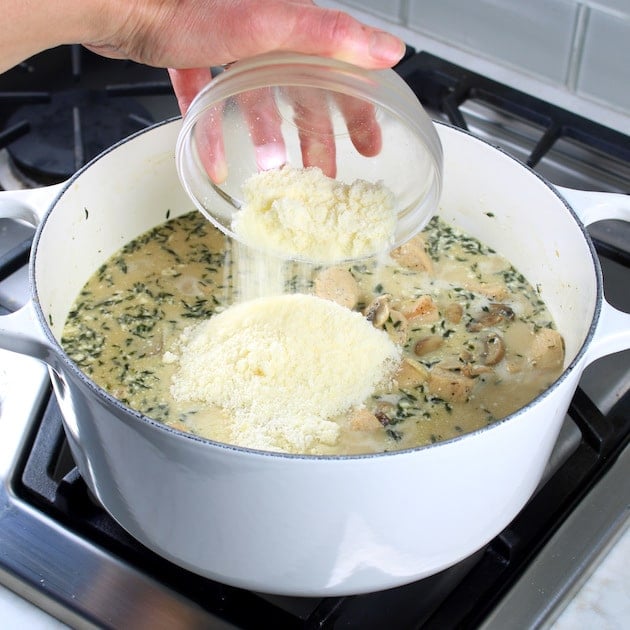 I like to garnish this yumminess with the reserved mushrooms, sour cream, and more Monterey jack cheese for the ultimate rich and velvety soup experience.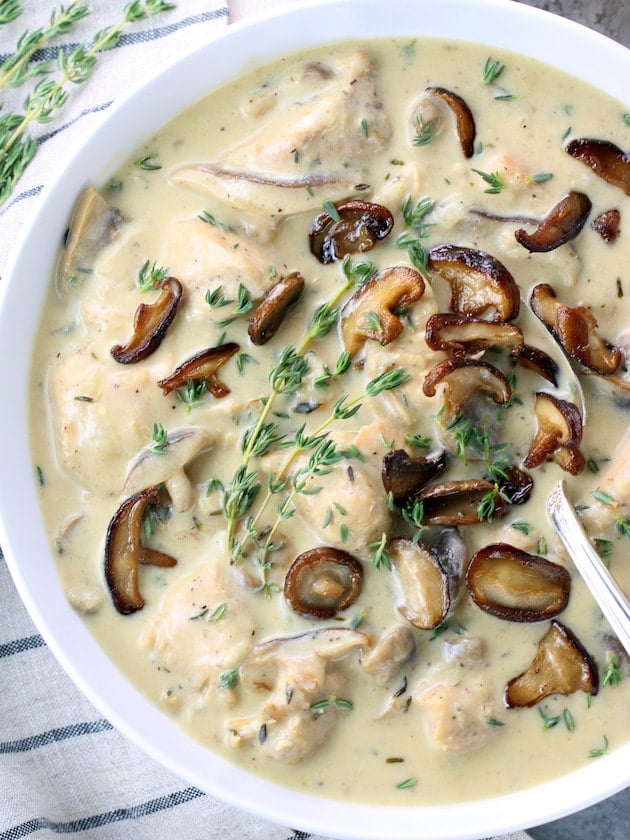 This Chicken and Mushroom Soup is so creamy and comforting - it will definitely warm you up from the inside out!
Yield: 7 servings
(Low-Carb) Chicken Mushroom Soup recipe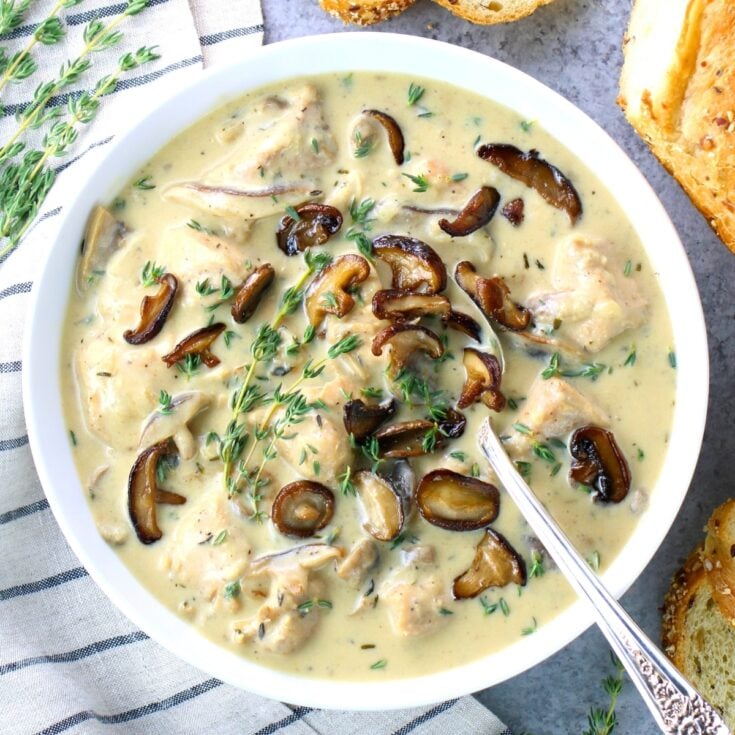 This Low Carb Chicken and Mushroom Soup is a creamy, healthy, soul-warming bowl of comfort. With three kinds of cheese, three kinds of mushrooms, and the most tender, flavorful chicken!
Ingredients
2 tablespoons olive oil
2 ½ pounds chicken breast cut into 1-inch pieces and seasoned with 1 teaspoon salt and pepper
16 ounces Button mushrooms
8 ounces Baby portobello mushrooms
8 ounces shiitake mushrooms
1 large yellow onion chopped
6 garlic cloves minced
1 package thyme leaves left on the stem, rinsed, dried, and tied into 2-3 bundles with kitchen twine
10 sage leaves rinsed, dried and finely chopped
5 tablespoons sweet Marsala wine
6 ounces cream cheese
½ cup grated Parmesan cheese
⅓ cup shredded Monterey Jack cheese
Sauteed mushrooms, sour cream, shredded Monterey Jack cheese or parsley for garnish
Instructions
Add olive oil to a Dutch oven or large pot over medium high heat. Add the chicken and cook for 10 minutes, then remove the chicken from the pan with a slotted spoon and set aside.
Add all the mushrooms and saute for 6 minutes. Reserve 2 tablespoons of cooked mushrooms for garnish if you desire.
Add onions, garlic, thyme, sage, Marsala wine, and saute 4 more minutes.
Next, add the chicken stock and bring to a simmer. Then stir in the chicken and simmer 10 minutes uncovered.
Remove the thyme stems from the pot and discard. Whisk in the cream cheese, Parmesan cheese and Monterey jack cheese until smooth.
You can pan fry the reserved mushrooms in a little olive oil to use for garnish.
Garnish with extra mushrooms, sour cream, Monterey jack cheese, and parsley.
Nutrition Information
Yield
7
Serving Size
10-12 ounces
Amount Per Serving
Calories

476
Total Fat

23g
Saturated Fat

9g
Unsaturated Fat

0g
Cholesterol

147mg
Sodium

660mg
Carbohydrates

12g
Net Carbohydrates

10g
Fiber

2g
Sugar

8g
Protein

48g
Looking for more delicious soup recipes?