Today I'm jumping on the smoothie train with this Almond Joy Protein Smoothie! This sweet treat has some of my favorite flavors... chocolate, almond, and coconut... all blended into one delicious, lighter shake!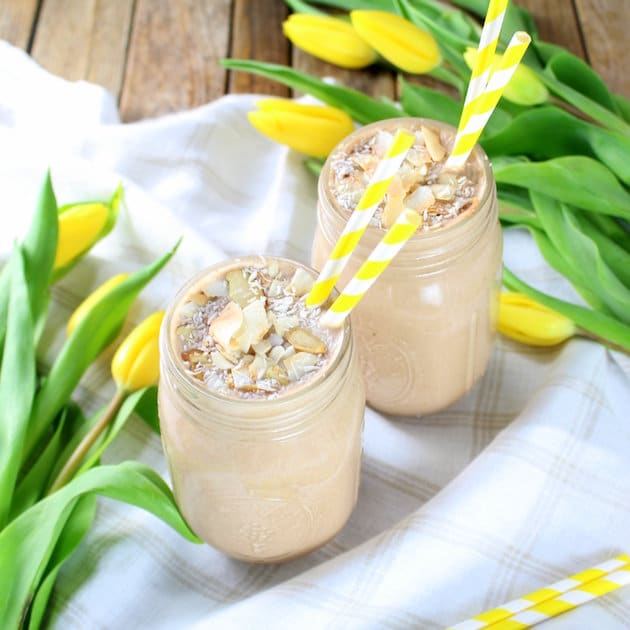 (This post contains affiliate links... read more here.)
Happy first day of spring!🌾 Ok, so I'm a few days late but better late than… later.✌️
What a crazy winter this has been for all of us. So unseasonably warm, well, until now…
Today in Massachusetts it's a brisk 35 degrees that feels like 23 degrees thanks to some really strong winds. I'm not a weather girl but I do know that 31-39 MPH with gusts between 46-57 MPH can cause power outages and tree branches to break.😱
But at least the sun is shining! Just celebrating the wins over here.🙌
And what better way to celebrate and applaud this new season change than with a yummy Almond Joy Protein Smoothie!👇 Yayyy spring!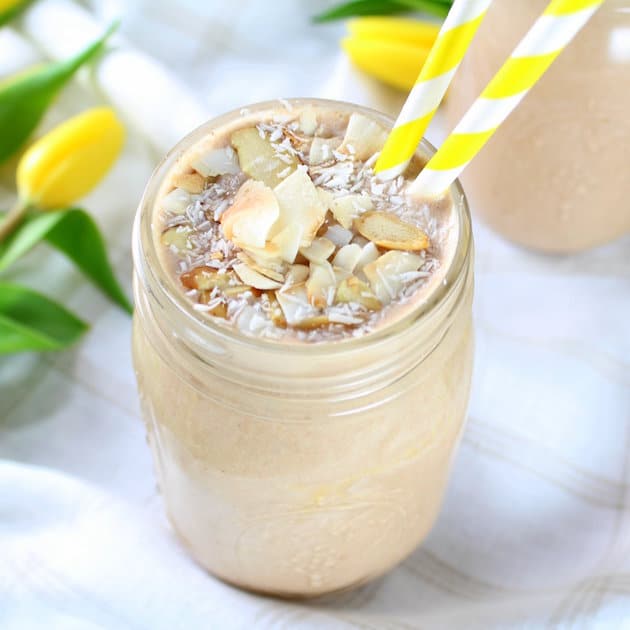 Smoothies are such a great snack, dessert or even a light meal.😋 And they're not just for sipping in the spring and summer; they're a tasty way to get lots of nutrients all year round.
What's your favorite smoothie flavor combo? Chocolate covered cherry is super yummy, or strawberries and cream, and then there's Nutella… mmm, mmm! You really can't beat chocolate and hazelnut together in any form – can you?
Another winning combination is coconut, almond, and chocolate! AKA today's recipe - the Almond Joy Protein Smoothie!✨ YUM! Right!?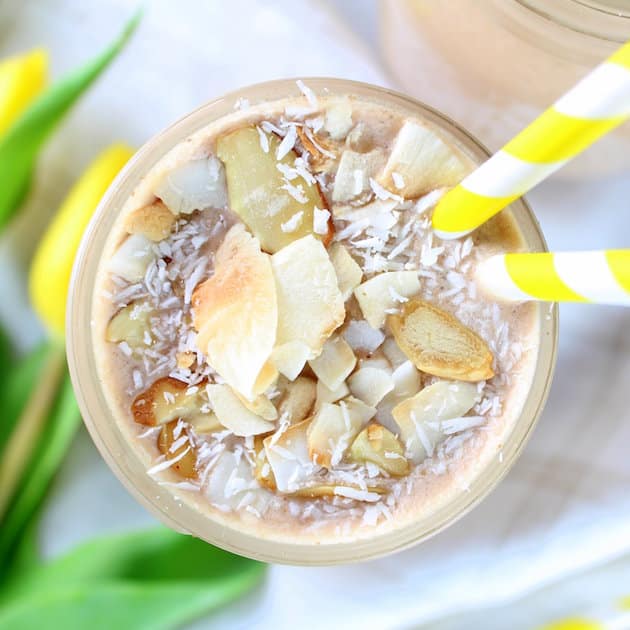 This sweet treat has some of my favorite flavors all blended into one delicious, lighter shake.👌
There's shredded coconut, coconut milk (from a milk carton, not a can), almonds, dates, cocoa powder, Greek yogurt, coconut extract and collagen protein. (Note: You can use any protein for this smoothie.)
And when all those ingredients get mixed together you've got yourself one of the best flavors combinations evahhh!👍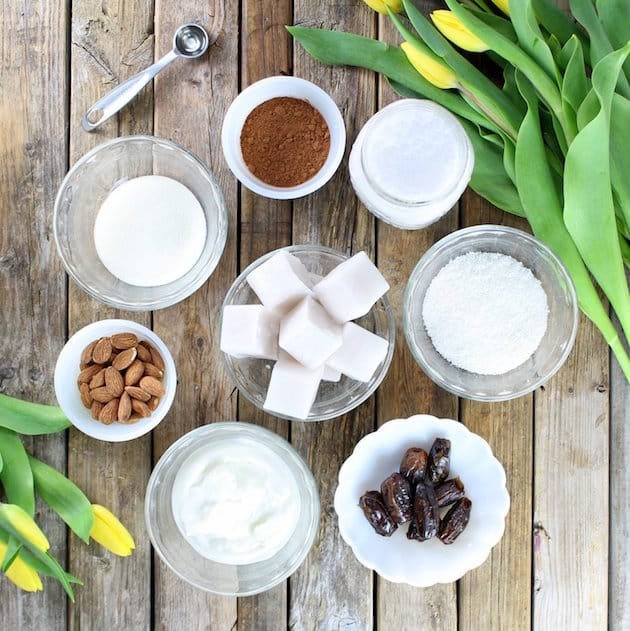 Plus, this is not just some ridiculously delicious treat, there are actually some benefits to highlight.
This smoothie has 450 calories and…
27 grams of protein;
10 grams of fiber;
51% of your daily recommended Calcium intake;
22% of your daily recommended Iron intake.
Clearly, there's just so much to love about this Almond Joy Smoothie!!💛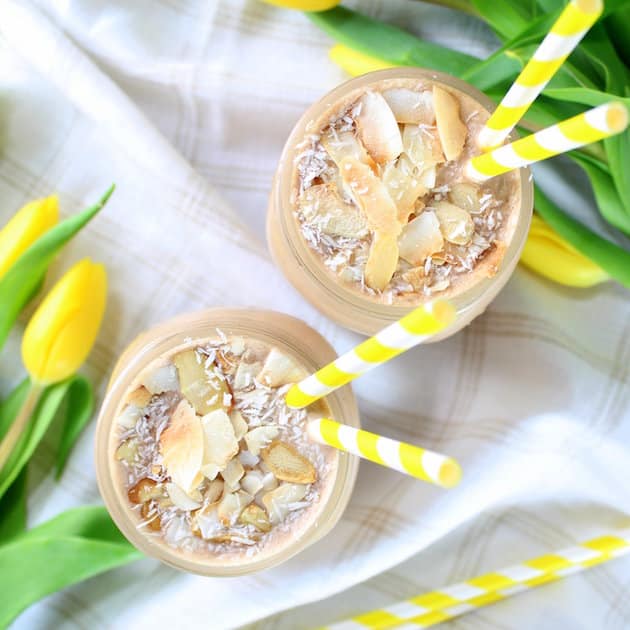 And all smoothies for that matter… they are completely versatile and an easy way to get the nutrients you need. You can make a variety of substitutions with different ingredients to customize them to your diet specifications or requirements.
For example, I used collagen protein in this one. My favorite is this one from Great Lakes (<-affiliate link), and I like it for several reasons. ⚠️Warning: Science class is now in session.
First, there's no natural or artificial sugar. That way I have complete control over the level of sweetness.
Next, Collagen protein contains amino acids like glycine, lysine and proline, which can be used by the body to build muscle and connective tissue structures like bone, tendons ligaments, cartilage, skin, hair and nails.
It's easily digested and supports the body's natural healing.
It does not congeal and will dissolve in hot, warm, or cold liquids. (Perfect for smoothies!)
It's helpful in regulating the body's metabolism and can curb your appetite.
And finally, it can also promote deeper sleep and improve gut health.
Phew, that's a lot of details - class dismissed!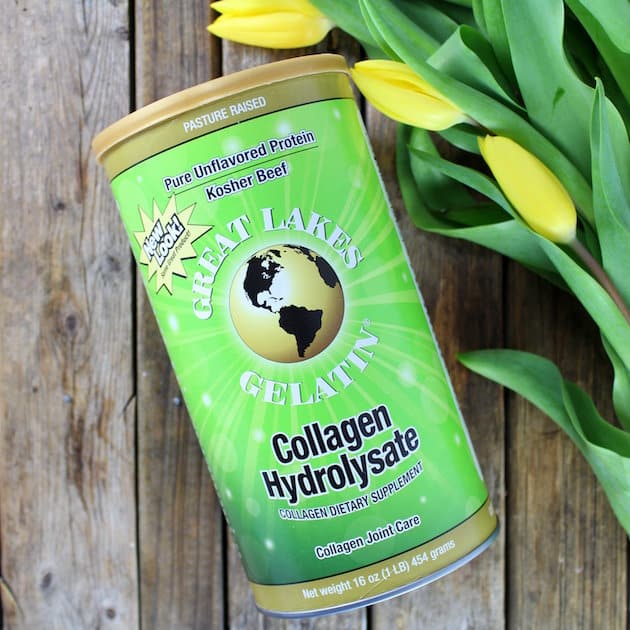 Not to overwhelm you with so many specifics and options but I do want to make sure you're well-informed. Having said that, you can swap out the collagen protein for any protein of your choice or leave it out completely. Like I say - You do you!!✌️
Here's some other additions or swap outs to consider when crafting your smoothie creation:
You can substitute with your milk of choice (almond, soy, cow's milk etc).
There are many sweeteners you can use instead of sugar. Here are a few: dates, honey, maple syrup, coconut syrup, and blackstrap molasses.
There are many different protein sources you can add… collagen, whey, egg, brown rice, mixed plant protein – so many options.
Depending on the flavor combo you're going for you can add almost any fruit or veggies to amp up the nutrients like potassium, dietary fiber, folate, vitamin A, vitamin C and more.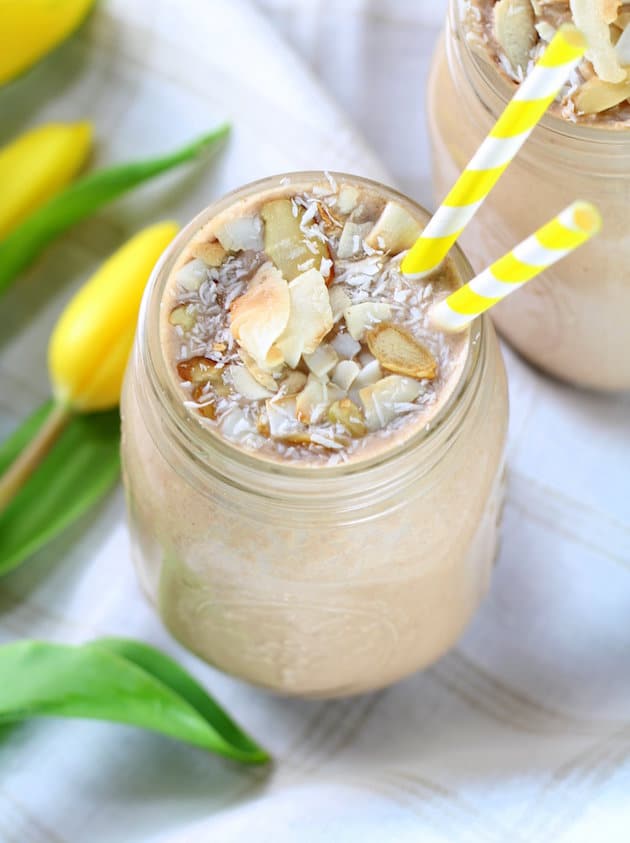 As you can see smoothies can be as beneficial as you want them to be. And customized to fit almost any diet plan you follow.
But I must admit this Healthy Almond Joy Protein Smoothie is the bomb dot com!🙌 A tasty treat or a light meal, full of all kinds of stuff your body needs to get 'er done!💪
I would love to connect with you! Leave a comment and follow me on Instagram, Twitter, Facebook, & Pinterest!
Yield: 1
Almond Joy Protein Smoothie Recipe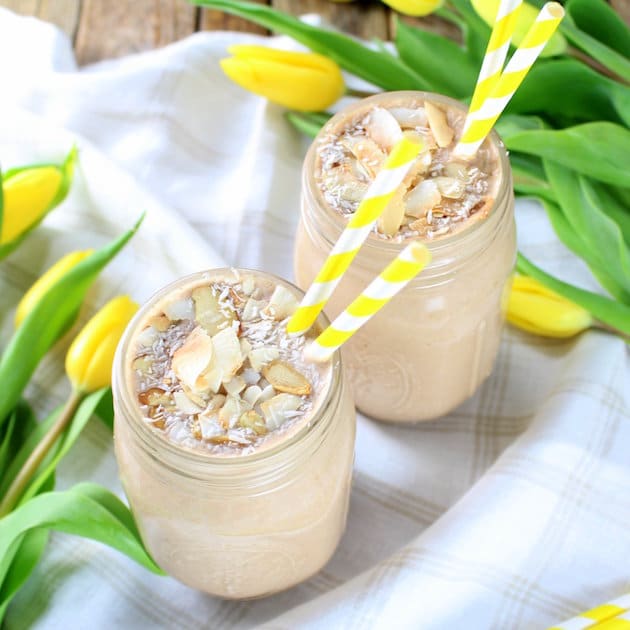 Almond Joy Protein Smoothie Recipe!  With chocolate, almond, and coconut... all blended into one delicious, good-for-you shake!  
Ingredients
¼ cup almonds
6 dates
¼ cup coconut milk (use a bottle from the fridge section like Califa Farms - not the canned stuff!)
½ cup frozen coconut milk (4 ounces - (use a bottle from the fridge section like Califa Farms - not the canned stuff!)
⅓ cup non-fat plain Greek yogurt
2 tablespoons finely shredded coconut
2 tablespoons collagen powder
1 tablespoon cocoa powder
½ teaspoon coconut extract
Garnish with sliced toasted almonds and toasted coconut
Instructions
Freeze 4 ounces of coconut milk in ice cube trays prior to making the smoothie.
Place all the ingredients into a blender and blend on high until smooth.
Notes
*Any protein powder can be substituted for the collagen protein.  However if using a pre-sweetened protein powder be sure to check the sweetness of your smoothie before adding any of the dates.  Or if preferred you can also leave the protein out completely.
*You may prefer to add more dates to achieve your desired sweetness.  Also, honey or maple syrup can be substituted for the dates, but check a conversion chart for proper measurements.  
Nutrition Information
Yield
1
Serving Size
1 smoothie
Amount Per Serving
Calories

451
Total Fat

25g
Saturated Fat

7g
Unsaturated Fat

0g
Cholesterol

3mg
Sodium

100mg
Carbohydrates

63g
Fiber

10g
Sugar

44g
Protein

28g