Roasted Baby Potatoes With Smoky Salt And Vinegar, thanks to our sponsors at Sea Cuisine ! Paired with their Potato Crusted Cod Fillets, this is the most delicious homemade take on English Fish and Chips! With roasted gold potatoes, apple cider vinegar, smoked salt, liquid smoke, fresh rosemary and bacon these potatoes have the most smoky, tangy and addicting flavor in every bite!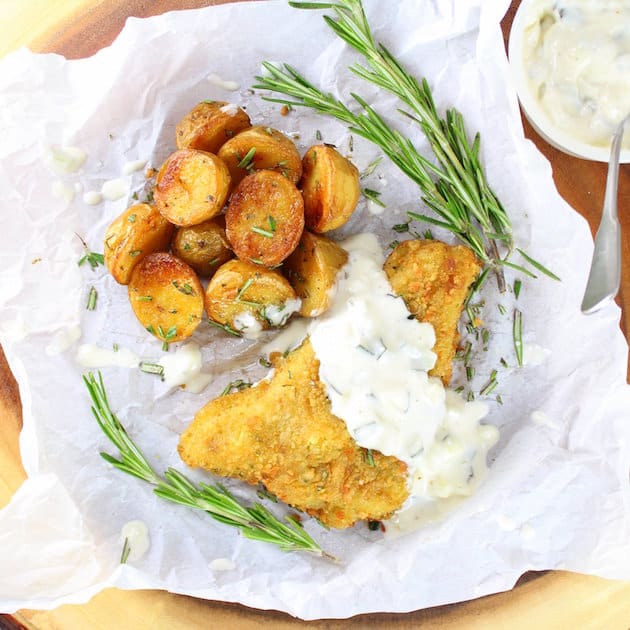 One of my favorite comfort meals of all time will forever be Fish & Chips!❤️ All that salty, vinegary, crispy fried goldenness makes my mouth water just thinking about it.😋
The truth is if I'm ever in a pub or seafood-touting establishment I'm always looking for Fish & Chips on the menu. Then I'm interrogating the server with 20 questions… "Is the batter thick or on the lighter side? What kind of fish do you use? Is that fish wild-caught or farm-raised?" … Super annoying I know. Yep – I'm that girl.
But for good reason – it's Fish & Chips, people!!!😃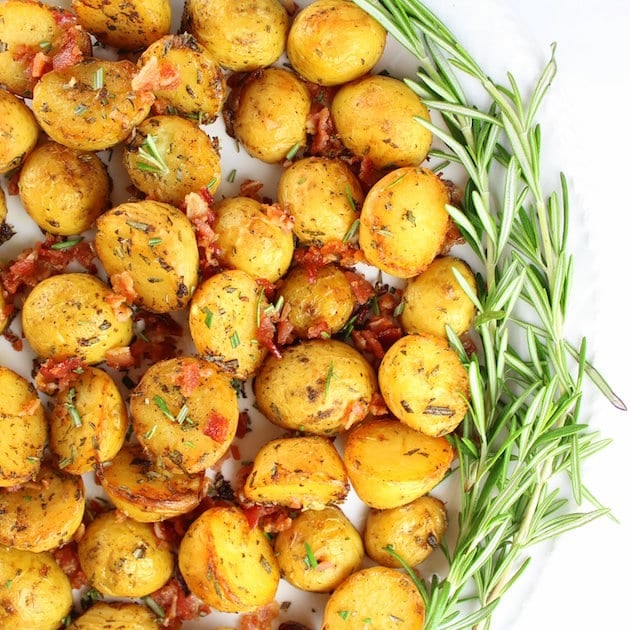 You may not know this but I have the resident Fish & Chips expert living in my house. Yes – that would be the B man… he lived in England during his high school years. Which makes him the closest thing in my life to an expert on this yummy meal.
You see he savored some of the best Fish & Chips known to mankind. In the very location the fare originated…
Yes - Fish & Chips got its start in England… but the exact origin is quite controversial. There are several stories of different individuals who claim to be the pioneers of the iconic dish.
It's unknown who started this delicious tradition but we do know the birth date of this chippie fare was right around 1860. Everyone agrees that it was in the 16th Century that Jewish refugees fleeing persecution in Portugal and Spain landed in London, bringing with them a taste for fried fish.🍴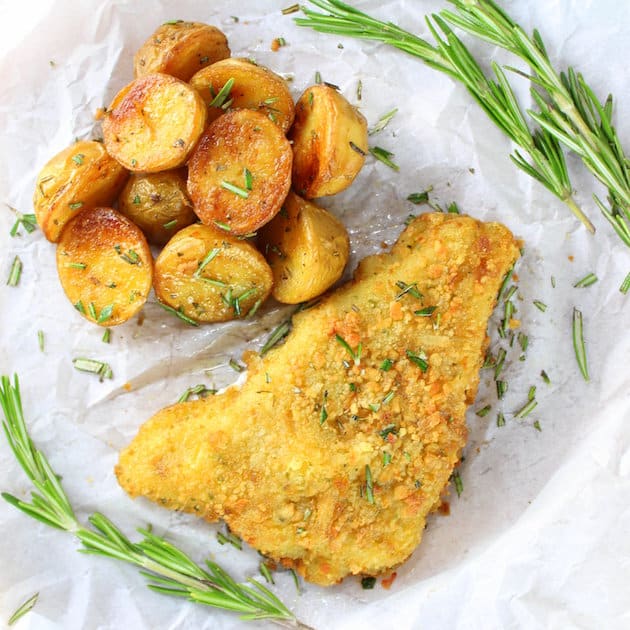 Here are some fun historical facts about Fish & Chips from former BBC Travel Writer, Caitlin Zaino:
A 2010 story in The Independent (British) newspaper claimed the dish to be "more iconic to England than the Queen or The Beatles." Hey Jude – Say whaaa!??
It is said… "to dig into fish and chips is much more than ticking off a list of things one must do in London; it is to engage in a national treasure."
More than 229 million portions of white fish fillets are sold each year in England, alongside with chips of course.
Fish and chips are usually served wrapped in newspaper and devoured with a combination of a two-pronged wooden fork and greasy fingers.
Wherever the dish was actually invented, it was in London that the city's working class propelled the dish into popular culinary culture. And it is in London that one of the oldest surviving chippies still stands today.
Fish and chips are so ingrained in English culture that they were one of the few foods never rationed during World War II!!
Today there are over 380 London-area chippies serving this classic cherished dish.💛
Wowzers! I guess I shouldn't be too surprised… fish (and loaves) have been feeding the population forever!👌
I hope that's not too many details - I just had to enlighten you on this yummy traditional dish.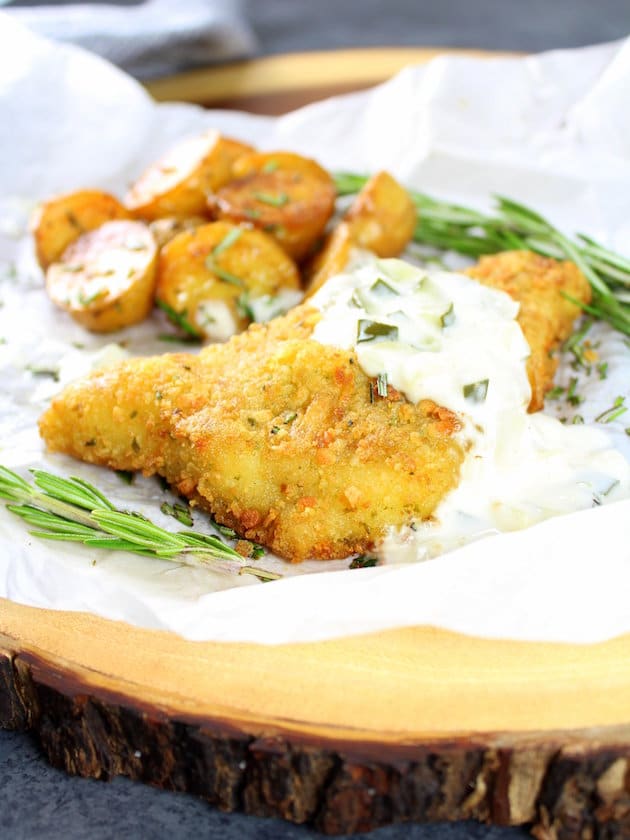 Sometimes when I'm craving the real deal I ask the B man to tell me about his fish and chippies experience. I literally sit and listen like I'm a 4-year-old girl hearing a bedtime story for the first time.👩📕
It goes something like this…
"I was 13 and we'd just been stationed in England for my dad's job (Air Force Colonel). One day shortly after we'd moved it was dinner time… we were hungry… and we were in England… so why not fish and chips? Our local "chippy" was a 5-minute walk from the house. I can still vividly remember opening the door and being hit by a wave of steamy, savory hot air laced with the distinct aroma of malted vinegar.
These guys had it down to a science since there was really just one thing people ordered: fish, and chips. There were truly just two simple decisions to make: did we want chips (fries) with our fish? Did we want salt and vinegar? And so it went: "Next customer! How many? With chips? Salt and vinegar?"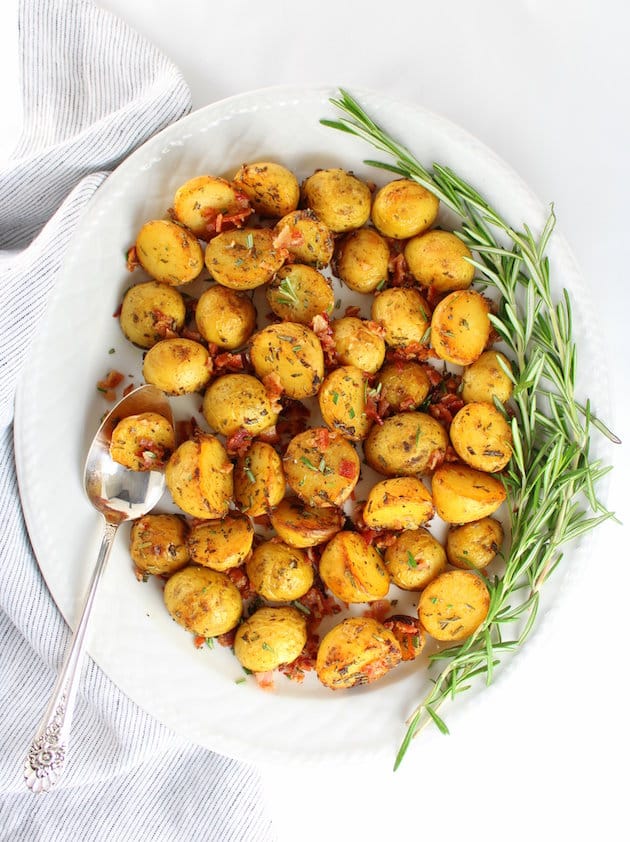 We got four orders, loaded with the works. This was a "to-go" joint, and they wrapped our order in something like parchment paper and then wrapped it again in a few sheets of newspaper. Yep, newspaper.
Looking back now I realize how super-hygienic that was… but it certainly added to the charm. A quick walk home and we went after it. At first, I was skeptical about the malted vinegar, but it was the perfect combination with the salt, the battered fish, and those greasy French fries -um, sorry, "chips." We couldn't get enough! The flaky white fish was the perfect palate for that salt & vinegar combo, and I think I may have asked if we could go back to the store the same night for more. Needless to say we became regulars at the chippy during our stay."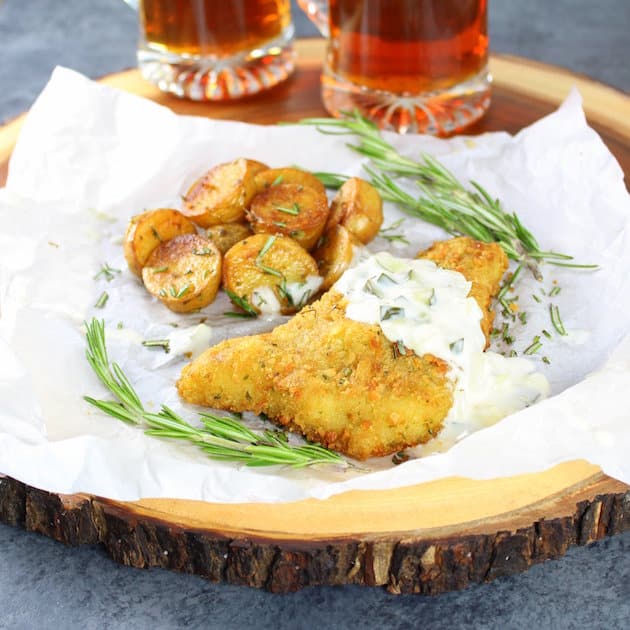 Ahhh!! Doesn't that make you want to get on a plane and head to England, stat!!?👍
Well if that's not an option I have a fabulous backup plan for you!🙌
Roasted Baby Potatoes - Salt & Vinegar Style!
Introducing the delectable, the crispy, the salty and vinegary - homemade version of one of the most popular meals on the planet… Potato Crusted Cod + Smoky Salt and Vinegar Roasted Potatoes!👇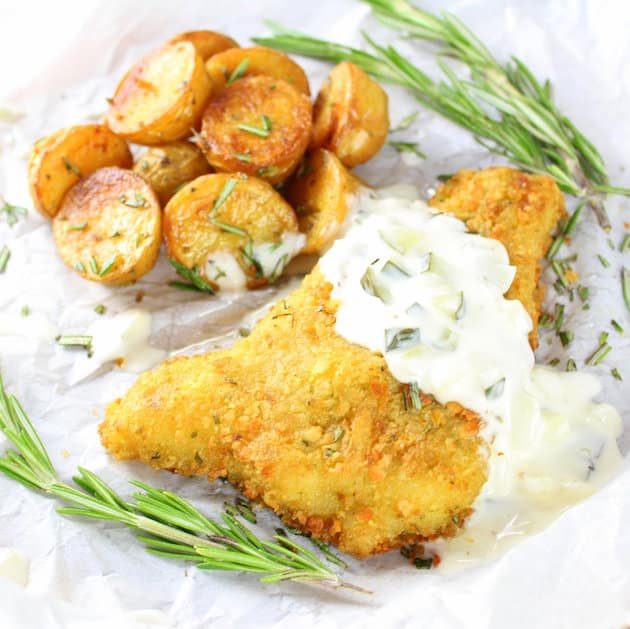 No need to pinch yourself - I promise, you're not dreaming.
This is happening… right now.
First things first! You need to pick up some Sea Cuisine Potato Crusted Cod Fillets from the frozen meal section of your local grocery store. These wild caught pacific cod fillets are lightly coated with a savory potato, cheddar, and chive crust. They are perfectly prepared and ready for you to add your finishing touch. Light tartar sauce and some salt and vinegar chippies!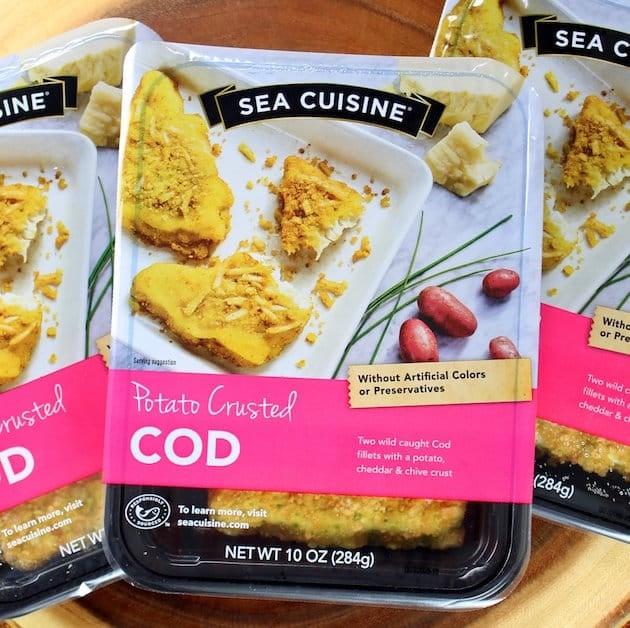 Next, we need to go to work on those "chips." You'll need 2 pounds of baby Yukon gold potatoes. Slice them in half and steam them for 20 minutes in a mixture of water, apple cider vinegar, and liquid smoke.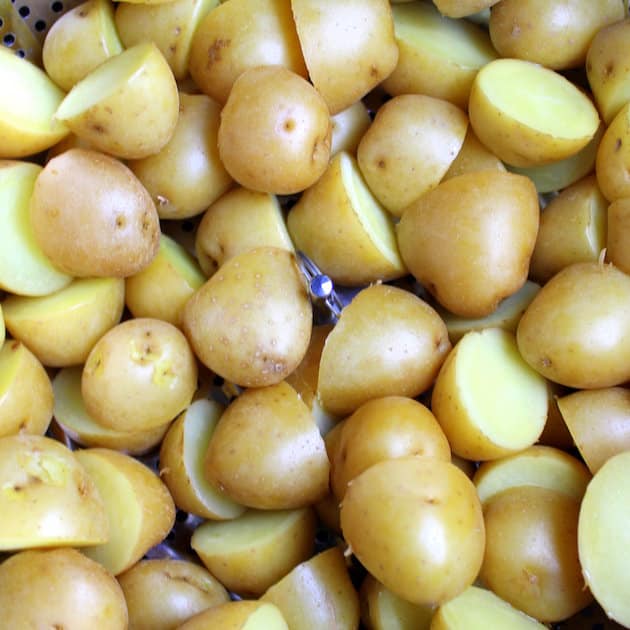 Meanwhile, bake 5-6 pieces of bacon in the oven per package instructions.
Then mix up another combination of apple cider vinegar, smoked salt, pepper and liquid smoke, add it to the steamed potatoes, and give them a few good tosses.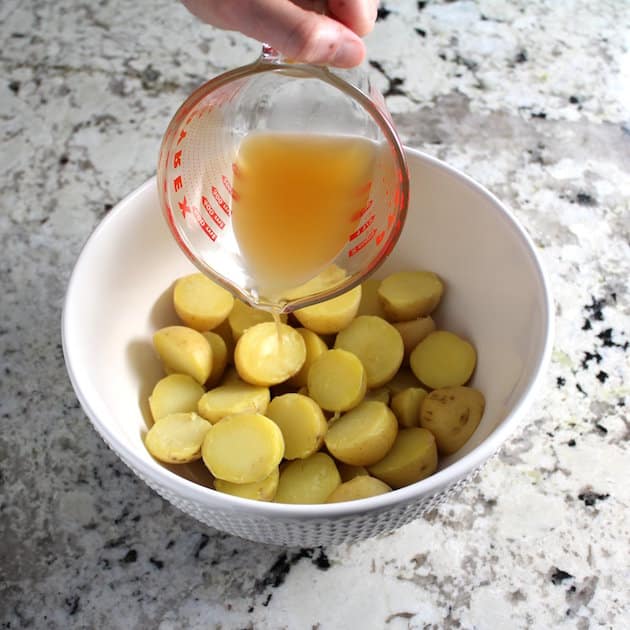 Using a slotted spoon, place the potatoes on a parchment-lined baking sheet. Add 2 tablespoons of olive oil, 1 tablespoon of freshly chopped rosemary, pepper, smoked salt, and toss. Turn the potatoes cut side down and roast for about 20-25 minutes or until tender and golden.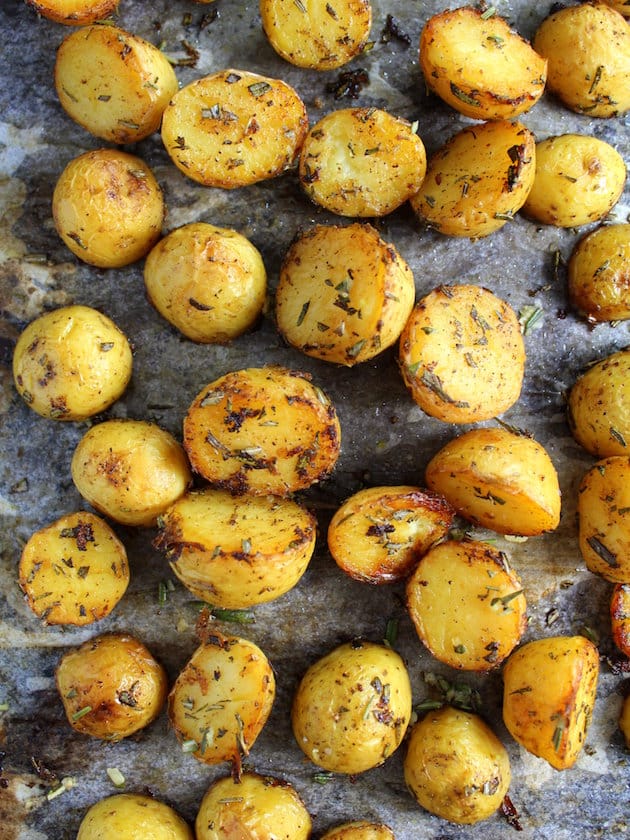 While the herb roasted potatoes are good and hot, toss them with 2 tablespoons of apple cider vinegar. Place them on a serving platter and garnish with more chopped rosemary and bacon crumbles.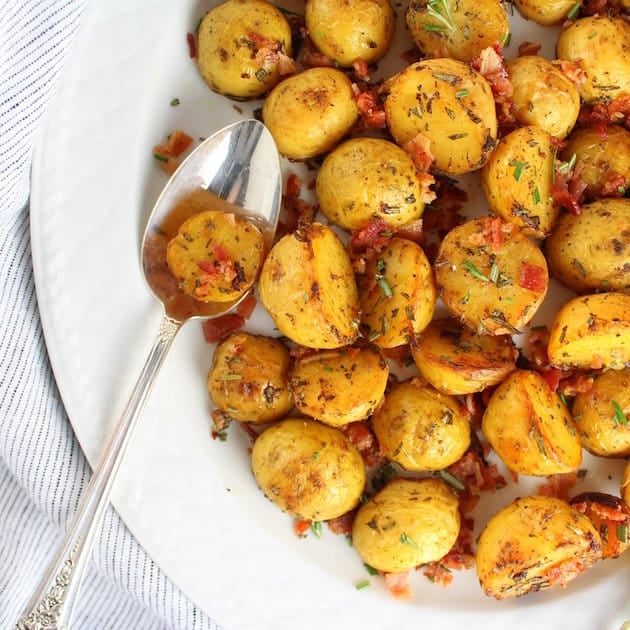 After the potatoes are done doing their time in the oven, turn the temperature down to 375 and bake your potato-crusted cod on a foil-lined baking sheet for 26-34 minutes or until internal temperature reads 165F.
Now roll up your sleeves and enjoy the most delicious homemade take on the best classic comfort food!
Potato Crusted Cod and Smoky Salt and Vinegar Roasted Potatoes!!💕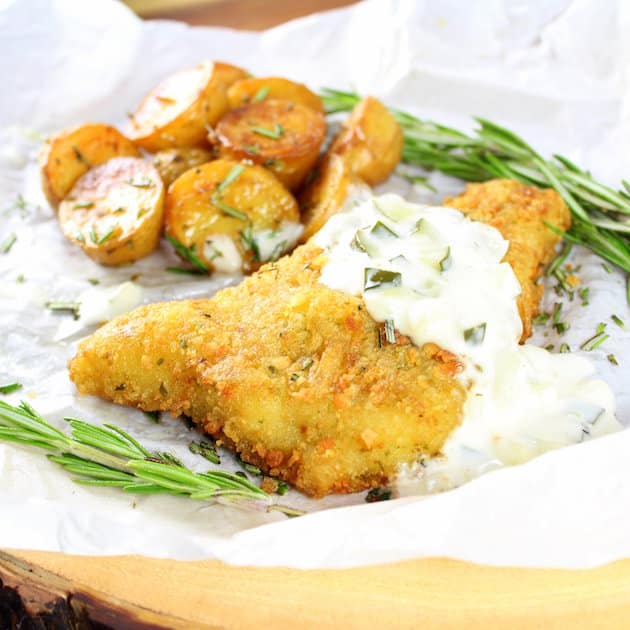 ~Peace, love and chippie grease!
💛Holly & B
PS - I'm also loving these potatoes paired with a simple boiled lobster with drawn butter or these amazing grilled chili lime shrimp. Just sayin!!
I would love to connect with you! Leave a comment and follow me on Instagram, Twitter, Facebook, & Pinterest!
Yield: 4
Smoky Salt and Vinegar Roasted Potatoes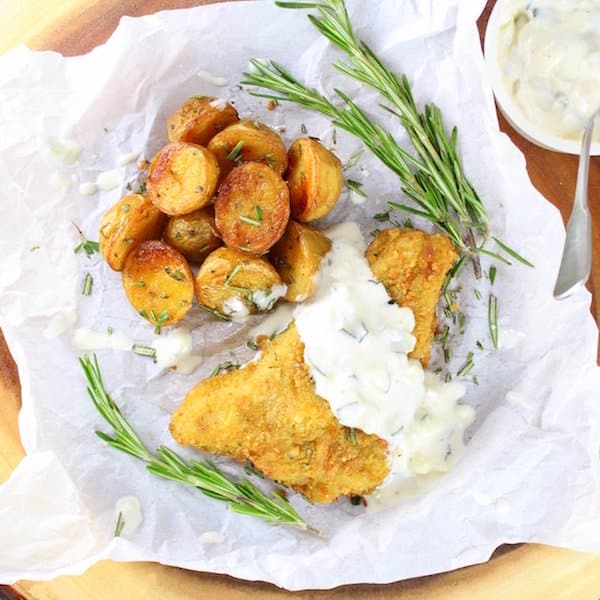 Baby Yukon gold potatoes, cider vinegar, smoked salt, fresh rosemary & bacon. Tangy, smoky & addicting!
Ingredients
6 pieces bacon
2 pounds baby Yukon gold potatoes cut in half (the best potatoes to use for this recipe)
1 cup + 2 tablespoons apple cider vinegar (¾ cup for steaming, ¼ cup for marinade, and 2 tablespoons for finishing)
½ cup water
1 tablespoon liquid smoke
2 tablespoons olive oil
1 teaspoon smoked salt (½ teaspoon for marinade, ½ teaspoon for baking potatoes)
½ teaspoon pepper
1½ tablespoons finely chopped rosemary
Sea salt to taste
Instructions
Preheat oven to 400 degrees. Bake the bacon on a tin foil lined baking sheet (for easy clean up) until moderately crispy. Or follow package instructions for baking bacon.
Meanwhile, add potatoes, ¾ cup cider vinegar, ½ cup water, 1 tablespoon liquid smoke to a sauce pot over medium heat. Cover and steam for 20 minutes.
Remove the bacon from the oven and place on paper towels; dab to remove some of the grease, then chop and set aside. Turn the oven up to 425,
When potatoes are finished steaming, drain them and discard the liquid.
Mix together ¼ cup cider vinegar ½ teaspoon liquid smoke, ½ teaspoon smoked salt and pepper. Pour over cut potatoes and fold together several times to coat them thoroughly.
Use a slotted spoon to place potatoes on a parchment-lined baking sheet (you can discard the vinegar mixture.) Sprinkle potatoes with 2 tablespoons of olive oil, 1 tablespoon of the rosemary, ½ teaspoon smoked salt and toss. Place the potatoes cut side down on the baking sheet and bake for 20-25 minutes or until cooked through and golden.
When fully cooked, remove the potatoes from the oven and toss with 2 tablespoons apple cider vinegar. Transfer to a platter and toss with bacon and fresh rosemary. Sprinkle with sea salt if desired.
Nutrition Information
Yield
4
Serving Size
6 ounces
Amount Per Serving
Calories

346
Total Fat

20g
Saturated Fat

5g
Unsaturated Fat

0g
Cholesterol

21mg
Sodium

835mg
Carbohydrates

29g
Fiber

6g
Protein

10g
Looking for more tasty side dish recipes?