Thanks to our friends at Wyman's of Maine for sponsoring this Triple Berry Blender Cake… it's gluten-free, super moist, fruit filled, very tasty, and ridiculously easy to make! All you need is a blender, a few ingredients, and an appetite for something sweet and delicious.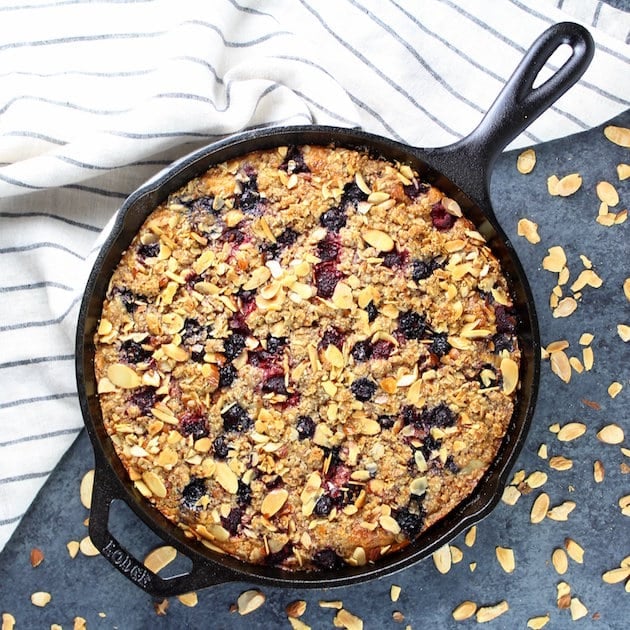 I LOVE berries.💕  They are juicy and sweet and tart and so satisfying.😋
I'm sure my deep appreciation comes from my family going to berry farms and picking the fruit ourselves.  It was always such a fun outing: my mom and Grandmother would prepare our lunches, and everyone would pile into the car for a scenic drive.  You always knew when you were there… all those perfectly structured rows with beautiful bright berries clinging to the stems.🍓  Big swoon.😍💓
I couldn't wait to get my flat or bucket and head out to berry bliss.  Then came hours and hours of picking and eating and more eating.  Mmm.  By the time lunch rolled around I wasn't even hungry.  I had a belly full of berries and there wasn't room for much more.😊
That was just the beginning.  Once the berries were picked then they had to be preserved.  Depending on the berry we had picked, the rest of the day was filled with washing, stemming, hulling, freezing, and making jam or pies and cobblers. Yes – so much work but what a wonderful reward.👌
Many years later my parents' influence is still having an impact.  I have my own garden, although much smaller than the one we tended growing up.  I thoroughly enjoy all the time and work that goes into it and especially all the produce I get in return.  I also still love to visit berry farms and literally enjoy the fruit of my labor.🍒  It doesn't happen as often as I would like because life is so busy and time so elusive.
I'm grateful to be able to enjoy perfectly ripe berries from my local grocer year-round, whether they're fresh or frozen.  And when responsible growers and processors provide them, it makes it that much better.💯
One of those providers is Wyman's of Maine.  In case you didn't know, Wyman's is a family owned business started in 1874, and the largest U.S. owned wild blueberry grower and processor.💙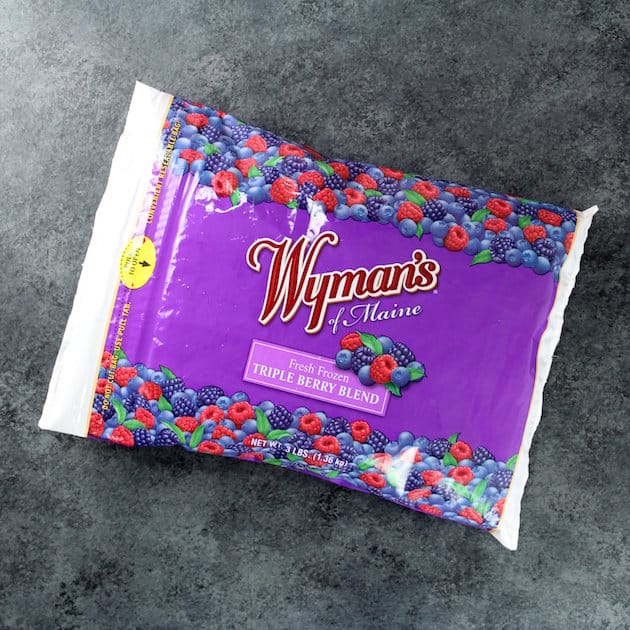 They offer much more than wild blueberries.  Their line of fruit includes:
Wild Blueberries
Strawberries
Red Raspberries
Mango Chunks
Cherries
Cranberries
Plus a myriad of mixed berry combinations!
I love that they are committed to sustainability through stewarding natural and human resources.  Whether that's through enhancing and protecting their soil, water and air, or the honeybees that pollinate and sustain their farms.🐝
Plus, they grow really yummy fruit!👍  AND they know how to preserve it properly (all fresh fruit is Individual Quick Frozen within 24 hours of harvest) to bring us the best possible flavor experience all year round.
So I can enjoy delicious fruit filled smoothies, desserts and baked goods like this Triple Berry Blender Cake!👇  For breakfast, lunch and dinner!!✨  YUM!
This mixed berry cake is easy, healthy, super moist and so delicious.
You may have heard of Blender Muffins?  Basically adding several ingredients into the blender, then pouring the batter into muffin cups, and baking until golden and delicious.  Sooo easy and really healthy too!
Did I mention this all takes place without using ANY flour!??  Whaaa???😳
No kidding my friend.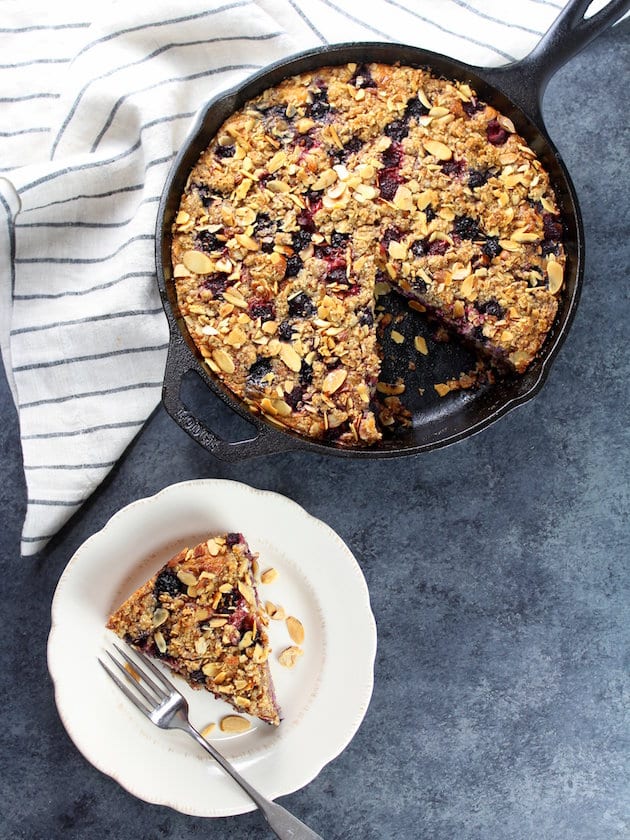 The batter consists of rolled oats, Greek yogurt, almond milk, maple syrup, cage-free eggs, almond extract, baking powder and baking soda and a little salt.  You blend that until it's creamy and smooth.  Then pour a little more than half the batter into a 10-inch skillet or a 9×9 baking dish.  Sprinkle in 8 ounces of Wyman's Fresh Frozen Triple Berry Blend and then the rest of the batter.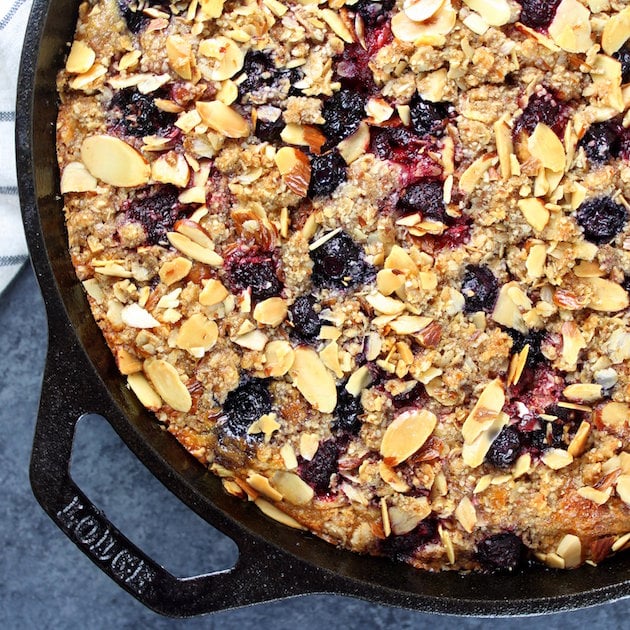 I just couldn't keep well-enough alone.  You know me… making every recipe more delicious, one dish at a time.
I had to take this cake up one more notch and add a crumble topping AND… you guessed it more berries!  Oh yeah – the more berries the bettahh!🙌
You bake all this goodness in the oven for 45-50 minutes, then enjoy the most berry-rific, yummy and healthy Triple Berry Blender Cake evvahhh!👌
A few things to note about this recipe:
It's completely…
gluten-free…
low in fat…
full of fiber…
full of 3 kinds of berries…
quick & easy to make…
Plus it contains 10 grams of protein per serving, a serving of fruit, and tastes amazing!
Just ask the B man cause he had four pieces within an hour yesterday.  It's not even fair.  The guy has the metabolism of a gerbil – and the appetite of an elephant. #girlproblems
This Triple Berry Blender Cake is perfect for a balanced breakfast, a healthy snack and a yummy dessert.  Definitely something you can feel good about sharing with those you love!❤️
I would love to connect with you!  Leave a comment and follow me on Instagram, Twitter, Facebook, & Pinterest!


Looking for more berry-filled dessert recipes?