This Baked Butternut Squash with Italian Sausage Stuffing is a delicious casserole of comfort food. With butternut squash, ground turkey, sage, thyme, sourdough bread, Asiago and Parmesan cheese, you'll be enjoying this dish all season long!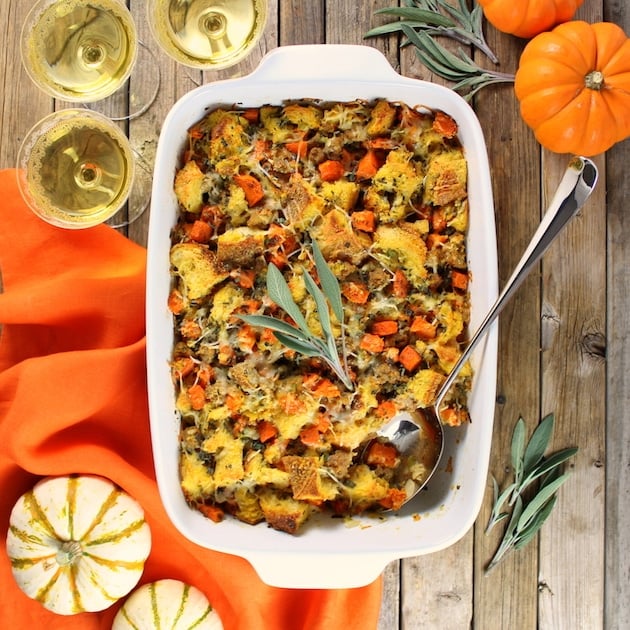 Is it called stuffing or dressing? Do you cook your stuffing in the bird, or cook it separately? Do you add meat or no meat? Is cornbread included or excluded?🤔 Apparently these are all serious issues when it comes to this festive topic.
One thing is for sure: we all have our opinions on the matter. Who knew this quintessential Thanksgiving dish could be so controversial??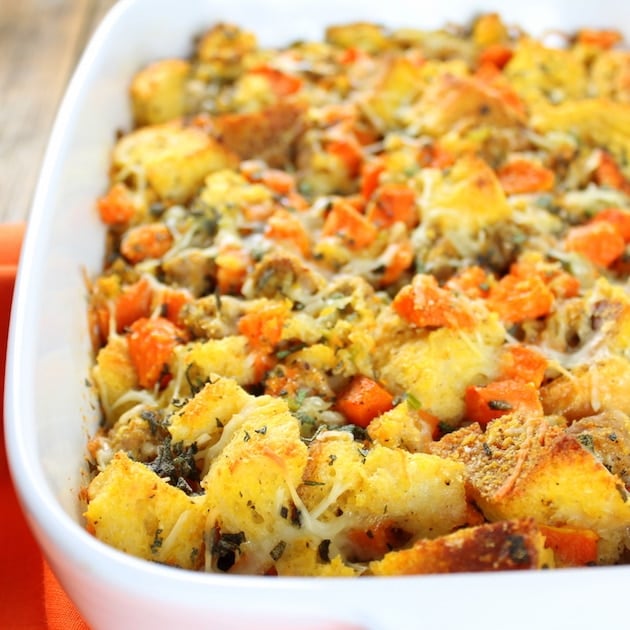 Some believe if it's cooked inside the Turkey it should be referred to as "stuffing," and if it's cooked separately then the correct name would be "dressing."
There does seem to be a line of demarcation on this issue… and it's the Mason-Dixon line. South of this line, this seasonal dish is dubbed "dressing," and in the north it's touted as "stuffing."
Whatever you call it – I'm pretty sure it's safe to say most Thanksgiving table-scapes will don this bread-centric dish.👍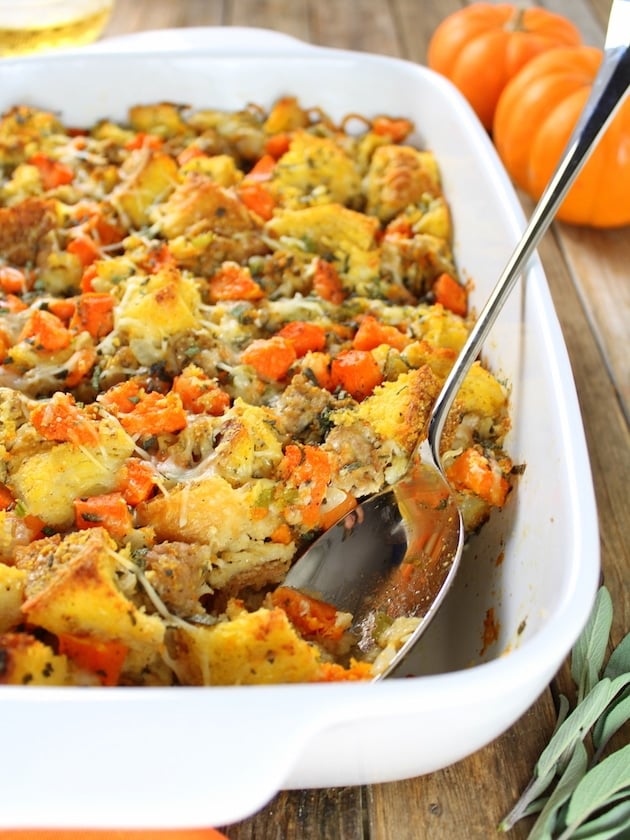 Generally I have a low-carb approach to most of my meals. But of course there are always exceptions - hello pizza night or game day Cheesy Beer Brats!🍕🌭 And of course Thanksgiving is another glorious omission... so you better believe I'll be cramming my face with some yummy stuffing every Turkey day from now till forever.😋
Plus, I'm equalizing it with plenty of protein thanks to Mr. Tom Turkey, so it all balances out.💯 No blood-sugar spikes over here.🚫
I usually make a variation of my mom's stuffing recipe, which I love.❤️ Not only does it remind me of home but it is simply amazing. It has a combination of homemade cornbread and white or artesian breads. Plus all the usual suspects: onions, celery, sage, eggs, turkey drippings or chicken stock, and of course butter. Mmm butter.
It's wet enough to be moist but not so wet it becomes a solid pan of dough. It's just delicious and my mouth is watering as I describe it to you. I think I'll be making an early Thanksgiving meal this year – in the name of taste-testing and research, of course.😄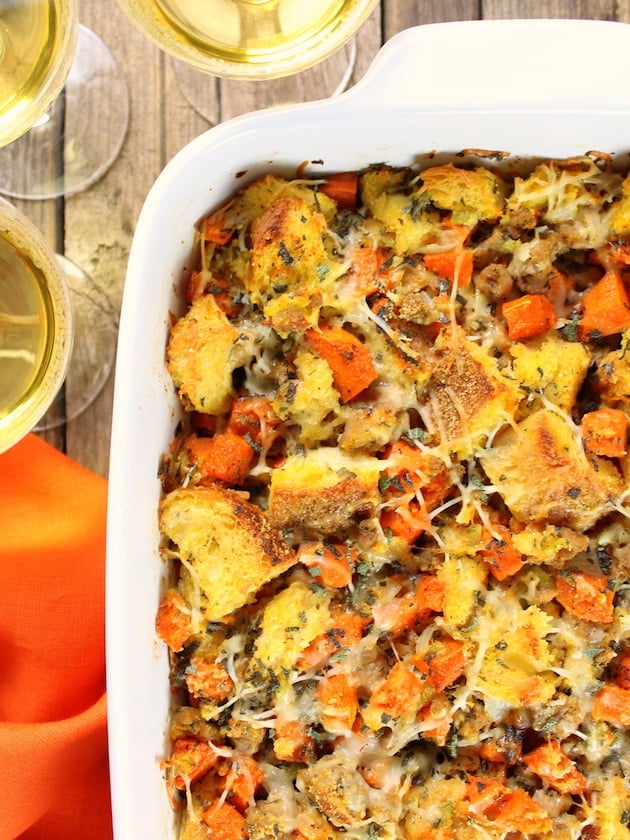 In the meantime I have this other delightful stuffing to snack on... my Baked Butternut Squash with Italian Sausage Stuffing. It's my latest fall creation and it's so tasty. I went ahead and added the protein and veggie right to it, so it's literally a complete meal in one dish. Bonus!🙌
This squash stuffing recipe is a wonderful combination of savory, hearty, and cheesy, with a hint of sweet from the butternut squash. I think it's pretty fabulous and I can't wait for you to try it.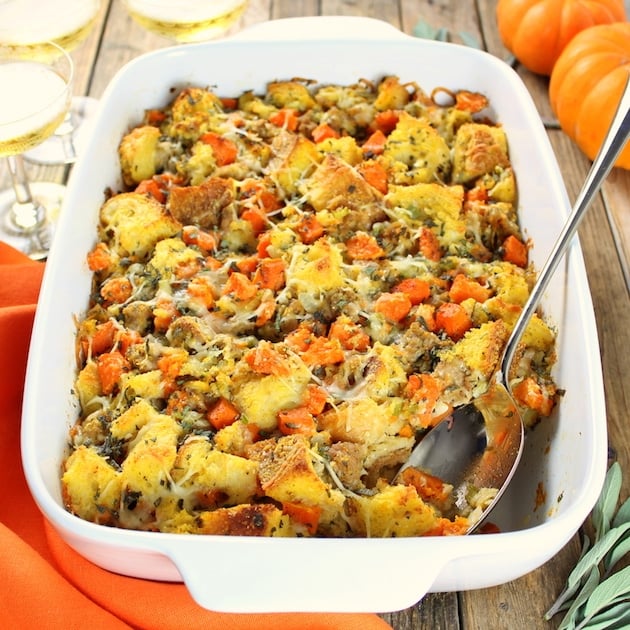 The squash is roasted for about 15 minutes before you add it to the dish, and the sausage is also cooked through. Everything is folded together to create this herbaceous and flavorful squash stuffing.🌿
It's a fun take on traditional stuffing and a delightful addition to any Thanksgiving meal. Or if you're like me, a perfect fall dish to be enjoyed any day of the season.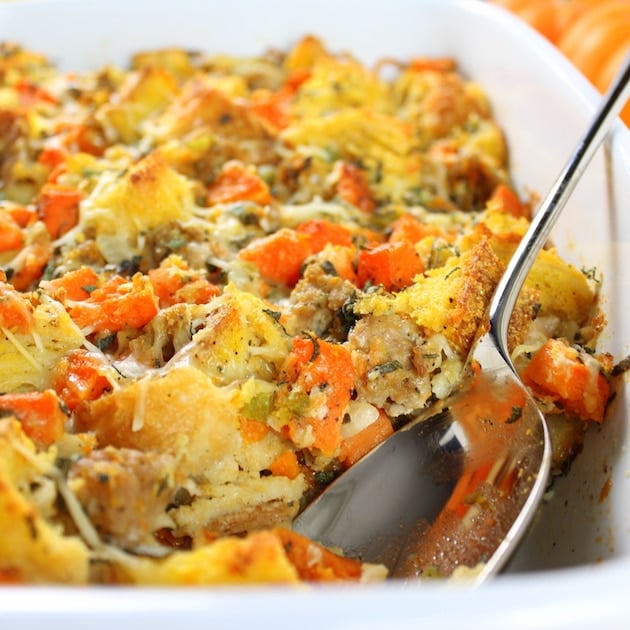 Baked Butternut Squash with Italian Sausage Stuffing is a comfort dish that has it all – bread, veggies, meat and tons of savory flavors.
So dressing or stuffing, call it what you will, but just be sure to gobble it up!
I would love to connect with you! Leave a comment and follow me on Instagram, Twitter, Facebook, & Pinterest!
Yield: 10 Servings
Baked Butternut Squash with Italian Sausage Stuffing Recipe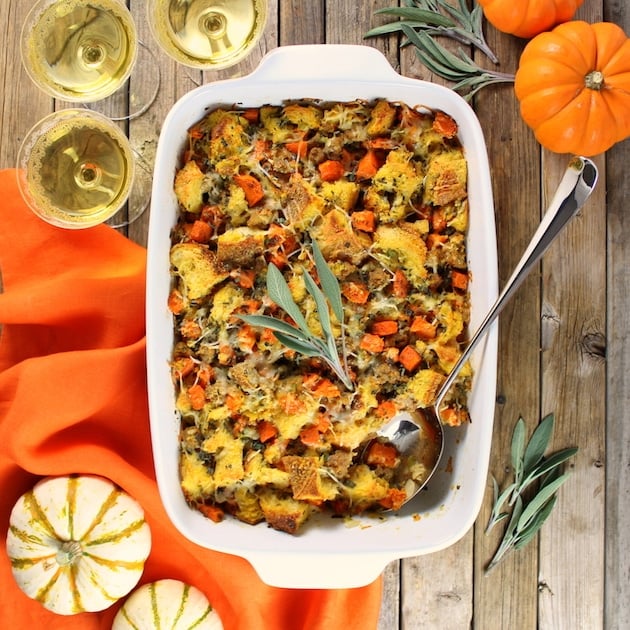 A wonderful combination of savory, hearty, & cheesy, w/a hint of sweet from the butternut squash.
Ingredients
20 ounces sourdough bread, cut into 1-inch cubes and dried out (*see note)
5 cups cubed butternut squash, (about one medium size squash)
2 tablespoons olive oil
1 teaspoon salt and pepper
1 pound ground sweet Italian chicken or turkey sausage, casing removed
3 cloves of garlic, minced
1 large onion, finely chopped
2 celery sticks, finely chopped
4 tablespoons fresh sage leaves, finely chopped
2 tablespoons fresh thyme leaves, chopped
2 eggs, beaten
3 ½ cups chicken or turkey stock
½ cup Parmesan cheese, grated
½ cup Asiago cheese, shredded
½ cup butter, melted, (1 stick)
Nonstick oil spray
Instructions
Preheat the oven to 400 degrees.
Toss butternut squash with 1 tablespoon of olive oil and ½ teaspoon salt and pepper. Bake on a parchment-lined baking sheet for 15 minutes.
Meanwhile, cook the sausage in a saucepan over medium-high heat for 6-8 minutes. Add garlic, onion, celery, sage, and thyme. Sauté for 3 more minutes then remove from heat.
Remove squash from the oven after 15 minutes, then turn the oven down to 375.
Beat the eggs, and stir them into the chicken stock.
In a large bowl combine the bread cubes, sausage mixture, baked squash, Parmesan and Asiago cheese, and ½ teaspoon salt and pepper.
Pour half the chicken stock/egg mixture into the bowl, distributing evenly, and gently fold together.
Pour the rest of the chicken stock liquid and the melted butter evenly over the mixture, and gently fold together again.
Spray a 9" X 13" dish with cooking spray and add the stuffing mixture.
Bake for 30-35 minutes uncovered.
Notes
To dry out the bread, cut it into cubes and heat on a baking sheet in a 350 degree oven for 10-15 minutes. Or cut it into cubes and let it sit out on the counter uncovered for 24 hours.
When mixing the bread with the other ingredients, avoid over-work the stuffing or the bread will lose its structure.
Nutrition Information
Yield
10
Serving Size
6-8 ounces
Amount Per Serving
Calories

481
Total Fat

23g
Saturated Fat

10g
Unsaturated Fat

0g
Cholesterol

98mg
Sodium

1371mg
Carbohydrates

47g
Fiber

3g
Sugar

5g
Protein

21g
Need more easy Thanksgiving recipes?