Thai Beef with Broccoli – an easy flavorful weeknight meal!  With coconut milk, red curry paste, shallots, brown sugar, fish sauce, broccoli and beef –  it's a delicious twist on a classic and even better than take out!  Plus it's gluten-free and ready in under 30 minutes!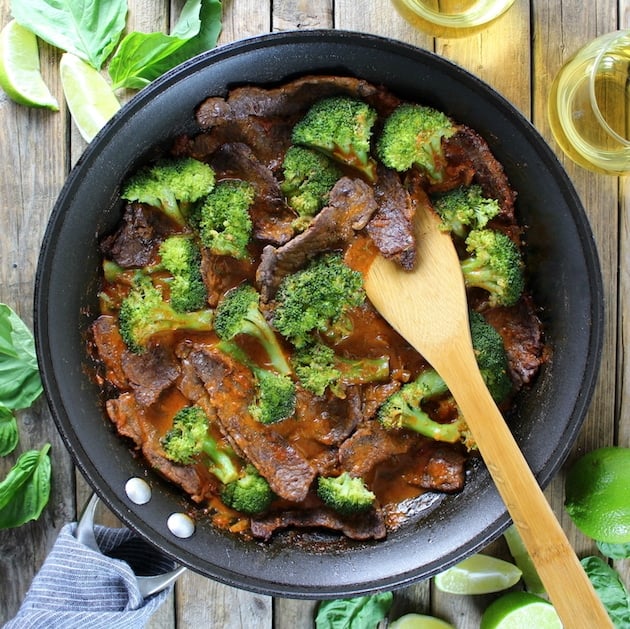 I guess I'm on a Thai kick these days.  A few weeks ago I posted a Pad Thai Fry Dog on the blog – in a word – AHH-MAZING! Yup – I went there.✌️
I'm going there again by putting a Thai twist on a Chinese classic.  We've got the usual players: beef and broccoli, of course.  Then the addition of red curry paste and coconut milk – Mmm makes me happy just thinking about it.😊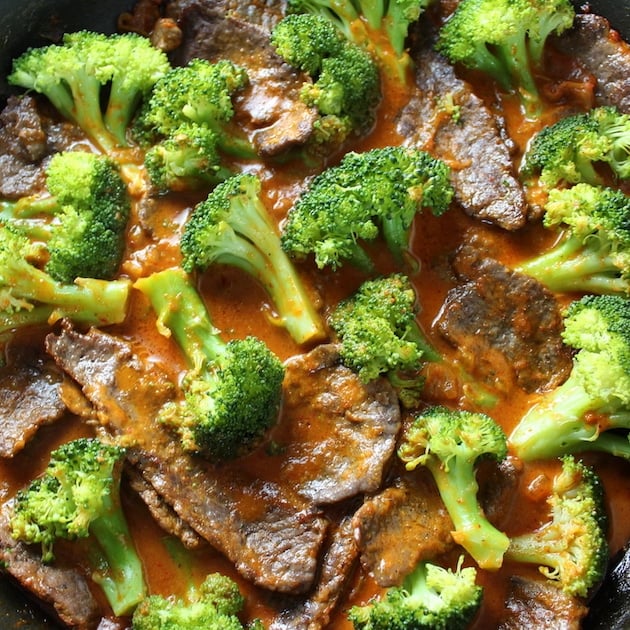 There's so much about coconut milk that I love.  It's rich, thick, creamy and the most beautiful pure white color.  Not to mention it tastes like a sunny beach vacation.⛱  Seriously, what's not to love about that?
I really like making Asian cuisine at home.  It's easy, there's no MSG, I can control the sodium content, and I actually think it tastes better.  I haven't mastered the art of making my own fortune cookies yet, so that is one small drawback.
But I'll take that tradeoff all day err day.👍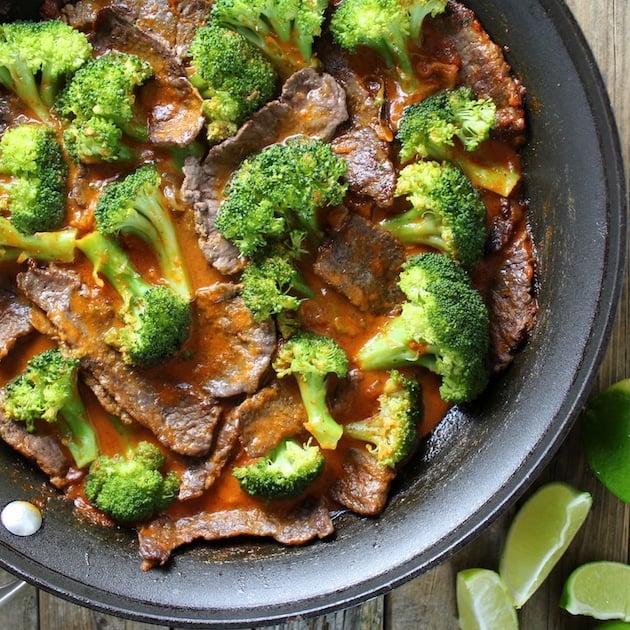 This recipe comes from my friends over at Williams-Sonoma.  I made a few tweaks, but the concept is all theirs.
They call for steaming the broccoli in the microwave, but I steam mine on the stove top while I'm prepping the rest of my ingredients.  It doesn't make the recipe take any longer, plus it could possibly be healthier.  I'm not sure I've ever shared this with you before… the B man has a fierce aversion to using microwaves.  Random right?  Literally he won't even microwave water.😳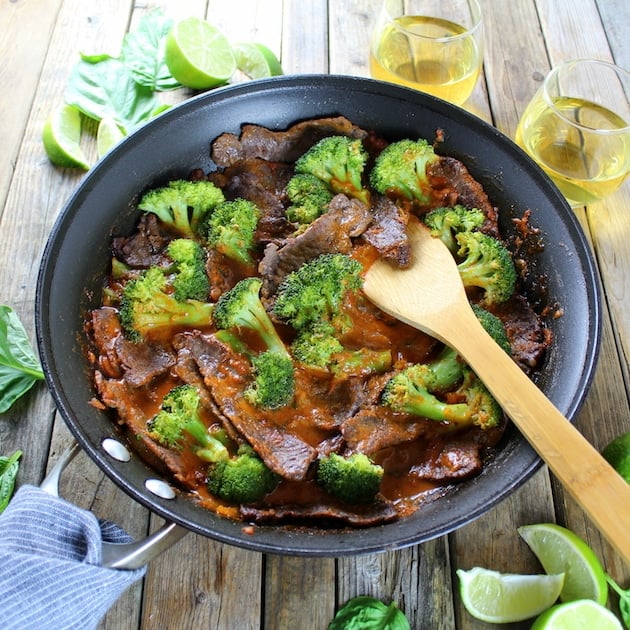 I'm not sure where he got this inhibition but he is very fixed on his position.  Something about "microwaves are banned in Europe because they're so harmful so why are we still using them?"🤔
He's so resolute on the issue he even tried to prevent us from installing one when we remodeled our kitchen.  Luckily my argument for needing one for resale purposes won out.  Who cares if it's hidden at the bottom of the kitchen island – at least we have one!!  You gotta celebrate the wins people.🙌
I was curious about this microwave phobia so I did a little investigating (what did we do before the Internet???).
It turns out there are several articles about microwaves being banned in Russia and other European countries but there were just as many articles stating these allegations were false.  So my findings on this microwave issue were inconclusive.😐
But apparently for me and my house we will not be microwaving… we'll that's what I'll keep telling ole' Sanderinio anyways.  Shhh.😝
Back to this super-delicious and non-microwaved Thai Beef with Broccoli Recipe….👇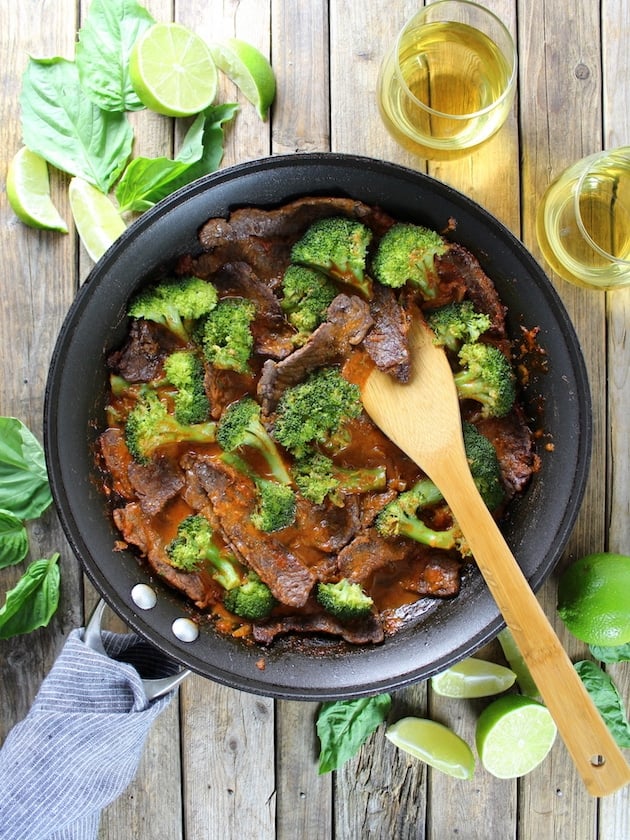 While I was steaming my broccoli on the stove, I sliced my shallots, and prepped my beef.  The recipe calls for the use of beef filet. Although this is a pricier cut of meat, I found it to be extremely tender and perfect for this recipe.  It has virtually no fat content, so it's healthier than most beef options.  Plus, you only need 1 pound for the whole recipe… so even though it's a bit more costly, a little goes a long way.  And you're so worth it!!👊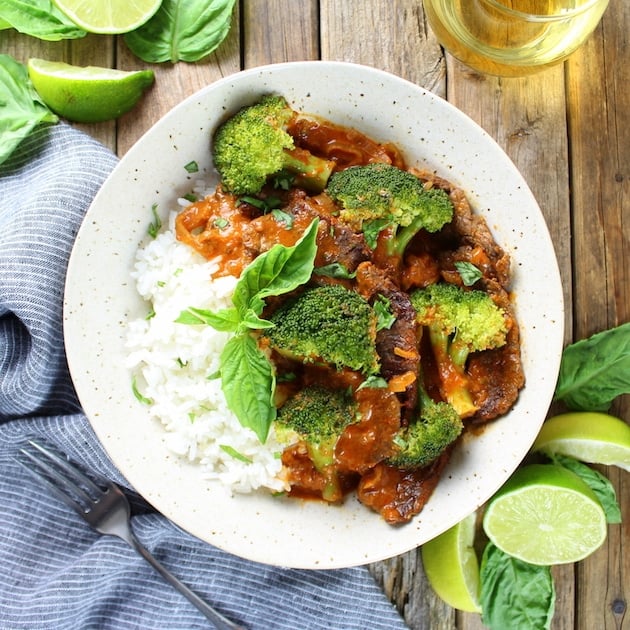 You slice the filet really thinly against the grain to create delicate strips.  I took it one step further… I layered them out on a cutting board, covered them with plastic wrap and gently flattened them.  This ensures a wonderfully tender experience in every bite.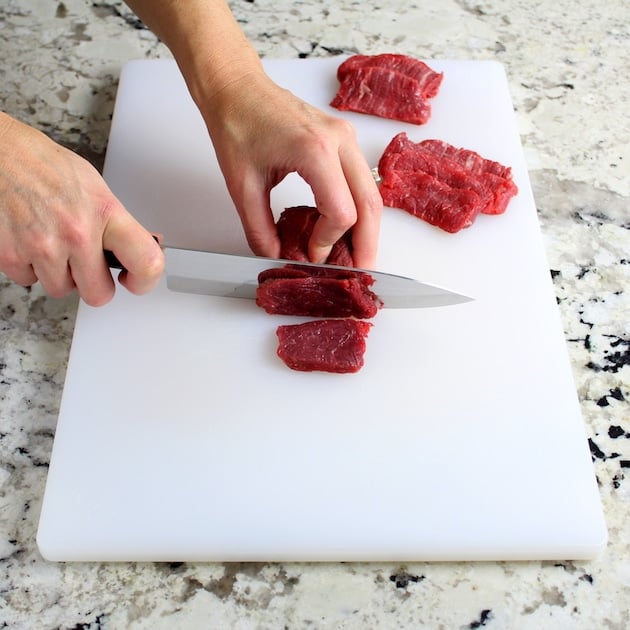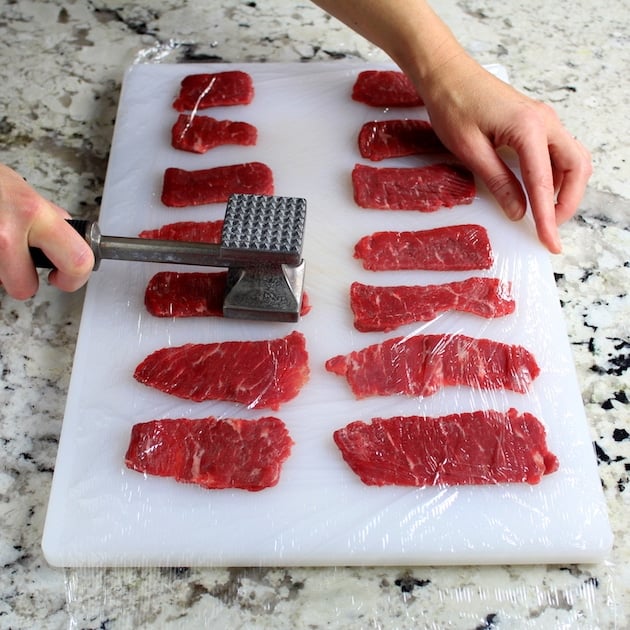 Next it was time to start cooking.  You sauté your beef in a little oil in a large sauce pan for about 45 seconds a side.  Then transfer to a plate while you continue to cook the rest of the beef in batches.  As you can imagine this goes pretty quick.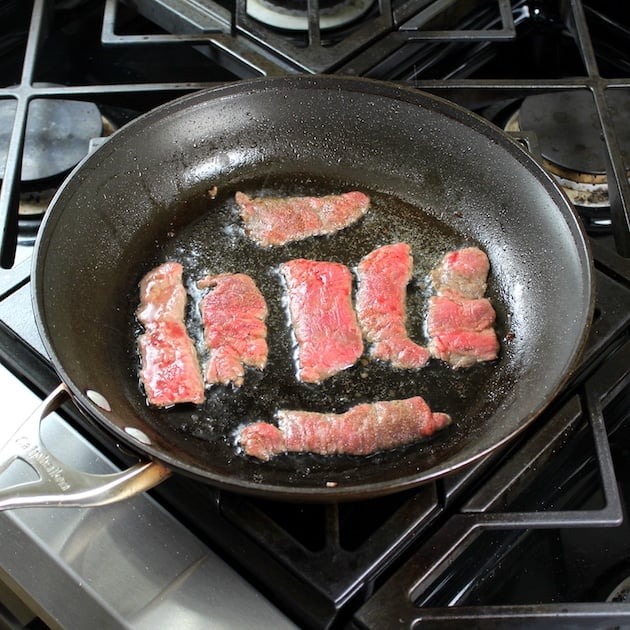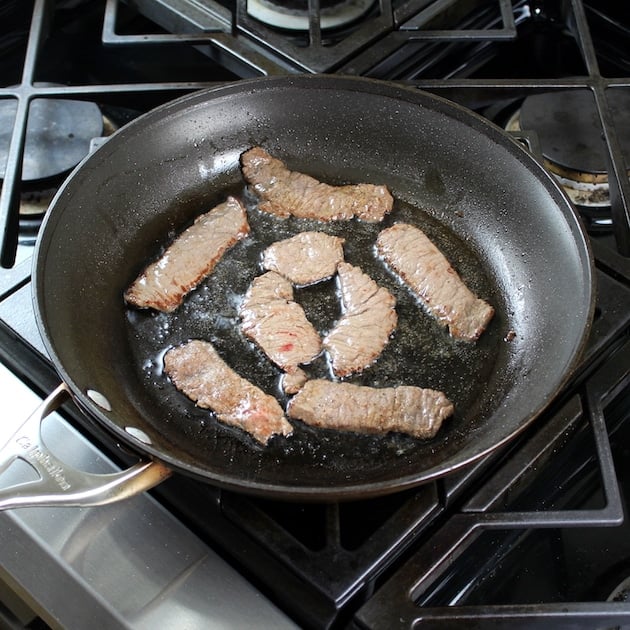 You add in your shallots and sauté for 2-3 minutes, and your ginger for another minute.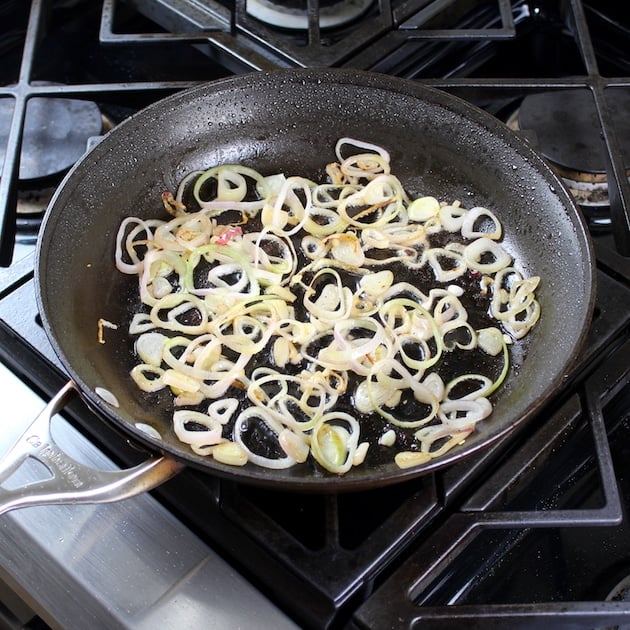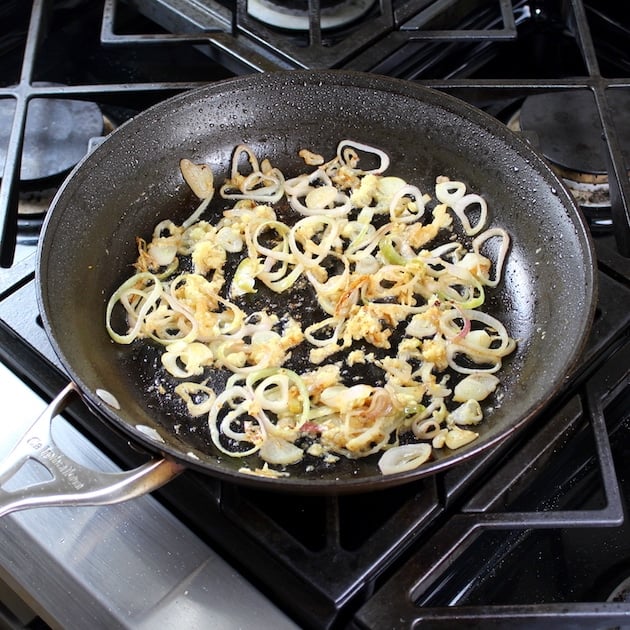 Then stir in your red curry paste and continue to cook for about one more minute.  Add in your fish sauce, brown sugar and coconut milk, let it simmer until it thickens up – about 5 minutes.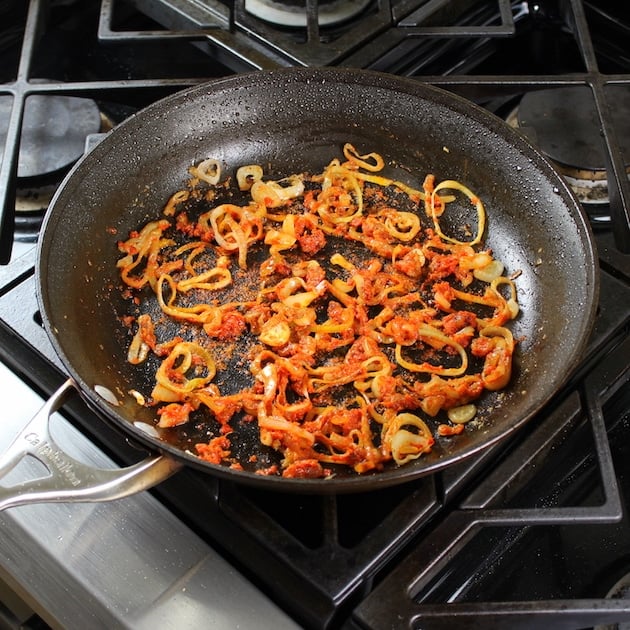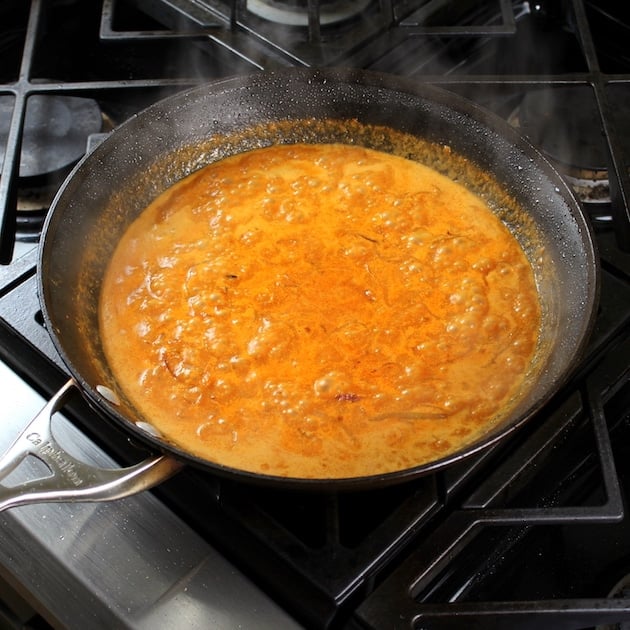 Add your beef and broccoli back into the pan and dinner is served!✨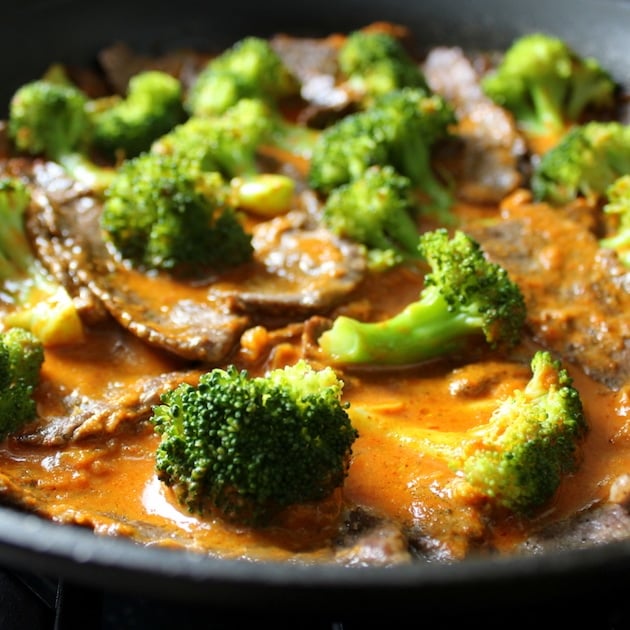 I like to serve this beef and broccoli recipe over jasmine rice and garnish with lime wedges and fresh basil.🌿  So delicious and even better than panda express broccoli beef take out!😮  And that's saying something!!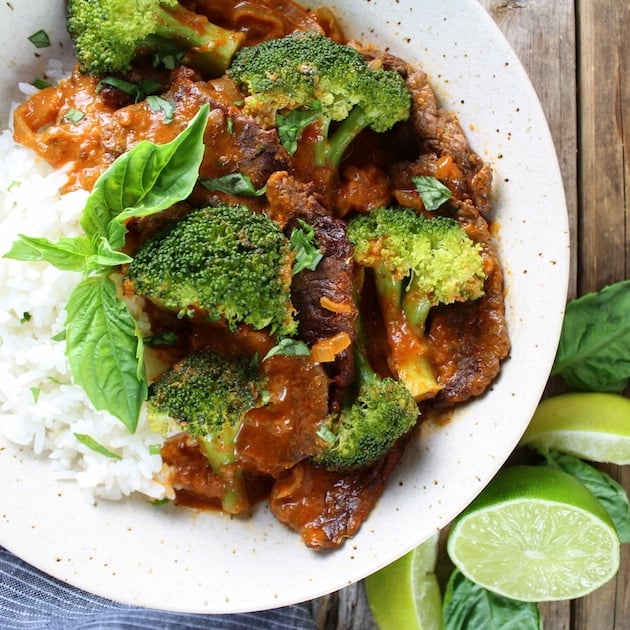 Thai Beef with Broccoli… a delicious and easy weeknight meal – sans microwave!  Enjoy my friend!
I would love to connect with you!  Leave a comment and follow me on Instagram, Twitter, Facebook, & Pinterest!
Thai Beef with Broccoli - a perfect weeknight meal!
Click To Tweet
Looking for more Asian-inspired entrees?  Try these!
Sweet And Tangy Asian Meatballs: