As of October 2016, we've just celebrated the one-year anniversary of Taste And See! Our first post, Spicy White Chicken Chili, went live on Sep 25, 2015… our first actual pageview happened on Oct 17th. A year later, we've published about 150 recipes, and just cleared 1,000,000 total pageviews (OK, technically one year and 5 days later)!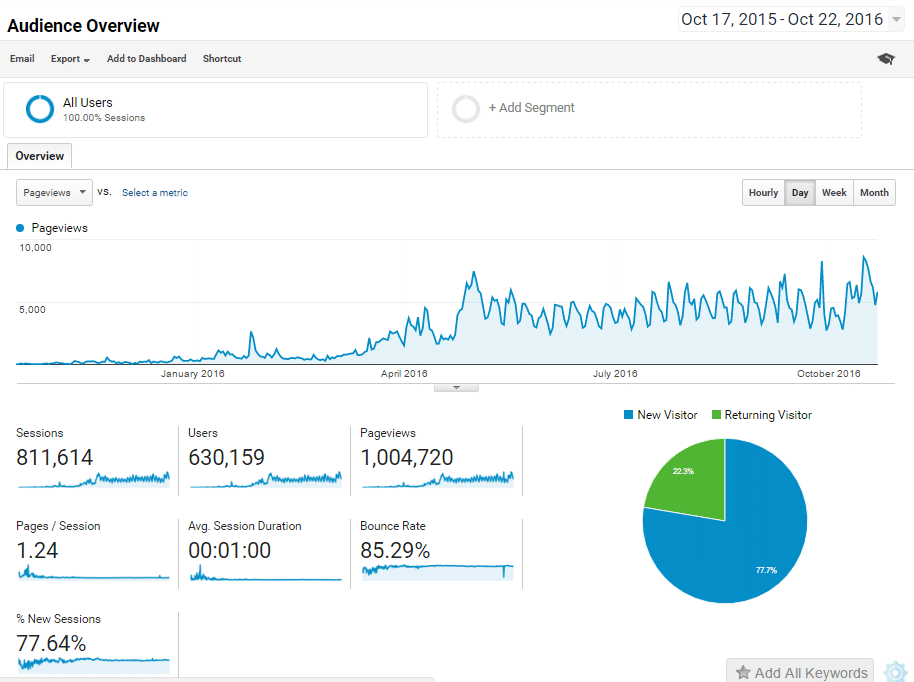 We're grateful for the support from our many readers, the advice from countless other bloggers, and the encouragement from our friends and family! Thank you all so much!! (Cheesy selfie alert)
How did we do it? There are so many great articles about How To Start A Food Blog where you can learn the basics of setting up hosting, Wordpress, etc... so we decided to do something a little different for our one-year anniversary. We wanted to offer you the ten tips that we feel have made the biggest difference to our success!
(And yes, friends, many of these links are affiliate links that will yield us a small referral fee - at no extra cost to you. Thanks for helping keep the lights on over here at Taste And See!)
With no further ado...
Ten Tips To Reach Your First Million Pageviews:
1) Join Food Blogger Pro. Yes this is an affiliate link… yes we will earn a referral fee if you join… and, yes this is the only possible way on the planet that we could have achieved 1M pageviews in one year. We literally watched every training video, and tried to follow every single bit of advice possible on Food Blogger Pro. It's a comprehensive community that will encourage and educate you on almost every aspect of food blogging.
2) Elevate Your Photography Game! Although your food tastes delicious, if it doesn't **look** delicious then it's not going to bring traffic. With Holly's background in TV, video production, & communications, she has a killer eye for composition and detail. But that wasn't enough. You're going to need to understand how to manually operate a DSLR camera, lighting, composition, and editing. There are great materials within Food Blogger Pro (see point #1) that can help you get started. There is an excellent book by Nagi at Recipe Tin Eats that can help as well. In our opinion you should not proceed until you have this point down. Do not pass "Go," do not collect $200.
3) Become A Pinning Maniac. We think Pinterest is essential for food bloggers!! Two recommendations here: First, join Tailwind or Board Booster, or figure out how to use both together. We are huge Tailwind fans and we're adding Board Booster specifically to test out their "looping" feature as a supplement to Tailwind. Second, find your version of the "Tall Pin," and settle on a template with your signature look. Also experiment with tall "how to" pins - using 4-5 pics that show the process of making the dish as well as a finished product.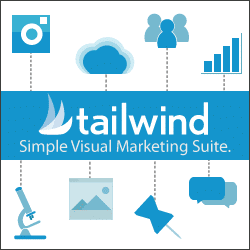 4) Submit To Food Sharing Sites! First among these is Yummly. In spite of its recent glitches (or maybe deliberate changes?) in Q4 of this year, it has still been a top 10 source of traffic for us over the last 12 months. Beyond Yummly, we are big believers in casting a very wide net across many other food sharing sites. Some will help with traffic, some will help with SEO, some will help with your social media reach.
We believe in this so much that we wrote a comprehensive ebook where we evaluate dozens and dozens of these sites. We continually research these sites, and since they do change from time to time, we'll publish updates every six months. We think it's a great value, and if you're reading this post, you can use code "fbp2017" when checking out for a ~20% discount. Check it out here for more details: The Ultimate Guide To Food Sharing Sites.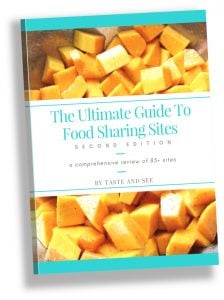 5) Harness The Power Of The Roundup. We focus our roundup efforts on BuzzFeed… we'll periodically create one of our own, and we'll regularly submit our recipes to other bloggers who ask for recipes to include. Guess where we see most of those requests for recipes? Yep, in the Food Blogger Pro Community!
Our most successful roundup was a hot dog roundup that went to the front page of BuzzFeed.com over the Fourth of July weekend, and drove significant traffic. We find that most of these are short-lived, but the spikes are meaningful when they happen. We usually use the approach from this how-to guide by Dishing Delish.
6) Let SEO & Seasonal Trends Be Your Guide. Our process: every quarter we review the prior year's Google Search trends for the next three months, to look for popular recipes that would fit well with Taste And See. Because they've recently changed how they display the data, Google's Keyword Planner is less detailed, but we still find it helpful. We query several different categories per month, such as "recipes," "chicken," "beef," "appetizers," etc… and derive a monthly "focus list" for each quarter that is intended to capitalize on search trends.
We then use SEMRush (free version) to get ideas for specific keywords to include in posts. And we love the MOZ Toolbar add-on to check specific post titles - this tool has a great view of every other search result for a specific term, showing you the Page Authority and Domain Authority of each result so you know how strong the competition is.
[clickToTweet tweet="10 Tips To Reach Your 1st Million Pageviews!" quote="10 Tips To Reach Your 1st Million Pageviews!" theme="style3"]
7) … But Leave Room For Your Creative Muse! Sometimes you need to post a recipe to your blog just because you love it, regardless of SEO & seasonal trends. Go for it! Let that creativity out!! If you are madly in love with Tuna Banana Chocolate Pizza, then you go ahead and be you… put it out there and have fun with it, just for the love of the art. If you don't allow for this, you'll start to hate cooking… and then you're cooked.
8) Attend A Food Blogger Conference. At least once. In your first year, if possible. In this early stage it's really helpful to get to one of these. Bloggers spend so much time locked down in front of a computer, but you really need to meet and greet with some of your own kind. The benefits include networking with peers & brands, learning more skills for your craft, and just changing your perspective for a few days.
There are so many to choose from, but for a variety of reasons we chose Chopped Con 2016 in Kansas City. There were less than 100 attendees, so it was an intimate, casual venue, which was great for connecting and expanding our tribe. We can recommend it with confidence for a first-time conference choice.
9) Make Your Site "Wicked Fast." We still have room to improve here. We started our journey hosting on GoDaddy's Managed Wordpress "deluxe" option (whatever that is)… and about 3 months ago moved our hosting to Liquid Web. Our speed improved dramatically! Find a high-quality host that is affordable to you, and work with them to address any speed issues on your site. There are also several plugins that claim to offer image compression with no loss in quality, but we've yet to crack that nut.
10) Hard. Freaking. Work. We saved this for last because it may not be what you want to hear. If you want this to be more than a hobby, then you need to treat it that way. We made a real commitment to treat Taste And See like a business during our first year… and specifically, like a startup business! Bryan took a break from his corporate career to be a full-time volunteer, and we both treated it as a full time job… we each spent an average of 70 hours per week for at least the first 6 months.
We take a business view and try to turn everything into a repeatable process… we're talking Monday morning planning meetings, weekly business reviews, monthly production calendars, templates to track sponsored post deliverables, and on and on… We are committed and we take it seriously. No one can understand this until they've tried blogging, but this is not for the faint of heart. It requires a strong constitution and the ability to keep yourself motivated and continue to drive yourself toward improvement!
** Bonus Material!** We're updating this post to add one more suggestion... and that has to do with search engine optimization. SEO is a complicated maze, and we only started to make traction on our organic search volume after we got some professional help!! If want to take your blog to the next level in Google, get an audit by SEO professional Casey Markee. His audit of Taste And See resulted in significant increase to our organic search volume.
---------------------------------------------------------------
To wrap up, we want to reiterate one point: if we could only offer you one single piece of advice, it really would be to join Food Blogger Pro. Walk through every bit of training, utilize the community boards for help, and take advantage of the great partner discounts available to members. We looked high and low and couldn't find any other online resource that comes anywhere close to what aspiring food bloggers need! It is worth every penny you will spend!
We hope these tips have helped you, and we'd love to hear your story! Wherever you are on this journey, drop a comment or send us an email and let us know if there's something we could do to help you to succeed!
Thanks for reading… H&B.