This Baked Butternut Squash with Italian Sausage Stuffing is a delicious casserole of comfort food.  With butternut squash, ground turkey, sage, thyme, sourdough bread, Asiago and Parmesan cheese, you'll be enjoying this dish all season long!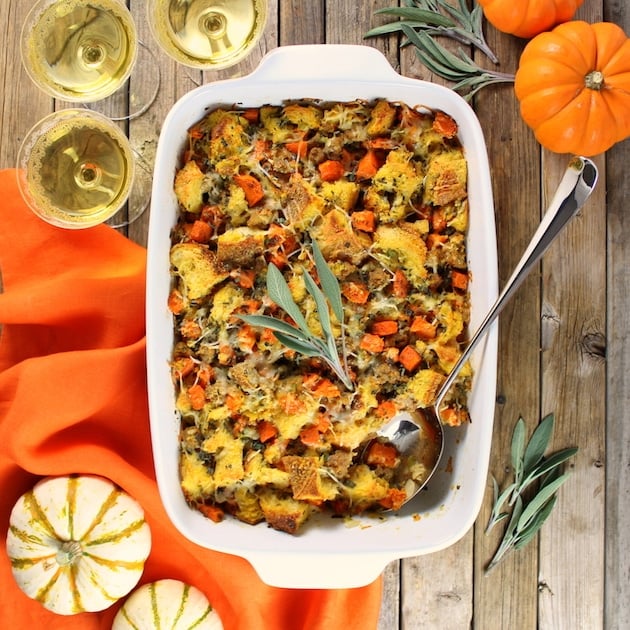 Is it called stuffing or dressing?  Do you cook your stuffing in the bird, or cook it separately?  Do you add meat or no meat?  Is cornbread included or excluded?🤔  Apparently these are all serious issues when it comes to this festive topic.
One thing is for sure: we all have our opinions on the matter.  Who knew this quintessential Thanksgiving dish could be so controversial??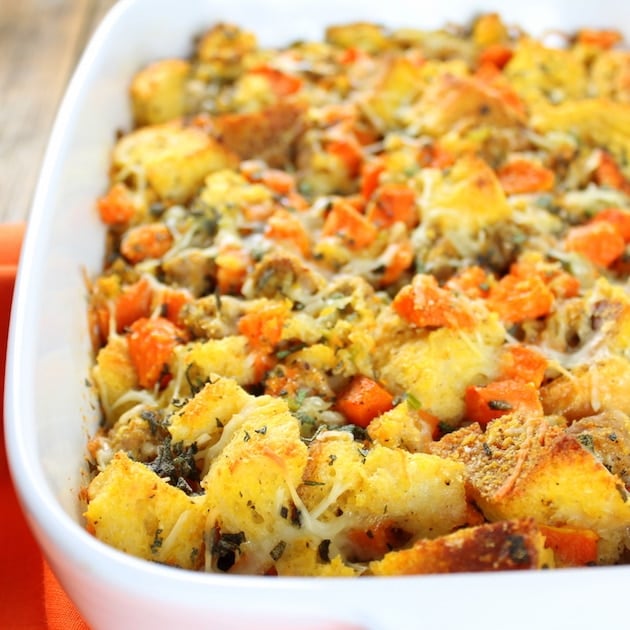 Some believe if it's cooked inside the Turkey it should be referred to as "stuffing," and if it's cooked separately then the correct name would be "dressing."
There does seem to be a line of demarcation on this issue… and it's the Mason-Dixon line.  South of this line, this seasonal dish is dubbed "dressing," and in the north it's touted as "stuffing."
The nice folks over at Butterball – you know the Turkey people – actually created their own chart depicting their findings on this topic.  They determined that out of all 50 states, only 13 had the majority vote referring to it as "dressing."  All the rest were in the "stuffing" camp.
Whatever you call it – I'm pretty sure it's safe to say most Thanksgiving table-scapes will don this bread-centric dish.👍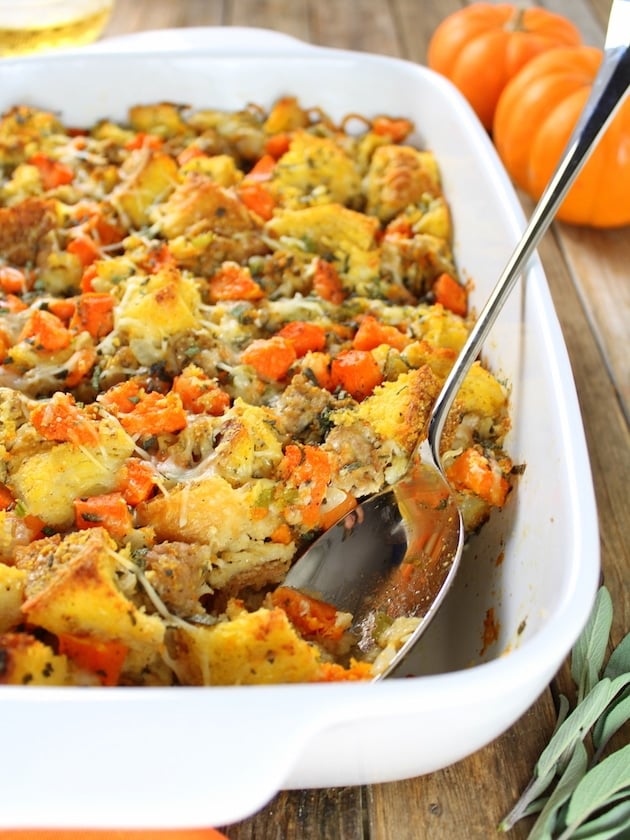 Generally I have a low-carb approach to most of my meals.  But of course there are always exceptions – hello pizza night or game day Cheesy Beer Brats!🍕🌭  And of course Thanksgiving is another glorious omission… so you better believe I'll be cramming my face with some yummy stuffing every Turkey day from now till forever.😋
Plus, I'm equalizing it with plenty of protein thanks to Mr. Tom Turkey, so it all balances out.💯  No blood-sugar spikes over here.🚫
I usually make a variation of my mom's stuffing recipe, which I love.❤️  Not only does it remind me of home but it is simply amazing.  It has a combination of homemade cornbread and white or artesian breads.  Plus all the usual suspects: onions, celery, sage, eggs, turkey drippings or chicken stock, and of course butter.  Mmm butter.
It's wet enough to be moist but not so wet it becomes a solid pan of dough.  It's just delicious and my mouth is watering as I describe it to you.  I think I'll be making an early Thanksgiving meal this year – in the name of taste-testing and research, of course.😄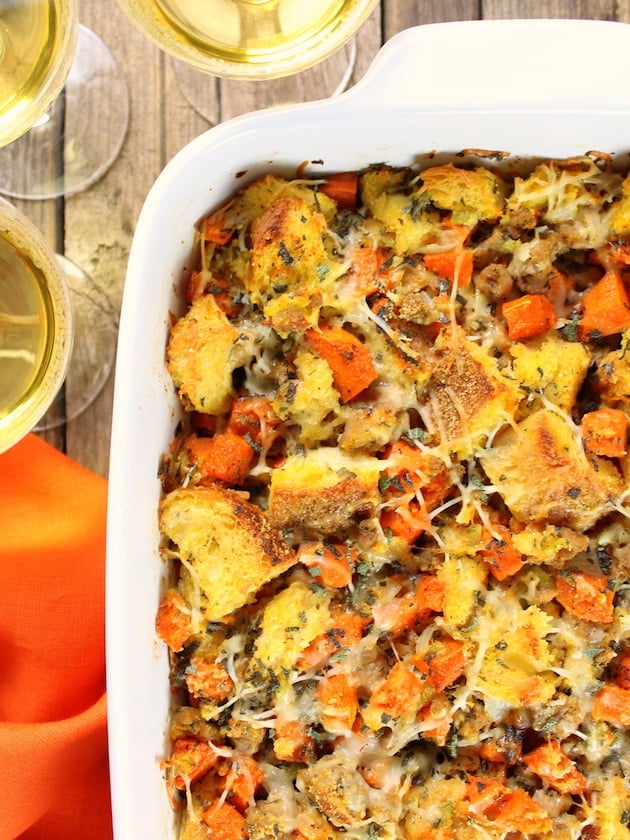 In the meantime I have this other delightful stuffing to snack on… my Baked Butternut Squash with Italian Sausage Stuffing.  It's my latest fall creation and it's so tasty.  I went ahead and added the protein and veggie right to it, so it's literally a complete meal in one dish.  Bonus!🙌
This squash stuffing recipe is a wonderful combination of savory, hearty, and cheesy, with a hint of sweet from the butternut squash.  I think it's pretty fabulous and I can't wait for you to try it.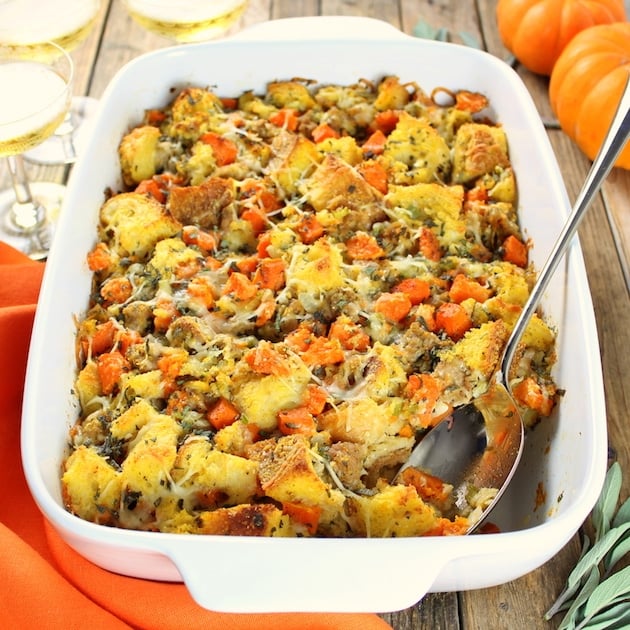 The squash is roasted for about 15 minutes before you add it to the dish, and the sausage is also cooked through.  Everything is folded together to create this herbaceous and flavorful squash stuffing.🌿
It's a fun take on traditional stuffing and a delightful addition to any Thanksgiving meal.  Or if you're like me, a perfect fall dish to be enjoyed any day of the season.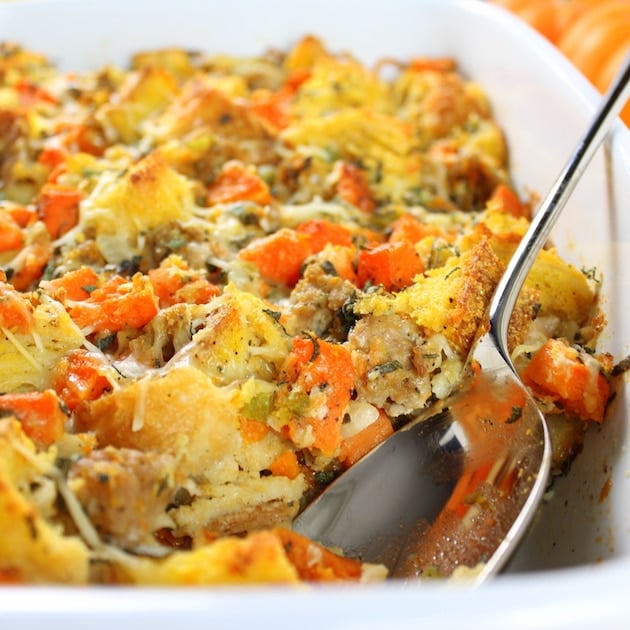 Baked Butternut Squash with Italian Sausage Stuffing is a comfort dish that has it all – bread, veggies, meat and tons of savory flavors.
So dressing or stuffing, call it what you will, but just be sure to gobble it up!
I would love to connect with you!  Leave a comment and follow me on Instagram, Twitter, Facebook, & Pinterest!
Looking for more Thanksgiving winners?  Try these!!
Foolproof Thanksgiving Turkey Recipe

Cranberry And Dried Cherry Sauce