Baked Veggie Quinoa Tots! A healthy take on a classic snack! (Thanks to our friends at Barber Foods for sponsoring this post - and for offering my readers a special coupon! All opinions are my own.)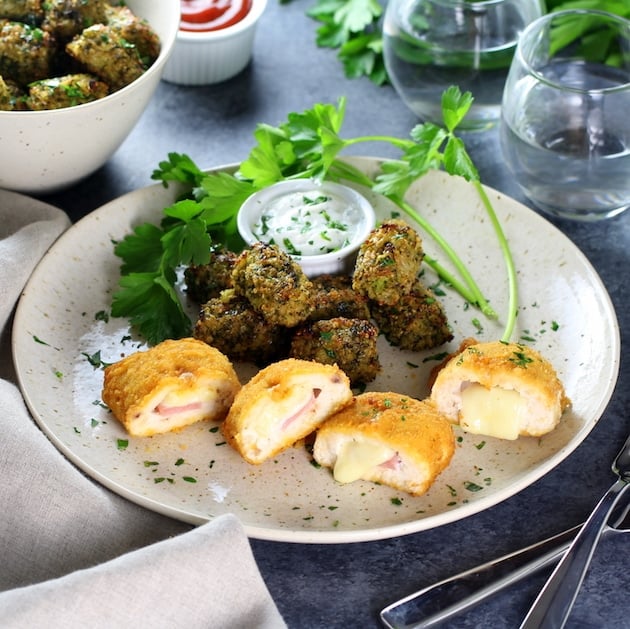 Have you had any of the Barber Food chicken dinners? You may remember we tried the Barber Foods Broccoli Cheese Chicken a while back, and we loved it.💙 They are the perfect no-fuss chicken dish for a weeknight or busy weekend meal.👌
At our suggestion, my father-in-law picked some up and did a little "market research" of his own. His favorite flavor combo was the Chicken Cordon Bleu.
When the Colonel recommends something, you know it has to be good. He is very thorough when it comes to his "research."👍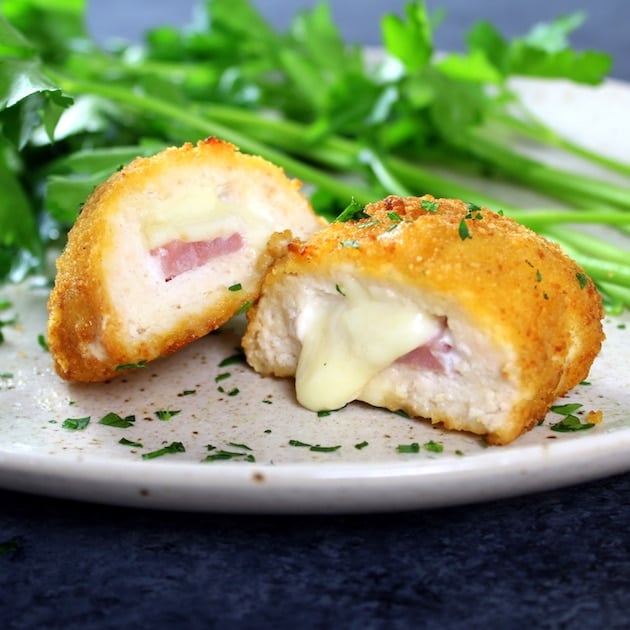 So, we stopped by a Star Market in our area and grabbed a few - or maybe 4 - of the Chicken Cordon Bleu flavor to try out.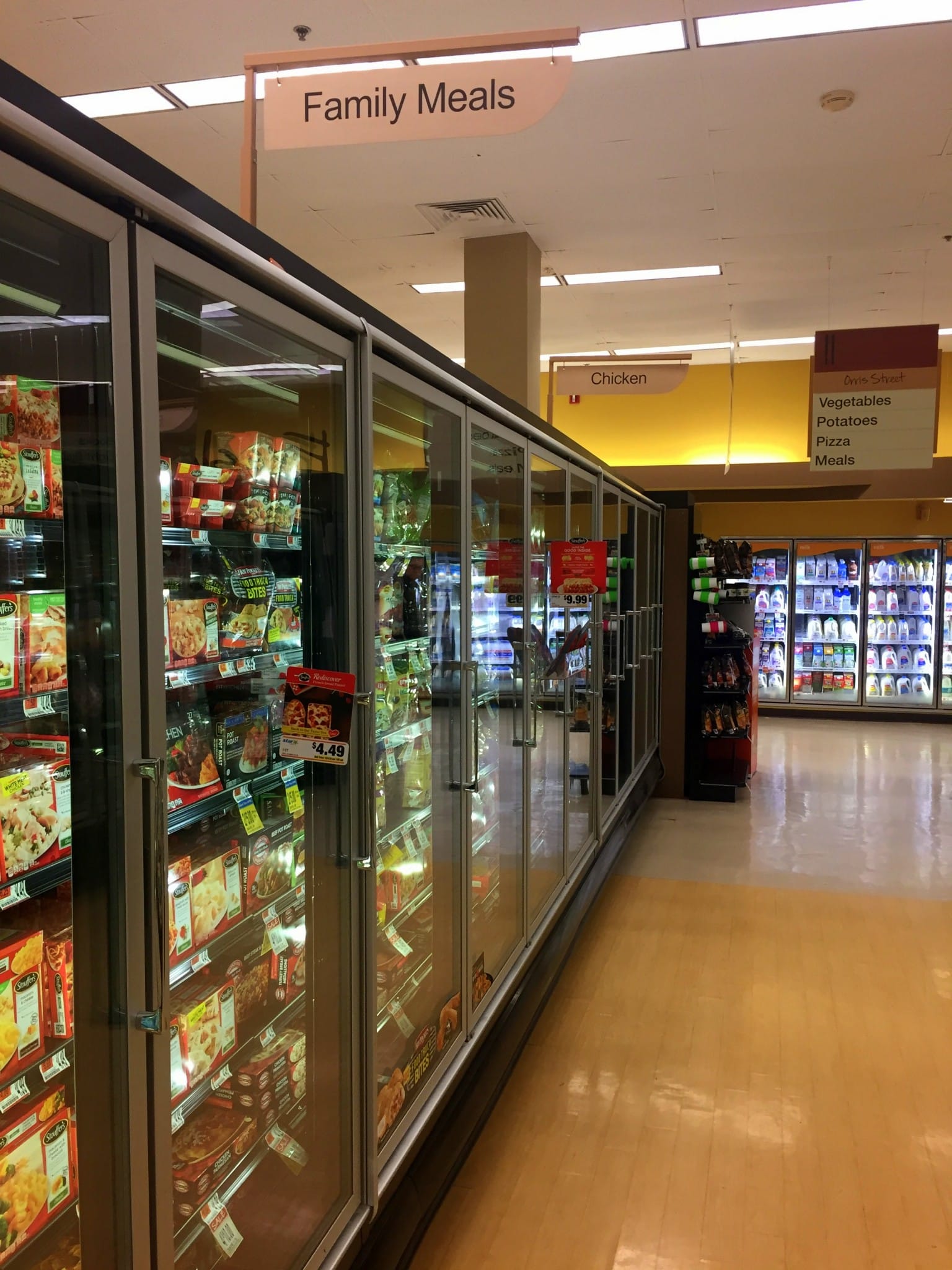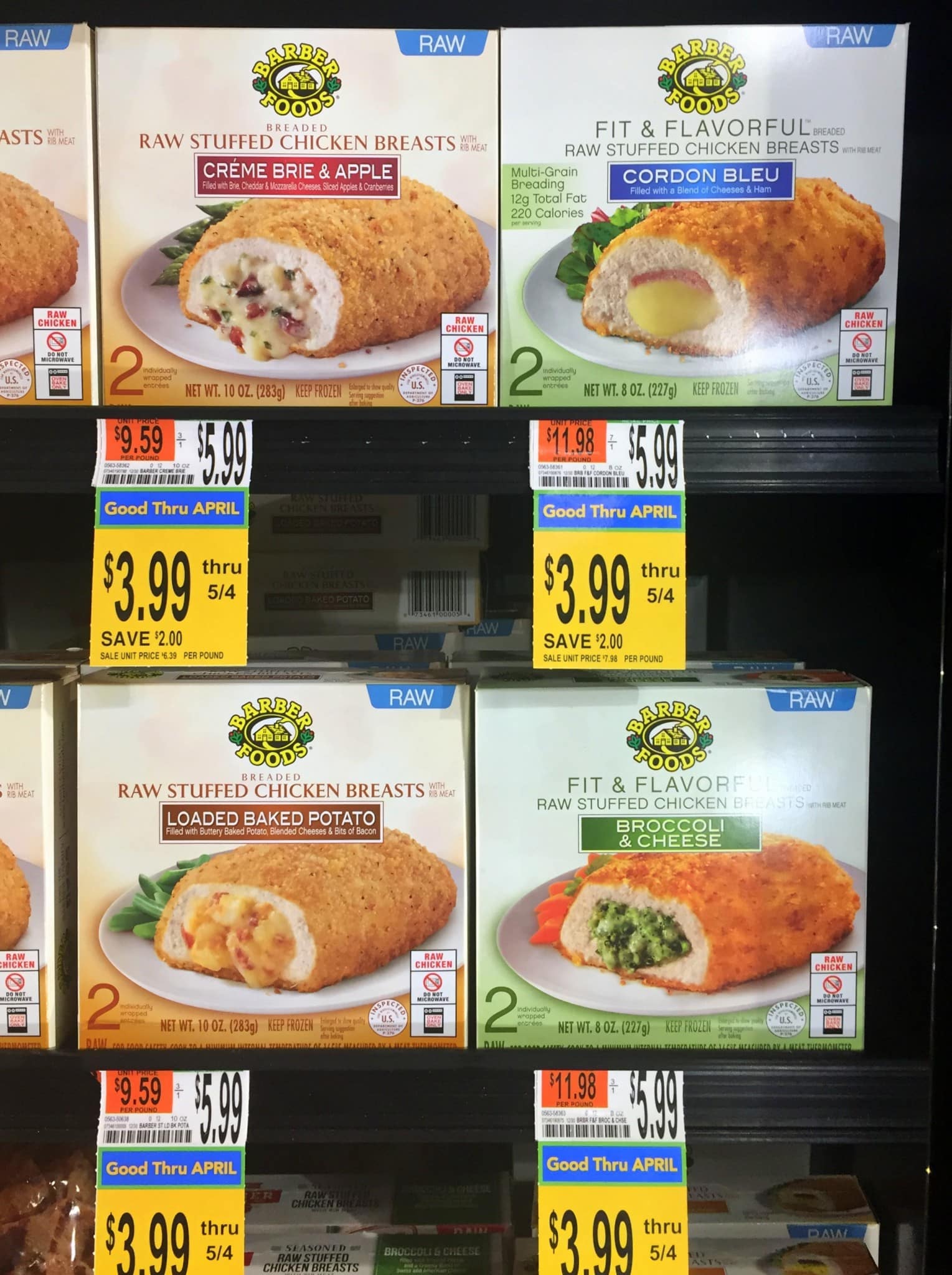 Mmm mmm, yes they are Finger licking good!😋
The little pocket of cheese melts and gets slightly oozy.🧀 The ham adds to the protein factor and gives it a nice texture. The chicken is super-tender as always and the multi-grain breading adds a yummy crispy coating.🌟
Plus, they're the perfect 4-ounce portion size. The B man REALLY likes his protein and sometimes most times eats 2 of them (occasionally 3). What can I say? He was gifted with high metabolism!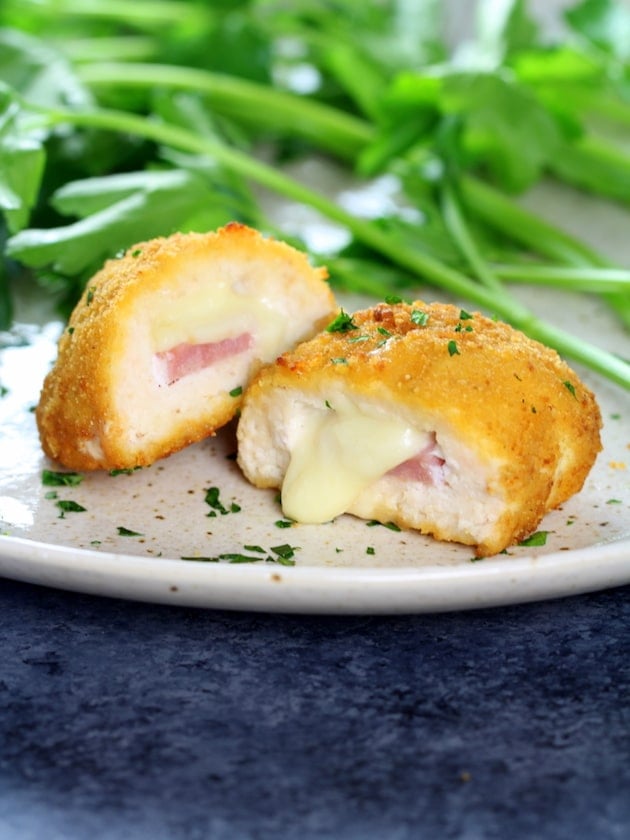 Just to really highlight how easy these pockets of cheesy goodness are to prepare, let me break it down for you…
Step 1: preheat your oven to 400 degrees.♨️
Step 2: grab a box or four of your favorite variety from the freezer.👇
Step 3: cut open and remove them from the little plastic bag containing all that goodness.✂️
Step 4: place the chicken on an ovenproof baking sheet or dish and cook for 30 minutes, until they reach 165 degrees.🌡
And tada… yummy cheesy savory chicken every time!💯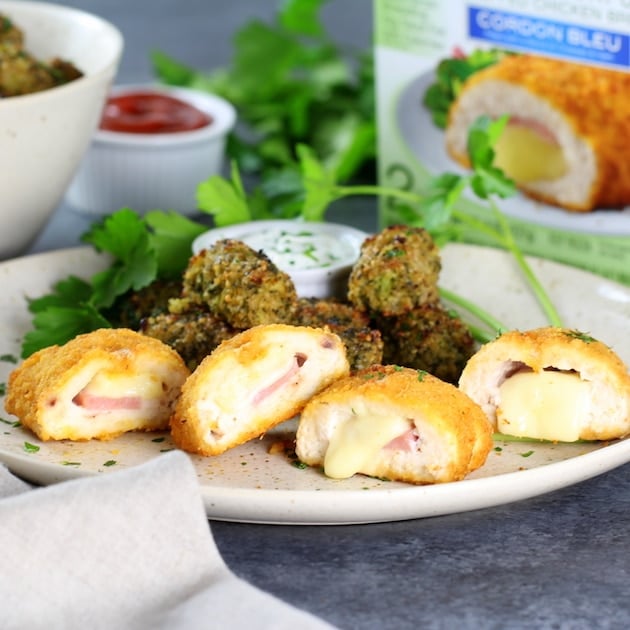 Who knew something so delicious could be so easy! That would be me!🙋 Just because this isn't my first #BarberNight rodeo!
These stuffed chicken breasts are a staple over here. Because life is busy and sometimes you need to hit the "easy button" and make it a Barber Night! Fo' sho'!✌️
Because these stuffed chicken breasts were so quick & easy to prepare, I knew I had plenty of time to create a new veggie side dish I wanted to try. Baked Veggie Quinoa Tots!💚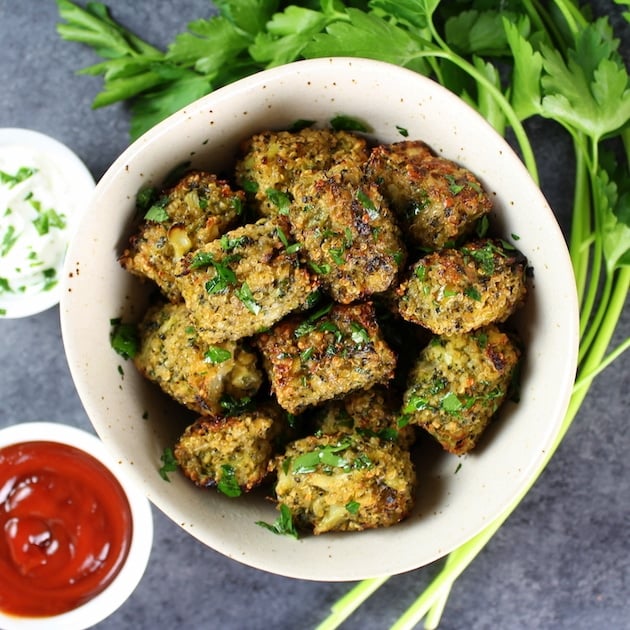 They are like two side dishes rolled up into one! You've got your healthy grain, and your vegetables all together.🙌
Plus, they're adorable - and cute factor is big for me. And you know who else will think they're cute? Your kiddos! So, of course, they're gonna scarf them down! I love it when a plan comes together.👏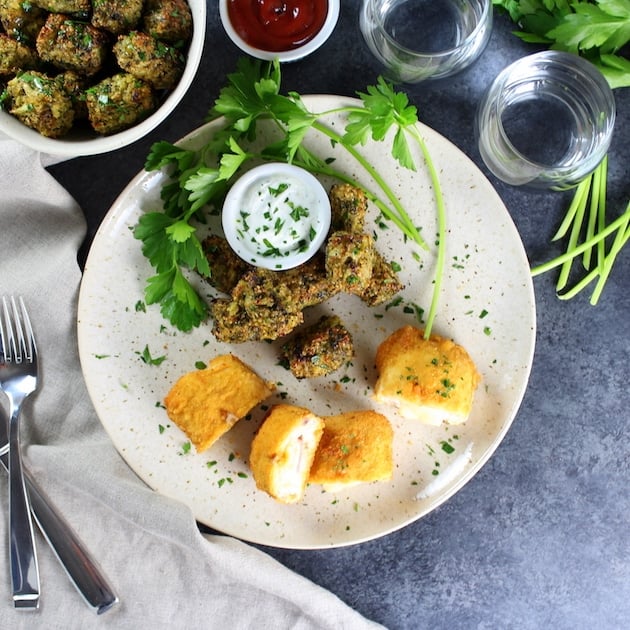 Plus, if you wanted to keep your kids busy and get them involved in a project, you could all make them together.👨‍👩‍👧‍👧
My friend and former special needs teacher, Jaime would say it's a great way to help develop your child's sensory skills while making them more comfortable with touching different textures. You didn't even know class was in session today – did you??📝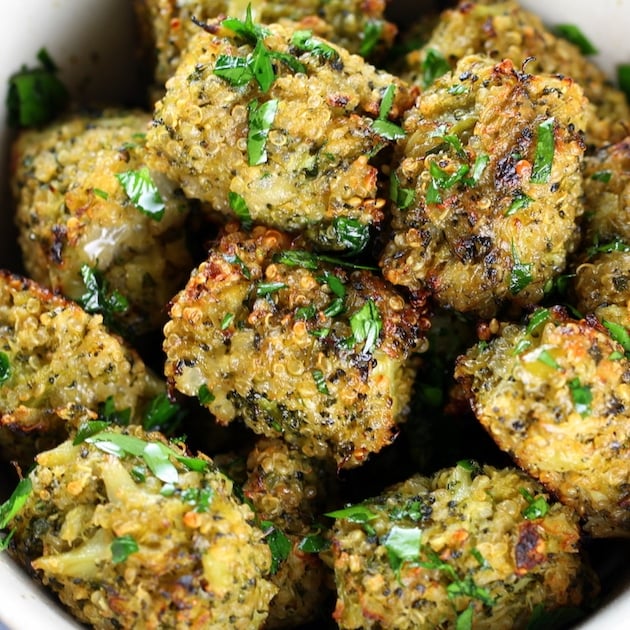 For the veggie tots, you'll need 1 large onion, 4 garlic cloves, 1½ cups cooked quinoa, ½ cup Parmesan cheese, 2 medium heads of broccoli, 1 egg, olive oil, fresh lemon juice, 3 tablespoons chopped parsley and salt and pepper. You steam your broccoli and saute your onions and garlic, mix all your ingredients together in a large bowl – mashing it together a bit with a spatula.
Then roll up those sleeves and start forming those tots!😄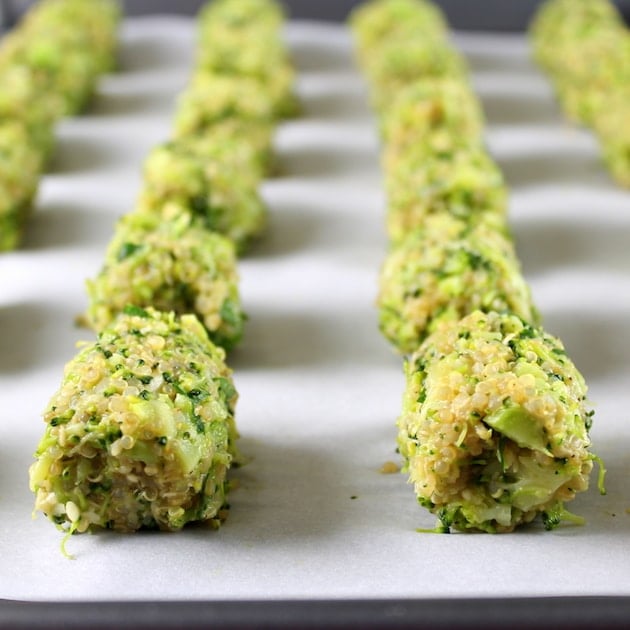 Scoop one firmly packed, and measured tablespoon of the veggie mixture into your hand and give it a few good squeezes. Now shape into a tot.
Place them on a parchment-lined baking sheet and bake for 18 minutes, and then switch your oven over to broil for 2 more minutes to finish them off.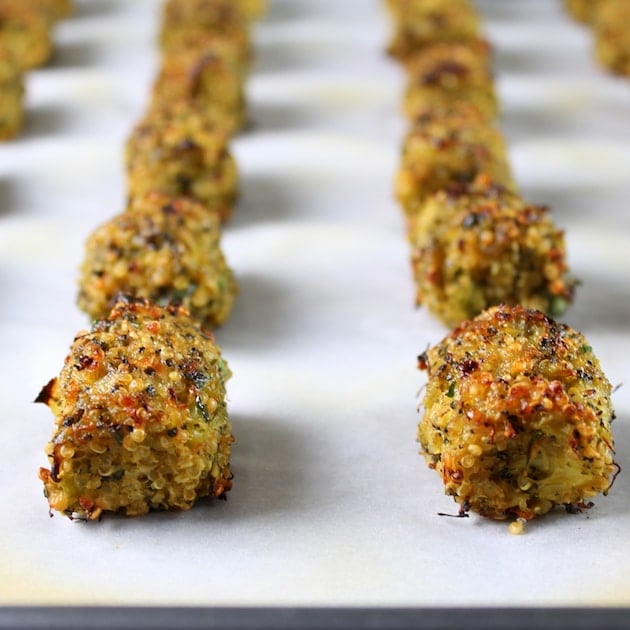 Let them rest for about 5 minutes so they cool slightly and keep their shape when those little fingers snatch them up.
You can serve them with ketchup, a little ranch dip (I mixed up some non-fat Greek yogurt and ranch seasonings to make mine), or just eat them by themselves. Either way, you have a tasty, healthy side dish your whole family will enjoy!✨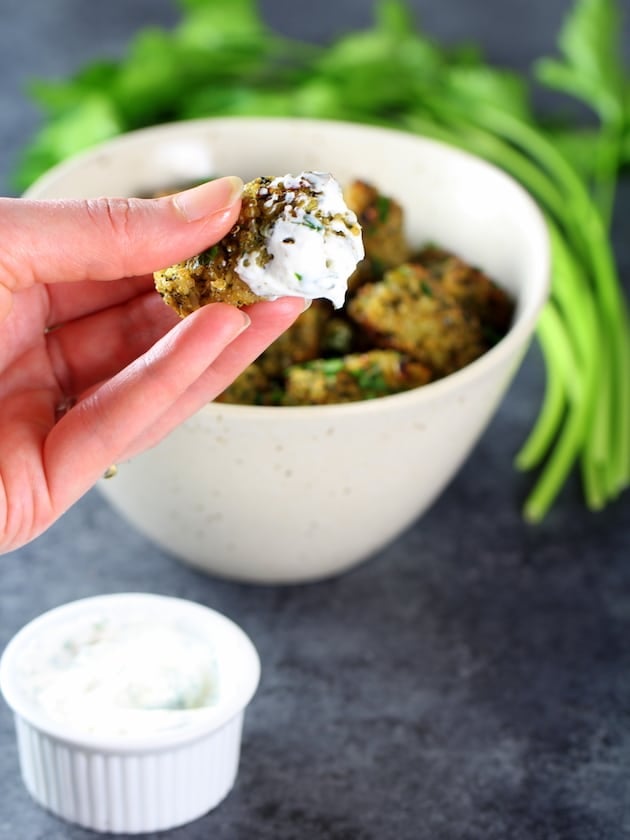 Check out the Barber Foods store locator to find out where you can buy yours!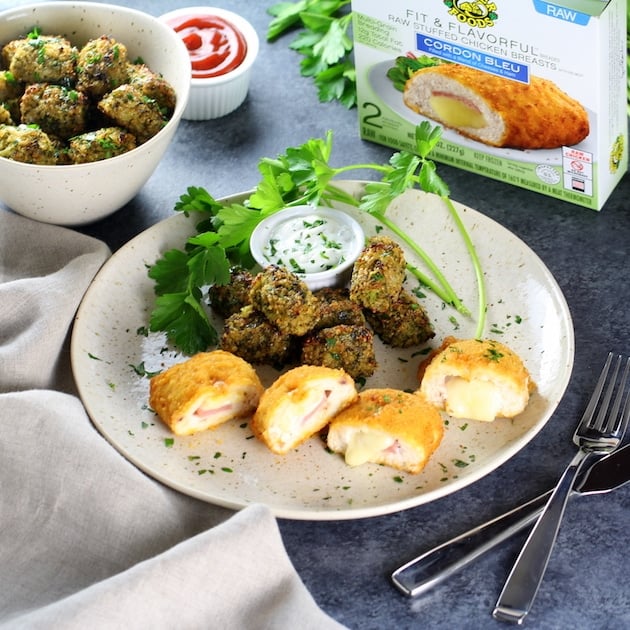 Stuffed Chicken Cordon Bleu and Baked Veggie Quinoa Tots – dinner is served!
I would love to connect with you! Leave a comment and follow me on Instagram, Twitter, Facebook, & Pinterest!
Yield: 8
Baked Veggie Quinoa Tots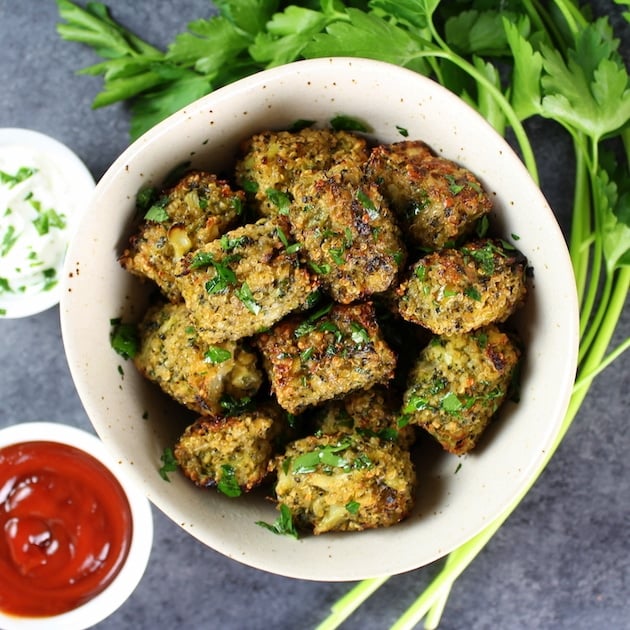 A lighter take on the classic tater tot!
Ingredients
1½ cups cooked quinoa
22 ounces raw broccoli florets (about 2 medium heads of broccoli)
1 tablespoon olive oil
1 yellow onion, finely diced
4 cloves garlic, minced
3 tablespoons Italian parsley, finely chopped
1½ tablespoons fresh lemon juice
½ cup Parmesan cheese, grated
1 egg, beaten
1 teaspoon salt and pepper
Instructions
Preheat oven to 400.
Cook 1½ cups quinoa on the stove according to the package instructions. Steam broccoli for 8-10 minutes and allow to cool.
Meanwhile, saute diced onion in olive oil for 5 minutes, then add garlic and cook for 1 more minute. Allow to cool. (If onions look too large after cooking, chop them up more.)
Chop broccoli into small pieces and place it in a large mixing bowl. Add the cooked onion & garlic, cooked quinoa, parsley, lemon juice, Parmesan, beaten egg, salt, and pepper. Stir really well, mashing the ingredients together a bit with a spatula or the back of a spoon.
Scoop 1 rounded, firmly packed tablespoon of the mixture and squeeze a few times in your hand, then shape into a tater tot shape.
Place the tots, slightly separated, on a parchment-lined baking sheet. Bake for 18 minutes. Turn the oven to broil for 2 more minutes until they are golden brown and slightly crispy.
Allow them to cool for 5 minutes before serving. Serve with ketchup, ranch dip or as is.
Notes
*For a spicier version add ½ teaspoon cayenne pepper.
*This recipe makes 42 veggie tots. 
Nutrition Information
Yield
8
Serving Size
4 "tots"
Amount Per Serving
Calories

128
Total Fat

5g
Saturated Fat

2g
Trans Fat

0g
Unsaturated Fat

3g
Cholesterol

29mg
Sodium

305mg
Carbohydrates

16g
Fiber

4g
Sugar

2g
Protein

6g
This nutrition card uses an estimate provided by an online nutrition calculator. This estimate is not a substitute for a professional nutritionist's advice!