These Strawberry Parfait Energy Bites are bursting with good-for-you ingredients and a ton of berry flavor. The perfect no-bake gluten free treats, with energy-boosting ingredients like oats, almonds, dates, maple syrup, vanilla extract and freeze dried strawberries!
I've got another sweet treat to share with you for Valentine's Day!💕
This one is quick to make, super easy and full of good-for-you ingredients. Plus they taste and smell like a big strawberry patch!🍓 Can you even stand it?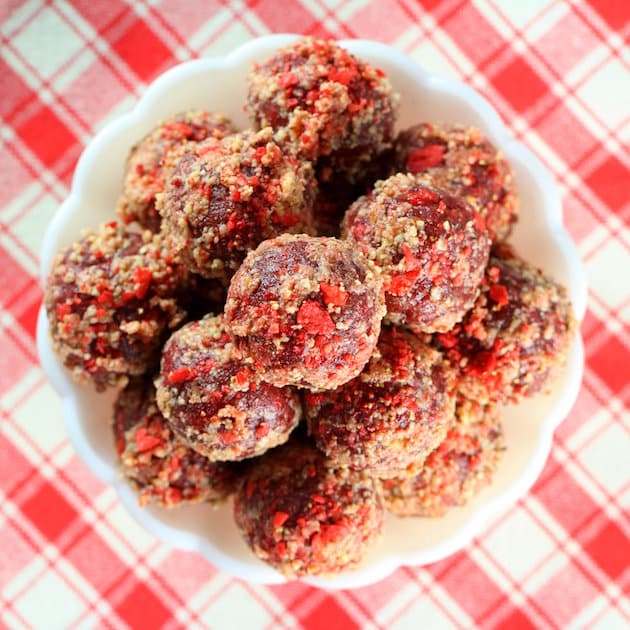 I'm all about eating whole foods, reducing processed ingredients in my diet, and being healthy overall. But I'm also about moderation, being balanced, and having a cheat day/meal/dessert every now and then. Thus my berry infused dessert from a few days ago on the blog…Strawberry Lemon Crème Crepe Cake.🎂
I figure if I eat healthy, delicious food most of the time, now and then I can enjoy something slightly decadent - like a piece of Strawberry Mascarpone Tart or Chocolate Hazelnut Tart. So so good.👌
But since I've had my indulgence, I thought something sweet, festive and healthy was in order.👇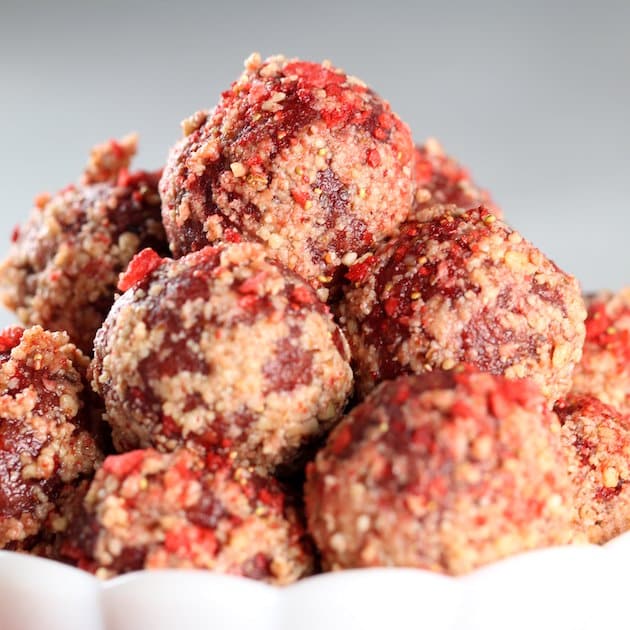 Aren't these Strawberry Parfait Energy Bites adorable!??😊 I just love them.❤️ They have such intense berry-bursting flavor I literally can't stop eating them. And why would I???
They remind me of those Strawberry Shortcake Dessert Bars we would eat when we were kids… creamy, berry sweet with a crumb coating. No need to run after the ice cream truck when you've got a batch of these strawberry energy bites sitting around.🙌
They are full of energizing ingredients like almonds, rolled oats, dates, maple syrup and freeze-dried strawberries. All blended in the food processor and rolled in almond crumbs for a sensational strawberries and cream experience.🌟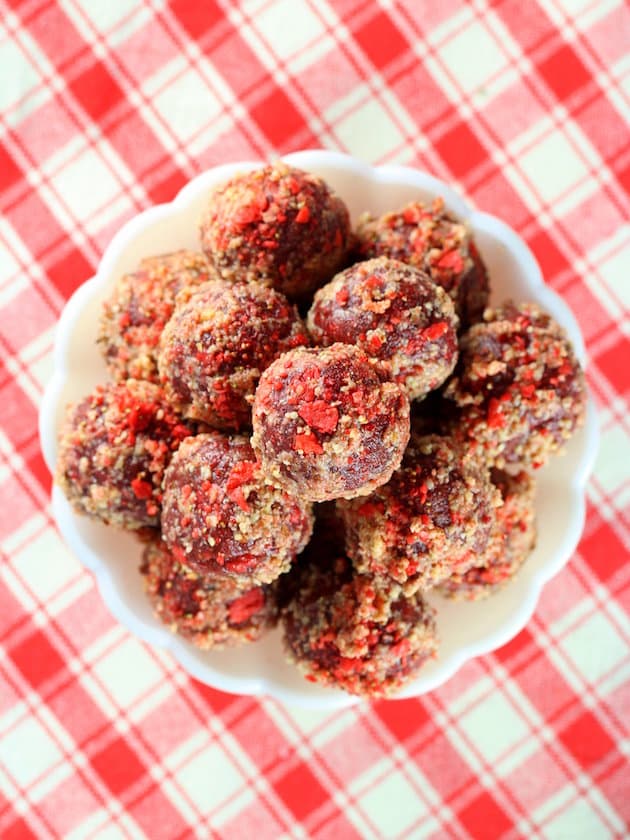 The B man (the official Taste And See taste tester) was quite impressed with these bites of goodness; he likened them to a strawberry starburst.😳 Drop the mic and shut the front door.🎤🚪 My work is done here.
There you have it friends - a healthy, energizing, strawberry starburst bite! Am I selling it?
These Strawberry Parfait Energy Bites are super yummy and the perfect treat to say "I love you" this Valentine's Day or any day for that matter. Speaking of saying I love you…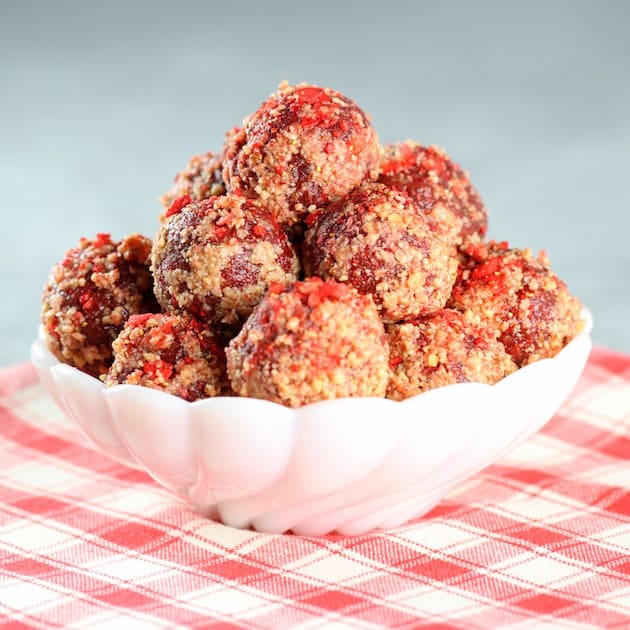 I threw out a "love challenge" a few days ago in my Strawberry Lemon Crème Crepe Cake post. Basically encouraging everyone to celebrate the "loves of our lives" by reaching out and remembering friends, neighbors, or loved ones who don't have someone extra special to share the day with or who maybe have lost their significant other.
Literally take 5 minutes, make a list of 5 people you know that could use a little loving this Valentine's Day?
Whether that's taking the time to meet for coffee, a sweet email or text, or even a Dunkin' Donuts or Starbucks gift card. Basically, whatever way you can – take the time to be extra sweet to others this holiday?
Whachathink? I'm all in over here.💯 My list is growing every day and I'm having a blast.🎉 After all, it's way more fun to give than to receive!
I hope you'll join me for this "love challenge" - and maybe not just for Valentine's Day but also for any day that you come across someone who could use a little pep-in-their-step.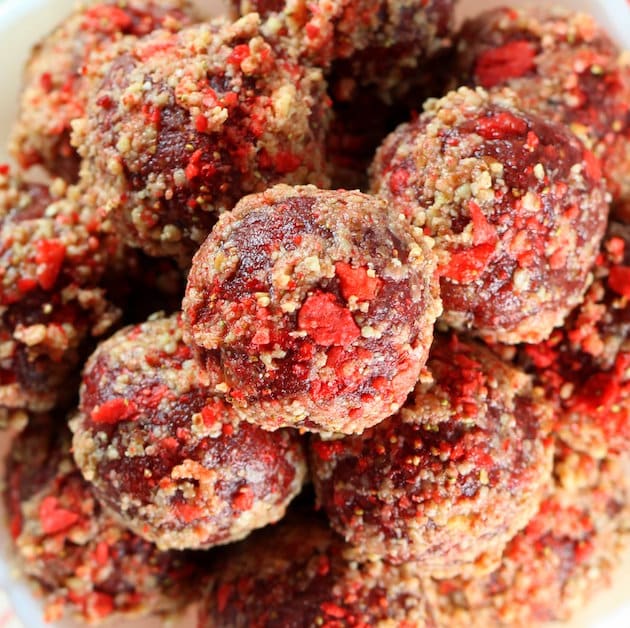 Maybe you'll even make a batch of these yummy Strawberry Parfait Energy Bites and share them with a few of your friends!💟 Or, maybe just send them a nice text message and keep these little guys all to yourself.😂 Whatevaah! You do you!✌️
Happy Eating and Happy V-day friends!💌
I would love to connect with you! Leave a comment and follow me on Instagram, Twitter, Facebook, & Pinterest!
Yield: 18 servings
Strawberry Parfait Energy Bites
No-bake gluten-free treats with oats, almonds, dates, maple syrup, vanilla extract and freeze-dried strawberries.
Ingredients
1 ¼ cup almonds
½ cup quick oats
2 ounces pitted dates
1 ⅓ cup freeze-dried strawberries
2 tablespoons pure maple syrup
1 teaspoon vanilla extract
1 tablespoon water
Instructions
Blend almonds in food processor until they look like crumbs.
Set aside ¼ cup of processed almonds, then add oats, dates, 1 cup strawberries, pure maple syrup, & vanilla extract to food processor. Blend until mixture is well-blended, but not coming together in a clump.
Add the remaining strawberries and water, then pulse until mixture comes together. You should be able to squeeze it and form balls; if mixture seems dry add a little more water and blend.
Form into 1-inch balls and roll in the remaining almond crumbs.
Store in an air-tight container in the fridge for 1 week.
Notes
The serving size for this recipe is 1 energy bite (1 ball).
Nutrition Information
Yield
18
Serving Size
1 energy bite
Amount Per Serving
Calories

149
Total Fat

5g
Unsaturated Fat

0g
Carbohydrates

23g
Fiber

3g
Sugar

15g
Protein

2g
Check out these other Strawberry Dessert Recipes...
Strawberry Lemon Creme Crepe Cake