This Buffalo Shrimp Salad is light and flavorful and so delicious! With fresh greens topped with lots of veggies, saucy Buffalo shrimp, blue cheese crumbles and the most creamy and dreamy Avocado Ranch dressing.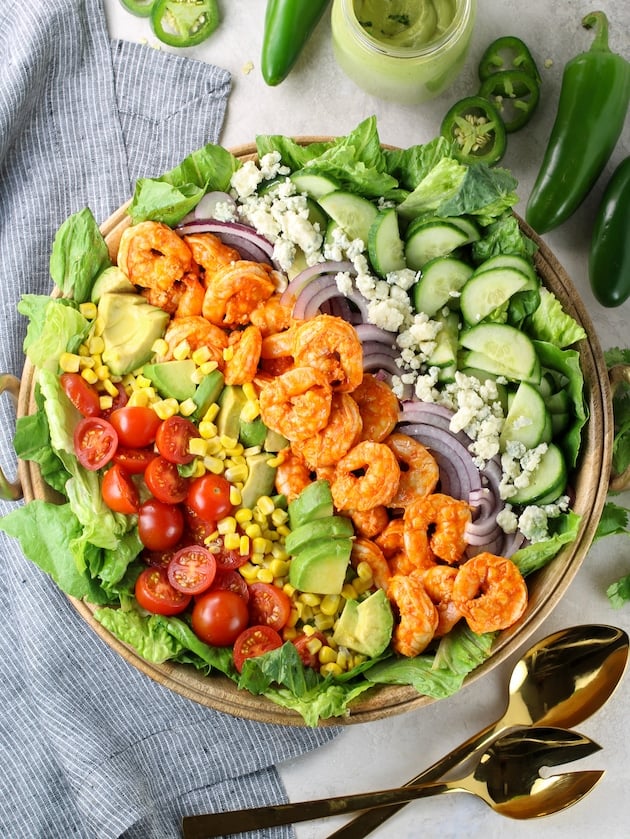 This post may contain affiliate links. As an Amazon Associate I earn from qualifying purchases. Please read my disclosure policy.
It's hard to believe summer is winding down. With all of this staying home and social distancing it's difficult to keep track of the months, let alone the days. It all just seems to blend together.
Plus, when you live in Florida it's hard to keep perspective 'cause every day is hot - or hotter than the one before.
But I do love me some warm weather.
So I'm over here still all in summah-time living mode. Grillin' and chillin' and clocking some serious time on the bacon float in the pool.
And of course that means we're still enjoying warm weather recipes like this Buffalo Shrimp Salad with Avocado Ranch Dressing!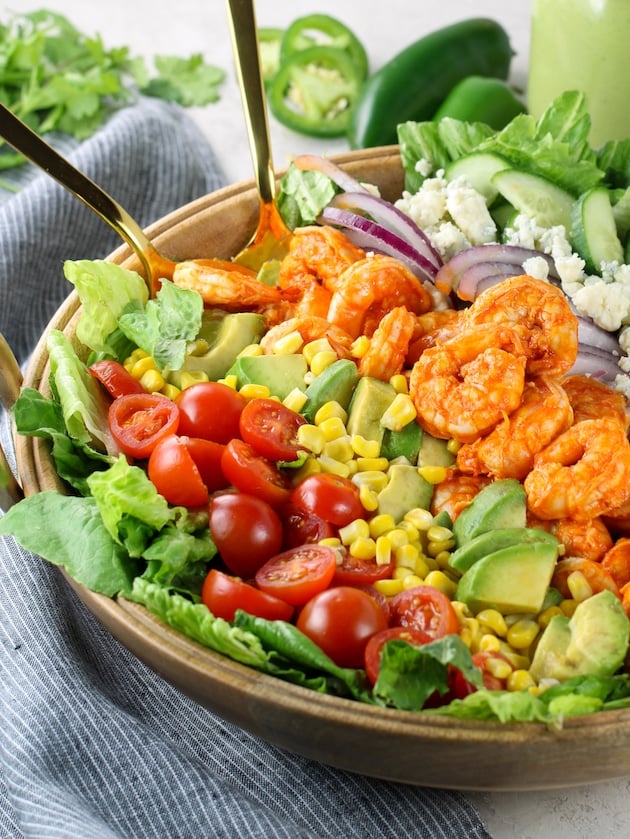 I almost don't have words – easy people, I said "almost." Lol
But for real this salad is over the top delicious.
It's full of so many yummy ingredients like romaine lettuce, cherry tomatoes, avocado, cucumbers, sweet corn, blue cheese, garlicky buffalo flavored shrimp, and the most delicious avocado jalapeno ranch dressing.
I know what you're thinking – a salad masterpiece – right!?
If you're like me you love yourself some buffalo-flavored everything… like this buffalo roasted cauliflower or this incredible IP buffalo chicken and spaghetti squash.
Yep – we're definitely buffalo fans over here.
And even bigger fans of this Buffalo Shrimp Recipe!
I love how quick and easy this salad recipe is… allow me to tell you all about it.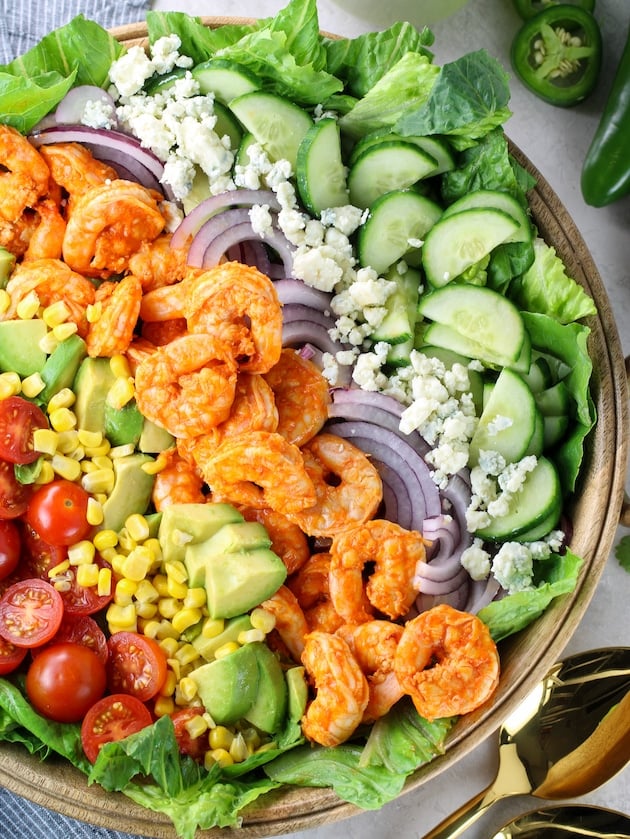 Buffalo Shrimp Salad Recipe
As you would imagine it all starts with the shrimp. I used 31-40 count that had been shelled and deveined. I marinated them in some fresh garlic, paprika, cayenne pepper and olive oil while I chopped up all the ingredients for the salad.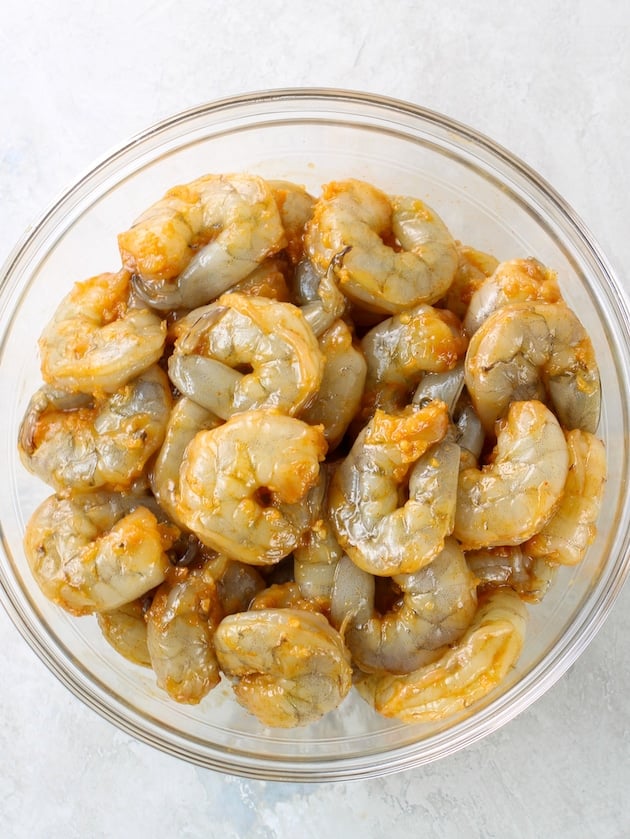 Then I heated some butter and hot sauce in a large saucepan over medium heat. (Melted butter and hot sauce is all you need for perfect buffalo sauce!) I added the shrimp and marinade, and sautéed them for about 2 minutes per side.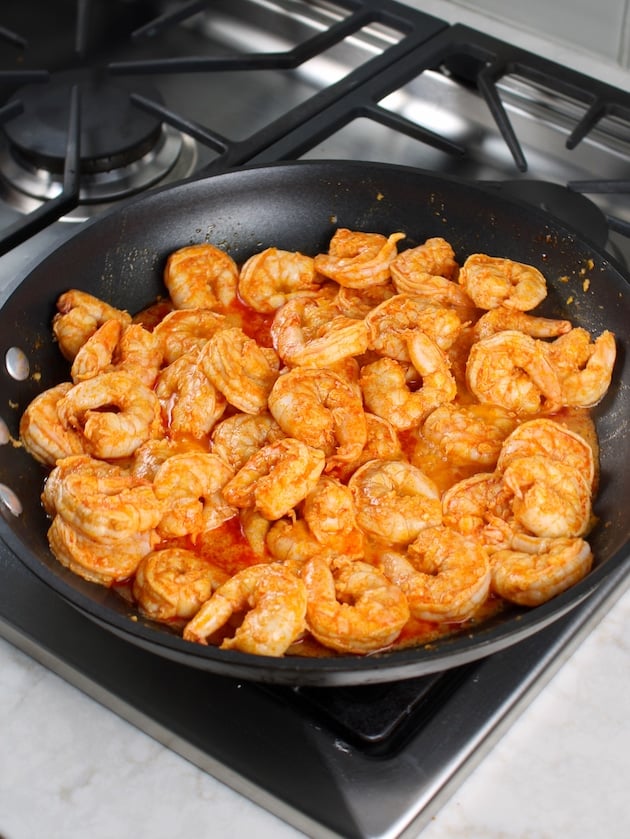 Next, I removed the shrimp from the pan so they didn't overcook and set them on a large plate to cool. I like a little extra kick, so I sprinkled a little more hot sauce onto the shrimp right before serving.
Then I went to work on the ranch dressing recipe! It's so creamy and flavorful with a little kick. Don't be surprised if you find yourself eating it by the spoonful.
I like to use my Vitamix blender for blending this homemade dressing. It turns it into a smooth and extra creamy sauce. You can also use a food processor for this. Just add all the ingredients and blend them together.
Transfer the avocado ranch dressing to an airtight container and store in the fridge until you're ready to use. I used a pint-sized mason jar to store mine.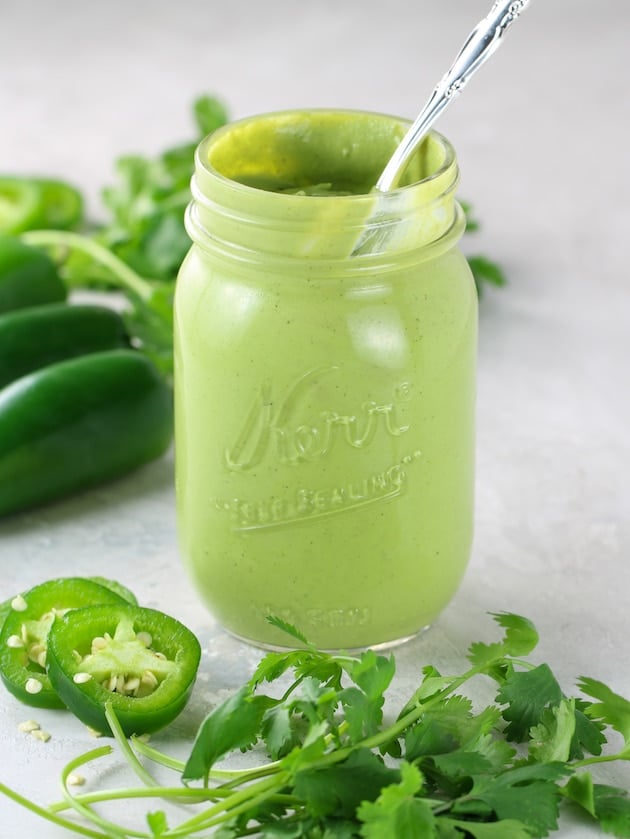 The final step in this amazing salad creation is prepping all the veggies. First, I chopped up the lettuce. I used romaine lettuce for this recipe but you could use whatever lettuce you prefer.
I sliced and chopped the red onion, cherry tomatoes, English cucumber, and avocado.
Then I added the corn, blue cheese crumbles and the sautéed buffalo shrimp.
I topped it off with the ranch dressing and served it up!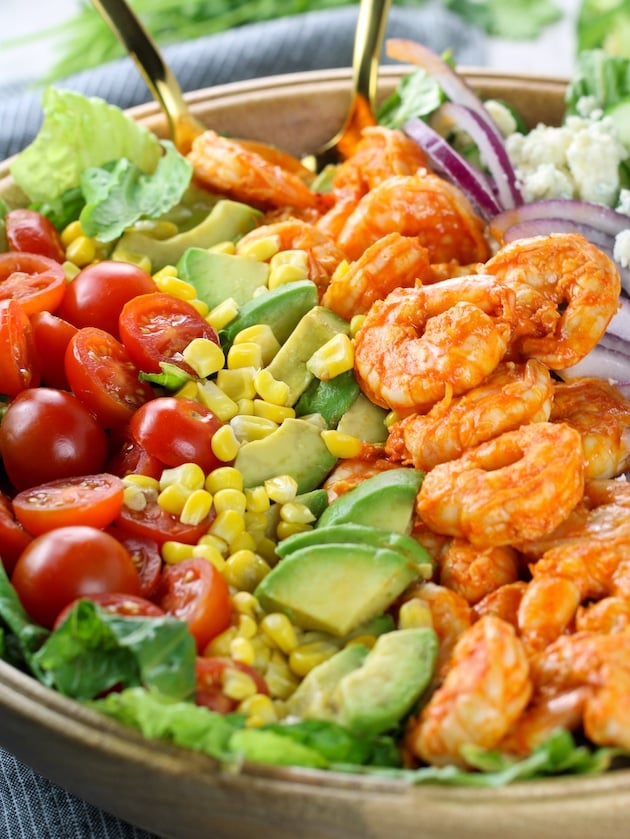 As you can imagine, it was devoured pretty quickly.
The spicy shrimp with the cool avocado ranch dressing is such an amazing combination. And mixed with the taste and texture of all those veggies it makes for one delicious meal.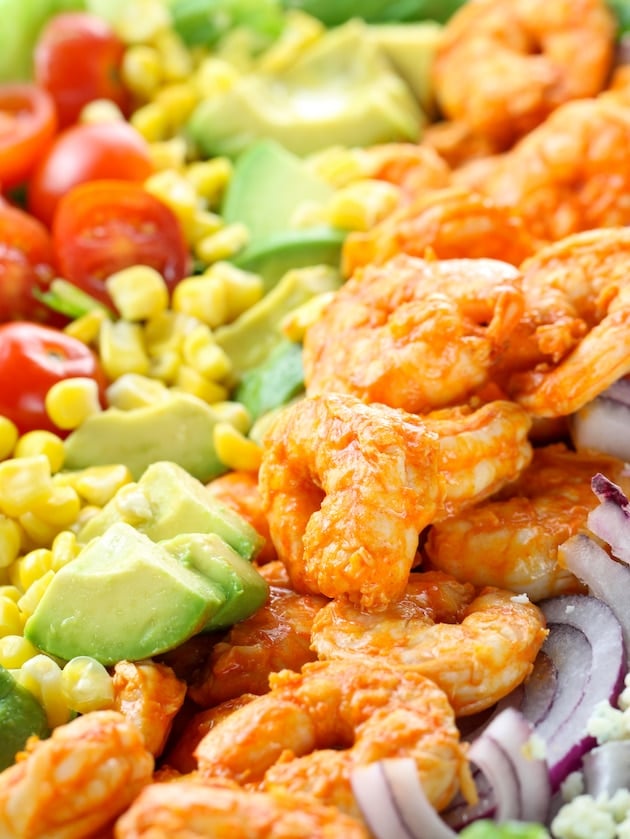 I have a feeling this is gonna be one of those recipes that makes a weekly appearance at your dinner table. Enjoy my friend!
Yield: 6 Servings
Buffalo Shrimp Salad with Avocado Ranch Dressing
This Buffalo Shrimp Salad is light, flavorful and soo delicious!  With fresh greens topped with lots of veggies, saucy Buffalo shrimp, blue cheese crumbles and the most creamy and dreamy Avocado Ranch dressing.
Ingredients
For The Buffalo Shrimp:
1 pound medium shrimp (31-40 count), peeled and deveined
4 garlic cloves, minced
2 tablespoons olive oil
2 teaspoons paprika
¼ teaspoon cayenne (use ½ teaspoon if you like it spicy)
1 tablespoon butter
⅓ cup hot sauce, plus more for serving
For The Avocado Ranch Dressing:
1 cup buttermilk
2 small avocados
¼ cup sour cream
1 teaspoon onion powder
1 teaspoon garlic powder
½ teaspoon pepper
½ teaspoon salt
1 small jalapeno, stem removed and rough chopped (leave seeds and membranes in for a kick)
30-40 cilantro leaves
1 tablespoon fresh lime juice
For The Salad:
10 ounces romaine lettuce chopped (1 medium head)
1 pint cherry tomatoes, sliced in half
½ red onion, thinly sliced
1 English cucumber, sliced and cut into wedges
2 avocados peeled, pitted and sliced
Blue cheese or feta cheese crumbles for garnish
1 cup sweet corn kernels (canned, frozen or cooked fresh and cut from the cob)
Instructions
For The Buffalo shrimp:
Add shrimp to a resealable plastic bag or a medium-sized bowl. Add fresh minced garlic, paprika, cayenne pepper and olive oil, mix together and store in the refrigerator while you prep the salad ingredients and make the dressing.
Add butter and hot sauce to a large saucepan over medium heat. Add the shrimp along with the marinade and saute for about 2 minutes per side or until cooked through.
Transfer to a large plate and set aside (sprinkle more hot sauce on the shrimp right before serving for even more kick).
For The Avocado Ranch Dressing:
Add all ingredients to a food processor or a blender, blend thoroughly, then serve or refrigerate until serving.
For The Salad:
Rinse and dry lettuce, then chop and transfer to a large mixing or serving bowl.
Add the prepared tomatoes, corn, cucumber, avocado, onion and cheese crumbles.
Top the salad with the buffalo shrimp, drizzle on the dressing and enjoy!
Nutrition Information
Yield
6
Serving Size
5-6 Shrimp on 2 cups of salad with dressing
Amount Per Serving
Calories

493
Total Fat

33g
Saturated Fat

8g
Trans Fat

0g
Unsaturated Fat

23g
Cholesterol

180mg
Sodium

1448mg
Carbohydrates

29g
Net Carbohydrates

16g
Fiber

13g
Sugar

8g
Protein

26g
This nutrition card uses an estimate provided by an online nutrition calculator. This estimate is not a substitute for a professional nutritionist's advice!
If you're looking for more shrimp recipes be sure to try these
chili lime shrimp
or these
sweet and sour shrimp
- you'll love them both!