Thanks to our friends at Gorton's for sponsoring this Sweet and Sour Shrimp Bowl - a tangy sweet sauce with pineapple, peppers, onions and snap peas over light and fluffy rice. A family friendly meal even your pickiest eaters will love!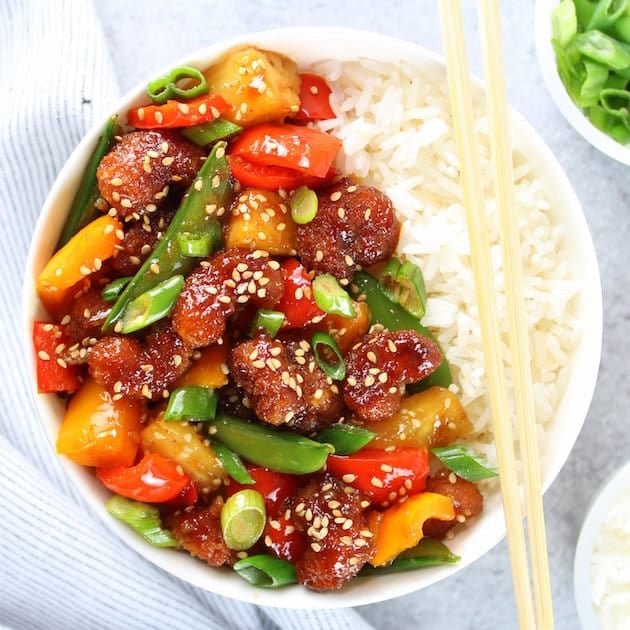 What's not to love about some sweet and sour sauce? I could dive head first into a vat of that yummy tangy, sweet sauce. Okay so maybe not 'cause I don't like to be sticky… but my peppers and pineapple do, so into the sauce they go.👌
This sauce. Ohmygoodness!😋 It's so simple but packed with the perfect balance of sweet and tangy Asian flavors. Soy, ginger, garlic, brown sugar, rice vinegar, ketchup, and a pinch of Asian chili paste. Seriously people, better than takeout - and healthier because it's homemade.💯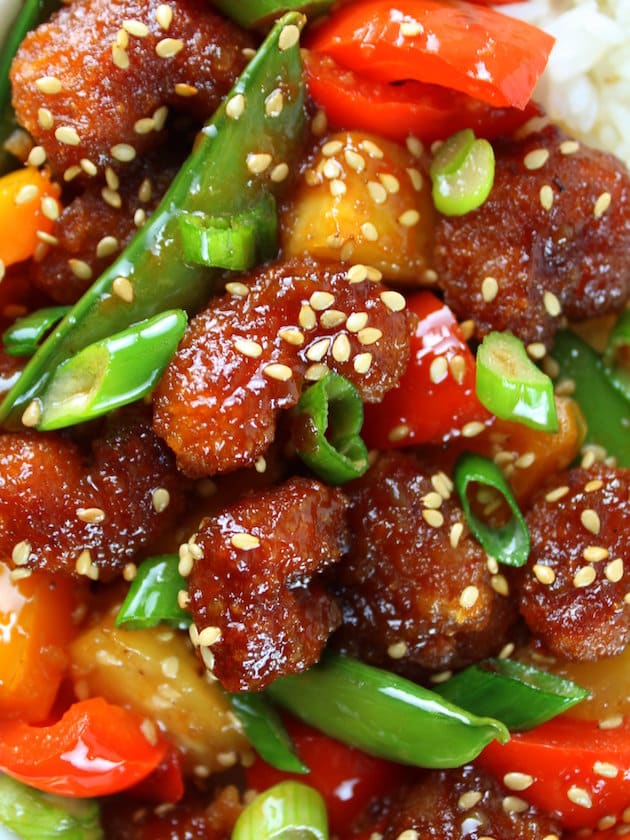 Usually, you see recipes for Sweet and Sour Chicken. But I'm switching things up like you know I like to do, and adding some seafood. Cause' the Sweet and Sour Shrimp Bowl is where's it's at. Here's why:
Because I like seafood.
Variety is the spice of life.
It makes for a quick and easy weeknight meal, and who doesn't like that?
Because we all need more ways to eat sweet and sour sauce.
And finally, it's a Lent-friendly meal. Although I don't participate in the festivities I thought some of you might. Always looking out for you.🙌
One of the amazing things about living in the Boston area is the seafood. Always fresh, always available and always delicious!👍
I actually find it hard to eat seafood when I'm visiting other parts of the country. I figure I get to eat the best fish and lobster in New England why would I seek it out when I'm in Tulsa, OK??🤔 Makes sense – right?
Not only is there amazing seafood here in Massachusetts, there are amazing seafood providers here as well.
Like Gorton's – founded right here in Gloucester, MA (America's oldest seaport) in 1849 and still going strong.💪 Great seafood is their passion, and it totally shows in their products. And since they ship their high-quality seafood to grocery stores all over the country, you too can all enjoy this yumminess 365 days of the year! Can I get a woop woop? #winning🏆
Doesn't that Fisherman on the box just make you feel like he's out there working hard to bring you the best fresh catch?🎣
Just a little Gorton trivia for you… The Fisherman first appeared on their box in 1975 and became an American icon. Well, now they're bringing him back!! Check out the video...👇
The Fisherman stands for Gorton's belief in high-quality seafood. And as he likes to say, "If something's worth doing, it's worth doing right." Hello!🙋 That message will preach!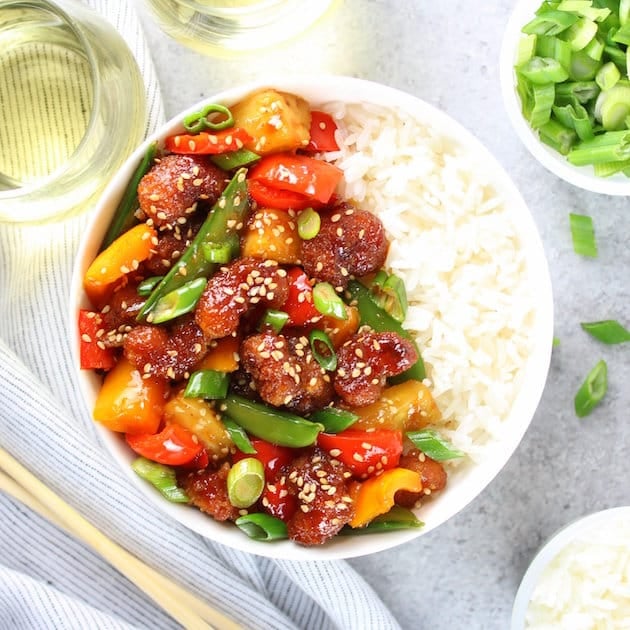 For today's recipe, I'm using Gorton's Popcorn Shrimp. Lightly seasoned whole shrimp with a fun and tasty crunch.🍤 No fillers, no MSG, and good ole' all-natural Omega-3! That's what I'm talkin' about.
They are super tasty and totally kid friendly!👫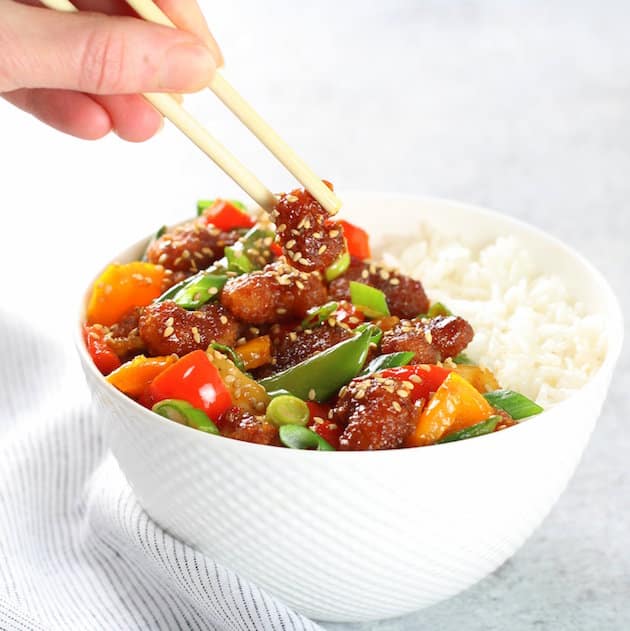 Here's how it all went down:
First I prepped all my ingredients: chopped my peppers, onions, snap peas, green onions and pineapple. Mixed up my sweet and tangy sauce.
⏱Timeout for a quick commercial announcement: This sauce is so delicious you're gonna want to put it on everything. I can't blame you cause' I'm over here eating it by the spoonful. Seriously, the perfect balance of sweet and sour with a tiny hint of spice (commercial break over).🎬
I baked the popcorn shrimp at 425 degrees for 15 minutes. Meanwhile, I cooked some rice and sautéed my veggies in a little vegetable oil.
Next, I tossed the veggies and pineapple with the rest of the sauce and then assembled this tasty creation. With a final drizzle of the sauce over the shrimp and some green onions for garnish.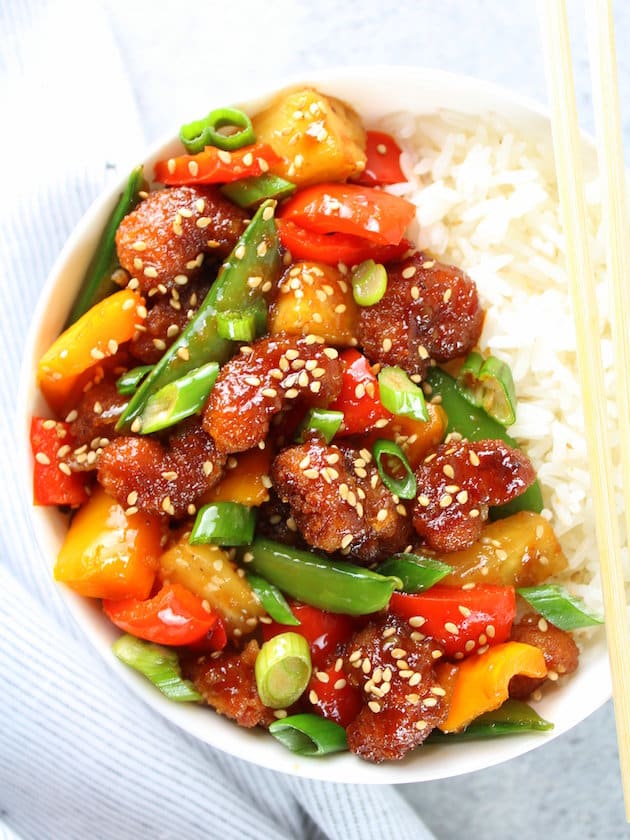 Rice, sweet and tangy veggies, pineapple and popcorn shrimp = add this to the list of tasty, family-friendly, easy weeknight dinners! #ReallyWinning!!🎖🏆
If you want to go "all in" on a seafood feast, try adding some easy grilled chili lime shrimp, or go big with live boiled lobster and drawn butter!
Yield: 4 servings
Sweet And Sour Shrimp Bowl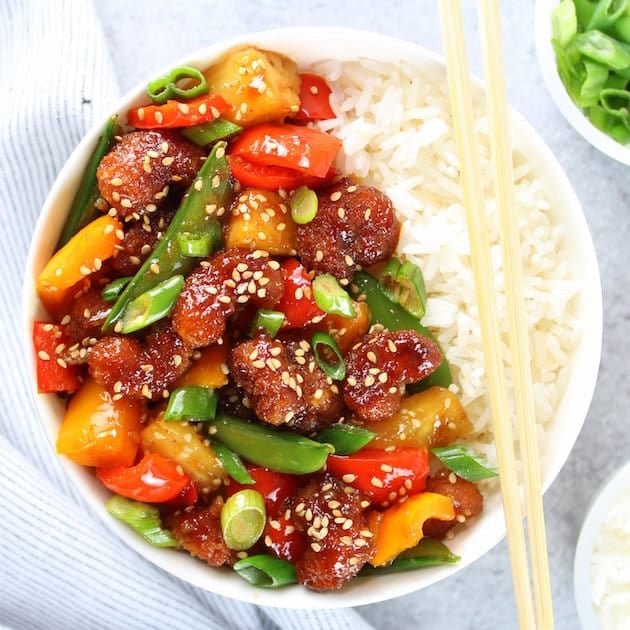 A tangy sweet sauce, pineapple, peppers, onions & snap peas over light, fluffy rice. Another easy weeknight meal!
Ingredients
For The Sweet And Sour Sauce:
1 teaspoon vegetable oil
3 garlic cloves, minced
1 teaspoon grated fresh ginger (or ⅛ teaspoon ground ginger)
5 tablespoons brown sugar
1 teaspoon chili sauce
4½ tablespoons rice wine vinegar
4½ tablespoons ketchup
1½ tablespoons Tamari sauce (or soy sauce)
For The Shrimp Bowl:
One 14 ounce box Gorton's Popcorn Shrimp
8 ounces pineapple, chopped into 1-inch pieces
1 red pepper, chopped into 1-inch pieces
1 orange pepper, chopped into 1-inch pieces
1 medium yellow onion, chopped into 1-inch pieces
5 ounces snap peas, cut in half
3 cups cooked rice of your preference (1 cup uncooked)
1 tablespoon toasted sesame seeds
4 green onions, chopped finely on the bias
Instructions
For The Sweet And Sour Sauce:
Preheat oven to 425 degrees.
Saute ginger and garlic over medium heat in olive oil for 2 minutes.
Add the rest of the sauce ingredients and cook 2 more minutes.
Remove sauce from heat and set aside.
For The Shrimp Bowl:
Start cooking rice according to your package instructions.
Place Gorton's shrimp on a parchment-lined cookie sheet, and bake at 425 for 14-16 minutes (flip once at 8 minutes).
Meanwhile, saute peppers and onions in 1 tablespoon vegetable oil over medium-high heat for 6 minutes. Add peas and pineapple, and cook 2 more minutes. Remove from heat and toss with half of the sweet and sour sauce.
To serve, add cooked rice to each serving bowl, then add veggie/pineapple mixture. Add shrimp, and drizzle the shrimp with some of the remaining sweet and sour sauce, making it as "saucy" as you prefer. Garnish with toasted sesame seeds and sliced green onions.
Nutrition Information
Yield
4
Serving Size
10 ounces
Amount Per Serving
Calories

485
Total Fat

12g
Saturated Fat

2g
Trans Fat

0g
Unsaturated Fat

5g
Cholesterol

85mg
Sodium

1100mg
Carbohydrates

39g
Fiber

3g
Sugar

20g
Protein

19g
This nutrition card uses an estimate provided by an online nutrition calculator. This estimate is not a substitute for a professional nutritionist's advice!
I would love to connect with you! Leave a comment and follow me on Instagram, Twitter, Facebook, & Pinterest!
Looking for more easy seafood recipes?
Honey Lime Roasted Salmon Sheet Pan Dinner: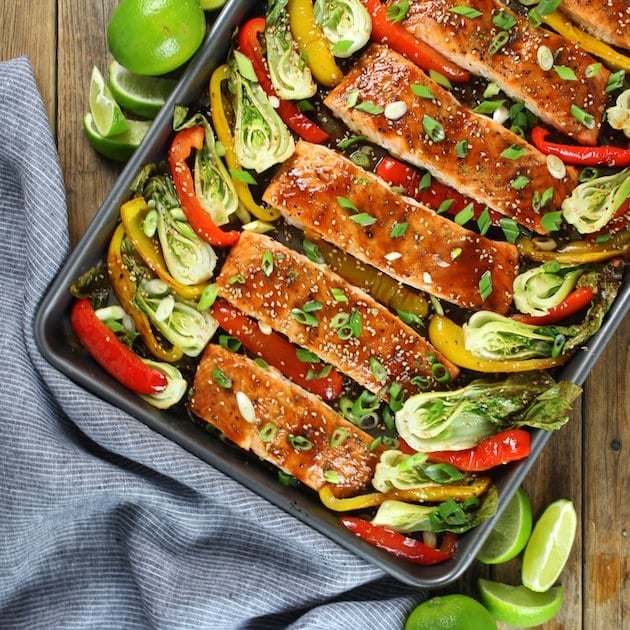 Salmon Cakes with Sriracha Aioli: