Homemade Caramel Apple Pie - a classic made even better with this scrumptious caramel apple pie filling! With a flaky, buttery crust, and tart-sweet, caramel apples, all topped off with a scoop of vanilla ice cream - it's the best dessert you've tasted all season!
The only thing that could possibly be better than homemade apple pie is homemade "caramel" apple pie!
Can we talk about the craft of making fresh homemade pies…
I feel like the world is separated into two groups of people: Those that grew up eating brownies, cupcakes, and all things chocolate (that would be the B man). And then there are those that consumed sweet homemade pie o(and that would be yours truly).
I can almost taste those delectable creations: lemon meringue, coconut cream, green tomato mincemeat, blueberry, rhubarb (my favorite), and good ole' American apple pie.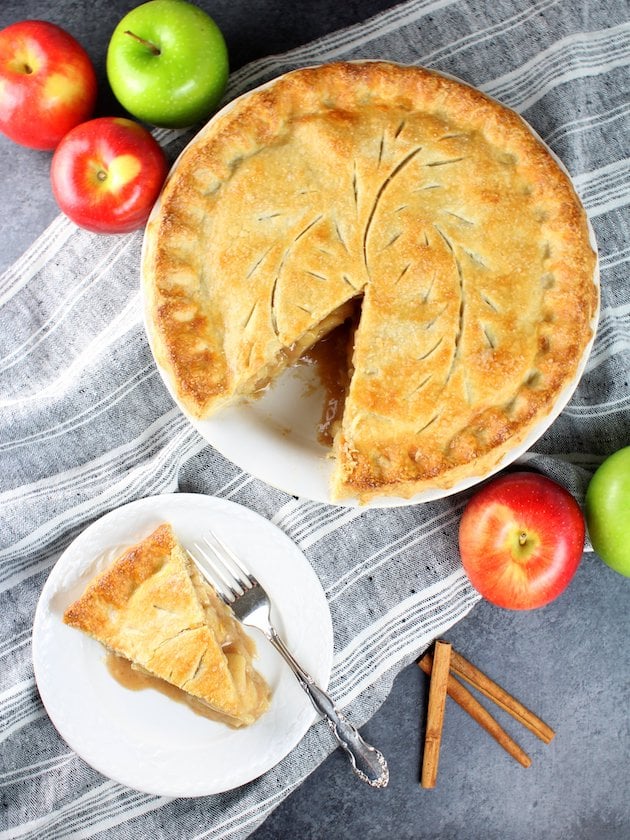 My mom, and my grandma for that matter, could make some pies! They barely had running water and indoor plumbing but pies were always on the table for Sunday dinner.
(FYI mom always said "dinner" was at lunchtime and "supper" was the evening meal - apparently we've all been wrong about that for some time - just trying to get the word out.)
Literally, if there was a pie-off they could bake anyone under the table with both arms tied behind their backs, in an igloo, hanging upside down, smack dab in the middle of a colossal snowstorm.
Seriously, when it comes to pies, the Crenshaw ladies don't play. Truth.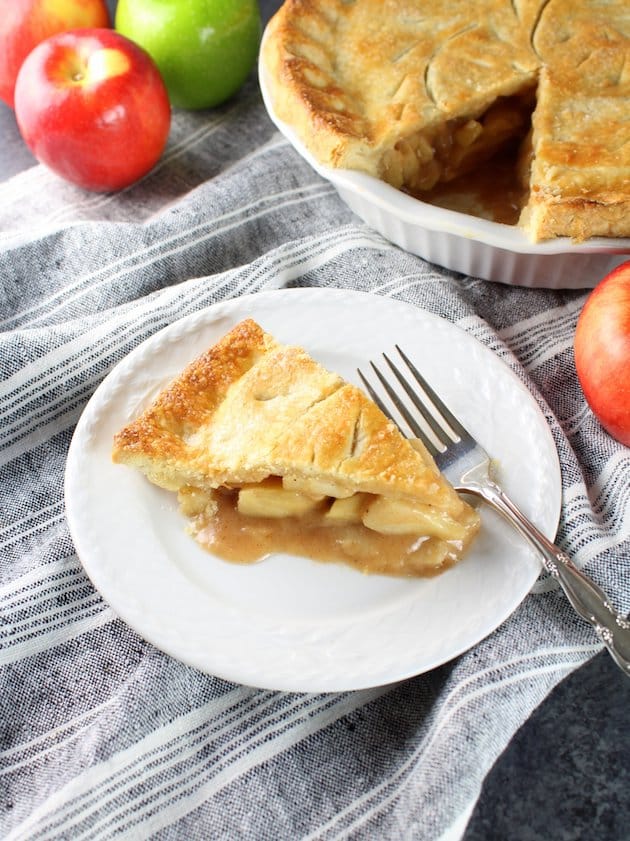 Homemade Pie
In all seriousness, homemade pie-making is an art form.
Think about it: so much love, time, and effort go into it.
From nothing more than white powdery flour, some form of fat, water, and whole fruit... comes this mouth-watering, always original, eye candy. I think I'm in love!
Nowadays they have all those fancy pie cutouts that you can place on your crust or use to create a pretty basket weave topping for your pie.
They are gorgeous for sure, but if you're a true samurai warrior pie maker, then you don't have time for those fandangled tools or even peelers, mandolins, food processors, rolling pins…no way.
You use your hands, your teeth I mean knives (sorry, that was a different baking story), and some good ole elbow grease. And you…Get. It. Done.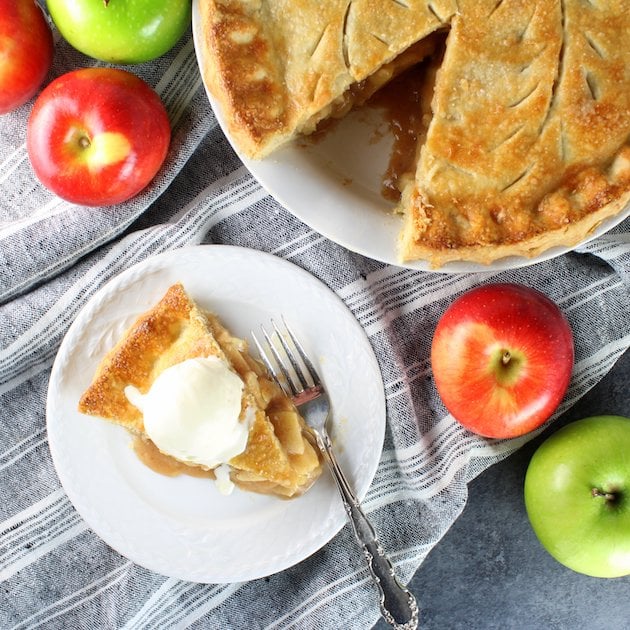 I for one am not a pie-making warrior but I'll keep on trying 'cause practice makes perfect - right!?
I truly wish I had paid more attention to all the pie baking that was going on around me as a child. There were master pie wizards in my presence for 17 years and I completely took it for granted.
Meanwhile, I was out climbing trees, building forts, and playing TV tag till it was dark. Oh well, I guess I still have my memories, and well, Pillsbury.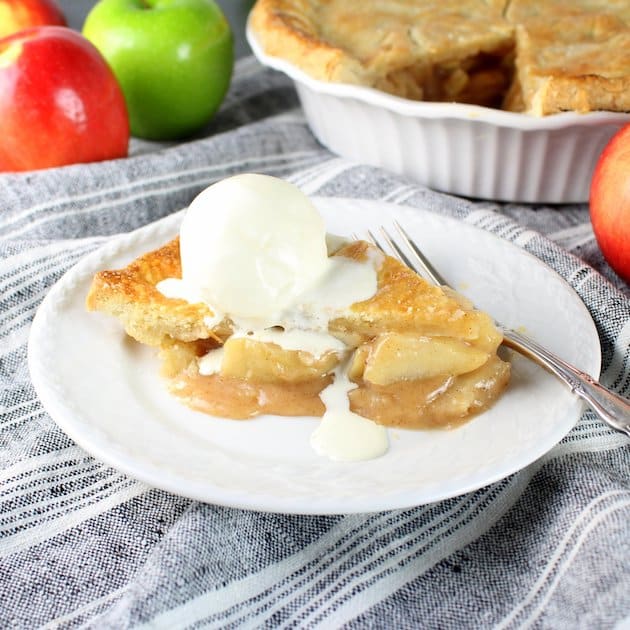 Although it makes me break out in a cold sweat just thinking about it, I still, to this day, once in a great while, "attempt" to make a homemade pie crust (emphasis on attempt). I am by no means great at it. Honestly, if it turns out right I think, "phew, I got lucky!"
Regardless of all my misses, I will always keep trying – intermittently – while using store-bought crust a decent amount of the time.
My go-to pie crust recipe:
I have one pie crust recipe that is the only one I have consistently been able to make with success. I use it for my tomato galette, my salted butter apple galette, and this tasty apple pie.
I'm not sure why it works, but it just does. A big thank you to the people over at Fine Cooking for coming to my rescue with this easy and fool-proof pie crust recipe.
Today happens to be one of those times when I gave it the old college try and made a homemade pie crust. 'Cause, what doesn't kill you makes you stronger and I get knocked down but I get up again and then there's the tiny detail about it being the biggest pie holiday of the year – Thanksgiving!!? (FEELING A LOT OF PRESSURE RIGHT NOW.)
So, here's how my homemade piecrust scored: On a scale of 1-10, 1 being "I have to throw this away" and 10 being "I think Martha Stewart took up residence in my body," mine was a solid 9. Better than average but still room for a smidge of improvement.
Don't you worry, I will keep on keeping on, I guess you may say I'm a dreamer but who cares… I'm not the only one!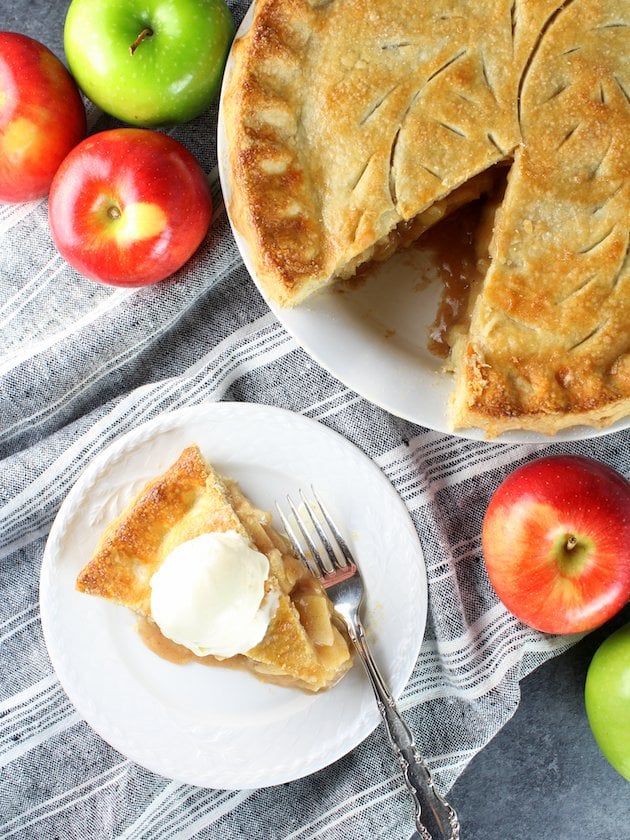 Enough about pie-crust and inspirational radio hits already! Let's talk about the fantastic caramel apple part! OMG – it is like Christmas morning and your birthday all in one ceramic dish.
It is out-of-this-world delicious! Seriously.
How to make Caramel Apple Pie:
This caramel homemade apple pie is similar to other apple pie recipes except you actually cook the apples in butter and sugar for a bit before putting them in the pie dough. So good!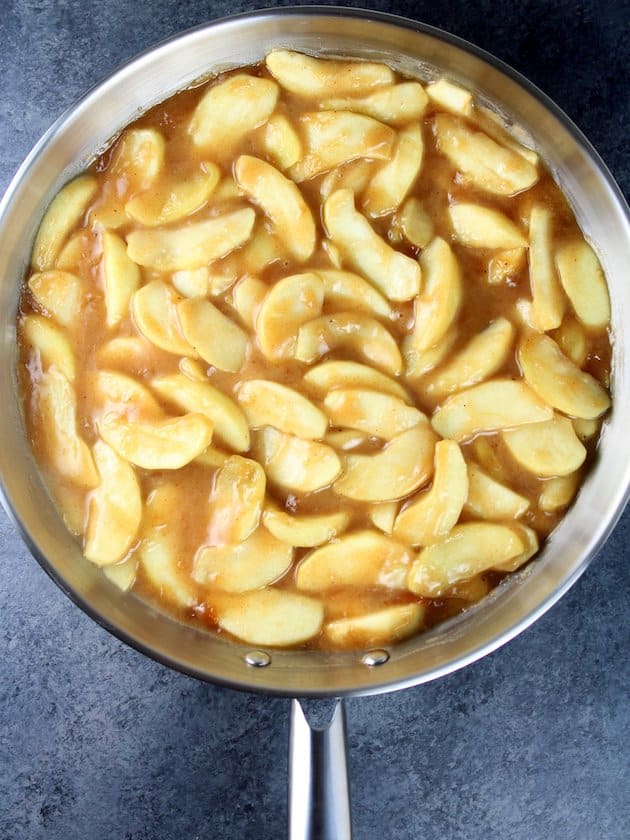 You allow the apples to cool just a bit then slide them into the crust. And top them off with a second crust.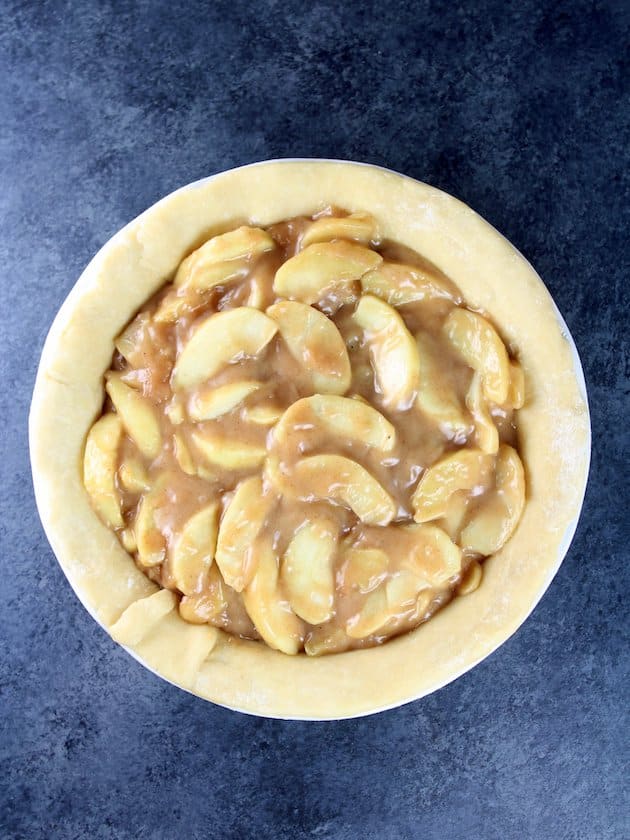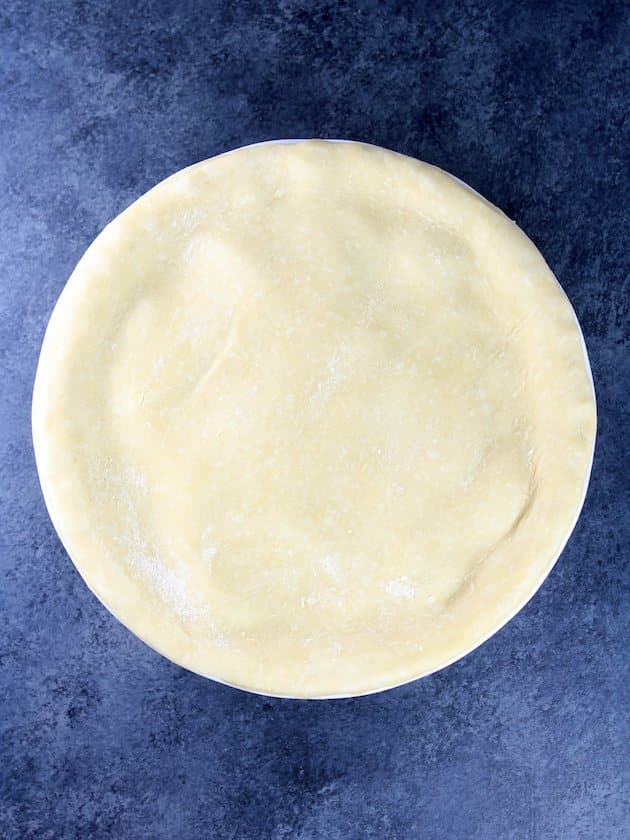 Pinch the edges of the crust together with your two index fingers, working your way around the entire crust.
Then make vent holes with a knife. This branches and leaves design is what my mom would always use for her pies. Aww, sweet memories.💕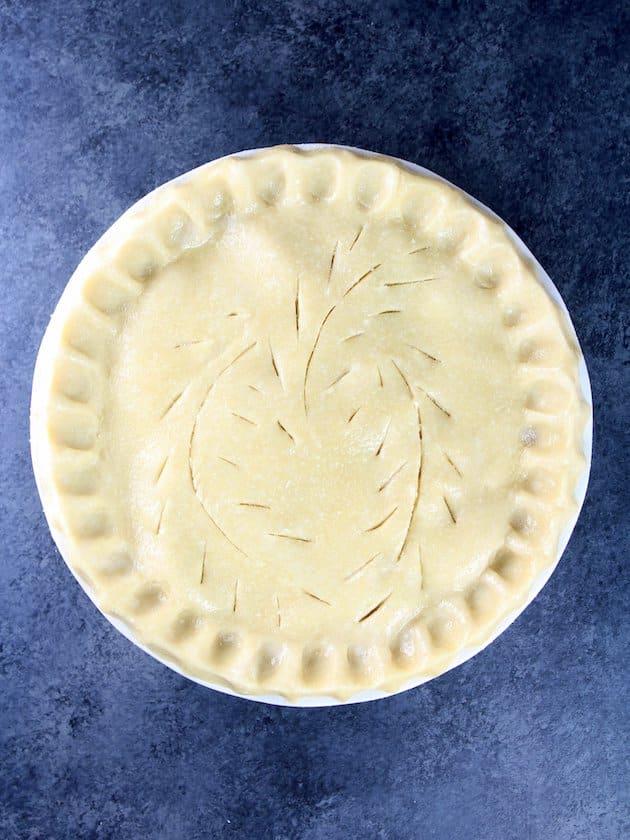 You can make any design you want, just make sure you cut all the way through the dough. The vent holes aren't just for looks, they actually serve a purpose.
They help release steam from the pie, which would otherwise cause the pie to leak its juices everywhere.
Amazingly enough, cooking the apples really elevates them and takes my "solid 9 pie crust" up to an 11.5 apple pie! Can I get a woot woot!??
If you're planning to make an apple pie for Thanksgiving or Christmas or anytime really, this is the one for you. Make your own crust if that's what you do, or pick one up from the grocery store – either way – Caramel Apple Pie is where it's at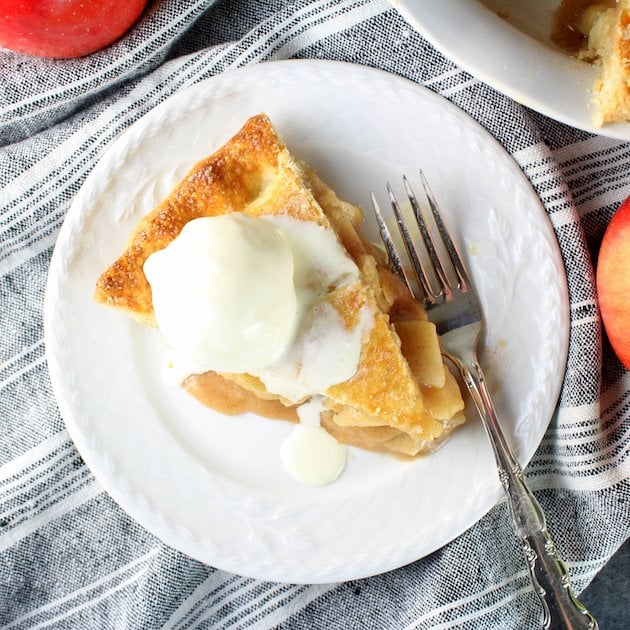 Top this delicious Homemade Apple Pie off with some ice cream or whipped topping and you've got the most scrumptious dessert you've ever tasted!
Oh and if you're looking for everything else that goes along with the Caramel Apple Pie, and a bit of entertainment, check out our Friendsgiving Supper Club post!
Yield: 8 servings
Caramel Apple Pie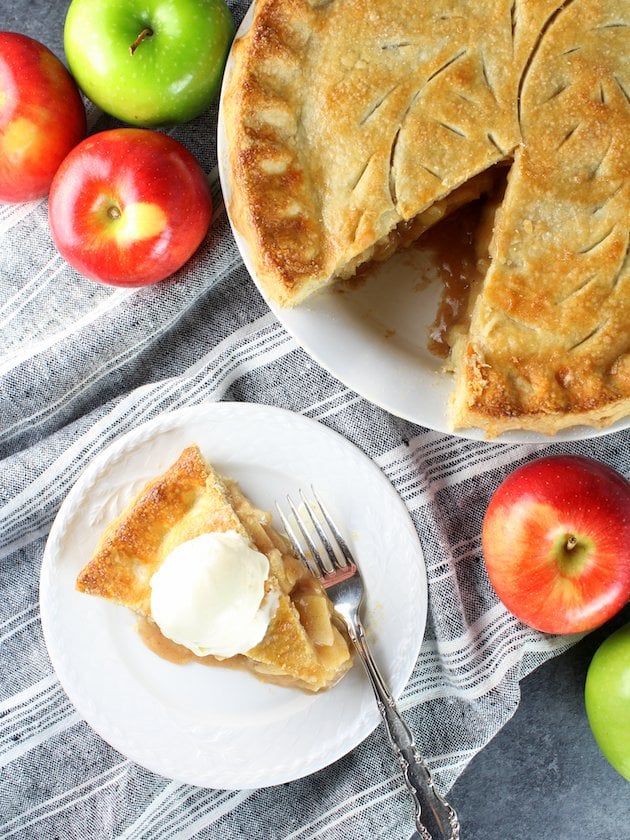 A classic made even better! Scrumptious caramel apple filling with a flaky, buttery crust. One of the best desserts you've tasted all season!
Prep Time
1 hour
10 minutes
Ingredients
For A Single Pie Crust (You'll Need To Make TWO of These):
1 ½ cups unbleached all-purpose flour (about 6 ¾ ounces)
½ teaspoon granulated sugar
¼ teaspoon salt
4 ½ ounces cold unsalted butter (9 tablespoons), cut into ½-inch pieces
4-5 tablespoons ice water
For The Pie Filling:
6 cups Jonathan or Granny Smith apples (6 apples)
½ cup packed light brown sugar
½ cup sugar
¼ cup all-purpose flour
1 teaspoon cinnamon
¼ teaspoon nutmeg
¼ teaspoon salt
1 tablespoon lemon juice
1 teaspoon vanilla
4 tablespoons heavy cream
4 tablespoons butter
Before Baking:
1 egg white, beaten
1 tablespoon granulated sugar
Instructions
For The Pie Crust:
You will need to repeat this crust recipe twice to make two batches of this dough: one for the pie crust and one for the pie top. (I find it much easier to make in separate batches rather than trying to double the recipe that's shown here).
In a food processor, pulse the flour, sugar, and salt to combine. Add the butter pieces, and pulse until the mixture looks like coarse meal with some pea-sized pieces. Sprinkle with 4 Tbs. of the ice water, and pulse until the dough comes together. If too dry, add the remaining water by the teaspoon, and pulse until the dough just comes together.
Form the dough into a ball (or two equally-sized balls if you made a double batch), place between two sheets of plastic wrap, and press it into an 8-inch round disc. Wrap it tightly in plastic wrap, and refrigerate for at least 1 hour or up to 2 days before rolling out. (Or freeze it for up to 2 months; thaw in the refrigerator overnight before rolling it out.)
When ready, allow the dough to come back up to room temperature for 5-10 minutes. Then roll out dough on a floured surface.
For The Pie:
Preheat oven to 450.
Peel and slice apples. Sprinkle with lemon juice. Combine dry ingredients in large bowl and add apples. Toss to mix. Add vanilla and cream. Melt butter in heavy skillet. Add apple mixture and cook about 10 minutes, to soften the apples. Let apples cool to room temperature. Turn into pie shell.
Add top crust to pie, then seal by pinching the edges of the crust together with your fingers to create a fluted edge. Work your away around the entire crust, then use a sharp knife to make several venting slits in the top as shown above. Brush with beaten egg white and sprinkle with sugar. Bake for 10 minutes, then reduce heat to 400 and bake another 40 minutes.
Nutrition Information
Yield
8
Serving Size
1 slice
Amount Per Serving
Calories

448
Total Fat

21g
Saturated Fat

13g
Unsaturated Fat

0g
Cholesterol

59mg
Sodium

206mg
Carbohydrates

62g
Fiber

3g
Sugar

37g
Protein

3g