These Secrets To A Stress-Free Holiday Party are sponsored by Heluva Good! as part of an Ambassador Program for Influence Central, and all opinions expressed in my post are my own.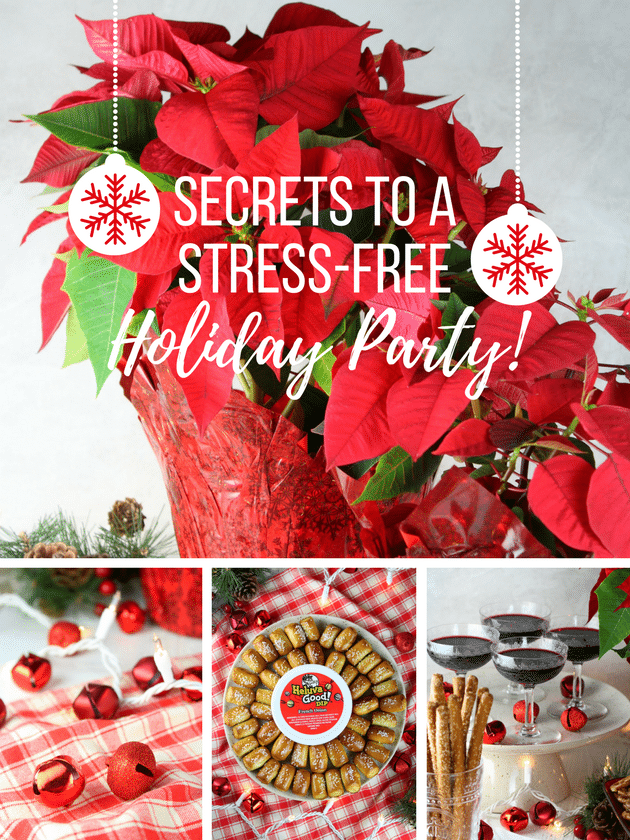 I love throwing a fabulous party with delicious food and a festive setting, but I also love chatting and spending time with all my guests.  Believe it or not you CAN have it all!
Planning a menu, prepping ahead, and serving easy and delicious snacks like these pretzel bites with Heluva Good! French Onion Dip - can help you pull off one fun and fabulous Holiday party!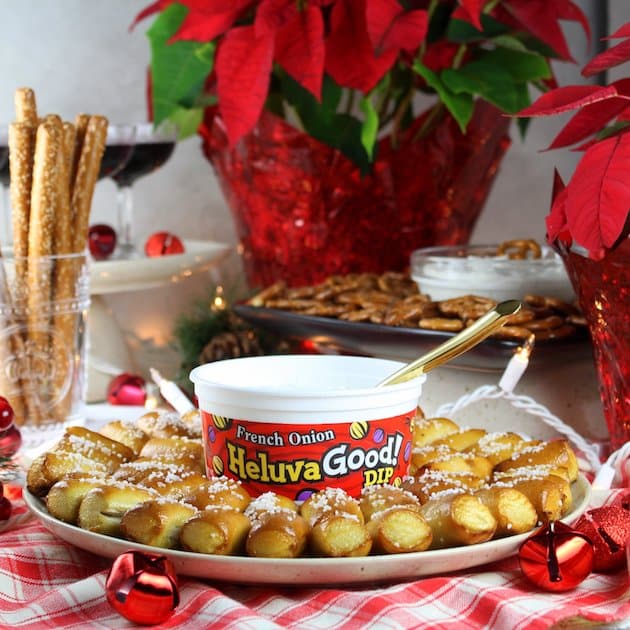 Yes – I know, hosting holiday parties and get-togethers can be a little stressful: decorating and cleaning your house, creating a menu, and preparing the food.
It can all be a bit overwhelming and expensive... but it doesn't have to be.
I've got some entertaining tips that I've put into practice over the years that should really help you out.
Planning Your Holiday Party Menu:
Once you know your headcount then you can plan your menu.
The easier the better in my book.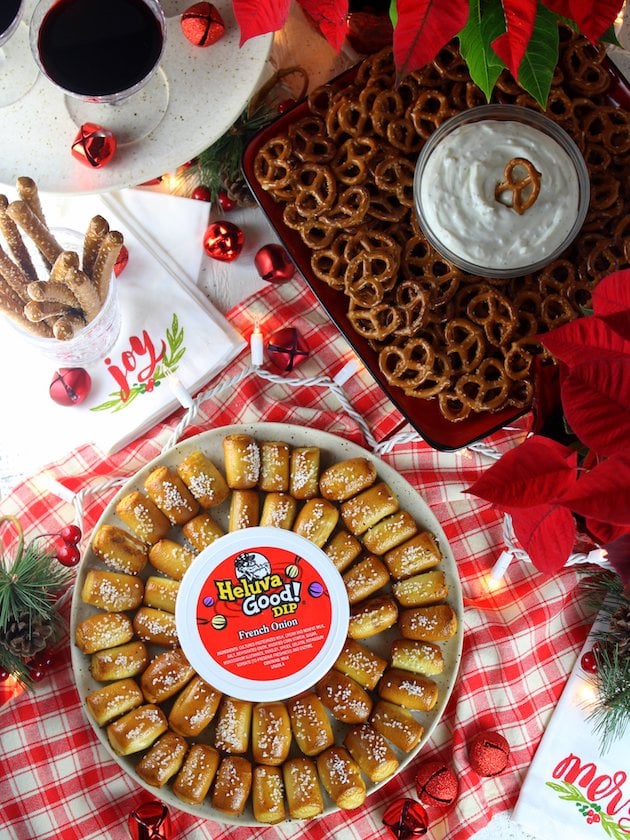 I like to serve appetizers that I can prep ahead or easily pull together at the last minute, that require minimal effort and taste delicious.
"Outsource" some of the prep!
And I'm not afraid to outsource a few menu items either.  Sometimes I'll have my local grocery store or a favorite local restaurant cater a few things like a beef tenderloin with horseradish sauce and rolls for making sandwiches, stuffed mushrooms, fried ravioli with marinara, a cookie and brownie platter, or a fruit tray with a yummy sweet dip, all to make my job easier.  By outsourcing a few menu items it takes some of the pressure off of you, lessens your time in the kitchen, and makes you look like a rock star! #holla
Pro tip:  If your guests offer to bring something or even come a little early to set up - let them!  As long as you have your plan in place, they can jump in and lend a hand – it will save you time and free up mental space for you to handle other to-dos.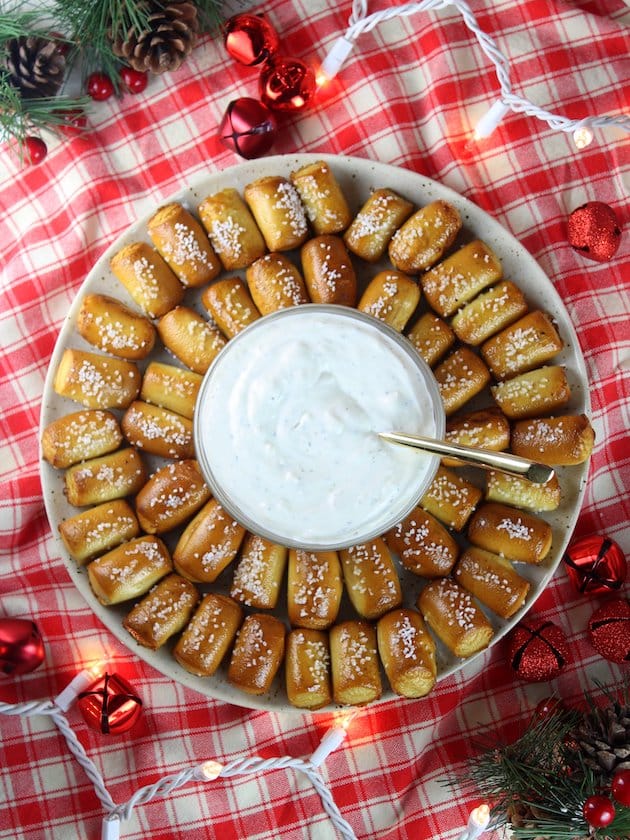 Use Starters That Can Be Made In Advance:
A few examples of yummy prep-ahead starters would be shrimp cocktail, pulled pork BBQ sliders, buffalo chicken or shrimp dip, cocktail meatballs, artichoke spinach dip, and mini salmon cakes.  Mmm, I'm making myself really hungry.
Then there are those finger foods that are easy and delicious dippers that you can pull together quickly at the last minute.  For example, a cheese board with several kinds of cheese, dried fruits, nuts and spreads, a veggie tray with a yummy White Cheddar Bacon Dip, sweet potato tots or fries with buttermilk ranch dip, or these pretzel bites with Heluva Good! French Onion dip.  Honestly, there are so many options when it comes to tasty and simple entertaining.  Just plan and prep your menu ahead and you'll be stress-free and ready to party.
I'm sure this goes without saying but Heluva Good! Dips are truly the bomb dot com when it comes to having a sensational dipping experience.  They have 7 different tasty dips that can be paired with everything from chips, pretzels, pickle spears, pizza bites, chicken strips, veggies, French fries, and these pretzel bites.
Literally, open your Heluva Good! French Onion dip and stir, heat up those pretzels and let everyone get to dipping!
So easy and sooo good!  Not even kidding!  Their French Onion is the best ever.  It has milk, cream, parsley, spices and even little pieces of dehydrated onions – no wonder it tastes so amazing!
Pro tip:  And here's another pro tip I'm throwing in for free… When you're coming up with your menu be sure to think about any dietary needs your guests may have.  If you know several people have food allergies, or don't care for seafood, or maybe they're vegetarians or meat-lovers, make sure you have plenty of options for all of them.  And if you're not sure, ask them when you invite them!  They'll love your thoughtfulness.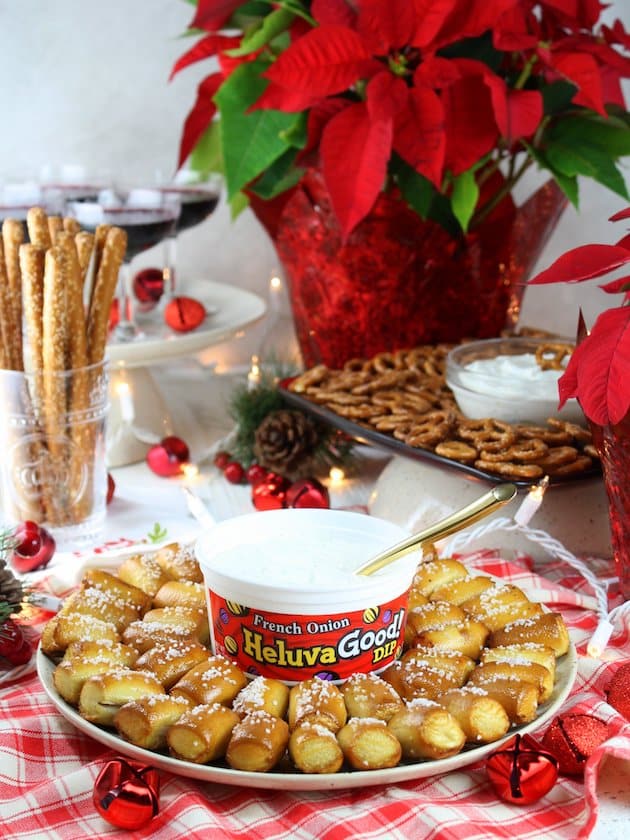 Refresh & Refill Throughout The Event.
Another thing to remember is to refresh and refill your platters throughout the night.  Use smaller trays and platters – that way it looks bountiful but doesn't get stale or lose it's ideal serving temperature.  (No one wants warm cocktail shrimp or cold cheese dip!)  Not only does this keep food looking fresh and appetizing, but it also prevents people from getting sick.  Always a bonus!
Pro tip:  If you're throwing parties on a regular basis you may consider picking up some chafing dishes.  They allow you to keep food warm and or chilled with little effort on your part.  Plus they look pretty!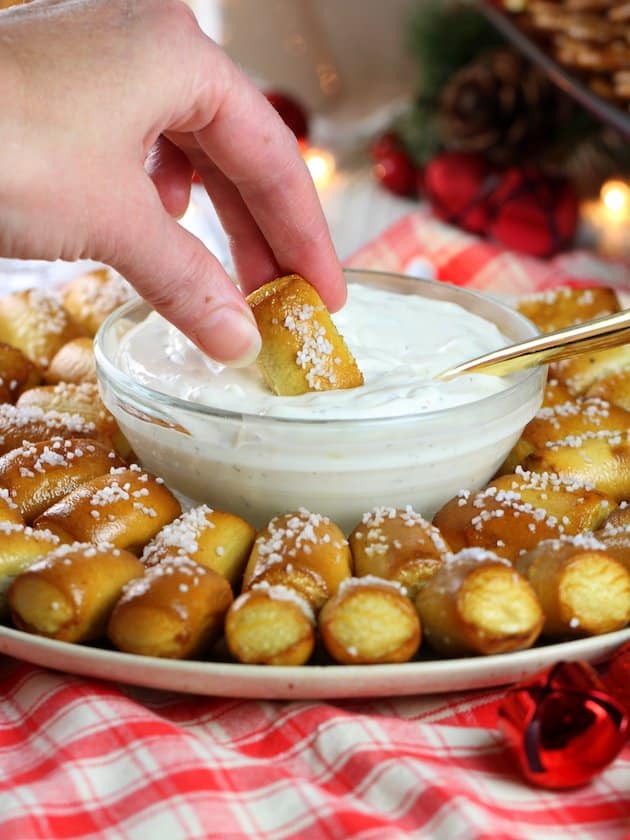 Don't clean up too soon!
If a sink full of dirty dishes drives you crazy, this may be difficult...  but resist the urge to start washing dishes.   Whether you know it or not, by cleaning up and washing pots and pans you're sending a message to your guests.  They might think you're letting them know it's time to go, or that you're not really interested in spending time with them.  Just relax and enjoy this wonderful party you worked so hard to put on with those you care about.
Pro tip:  If you want to hide some of the mess in the kitchen just make sure your dishwasher is empty before the party starts, and toss anything unsightly in there until the party ends.  Then when everyone's gone – pull it all out, regroup, and get your clean on.  PS:  In a pinch the washing machine works too!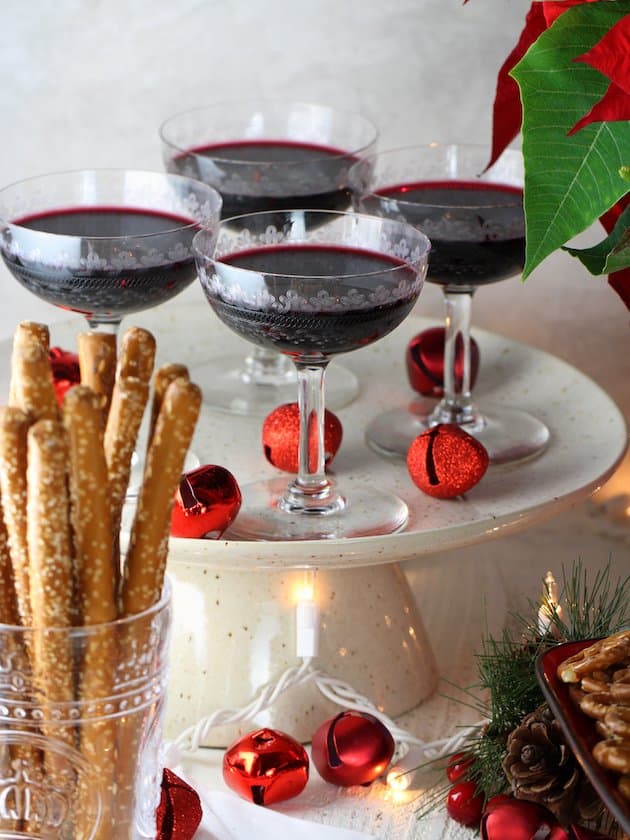 Create A Tablescape For Your Holiday Party: 
And because I believe things should not only taste good, but look good too, I want to talk about your tablescape.  After you've decided on the menu you need to plan what bowls, platters and trays you will use for serving all this yumminess.  I like to iron my table cloth and set up my space a few days before.  This helps me to know if I need to put an extra leaf in the table, or have a separate table for desserts.  I literally place my empty serving dishes, with sticky notes specifying what's what.  This also allows me to see how much room I have to decorate the table.
Much of the time you already own everything you need to make it beautiful.  I like using a solid or neutral table cloth and then adding a pretty wide ribbon down the middle like a table runner, or using festive table napkins/towel to add a pop of color.   Also, using some white lights, garland, mini-Christmas ornaments, or pine cones can create a gorgeous setting for all that delicious food.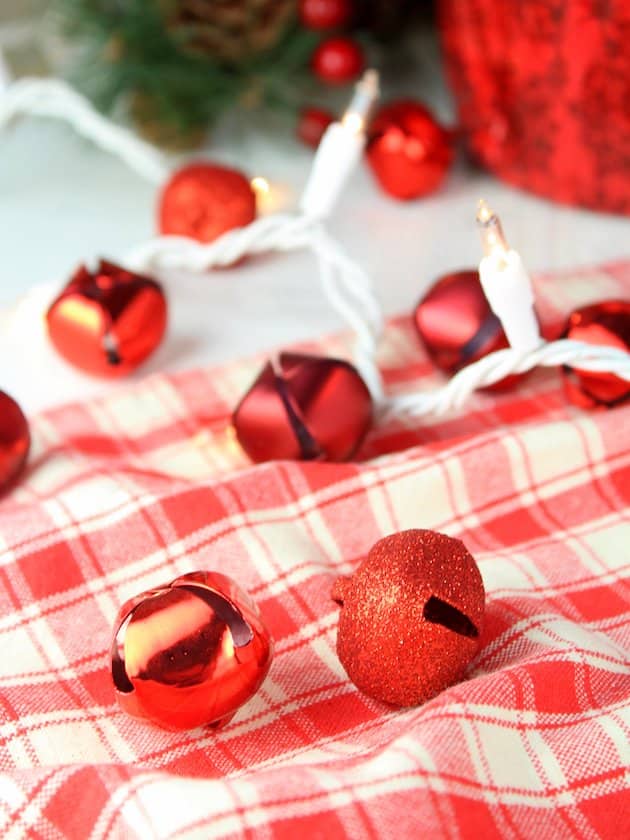 Pro tip:  Adding varying heights to a table will make it feel less crowded and create a more interesting display.  There are several ways to accomplish this: you can place small boxes of different heights and sizes on top of your tablecloth, at the precise spot you want a platter or dish elevated add a box, once you've got all your boxes in place cover them with another matching tablecloth.  Another way to accomplish this is to use cake stands, or overturned bowls and dishes as a base to elevate some of your menu items.  Just make sure each base is sturdy enough to hold the platter you're setting on top of it!
Another Pro tip (cause it's the season of giving!):  One of my very favorite things to decorate with is live flowers.  Whether it's a crystal vase with red and white tulips, or a potted poinsettia, it can add festive elegance and holiday cheer!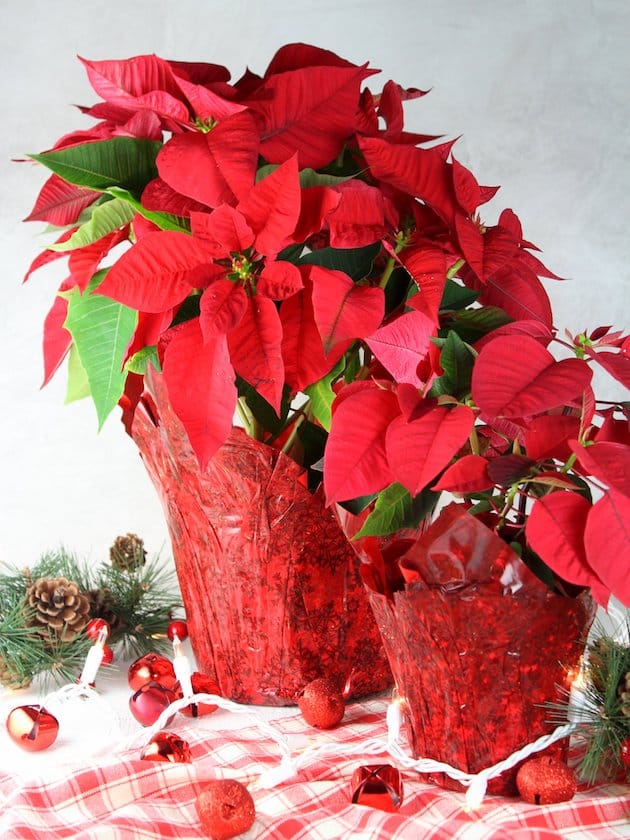 I hope these entertaining tips prove to be helpful and allow you to have a stress-free, mess-free, festive and fun holiday celebration!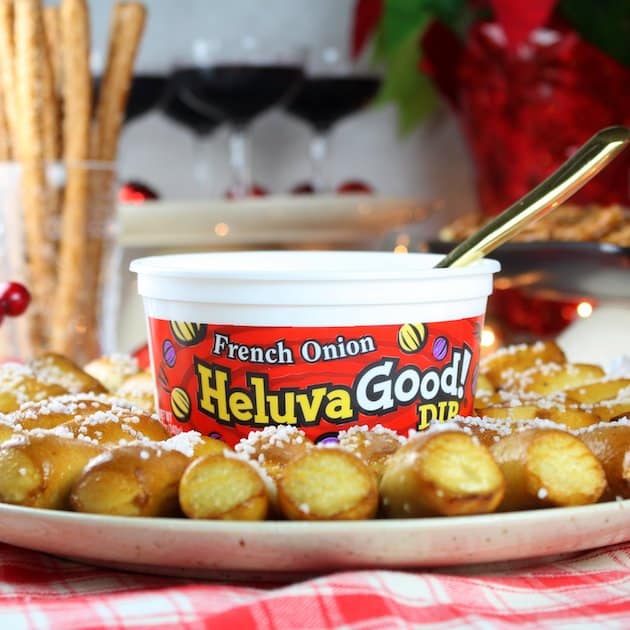 Looking for more delicious entertaining ideas with Heluva Good! Dip?? 
Three More Easy Dippers For The Holidays