It is Fall? and I am in love.?? I think about the object of my affection constantly: its buttery, salty flavor, sugared crunchy crust, tart and sweet tender apples, and the creamy, nutty froth that glides on top.  It's the Salted-Butter Apple Galette with Maple Whipped Cream.  I know – I had you at "buttery."  This recipe is from Bon Appetit's November 2014 issue and it is the Belle of the Ball.  Much like Cinderella, this laid-back dessert could get easily overlooked, but after one bite you will be…twitterpated and all aglow.
Another thing that makes me happy about this recipe is how it looks – all rustic and homey. It's like an open-faced pie but a bit more unique, and even more down-to-earth and simple.
When I made this recipe I was in a bit of a rush – just getting back from a whirlwind trip and making a full meal for guests that same day. So to cut down the prep time, I swapped out a store bought pie crust for homemade.  Don't judge people.  You've been there before – right??  I'm sad to say, I have not mastered the art of a homemade pie crust and in this instance I needed a sure thing.  So, Pillsbury to the rescue!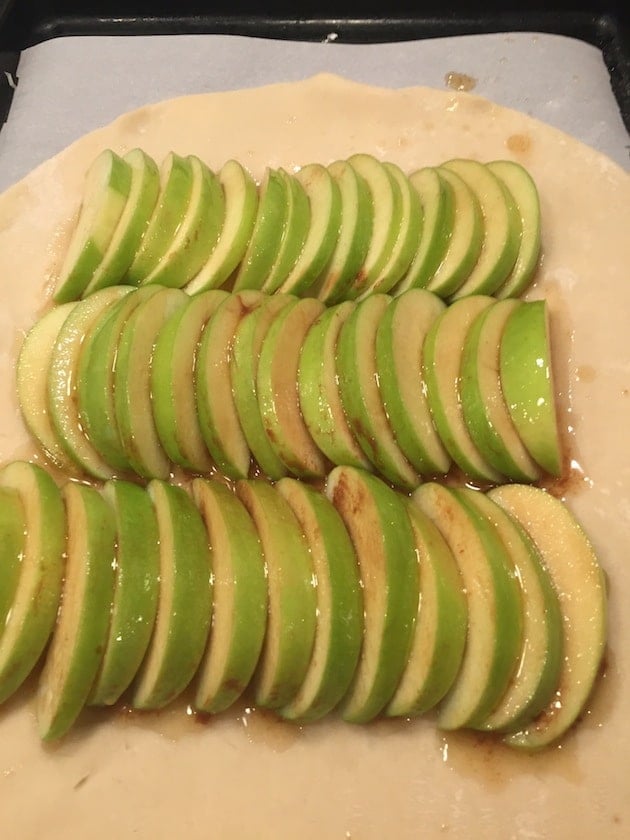 Staying in the theme of getting this buttery apple Galette in the oven quicker, I also swapped out 2 teaspoons vanilla extract for the vanilla bean that the recipe calls for.  I must say the butter mixed with the vanilla took this recipe to a whole 'nother level!
Whether or not you're entertaining, this Salted-Butter Apple Galette is a home-run for any fall menu!
Salted-Butter Apple Galette
Buttery, salty flavor, sugared crunchy crust, tart and sweet tender apples, and the creamy, nutty froth that glides on top
Ingredients
For The Galette:
1/4

cup

salted butter

½ stick

2

teaspoons

vanilla bean extract

1

pie crust

All-purpose flour

for dusting

1

pound

baking apples

scrubbed, sliced ⅛" thick, I used Granny Smith; about 2 large

3

tablespoons

brown sugar

1

large egg

1

tablespoon

granulated sugar
For The Maple Whipped Cream:
2

cups

heavy cream

2

teaspoons

Maple sugar
Instructions
For The Galette:
Place a rack in middle of oven and preheat to 375°. Line a baking sheet with parchment paper.

Place butter in a small saucepan and add vanilla bean extract. Cook over medium heat, stirring often, until butter foams, then browns (be careful not to burn), 6-8 minutes. Remove pan from heat.

Roll out dough on a lightly floured surface into a rough 14x10"rectangle about ⅛" thick.

Transfer to a parchment-lined baking sheet.

Arrange apples on top, overlapping and leaving a 1½" border. Brush apples with brown butter.

Lift edges of dough over apples, tucking and overlapping as needed to keep rectangular shape.

Beat egg with 1 tsp. water in a small bowl and brush crust with egg wash.

Sprinkle with granulated sugar and bake, until the apples are soft and juicy and crust is golden brown, 35-40 minutes. Let cool slightly on baking sheet before slicing.

Serve with your favorite ice cream or whipped cream (see notes below for recipe).
For The Whipped Cream:
Beat cream and maple sugar in a medium bowl to medium-soft peaks. Serve alongside the Galette.
Recipe Notes
Personally, when I'm making baked goods and using apples, I prefer Granny Smith apples – they are my go-to baking apple - always crisp, tart and barely sweet. Perfection.

The Galette can be baked 2 days ahead. Store tightly wrapped at room temperature. Reheat slightly before serving.