This week our Sunday Supper theme is "Finger Food For Dinner," and we're making Chicken Pesto Pizza!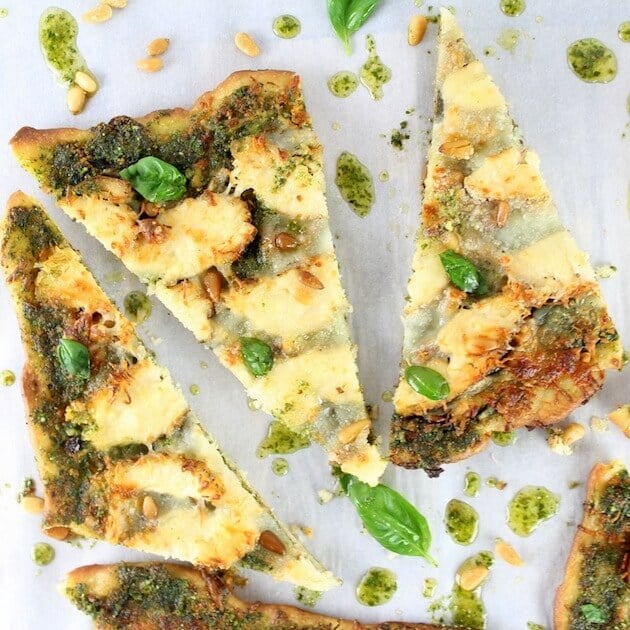 Can I just say I love appetizers for dinner! I love a big ole' beautiful spread of finger foods, sampling each specially crafted bite, then grazing all night on my favorites.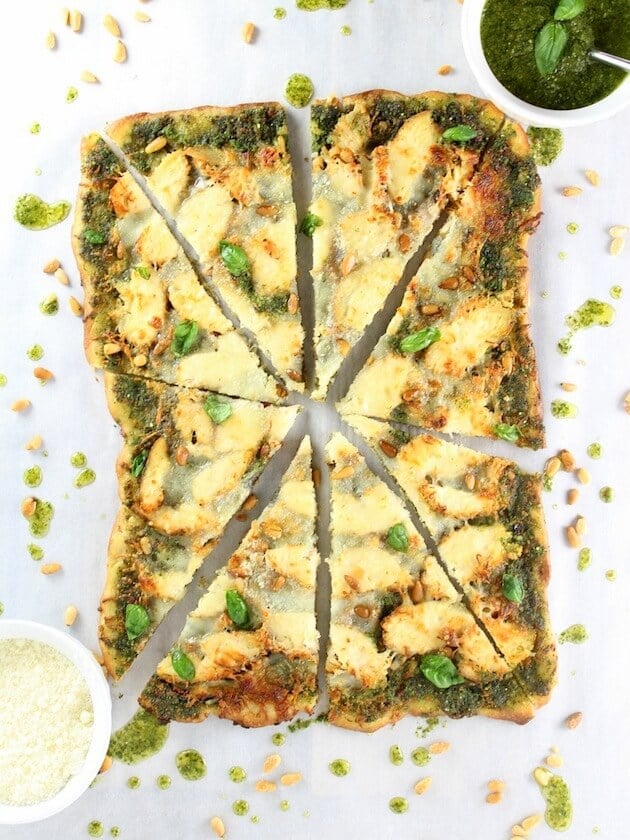 I'm not sure why it makes my heart go pitter-patter. Maybe it's because I don't have to commit to just one amazing dish – I get to partake in all of them. Or maybe it's because things that are miniature are just adorable…like for example these Mini Mac And Cheese Bites… or these Blue Cheese & Buffalo Chicken Wonton Bites … or these Lasagna Cupcakes.
So cute and delicious!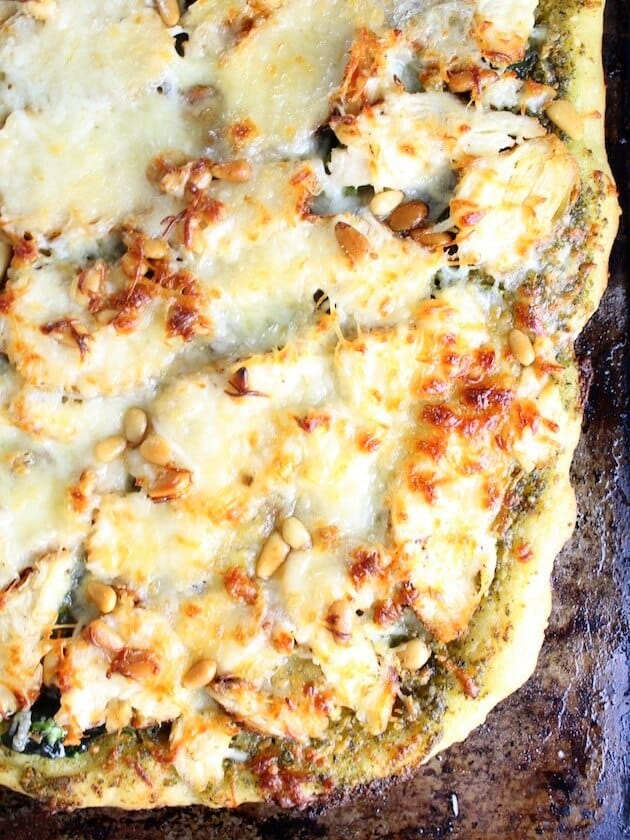 This week we're circling the wagons for some easy finger foods for dinner.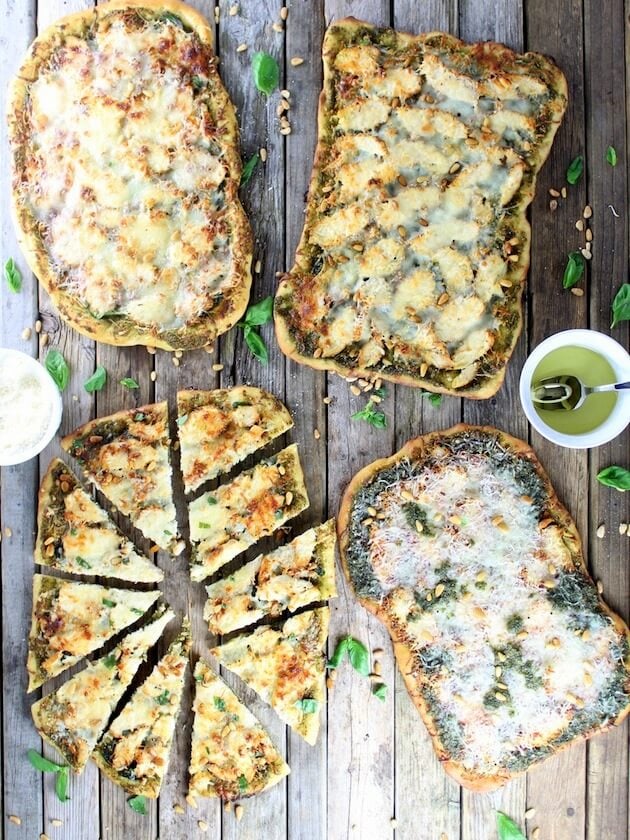 Making my own pizza dough has always been a little intimidating. Kind of like making pie crust. In theory it seems easy enough – I mean how can something with 5 ingredients be hard??
Well, let me explain: there are so many nuances that no one really spells out for you… or maybe it's that we all interprets things differently. AND there's no gourmet pizza chef standing next to you for you to ask: "do I sprinkle the yeast and wait, or do I sprinkle, then stir the yeast and then wait?"
Plus, each step is so crucial to pizza dough success!✨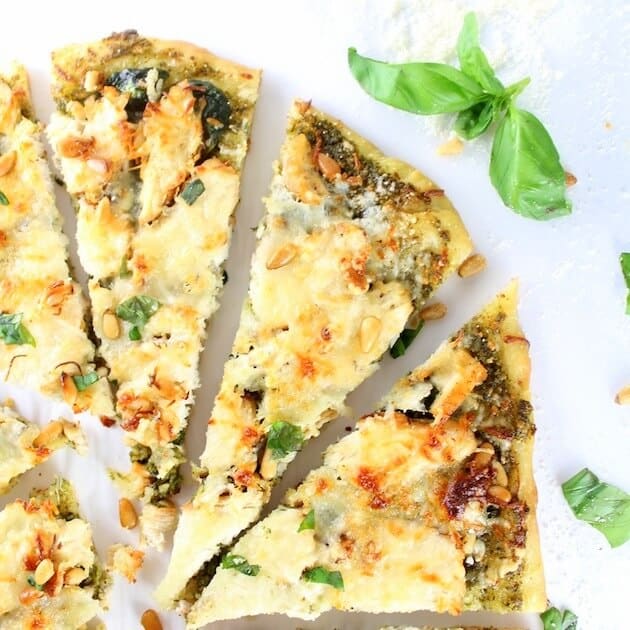 For example there's the instruction to let the dough rise "in a warmish spot with no drafts." Ok, so it's winter here, well spring really, but it's New England so it feels like winter.❄ And the warmest spot in our ~1920 home is right by one of my heat vents - but WAIT that's also a drafty spot. SEE how confusing this is for me!??
Oh and just in case you're wondering…don't try putting it in a slightly preheated oven because it will actually cook the dough ball and cooked dough balls don't make good pizza crusts. Not that I know anyone that's ever done that before. Ahemmm.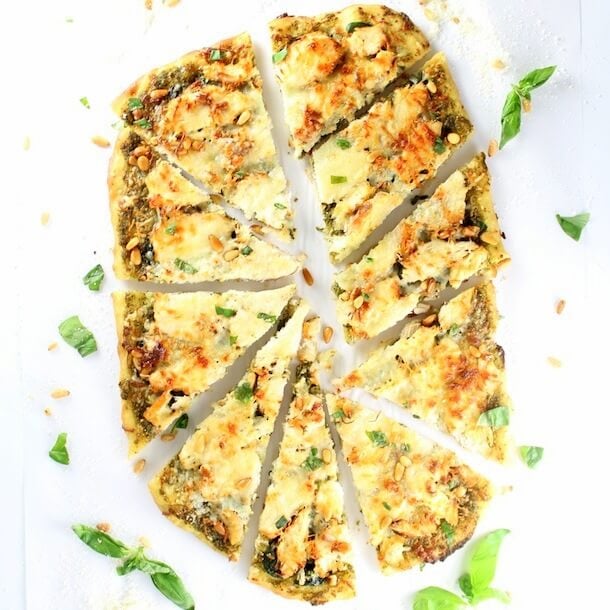 … And thus my pizza dough anxiety. I really don't mean to discourage you from making your own pizza dough but I will just add that the grocery store sells it all premade and ready to go.
Trust me I've eaten my fair share of Boboli pizza crusts in my day and they are quite good. So if you're not a "make your own dough" kind of person then you do you boo! Judgment-free zone here.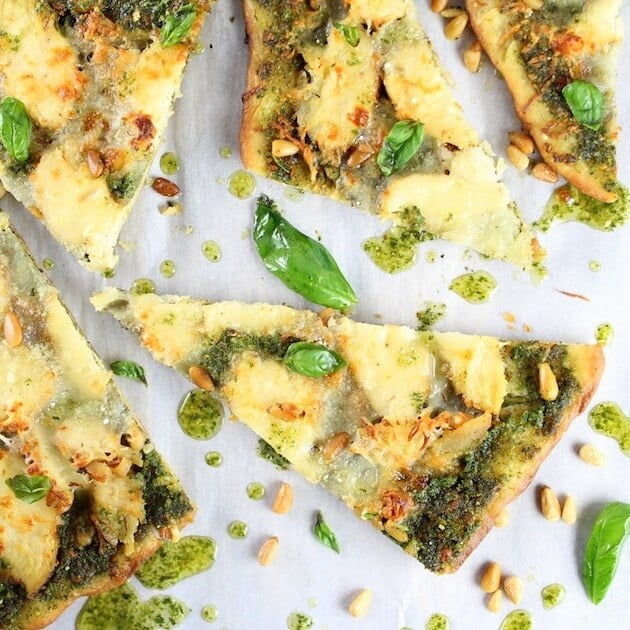 BUT if you decide you want to venture into the world of Martha Stewart and partake in another culinary adventure, then stay tuned cause I've got a pizza dough recipe that actually works and it's relatively quick and knead free. Meooow.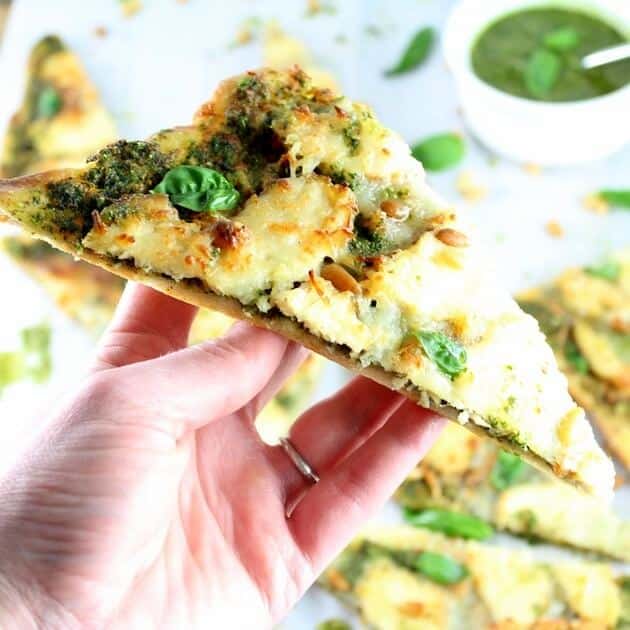 Let me share some very specific deets with you:
First put 1 ¾ cups very warm water into a large mixing bowl.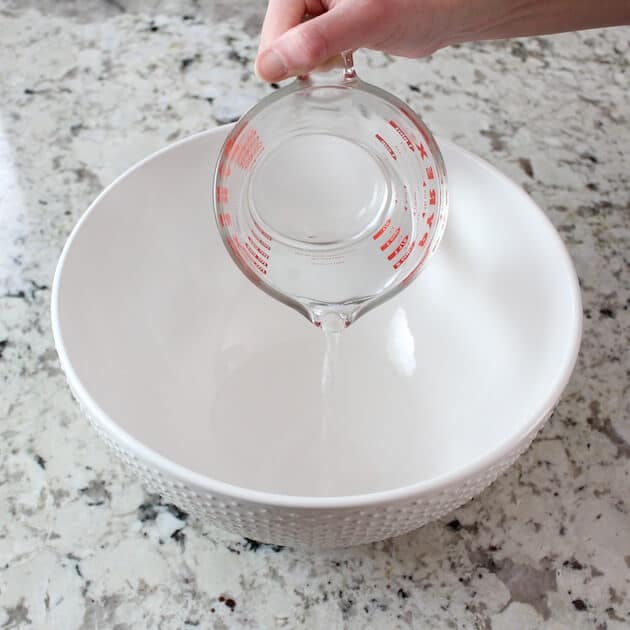 Next, sprinkle in 2 packets of yeast ("Active Dry" yeast, not "Rapid Rise Instant" yeast) and let it sit for 5 minutes. No stirring – literally sprinkle and wait.⏰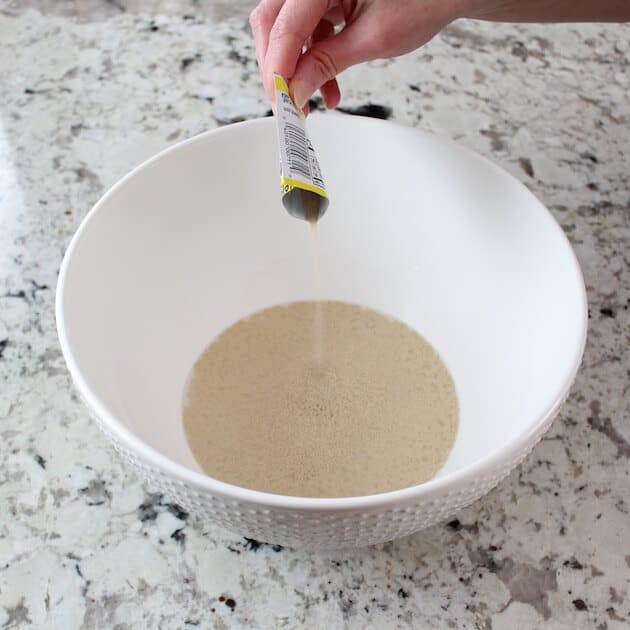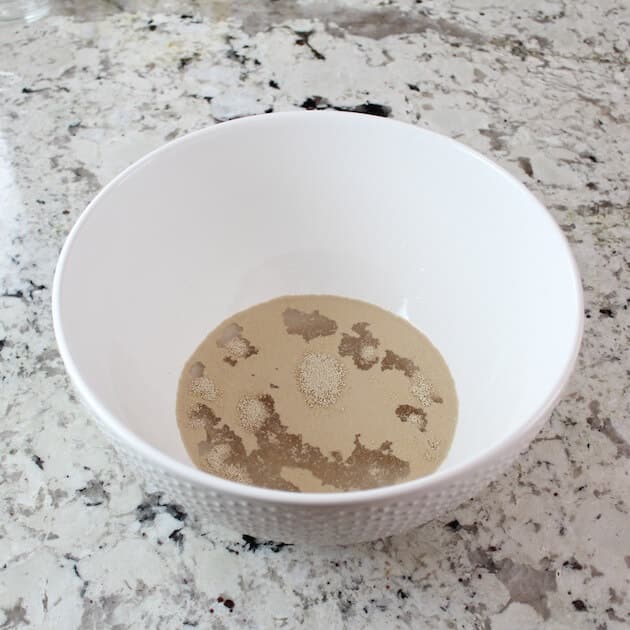 Next whisk in the salt, sugar, oil and flour. It should be a sticky blob… but the first time I did this it was a dryish blob. So I added some extra warm water and stirred – still dry… added more water… then it was better. Not all loose and gooey but a formed blob that was sticky.
I know what you're thinking – where did I receive my professional culinary training and how do you sign up? It's very exclusive and they teach you extremely technical terms like "sticky blob," "dryish blob," and "formed sticky blob." Judgment free zone people – remember!✌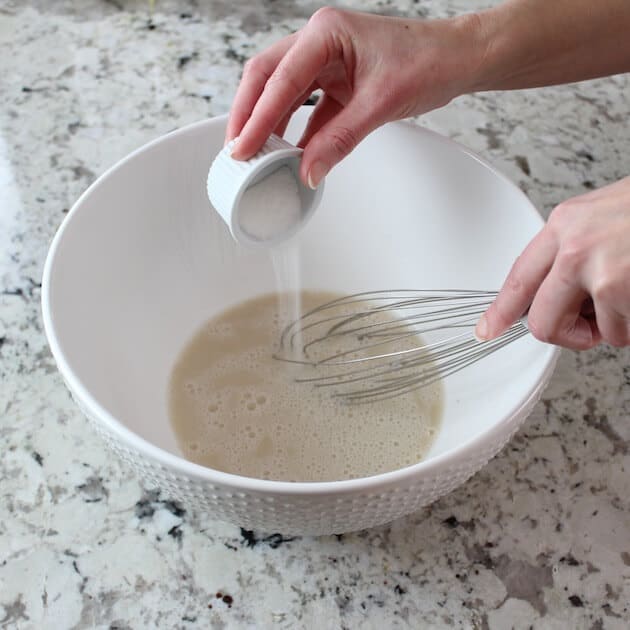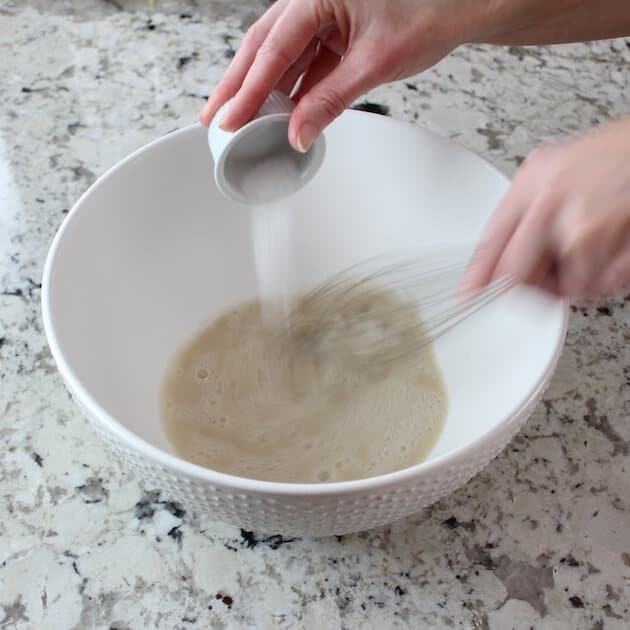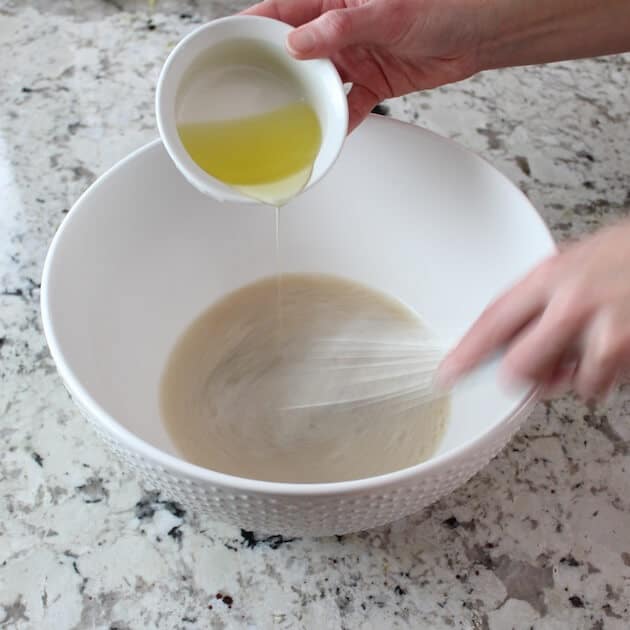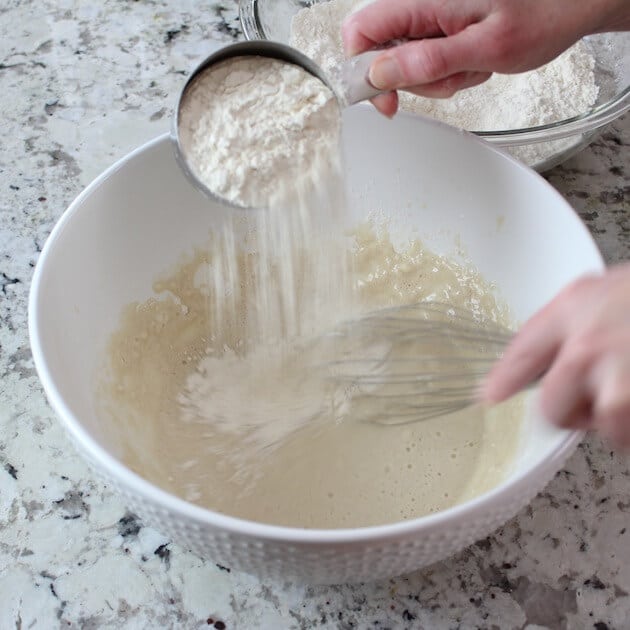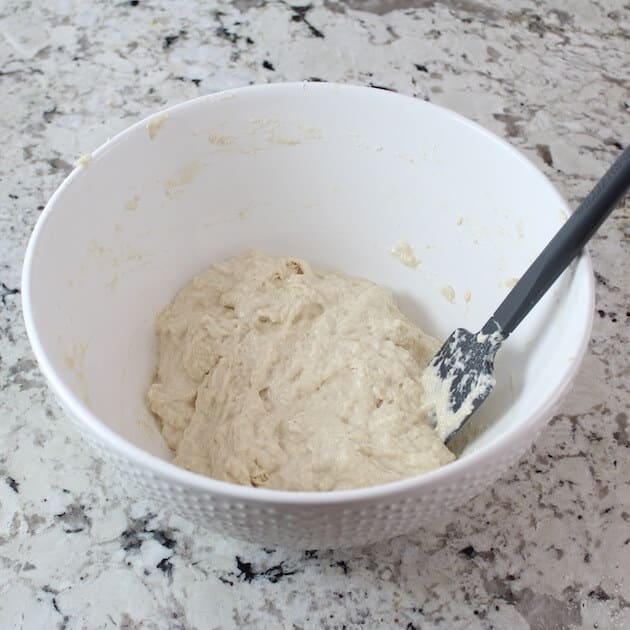 Back to our sticky blob…Grab another large bowl and run hot water in it to heat it up. Quickly empty it, dry it, and coat the inside with olive oil. Add the pizza dough (I'm trying not to say "sticky blob" as much) to the bowl, give the dough a very light coat of olive oil (1-2 tablespoons), and cover it tightly with plastic wrap.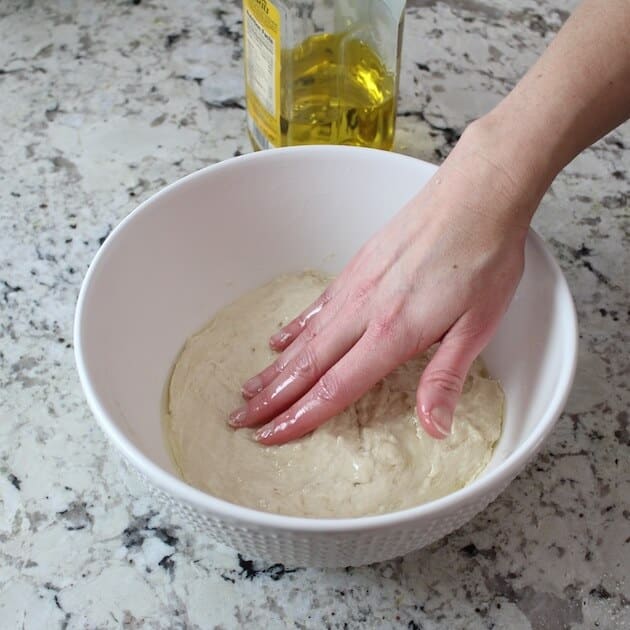 I placed it in a sunny spot in my house and actually put a few tall skinny boxes around it to create a barrier from any drafts (not sure this was necessary but I wasn't taking any chances). Then I waited an hour for it to rise.
I visited it several times to see if it was actually rising and kept moving it into the sun as the spot moved. I'm super happy to report to you that IT WORKED!!! It actually grew so much that it was touching and overflowing out of the the top of the plastic wrap. Yay - snaps for Holly!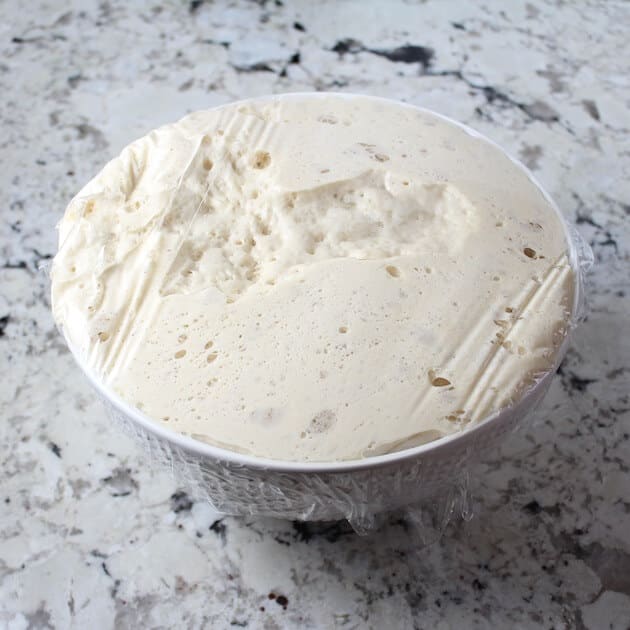 Next, put a little bread flour on the counter, roll the now large sticky dough blob onto it, dust it with some flour, shape it into a disk, and cut it into 4 even pieces. Now it's pizza time!! (That's a lot like Hammer time – can you hear the music?Dadadadu, da-du, da-du…?)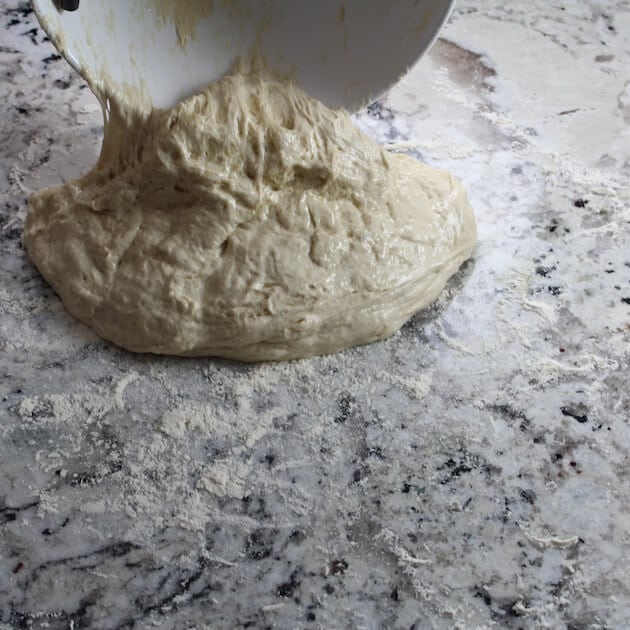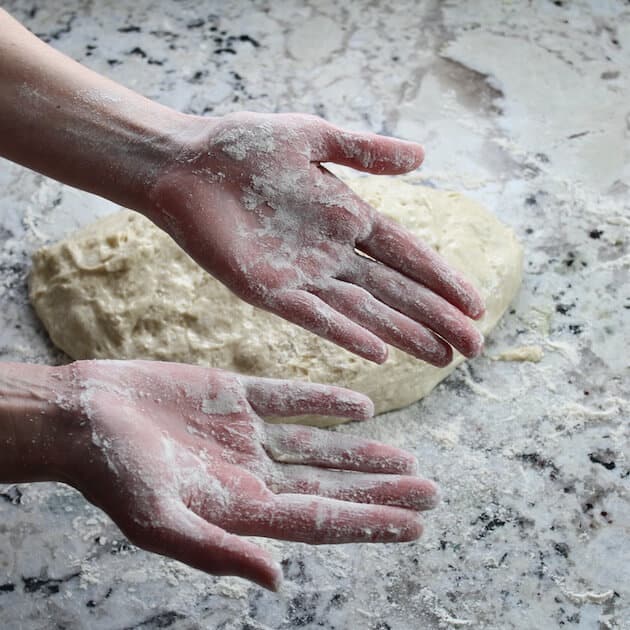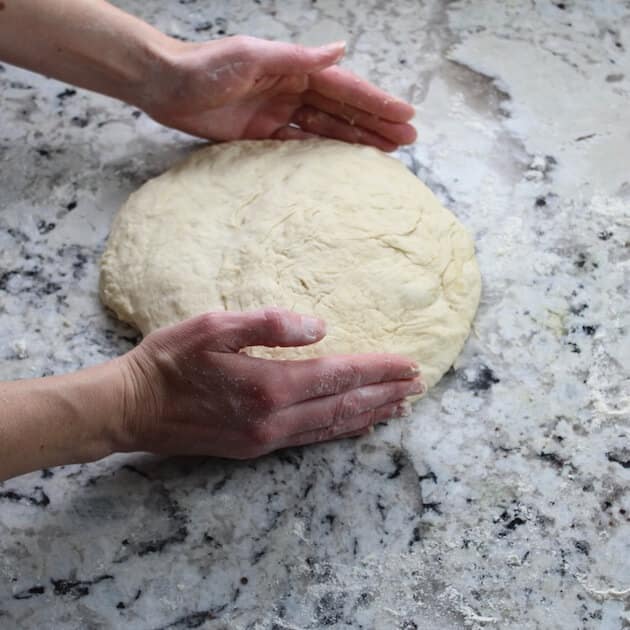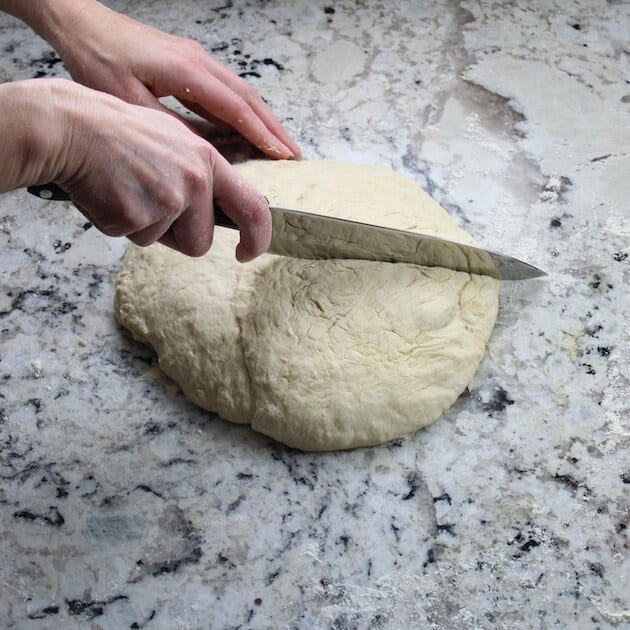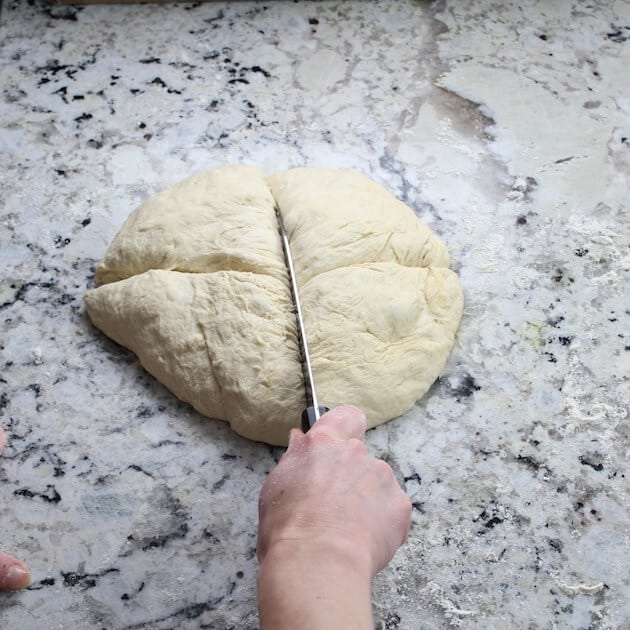 We're in the homestretch people! Go ahead and preheat your oven to 500, then grab a piece of dough, hold it from one side and let the rest hang down vertically, allowing gravity to stretch it longer. Gently work your way around the edge of the dough to stretch it.
Then lay it on a baking pan, use your fingers to gently stretch it and make the shape you want. Now add your toppings and it's ready to bake.♨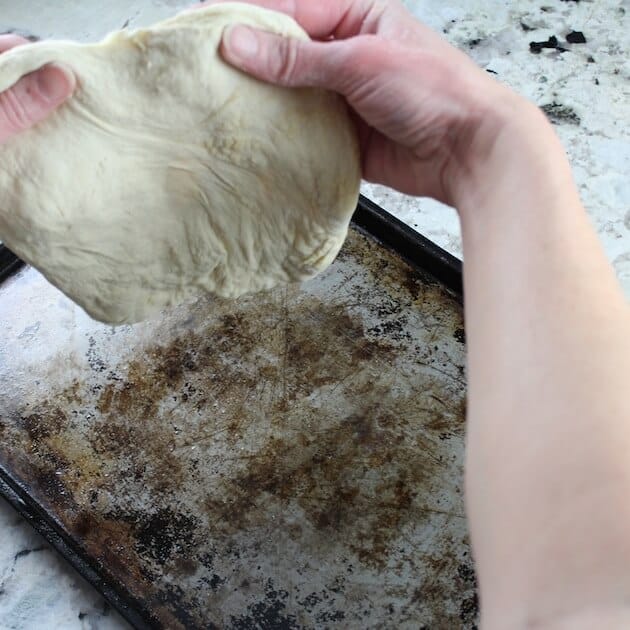 I used my favorite pizza toppings for my little pies: Homemade pesto, fresh baby spinach, thinly sliced grilled chicken, toasted pine nuts, mozzarella and Asiago cheese. Mmm Mmm good! Seriously, it's a delightful and healthy combination.
I spread the pesto right onto the dough then a layer of spinach, chicken, pine nuts, asiago and half of my mozzeralla cheese.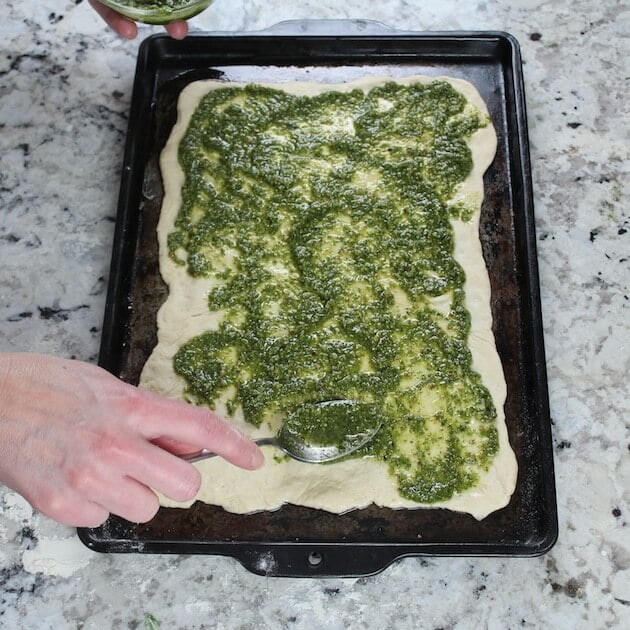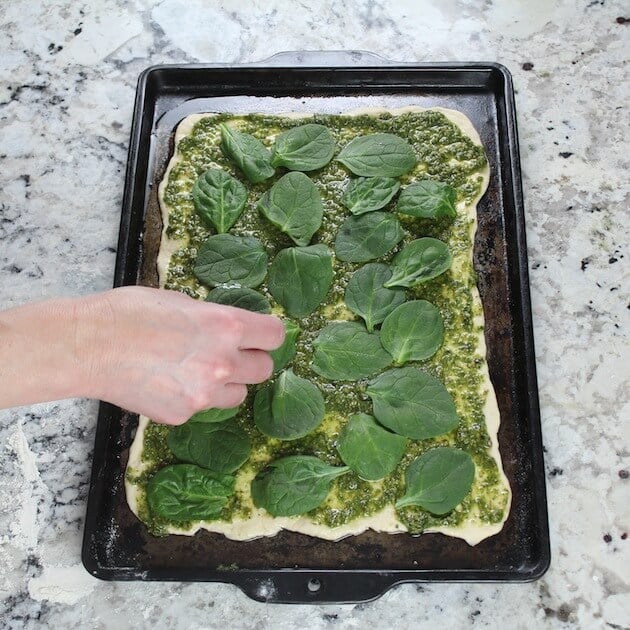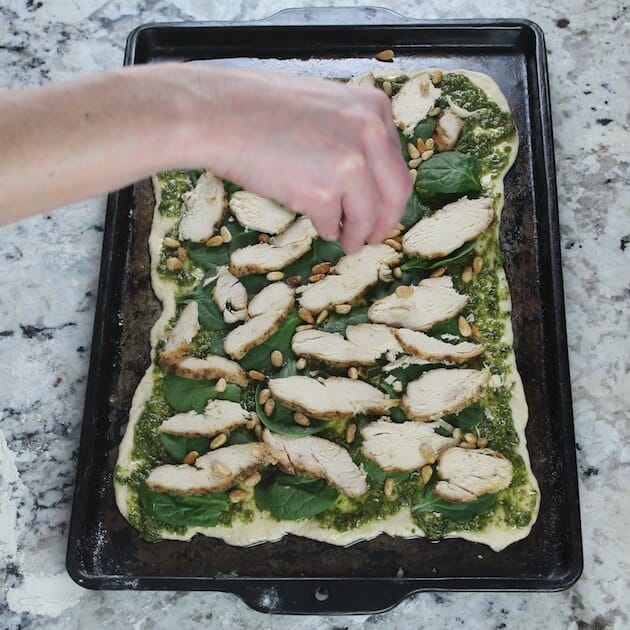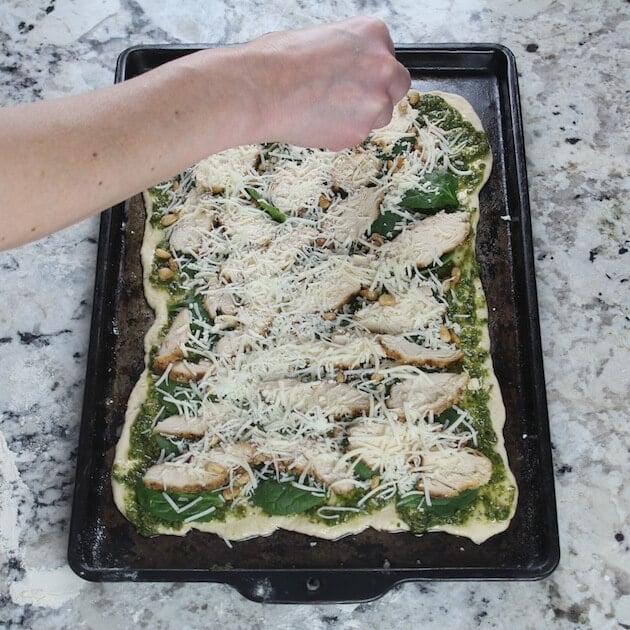 Then into the hot box for five minutes, add the rest of the cheese and bake for 3 more minutes, and that should do it. Talk about pizza heaven – finger lickin' good!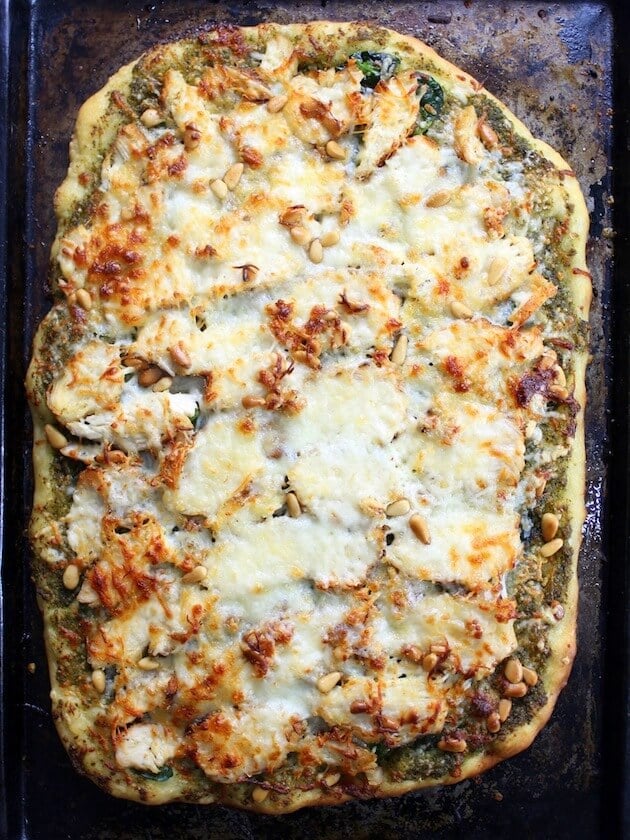 These pizzas were devoured in a matter of minutes! And no wonder: the crust was thin and slightly crisp on the outside, soft on the inside… the toppings were all garlicky, cheesy, and savory.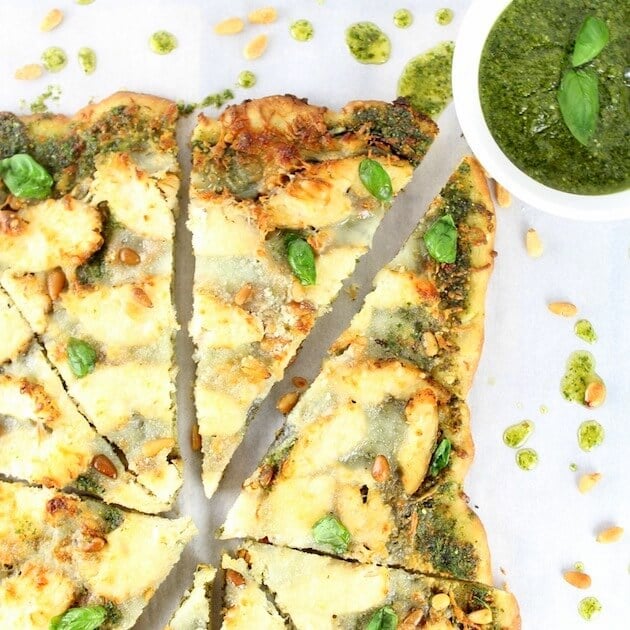 Whether you venture into the world of dough making or you get a little help from your local grocer, these Chicken Pesto Pizzas are a yummy finger food dinner the whole family will love!
Yield: 10 servings
Chicken Pesto Pizza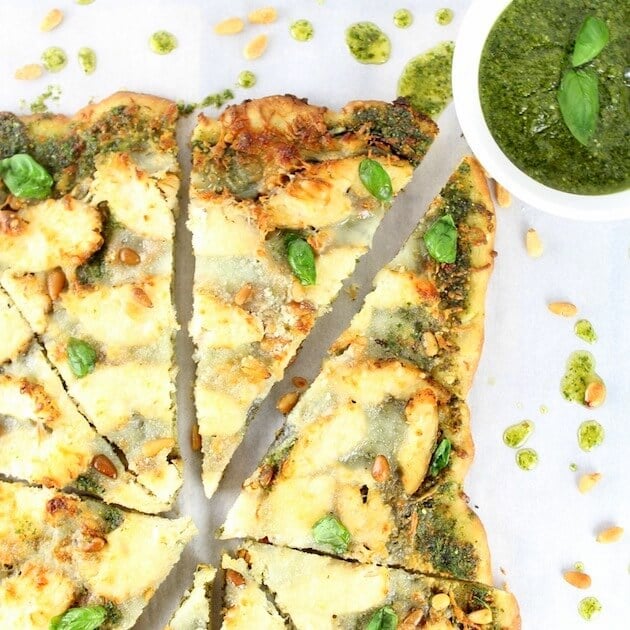 Easy homemade pizza dough recipe, topped with pesto, fresh baby spinach, grilled chicken, toasted pine nuts, mozzarella & Asiago cheese
Prep Time
1 hour
15 minutes
Total Time
1 hour
30 minutes
Ingredients
For The Pizza Dough:
1 ¾ cup very warm water, (more if dough is too dry)
2 packets (¼ ounce each) active dry yeast
2 tablespoons sugar
¼ cup olive oil, plus more for bowl and brushing
2 teaspoons coarse salt
4 cups all-purpose flour, plus more for work surface, spooned and leveled
For The Grilled Chicken Breasts:
Chicken breasts trimmed of fat and skin, (for this recipe use four)
Salt and pepper
Canola cooking spray
For The Pizzas:
Pizza dough from recipe above
8 ounces of pesto (homemade or store bought)
3 ounces fresh baby spinach
4 grilled chicken breasts, very thinly sliced
1 cup of pine nuts toasted, (4 ounces)
4 ounces shredded Asiago cheese
5 cups mozzarella cheese
Instructions
For The Pizza Dough:
Pour 1 ¾ cups very warm water into a large bowl; sprinkle with yeast and let stand until foamy, about 5 minutes (no stirring).
Whisk sugar, oil, and salt into yeast mixture. Add flour and stir until a sticky dough forms. (If dough is too dry add a tablespoon of water, continuing adding until dough is sticky.)
Get out another large bowl and fill with hot water to heat it up. Dump the water, dry it out and oil the inside of the bowl. Transfer the dough to the oiled bowl, top with a thin layer of olive oil, then cover with plastic wrap. Set it aside in a warm, draft-free place until dough has doubled in size, about 1 hour.
Turn the dough out onto a lightly bread floured work surface and shape into a large disk. Cut into 4 even portions. Preheat oven to 500 degrees, oil a cookie sheet and begin to shape one of your dough balls into a pizza shape.
(To freeze dough balls, wrap them each in plastic and freeze in a resealable freezer bag for up to 3 months.)
For The Grilled Chicken:
Preheat your grill to 450 degrees. Generously coat both sides of the chicken breasts with salt and pepper and spray with cooking spay.
Grill the breast for 6 minutes on the first side and 5-6 on the other side or until temperature reads 165 degrees.
Allow to rest 10 minutes before thinly slicing.
For The Pizzas:
Once dough is shaped, spread 2 ounces of the pesto on it, then add a layer of fresh spinach, thinly sliced sliced chicken, toasted pine nuts, 1 ounce Asiago cheese and ½ cup of mozzarella cheese sprinkled evenly over the pizza.
Bake for 5 minutes, add ½ cup of mozzarella cheese over entire pizza and rotate 180 degrees.
Bake for 3 more minutes and remove from the oven. Enjoy while it's warm!
Repeat these steps 3 more times for the other pizzas.
Notes
To defrost dough, place in the fridge the morning you want to make the pizza. Then place the dough on the counter for 30-60 minutes while you prep the rest of your ingredients (this will allow the dough to come up to room temperature). Then shape and finish with toppings.
Nutrition Information
Yield
10
Serving Size
1 slice
Amount Per Serving
Calories

295
Total Fat

10g
Saturated Fat

3g
Unsaturated Fat

0g
Cholesterol

30mg
Sodium

601mg
Carbohydrates

35g
Net Carbohydrates

33g
Fiber

2g
Sugar

3g
Protein

18g