Today we're adding these delicious Vegetarian Meatballs With Lemon Tahini Sauce to the starting lineup.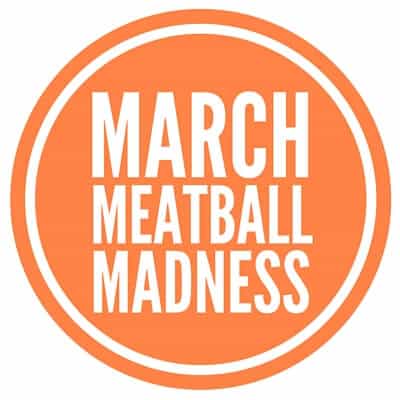 … And then there were four.
March Madness is rapidly coming to an end and so is our March Meatball Madness. The final four teams will duke it out this weekend. But before it's all over, I've got one more recipe for you!!!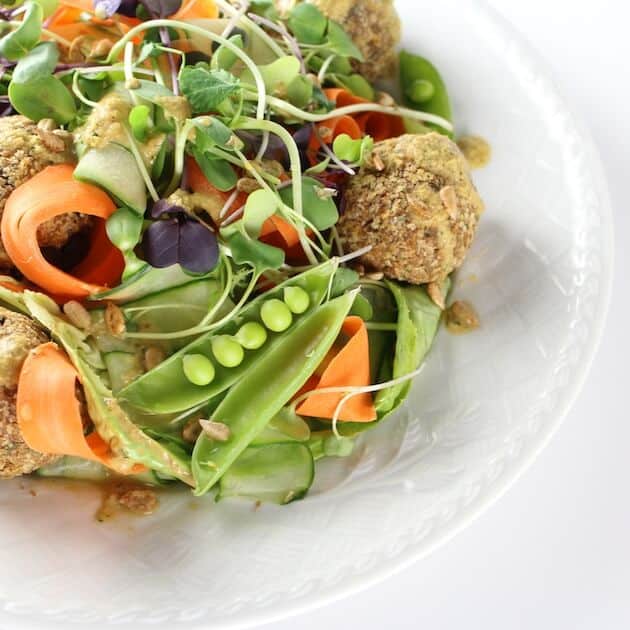 I know it's not "really" meat but wait 'till you try it – you won't even think about that old "where's the beef?" commercial. It is hearty and saucy and sooo satisfying. Seriously, if the B man (aka Mr. Protein) can eat it for dinner and talk about how excited he is for lunch the next day, then you know it's good.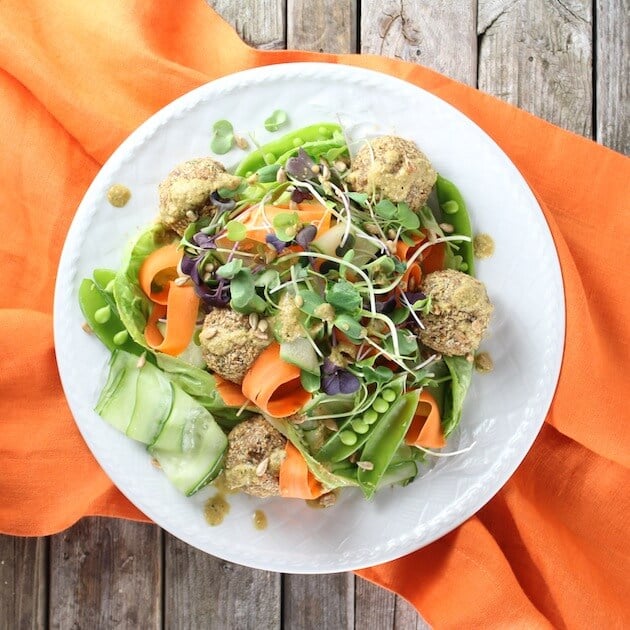 So vegetarian isn't my go-to eating style. But it is good to give your system a break from muscle meat proteins, and I wanted to try to offer you something a bit unique. You know the whole vegan/vegetarian movement is really very popular now-a-days.
AND how do I know this… I do my research. Come on people – I'm a professional! Which reminds me of a conversation I had recently about food trends.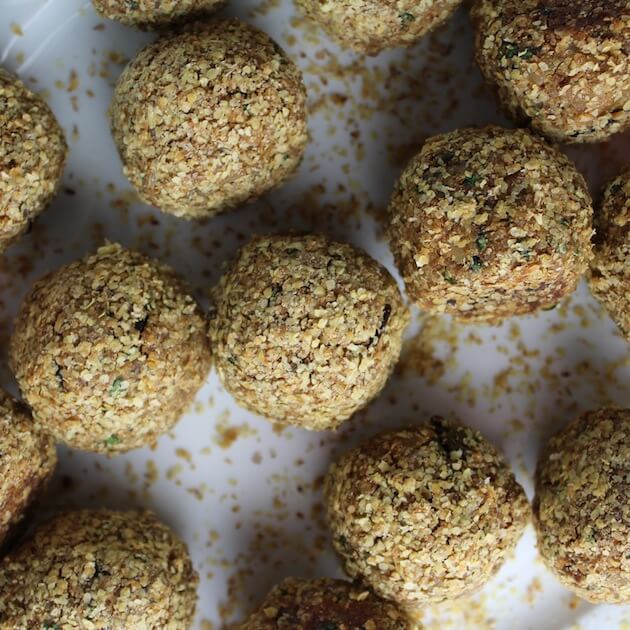 Recently I was being interviewed by Rochelle Bilow from bon appétit magazine. If you didn't hear, one of my recipes - The Spicy Italian White Bean And Sausage Soup - won their Readers Choice award for Best Family Recipe. Yayyy! (Check out the interview here. And the recipe here.)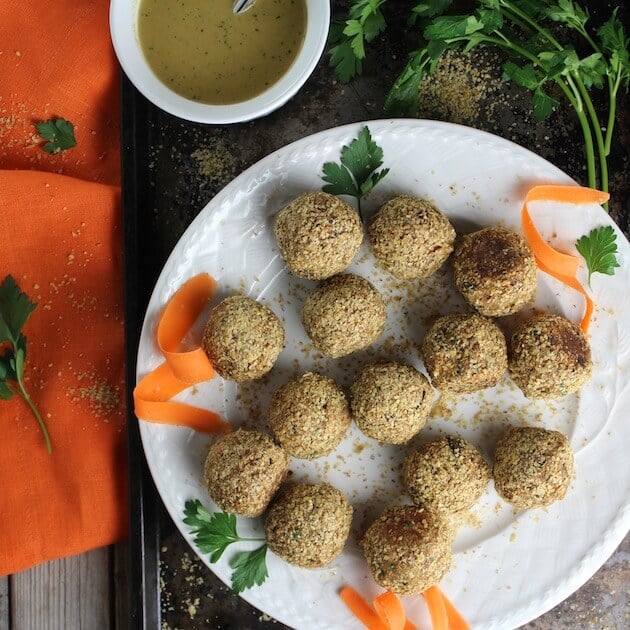 So me and my girl Rochelle were just kickin' it on the phone, talkin' about my recipe ("what was your inspiration for the soup? who were your cooking influences?"… etc.). As the interview was winding down I decided to do a little interviewing myself. OK not really – I just asked her one question. BUT a very important question.
I asked her how she and other food editors spot the upcoming food trends? You know, what the latest food craze is. Like how you had never heard of kale and then there was kale salad, kale bread, kale soup, & kale ice cream - everywhere.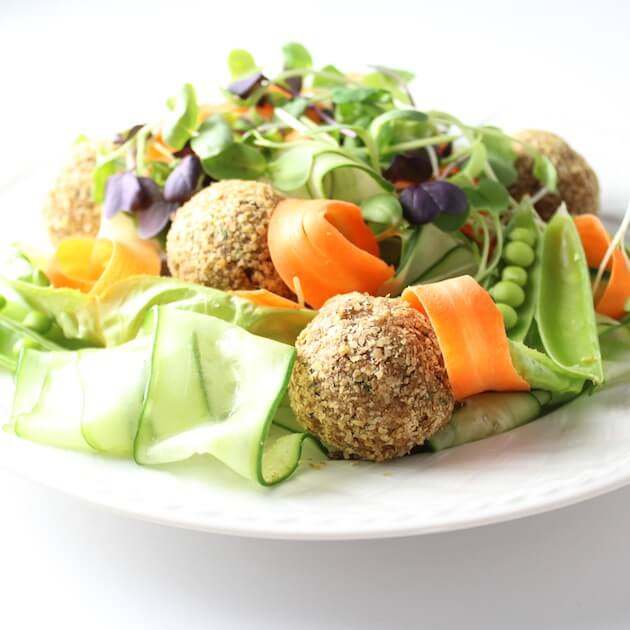 She went on to say that I probably wasn't going to like her answer. Wha???? Now she had my my attention. She told me it's not really very scientific at all. It's really all about reading a lot about food in magazines, books, news articles, on the Internet, and even reading menus. Plus, doing your own research by going out to different restaurants and trying new and unique things.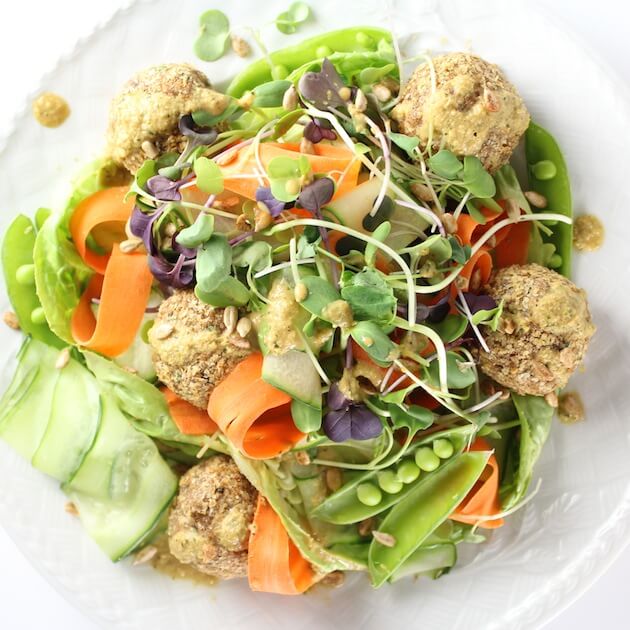 To all of that I said – Woohoo! So there is no secret formula!?? You see as a food blogger I want to be able to bring you new recipes with tasty ingredients that you may have never heard of or tried before, and this requires me to be able to know about food trends.
This means I can be as cutting edge as I want to be, it just requires time, effort, and research on my part. So doable.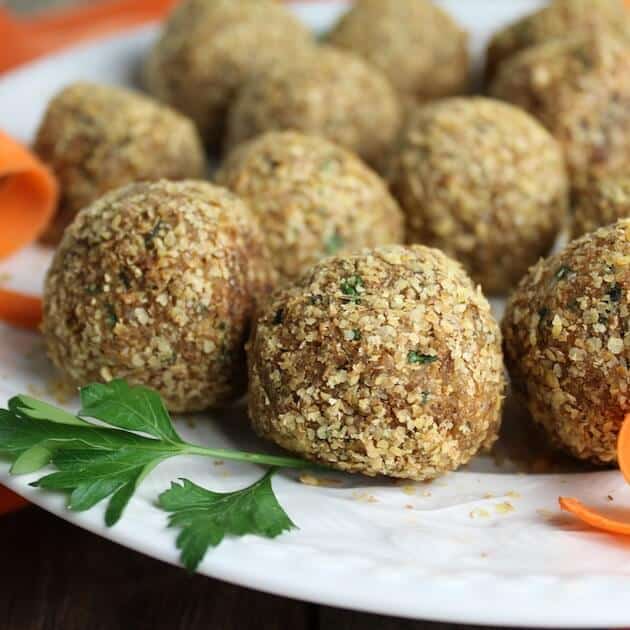 You're probably wondering why I just gave you the play by play of that interview, and here's why: today's Vegetarian Meatballs With Tahini Sauce were inspired by a restaurant called Sammy T's in Fredericksburg, VA. We lived there a few years ago and it was one of the places we would frequent. They probably had more beer choices than any other restaurant I've ever been to, and they lined the bottles up on really long shelves behind their bar.
They also had these pew bench seats; you know the ones from the original churches back in the day with the really tall backs? The ones they designed to be slightly uncomfortable because they didn't want you falling to sleep while the pastor was gettin' his preach on.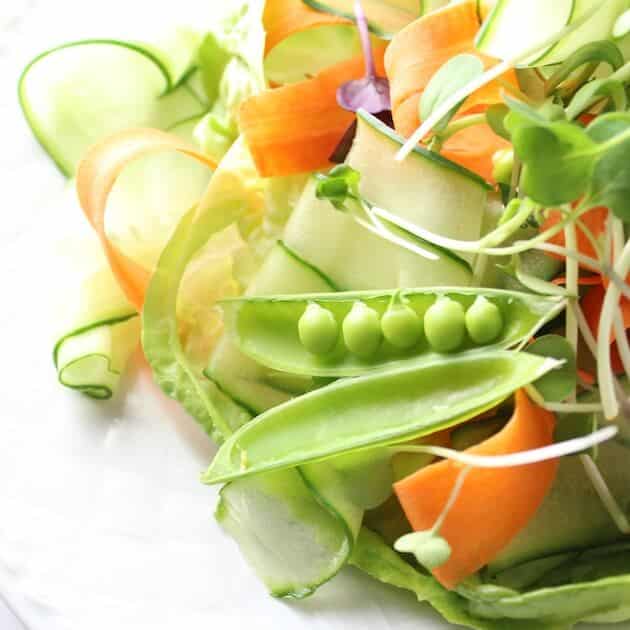 Anywho, back to the food. Sammy T's offered many vegetarian and vegan dishes on their menu. A friend of mine told me about this amazing dish called the Camper's Special.
It was this burrito-looking thing with a meatless patty of sorts, onions and green peppers, some cheese on the top, and the most dreamy tahini sauce ever invented. As you can probably tell I went for it… and I'm so glad I did! It was literally "everything I never knew I always wanted" (name that movie quote). It was meaty and hearty and saucy and oh so delicious!
So in honor of March Meatball Madness I've recreated my version of the Camper's Special, in meatball form!! Let me just tempt you a little: first the onions, garlic, minced parsley stems all are sautéed in olive oil until they're real happy.
Then they're mixed with ground garbanzo beans, ground up wheat bread, parsley leaves, tamari (gluten free soy sauce), tahini (sesame seed paste), pepper and whole grain rice… then formed into the cutest meatless meatballs you've ever seen, rolled in wheat germ, and baked in the oven on 400 for 10 minutes.♨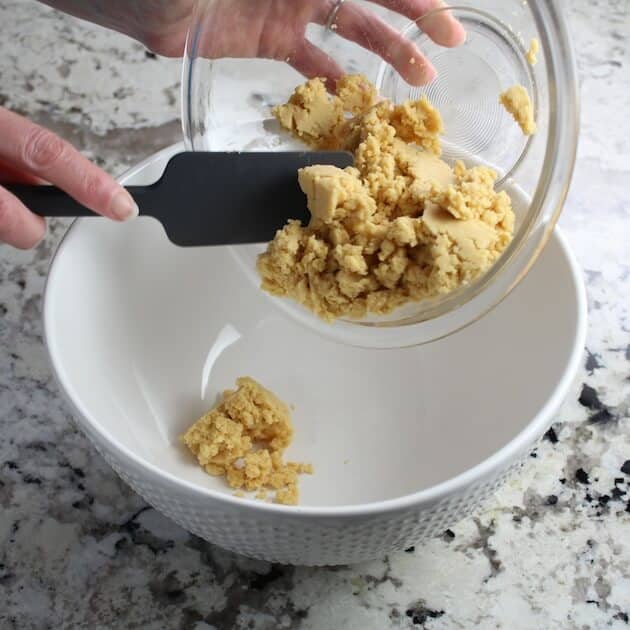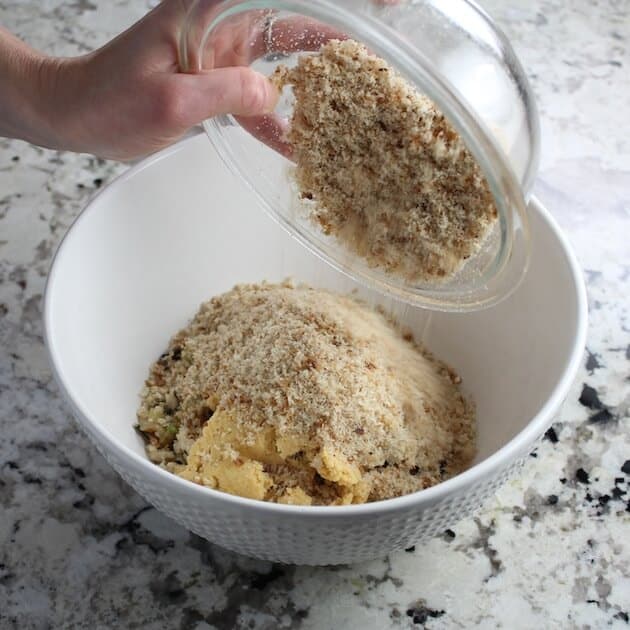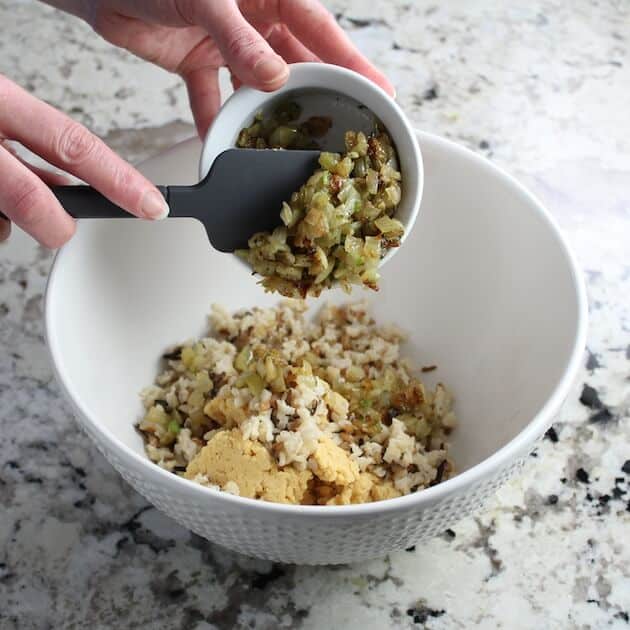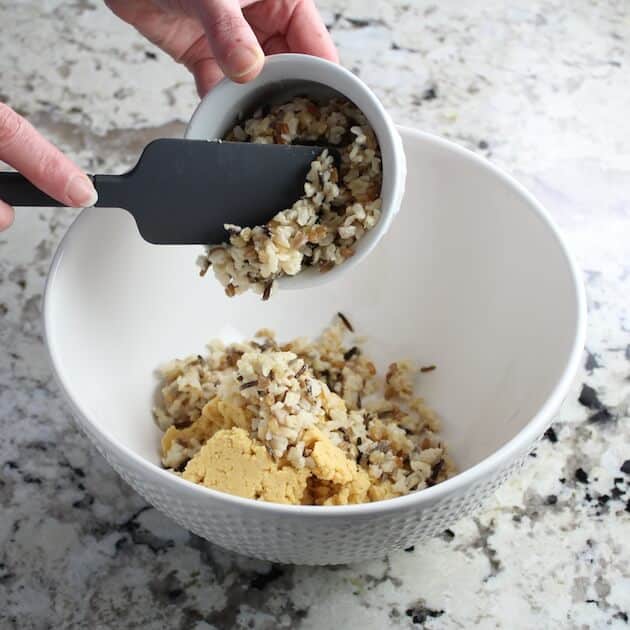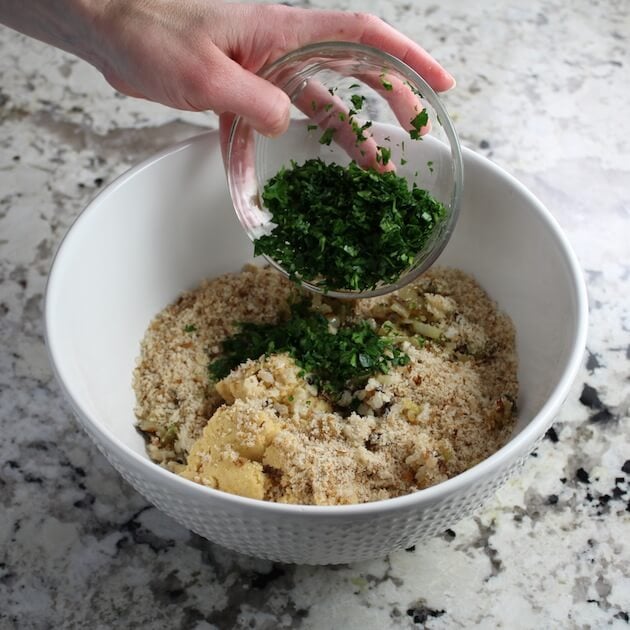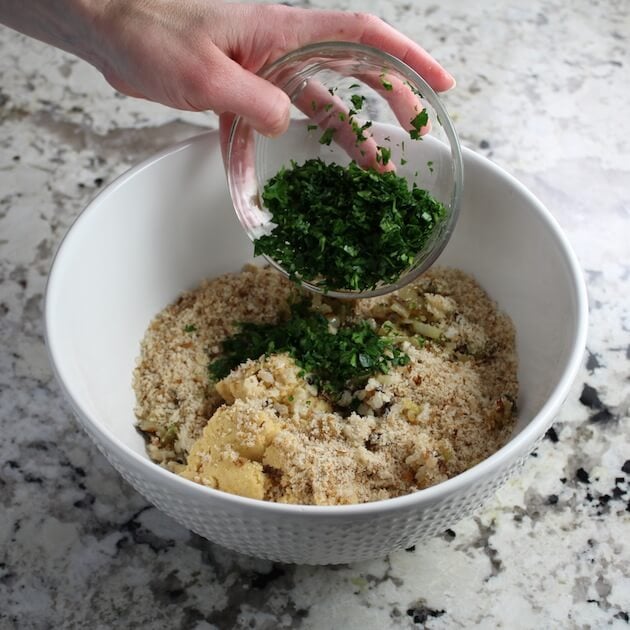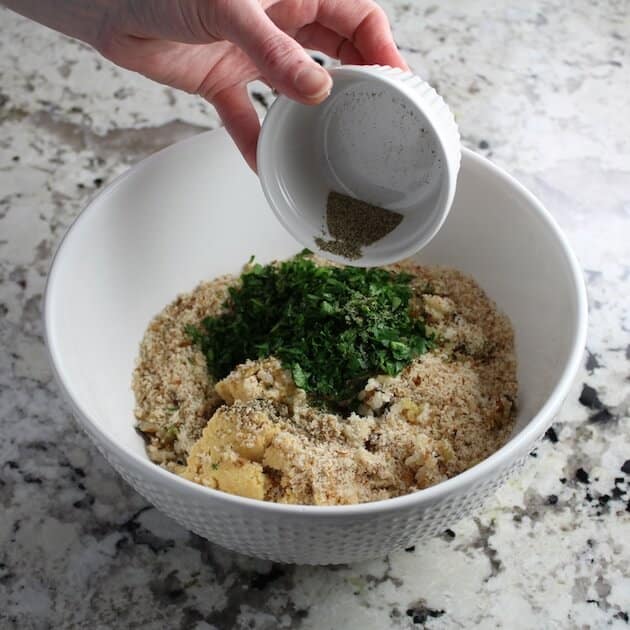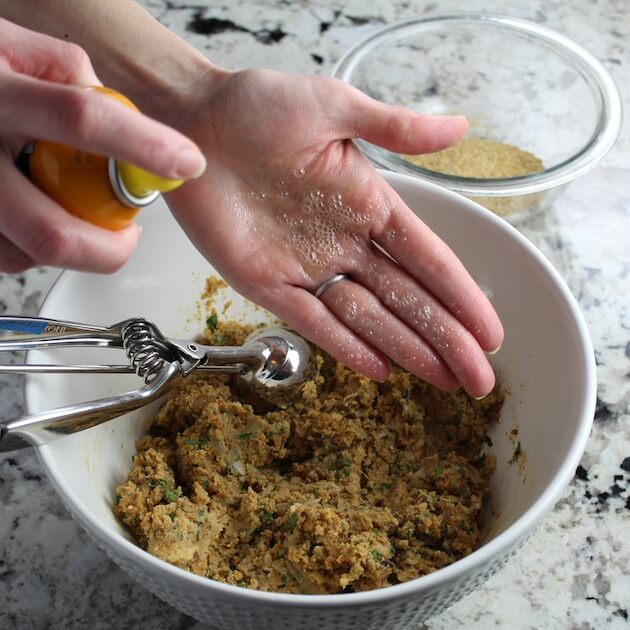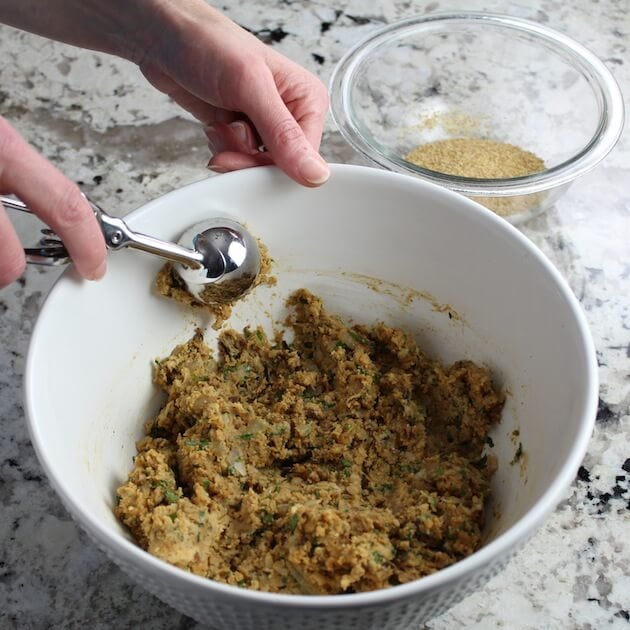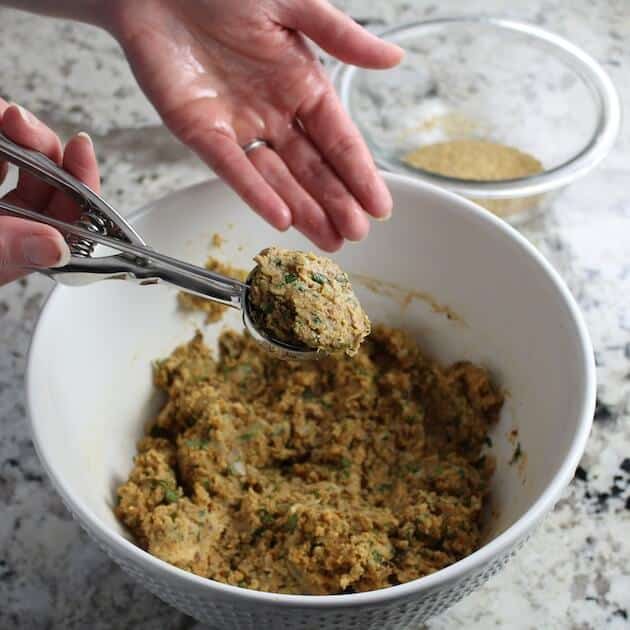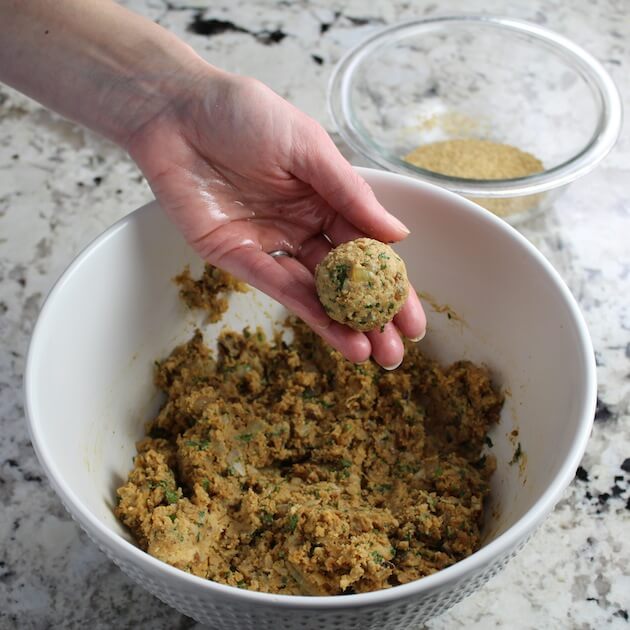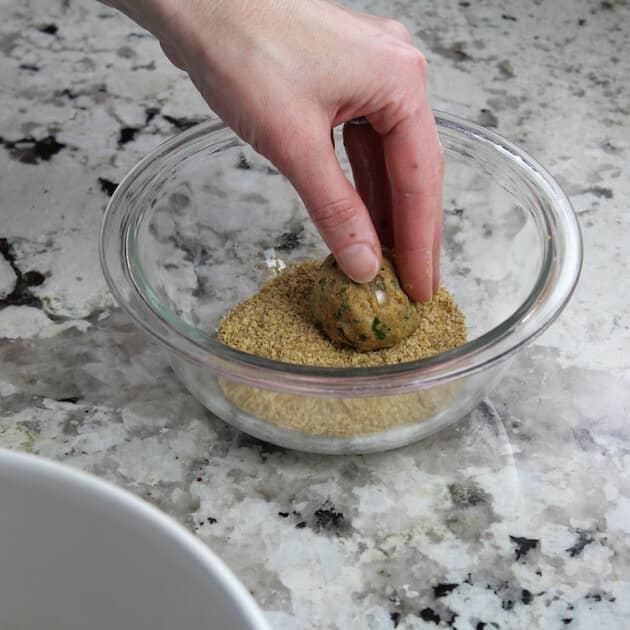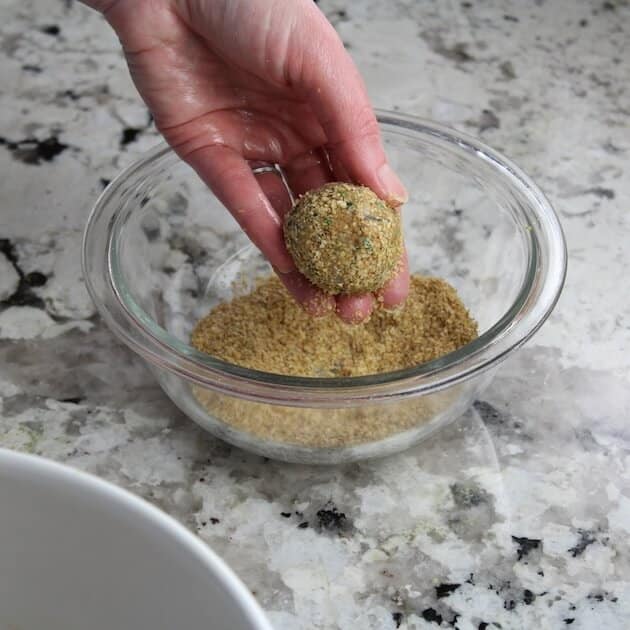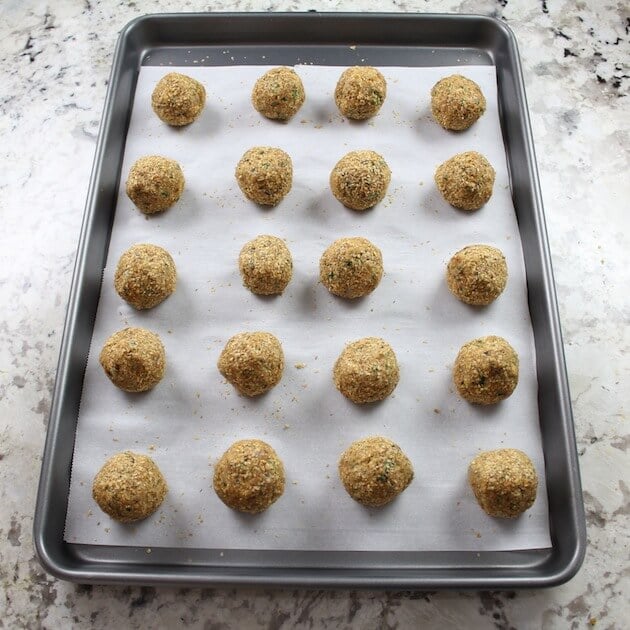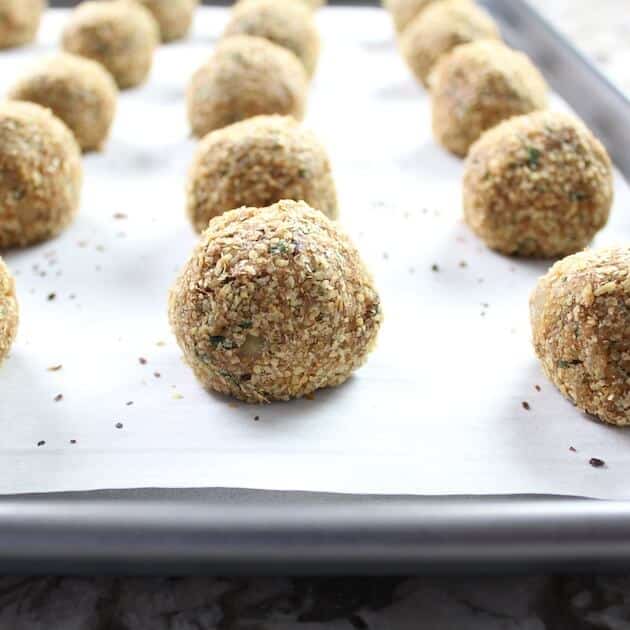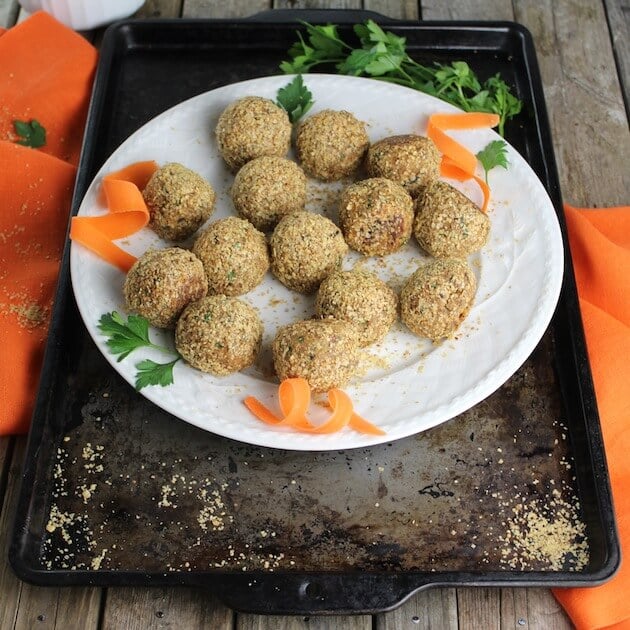 The tahini is really the secret sauce.✨ I have to admit to you, after I made it I poured it into a small mason jar and it wouldn't all fit. I had about ¼ cup left over. So while I was making the veggie meatballs I drank the rest.
Yes – you read that right. You can take the girl out of the hood but you can't take the hood out of the girl (that's a little Detroit speak for ya)! Just kidding, I'm trying to distract you from the fact that I drank tahini sauce. But I'd do it again - right now - if I didn't need the rest for the pictures in this post!!
It's pretty amazing. You're gonna make it and use it on everything: salads, hamburgers, eggs and toast…it's that good.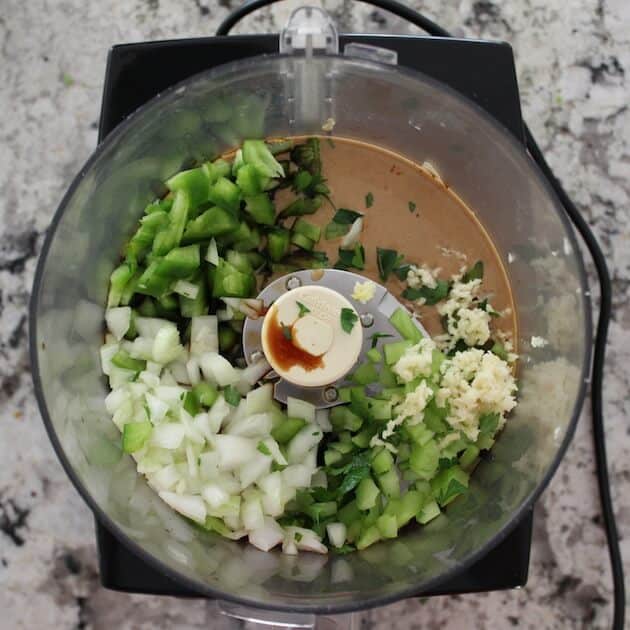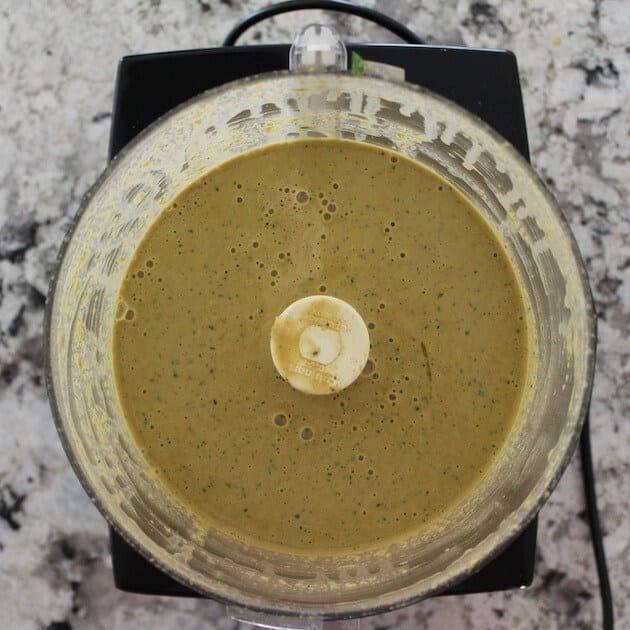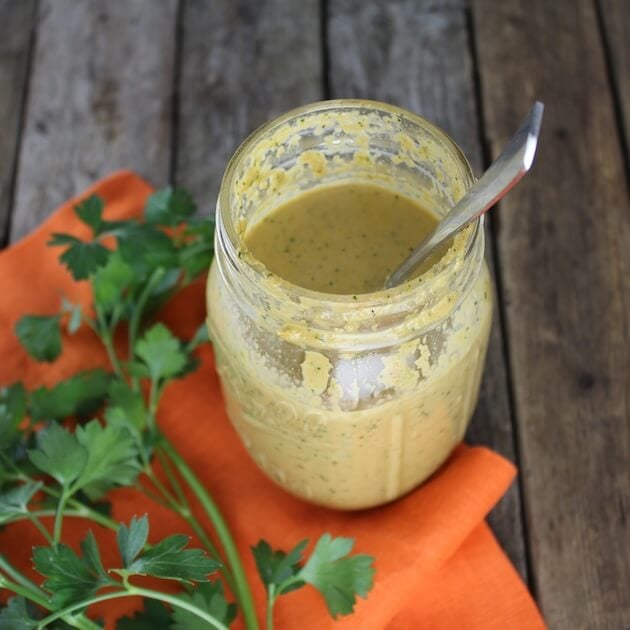 I know – just like the show House Hunters – I've given you a lot to think about. LOL What meatballs will you make this weekend for your Final Four Partay??? Will it be the New And Amazing Vegetarian Meatballs With Lemon Tahini Sauce? Or maybe the Sweet And Tangy Asian Meatballs? I mean - it's so hard to decide…the Buffalo Chicken Meatballs are pretty ridiculously delicious and then there are the Lamb Meatballs With Tzatziki that will forever be a fan favorite. Not to mention the unforgettable classic, Parmigiana Italian Meatball Subs. Oh-dada-bada-dear pooh! What's a hungry person to do???? I know: have a Meatball Bar and make them all!!!!
Whatever meatball you end up celebrating with, I do know one thing: you and your friends will not go hungry! Happy March Madness and Happy Eating my friend!
Yield: 11 servings
Vegetarian Meatballs With Lemon Tahini Sauce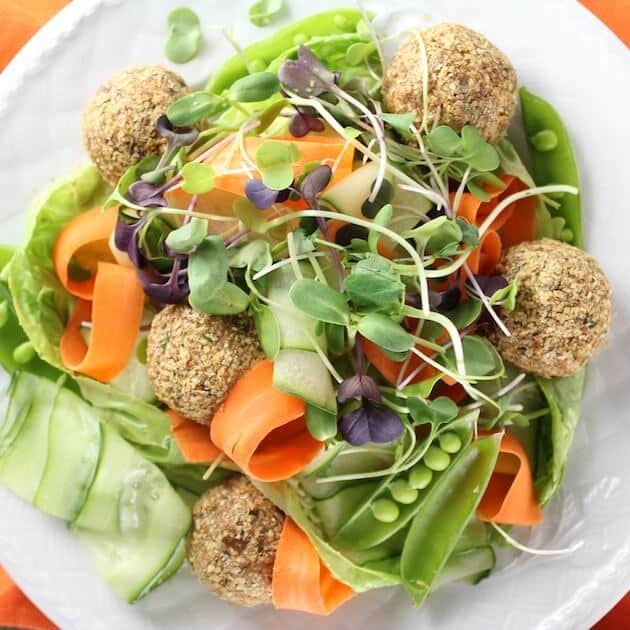 Vegetarian Meatballs full of flavor & protein! Garbanzo beans, tamari, tahini, & whole grain rice, plus Tahini Sauce. Perfect for salads, pitas, or wraps.
Ingredients
For The "Meatballs:"
2 tablespoons olive oil
1 medium onion,, finely chopped
4 small cloves garlic, finely chopped (or ½ teaspoon garlic powder)
⅓ cup fresh parsley leaves and stems, finely chopped (keep the chopped stems separate)
1 15 ounce can garbanzo beans, drained, rinsed and ground or coarsely chopped
3 slices whole wheat bread, blended in food processor
⅓ cup sesame Tahini
¼ cup Tamari, (or low sodium soy sauce)
1 cup cooked whole grain or brown rice
1 teaspoon pepper
⅓ cup raw wheat germ
For The Lemon Tahini Sauce:
¼ cup sesame Tahini
⅓ cup Tamari
½ small onion, finely chopped
¼ of a green pepper, finely chopped
1 stalk celery, finely chopped
3 tablespoons finely chopped parsley
2 cloves garlic, minced
⅓ cup lemon juice
½ teaspoon black pepper
½ cup extra virgin olive oil
Instructions
For The "Meatballs:"
Gently saute onions, garlic, and parsley stems in olive oil until the onions are slightly browned.
In a large bowl, mix onions together with remainder of ingredients EXCEPT the wheat germ.
Spray hands with cooking spray to make handling the veggie balls easier. Use a 1½ inch scoop to ensure each meatball is the same size, and roll them by hand to give them a nice round shape (this recipe should yield 20-22 veggie balls).
Coat each veggie ball in raw wheat germ and bake on a parchment-lined baking sheet for 10 minutes at 400 degrees, or until heated through.
Serve over a bed of bibb lettuce, pea shoots, microgreens, snap peas, ribbons of cucumbers & carrots, or in pitas with sautéed green peppers and onions. Finish with Lemon Tahini Sauce & roasted sunflower seeds.
For The Lemon Tahini Sauce:
In a food processor, combine the Tahini, Tamari, onion, bell pepper, and celery. Puree well if you want a smoother texture.
Add the lemon juice, parsley and black pepper and process just until mixed.
With motor running, add oil slowly until desired consistency is reached.
Notes
Lemon Tahini Sauce adapated from Arthur Gordon, Irregardless Cafe, Raleigh N.C.
Nutrition Information
Yield
11
Serving Size
2 meatballs w/veggies
Amount Per Serving
Calories

299
Total Fat

20g
Saturated Fat

2g
Unsaturated Fat

0g
Sodium

729mg
Carbohydrates

24g
Fiber

2g
Sugar

1g
Protein

7g
Looking for more amazing meatball recipes?
Check out my March Meatball Madness Series!
Moroccan Lentils with Turkey Meatballs
Lamb Meatballs with Fava and Tzatziki