Got peppers??? Then you should definitely make these delicious Cheesy Ranch Stuffed Mini Peppers. Full of cream cheese, sun-dried tomatoes, green onions, ranch seasoning and bacon – what's not to love!?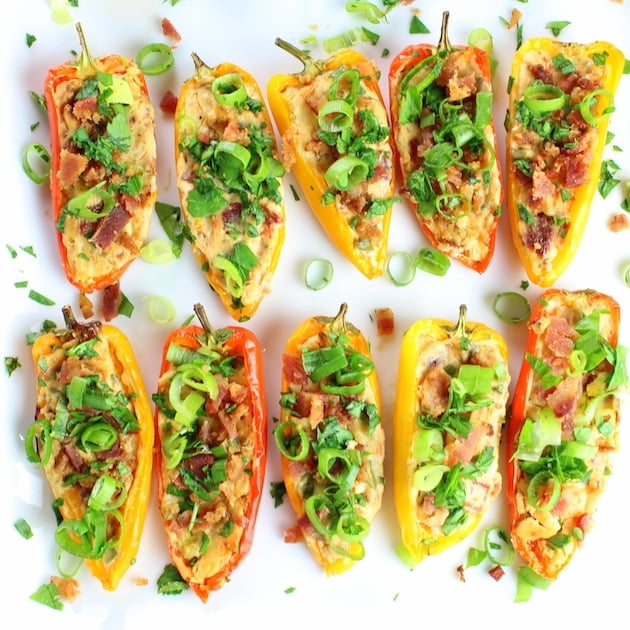 I'm not sure about you, but going to Costco or BJ's is like a super-fun outing in our house. I mean they've got massive quantities of everything you never knew you always wanted! Plus if you time it right, there are snacks!!?
I really have to fight the urge to buy the 50-person cheesecake and the 30-pack of croissants. I mean you never know when you might wanna supply your whole neighborhood with some ham and cheese croissant sandwiches, right?
I'm not sure what happens to my reasoning skills when I enter that store. But for some reason buying a brick of cheese the size of my head seems like a really good decision.? It's like that movie Yes Man – I can't say no to anything!?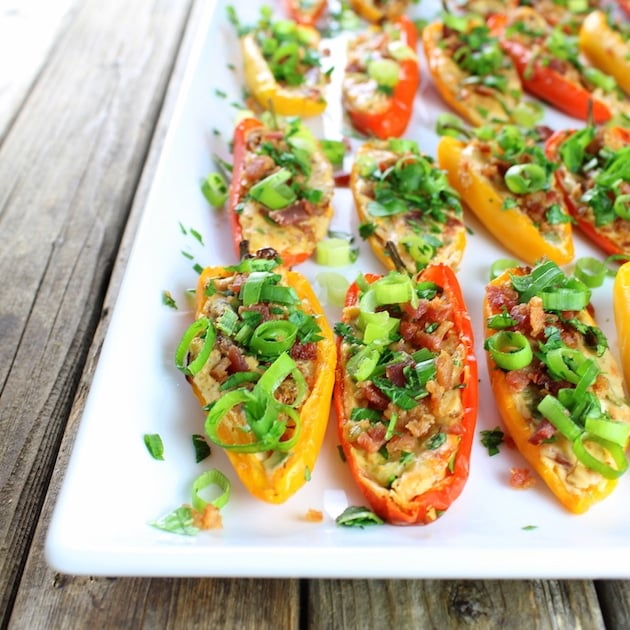 I must admit buying certain things is a "best yes." Like for instance their over-sized packaged produce. It's great for several reasons: one the price is right, two they offer organic options, and three since I detest wasting things, I eat all my veggies. Win, win, win!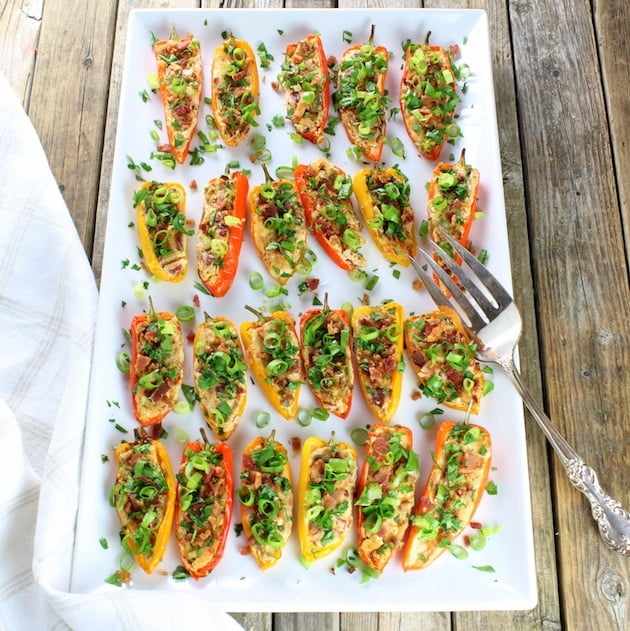 Last time I was there I picked up a pound and a half bag of mini peppers. This is not a regular purchase for me but they were so cute and colorful - I couldn't resist. And since wasting things is not an option, I went to work on a new appetizer recipe.
I give you… Cheesy Ranch Stuffed Mini Peppers.✨ I absolutely love these little nuggets of goodness! They are literally baby boats of cheesy yumminess that I am now addicted to (thank you Costco). And if you don't eat them all yourself, they make a perfect appetizer for a dinner with family or friends.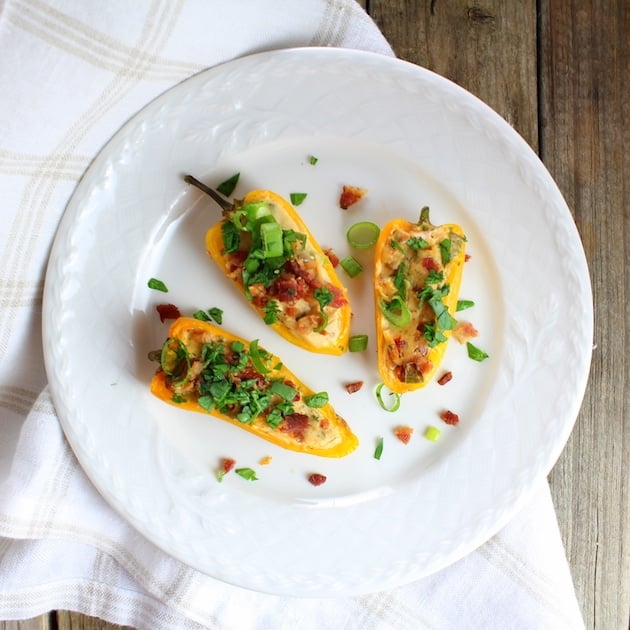 The stuffing for these beauties was inspired by a veggie dip I make, with virtually the same ingredients.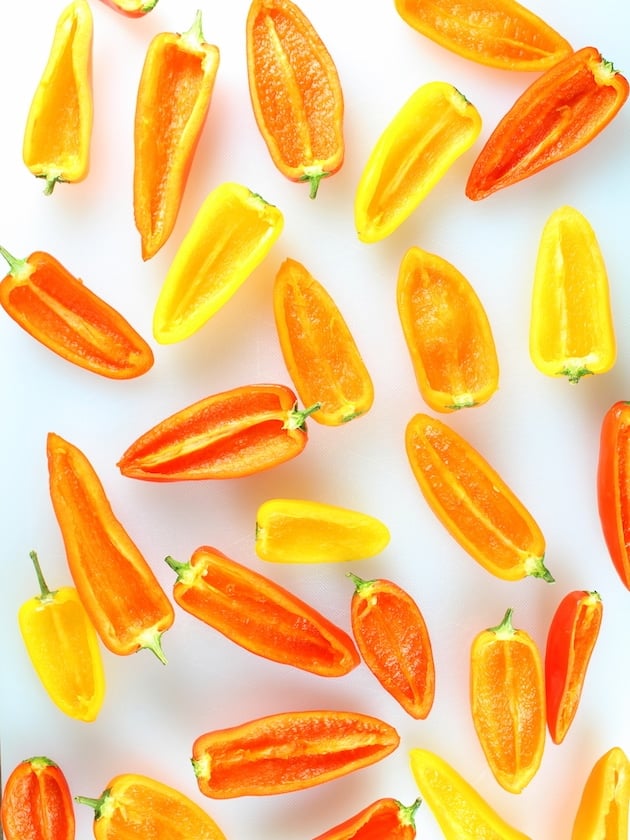 You mix together 1½ tablespoons of ranch seasoning from the Hidden Valley Ranch dip packet (not dressing packet) with cream cheese, sour cream, finely chopped sun-dried tomatoes, green onions and cooked bacon. Then stuff those bad boys and bake for 10 minutes.
Finally garnish with more green onions, chopped bacon, some minced parsley and they're ready to enjoy!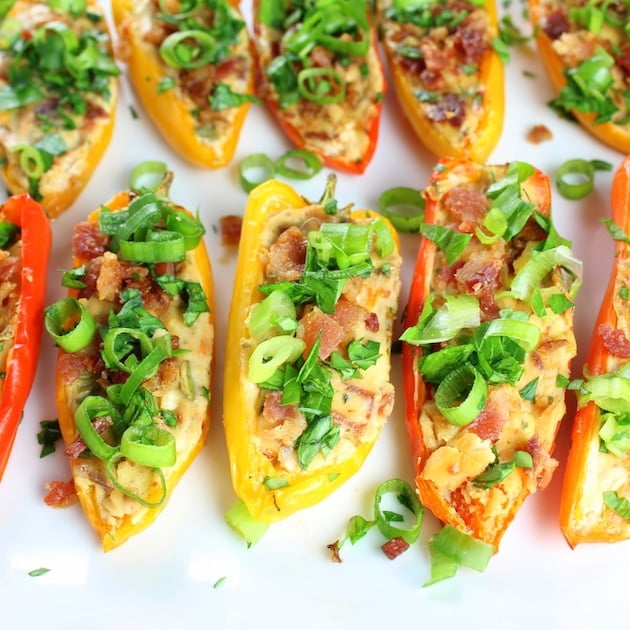 Cheesy Ranch Stuffed Mini Peppers – the perfect salty sweet creamy way to eat your veggies!
I would love to connect with you! Leave a comment and follow me on Instagram, Twitter, Facebook, & Pinterest!
Yield: 10 servings
Cheesy Ranch Stuffed Mini Peppers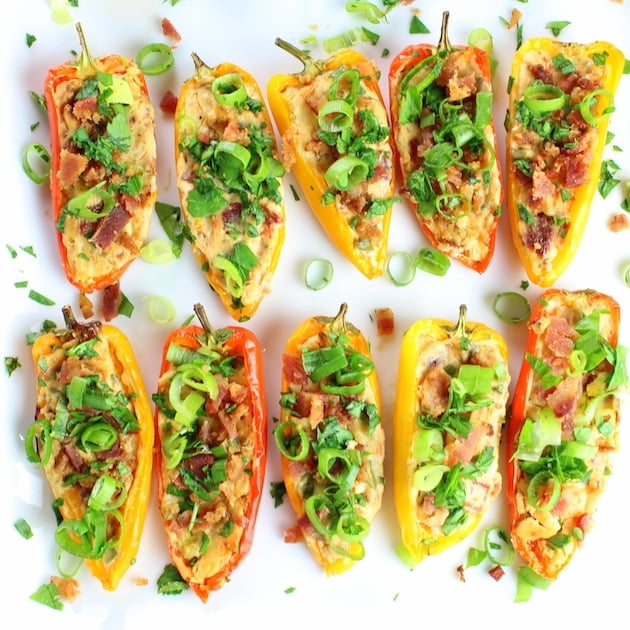 Cheesy Ranch Stuffed Mini Peppers - Full of cream cheese, sun-dried tomatoes, green onions, ranch seasoning & bacon – what's not to love!?
Ingredients
1 lb of mini peppers, (16-18 peppers total)
¼ cup sour cream
8 ounces cream cheese, (bring to room temperature)
1 ½ tablespoons ranch dip powder, (sold in a packet near the salad dressing area)
8 pieces of bacon, cooked and finely chopped (reserve ⅓ for garnish)
1 ½ ounces sun-dried tomatoes in olive oil,, finely chopped
4 green onions, finely sliced (reserve ⅓ for garnish)
2 tablespoons parsley, finely chopped for garnish, (optional)
Instructions
Preheat oven to 400 degrees.
Cut peppers in half lengthwise, keeping the stem intact. Remove the veins and seeds.
Mix together sour cream, cream cheese, ranch dip powder, bacon, sun-dried tomatoes, and green onions.
Spoon mixture into each pepper but do not overfill (filling should not be above the edges of the pepper).
Place stuffed peppers on a parchment-lined baking sheet and bake for 10 minutes. Remove from the oven, garnish and serve.
Nutrition Information
Yield
10
Serving Size
2 peppers
Amount Per Serving
Calories

140
Total Fat

9g
Saturated Fat

5g
Unsaturated Fat

0g
Cholesterol

27mg
Sodium

90mg
Carbohydrates

6g
Fiber

1g
Sugar

4g
Protein

2g
Looking for other delicious recipes with peppers? Check out our Smoked Mozzarella Chorizo Peppers!