No need to turn that oven on quite yet… We're grilling up some yummy Smoked Mozzarella Chorizo Peppers topped off with cilantro and green onions.♨️ These delicious boats of goodness are packed with amazing flavor and full of all kinds of healthiness.
I met my girl G for dinner Monday night.
We were so engrossed in conversation we almost forgot to order food. Not even joking. It was like 8pm and I realized my stomach was eating itself.
That's true friendship: when you choose quality time over food. Real talk.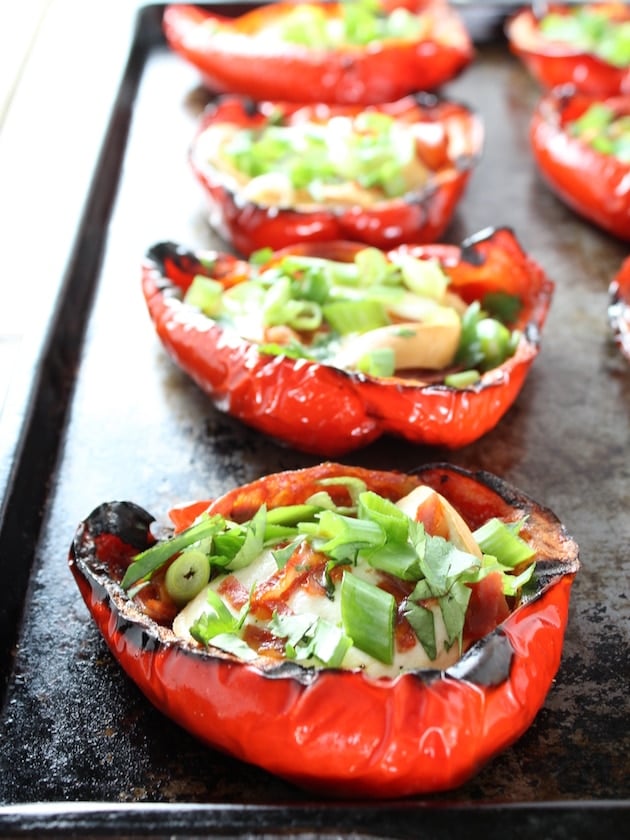 I was all like "How are you? What's new?"
And she was like "my AC is out."
Wait…what? Don't even play. Things just got real – quick.
I felt little beads of sweat starting to form on my forehead as she was telling me about it.
Let me just give you some backstory... there is one thing (ok there's more than one thing but this is like the main thing) that will make me and my friend Gretchen go outside our minds. That would be the lack of air conditioning in a hot (ok warm) environment that we have to reside in.
I need a moment just thinking about it - getting up right now to get an ice pack at the very thought of it.❄️
So when you're 20 years old, you're always taking sweaters or jackets with you when you go out to eat in the summer. And you don't mind going to the pool when it's 100 degrees out with 100 percent humidity.☀️ But sometime later in life, that all starts to change.
You start noticing places that don't have good air control. You start planning your outfits around it. Your friends invite you over for dinner, they don't have AC, so you know you either have to wear your bathing suit (cause wet clothes would be embarrassing) or convince them to meet out at a restaurant (true story people).
If I know someone keeps their house warm in the summer, I pull out my skimpiest ninja gear: I'm shoulder-to-mid-thigh in black. I absolutely have to wear black 'cause that's the only thing that won't show I've completely sweat through all my clothes.
I'm sure you're thinking – "uhhh, 1st world problems." And you're totally right. But as long as I live in the good ole' US-of-A, I'll be cranking my AC down to 68 thank you very much.☃️
Trust me it's really better for everyone that way.
Back to my girls night out…
Gretchen proceeds to tell me that while her husband Herman was taking a phone call in the basement he thought it was a bit chilly, so he turned the basement heat on!!!♨️ Can you believe it I don't even know what to say.
It's 90 degrees outside and Herman is cold in the basement. The only sanctuary the family had from the heat was now just as warm - or warmer - than the rest of the house. I literally don't have words.
Let's all go get some Slurpees from 7-Eleven and stick our heads in the freezer. LOL
Regardless of her AC issues at home, Gretchen pushed through. We had a great night… chatting, laughing and eating in a comfortable 70 degrees. Thank you Panera Bread!!
PS: Just a tip for Panera from a girl with temperature issues: you could save some energy and turn your fireplace off since it's July!☀️
I'm seriously so grateful for air conditioning, indoor plumbing and grills to cook on in the summer so we don't heat up our houses.
I thought it would be very fitting to share a grilling recipe today. I just can't get enough of these Smoked Mozzarella Chorizo Peppers. They are super easy and so so good!
These peppers boats are just begging to be stuffed with some yumminess. And chorizo and smoked mozzarella are super tasty and the perfect fillings for these crimson veggies.
If that isn't reason enough to give these peppers a try than maybe this is… Red peppers contain more than your daily requirement of vitamin C, are high in vitamin A and a great source of B6 and folate. Plus their beautiful scarlet color means they are also a great source of lycopene – so they're basically a superfood.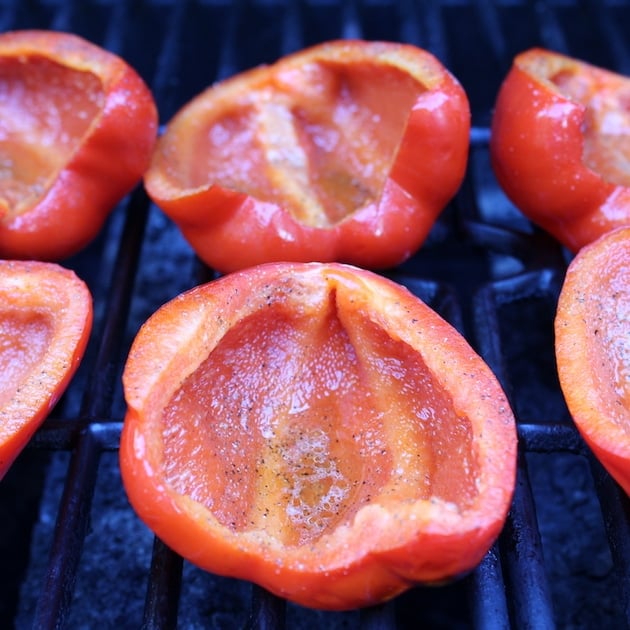 Another similar recipe I make with these nutrient rich lovely ladies is a take on a Caprese salad… I grill the peppers and layer them with basil, fresh mozzarella and balsamic vinegar. My niece loves them because like many young people, she's not a fan of the traditional Caprese salad due to the tomatoes, but she adores all the other ingredients.❤️
For today's version I slice the peppers in half lengthwise, spray them with a high heat cooking spray, and salt and pepper them. I preheat my gill to 450 degrees and grill them for 5 minutes a side.
While they're cooking I slice up my fresh mozzarella cheese, cilantro and green onions. I use thin pre-sliced chorizo from the deli so no work required there. Next I add one slice of the chorizo, then cheese to each pepper.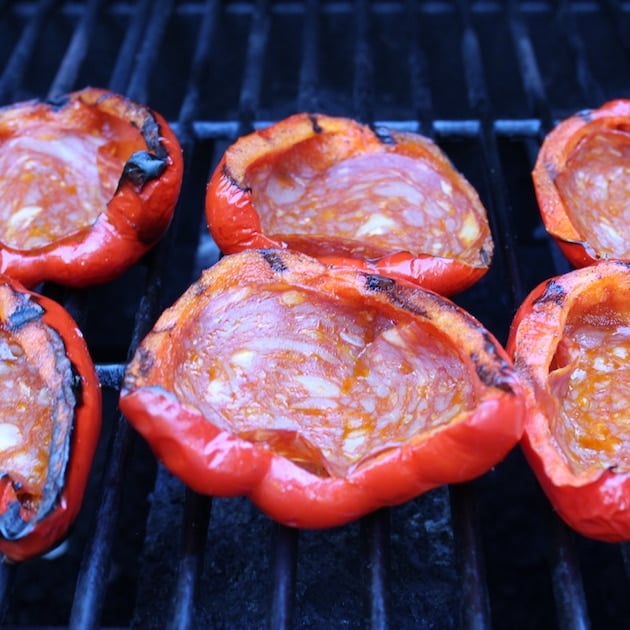 I close the grill and let them cook for another 2 minutes. Then remove from the grill, garnish and serve.
Grilled Smoky Mozzarella Chorizo Peppers are a perfect side dish for some sirloin steaks or Grilled Rosemary Lemon Chicken Thighs. They're brimming with tons of flavor and have so many wonderful health benefits.
Heat up that grill and be sure to give these ladies in red a try!
And if you need a full meal based on bell peppers, check out these lasagna stuffed peppers!
I would love to connect with you! Leave a comment and follow me on Instagram, Twitter, Facebook, and Pinterest!
Yield: 6 servings
Smoked Mozzarella Chorizo Peppers Recipe
Smoked Mozzarella Chorizo Peppers - topped off with cilantro and green onions. Packed with amazing flavor and full of all kinds of healthiness!
Ingredients
8 large red peppers, (use orange or yellow peppers if preferred)
Cooking/grilling spray
Salt and pepper
8 ounce ball of fresh smoked mozzarella
2-3 ounces (10 slices) thinly sliced chorizo, (Use 8 slices for recipe and 2 chopped for garnish)
2 green onions, sliced
¼ cup cilantro, chopped
Instructions
Wash, dry and cut peppers in half lengthwise. Carefully remove all stems, seeds and veins. Spray both sides with grilling spray and salt & pepper.
Heat grill to 450 degrees.
Place peppers on the grill skin side up, close the grill and cook for 4-5 minutes. Turn peppers over and grill (lid closed) for 4-5 more minutes.
While the peppers are cooking, cut mozzarella into 8 slices – roughly ½ inch thick.
Add one slice of chorizo, then one slice of mozzarella to each pepper. Close the grill and cook for 2-3 more minutes.
Remove from the grill and top with sliced onions, the rest of the chopped chorizo and chopped cilantro. Enjoy!
Notes
You can also bake these peppers in the oven at 450 degrees. Just use a baking sheet lined with parchment paper and cook for 10-15 minutes, or until soft. Add the chorizo and cheese and cook for 2-3 more minutes, until cheese is slightly melted. Garnish and serve.
Nutrition Information
Yield
6
Serving Size
1 half pepper
Amount Per Serving
Calories

207
Total Fat

12g
Saturated Fat

6g
Unsaturated Fat

0g
Cholesterol

38mg
Sodium

361mg
Carbohydrates

10g
Fiber

3g
Sugar

7g
Protein

12g
Looking for another awesome grilled veggie dish? Check out this Grilled Broccoli with Garlic Roasted Red Pepper Sauce!