Dinner just got a little easier with this all-in-one-meal - Sausage and Peppers with Zucchini Noodles – a quick and easy meal the whole family will love.
I noticed on FaceBook (the world's most reliable news source) that last Thursday was the first day back to school for some kiddos living in the south. How is that even possible? Where did summer go?
It's only August 8th… how can it be that time already! There's still s'mores to roast, beaches to visit, ice cream to scoop, and corn on the cob to devour.
I'm not sure how to cope with this. Hmm maybe some Strawberry Peach Rose' Sangria would help?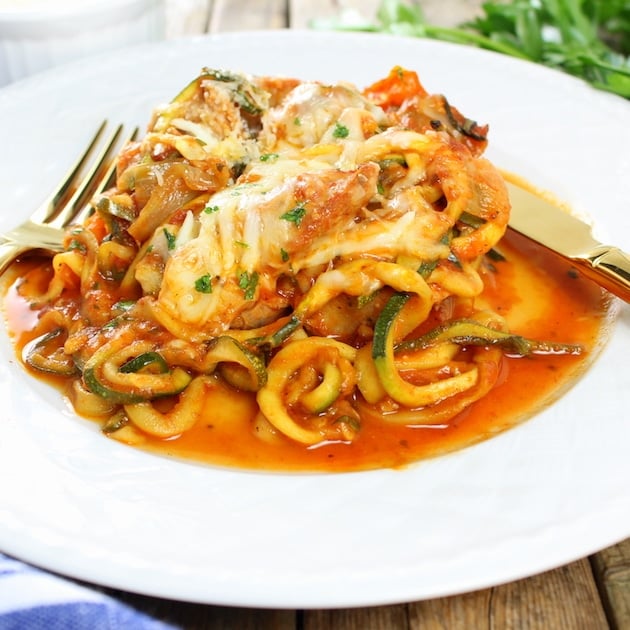 Well as the saying goes… If you can't beat 'em join 'em.
So in honor of all you parents who are busily shopping for pencils, notebooks and juice boxes… Here's a quick, easy, lighter one-pan-meal that the whole family will love… Sausage and Peppers with Zucchini Noodles!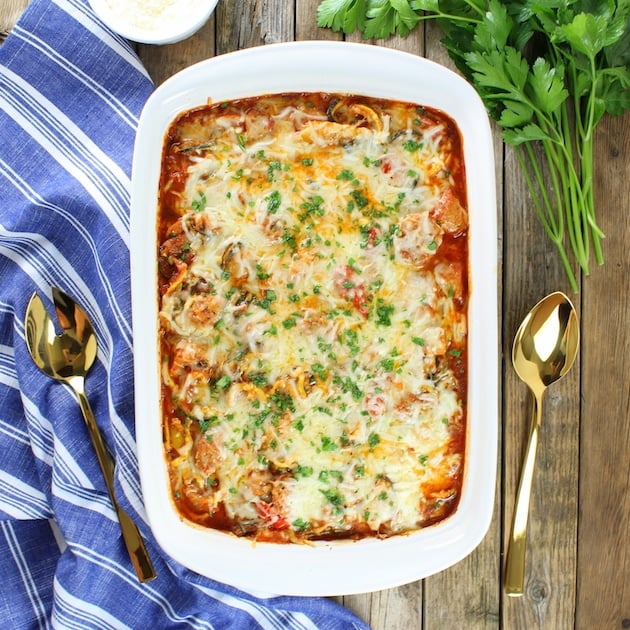 It's hearty and lighter and full of so much scrumptious flavor. Zesty chicken sausage, fresh peppers, onions and garlic, and hearty Pasta Sauce all tossed with some fresh zucchini noodles, and topped off with some yummy melted cheese. I just drooled a little. No joke.✌️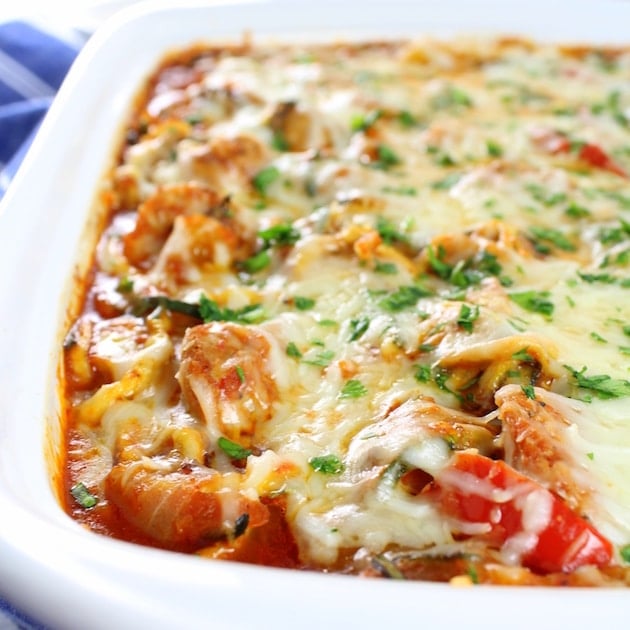 This all-in-one-dinner comes together quite nicely.
First you cook your sausage links in a pan on the stove.
Set the chicken sausage aside, and cook the peppers, onions and garlic in the same pan. Go a head and season the veggies with a little salt and pepper.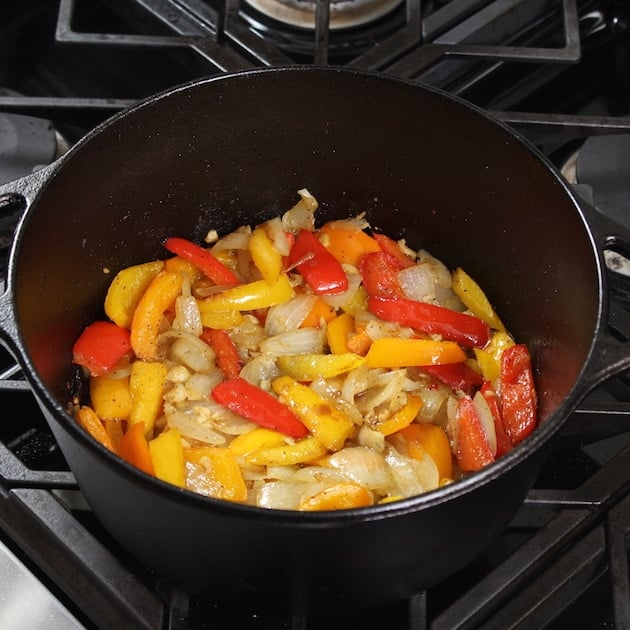 Meanwhile zoodle away a few zukes.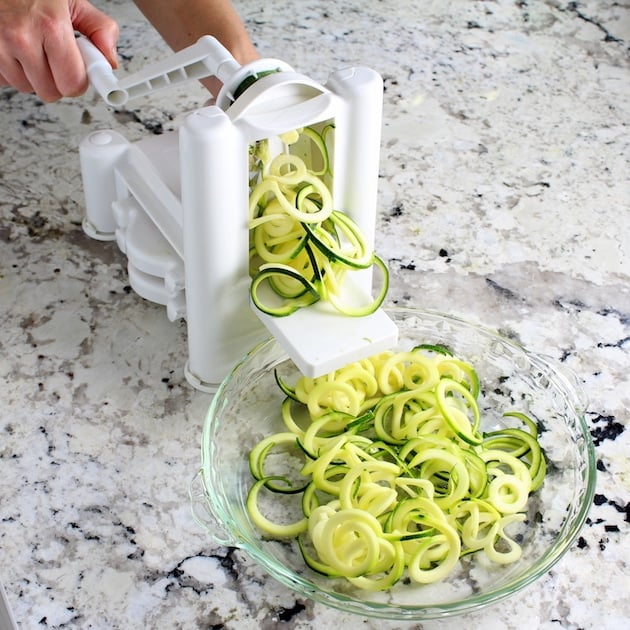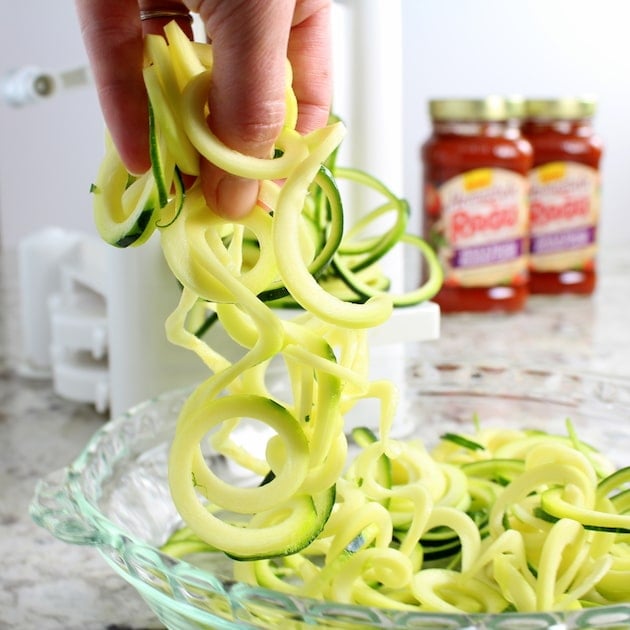 Then pour in the pasta sauce. Because it's seasoned perfectly there's no need to doctor these sauces – just heat and serve straight from the jar.
I told you this was gonna be quick and easy.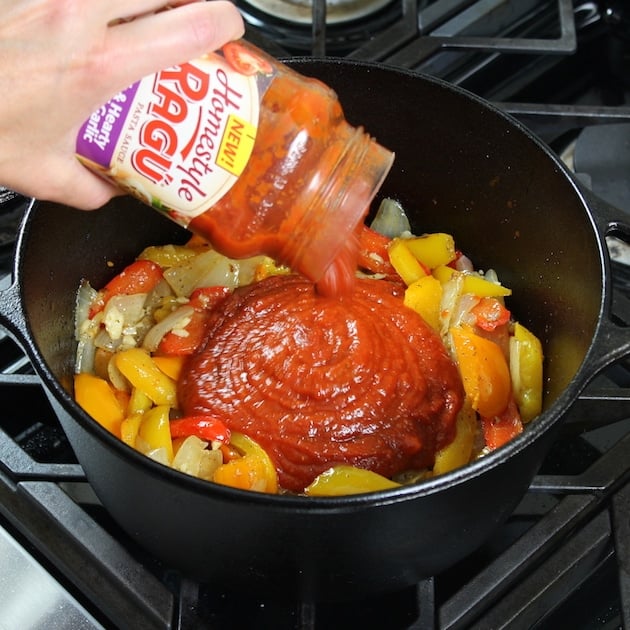 Now slice up your sausage and add it back into the sauce mixture.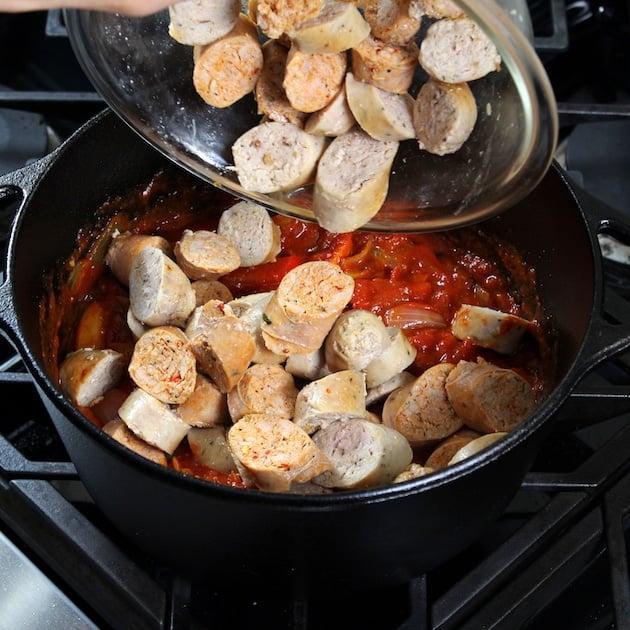 Now fold in the zucchini noodles plus some fresh basil.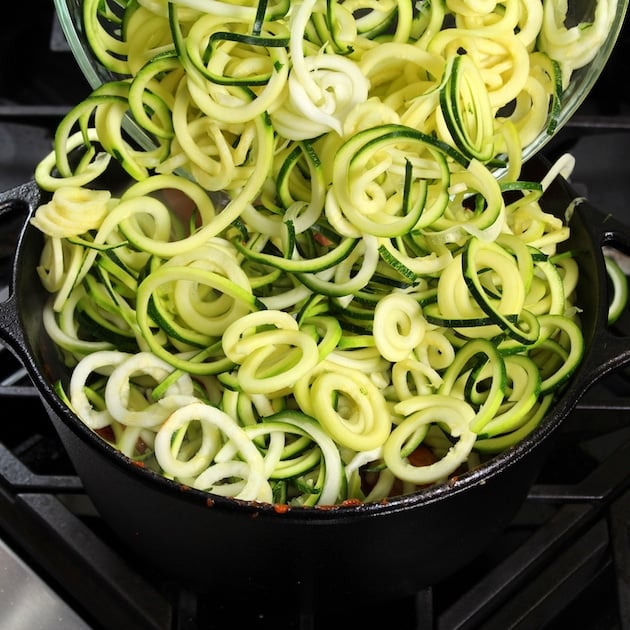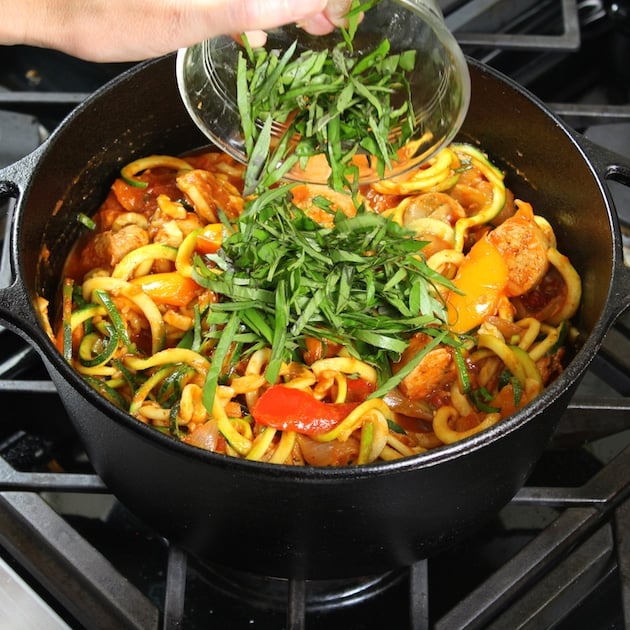 One of the many reasons I love me some Ragu Homestyle Sauce… it's thicker and heartier so it hugs the zoodles perfectly. And who doesn't like a good hug – right? (Well, probably your teenage son but he'll grow out of that.)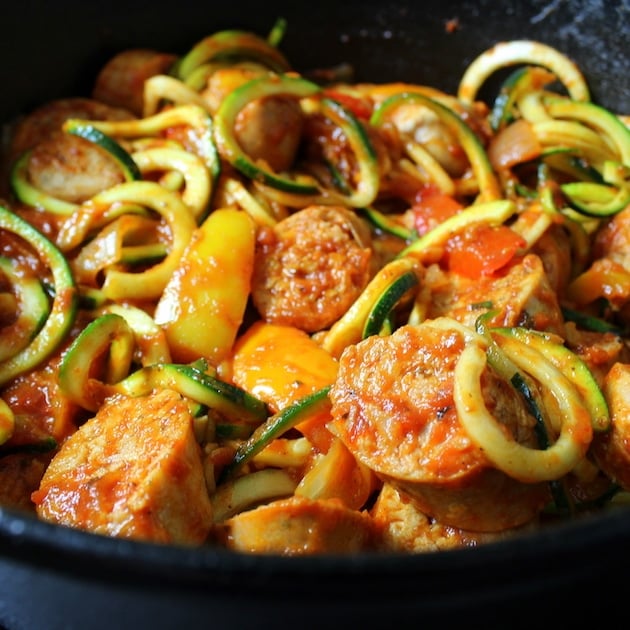 Finally pour all this goodness into a baking dish.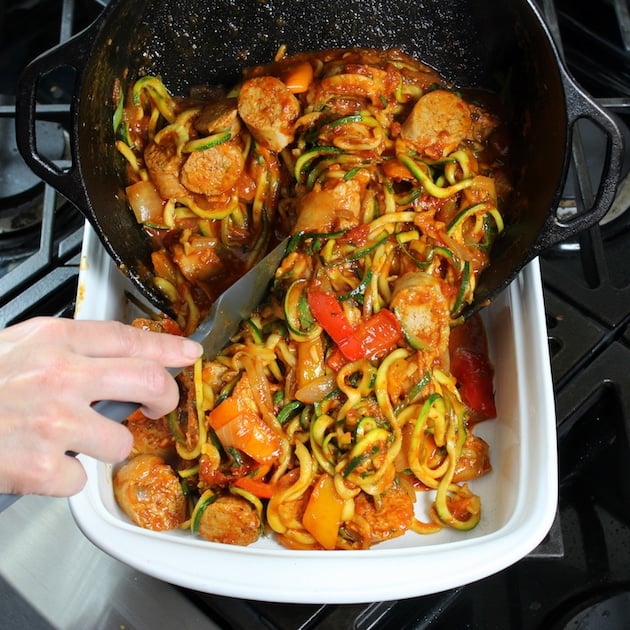 Now top it with some mozzarella, Asiago and Parmesan cheese and bake the whole dish of sausage and peppers in the oven for 10 minutes - just long enough for the cheese to melt.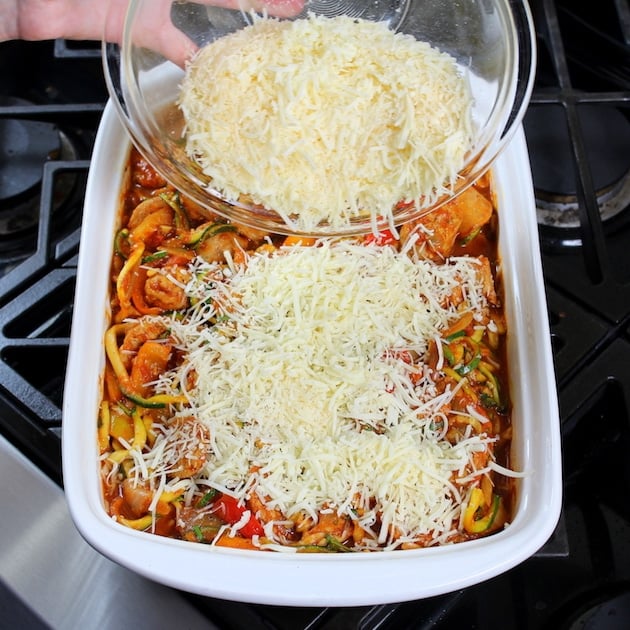 Chicken Sausage and Peppers with Zucchini Noodles - Heavenly hearty cheesy zoodle perfection!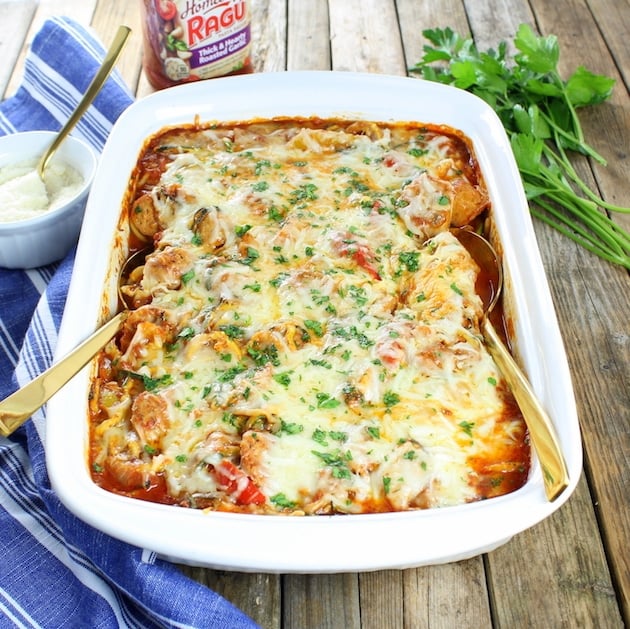 Not only will this quick weeknight meal make lots of tummies happy, but it also goes easy on the budget… leaving a little more funds in the wallet for that new iPad cover and those adorable high-top Converse.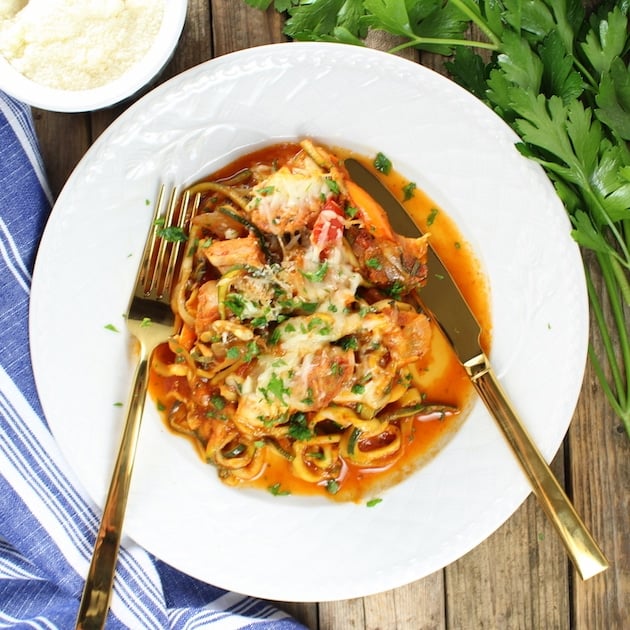 Sausage and Peppers with Zucchini Noodles is a great way to start out your New Year!
I would love to connect with you! Leave a comment and follow me on Instagram, Twitter, Facebook, and Pinterest!
Yield: 8 servings
Sausage and Peppers with Zucchini Noodles
A quick and easy meal the whole family will love!
Ingredients
1 tablespoon olive oil
1 pound spicy Italian chicken sausage
1 pound sweet Italian chicken sausage
3 Peppers (red, orange and yellow), chopped into 1-inch x 2-inch strips
2 medium onions, rough chopped into 1-inch pieces
6 cloves garlic, smashed and rough chopped
1 teaspoon salt and pepper
5 small zucchinis, zoodled (or 4 medium-sized zucchinis)
1 jar pasta sauce (I used Ragu Thick & Hearty Roasted Garlic for this recipe.)
10 leaves fresh basil cut into long thin strips (reserve some for garnish)
4 ounces of each of these cheeses, shredded: Mozzarella, Parmesan and Asiago
Instructions
Preheat oven to 375 degrees.
Cook sausage in olive oil for 10-12 minutes over medium-high heat (turning over once) and set aside.
Cook peppers and onions in the same pan for 8 minutes. Add garlic, salt and pepper and cook for 4 more minutes.
While the vegetables are cooking, zoodle your zucchini. Then cut the strands into ~8 inch pieces (this does not have to be precise, but cutting the zoodles now will make it easier to serve).
Stir the Ragu Homestyle Sauce into the pan with the peppers and onions. Slice the sausage into ½-inch pieces and add to the pan as well.
Fold zucchini noodles and basil into the mixture and allow to cook for 4 minutes on medium-low. Transfer to a 9x13 baking dish, and top with cheese.
Bake on 375 degrees for 10-15 minutes, until cheese is melted. Garnish with reserved fresh basil and serve.
Notes
To shorten your prep time even more... Purchase frozen, bagged, cut up peppers and onions. They are still healthy and help to get this all-in-one meal on the table even quicker
Nutrition Information
Yield
8
Serving Size
6-8 ounces
Amount Per Serving
Calories

343
Total Fat

19g
Saturated Fat

4g
Unsaturated Fat

0g
Cholesterol

82mg
Sodium

1627mg
Carbohydrates

20g
Fiber

2g
Sugar

7g
Protein

25g
PS: if you liked this recipe and you're a fan of haddock fish, then check out this amazing fish piccata recipe!!