Tomato Feta Grilled Zucchini and Squash is a simple but mouthwatering combination!  Low on calories and big on flavor, these yummy boats of goodness will satisfy every time.?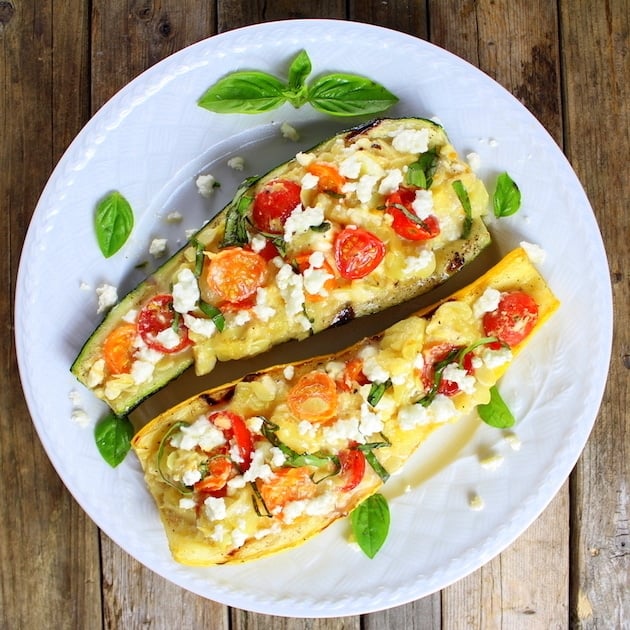 I don't know about you, but I'm seizing my last days of summer.☀️  We're hitting the beach, making s'mores and grilling to our hearts' content.
As this sunny season is coming to an end, so is our veggie garden.  The onions are ready to harvest, the corn has come and gone, the tomatoes are fewer and far between, and the zucchini and yellow squash have about produced their last fruit.  And since I've eaten my weight in zucchini this summer, I'm almost ok with that part.?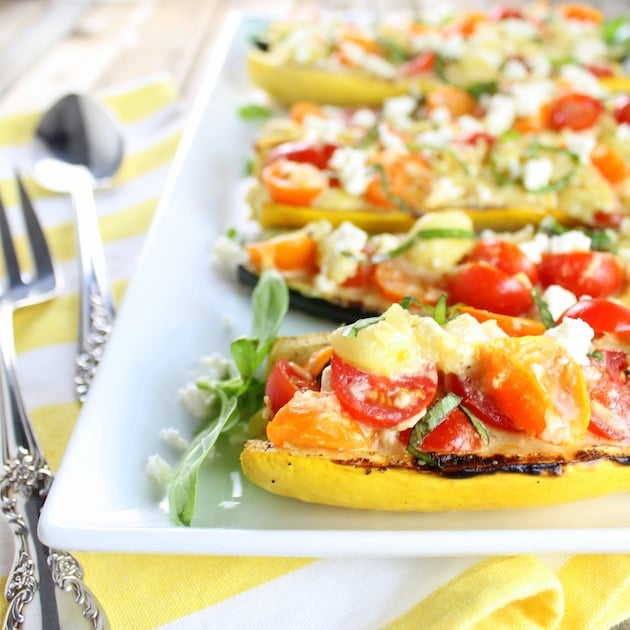 If you've ever grown squash then I'm sure you can relate.  They are quite prolific (and that might be an understatement)!  One day you're adoring the cute little squash starting to grow with their beautiful squash blossoms, and the next day (literally the nest day) you're using a wheelbarrow to carry your watermelon-sized squash into the house.?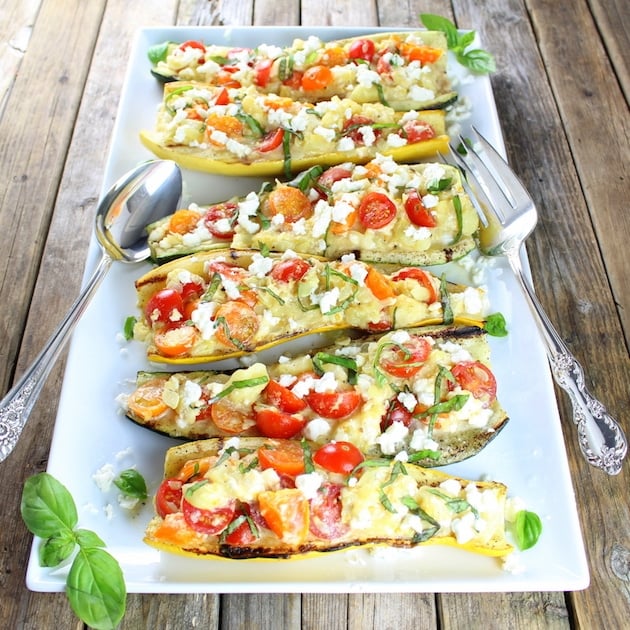 Since they grow really fast and can get pretty huge, we have to pick them daily when they're fruiting.  Fortunately, I have lots of neighbors and friends who enjoy them, so I've been sharing the squash bounty all summer long.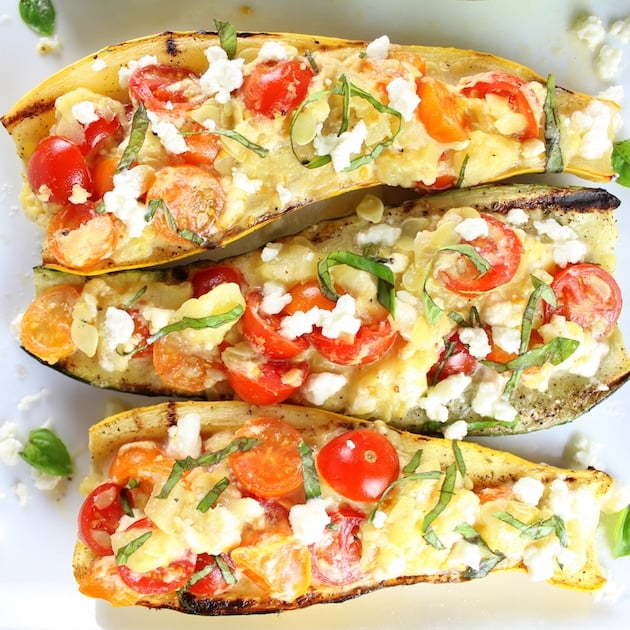 I've also been grilling, sautéing and baking them into boats, frittatas and breads.  Turning them into noodles and enjoying them in salads and casseroles.
The one recipe I can't seem to get enough of this summer is Tomato Feta Grilled Zucchini and Squash!  So simple and so delicious!?  It's a wonderful side dish to serve with Balsamic Baby Back Ribs or can also make a complete and satisfying meal all on its own.?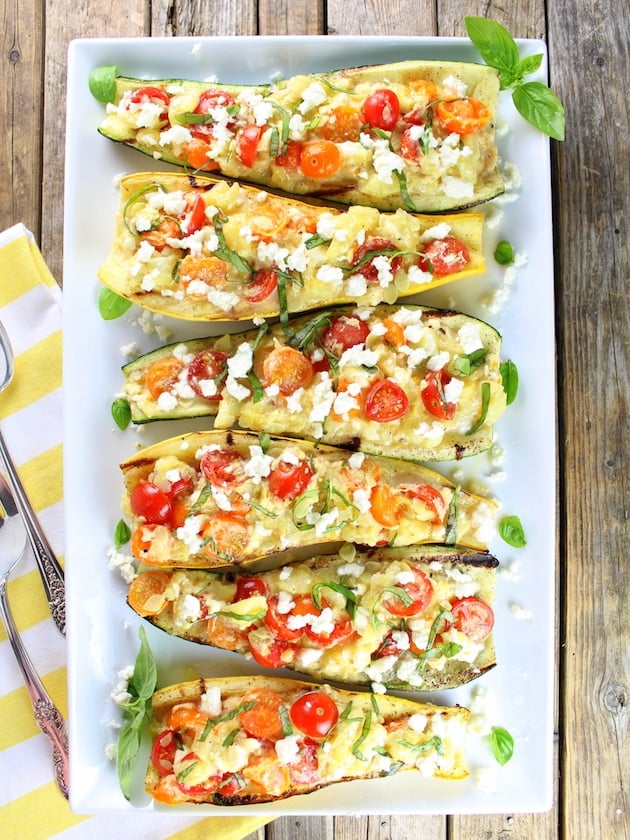 I really enjoy the flavor that grilling gives this mild summer squash.♨️  If you're wondering, "what to season grilled zucchini with?"  I say less is more.  A little salt and pepper, maybe a touch of garlic powder and you're good to go.
Grilled Zucchini is not only delicious but it's also very good for you.  It's high in water content and low in calories.  It's a good source of vitamins A and C, folate, potassium, and magnesium.  There are just so many reasons to love this summer staple.?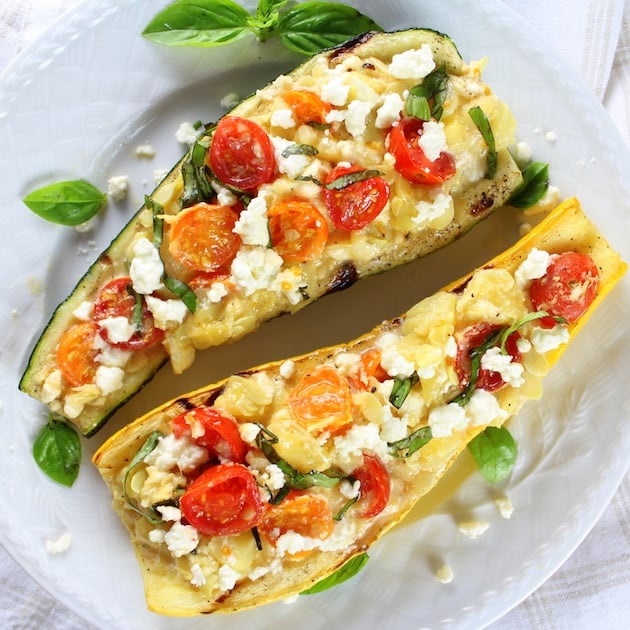 When I'm making this recipe I like to use small- to medium-sized squash and dukes.  I trim off the ends and slice them in half.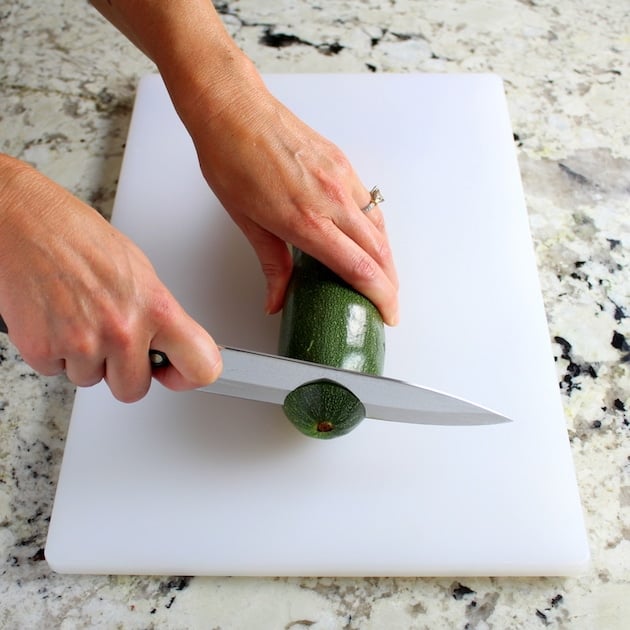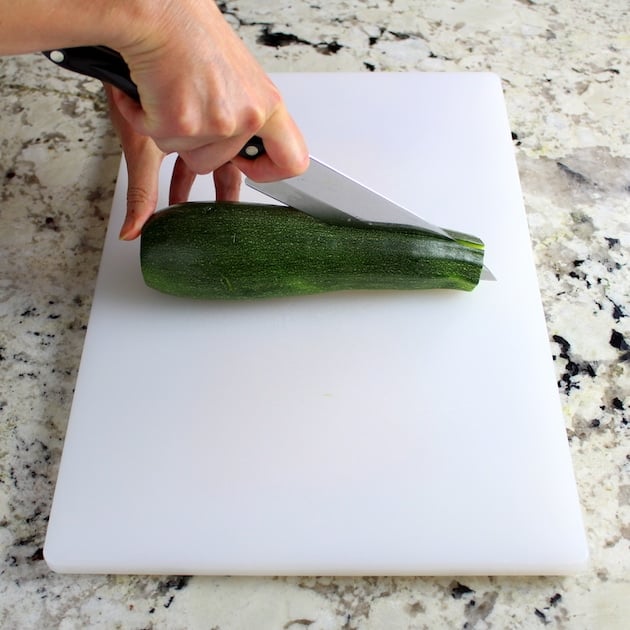 Carve out the centers so they look like little boats, then season with salt and pepper, and dust with cooking spray.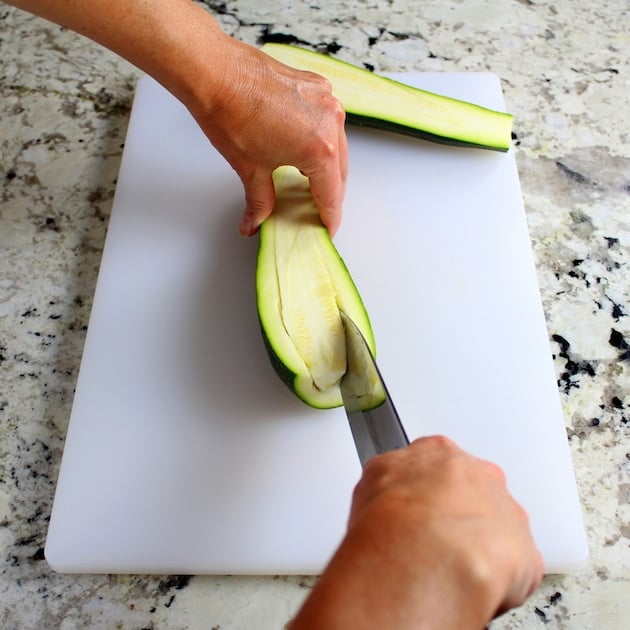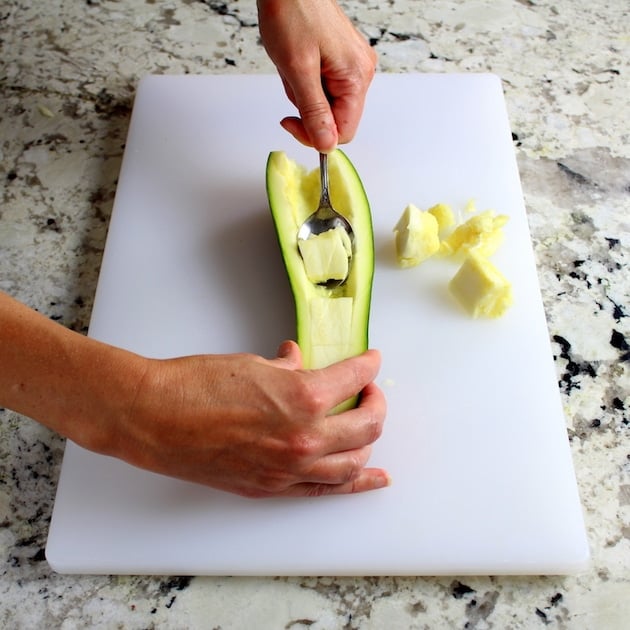 I heat the grill up to 450 degrees and cook the squash boats for 4 minutes per side.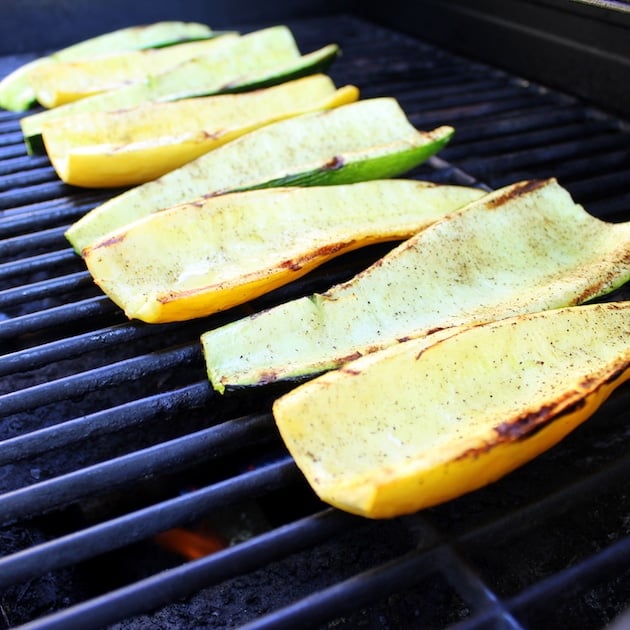 Meanwhile I rough chop the squash meat and sauté for 8 minutes in olive oil.  Then I crumble feta cheese and slice cherry tomatoes in half, and fold it all together.  The mixture gets spooned into the grilled zucchini and served warm.?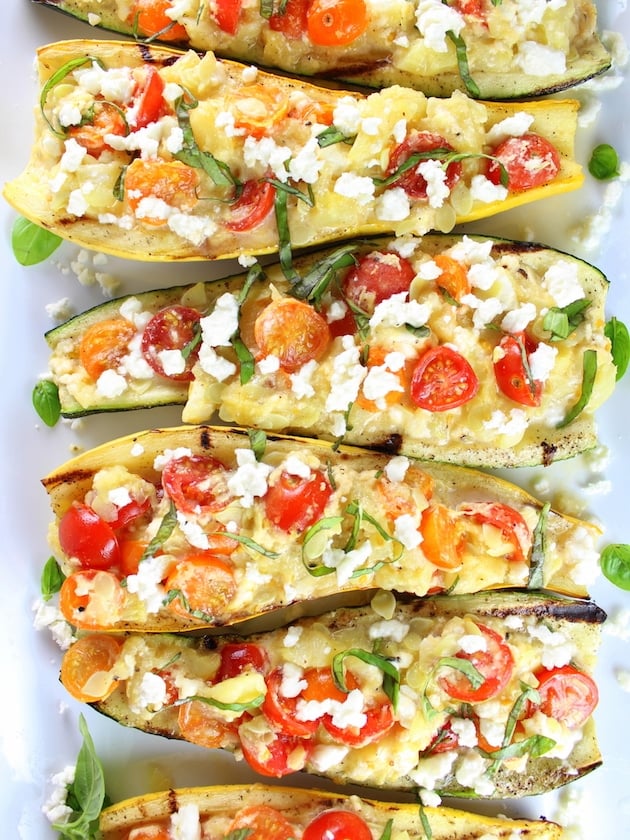 I absolutely love this salty feta and sweet tomato combo.  Honestly, I think grilled zucchini with feta and tomatoes is my all time favorite squash medley.  It's just so good!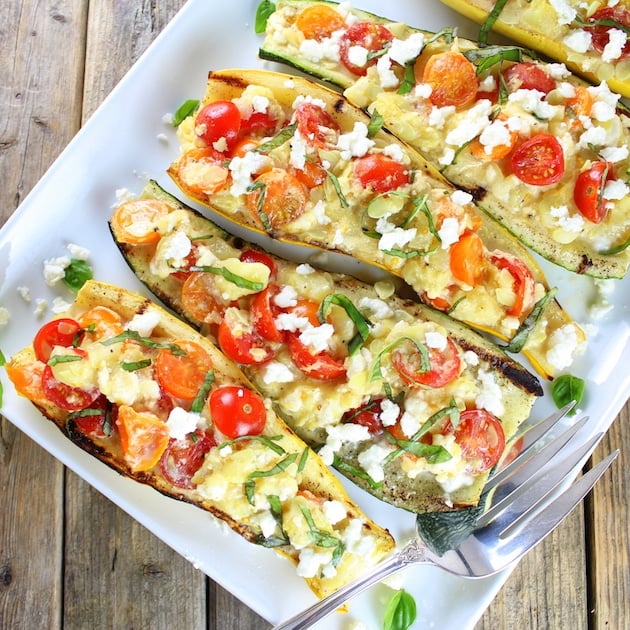 While the weather is still warm and the grill is still out, be sure to give these Tomato Feta Grilled Zucchini and Squash a try!?
I would love to connect with you!  Leave a comment and follow me on Instagram, Twitter, Facebook, & Pinterest!
Looking for more amazing summer veggie ideas?  Here you go!
Smoked Mozzarella Chorizo Peppers:

Grilled Chicken and Squash with Tomato Feta Pasta: