This one-pot Cheesy Turkey Noodle Casserole is creamy, hearty, and full of all kinds of deliciousness! With veggies, pasta, turkey (or chicken) and cheddar, this yummy meal is on the table in less than 30 minutes.
How was your Turkey Day?? Ours was full of yummy food, dear friends, family, and rich conversation. Oh, and Chuck Norris jokes. You know:
"While learning CPR, Chuck Norris actually brought the practice dummy to life..."
"Chuck Norris can light a fire by rubbing two ice cubes together..."
In case you're wondering, this is not a longstanding Thanksgiving tradition - but I'm thinking it should be. It provided some good laughs and a quick exit out of a few awkward conversations. Anytime the conversation would take a strange turn someone would say, "how about a Chuck Norris joke?"
Truth be told that only happened once, but true to form – Chuck Norris came to the rescue!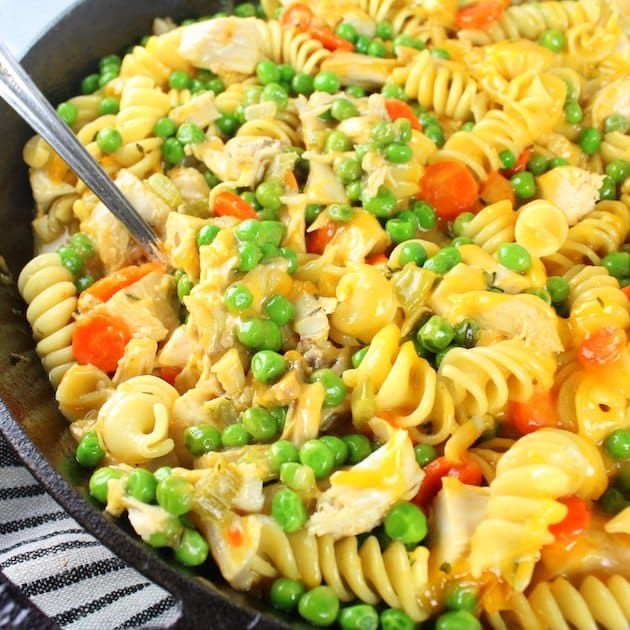 We also enjoyed some other inspirational reading during our fabulous feast. FIL printed and read the First Presidential Thanksgiving Proclamation from George Washington.
As you probably know, both Houses of Congress asked him "to recommend to the People of the United States a day of public thanksgiving and prayer to be observed by acknowledging with grateful hearts the many signal favors of Almighty God, especially by affording them an opportunity peaceably to establish a form of government for their safety and happiness."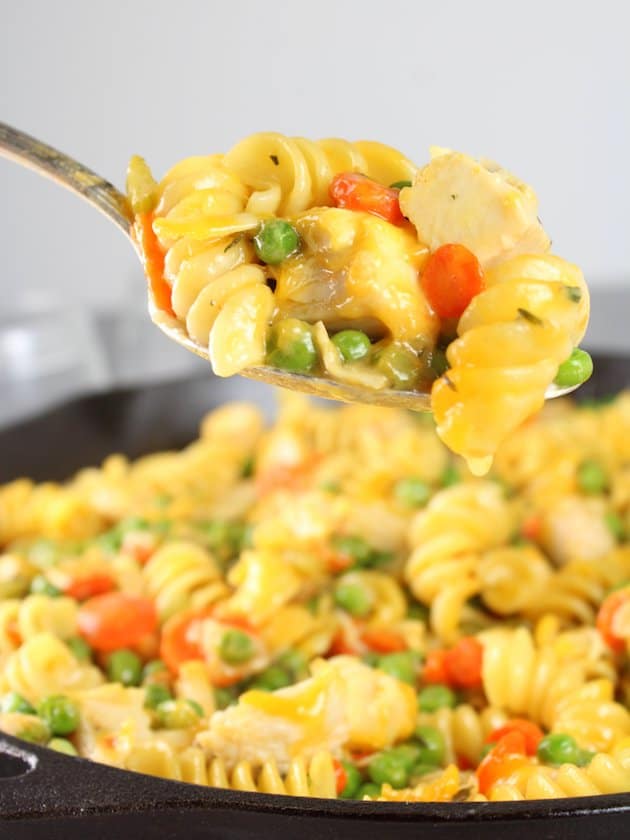 I thoroughly enjoy it: encouraging us to unite and offer prayers to the Lord, request that he pardon our transgressions, ask for help to perform our duties properly, and that government would be a blessing to all the People.
It was quite enriching and uplifting. I'm thinking this will most definitely become a new Thanksgiving tradition right along side mom's Turkey Stuffing – and a few Chuck Norris quotes of course!
And in the name of new turkey traditions, this Cheesy Turkey Noodle Casserole needs to be added to the list as well. This yummy meal is super tasty and completely worthy of the rest of your T-day bird!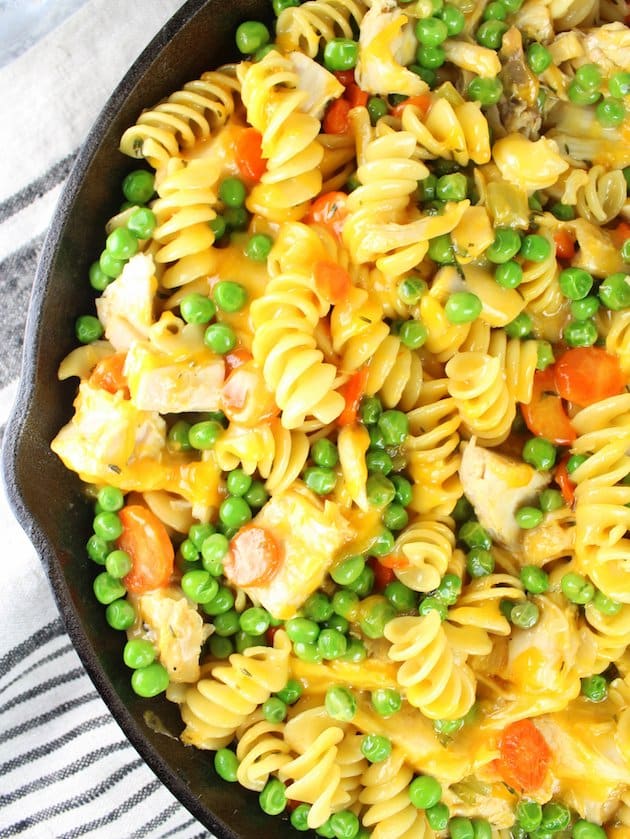 Plus, this one-pot meal is quick and easy… So you'll be in and out of the kitchen in less than 30 minutes. And it's a yummy well-balanced meal… full of veggies, chopped turkey, cheddar cheese and pasta.
And of course you could swap out the turkey for a roaster chicken. You gotta love options!
Here's how you make this yummy Turkey Noodle Casserole:
Start by sautéing some onions, celery, and carrots in a large pan over medium high heat with some olive oil. Add in some salt and fresh thyme and stir.
Then pour in your chicken stock (or turkey broth if you've saved your turkey drippings, or made your own stock – which I highly recommend). Bring it to a simmer and stir in the pasta. Cover and cook for about 8 minutes or until your pasta is al dente.
Now add the peas, milk, shredded cheddar cheese and stir the mixture together. Then gently fold in the turkey meat, garnish with more cheese if you'd like, and enjoy this new and delicious day-after Thanksgiving tradition.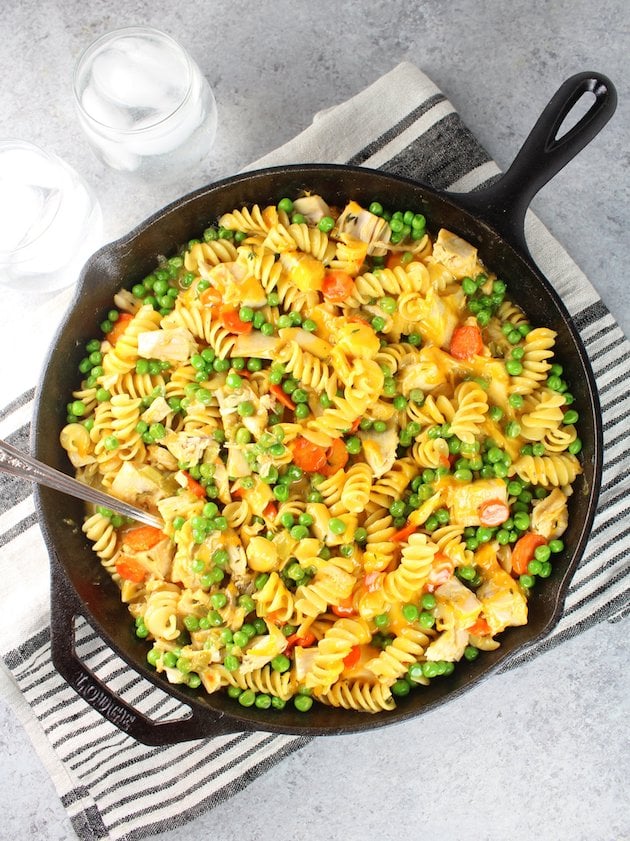 If you're like me and still have even more turkey ready and waiting to become something super-tasty then try this Kale and Butternut Squash Soup or this Lighter Turkey Pot Pie – hearty, healthy and soo good!
I would love to connect with you! Leave a comment and follow me on Instagram, Twitter, Facebook, & Pinterest!
Yield: 6 servings
Cheesy Turkey Noodle Casserole
Creamy and comforting one-pan turkey noodle casserole the whole family will love!
Ingredients
2 tablespoons olive oil
1 large yellow onion finely chopped
2 finely chopped stalks celery
4 medium sized carrots, sliced ¼" thick
1 tablespoon fresh thyme
1 ½ teaspoon salt
2 ½ cups chicken stock or broth
8 ounces rotini pasta
10 ounces frozen English peas
8 ounces shredded cheddar (more for garnish)
1 cup milk (I used unsweetened almond milk)
1 ½ pounds turkey or chicken (I used one large turkey breast)
Instructions
Place the oil in a large saute pan on medium high heat. Add the chopped onions, celery, carrots, thyme, and salt, then saute for 6 minutes to soften. Stir occasionally.
Add the broth and bring to a boil. Stir in the pasta. Cover the pan and simmer for 8 minutes.
Meanwhile, chop the turkey breast into 1-inch square pieces, and defrost the frozen peas in a colander under warm water.
Stir in the peas, shredded cheese, and milk, and allow it to simmer for 2 minutes.
Gently fold in the chopped turkey and serve.
Garnish with more shredded cheese if desired.
Nutrition Information
Yield
6
Serving Size
10 ounces
Amount Per Serving
Calories

570
Total Fat

30g
Saturated Fat

12g
Trans Fat

0g
Unsaturated Fat

16g
Cholesterol

182mg
Sodium

1156mg
Carbohydrates

33g
Fiber

5g
Sugar

8g
Protein

55g
This nutrition card uses an estimate provided by an online nutrition calculator. This estimate is not a substitute for a professional nutritionist's advice!
Looking For More Delicious, Easy Turkey Recipes?
Kale And Butternut Squash Turkey Soup