Looking for a delicious, easy appetizer? Baked Brie in Puff Pastry with Honey and Almonds is the answer!
I'm really on this sweet and salty kick lately. There's the
Brie with caramelized onions and bacon
, then the
persimmons wrapped in prosciutto
and now Baked Brie in Puff Pastry with Honey and Almonds.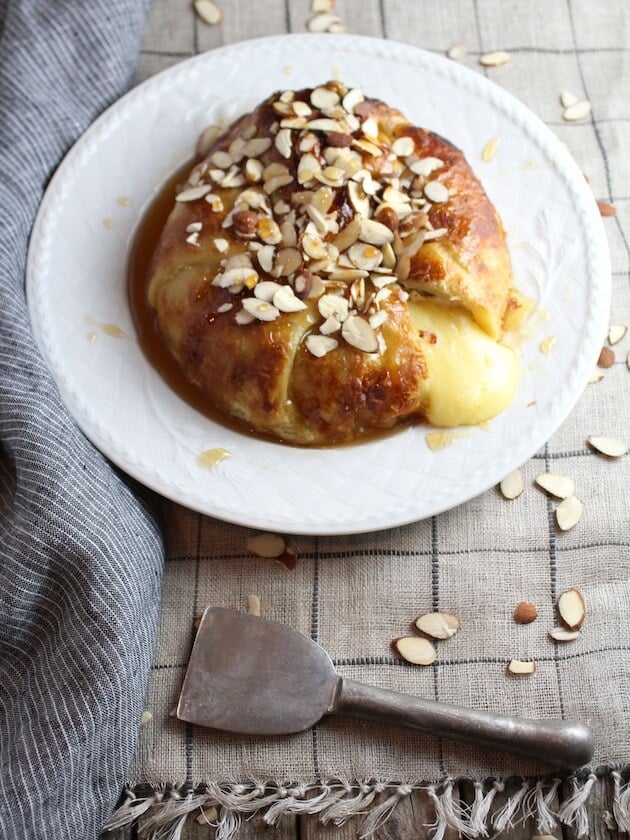 Can you say swoonfest 2015!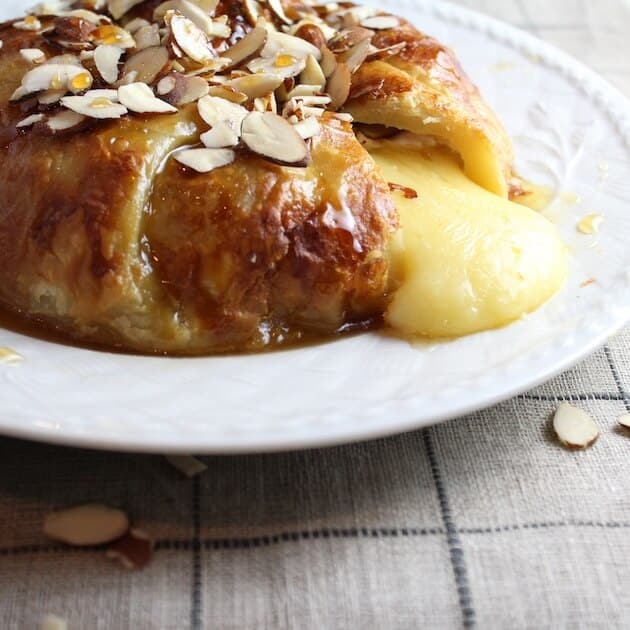 There's just something about that salty/sweet combination that I love, love, love!
Maybe it's because that balance keeps me from tiring of either one. Like if I eat a Christmas cookie I'm kind of one and done. I know, I'm a tad strange. But give me some Brie with honey and almonds wrapped in puff pastry and I can clear the whole plate in one setting!
Not that I'm recommending anyone do that, 'cause your gall bladder might explode if that were to happen.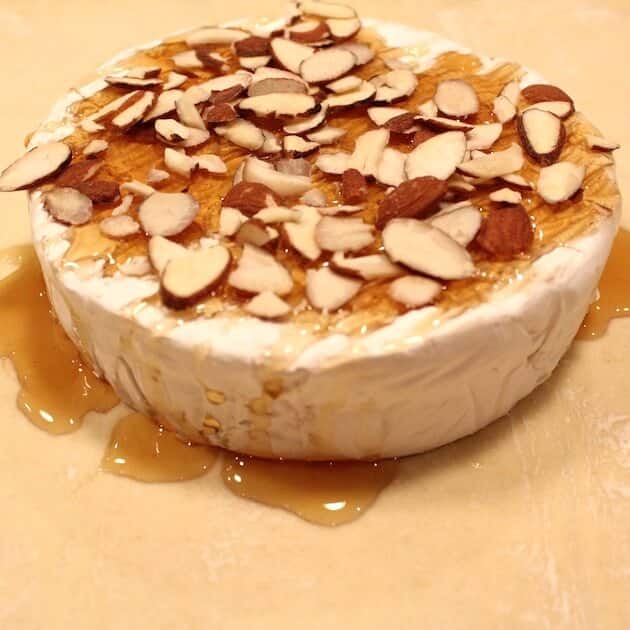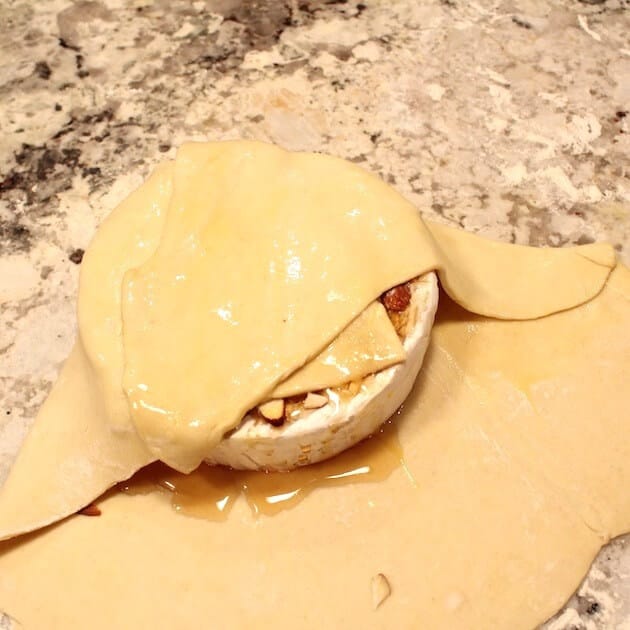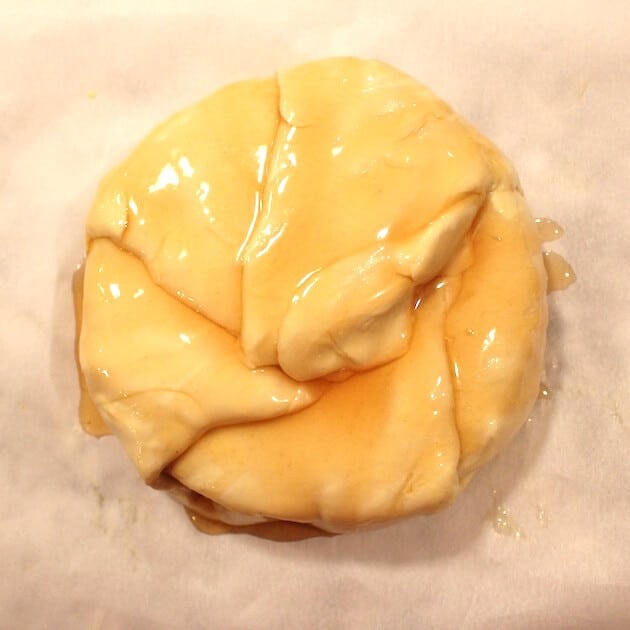 This appetizer is really best shared with others.
I've probably made this every year for our Christmas party for at least a decade. Well at least a very similar version of it. I usually wrap it in phyllo dough, but that is much more time consuming and labor intensive so I came up with this alternative. (Don't tell Holly but I think I might like it even better.)
Again, I'm just looking out for you – trying to make your life more simple and delicious! Yayyy!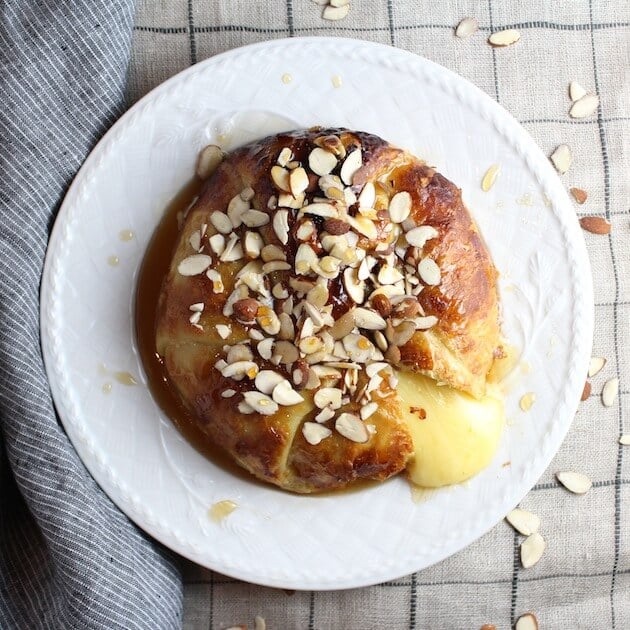 If you're looking for more delicious and easy appetizers – your search is over. Baked Brie swaddled in Puff Pastry with sliced Almonds and Honey drizzle is really to live for! You'll also love this low carb baked brie with bacon and onions!
Yield: 10 servings
Baked Brie in Puff Pastry with Honey and Almonds
The perfect, easy and delicious appetizer!

Prep Time 10 minutes

Cook Time 20 minutes

Total Time 30 minutes
Ingredients
12-13 ounce wheel of brie (I used Ile de France)
3 tablespoons honey
⅓ cup sliced almonds
1 sheet puff pastry, defrosted, rolled out to 11 x 11 inches
1 egg
1 tablespoon water
Instructions
Roll the puff pastry into 11-inch square. Check to make sure this provides enough room to fold over your brie and seal up... if not then roll your pastry out a little wider. Place brie in center and top with 2 tablespoons of honey and half the almonds.
Fold up the corners of puff pastry one at a time, brushing all the dough with the egg wash as you go, using it like glue to hold the pastry together. Continue to brush the egg wash over the top and sides of the dough after formed.
Bake the brie at 400 degrees for 10 minutes, then carefully pull the oven rack out without removing the brie from the oven. Quickly drizzle with a tablespoon of honey and sprinkle with the remaining almond slices. Slide the Brie back in the oven and continue baking for another 10 minutes.
Be careful to not let the almonds burn.
Notes
The almonds and honey on top of the puff pastry will burn if you bake them too long.  That's why I recommend you add them after the brie is half baked.
Nutrition Information
Yield
10
Serving Size
3 ounces
Amount Per Serving Calories 177Total Fat 13gSaturated Fat 6gTrans Fat 0gUnsaturated Fat 6gCholesterol 53mgSodium 229mgCarbohydrates 7gFiber 1gSugar 6gProtein 9g

This nutrition card uses an estimate provided by an online nutrition calculator. This estimate is not a substitute for a professional nutritionist's advice!

PS: If you want to pair this appetizer with something a little less decadent, try this low carb spinach artichoke dip!