This is a sponsored post written by me on behalf of Tyson Foods, Inc., Circle Foods LLC, and Pinnacle Foods Group LLC. All opinions and text are entirely my own. This Chicken Kale Energy Bowl with Italian Sun-Dried Tomato Sauce is full of flavor and nourishment... It's packed with protein, veggies, grains and lots of fiber – giving you the energy you need to finish each day strong!
By now you've all heard of and most likely experienced the "bowl craze." You know: basically, a bowl filled with quick and wholesome ingredients that create a delicious and vibrant meal.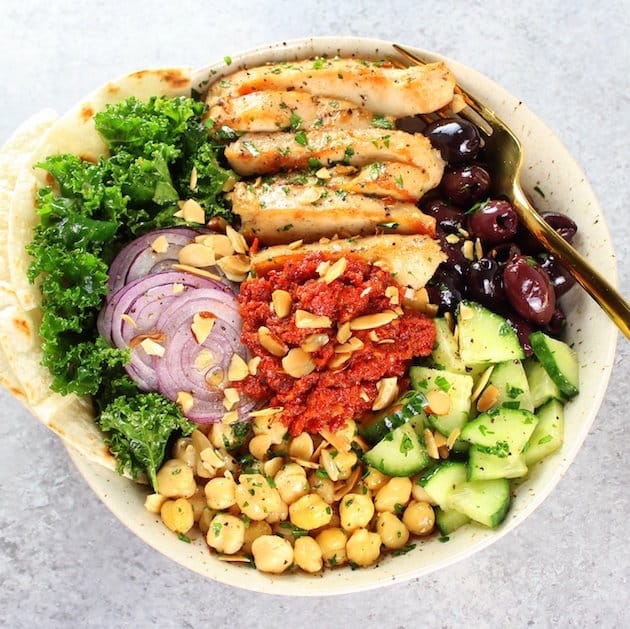 They are referred to by many different names, such as power bowls, energy bowls, nourish bowls and even Buddha bowls.
Just in case you're like me and wondering what does Buddha have to do with a bowl of yumminess? The answer is "a bowl which is packed so full that it has a rounded "belly" appearance on the top much like the belly of a Buddha."
So glad the urban dictionary cleared that up for us.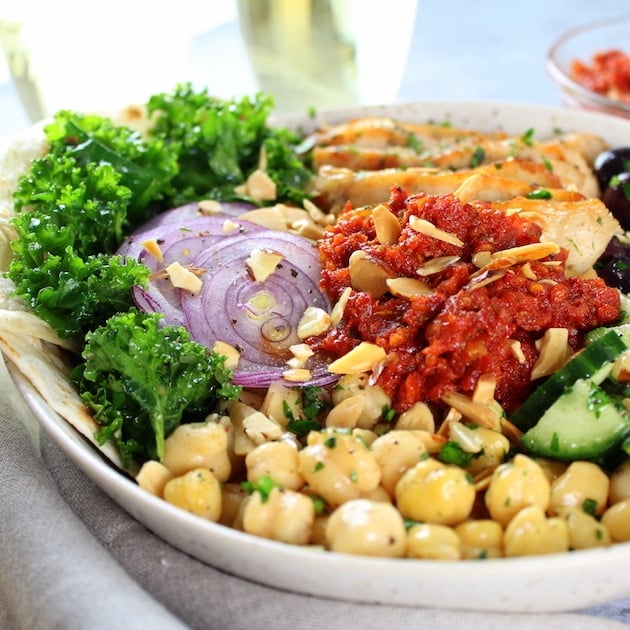 I decided back in December that when January rolled around I was going to do a bowl series for the blog. Partly because in January we're all focused on those New Year goals and healthy eating, and partly because I just wanted to eat healthier myself.
There I said it. It's all about me. Well kind of, but it's about you too!
You see, we eat whatever I make for the blog. I really detest waste so the B man and me are big FIFO and leftover people. I figure if we liked it the first time, then we'll like it the next time… and maybe 4 more times after that.
So, if I create a blog post about wholesome, nourishing recipes - then we'll eat wholesome, nourishing recipes. This probably seems a little self-serving and while it is, it's really in everyone's best interest – wouldn't you agree?
So I've been over here chopping, stirring and practicing my bowl game. It's coming on strong my friends and today I'm out of the gate with one flavorful bowl of nourishment: this Chicken Kale Energy Bowl with Italian Sun Dried Tomato Sauce!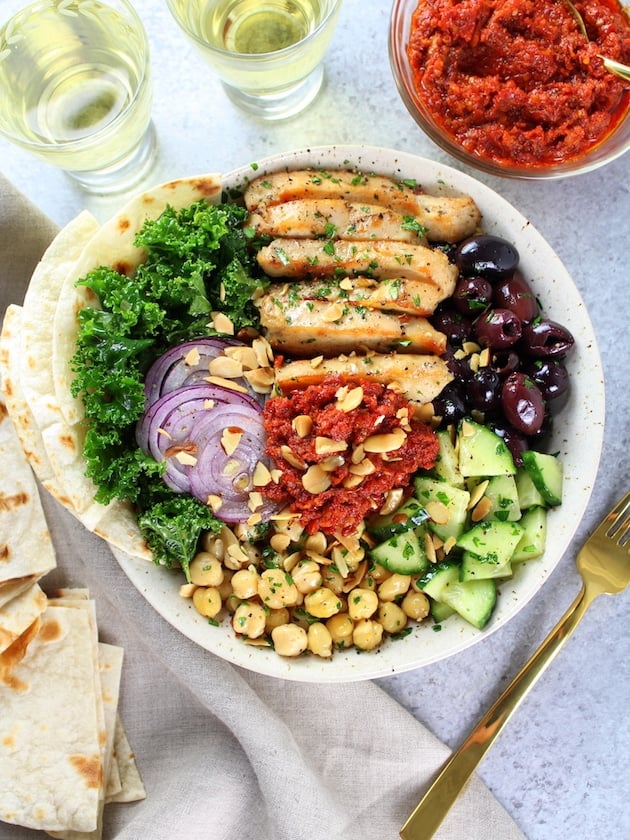 It's packed with tons of vitamin K, A, C, fiber, and lycopene from the kale, chickpeas and sun-dried tomatoes. It's protein-infused thanks to the simple and convenient Tyson® Grilled & Ready® Chicken. It's laden with bold, herbaceous flavor from the Wish-Bone® Italian Dressing that marinates the kale, AND creates a delectable Italian Sun-Dried Tomato Sauce (sans any high fructose corn syrup. And did I mention gluten-free?). And it's full of energy from the TortillaLand® Flour Tortillas – made with 5 simple ingredients and no preservatives.
Mind blowing – right?
This is one flavor-filled, protein-packed, hearty meal that's good for the whole family.
Plus, it's ridiculously simple to make, which is a necessity when you live an active lifestyle - like almost everyone on the planet. Holla atcha' girl!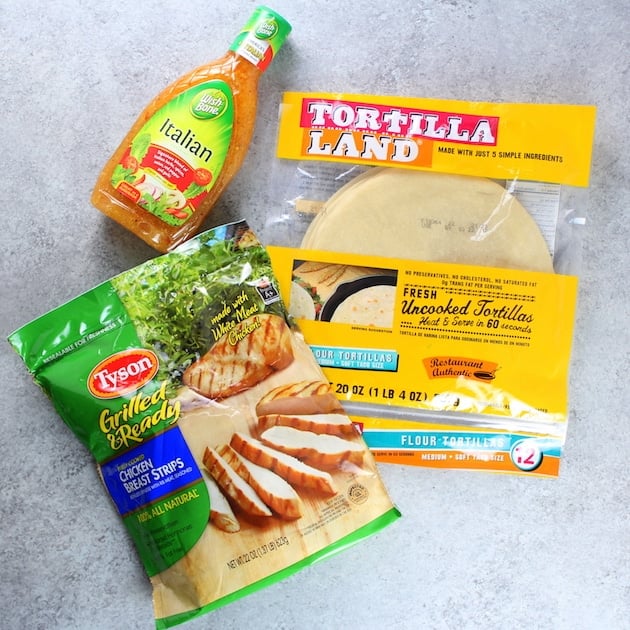 We picked up our ingredients at Walmart which was super convenient and economical – love me some one-stop shopping!
Then I went to work creating this fresh and energy-infused masterpiece. First I poured ⅓ cup of the Wish-Bone Italian Dressing over some chopped kale and rubbed it into all the leaves. Then chopped my cucumbers, sliced my red onion, drained and rinsed a can of chickpeas, and blended together the Italian Sun-Dried Tomato Sauce.
I heated the Tyson Grilled & Ready Chicken in a nonstick pan on the stove for about 5-7 minutes. (And can I just say: I am so impressed with Tyson's pre-grilled chicken… it is really tender and has great flavor as is – no seasoning needed! Couldn't get any simpler or any more convenient.)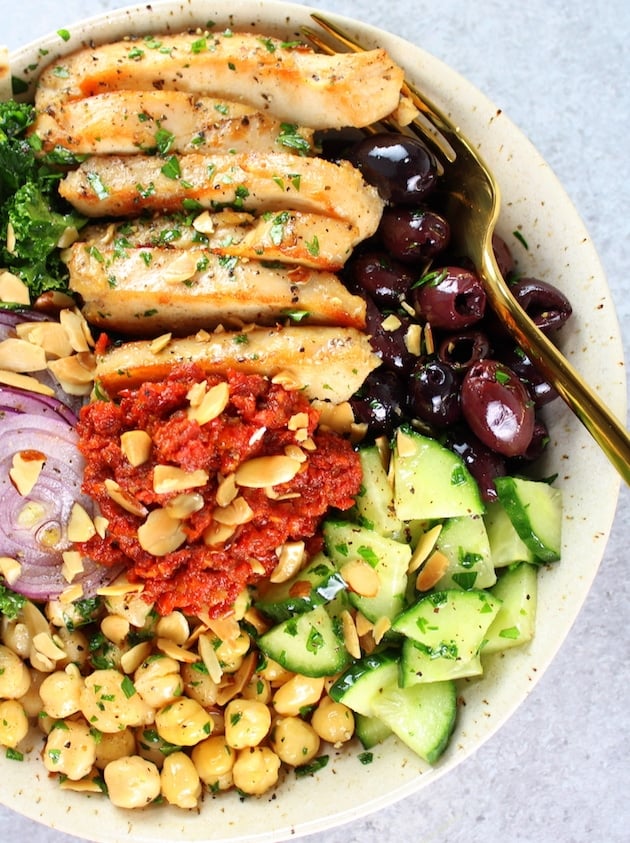 Finally, I toasted the tortillas on a hot nonstick pan for about 30 seconds a side. If you've never made these TortillaLand Flour Tortillas, they are really fun – and fast - to cook! They brown up beautifully and smell amazing – reminds me of one of my favorite Tex-Mex restaurants that made us fresh tortillas to order! Be sure to look in the refrigerated section at Walmart for them.
So easy and fast to whip up this energy bowl – my kind of meal! Seriously I could eat that Italian Sun Dried Tomato Sauce with a spoon. In fact, I may have done just that two or ten times. Don't judge, you will too when you try it.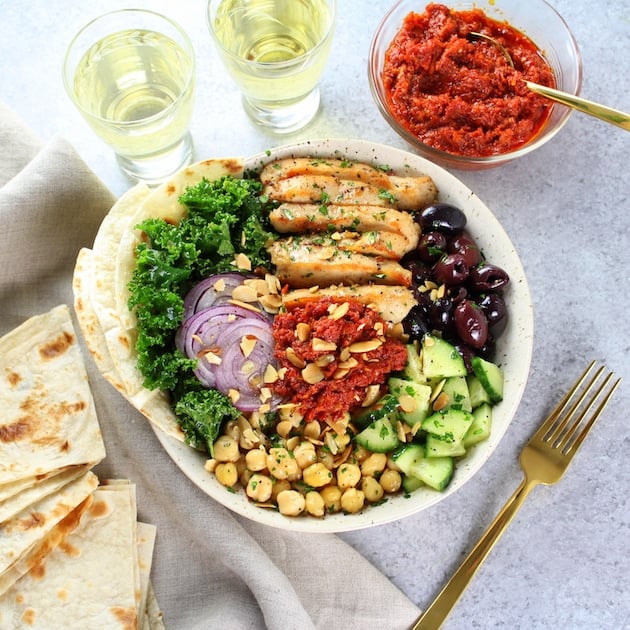 This Chicken Kale Energy Bowl with Italian Sun-Dried Tomato Sauce is a super-easy, protein-packed dinner perfect for your weeknight meals! Delicious, and full of nutritious ingredients – giving you and your family the boost you need to dominate your day!
Yield: 6 servings
Chicken Kale Energy Bowl with Italian Sun-Dried Tomato Sauce Recipe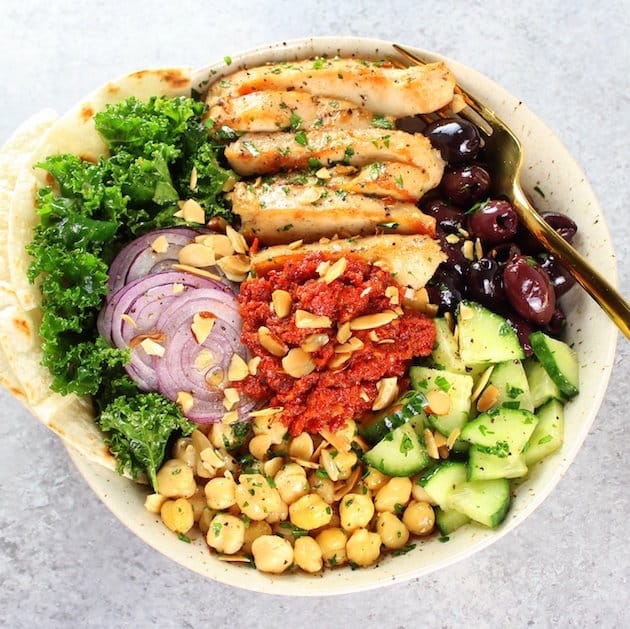 Chicken Kale Energy Bowl with Sun-Dried Tomato Sauce - full of flavor and nourishment. It's packed with protein, veggies, grains and lots of fiber!
Ingredients
⅓ cup Wish-Bone Italian Dressing for marinade
1 bunch of kale
8 ounces sun-dried tomatoes, drained
½ cup Wish-Bone Italian Dressing for sun-dried tomato sauce
22 ounces frozen Tyson Grilled & Ready Chicken Breast Strips
4 TortillaLand (uncooked) Flour Tortillas
½ large cucumber, sliced then quartered
One 15-ounce can chickpeas, drained and rinsed
24 Kalamata olives
1 small red onion, thinly sliced
½ cup toasted sliced almonds
2 tablespoons chopped parsley
Fresh cracked pepper
Instructions
Rinse and dry kale, then rough chop into small pieces. Place kale in a large bowl then toss with ⅓ cup of Italian dressing. Ensure kale is thoroughly coated, then set aside and allow to marinate for at least 20 minutes.
Add sun-dried tomatoes and ½ cup Italian dressing to food processor. Pulse for about a minute or until the sauce reaches your desired texture.
Add Tyson Grilled & Ready Chicken straight from freezer to a large saucepan over medium heat. Stir occasionally and cook for about 5-7 minutes.
Heat a non-stick pan to 400 degrees, then cook TortillaLand Tortillas for 30 seconds per side. Watch them closely and as they start to puff up, flip them over. You may need to flip more than once to achieve the desired doneness. Once cooled, cut each tortilla into 4 wedges.
When serving, fill the bowls with kale, chicken, cucumber, chickpeas, olives, and red onion. Add sun-dried tomato sauce, then sprinkle with almonds, chopped parsley, and cracked pepper.
Nutrition Information
Yield
8
Serving Size
10-12 ounces
Amount Per Serving
Calories

580
Total Fat

24g
Saturated Fat

4g
Trans Fat

0g
Unsaturated Fat

18g
Cholesterol

67mg
Sodium

1428mg
Carbohydrates

57g
Net Carbohydrates

46g
Fiber

11g
Sugar

20g
Protein

39g
This nutrition card uses an estimate provided by an online nutrition calculator. This estimate is not a substitute for a professional nutritionist's advice!
I would love to connect with you! Leave a comment and follow me on Instagram, Twitter, Facebook, & Pinterest!
Looking for more easy salad recipes?
Roasted Butternut Squash, Cranberry, Spinach Salad