Cilantro Lime Grilled Shrimp with Pineapple Salsa is so fresh and limey, slightly sweet, a bit zesty, and absolutely delicious!! This Grilled Shrimp Recipe is the perfect quick summertime meal the whole family is sure to enjoy.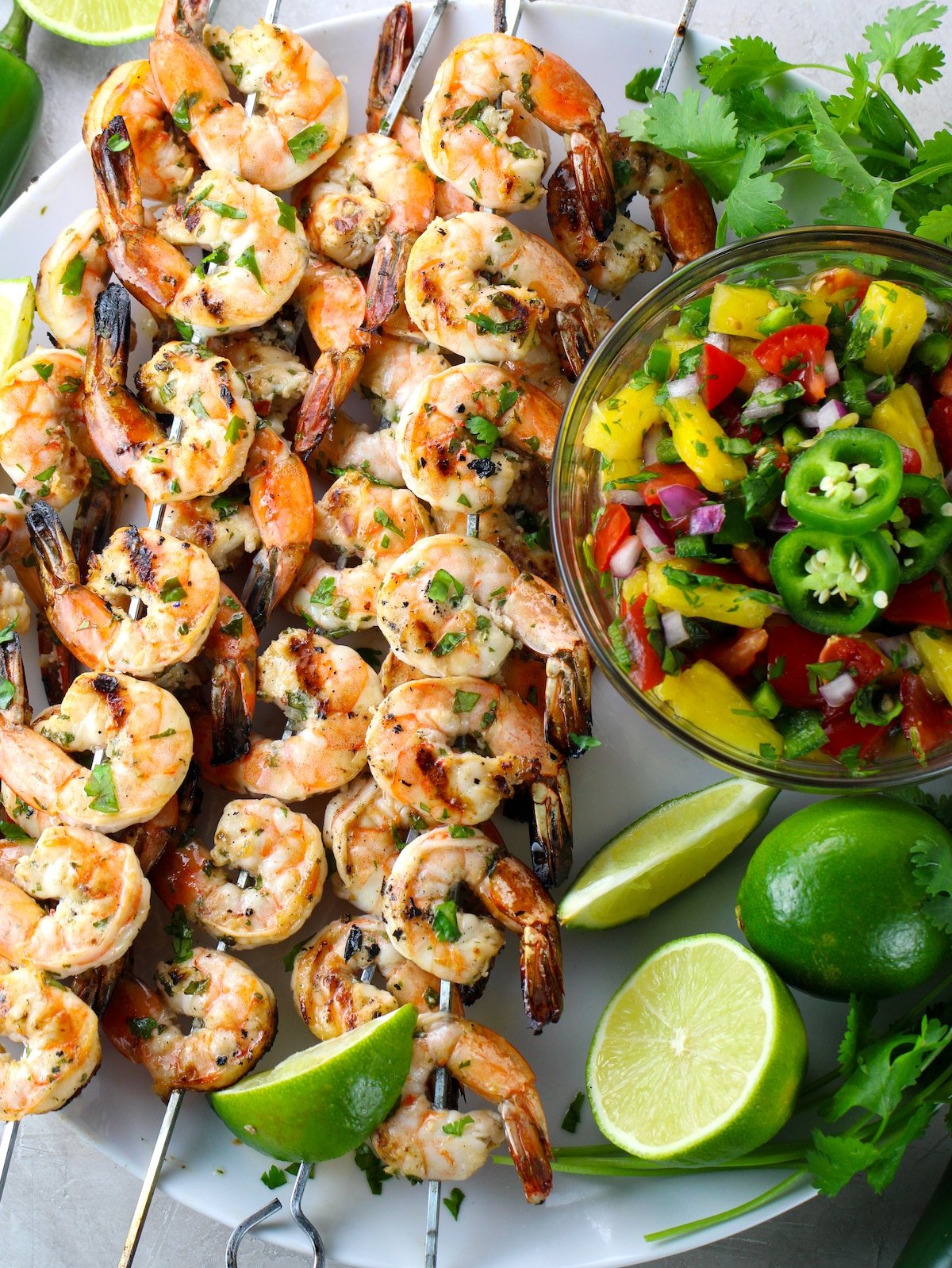 Jump to:
The Best Grilled Shrimp Recipe
I really do love warm weather and spring is truly a special time of year. All of the leaves are emerging, flowers are budding and all the little creatures are having their babies. Awww it's all so sweet.
Except when those creatures are a colony of birds with a nest in the soffit of your roof. Oh my goodness can they make a mess!
For the last 3 years these birds have nested in this same area on our roof. I always thought it was so precious and sweet… "our" little bird family living alongside us.
But it all took a turn for the worse this year.
They must have told all of their friends and extended family about their premium living quarters and low rent because they all moved in - literally!
We're talking about a commune of feathery creatures doing life together – all 97 of them. Ok, there probably aren't 97 but I have never seen such a concentrated amount of bird droppings in my life!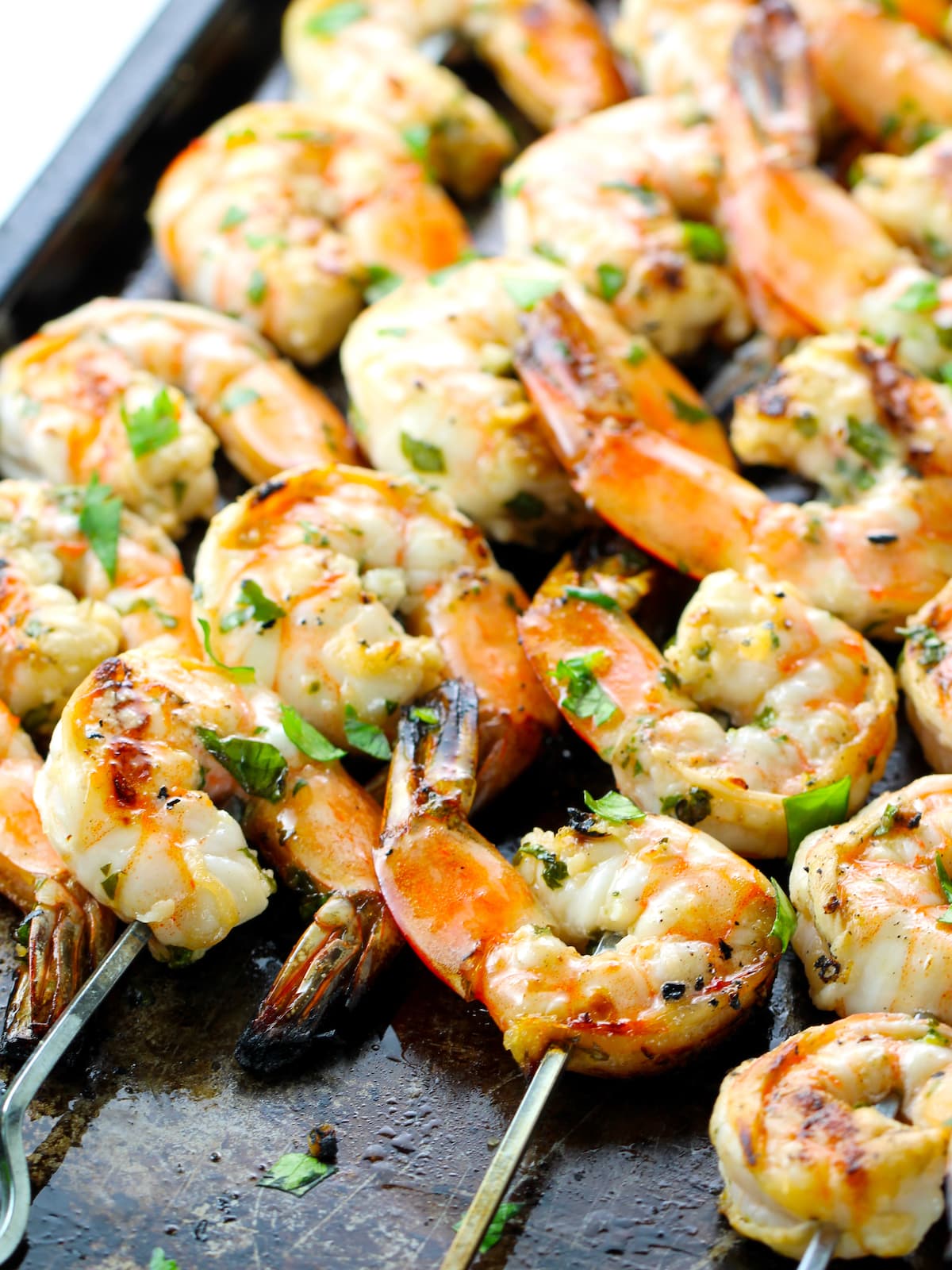 This would be all well and good if it weren't at the back corner of our house where our patio is with our tables, chairs, chaise lounge, and BBQ grill!!!
As flattered as I am that these fine-feathered friends have chosen my residence to open a B&B, it's becoming a problem.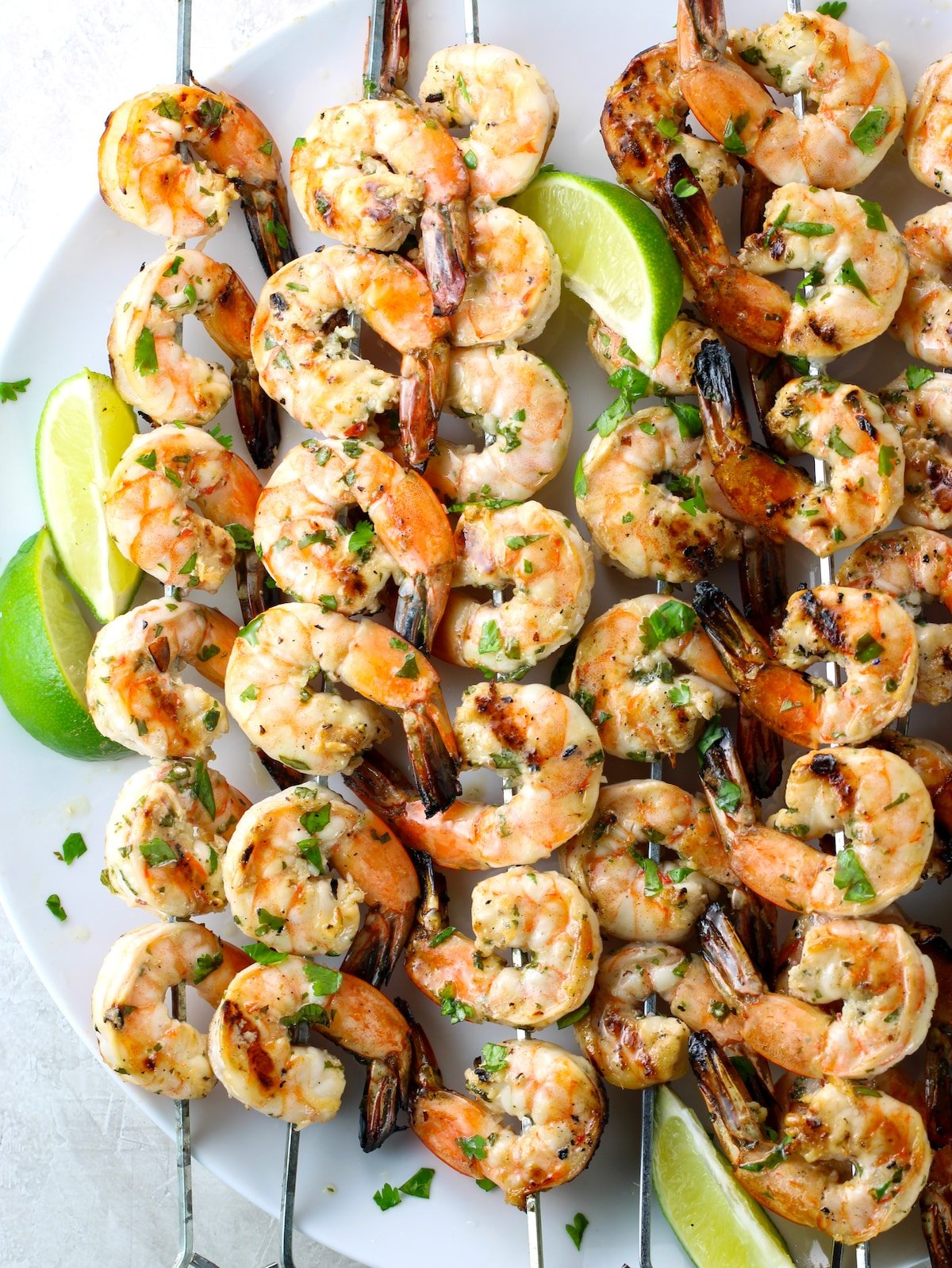 You see when you live as far north as we do, your spring and summer is very much a coveted time of year. If you're lucky, you get about 3½ to 4 months when you can actually go outside without a coat, boots, hat, and mittens. And when you put in a large patio you expect to be able to enjoy it, even for that limited amount of time.
My idea of enjoying it doesn't include birds dive-bombing me and yelling at me for being in the same proximity as their young. Or raining little white gifts down on me from above.
At this point I will tell you the situation is more than inconvenient, it is downright unsanitary (sorry to go there, but this is real life – people.)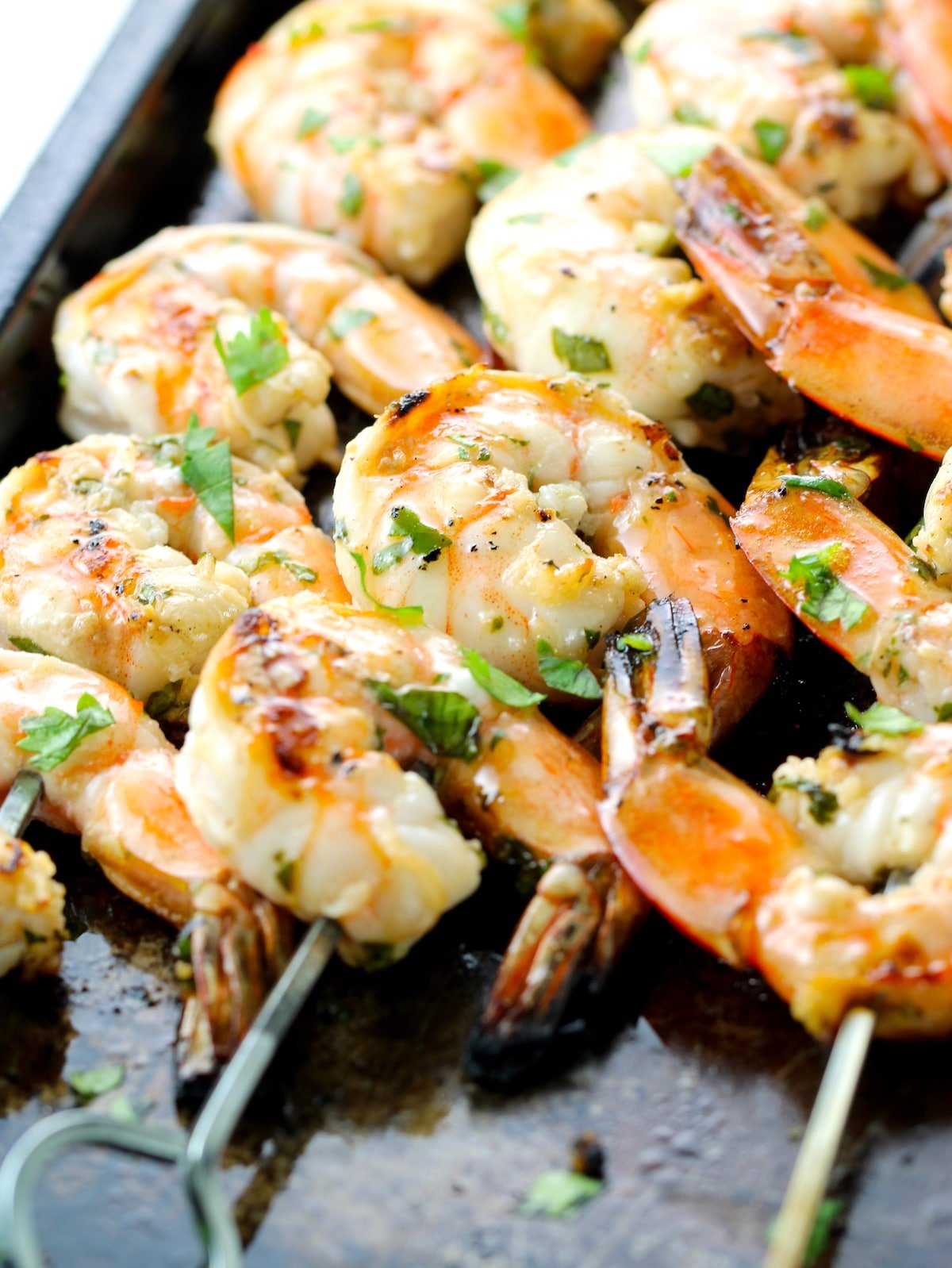 Ole' Sanderino to the rescue. (Can someone please create a superhero emoji already!!) The B man decided he was tired of running an extended-stay bird hotel out of his roof and took matters into his own hands.
And by that I mean he made a few phone calls. First to the town, and then he even called the local Massachusetts Audubon Society.
All to no end. Even worse they made us feel like horrible unfeeling, uncaring home wreckers for even considering "relocating" our guests. Come on people – I have some warm weather to enjoy in my outdoor living space and these birds are really cramping my style!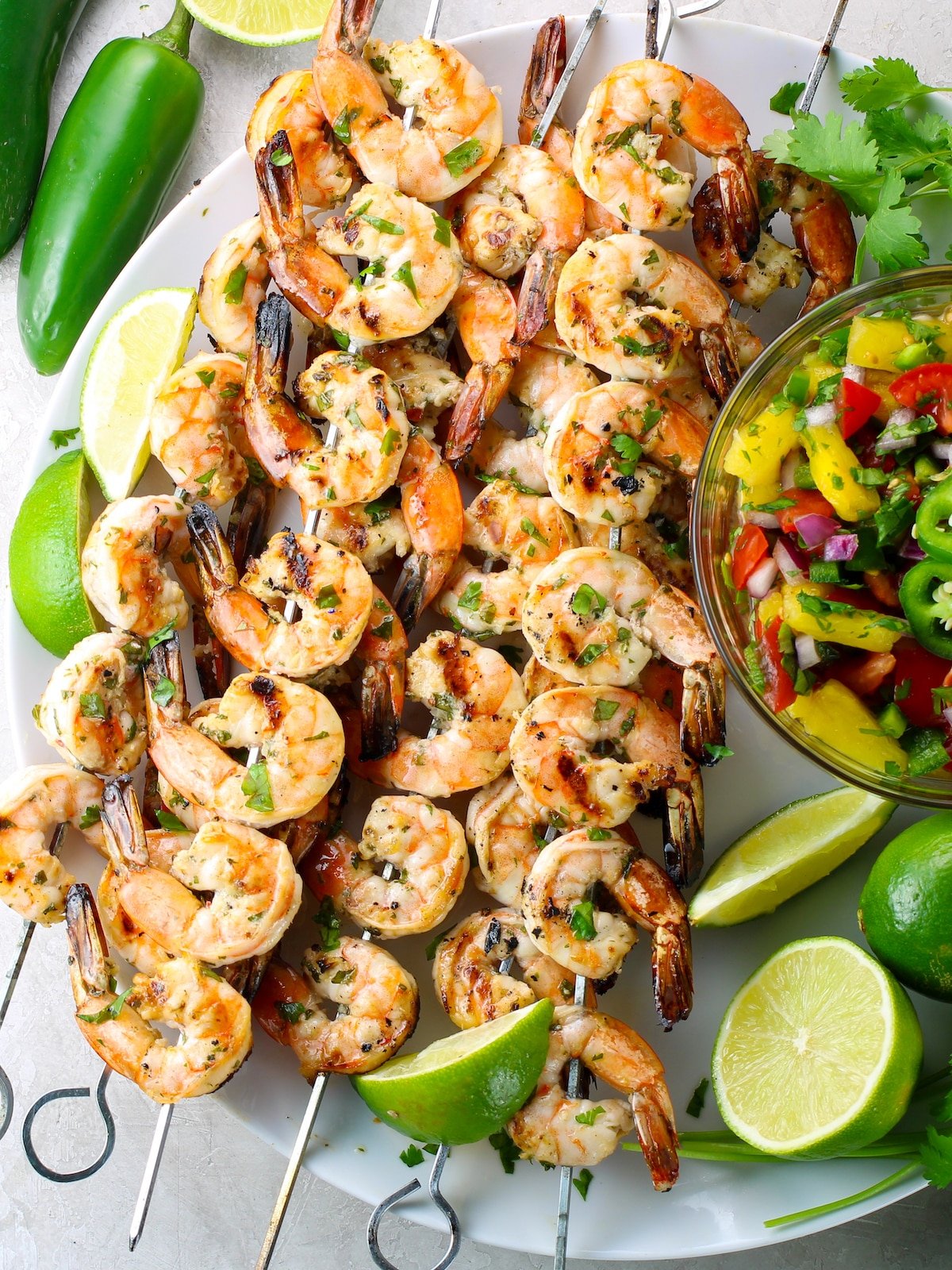 So here we sit - indoors, while our bird friends are thriving and really enjoying the condominiums we've supplied them, and all their friends, and extended family.
Okay, so it isn't quite that bad but you better believe operation relocation will be going down very soon.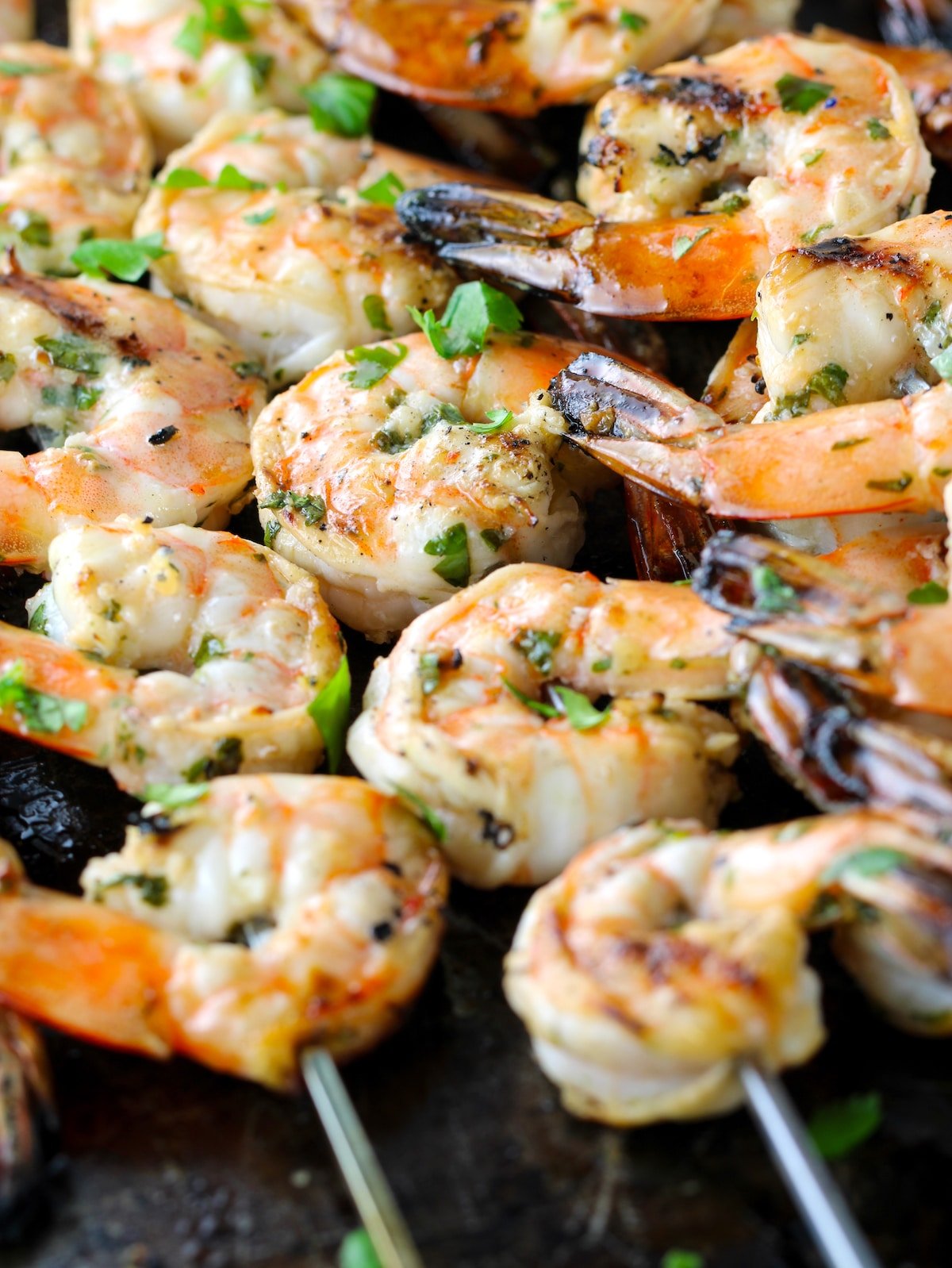 Don't feel too bad for me there's at least one chair I can sit in on the far side of the yard. #firstworldproblems
And since the grill has wheels and a cover we're still able to move it out of the "drop zone" and grill up lots of yummy burgers, brats, and this Grilled Shrimp Recipe with Pineapple Salsa!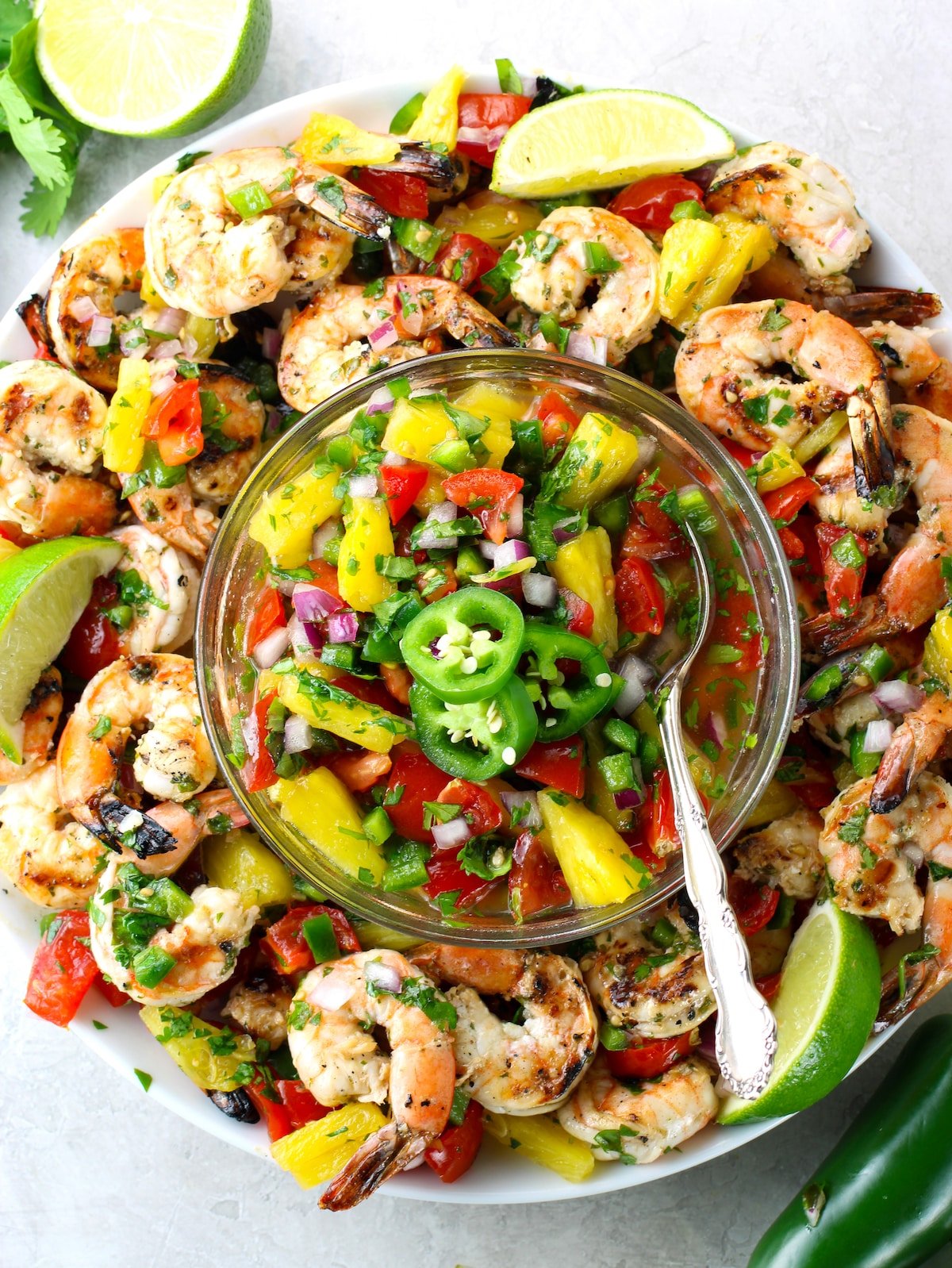 This recipe is one of the very first things the B man-made for me, so it has a special place in my heart (and my belly).❤️
I may have refined it ever so slightly over the years but trust me when I say it's finger-licking good!
The combination of fresh cilantro and tart lime pairs perfectly with the fruity sweet and slightly spicy Pineapple Salsa Recipe. Like I said finger-licking good!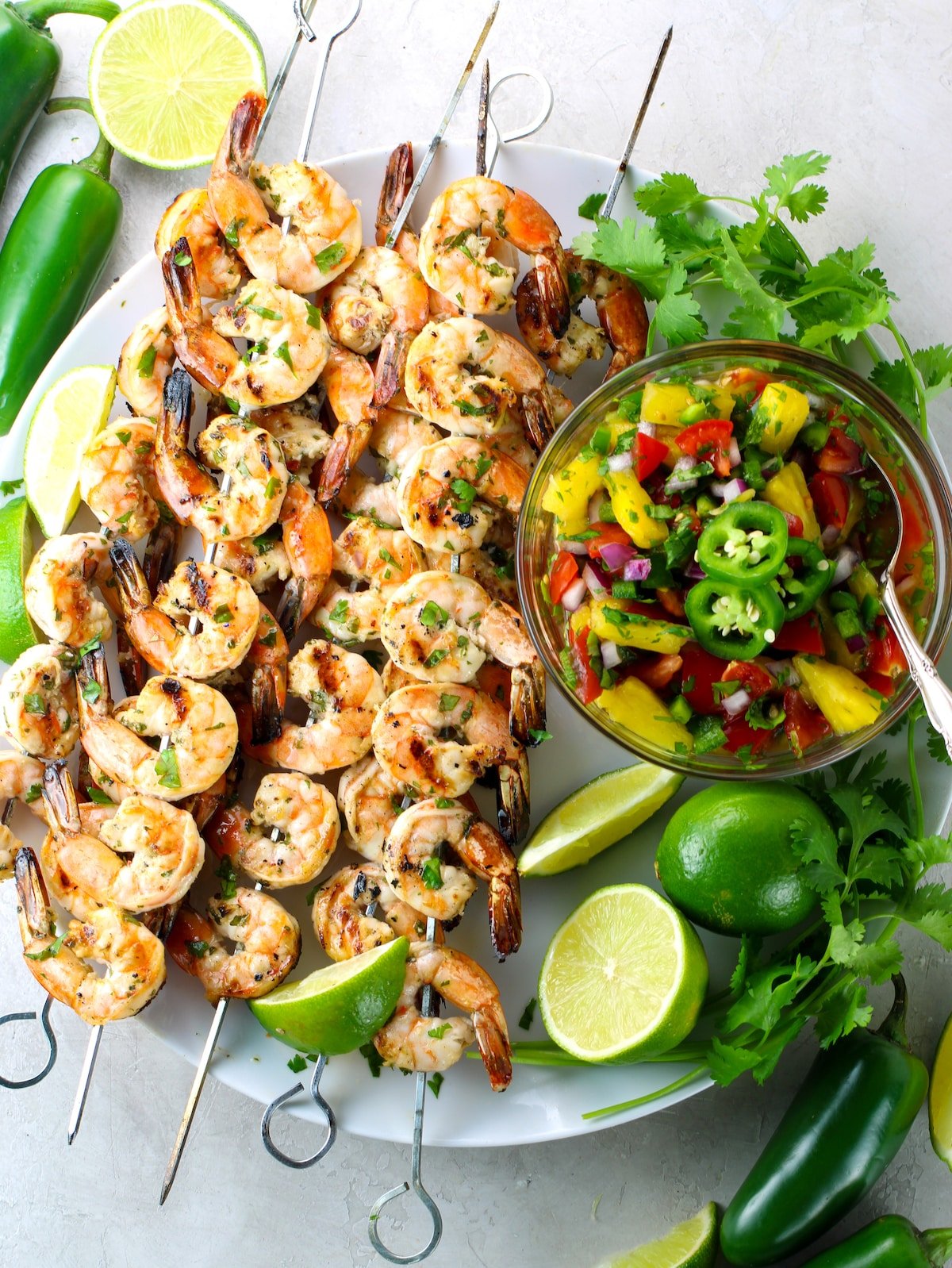 Now let's talk shrimp... specififically Cilantro Lime Grilled Shrimp.
Are Peeled and Deveined Shrimp Better?
I've used shrimp that are shelled and deveined and I've used shrimp with the shell on for this recipe.  It's a preference thing... the shrimp with shells on is more work but usually more economical.
If yours have the shells on you'll need to remove the shells and clean them up a bit.
It's really not that difficult to devein and shell them yourself… allow me to show you what I mean.
How to Peel and Devein Shrimp
First, you take your handy dandy kitchen shears (sturdy, cleanable scissors made for use in the kitchen) and you cut along the rounded outer edge of the shrimp in a straight (but curved) line.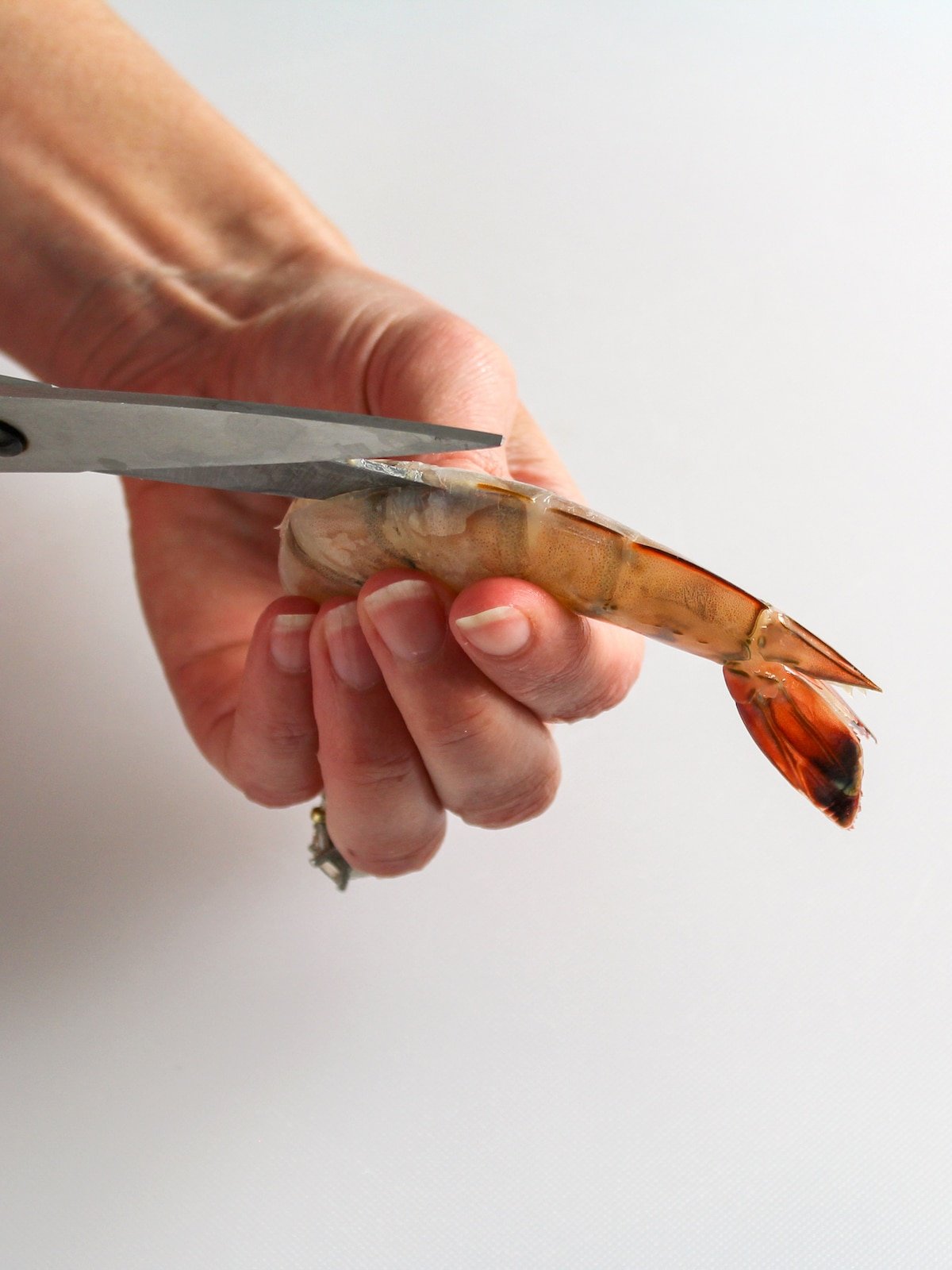 Don't cut all the way to the tail…leave that last joint uncut.
Once you're at this point make one more snip, horizontally, with your scissors.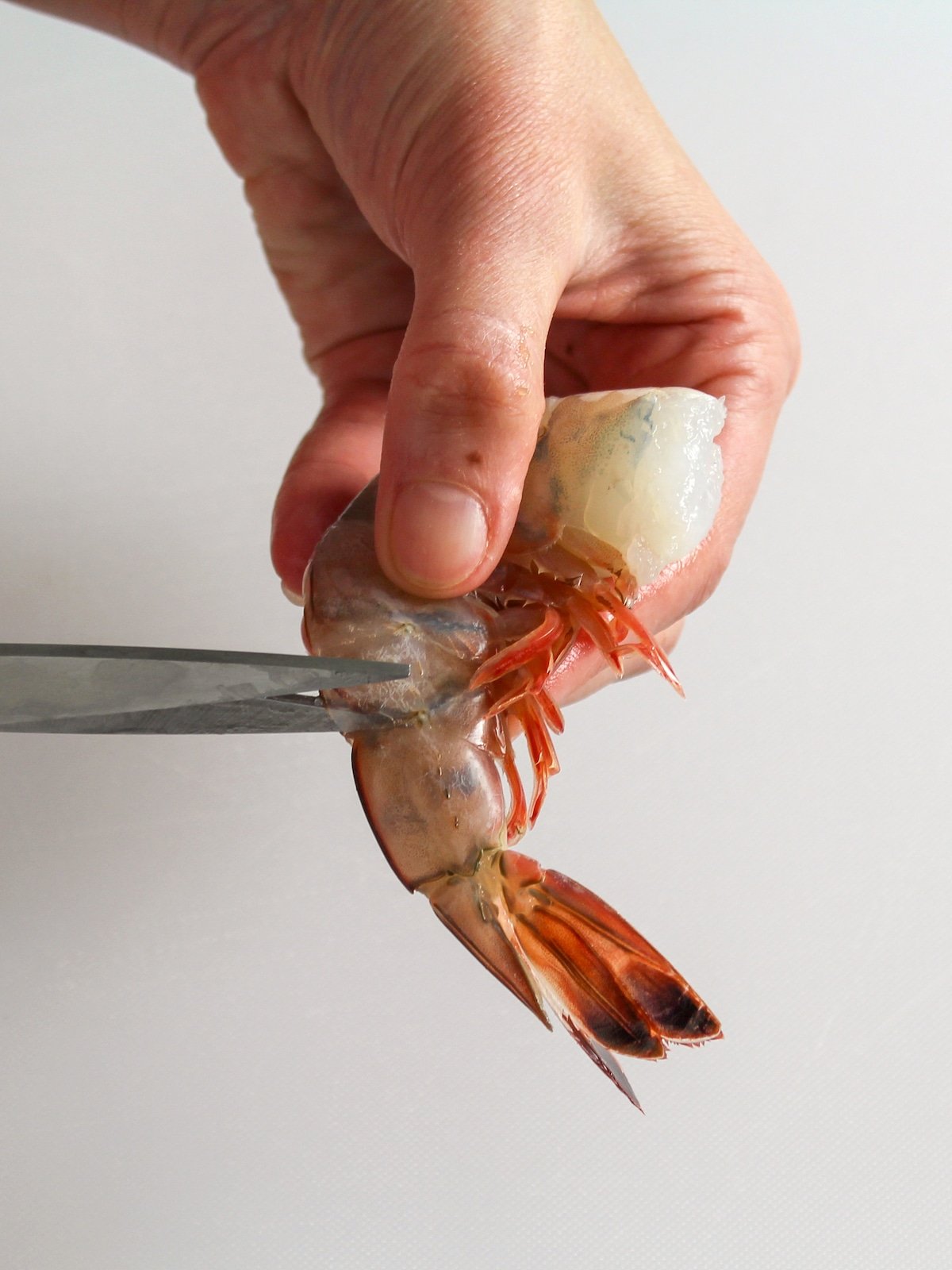 Then with one hand holding the last joint/tail area securely, use the other hand to peel away the shell.
Holding it, ensures you don't tear off the tail - which I like to leave on and intact for presentation purposes. If you prefer to remove the tail, then just cut the whole shrimp and peel off the shell.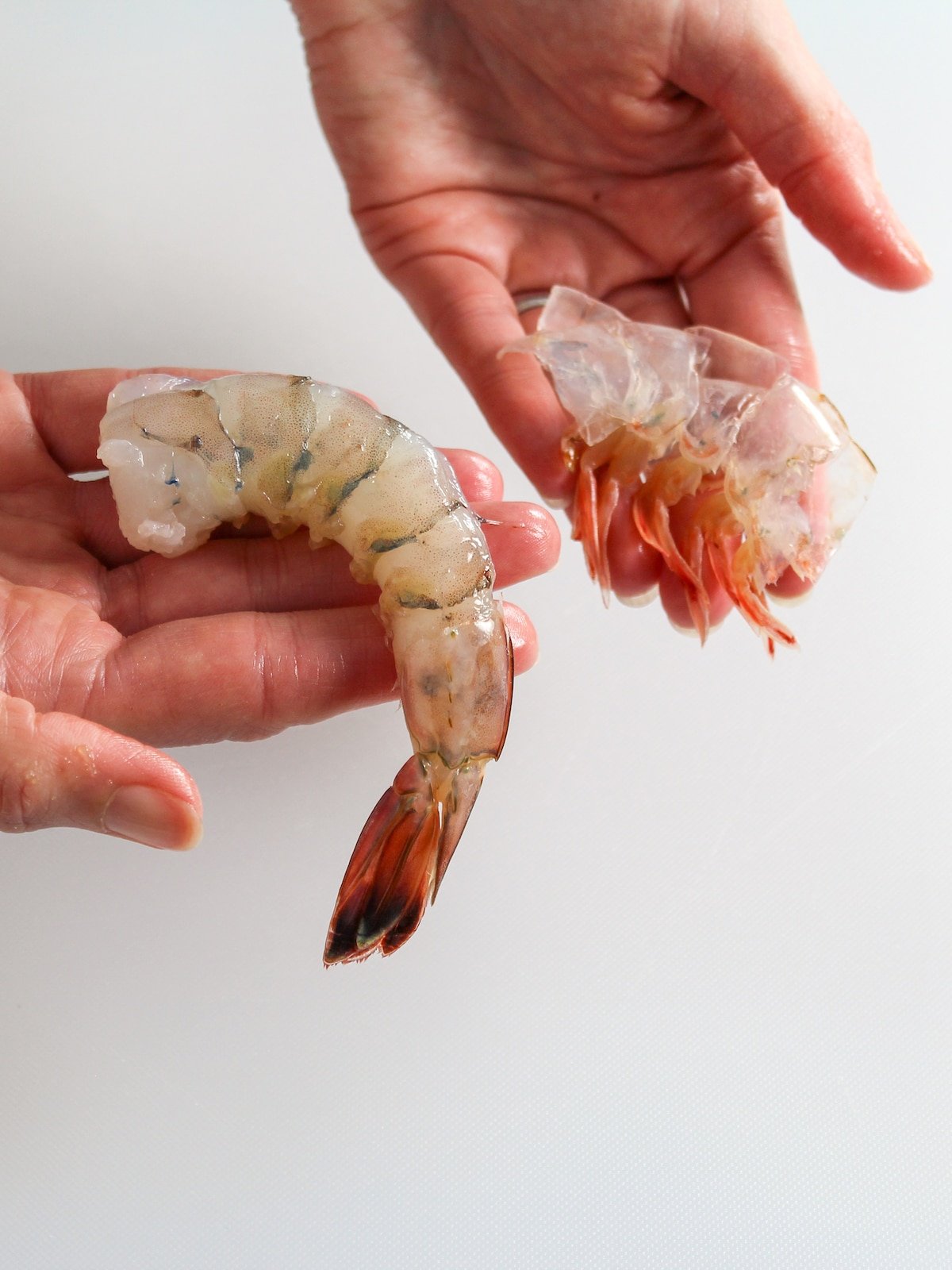 Now the cleaning part…you'll need to remove the dark vein you exposed when you made that cut.
That is actually the shrimp's digestive tract so you probably don't want to eat that. You can use your fingers and just pull it out or use a fork – whatever works best for you.
You can rinse them off to be sure to remove any unwanted debris or loose pieces of shell.
Then mix together the simple marinade. Combine the fresh lime juice, fresh minced garlic, chopped cilantro, a pinch of salt, and olive oil, and give it a quick stir.
Now into the marinade, the shrimp go, and then into the fridge they go for 30 minutes.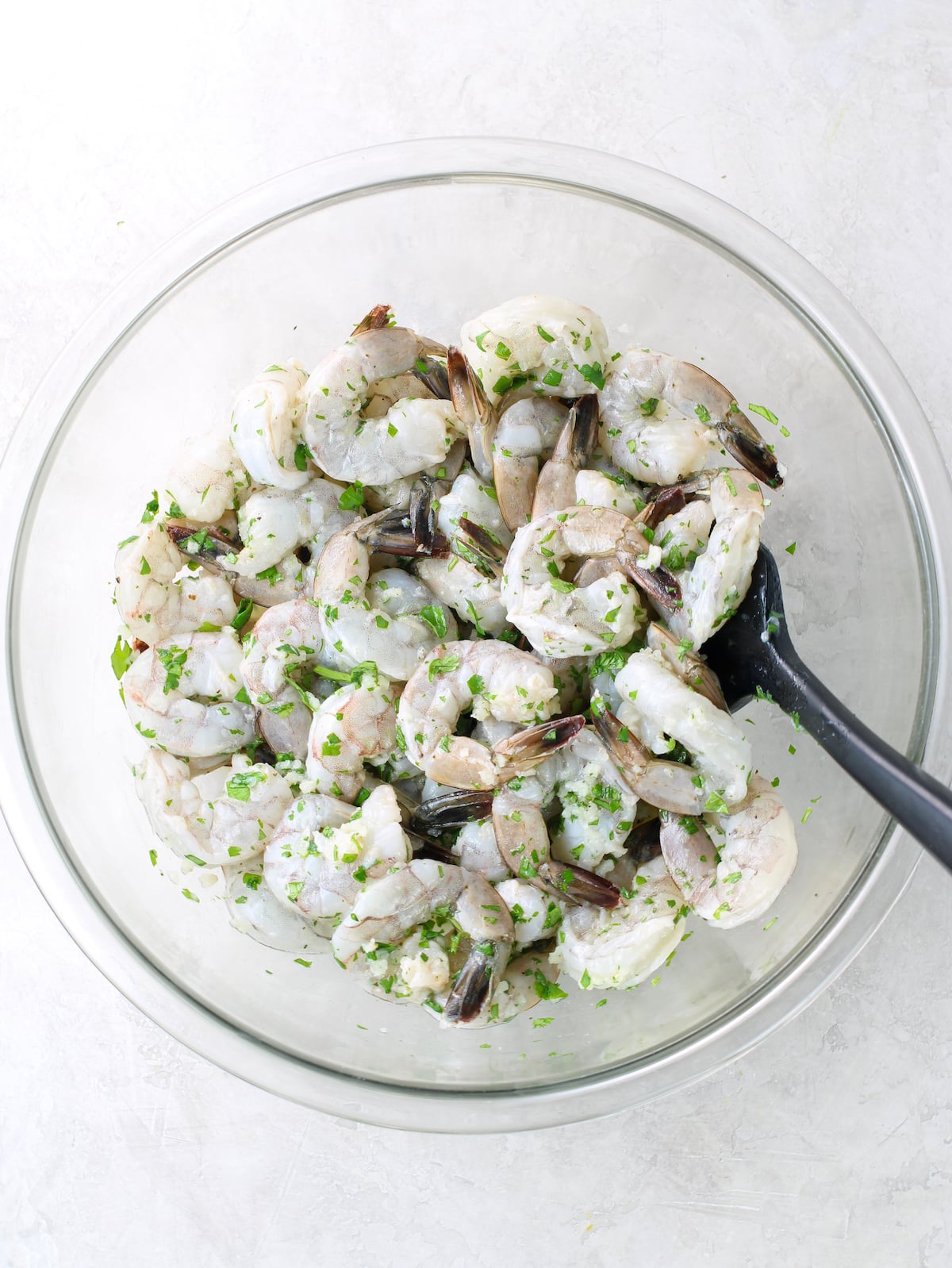 While the shrimp are soaking up all that yummy flavor, you can mix together the fruity, zesty Pineapple Salsa that pairs perfectly with these limey shrimp.
How to make Pineapple Salsa for Cilantro Lime Grilled Shrimp
Combine the onion, pineapple, tomatoes, pineapple juice, jalapeno, and salt in a small serving bowl. If desired, adjust the seasoning to your preference by adding either more salt or more pineapple juice.
And on a side note, you can use this Pineapple Salsa for chili lime shrimp, fish tacos, crab cakes, grilled pork chops - really anything involving seafood.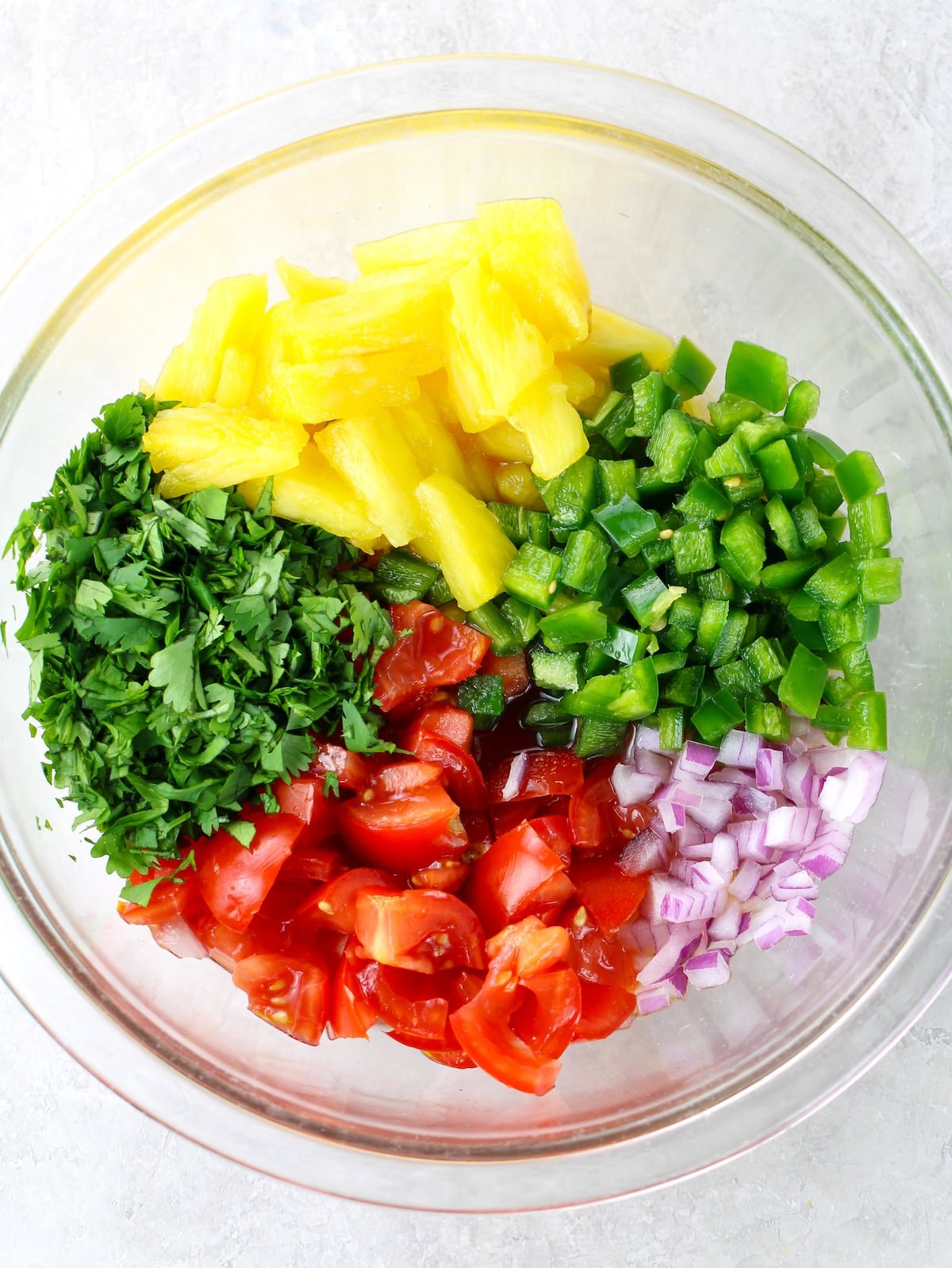 And on a side note, you can use this Pineapple Salsa for chili lime shrimp, fish tacos, crab cakes, grilled pork chops - really anything involving seafood.
Now it's time to get your grill on...
How to grill shrimp
Make sure your grill is preheated to 400 degrees. Skewer your shrimp, give them a quick shot of cooking spray, and get those babies on the heat.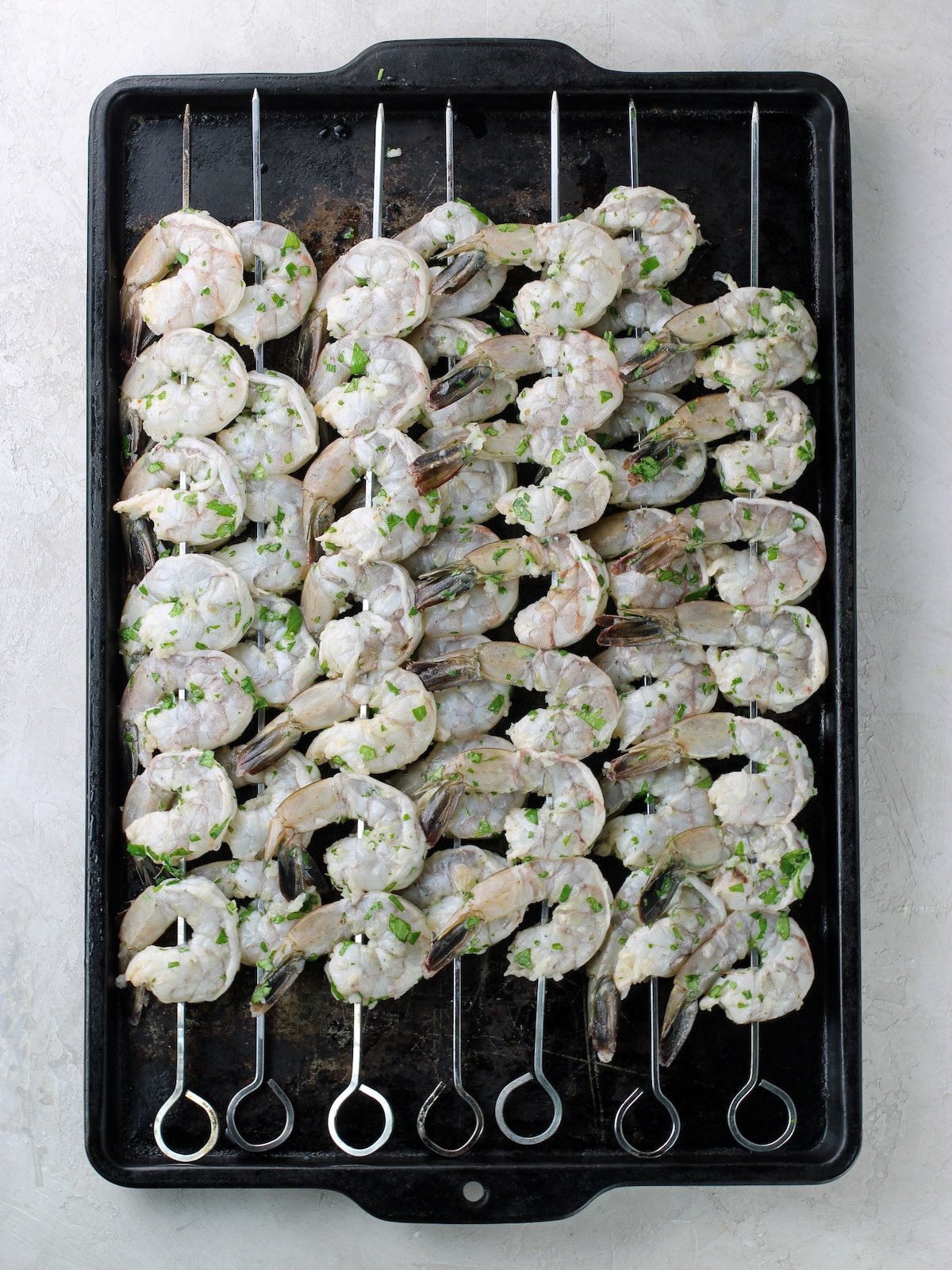 How long to cook shrimp:
They cook really quickly, so don't go anywhere. For real – it only takes 2-3 minutes per side. They will turn a pinkish-opaque white color when they're fully cooked.
Now the only thing left to do is to enjoy the spoils of your labor. My favorite part!!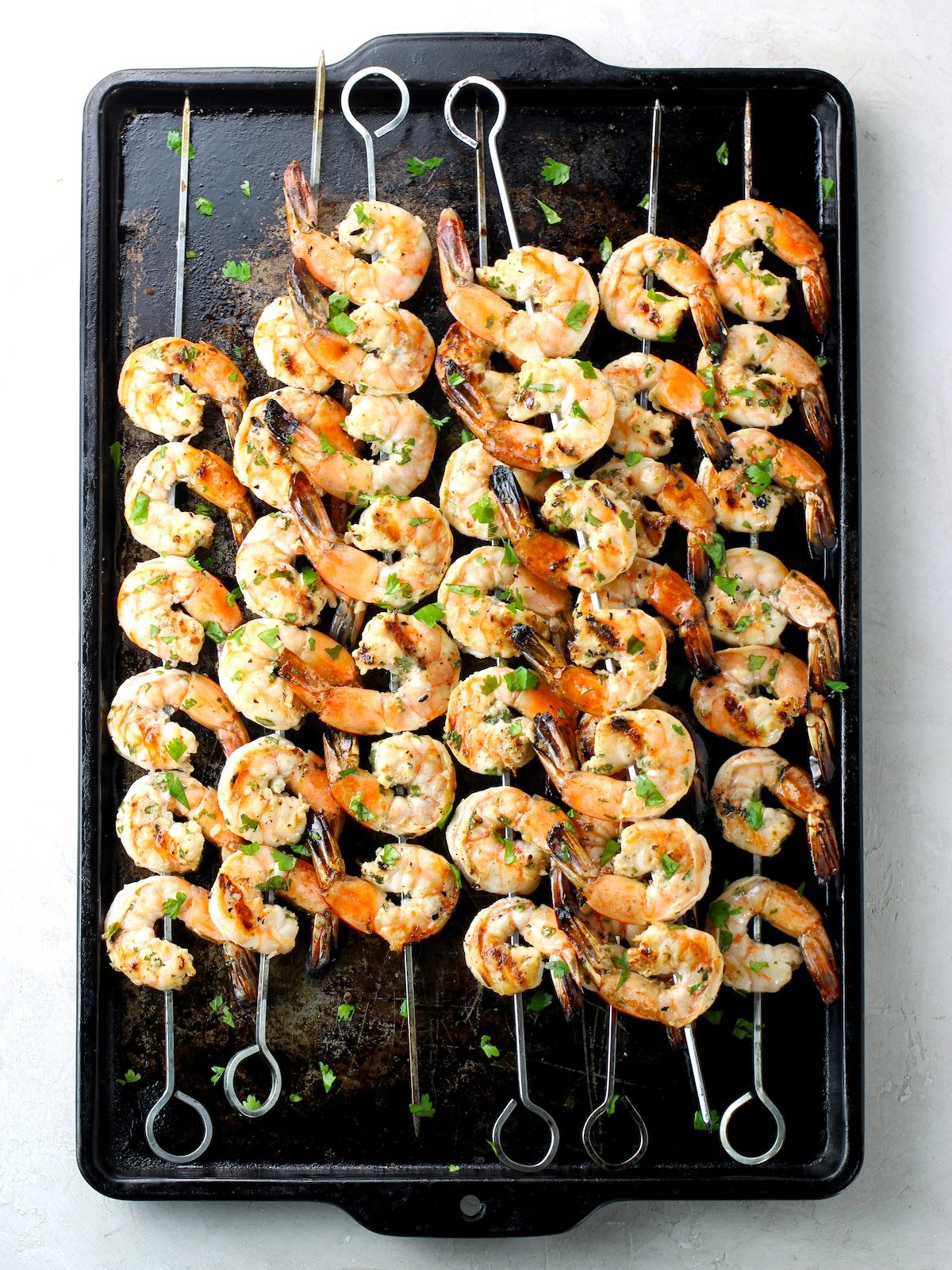 If you're wondering "what to eat grilled shrimp with" let me enlighten you…over rice and veggies, in tortillas for some fish tacos, skewer with some veggies and make some grilled fish kabobs, on a bed of lettuce for a grilled shrimp salad, toss with pasta or rice noodles, or enjoy them tapas style with other wonderful small plates.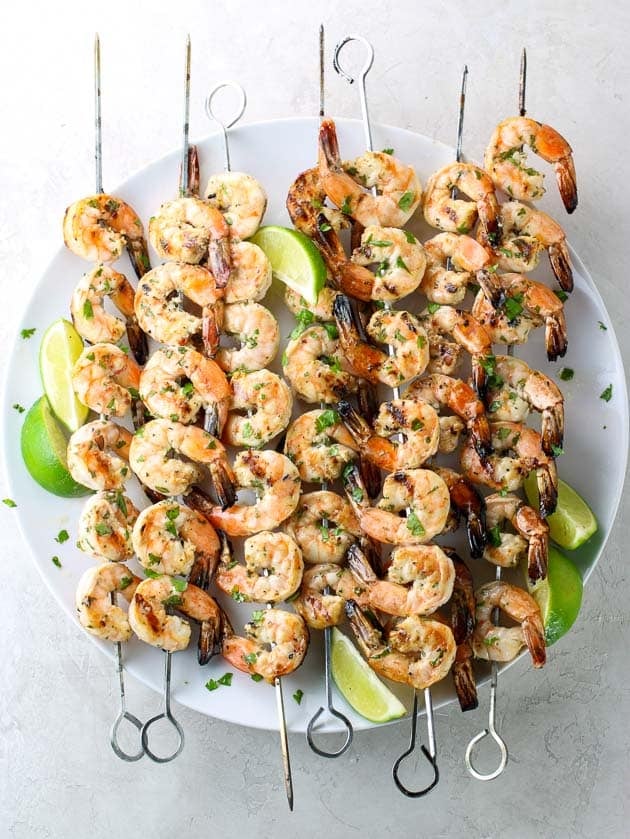 If you are a fan of easy shrimp recipes, then you'll love these Cilantro Lime Grilled Shrimp…they're fresh and limey with a bit of that summertime-grilled flavor, topped off with some sweet and spicy Pineapple Salsa. It's sheer summertime eating perfection!
Are you following me on Instagram, Twitter, Facebook, and Pinterest?
Other Delicious Grilling Recipes:
Yield: 6 servings
Cilantro Lime Grilled Shrimp with Pineapple Salsa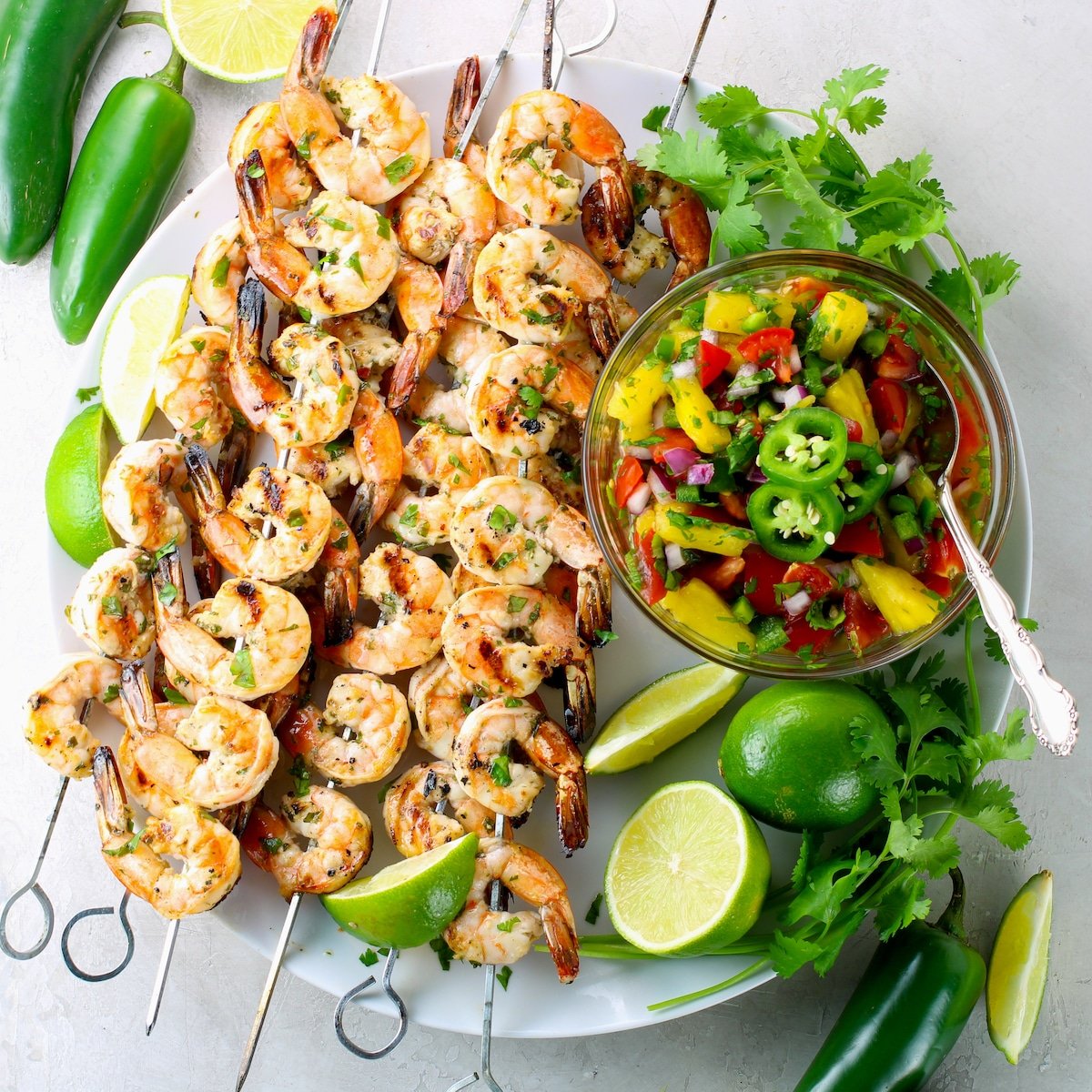 Cilantro Lime Grilled Shrimp with Pineapple Salsa: Fresh & limey shrimp recipe for the grill! Pineapple salsa w/jalapeno, red onion, cilantro, & tomatoes.
Marinating Time
30 minutes
Ingredients
For The Shrimp:
1 ½ pounds fresh shrimp, peeled and cleaned
4-5 tablespoons fresh lime juice, (about 2 limes)
⅓ cup fresh cilantro, finely chopped
1 tablespoon olive oil
3 medium garlic cloves, minced
For The Pineapple Salsa:
2 tablespoons finely minced red onion
⅓ cup pineapple chopped into bits, (or buy canned "pineapple tidbits" in 100% pineapple juice)
4 campari tomatoes, chopped, with their juice
2 tablespoons pineapple juice
¼ cup finely chopped fresh cilantro,
1 jalapeno pepper, diced, (include the ribs & seeds if you like more heat)
¼ teaspoon salt
Instructions
For The Shrimp:
If using wooden skewers, soak them in water for several hours.
Rinse, peel, and de-vein the shrimp.
In a medium bowl, combine lime juice, cilantro, olive oil, and minced garlic.
Add shrimp and gently fold into the marinade, ensuring all shrimp are fully coated.
Cover and refrigerate for 30 minutes
Skewer the shrimp and grill over high heat, about 2 minutes per side. Closely monitor to ensure they don't overcook. Shrimp will curl up and turn pearly/opaque when ready.
Squeeze fresh lime over shrimp then serve warm with pineapple salsa.
For The Pineapple Salsa:
Combine onion, pineapple, tomatoes, pineapple juice, jalapeno, and salt in a small serving bowl.
If desired, adjust the seasoning to your preference by adding either more salt or more pineapple juice.
Notes
For low carb simply omit the pineapple salsa and the Carb count in each serving drops from 10g to 2g (the nutrition info below includes the pineapple salsa).
Prep time includes 30 minute marinade time.
Nutrition Information
Yield
6
Serving Size
4 shrimp w/salsa
Amount Per Serving
Calories

173
Total Fat

3g
Saturated Fat

0g
Trans Fat

0g
Unsaturated Fat

2g
Cholesterol

214mg
Sodium

241mg
Carbohydrates

10g
Net Carbohydrates

9g
Fiber

1g
Sugar

7g
Protein

28g
This nutrition card uses an estimate provided by an online nutrition calculator. This estimate is not a substitute for a professional nutritionist's advice!