Delicious Grilled BBQ Chicken Drumsticks - marinated, grilled and coated in BBQ sauce! These chicken legs are so tender and flavorful you'll be making them all summer long!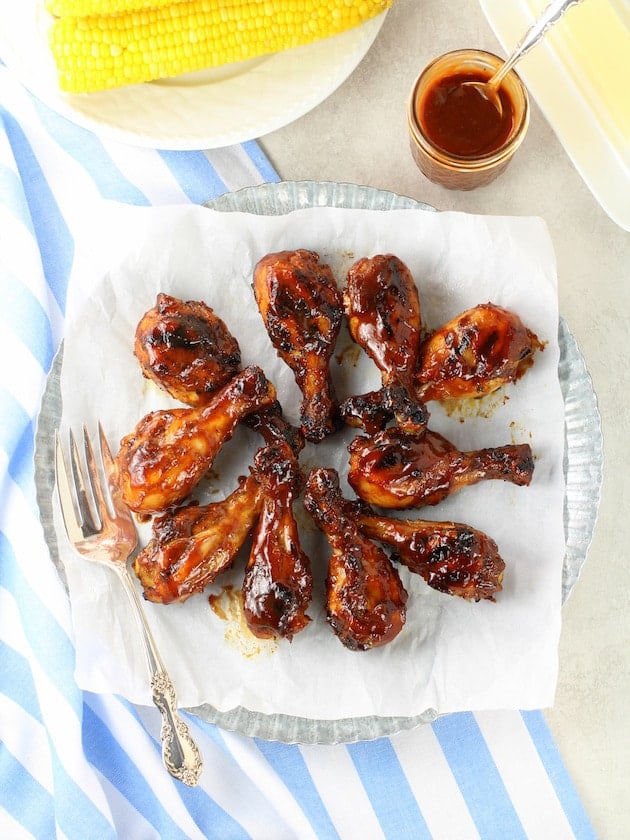 (This post contains affiliate links... read more here.)
Chicken Drumsticks On The Grill!
Because my main guy is all about some juicy tender BBQ, I decided to showcase these Grilled BBQ Chicken Drumsticks today in his honor! The B man LOVES him some barbecue!
Happy Father's Day to my dude crew out there! Thanks for loving and leading your families. For protecting and providing… for making us laugh, for showing us love and for just being you!
Let's hear it for the boys!!!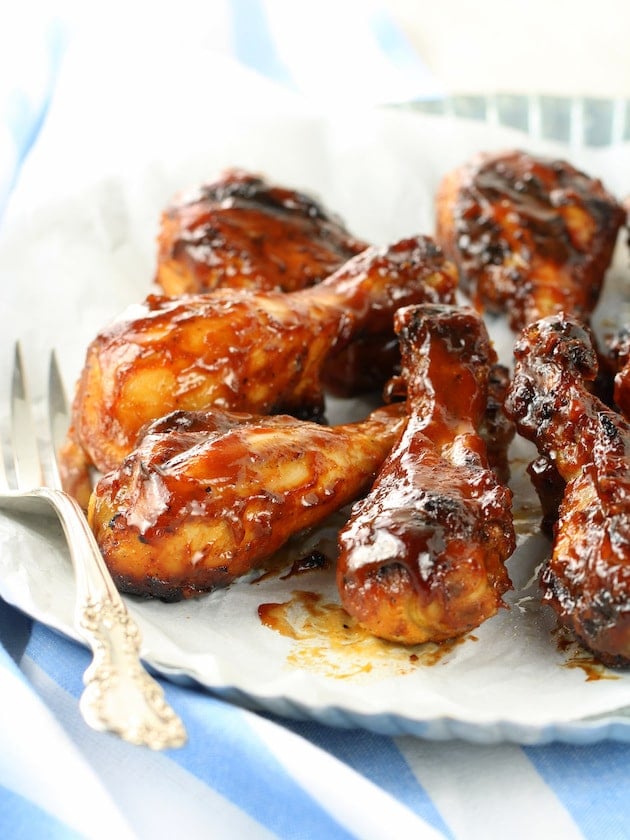 I'm serving up these Grilled BBQ Chicken Drumsticks for all my meat loving men (and women)!!
These drumsticks are all kinds of special my friend. And if you or your guy are not into the drummies then use whatever cut of meat you'd like… thighs, chicken breasts, or even chicken wings. They are crazy good!
It all starts with the marinade. A sweet, savory and (a little bit) spicy sauce that the meat hangs out in for 2-24 hours. I'm not gonna lie – it does amazing things to this chicken. It not only infuses flavor but it makes the chicken legs sooo tender.
It's very similar to the marinade we use for our BBQ Baby Back Ribs but the ratios are recalculated for this recipe.
Brilliant – right!??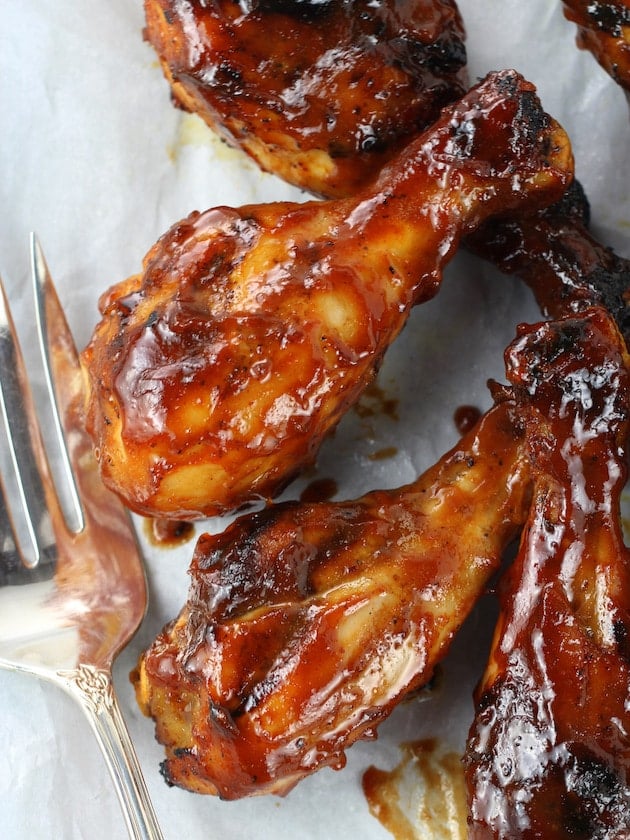 These easy grilled chicken legs are marinated, grilled and then basted with… wait for it… some more delicious BBQ sauce.
They are sooo good! I literally can't stop eating these grilled chicken legs… And I'm usually a chicken breast girl. Whaaaa!?? Crazy talk!
All I can say is strange things are afoot over here people, in the best way possible.
Trust me when I tell you this is a standout among drumstick recipes - especially when it comes to summertime grilling. Shall I disclose the details of this BBQ amazingness?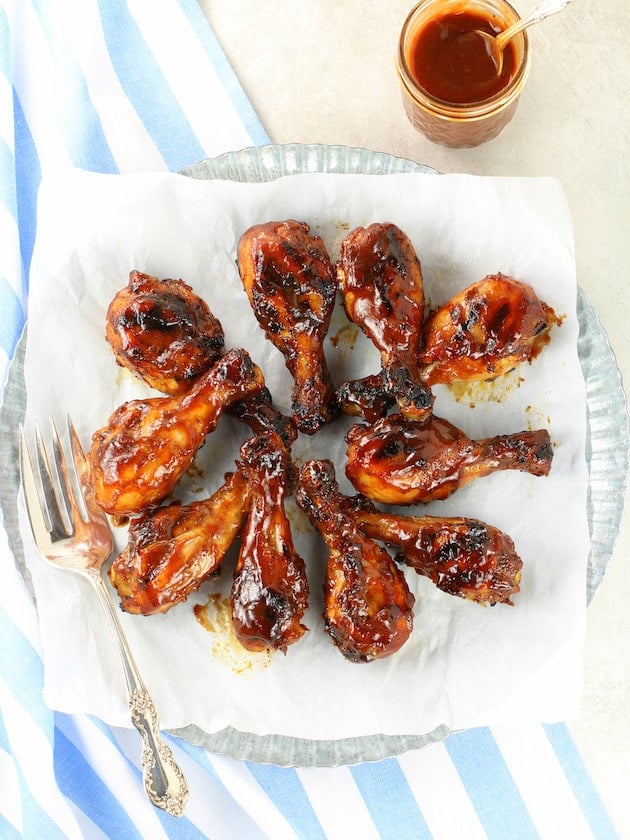 How to make grilled BBQ chicken drumsticks:
Place the chicken legs in a resealable plastic bag. Mix brown sugar, olive oil, apple cider vinegar, minced garlic cloves, onion powder, smoked paprika, dry mustard, salt & pepper and a pinch of cayenne together and pour it over the chicken. Allow the chicken to marinate in the sauce in the refrigerator for at least 2 hours and up to 24 hours.
When it's time, grab your grill brush and give each grill grate a good scrub, then preheat the grill to 400 degrees. You want the grill temperature to be between a medium heat and a high heat.
Spray the chicken drumsticks with grill spray and grill for 4-5 minutes on both sides. Keep an eye on them because the sugar in the sauce can caramelize and burn. The internal temperature of the chicken should reach 165 degrees. Pro tip: I do love a digital instant read meat thermometer - it makes checking the cook temps super easy (<-- link to my fave).
Remove the chicken from the grill and baste with your favorite BBQ sauce. Then allow the drumsticks to cool for 5 minutes and serve.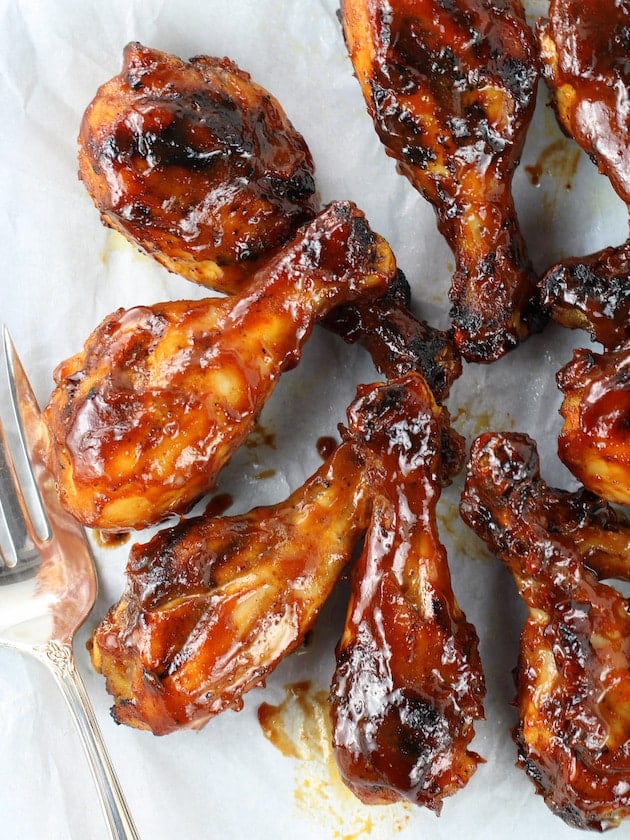 I'm just going to warn you, it requires a lot of restraint to not pick up one of these BBQ chicken legs and just devour it right off the grill. But that would not be good - trust me the wait is so worth it!!
They're all saucy and caramelized and grilled to perfection. And if you need another amazing grilled chicken recipe idea, try my Grilled Chicken Caprese with Balsamic Sauce. Or, if you find yourself without a grill, dad will surely love these low carb garlic parmesan wings. 🙂
Happy Father's Day and Happy Grilling!!
Yield: 10 servings
Grilled BBQ Chicken Drumsticks
BBQ Chicken Legs marinated, grilled and then basted with delicious bbq sauce!
Total Time
2 hours
20 minutes
Ingredients
2.5 pounds chicken drumsticks (9-10 chicken legs)
¼ cup brown sugar
6 garlic cloves, minced
1 tablespoon onion powder
2 teaspoons smoked paprika
1 teaspoon dry mustard
1 teaspoon salt & pepper
¼ teaspoon cayenne (use more if desired!)
¼ cup olive oil
¼ cup apple cider vinegar
Grill spray
BBQ Sauce of your choosing (see note below*)
Instructions
Place chicken in a resealable plastic bag. Mix all the marinade ingredients together and pour over the chicken. Marinate in the refrigerator for 2 hours to 24 hours.
Heat the grill to 400 degrees, then spray the chicken drumsticks with grill spray.
Grill the chicken for 4-5 minutes on the first side. Keep close eye on them – the sugar in the sauce will caramelize and burn.
Flip the drumsticks over and grill for 4-5 more minutes, or until their internal temperature reaches 165 degrees. Remove and baste with BBQ sauce then allow to rest 5 minutes.
Notes
For the BBQ sauce, I recommend this homemade BBQ sauce we use on our ribs.  But your favorite store-bought BBQ sauce will work too! 
Nutrition Information
Yield
10
Serving Size
1 Drumstick
Amount Per Serving
Calories

210
Total Fat

13g
Saturated Fat

3g
Unsaturated Fat

0g
Cholesterol

70mg
Sodium

375mg
Carbohydrates

10g
Fiber

1g
Sugar

8g
Protein

14g
PS: my hub's other favorite is any Mexican food! Check out these reader favorite Mexican recipes for your Father's Day festivities:
Instant Pot Beef Barbacoa
Cheesy Chicken Enchiladas
Shredded Mexican Chicken (Instant Pot!)
Mexican Chicken Casserole
Homemade Refried Beans
Mexican Pizzas
The Elderflower Margarita