"Secret Sauce" BBQ Baby Back Ribs… these melt-in-your-mouth, fall-off-the-bone BBQ ribs have just the right balance of savory and sweet flavors with a bit of heat to make them the star of your next cookout!
Jump to:
Happy Independence Day!!! (Ahem, apologies to any of my readers from Great Britain... #bygones?) Yes, it's that time of year: break out your red white, and blue, throw that apple pie in the oven, fly Old Glory, and head down to your local fireworks show.🎉🇺🇸
As we approach the 4th of July we always take time to reflect on how fortunate we are to enjoy such liberty in this great country.
And we gratefully recognize all those who have gone before us to pave the way and sacrificed so much. To all who have served our nation in any way, thank you!!🙏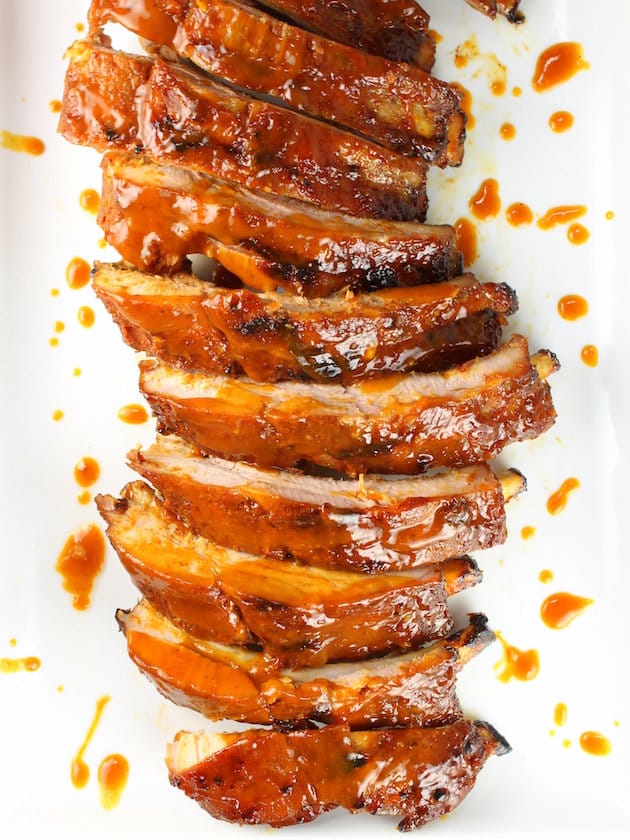 The Most Delicious BBQ Baby Back Ribs!
Our 4th of July cookouts have been anchored by these amazing BBQ baby back ribs for years. Ole Sanderino has pretty much perfected his "baby back ribs oven method," and it doesn't get much easier than this.
In fact, even if you don't know how to cook ribs, we can almost guarantee you the perfect tender ribs every time with these directions.👌
Plus, these babies have Mom's stamp of approval. And that's saying a lot because the B man's mom is a rib-eating champion.💪 No joke. Only the tastiest and most tender meat will do for her.
Whenever we visit her and FIL you better believe B is whipping up these gorgeous racks of goodness. AND making extra to freeze so she has them on hand for the next time she gets a craving or basically every day of the week until they're gone.
I told you Mom's got mad rib-eating skills!👍😁
Enough about the B man's rib-eating lineage and more about how to get this amazingness on the table! Let's do this!!👇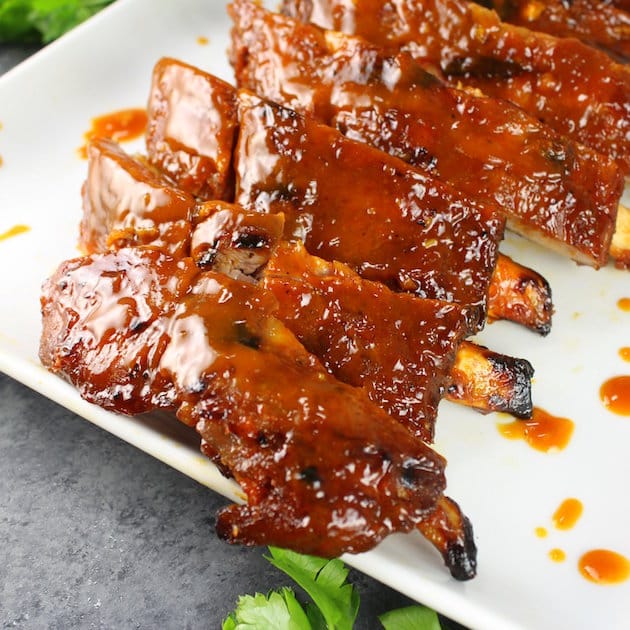 What Kind Of Ribs Should I Buy?
Baby Back Ribs are sourced from the upper and lower (back) area of the spine and ribs. These ribs tend to be smaller in size and usually have more meat than Spare Ribs. The smaller size also makes these racks of ribs easier to handle and they fit well in the tin foil wraps described below.
Spare Ribs are taken from the belly area and are generally less meaty than baby backs. They typically have more fat than baby backs and are larger ribs. If you can't find baby backs, spare ribs can get the job done.
Short Ribs are beef ribs that include a rib portion along with a cut of chuck beef. Butchers typically cut short ribs in a variety of ways, depending on how you are preparing or serving the ribs. We don't recommend using short ribs for this method!
We find that Costco usually has a great selection of meats and they are our go-to for purchasing these ribs. Typically we'll buy one 10-pound package that contains three long racks of baby backs. Depending on what else you're serving, this should easily satisfy 12+ people.
How To Dry Rub Baby Back Ribs:
Aside from the ribs & the sauce, you'll need two key items: heavy-duty 18" wide aluminum foil, and a couple of large heavy-duty disposable foil baking pans. Before you start handling the meat, tear off a long sheet of foil for each rack of ribs, and set them aside on a counter, shiny side facing down.
Mix together the dry rub (recipe below), and use your hands to work the dry rub into each rack of ribs.
Place the rack meat-side down onto a piece of foil. Carefully bring together the long edges of the foil, then roll them together down toward the ribs. Close and roll up the short ends of the foil to seal the ribs for cooking. Like so:
Transfer all the foil-enclosed ribs to the aluminum roasting pan, and refrigerate for at least 12 hours.
Oven-Cooking Baby Back Ribs:
The next step is to oven-cook your ribs for 3-4 hours. Start them at 350 for the first 30 minutes, then drop the heat to 300. After another 90 minutes, rotate the ribs.
Around the 3.5-hour mark, I'll usually peek at the ribs: leaving the ribs in the baking tray, carefully open one end of one foil packet. Normally the tin foil doesn't retain heat so you can usually use your hands to open the foil packet, but be careful because the steam inside the foil is extremely hot!
Once the ribs are ready to come out, you'll want to carefully pour all the cooking liquid from the ribs into a bowl or large measuring cup to use in the BBQ sauce.
You can either allow the ribs to cool fully, reseal them, and throw them back in the fridge to grill another day, or proceed on to the grilling step.
Grilling or Broiling Baby Back Ribs:
For the next step, you'll use either our homemade "Secret Sauce" or your favorite store-bought BBQ sauce.
Just a word of advice, for the love of pork, do yourself a solid and make the homemade sauce. It's the perfect balance of sweet and tangy and 100% finger-lickin' good.💯 (recipe below.) Now heat up that grill and get to basting
Leave each rack of ribs meat side up, and cover the meat side thoroughly with BBQ sauce. Start grilling them with the meat side up, then flip and baste the other side while they're on the grill.
You need to watch them closely since your goal is simply to get a nice caramelization on the ribs, then remove them.
(If you don't have access to a grill, you can simply use the broiler setting on your oven instead. Raise your oven rack and leave the ribs meat side up the entire time.
Baste the meat side then throw them under the broiler… Typically when we broil them it takes around 5-10 minutes, but you'll want to watch them closely since every broiler cooks differently.)
We like to flip them back over (meat-side up) and re-slather the entire rack with more BBQ sauce. Then remove from the grill and chop into 2- or 3-rib portions and serve!
Homemade BBQ Sauce – our "Secret Sauce"!
I almost forgot – the secret sauce! Whaaa??? In all honesty, I'm kind of a sauce snob. Yep – I'm just a little picky when it comes to my BBQ sauce. I like a balance of sweet and tangy with a little kick of spice.
I couldn't really find a store-bought version that I loved so I made my own. We use this mouthwatering sauce for all our BBQ needs like our BBQ Pulled Pork Sliders, Secret Sauce Baked beans, and of course these Secret Sauce BBQ Ribs!
It's the perfect combination of drippings from oven-cooked ribs, along with ketchup, mustard, apple cider vinegar, brown sugar, garlic, black pepper, and cayenne.
The result is a magical blend of sweet, savory, tangy, soul-warming goodness. Mmm. #drooling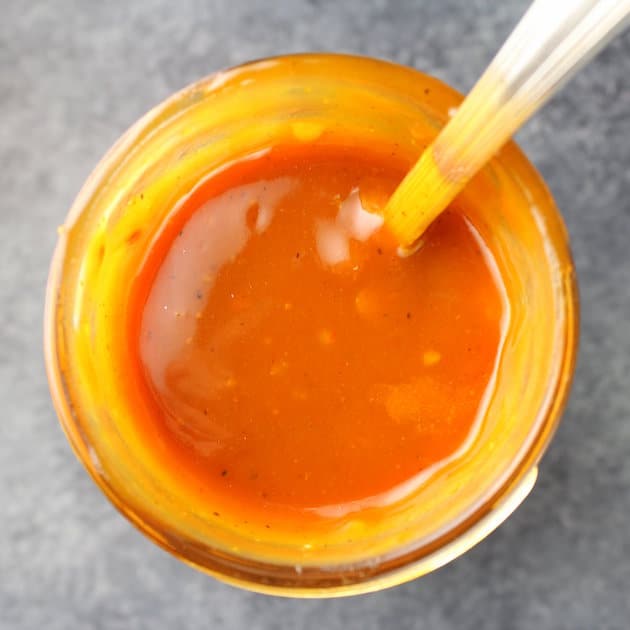 So there you have it friends, our Secret Sauce BBQ Baby Back Ribs! I hope they are the centerpiece of a wonderful 4th of July celebration that's full of family & friends, remembrance & gratitude, and rest and relaxation!❤️💙
I would love to connect with you! Leave a comment and follow me on Instagram, Twitter, Facebook, & Pinterest!
Yield: 15 Servings
BBQ Baby Back Ribs with "Secret Sauce"
Melt-in-your-mouth, fall-off-the-bone BBQ ribs with the right balance of savory, sweet, & heat.
Cook Time
3 hours
35 minutes
Total Time
3 hours
50 minutes
Ingredients
For The Dry Rub:
1 cup brown sugar
1 tablespoon kosher salt
1 tablespoon dry mustard
½ teaspoon black pepper
2 tablespoons garlic powder
2 teaspoons cayenne pepper
1 tablespoon paprika
10 pounds baby back pork ribs – also sold as "pork loin back ribs" (3 large racks)
For The Secret Sauce:
1 cup yellow mustard
1 cup apple cider vinegar
⅔ cup ketchup
1 cup brown sugar
3 cloves garlic, minced
½ teaspoon freshly ground black pepper
1 cup drippings from oven-cooked ribs (skim the fat before using)
Instructions
For The Dry Rub:
Combine all dry rub ingredients in a medium bowl and mix well.
Tear off three pieces of heavy duty foil at least 8 inches longer than the racks of ribs. Place them where you have easy access to them, shiny side facing down.
Using your hands, coat each rack of ribs thoroughly with the dry rub. Then place a rack of ribs in the foil, meat side facing down.
Carefully bring together the long edges of the foil, then roll them together down toward the ribs. Close and roll up the short ends of the foil to seal the ribs for cooking.
Transfer all ribs to an aluminum roasting pan. If you have three racks of ribs, you can stack the third one right on top of the other two.
Refrigerate overnight or at least 12 hours.
Slow-Cook The Ribs:
Place oven rack in center position, and preheat oven to 350 degrees.
Place baking tray with ribs in the oven. Cook at 350 for the first 30 minutes, then reduce heat to 300 and bake for another 90 minutes.
After the first 2 hours, rotate the foil packets. Leave the temperature at 300 and cook for another 90 minutes.
At this point check to be sure the ribs are done: leaving the ribs in the baking tray, carefully open one end of one foil packet. (Be careful the steam is extremely hot.) You should see that the meat has started to pull away from the bone. Gently test with a fork to ensure that they are tender and give easily, but still hold their shape to be able to survive grilling or broiling. If they need more time, re-seal the foil and return them to the oven for another 15-30 minutes.
Carefully pour all the cooking liquid from the ribs into a Pyrex measuring cup and set aside.
Make BBQ Sauce & Grill The Ribs:
In a saucepan add the mustard, vinegar, ketchup, brown sugar, garlic, black pepper, and 1 cup of drippings from the ribs. Bring the sauce to a gentle boil then reduce and allow to simmer for around 10 minutes.
Using a basting brush, cover the meat side of ribs with the sauce. Don't worry about the bone side at this point.
Thoroughly oil grill grates using paper towels and canola or olive oil, then bring grill to 450 degrees.
Place ribs bone-side down on the grill, cook with lid closed for 3 minutes.
Gently turn the ribs over, meat side down. Brush the bone side of the ribs with a small amount of BBQ sauce. Leave the grill open, and closely monitor the ribs during this step! Grill the ribs long enough to caramelize, without burning them. You may need to adjust grill heat as necessary to achieve this, but normally this takes around 5 minutes. Place the grilled ribs bone-side down onto a cookie sheet, then re-apply BBQ sauce over the meat side.
Nutrition Information
Yield
15
Serving Size
About 3 ribs
Amount Per Serving
Calories

400
Total Fat

30g
Saturated Fat

10g
Trans Fat

1g
Unsaturated Fat

15g
Cholesterol

120mg
Sodium

813mg
Carbohydrates

7g
Net Carbohydrates

29g
Fiber

1g
Sugar

17g
Protein

30g
This nutrition card uses an estimate provided by an online nutrition calculator. This estimate is not a substitute for a professional nutritionist's advice!
For a tasty side dish, try these low-carb Brussel Sprouts with Balsamic. OR if you're not feeling the BBQ thing you can always go for one of my favorite Mexican recipe standbys: this Shredded Mexican Chicken in the Instant Pot or these amazing Cheesy Chicken Enchiladas!