These Cranberry Orange Cookies with White Chocolate Chips are sweet and tart and so delicious! With white chocolate chips, frozen cranberries, orange zest, and orange juice, they'll have everyone asking for more!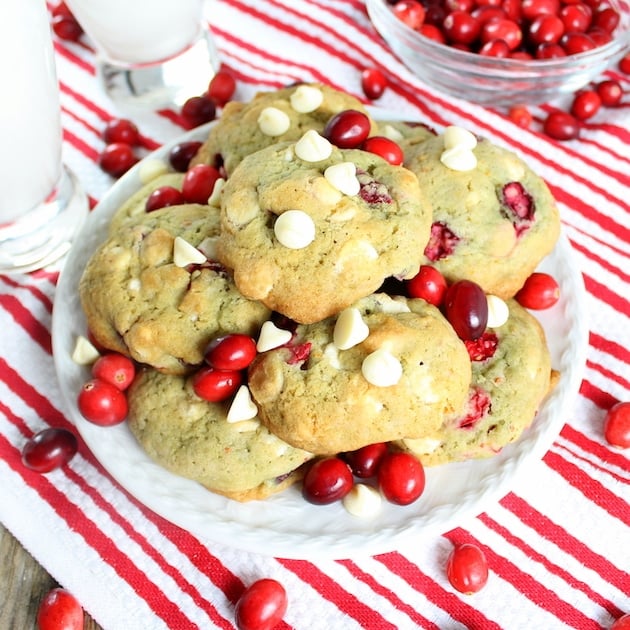 It's the most wonderful time of the year… when cookies are baked, served, and devoured in abundance.😋
Isn't it amazing!?? Just by calling them Christmas cookies, you get a guilt-free pass to eat as many as you want for weeks on end.
Merry Cookies! Uhh, or Christmas!🎁🎄
What's your favorite cookie? I'm guessing it probably has something to do with chocolate. I'm sure this will come as no surprise to but the good ole' chocolate chip cookie is the most popular cookie of all time, according to the Huffington Post.🍪
Here's their top 10 list of America's favorite cookies:
Chocolate Chip Cookies
Brownies (I know – it's not even a cookie.)
Peanut Butter Cookies
Oreos
Oatmeal Raisin Cookies
White Chocolate Macadamia Cookies
Sugar Cookies
Shortbread Cookies
Butter Cookies (Mmm butter.)
M&M Cookies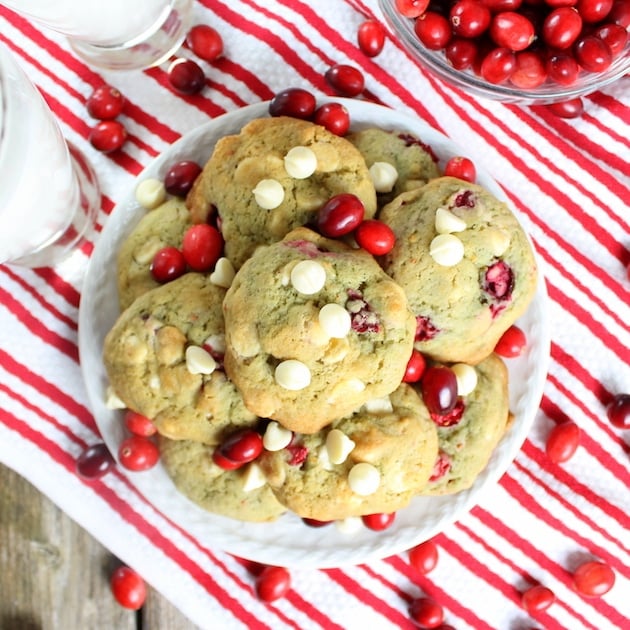 Although I do appreciate some chocolate now and then, I also enjoy fruity desserts as well. Homemade fruit pie is probably one of my favorite desserts ever.❤️
How do you feel about fruit in your cookies... say, as in an orange cranberry cookie?
I for one am a fan.👍 I make these Holiday Biscotti with lemon zest, almonds, dried cranberries, and white chocolate – ridiculously AMAZING!💯
I don't even need coffee for dipping; I just crunch away at those heavenly sticks of goodness. They are definitely a staple in our house around the holidays.🌟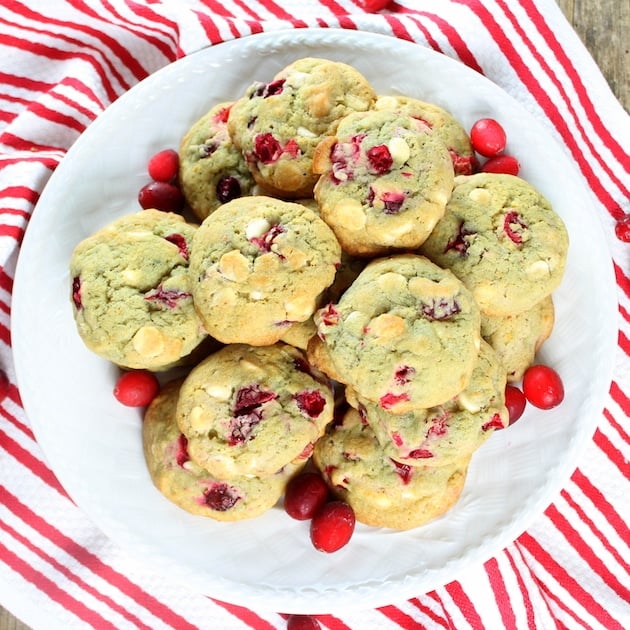 Recently I was thinking about making them and I interrupted myself with the thought of making a cookie instead (am I the only one that happens to?).🤔
I do like trying new things - and developing new recipes, so that's exactly what I did!!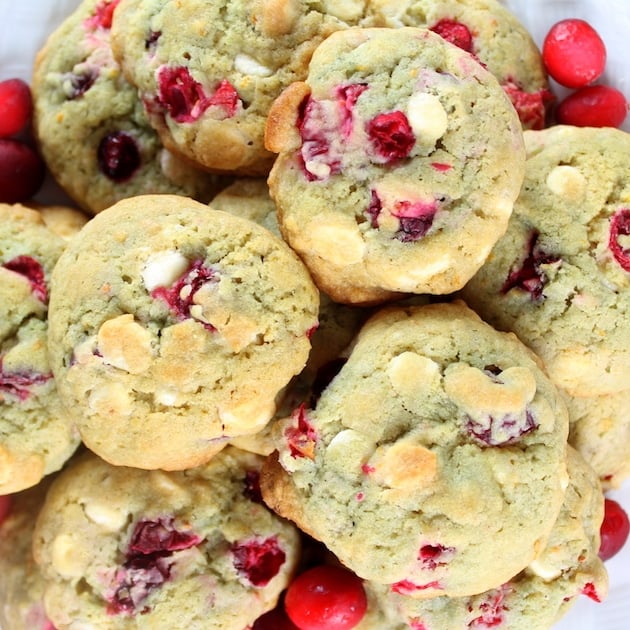 Cranberry Orange Cookies!
I would like to introduce to you my latest creation… these Cranberry Orange Cookies with White Chocolate Chips!💫
They are pretty phenomenal, just ask the B man. He should know cause he's eaten/inhaled almost half of them and I made them less than 24 hours ago.
That is truly saying something since he is a consummate dark chocolate-eating fiend (self-appointed of course). What can I say? The man has good taste.👌 Cause they are redonkulous!!🙌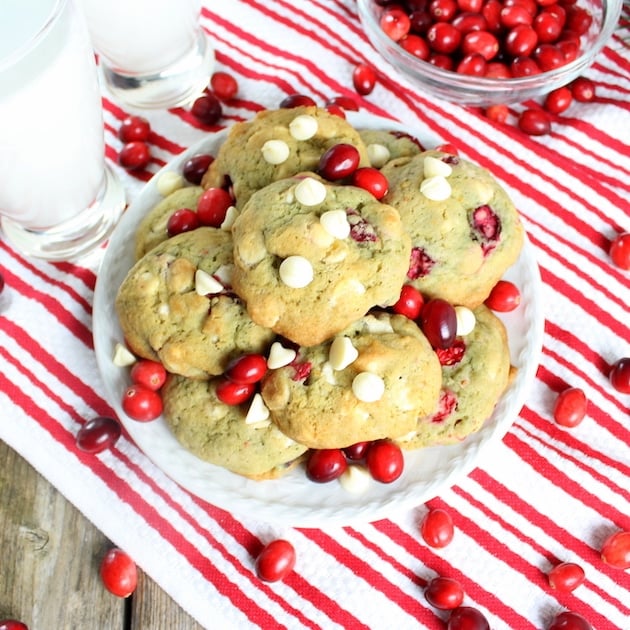 They are a yummy combo of tart and sweet.
They have many of the ingredients you would expect like flour, sugar, and butter but they also include some other ingredients that take them up a notch!
There's white chocolate, orange zest, fresh squeezed orange juice, and frozen uncooked cranberries!👇 Wha Wha Whaaa? Not even kidding.✌️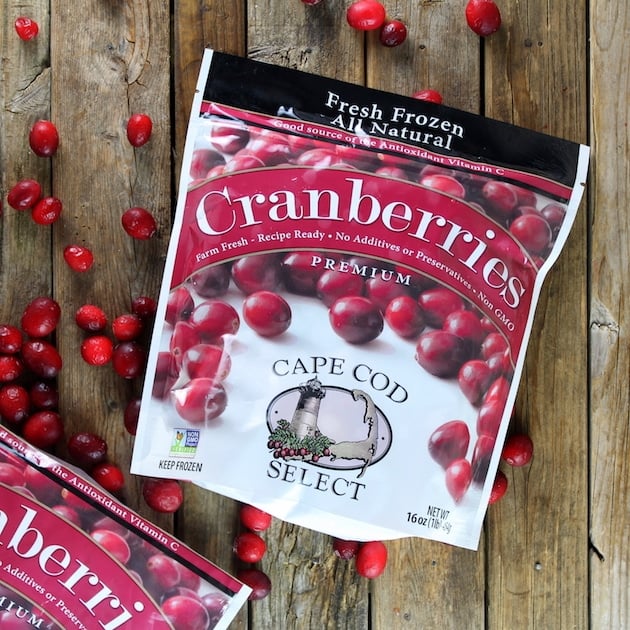 When all those ingredients are combined together it's one remarkably delicious flavor experience.
Who knew cranberry orange white chocolate cookies could be so yummy!??
Plus they have so much vitamin C from all that fruit they're actually good for you. Ok so maybe they're not "health food," but they make me happy and they taste really good!😄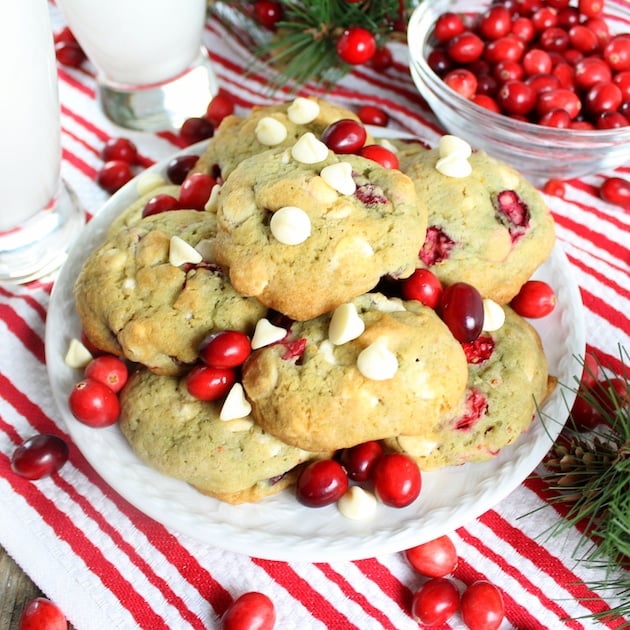 If you're looking for a new and delicious cookie to try, that includes some fresh fruit and tastes like a Creamsicle and cosmopolitan had a baby (minus the liquor of course), your search is over!
These Cranberry Orange Cookies with White Chocolate Chips are just the cookies for you!!❤️
For more delicious cranberry ideas, be sure to follow Cape Cod Select on FaceBook, Instagram, Pinterest, Twitter, and Google+.
Merry Christmas and Merry Cookie!!🎁
More Delicious Cookie Recipes!
Peppermint Kissed Thumbprint Cookies
Holiday Biscotti
Almond Joy Cookies
Double Chocolate Protein Cookies
Yield: 36 cookies
Cranberry Orange Cookies with White Chocolate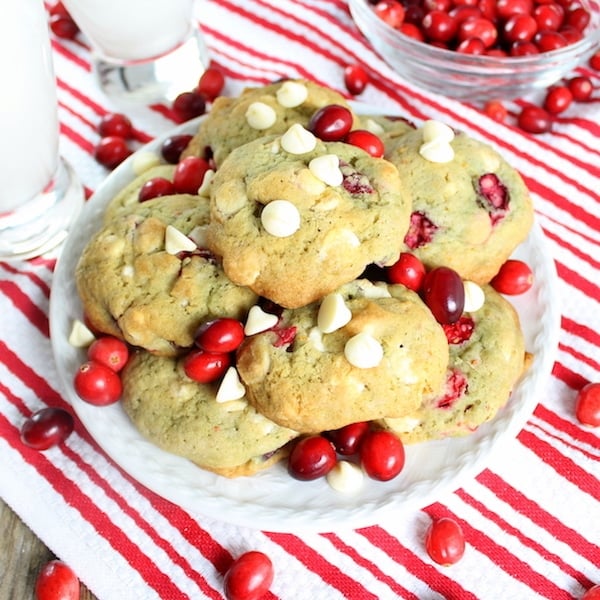 Sweet and tart and so delicious! With white chocolate chips, cranberries, orange zest, and orange juice!
Ingredients
2 ½ cups all-purpose flour
¾ teaspoon baking soda
¾ teaspoon salt
1 cup (2 sticks) unsalted butter, room temperature
½ cup granulated sugar
½ cup light brown sugar, packed
orange zest, from one large orange
1 large egg
2 teaspoons vanilla extract
2 tablespoons orange juice
2 cups Cape Cod Select premium frozen cranberries, cut in half or chopped
12 ounces white chocolate chips
Instructions
Preheat the oven to 375°F. Line baking sheets with parchment paper.
In a medium bowl, whisk together the flour, baking soda and salt; set aside.
In a large bowl with an electric mixer, beat/cream the butter and sugar together on medium-high speed for 2-3 minutes. The mixture will become light and fluffy.
Add the orange zest, egg, vanilla and orange juice and mix on a low speed until combined.
Add the dry ingredients slowly, in increments, and mix together after each addition.
Add the white chocolate chips and mix thoroughly.
Carefully fold in the frozen (or fresh), chopped cranberries by hand.
Cover the dough and refrigerate for 30 minutes.
Using a medium cookie scoop, (about 1 ½ tablespoons) drop dough onto prepared cookie sheets at least two inches apart.
Bake for 10 to 12 minutes. Allow cookies to cool on the sheet for about 3 minutes before removing them to a wire rack to cool completely.
Nutrition Information
Yield
36
Serving Size
1 cookie
Amount Per Serving
Calories

155
Total Fat

8g
Saturated Fat

5g
Unsaturated Fat

0g
Cholesterol

20mg
Sodium

127mg
Carbohydrates

18g
Sugar

11g
Protein

1g