This Creamy Tortellini Soup with Chicken is a comforting and hearty bowl of warm cheesy goodness! Whether you cook your own chicken or use a store-bought roaster it's a delicious and satisfying meal the whole family will love!
Chicken Tortellini Soup
Don't you just love a hearty comforting bowl of soup!!? (Like my Instant Pot Chicken Noodle Soup or Thai Red Curry Chicken Soup… mmm, so slurpalicious!)
Yes!? Then we're totally on the same page!
It is like healing balm for whatever ails you. And that is exactly what I needed last week when I was down and out with a pretty bad head cold.
Yes - Creamy Tortellini Soup with Chicken to the rescue!
We had some dear friends in town two weeks ago. All 5 of them! I really do love a full house with all my people.
There was Noah who is 5 years old… He is so brave, I think I calculated that he spent more time in the pool each day than he spent on dry land. He is a legit fish people! He loves to help out and he's especially good at cooking with his Aunt Holly. Interestingly enough his favorite food is crab legs and I think he ate 5 King Crab Legs in one setting all by himself. What can I say he's got great taste and all kinds of mad skills.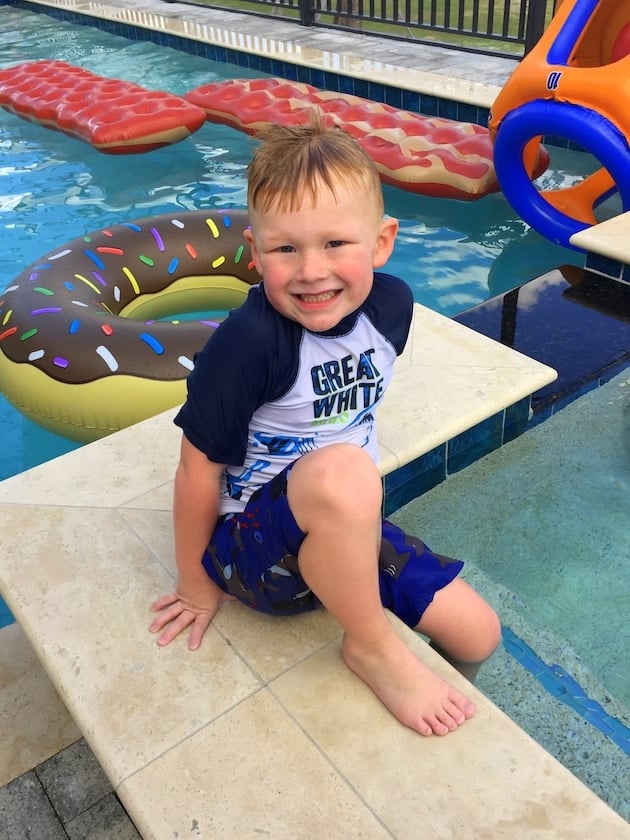 Then there's Landry… aka "Lando" (the B man loves to give everyone nicknames). Landry is 3 years old, and oranges are his favorite food – he likes to peel them for himself but he needs you to start them for him. He loves Nemo band aids and actually needs a lot of them – for real. He's always moving fast trying to keep up with his big brother, so bumps and bruises are just part of the territory. I think I counted 4 on him at the same time at one point. And he loves the idea of the pool but enjoys it mostly from the shallow end... for now.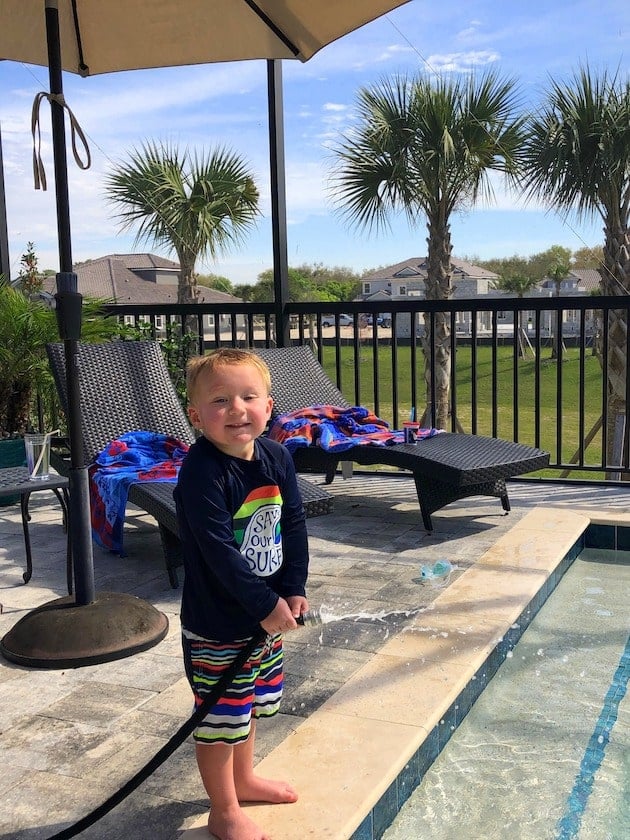 Then there's the sweet precious cherub Anna Grace… aka Chicakadee aka Love Nugget aka Pumpkin aka AG (that last one is another Sanderino nickname). She turned 5 months old while visiting us... yes her mom is a boss for traveling with three kids under 5 including a newborn!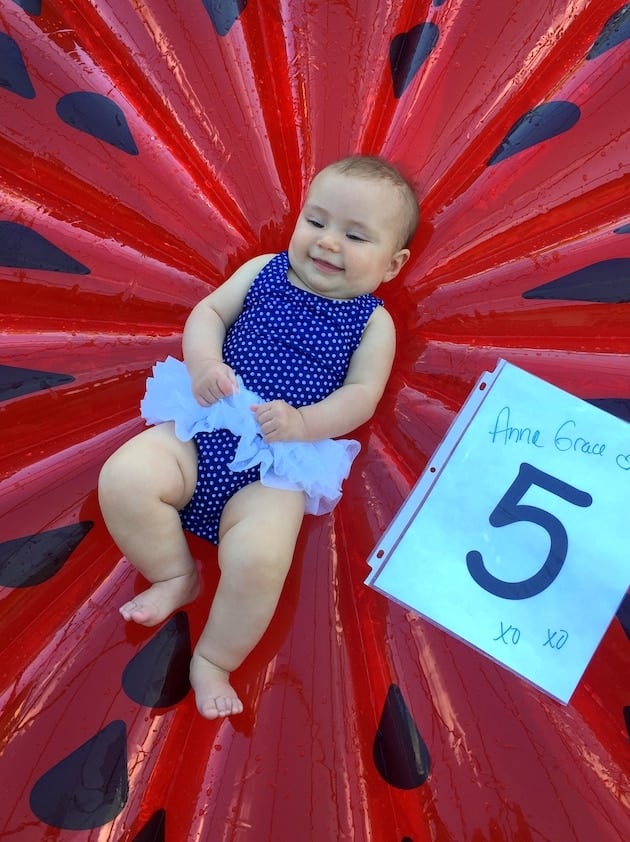 I almost don't have words for this little one. She is sweet and smart and all smiles – except when she's hungry – then get out the way! She LOVES watching her brothers play and being in the middle of the action. She also loves bath time and is more of a hot tub girl than a pool girl. I think she gets that from her dad. She learned how to roll over while she was staying with us – to the right, to the right, but not the left just yet.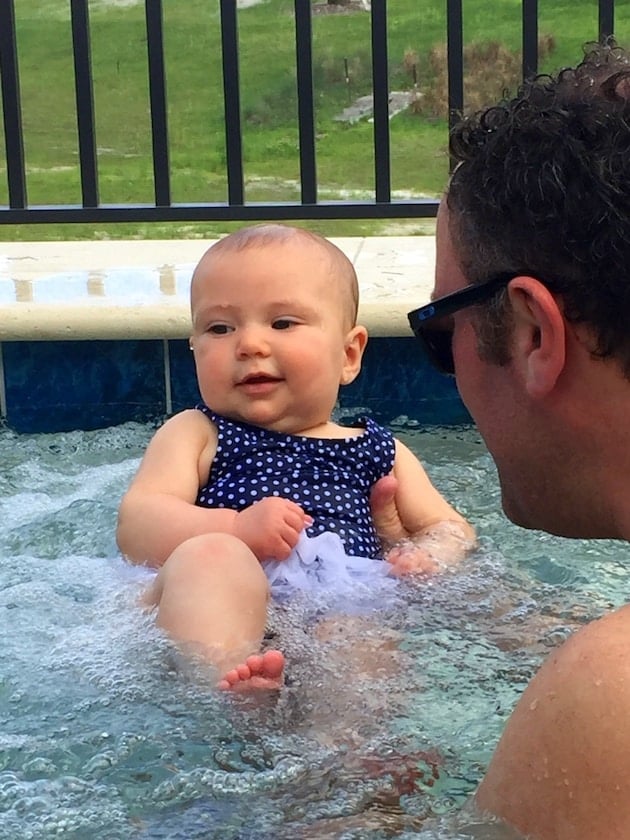 And of course there are the parents of these adorable kiddos… Jaime and Brian. We've been friends for a while now, but really I feel like we're family. They're amazing parents, who can laugh at themselves and their kiddos, love Jesus with all their hearts and each other, and love us like family. We're more than grateful for our crew.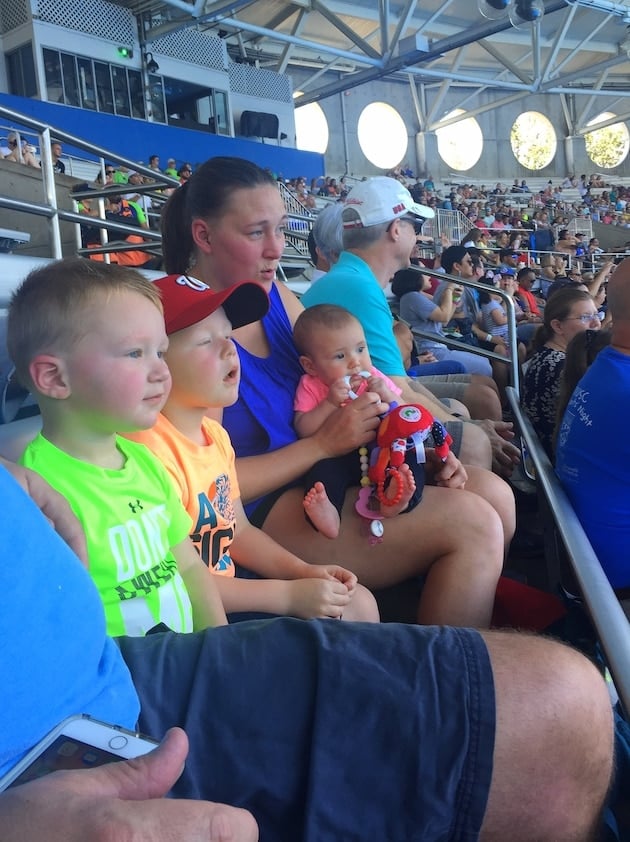 We had so much fun while they were here… we swam in the pool (a lot), visited Sea World, ordered live lobsters and cooked them together, made some cool creations with playdough and Legos, spent some relaxing evenings in the hot tub, and making 'smores in the chiminea… just so much fun!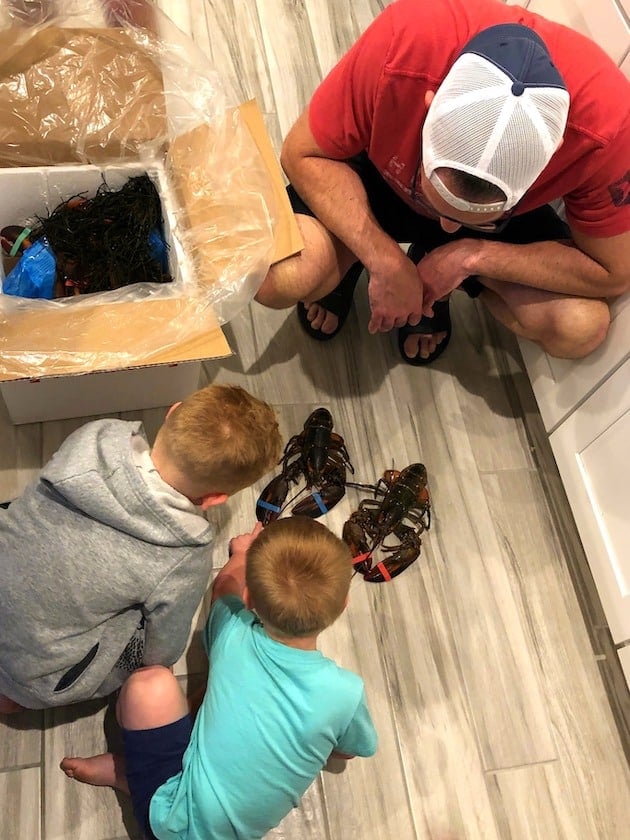 Little Chickadee was teething while she was here and we think she may have had a bit of a cold, but she powered through like the princess warrior she is. It didn't matter to me - she could have had the plague and I would have cuddled her and smooched her the whole time. Wild horses couldn't keep me away from that sweet girl.
And because of that, the day after they left, my nose was running off my face. I went through a box of Kleenex a day, for 4 days straight. Not kidding. And I would do it all over again 100 times to hold that sweet precious cherub.
I knew exactly what needed to happen…. Yep: SOUP! And not just any soup – but chicken soup!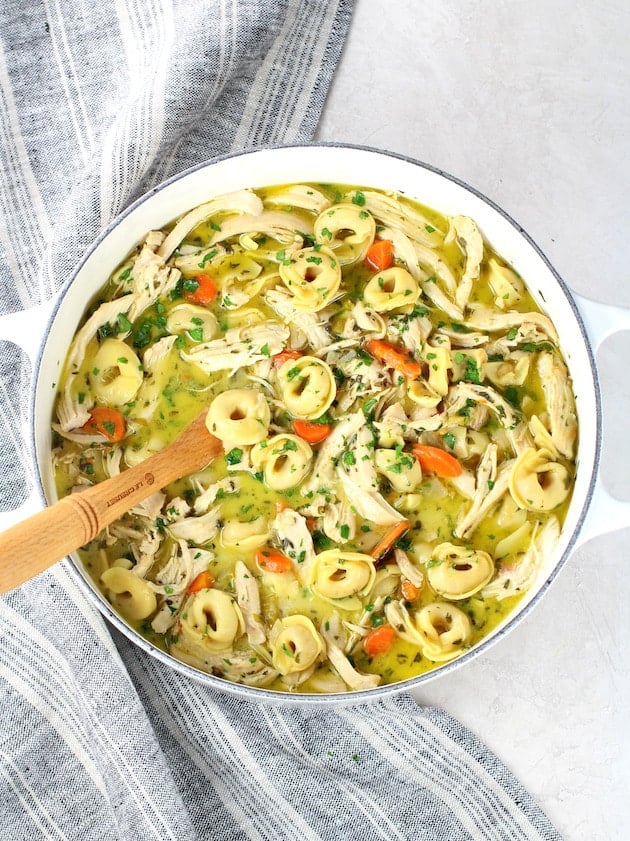 I mustered all the strength I could and pulled out some homemade chicken stock from the freezer, added onions, carrots, celery and some pulled rotisserie chicken, then threw in some 3-cheese tortellini, aka cheesy pockets of goodness from heaven – seriously! Have you tried them???
And that's what I ate for lunch and dinner for the next 7 days straight. For. Real.
It was amazing. I never got tired of it – and those little purses of yumminess were like little cheesy gifts from God. Seriously - cheese tortellini is the bomb!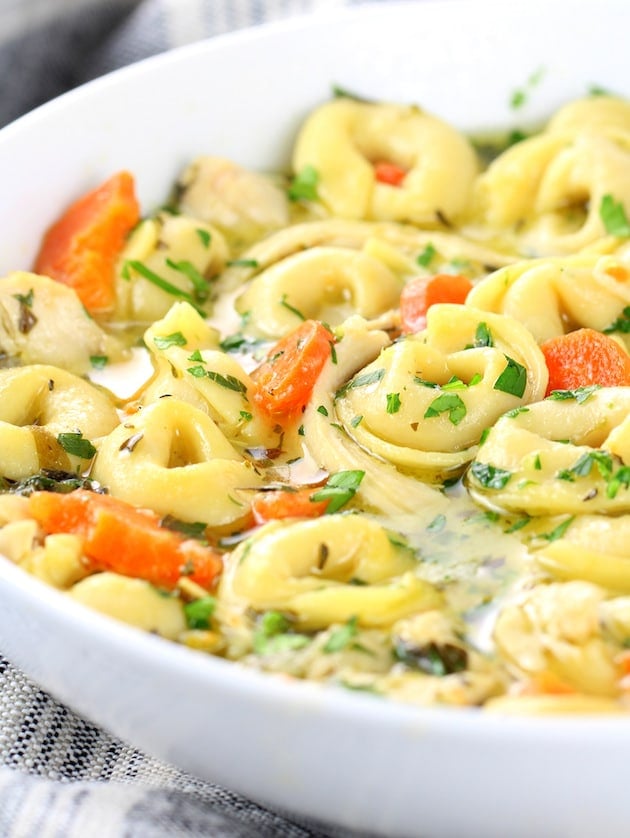 So here I am the following week, sharing this recipe with you because – how could I keep it to myself!?? This could be just what you need for your own situation.
I admit, I tweaked it slightly because you know I can't help myself. And my taste buds were not at their peak when I initially created this masterpiece.
So without further yammering, I give you… Chicken Soup with Cheese Tortellini!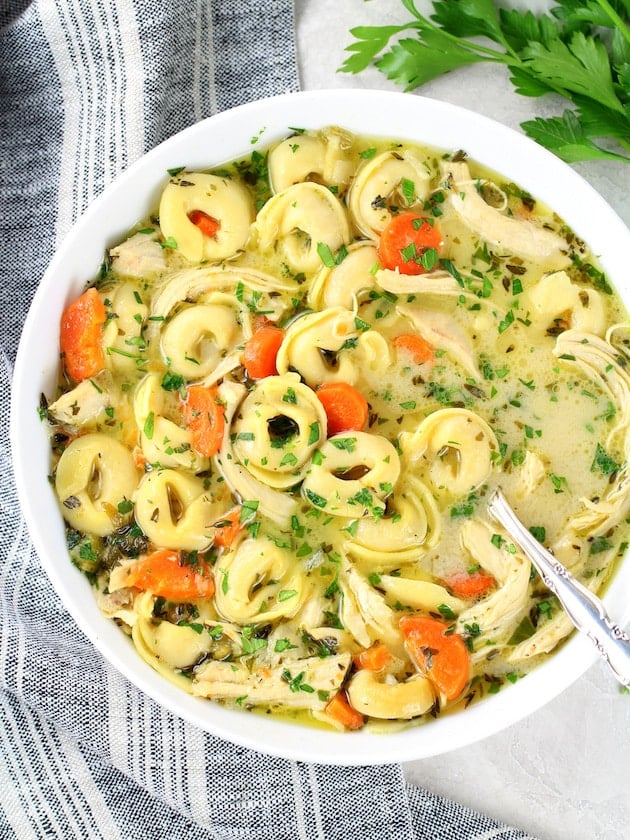 It is soo satisfying! You know sometimes when you eat soup and then you're hungry an hour later?
Yeah, this is not that kind of soup. This is hearty, sustaining, well- balanced deliciousness that you need to try stat.
Don't even try to make it without the tortellini, because they're like magic cheesy pasta bombs and you definitely don't want to deny yourself of that – right!?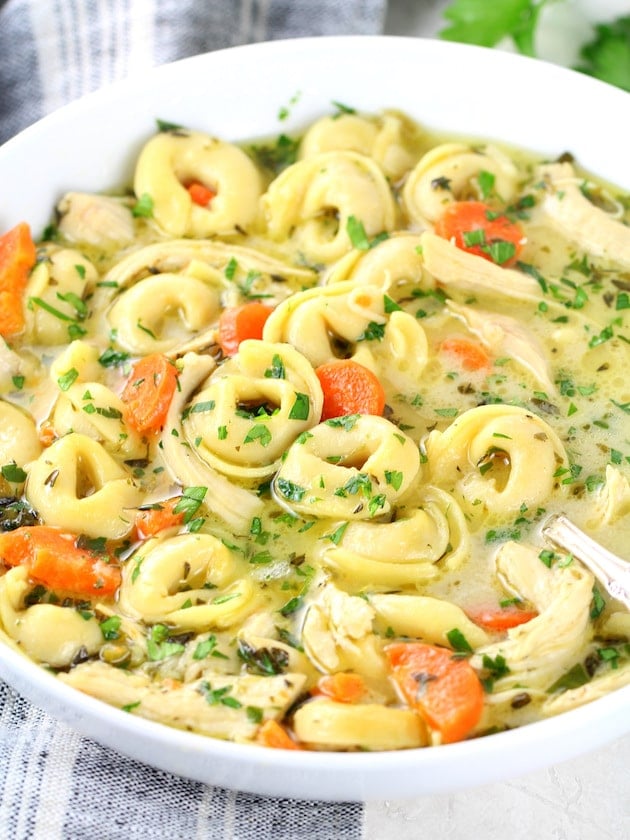 It's got everything Chicken Noodle Soup has and more… those three cheese pasta filled pouches are truly everything… Mmmmmm! And a little cream cheese and Parmesan cheese in the chicken stock base to make it a lite-but-saucy cheesy pot of yumminess. AHHH-mazing!
Basically a soft, warm, fuzzy hug in a bowl.
What can I say – I'm kind of addicted to it. (Let's remember I did eat it for 7 days straight.)
Here's how to make tortellini soup!
Chicken Tortellini Soup Recipe
1 - Saute the veggies. First, saute some onion, carrots, celery, salt and pepper, in a large Dutch oven over medium high heat for 5 minutes.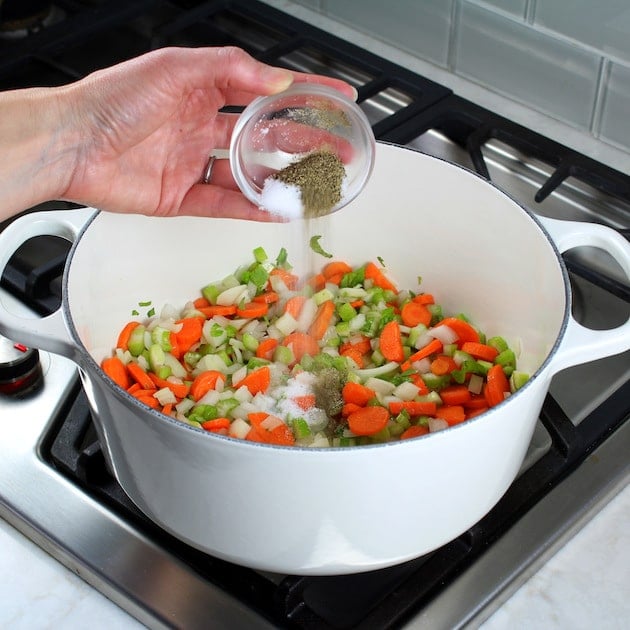 2 - Add herbs & seasonings. Next, stir in garlic, thyme and parsley and cook for 1 more minute.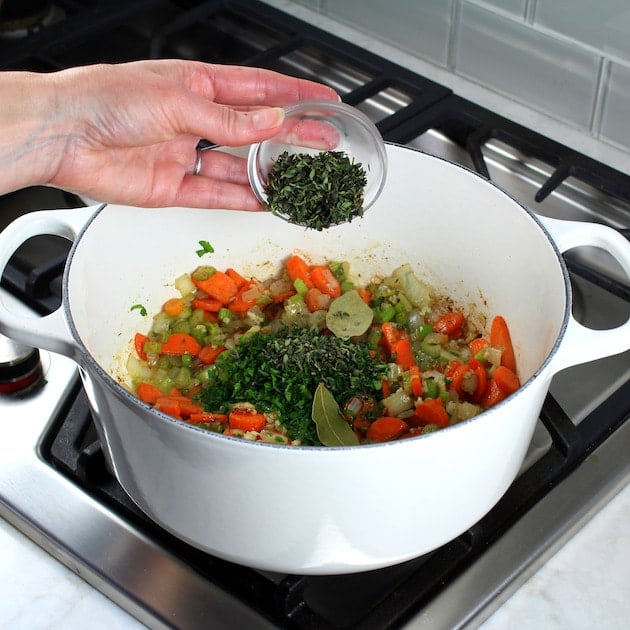 3 - Add the chicken & stock. Add the chicken stock and chicken breasts, place the lid on the pot and turn it to high heat until it boils. Turn down to a simmer with the lid cracked. (It took about 10 minutes to come to a boil.)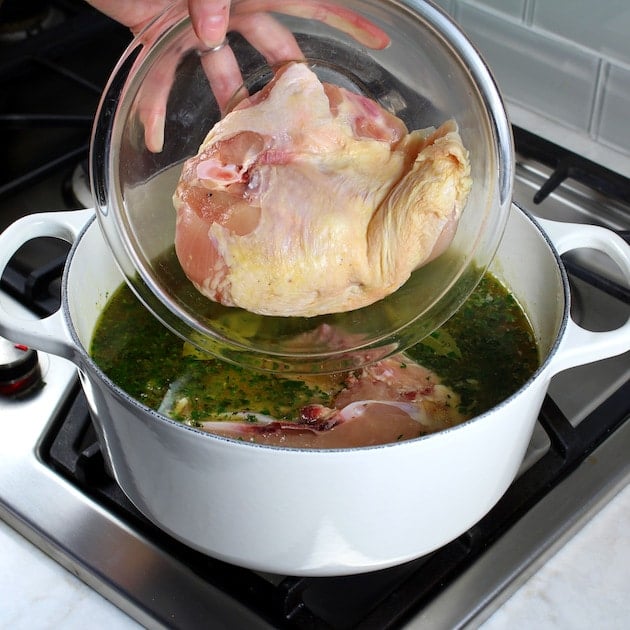 Cook the chicken for 15-20 minutes (until the internal temperature reaches 165 degrees). Remove the chicken and allow it to cool on a plate.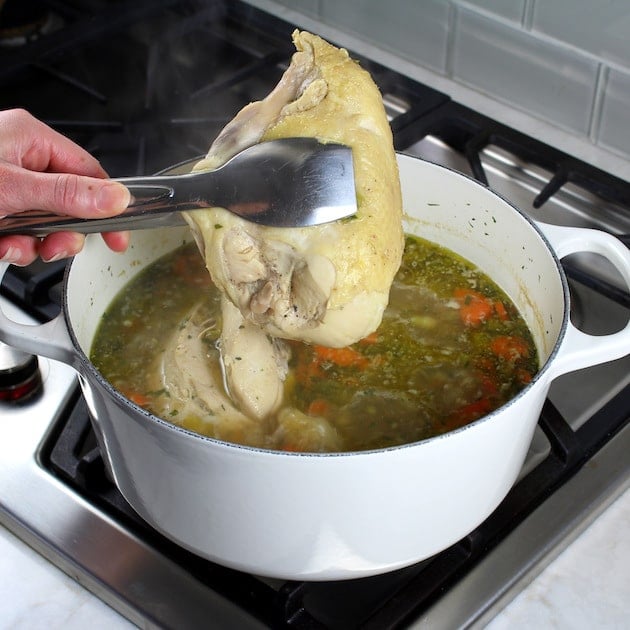 4 - Add cream cheese and pasta. Whisk in the cream cheese, add the pasta, and simmer. (Mine took 14 minutes to cook to al dente. Check your pasta package for your cook time.)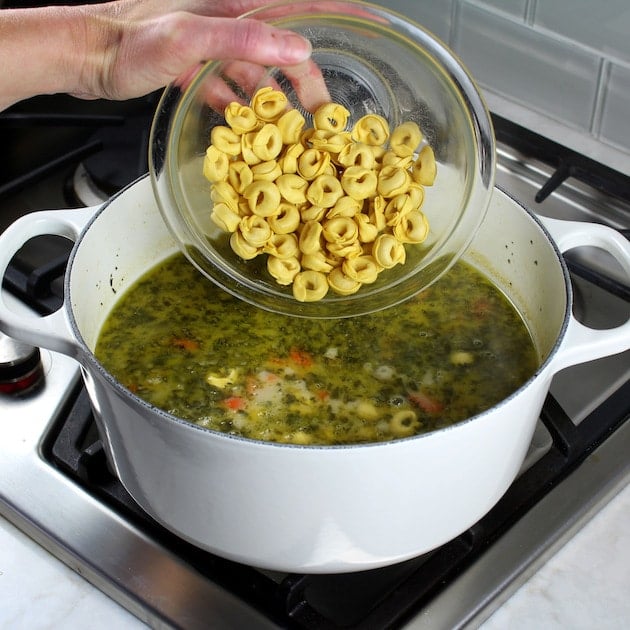 5 - Shred the chicken. Meanwhile, shred the chicken breasts with two forks, and when pasta finishes cooking add Parmesan cheese and fold the chicken back into the soup.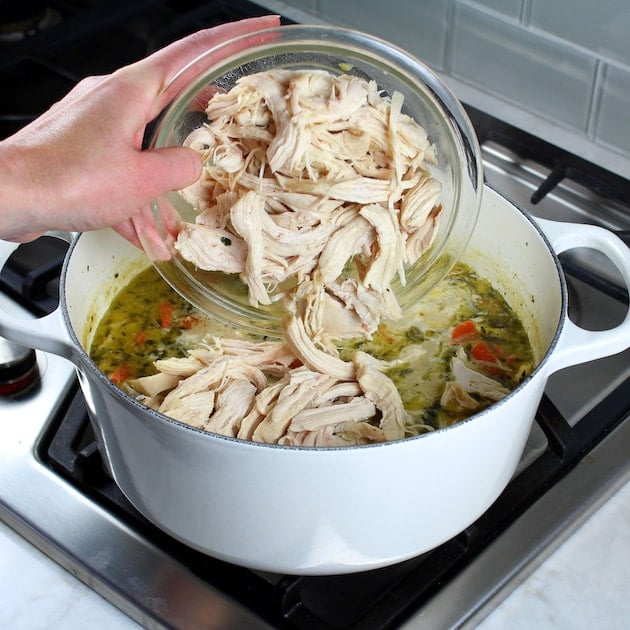 6 - Finish with parlsey and Parm! Top it all off with some chopped parsley and more Parmesan and devour it!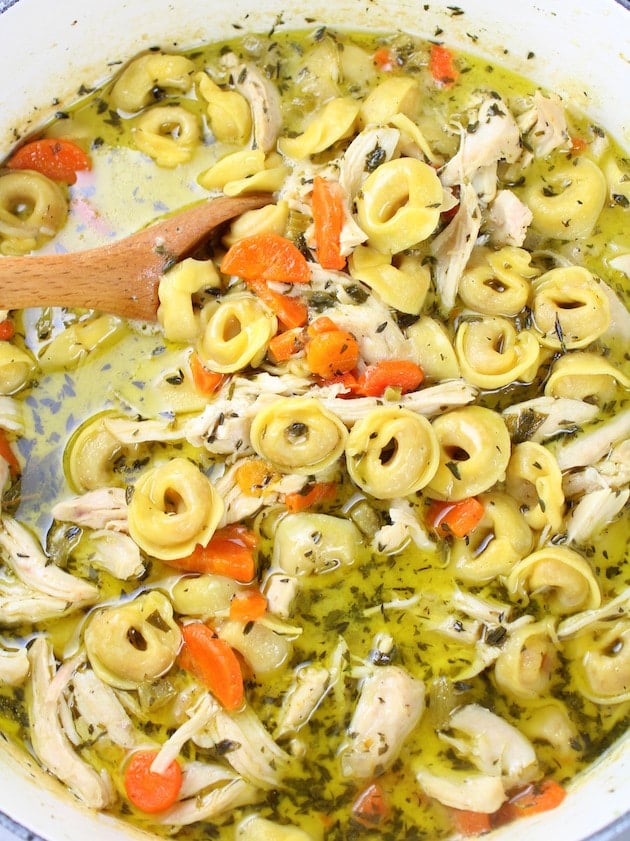 This creamy cheesy goodness is like soup nirvana my friend. Real talk.
And as always you have options… skip the chicken cooking process and use store-bought rotisserie chicken. You'll shave 20 minutes off your cook time and it will be just as delicious.
What can I say? I'm all about helping get dinner on the table as quickly as possible.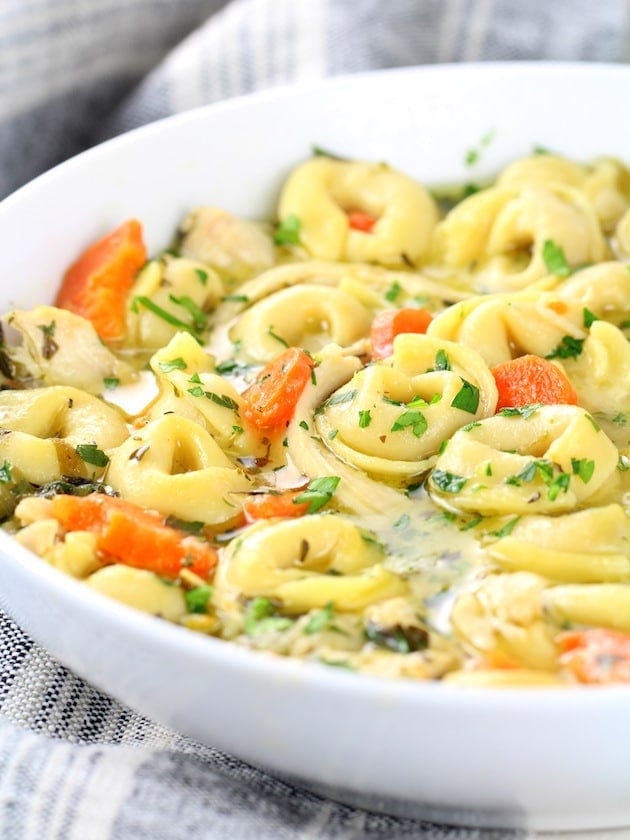 Creamy Tortellini Soup with Chicken – a satisfying and delicious bowl of yumminess you'll be making all season long.
Yield: 8 servings
Creamy Tortellini Soup with Chicken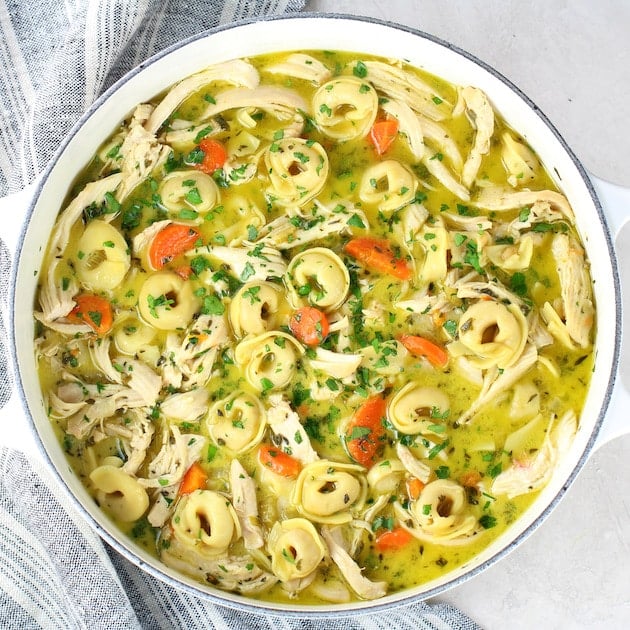 A comforting and hearty bowl of warm cheesy goodness!
Ingredients
2 tablespoons olive oil
1 large onion, diced
3 large carrots, halved and sliced
3 stalks celery sliced
2½ pounds bone-in chicken breasts, or use rotisserie chicken meat pulled from the bone. *See note below.
6 large garlic cloves, minced
½ teaspoon salt
1 teaspoon pepper
2 tablespoons chopped thyme
⅓ cup chopped parsley, more for garnish
2 bay leaves
8 cups chicken broth (use 6 cups of stock if using a pre-cooked rotisserie chicken, add more toward the end if needed. *See note below.)
12 ounces dried cheese tortellini
⅓ cup grated parmesan cheese
4 ounces cream cheese
Instructions
Heat olive oil in a Dutch oven on the stovetop over medium-high heat. Add onion, carrots, celery, salt and pepper. Saute for 5 minutes, stirring occasionally.
Stir in garlic, thyme, parsley, & bay leaves, and cook for 1 more minute. Add in the chicken stock and chicken breasts, place the lid on the pot, turn to high heat and bring to a boil. Once boiling, turn down to a simmer and crack the lid. (It will take about 10 minutes to come to a boil.)
Cook for 15-20 minutes or until chicken reaches an internal temperature of 165 degrees. Remove the chicken and allow to cool on a plate.(*See note below).
Whisk in the cream cheese. Then add the tortellini pasta, bring to a simmer, and cook to package instructions (my dried pasta took 14 minutes to cook).
Meanwhile shred the cooked chicken breasts with two forks. When pasta is finished cooking add Parmesan cheese and the chicken back into the soup.
Serve with chopped parsley and more Parmesan if desired.
Notes
The longer the pasta sits in the soup, the more liquid it will soak up.  So, you may need to add more stock to make it the consistency you'd like.  It's fine to add this at the end, after the soup has been cooked.
For the same reason, when reheating the soup you may need to add a little water or stock since the noodles absorb some of the liquid while sitting in the refrigerator.
If you use precooked rotisserie chicken you can skip step 3 above. Just shred the chicken and fold in at the end, as specified in step 5. Also, since the liquid won't have as much time to cook and evaporate you will not need as much stock for this version. I recommend starting with 6 cups and adding more toward the end if desired.
The serving size used in the nutrition info is 15 ounces, however you may have slightly more or less depending on how much broth evaporates while you are cooking the soup. 
Nutrition Information
Yield
8
Serving Size
15 ounces
Amount Per Serving
Calories

469
Total Fat

19g
Saturated Fat

6g
Unsaturated Fat

0g
Cholesterol

136mg
Sodium

489mg
Carbohydrates

31g
Fiber

3g
Sugar

4g
Protein

40g
Here are some other amazingly delicious soups for you to try: