Creamy White Chicken Chili with Great Northern Beans!
This Creamy White Chicken Chili with Great Northern Beans is the perfect hearty winter-time comfort food! With chicken breasts, sweet corn, cream cheese, Monterey Jack cheese, and Mexican spices this is going to become the family's new favorite chicken chili!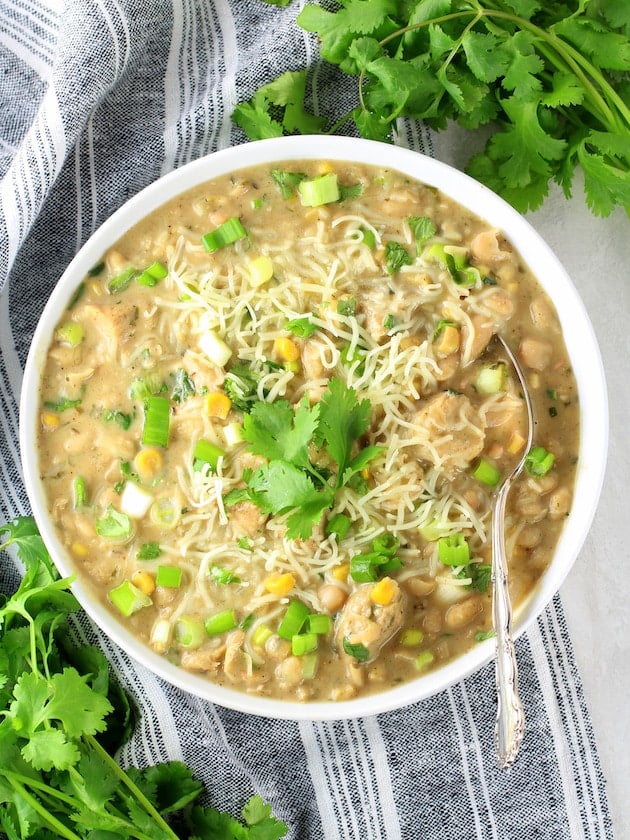 Since we live in Florida now, it still feels a little strange for me to make soup. I mean, sunny and 75 just doesn't scream "soup" – right?
I REALLY love soup… I've often said I could eat it every day for the rest of my life. Well, that was when we lived in Boston and winter lasted 7 months out of the year. Now I'm reconsidering that statement.
I still enjoy a warm bowl of heavenly brothy goodness, but just not as frequently.
This week it's been a bit chilly – highs in the mid 60's and lows in the mid 40's… so basically that's soup weather here in Florida.
I know, you're all probably pretty annoyed with my woes of eating soup in warm temperatures while you're up to your belly buttons in snow, and the high for the day is 5 degrees.
I understand - I would probably be annoyed with me too, but believe me I would really love to stick my face in a snow bank right about now. Or at least be able to wear a long sleeve shirt without sweating. The struggle is real people.
But that is not my reality, so I'll just turn the air conditioning down to 64 degrees, wear my favorite flannel, and make soup.
What can I say? I'm very adaptable.
One of my favorite soups is this Creamy White Chicken Chili! Honestly, I'm not sure if chili is considered soup or not but regardless it's pretty delicious!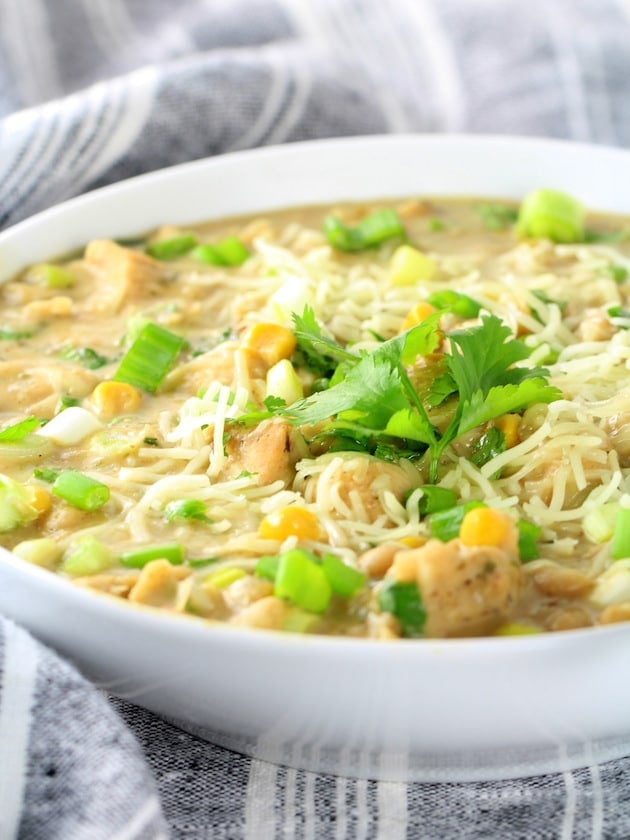 So since we're having a cold snap here in the land of sunshine and swimming pools, I decided to whip up a batch of this yumminess. It's hearty and creamy with a little sweetness and crunch from the corn – so tasty my friend!
I think you're going to love it as much as I do!
How do you make white chicken chili
Allow me to share the process with you…
First, cut up 2-3 chicken breasts into 1½-inch pieces. Season it with salt, pepper, cumin and garlic powder. Next, sauté the chicken in a little olive oil in a large pot over medium high heat for 6 minutes. Then remove the chicken from the pot and set aside.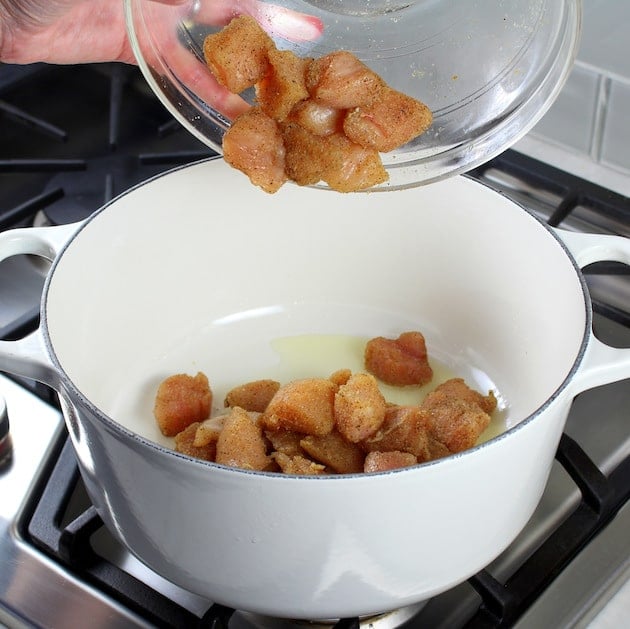 Add the onions and garlic and another tablespoon of olive oil to the pot and sauté for 4 minutes. Add the spices and sauté 1 more minute.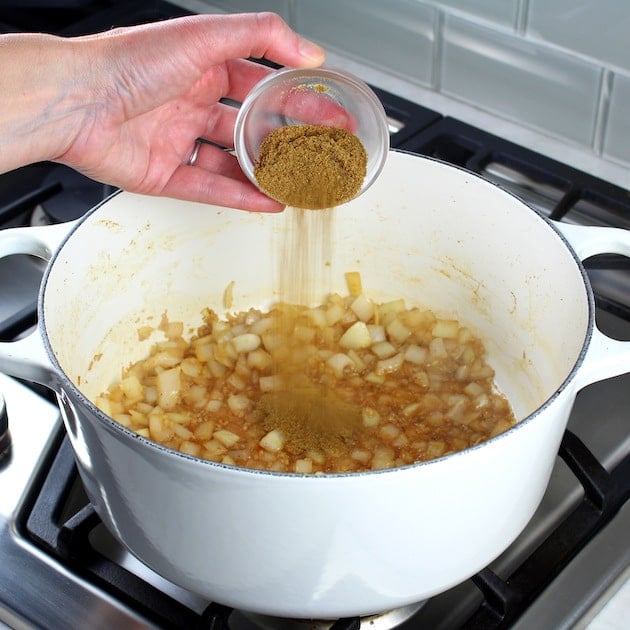 Now add the white beans, sweet corn and chicken stock and simmer uncovered for 10 minutes.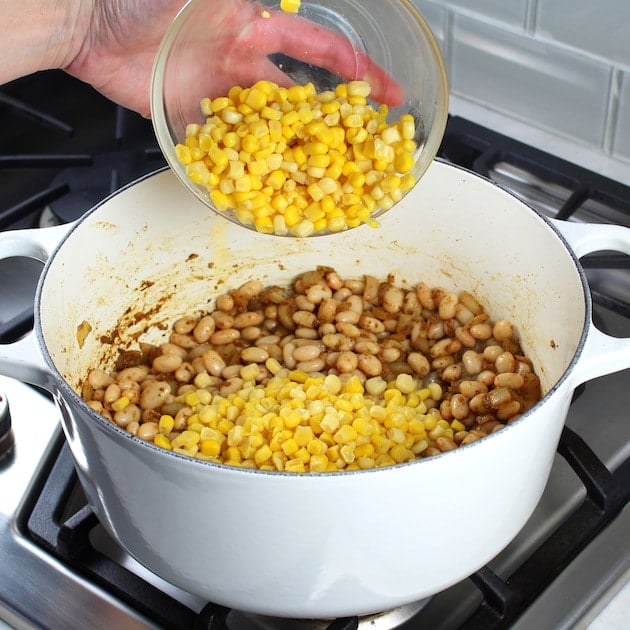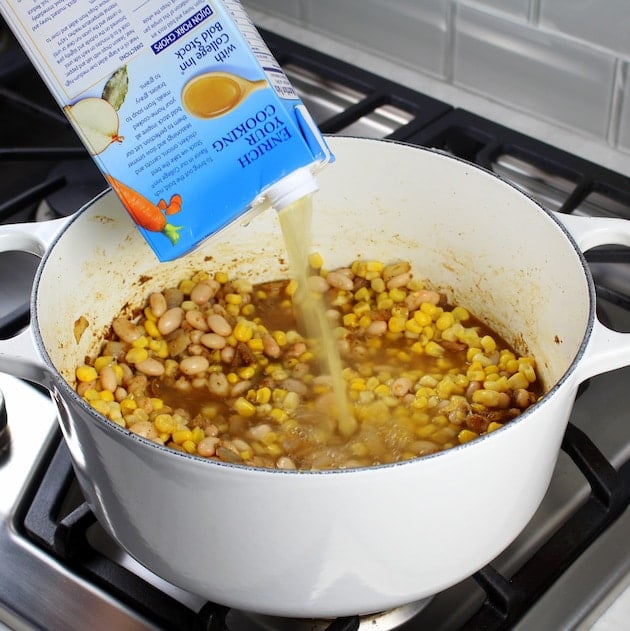 Then add the cream cheese and whisk in until it's completely dissolved.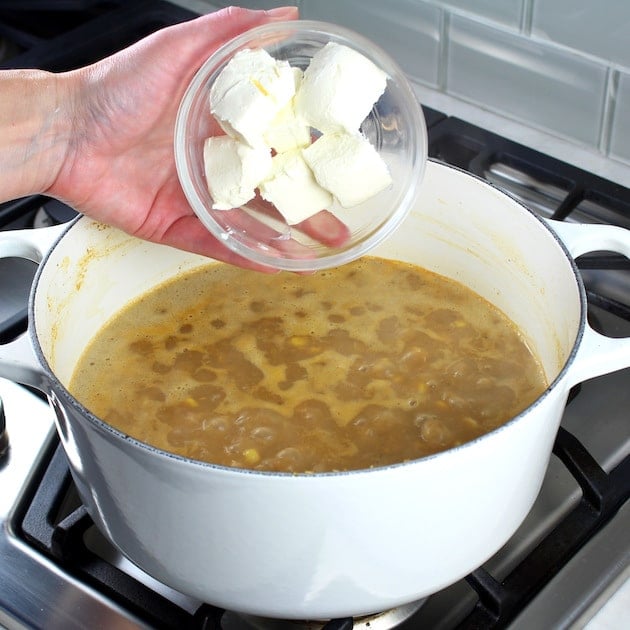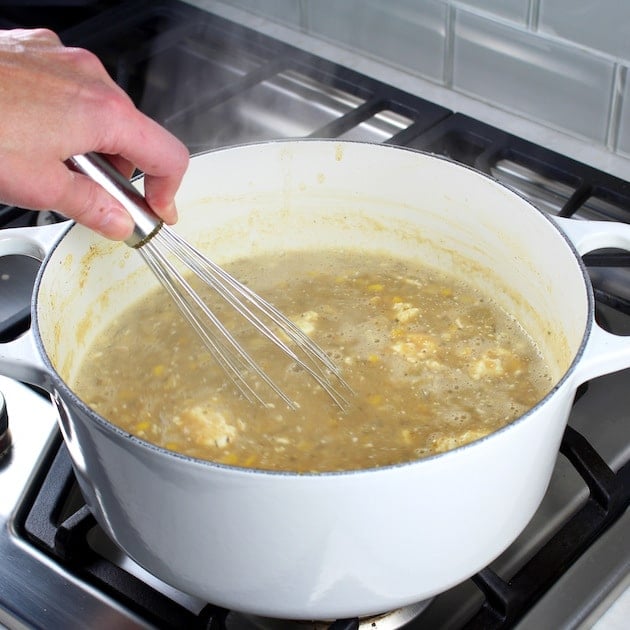 Add the chicken back into the pot and simmer uncovered for 10 more minutes.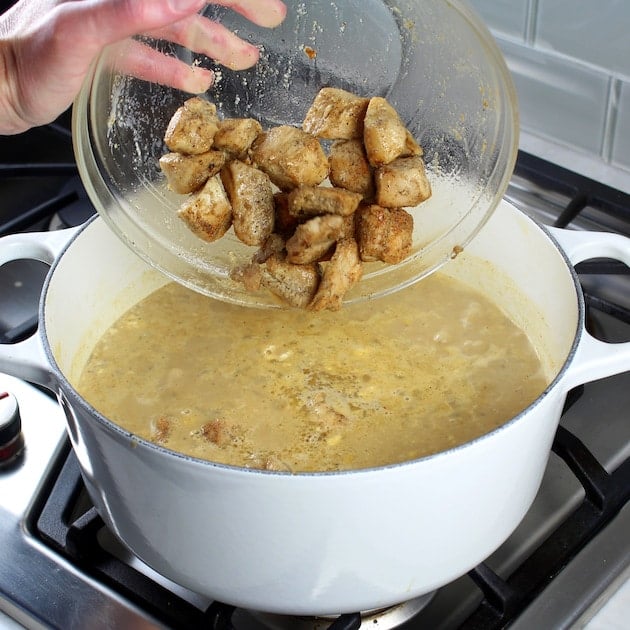 Stir in ¼ cup of Monterrey Jack cheese and chopped cilantro and serve warm with tortillas, chips, or straight up as is.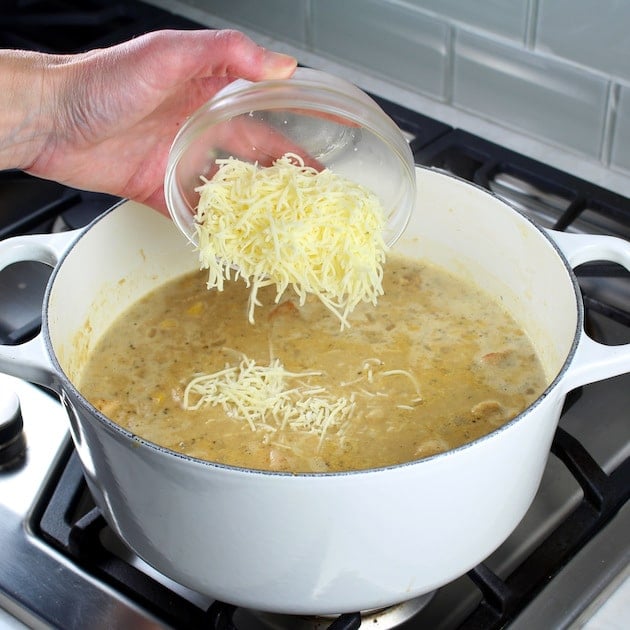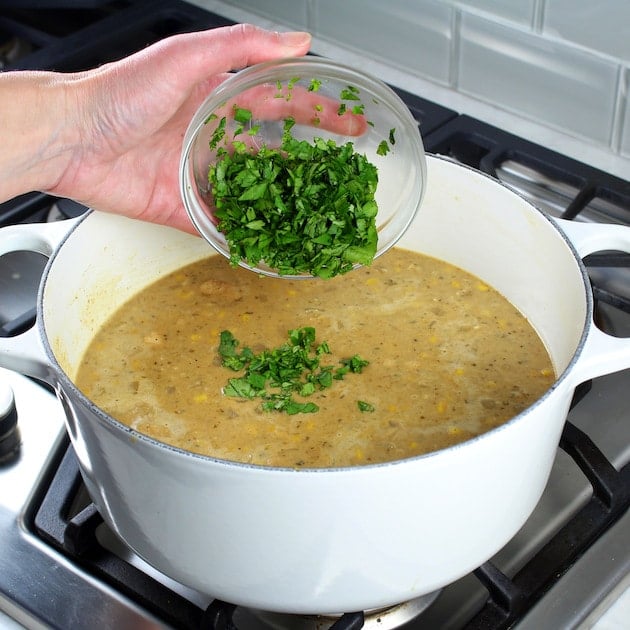 I like to garnish mine with chopped cilantro, green onions, more cheese and sometimes a little sour cream for some extra creaminess. Mmmmm!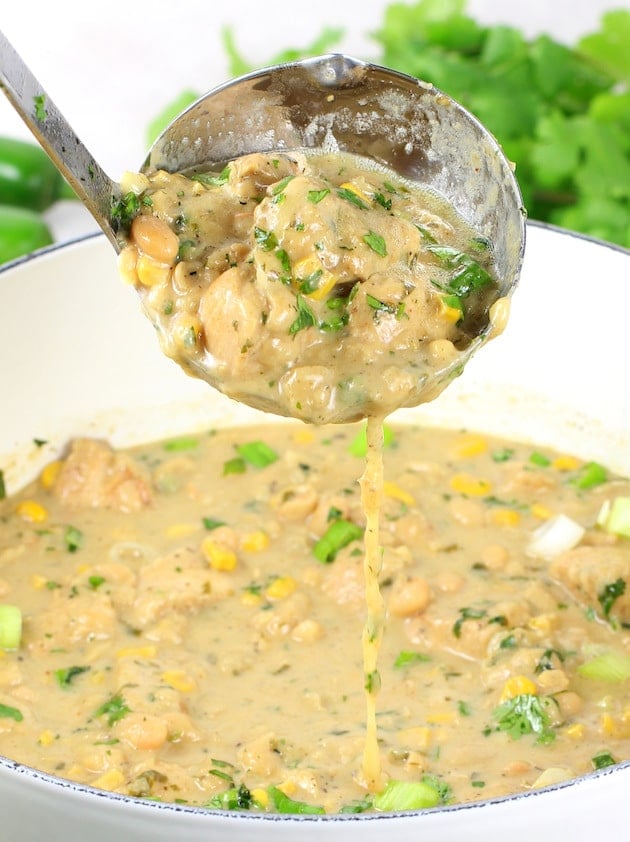 If you need a cumin substitute
What does cumin taste like to you? Some people find it to be on the bitter side and prefer not to use it. If this is you, or if you just don't have ground cumin on hand, don't stress.
A combination of chili powder and ground coriander is a great cumin replacement, and so is store-bought taco mix. Taco mix can be on the salty side, so you may not need the ½ teaspoon of salt that this recipe calls for.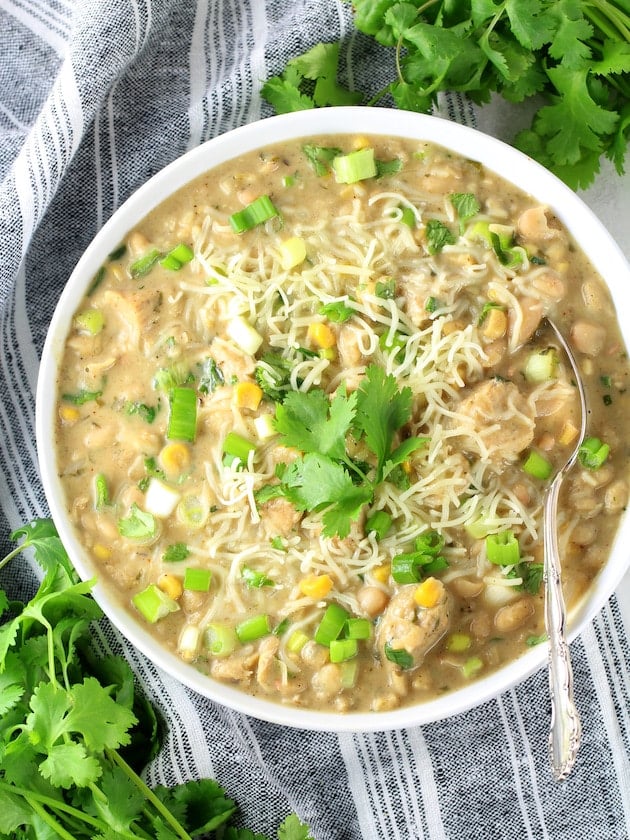 Why I love Great northern beans
Great Northern Beans have a delicate, nutty flavor that works perfectly in soups, stews, and casseroles. They substitute perfectly for navy beans and cannellini beans if you are in a pinch. And of course like many other beans, they're high in fiber and protein.
Great Northern beans are also super-versatile, which is why I love using them in this Chicken & Green Chile Verde Soup, and my original Spicy White Chicken Chili.
I'm sure you'll love them in this Creamy White Chicken Chili with Great Northern Beans… doesn't it sound delectable!?? It really is my friend. Oh and I highly recommend pairing this with my yummy Caribbean Sweet Cornbread! Because everybody knows cornbread and chili were made for each other!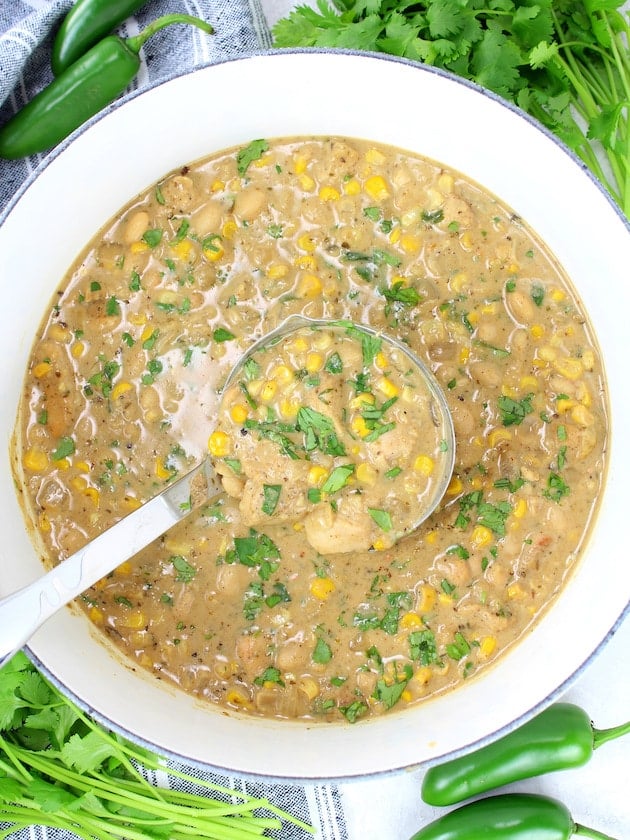 I love this chicken chili so much I could probably eat it in the middle of a Florida summer – with AC running full blast of course. 😀
Yield: 6 servings
Creamy White Chicken Chili with Great Northern Beans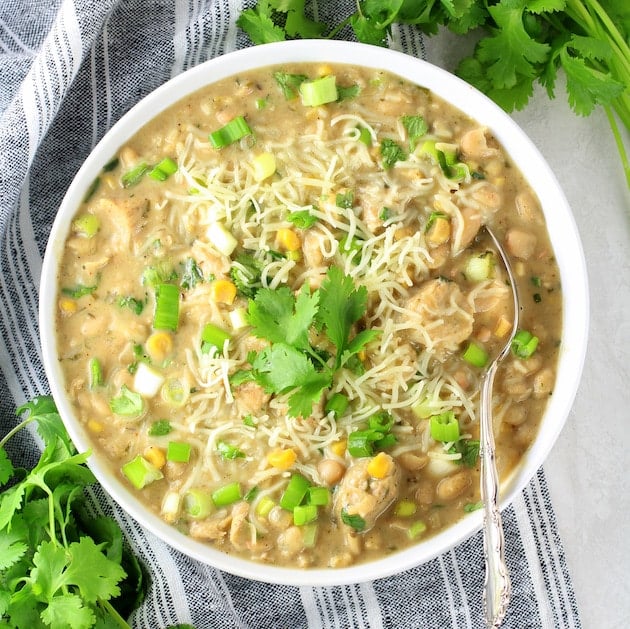 This white chicken chili is a hearty comforting crowd-pleaser!
Ingredients
For The Chicken:
1½-2 pounds chopped chicken breast (about 3 breasts)
1 teaspoon garlic powder
1 teaspoon ground cumin
1 teaspoon salt & pepper
1 tablespoon olive oil
For The Soup:
1 tablespoon olive oil
1 large onion, finely chopped
4 large cloves of garlic, minced
4 teaspoons ground cumin
2 teaspoons oregano
½ teaspoon chili powder
½ teaspoon salt & pepper
30 ounces Great Northern Beans, drained and rinsed (2 cans)
11 ounces canned white/sweet small kernel corn, or whatever kind you like, (I used Steam Crisp Green Giant Super Sweet Yellow and White Whole Kernel Corn)
4 ounces cream cheese, cut into cubes and softened
3 tablespoons cilantro, rinsed and rough chopped, (Plus, more for garnish.)
¼ cup Monterey Jack cheese, shredded, (Plus, more for garnish.)
Chopped green onions and sour cream for garnish if desired.
Instructions
Cut up the chicken breasts into 1½-2 inch pieces. Season it with salt, pepper, cumin and garlic powder and saute in a large pot with 1 tablespoon of olive oil for 6 minutes over medium high heat. Stir once or twice to cook the chicken on multiple sides. Then remove the chicken from the pan and set it aside. (Or you can swap this out for precooked rotisserie chicken).
Add another tablespoon of olive oil to the same pot over medium heat. Add the onion and minced garlic and cook for about 4 minutes.
Next, stir in the cumin, oregano, chili powder, ½ teaspoon salt and pepper, then cook for 1 more minute.
Add the beans, corn and chicken stock and bring to a simmer. Cook for 10 minutes uncovered so flavors marry and the soup thickens.
Now add the cream cheese and whisk until the cheese is fully dissolved.
Return the cooked chicken to the soup and stir and simmer for 10 more minutes uncovered.
Now stir in the shredded Monterey Jack Cheese and chopped cilantro.
Serve warm, and garnish with Monterey Jack cheese, chopped cilantro, chopped green onions and sour cream if desired.
Nutrition Information
Yield
6
Serving Size
8-10 ounces
Amount Per Serving
Calories

498
Total Fat

17g
Saturated Fat

5g
Unsaturated Fat

0g
Cholesterol

97mg
Sodium

1000mg
Carbohydrates

50g
Fiber

12g
Sugar

6g
Protein

43g
Looking for some other amazing Soup & Stew Recipes?