Thanks to our friends at Gorton's for sponsoring this amazing Soy-Orange Crispy Fish over Cauliflower Fried Rice! Crunchy low-fat fish served over sautéed grated Chinese-style cauliflower fried rice, drizzled with the most mouth-watering soy-orange sauce. This low-calorie, low-fat meal is sure to be a regular on your weekly meal plan lineup.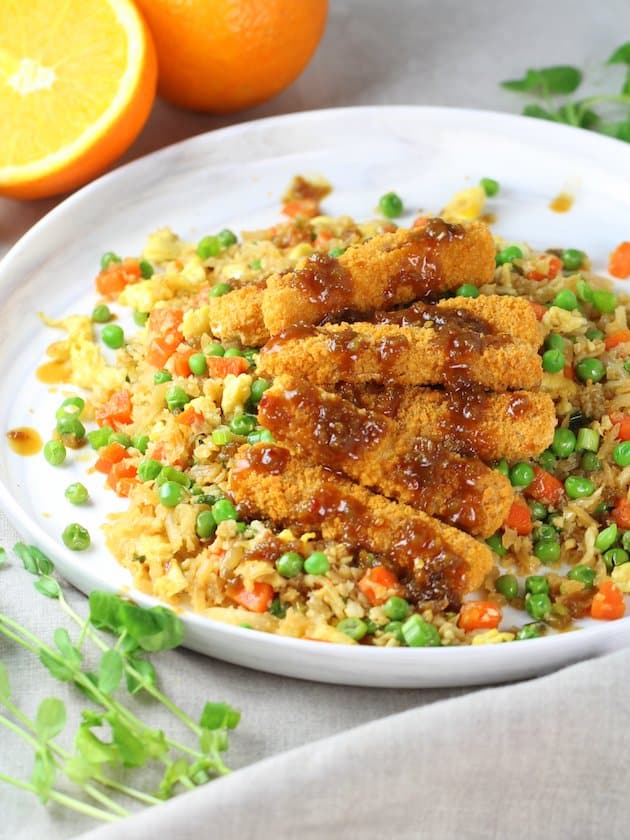 I've got a yummy, healthy, low-calorie, dinner recipe for you today! If you're on the hunt for some tasty fish recipes for Lent, add this one to your list!
It's got all of what you're looking for and more:
Easy meals... ✅
Dinner recipes... ✅
Asian cuisine... ✅
Healthy (low-calorie, low-fat, lean protein, and veggie-infused) recipes... ✅
I know I'm ticking all kinds of boxes - right!? This Soy-Orange Crispy Fish over Cauliflower Fried Rice has it all!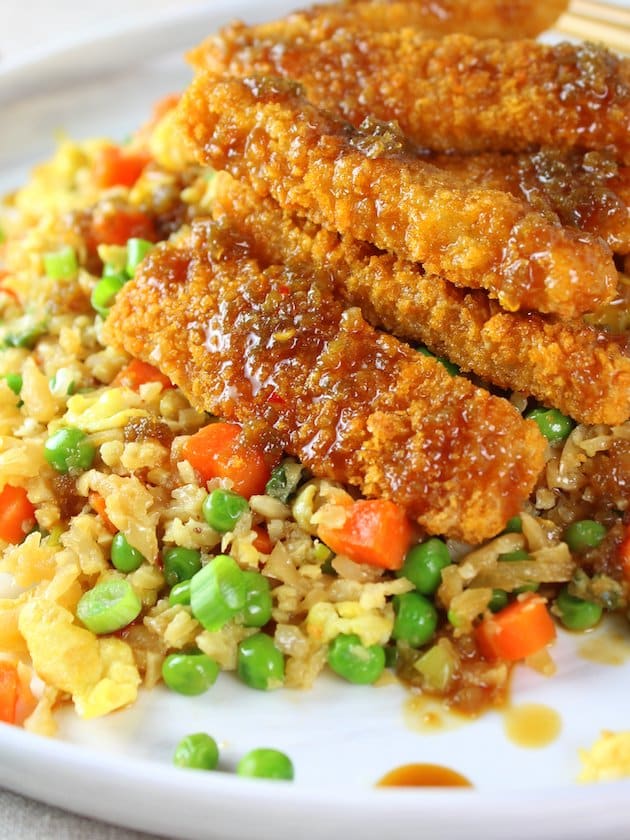 The fish I used is from Gorton's Seafood - 100% wild-caught Alaskan Pollock Smart and Crunchy Fish Sticks. What's so "smart" about them? They're baked with 50 percent less fat than regular fish sticks, they have just 180 calories per serving, and they're breaded in a panko coating so they're all kinds of crispy and delicious!
Woah!! Somebody pinch me so I know I'm not dreaming!!!
Gorton's also offers Smart and Crunchy Fish Filets… a slightly bigger portion with only 10 more calories. I know you like your options, so just throwing that little tip out there for free.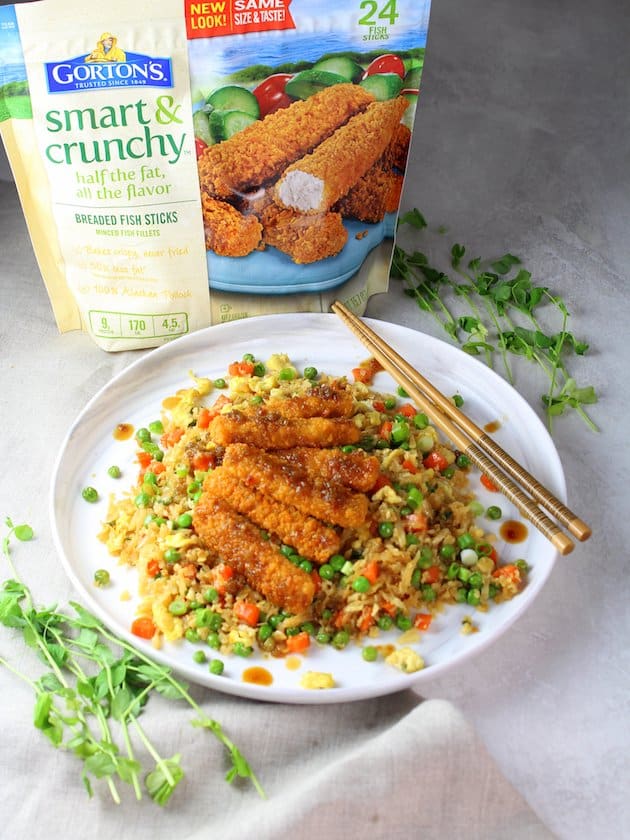 And just so you know you're eating seafood you can feel good about: Gorton's strives to bring the freshest high-quality seafood to consumers while protecting the world's resources, and they forge long-term partnerships with suppliers that are committed to the same high standards.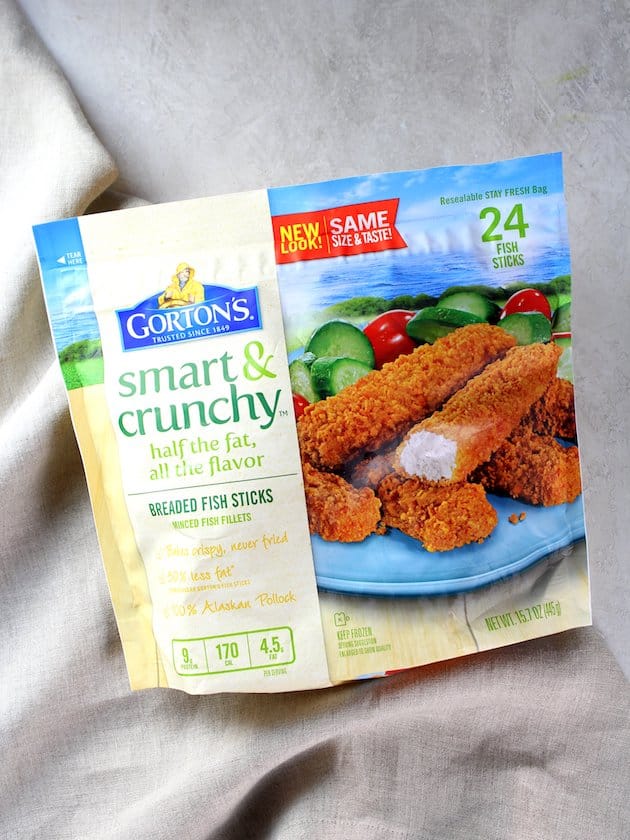 We like to think of them as seafood experts. After all Gorton's has been delivering the freshest high-quality fish and shrimp for over 160 years, all the while protecting the world's resources – now that's experience you can trust!
And staying with the theme of keeping it all smart and healthy, we're serving our crispy fish sticks over cauliflower fried rice today. The cauliflower has a really mild flavor so when it's finely chopped, it mimics rice perfectly.
With a few additions of traditional fried rice ingredients like sesame oil, soy sauce, sweet peas, chopped carrots and the traditional scrambled egg, it tastes just like the classic dish we know and love. But even better because it's low-carb and veggie-infused. #killingit
The whole process is pretty simple...
How to make crispy fish over cauliflower fried rice:
First of all get your oven preheating at 375 degrees, then go to work on the sauce. Because I'm a saucy kind of girl I stirred up a soy-orange glaze for dipping or drizzling or just drinking straight from the bowl (but who would EVER do that – right!??) Ahem.
The sauce is super-simple to make and sooo GOOD! You saute the minced garlic in sesame oil for about 1-2 minutes. Then stir in your orange juice, soy sauce , rice vinegar, powdered ginger, (a pinch of hot pepper flakes if you'd like) and corn starch slurry. Let it cook for about 5 minutes until reduced and thickened and set it aside.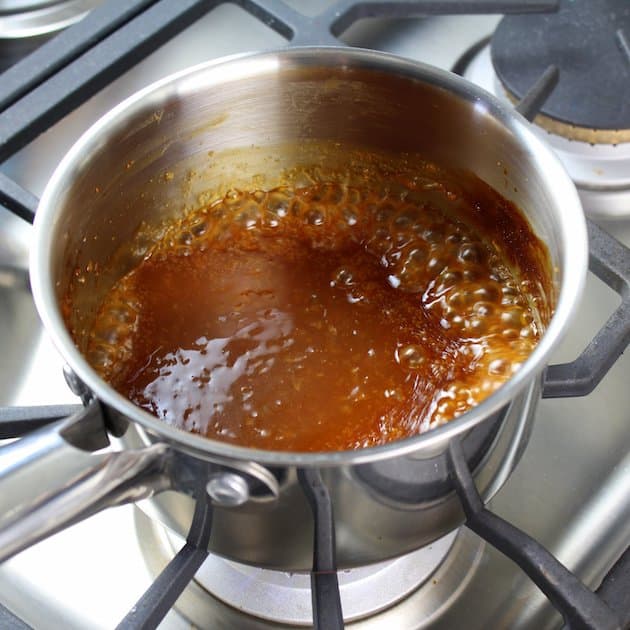 Friends, I gotta tell ya, this soy-orange sauce is just flat out all kinds of delicious!
Now your oven should be preheated so pop in those smart and crunchy fish sticks for about 22 minutes (you'll want to set a timer so you remember to flip them at 11 minutes).
Let's move onto the cauliflower fried rice.... Scramble 3 eggs in a little sesame oil. Set them aside and wipe the pan clean.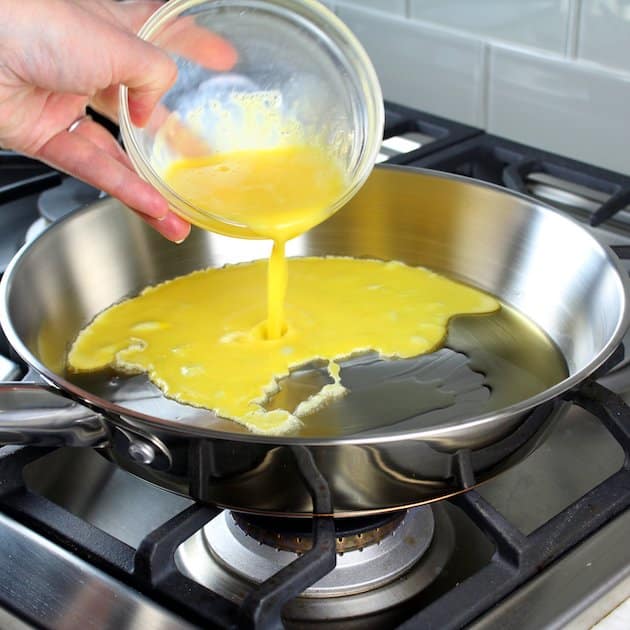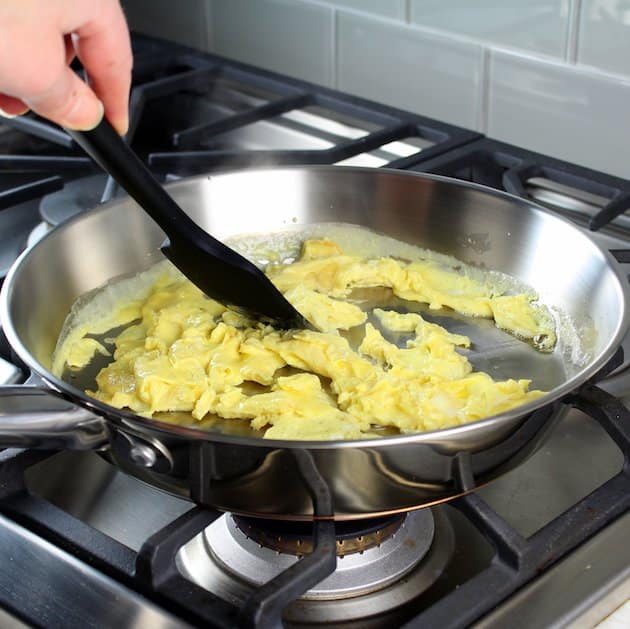 Now add more sesame oil and saute some minced garlic for about a minute. Add finely diced carrots and cook 2-3 more minutes over medium-high heat. Then add in the chopped green onions and powdered ginger, and cook 1 more minute. Stir in the cauliflower rice and saute for about 4 minutes, stirring occasionally so that it cooks evenly.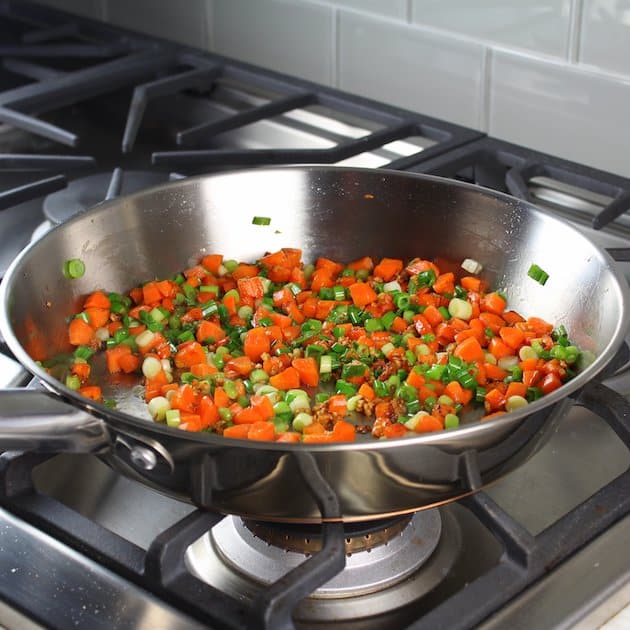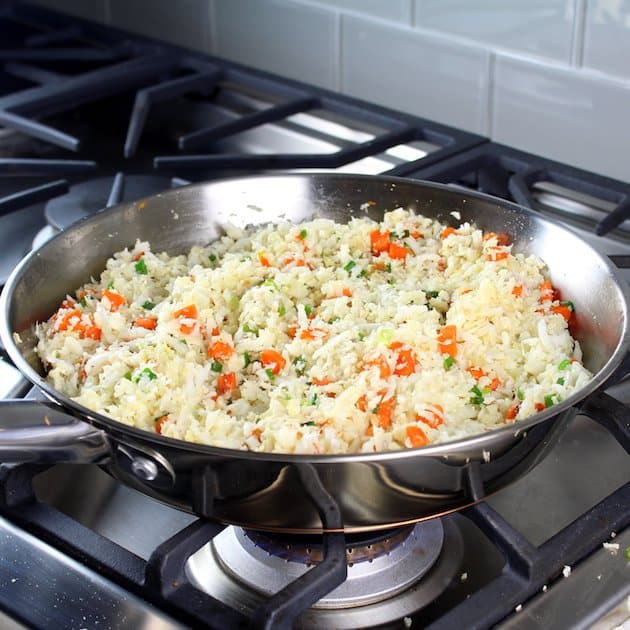 Now mix in the defrosted peas and tamari (or soy sauce) and cook for another minute.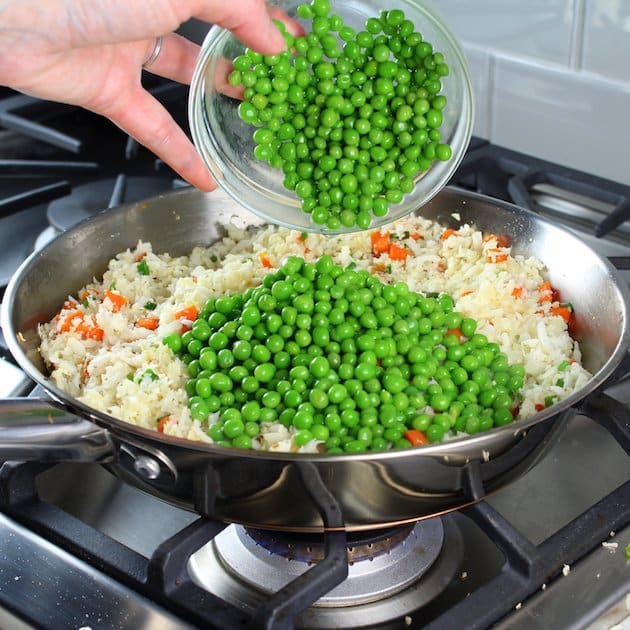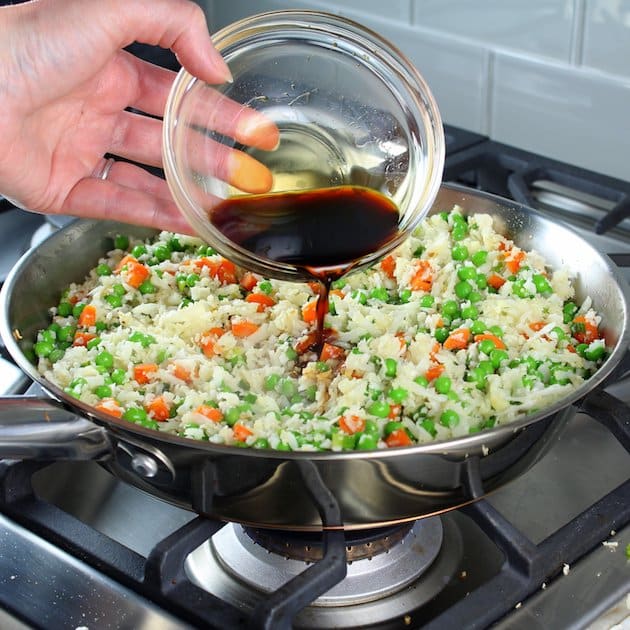 Lastly, fold the scrambled egg into the mixture.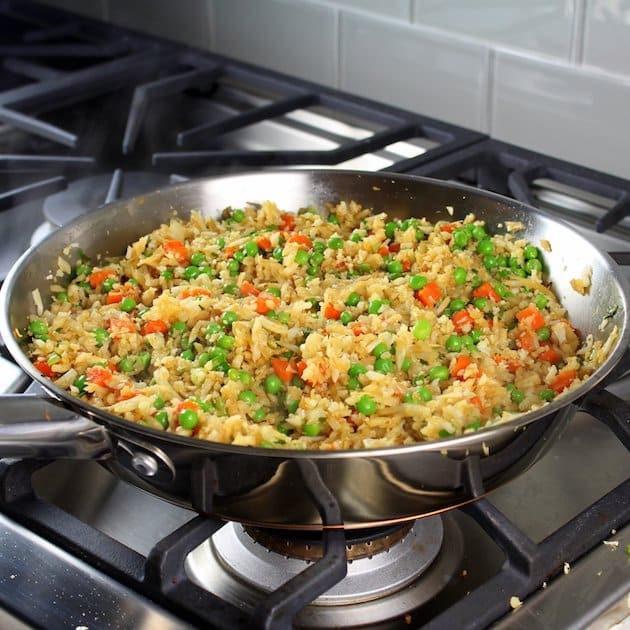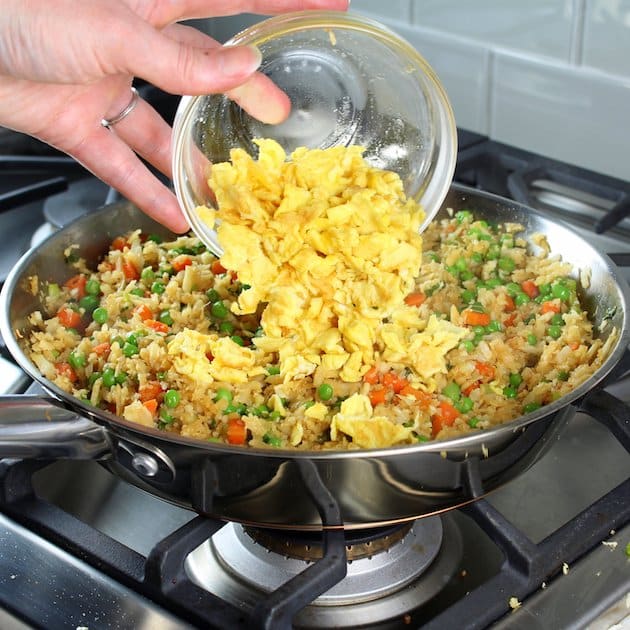 Plate the fried rice, then top with fish and soy-orange sauce.
Wrap all of this yumminess up in a package and you have one tasty, healthy, easy meal the whole family will adore! (Pro tip: Don't bother mentioning the healthy part – the less they know the better. Remember Stealthy Healthy is what we're all about here!)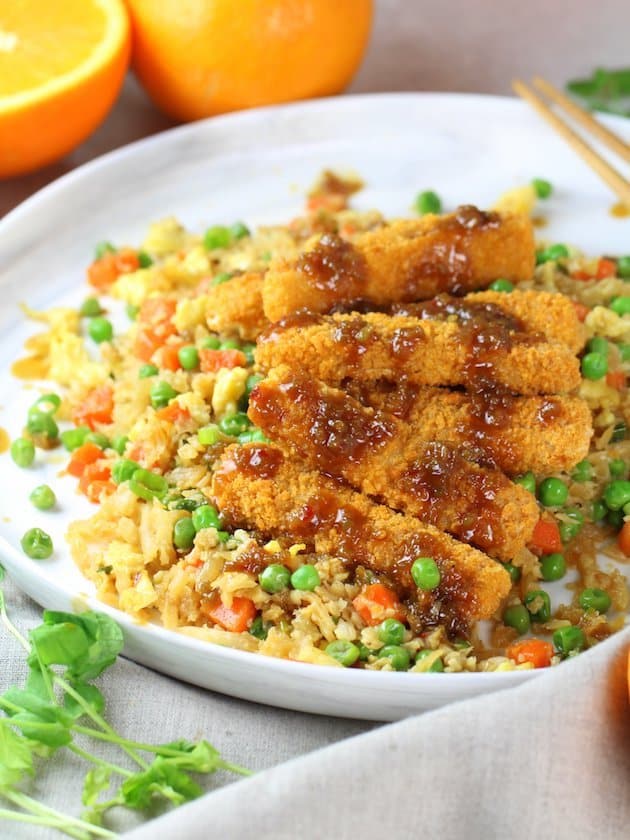 Soy-Orange Crispy Fish over Cauliflower Fried Rice with Gorton's = an easy and delicious meal you can feel great about serving those you love!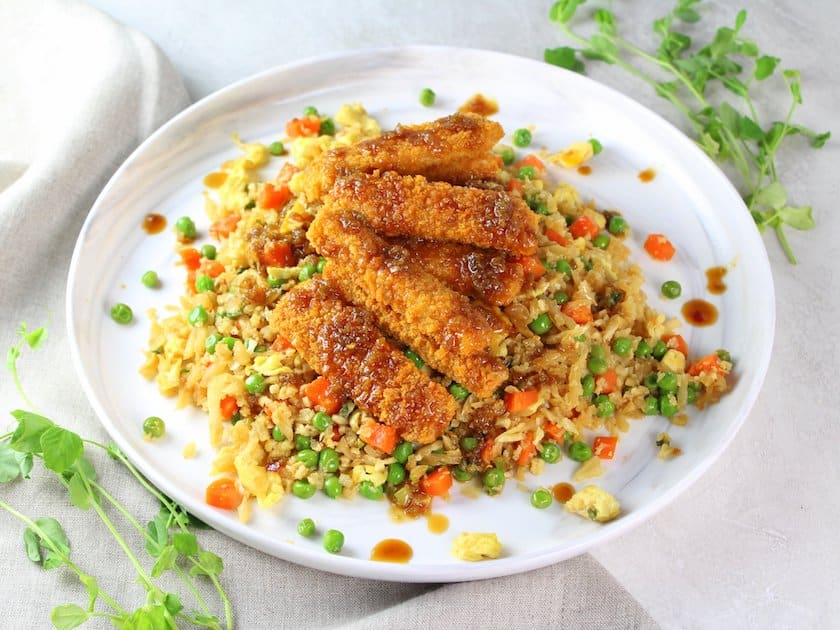 I would love to connect with you! Leave a comment and follow me on Instagram,Twitter, Facebook, & Pinterest!
Yield: 6 servings
Soy-Orange Crispy Fish over Cauliflower Fried Rice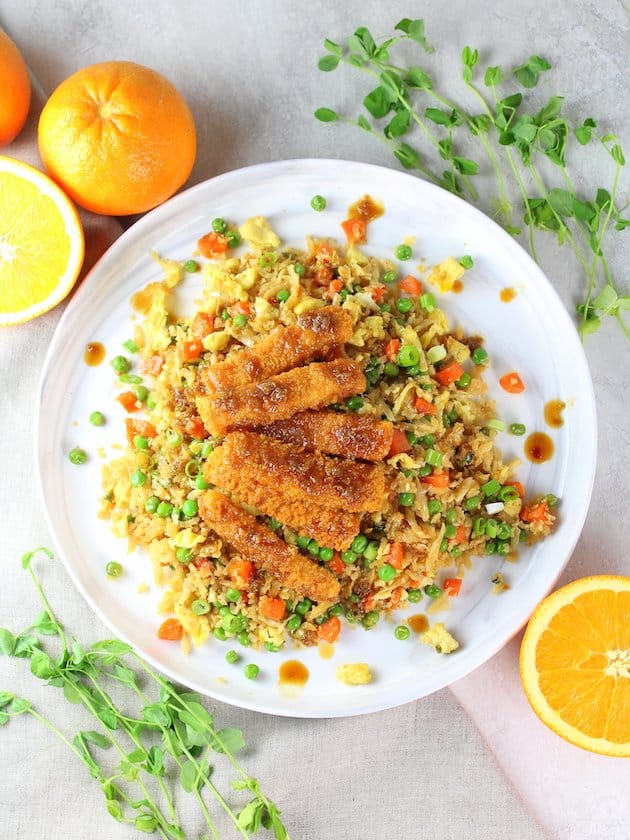 With carrots, baby peas, riced cauliflower, & scrambled eggs.   Easy, fast, healthy, and delicious low-calorie take on this classic!
Ingredients
For The Soy-Orange Sauce:
½ teaspoon sesame oil
3 cloves garlic , minced
½ cup orange juice, (pulp-free 100% orange juice)
1 tablespoon low-sodium soy sauce, (or low-sodium tamari for gluten-free)
1 tablespoon rice vinegar
4 teaspoons honey (or pure maple syrup)
¼ teaspoon ginger powder
¼ teaspoon hot pepper flakes (optional)
½ teaspoon cornstarch
1 tablespoon cold water
For The Stir-Fry
15.7 ounces Gorton's smart and crunchy fish sticks
3 tablespoons sesame oil
3 eggs
3 cloves garlic, minced
2 carrots, diced (4 ½ ounces)
6 green onions, thinly sliced
½ teaspoon ginger
1 head cauliflower, minced/grated
4 tablespoons low-sodium soy sauce, (or low-sodium tamari for gluten-free)
1½ cups frozen sweet peas
Instructions
For The Soy-Orange Sauce:
In a small pot, saute garlic in sesame oil for 1-2 minutes. Then stir in orange juice, soy/tamari sauce, rice vinegar, honey, ginger powder, hot pepper flakes (if using), and bring to a simmer. In a small bowl, mix the cornstarch with cold water and make a slurry. Whisk the cornstarch into the sauce and simmer for 6-7 minutes until thickened.
Remove from the heat and set aside.
For The Stir Fry:
Preheat oven to 375F, then bake 24 Gorton's Crunchy and Smart Fish Sticks per instructions (about 22 minutes, flipping once after 11 minutes).
Meanwhile, in a large saute pan heat 1 tablespoon of sesame oil and scramble three eggs. Transfer eggs to a bowl and set aside, then wipe the pan clean.
Add two more tablespoons sesame oil to the pan and return to medium-high heat.
Add minced garlic and cook for one minute.
Add diced carrots and cook 2-3 minutes.
Add sliced green onions and powdered ginger and cook for one minute.
Add riced cauliflower and cook 4 more minutes – stirring occasionally so it cooks evenly.
Add soy sauce (or tamari), and peas, then cook for one more minute. At the same time, put the pot with the soy-orange sauce back on medium-high heat, using a splash of orange juice to thin it if needed.
Fold in scrambled egg to the fried rice mixture, and plate the cauliflower fried rice. Top each plate with fish sticks and soy-orange sauce, then serve.
Notes
To make this recipe even faster, you can find cauliflower already "riced" in the frozen vegetable section of your grocery store.  (Some brands even sell frozen cauliflower rice pre-packaged with carrots, peas, and other veggies to speed things up even more!) 
Nutrition Information
Yield
6
Serving Size
10 ounces
Amount Per Serving
Calories

300
Total Fat

14g
Saturated Fat

3g
Unsaturated Fat

0g
Cholesterol

81mg
Sodium

524mg
Carbohydrates

41g
Fiber

4g
Sugar

11g
Protein

15g
Looking for more delicious fish recipes?