Thanks to our friends at Gorton's for sponsoring this Thai Fish Noodle Bowl! Made with wild-caught Pollock tossed in a sweet chili sauce, Udon noodles, loads of fresh veggies, a sweet chili lime dressing, cilantro and crushed peanuts - it's a healthy explosion of tasty flavors!
Hey, hey, we're going saucy today, with Gorton's new "Go Saucy!" fish tenders!✨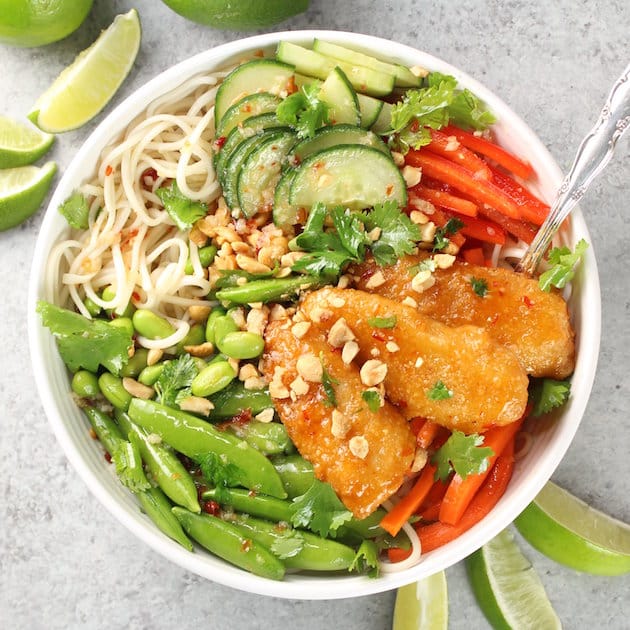 They're the perfect sized nuggets of golden goodness with some super tasty sauces for dipping, tossing or glazing. Plus there are three different flavor options – you gotta love options!🙌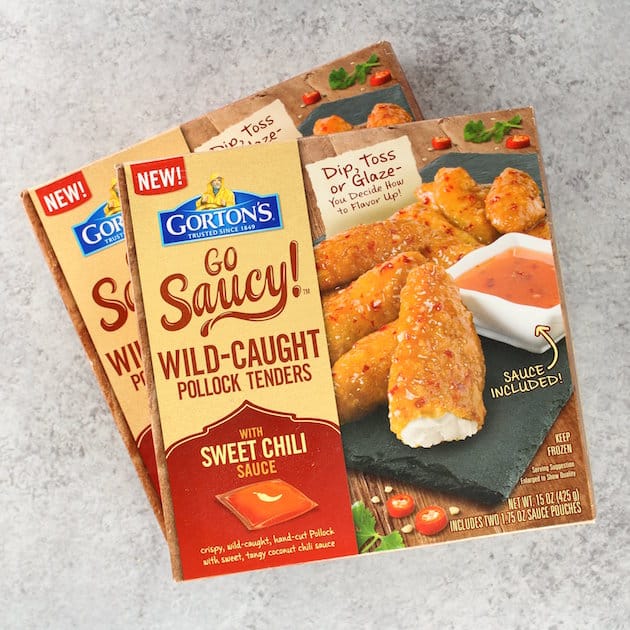 There's honey mustard and sweet chili sauce for the fish tenders and buffalo sauce for popcorn shrimp. Mmm, mmm - Come to mama!😋
I used the fish tenders for today's recipe. And can I just say I love everything about these little guys? They're crispy, wild-caught, hand-cut Pollock and only 220 calories per serving including the sauce. AND they're the perfect protein for my new Thai Fish Noodle Bowl!👇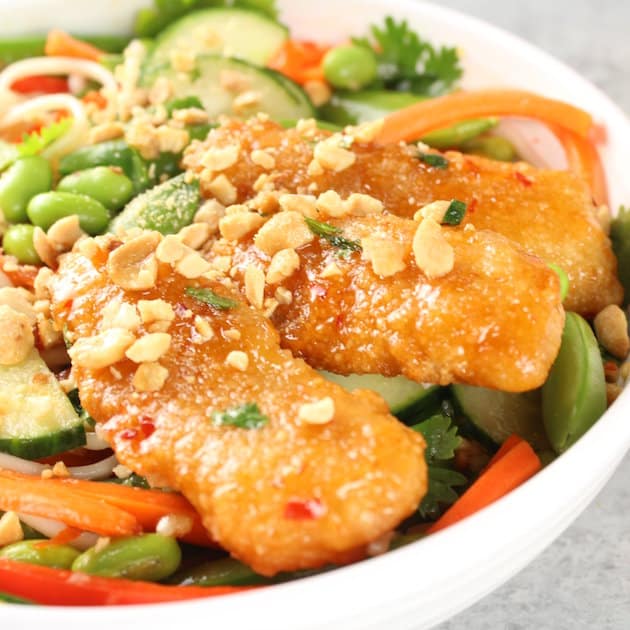 So, I've just discovered Noodle bowls! I know you've probably been eating them for years but I'm just getting on the noodle bowl train. As I like to say - better late than later.✌️
Either way if you're a seasoned noodle bowler or a newbie like me – get on board quick friends 'cause this locomotive is on the track to flavor town!!👌 No joke!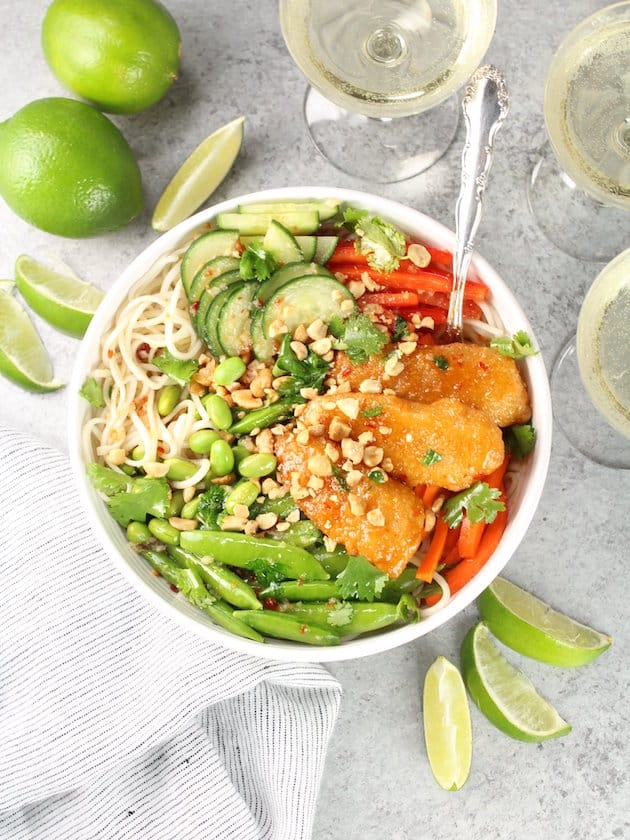 Just in case you need more convincing, let me share a few reasons why you need this yummy food trend in your life:
It's a fabulous way to eat tons of veggies. Seriously, the possibilities are endless.
You're spending very little time laboring over a hot stove in the middle of summer.
They can be as quick and easy a meal as you want them to be. Literally, grab some veggies, boil your noodles, bake your fish tenders, stir in some sweet chili sauce, and boom! Dinner is served.
There are a ton of Asian noodle choices out there and many are gluten free. You've got rice noodles, soba noodles, Udon noodles, Ramen noodles… noodles for days, people!
It's Asian food!! #nuffsaid
It's the perfect well-balanced meal when you add some protein like these Gorton's "Go Saucy!" Fish Tenders – they're freezer-to-table in 18 minutes.
As you can see, noodle bowls are definitely where it's at!!!💯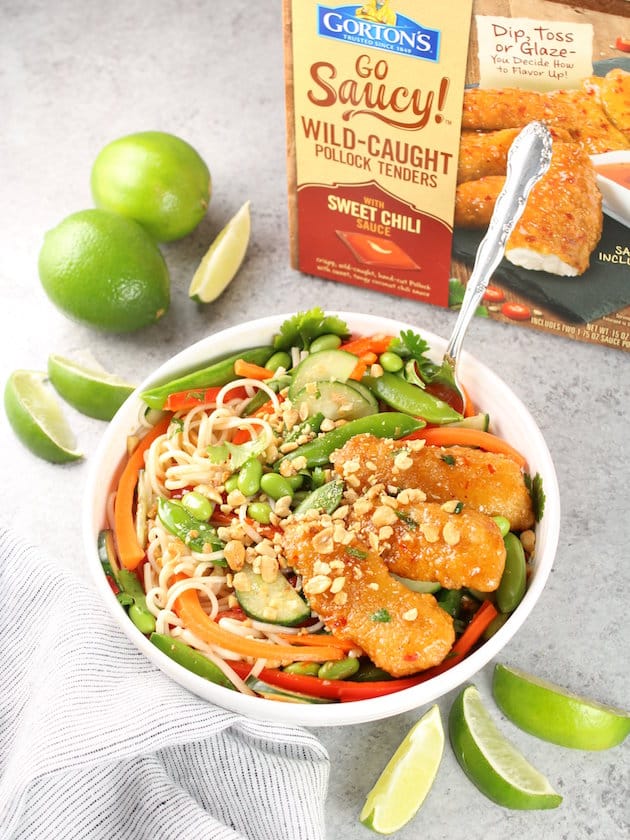 You're probably wondering "how can I create this healthy bowl of yumminess?"
Let me break it down for you…
The first thing I did was mix together my dressing for the noodles and veggies… lime juice, fish sauce, olive oil, honey, minced garlic and chili paste.
Then, I prepped my veggies. You can really use any combination of veggies you want. I used julienned carrots and red peppers, snap peas, sliced cucumbers and precooked edamame.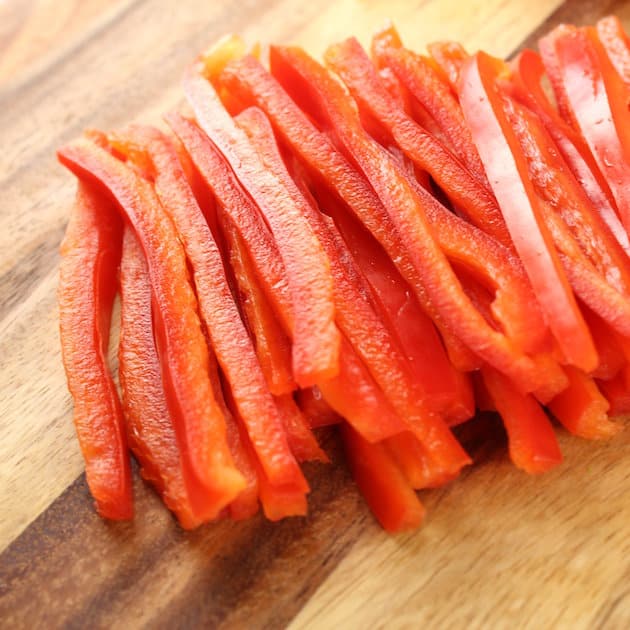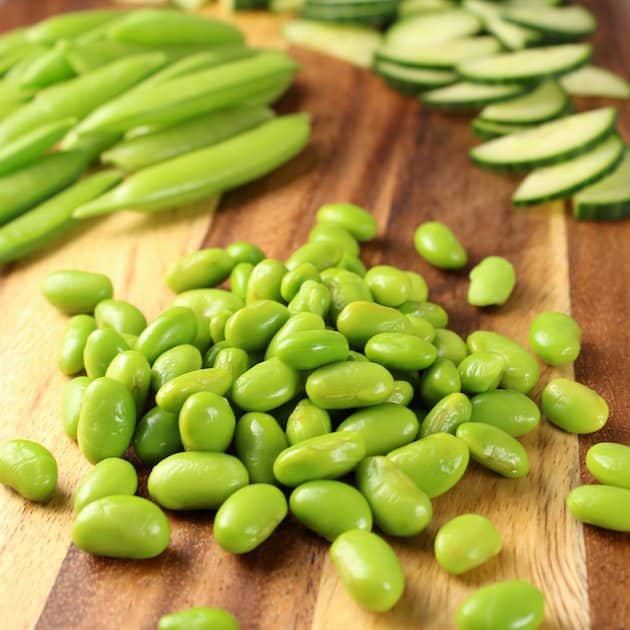 Next, I cooked the noodles and gave them a good rinse. Which was what the package instructed, and it also provided the added benefit of cooling the noodles down even quicker.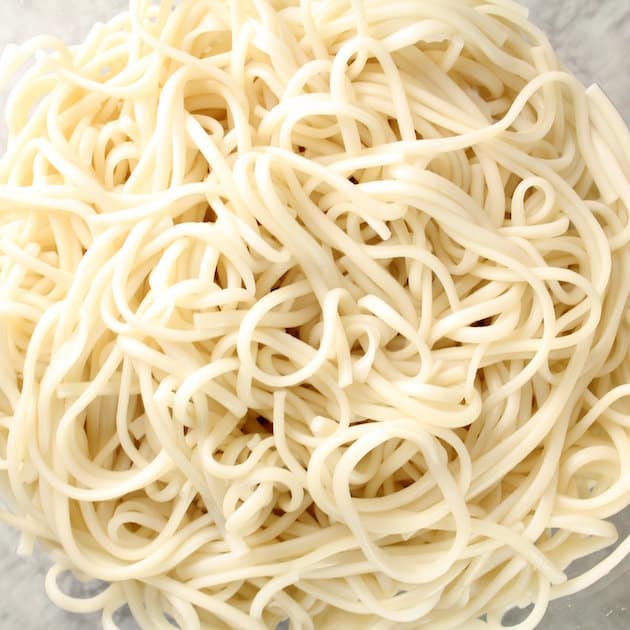 I baked my fish tenders for 18 minutes in a 425 degree oven. Which made them perfectly crispy and golden. Then I tossed them with the Sweet Chili sauce packets included in the box. Umm, they 're so good – a little spicy, a little sweet and a whole lot of delicious!👍 For real.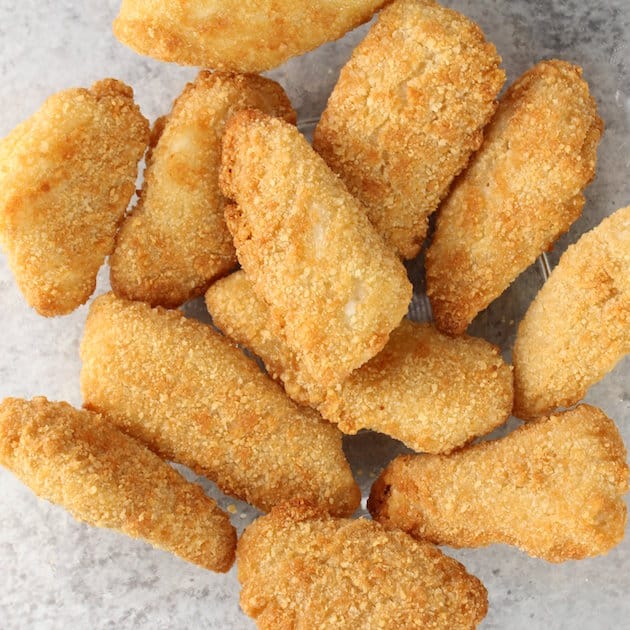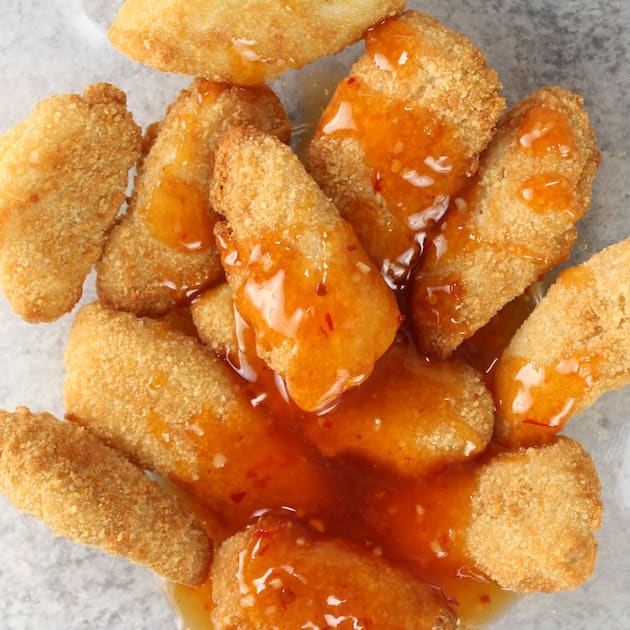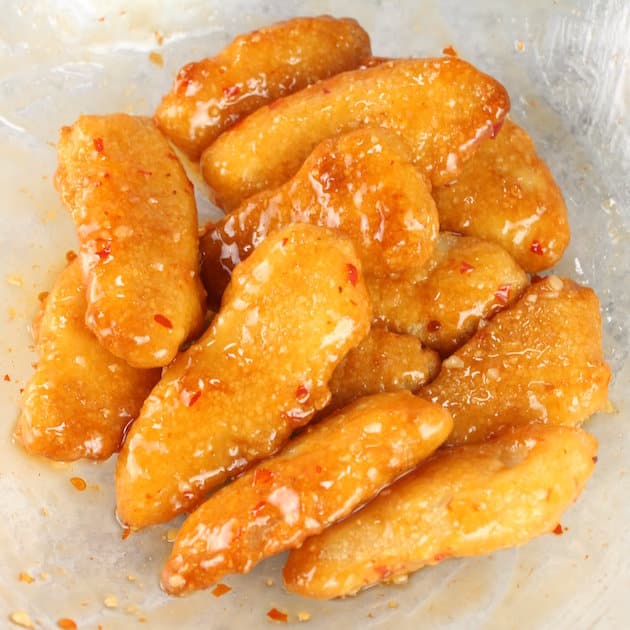 Finally, I tossed the veggies and noodles together with the chili lime dressing I made, placed them in my serving bowls, topped off with the fish tenders, then sprinkled on some cilantro leaves and crushed peanuts. Voila!🌟 The most scrumptious Thai Fish Noodle Bowl ever.😍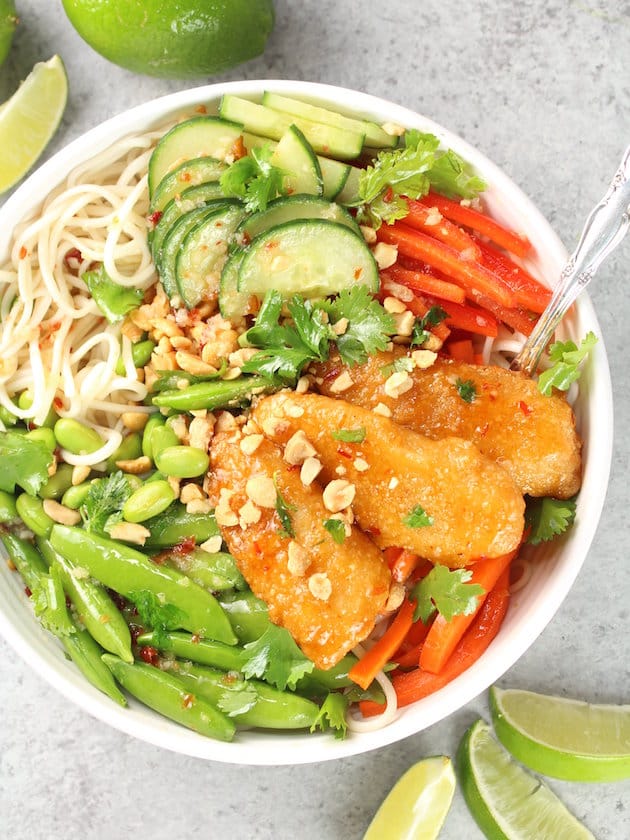 Trust me when I say this noodle bowl situation is way too delicious to miss out on. It's one more easy and delicious semi-homemade meal the whole family will love.💚
Be sure to head on over to the Gorton's product locator to see where you can find these new and tasty "Go Saucy!" products near you.
Yield: 4 servings
Thai Fish Noodle Bowl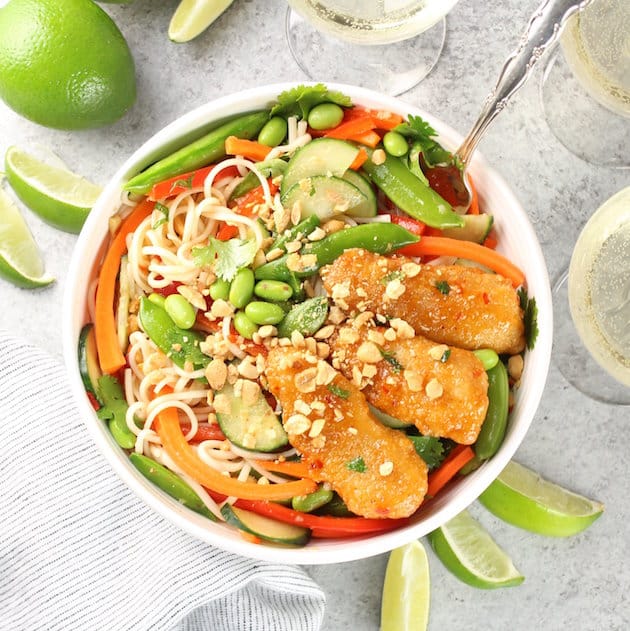 Thai Fish Noodle Bowl - loaded with fresh veggies and sweet garlic chili dressing.
Ingredients
For The Sweet Chili Lime Dressing:
2 cloves garlic, minced
3 tablespoons honey
1 tablespoon fish sauce
¼ cup freshly squeezed lime juice
2 tablespoons extra virgin olive oil
1 teaspoon chili sauce
For The Noodle Bowl:
4 ounces of round Udon noodles
1 15-ounce package Gorton's "Go Saucy!" Sweet Chili fish tenders
10 ounces snap peas
3 carrots, julienned or shredded
1 English cucumber, thinly sliced and quartered
1 red pepper, julienned
6 ounces edamame, shelled and precooked
⅓ cup crushed peanuts, plus 2 more tablespoons for garnish
½ cup rough-chopped cilantro
Instructions
Preheat oven to 425F.
In a small bowl, whisk together all ingredients for the Sweet Chili Lime Dressing, and set aside.
Cook noodles as per directions and give them a good rinse in cold water to stop them from cooking any further.
Bake fish tenders for 18 minutes, until perfectly crispy and golden. Then toss with Sweet Chili sauce packets included in the box.
In a large bowl, combine noodles, snap peas, carrots, cucumber, edamame, pepper, ⅓ cup of peanuts, and sweet chili lime dressing.
Place noodle/veggie mixture into bowls, top with fish tenders, and garnish with cilantro leaves and crushed peanuts.
Nutrition Information
Yield
5
Serving Size
10-12 ounces
Amount Per Serving
Calories

591
Total Fat

36g
Saturated Fat

7g
Trans Fat

0g
Unsaturated Fat

20g
Cholesterol

91mg
Sodium

1450mg
Carbohydrates

46g
Fiber

7g
Sugar

19g
Protein

44g
This nutrition card uses an estimate provided by an online nutrition calculator. This estimate is not a substitute for a professional nutritionist's advice!
I would love to connect with you! Leave a comment and follow me on Instagram, Twitter, Facebook, & Pinterest!
Looking For More Great Seafood Recipes?