Thanks to our friends at Gorton's for sponsoring this Zesty Baja Fish Sandwich - it's one yummy flavor adventure waiting to happen! Made with lightly breaded wild-caught cod fillets, zesty Baja sauce, avocado, tomato, cilantro and green leaf lettuce all tucked into a lightly toasted sub roll - it's summertime eating at its best.
I've got another yummy semi-homemade meal for you today!🙌 There's nothing better than a quick, easy and tasty meal. Especially when school is out and summer has just begun!☀️ If you're like me you want to be out seizing the sunshine and making some fun family memories with your people. Woohoo - beach or bust!!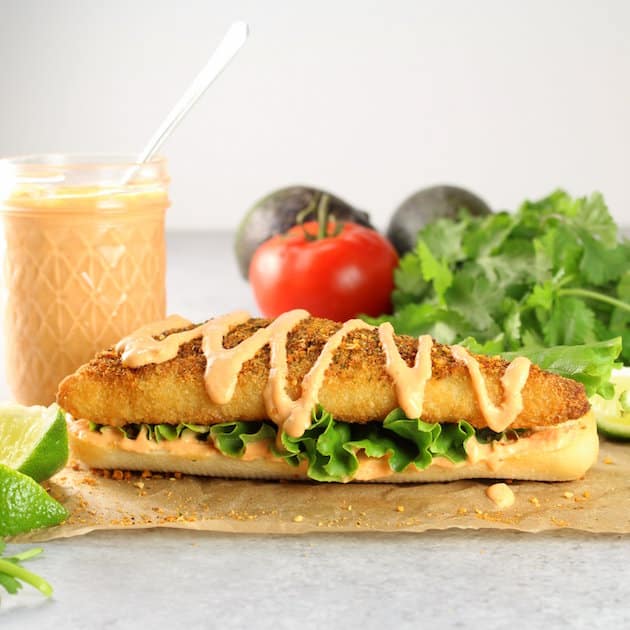 I can't wait to pack our cooler and head to my favorite sunny spots. You may not know this, but there are some pretty fabulous beaches around the New England area. Some of our favorites are in Massachusetts and North of Boston AKA "North Shore Beaches."
The sand is super soft, they offer public amenities with changing rooms and showers, and even snack shacks and gift shops. They truly have it all. Well, except for warm water. 50-55 degrees is not really the ideal swimming temperature.❄️ Literally, my body goes numb after being in those arctic conditions for 5 minutes. "They" do say it can have a preserving effect so maybe it will slow the aging process. Not sure that tradeoff is worth it for me. Nope - I think I'm good with just staring at it and MAYBE just maybe dipping a toe in.🌊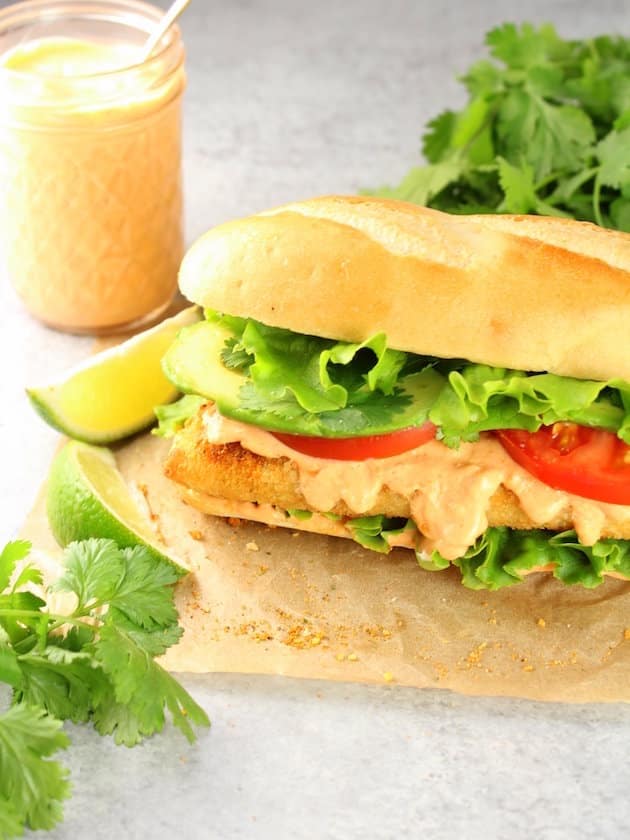 What about you – any fun summer adventures on the horizon?
We've got a few fun things on our summer bucket list…
A whale watching trip;
A visit to Martha's Vineyard;
A fishing excursion;
Multiple trips to our favorite beaches (Singing Beach and Crane Beach) plus trying out a few new ones;
... and hopefully visiting one of our favorite seafood brand's facilities just outside Boston – Gorton's!✨
And since they're virtually down the road from the beach we can probably knock two things off our list at the same time. Who knows they may even take us out on a fishing expedition!🎣 Crossing things off left and right!👌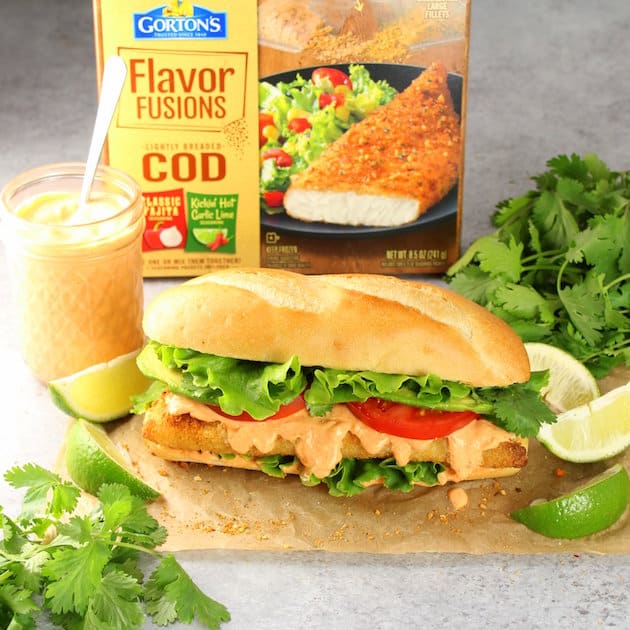 Speaking of Gorton's and quick, easy, tasty meals... I've got the most mouthwatering recipe for you today… the Baja Fish Sandwich!!🌟
Gorton's is always coming up with new and interesting ways to please the palate… like these tasty Flavor Fusions Cod Fillets!👇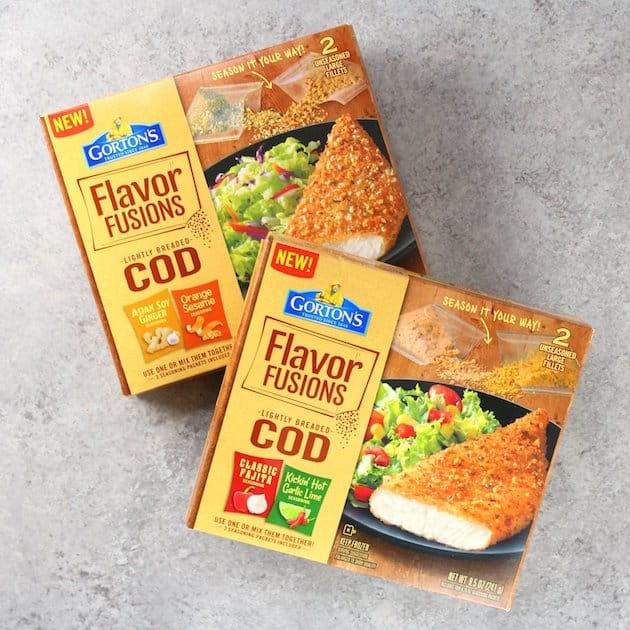 They're lightly breaded wild-caught Cod fillets with two zesty seasoning packets included, that allow you to customize your fish to your liking.👍
There's Orange Sesame and Asian Soy Ginger, or Classic Fajita and Hot Garlic Lime. Mmm, mmm!😋 Love all those vibrant spices! You can find Gorton's Flavor Fusions at select Walmart and Kroger locations… find out where to buy Gorton's here!
(Update as of August 2020: when we first published this post, Gorton's was debuting the Flavor Fusions concept. It's no longer listed on their website so if you can't find it in your local grocery store, just go with their Beer Battered Cod instead. The Baja sauce in this recipe will still make for a zippy, tasty, fish sandwich!)
We took today's sandwich south of the border by using a combination of both the Classic Fajita and Hot Garlic Lime seasoning! It's one zest-filled flavor adventure.💫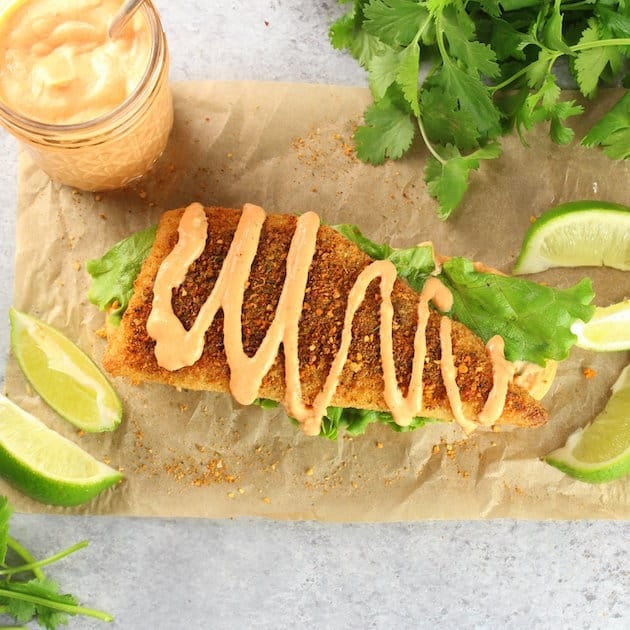 I baked my fish fillets at 425 degrees for 18 minutes. Then flipped them over, sprinkled on the seasoning packets and continued baking for 5 more minutes.
Meanwhile, I prepped my lettuce, tomato, cilantro, and avocado. Then mixed up the creamy Baja sauce: with Greek yogurt, mayo, lime juice, minced garlic, sriracha, and cumin, Baja sauce is the perfect accompaniment for this zippy fish fillet.
Next, I pulled the fish from the oven, sliced and toasted my sub rolls and layered all those fantastic ingredients into one fabulous Baja Fish Sandwich!💯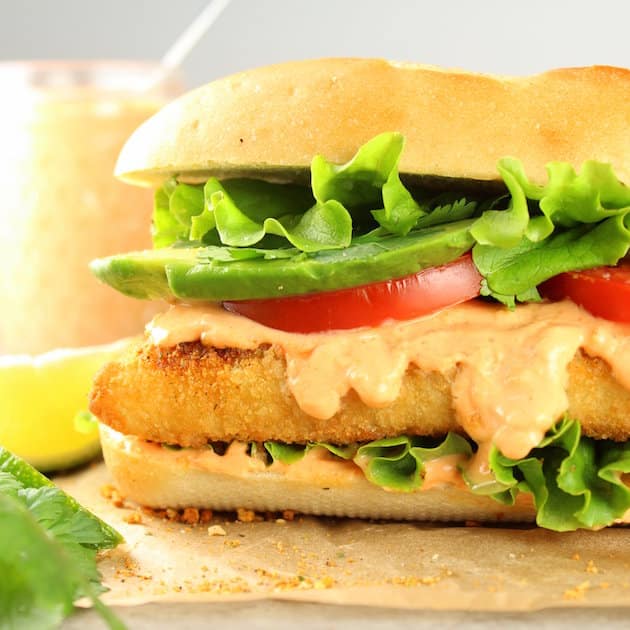 Amazingly flavorful and on the table in less than 25 minutes!👏
You better start making your summertime fun bucket list 'cause with meals this easy, you're gonna have mucho tiempo on your hands!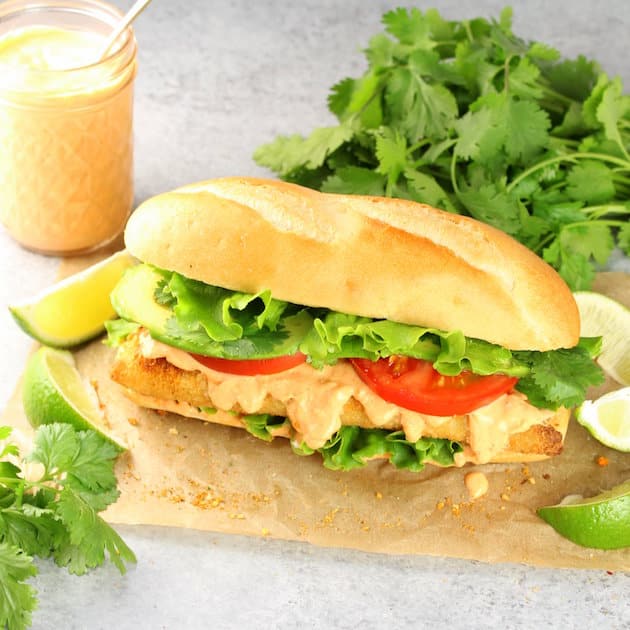 If you want more amazing, easy seafood recipes, I have a few suggestions. First, check out these easy tuna cakes! Or if you are in the mood for haddock fish, then this amazing fish piccata is just the ticket. On the other hand if you want a seafood alternative, I highly recommend this reader favorite Parmesan crusted chicken recipe!
I would love to connect with you! Leave a comment and follow me on Instagram,Twitter, Facebook, & Pinterest!
Yield: 2 servings
Zesty Baja Fish Sandwich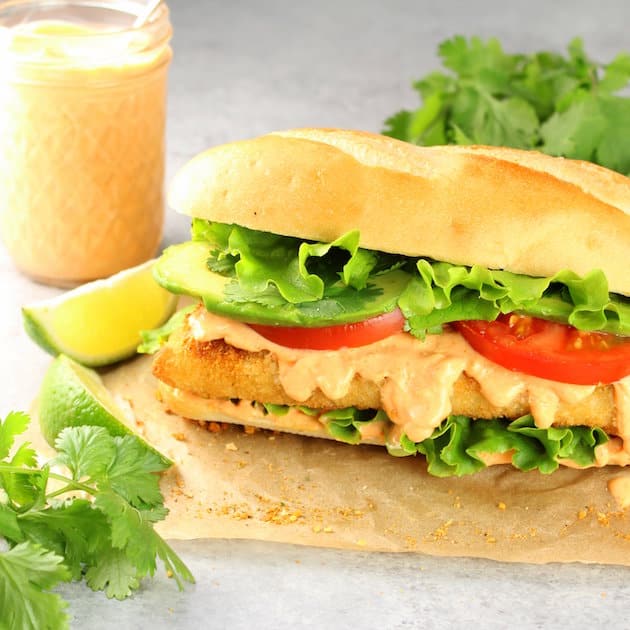 Zesty Baja Fish Sandwich - it's one yummy flavor adventure waiting to happen!
Ingredients
For The Baja Sauce:
¼ cup mayonnaise
½ cup Greek yogurt or sour cream
1 tablespoon fresh lime juice
1 clove garlic, minced (or ¼ teaspoon garlic powder)
1 tablespoon sriracha sauce
¼ teaspoon cumin
1 teaspoon honey
For The Sandwich:
green leaf lettuce
1 avocado, sliced
cilantro leaves
1 tomato, sliced
2 sub rolls, lightly toasted
2 Gorton's Flavor Fusions fish fillets or pub style cod fillets
Instructions
Preheat oven to 425F.
Make the Baja sauce by combining all ingredients and whisking together thoroughly. Set aside
Bake fish fillets for 18 minutes at 425F, then flip them and sprinkle with Flavor Fusions seasonings and bake 5 more minutes.
Assemble sandwiches with Baja sauce on both buns. then layer fish, sliced tomatoes, sliced avocados, and cilantro
Nutrition Information
Yield
2
Serving Size
1 sandwich
Amount Per Serving
Calories

800
Total Fat

44g
Saturated Fat

6g
Unsaturated Fat

0g
Cholesterol

401mg
Sodium

1157mg
Carbohydrates

49g
Fiber

8g
Sugar

11g
Protein

173g
Looking for more delicious family dinners?