Asparagus Salad with Eggs and Prosciutto is light and fresh and perfectly filling. With soft-boiled eggs, al dente asparagus, pea shoots, Asiago cheese, prosciutto and a lemon-Dijon Vinaigrette. It's a delicious brunch or side salad for a special occasion or just celebrating spring.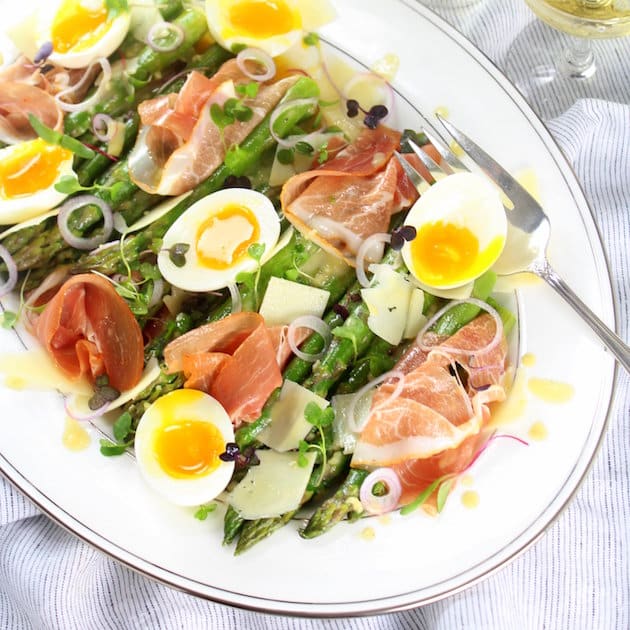 This salad is exactly what I would want someone to make me for brunch!! (Hint hint.) Then possibly some Lamb with Polenta for dinner! That would be so dreamy!!😊💕 Anyone???
I must say this salad is spring on a plate. Fresh seasonal ingredients like asparagus and pea shoots.🌱 Then some slightly runny soft-boiled eggs, cured prosciutto and Asiago cheese!! All topped off with a lemon-Dijon vinaigrette!💛 (Lots of heart eye emoji's.)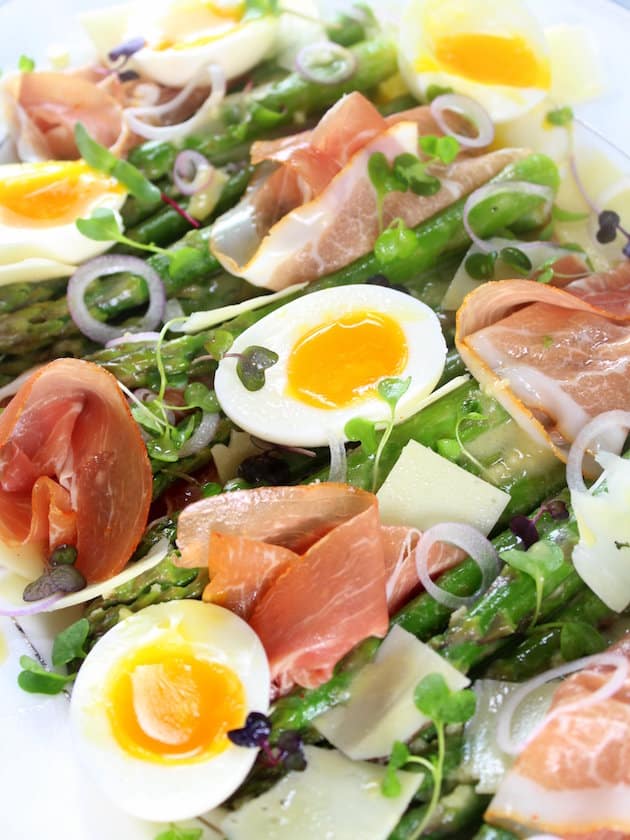 This asparagus salad is truly the most delicious and beautiful spring brunch a girl could ask for.☀️ Plus, it's so good for us!!👌
I can't take credit for this masterpiece. Well, not completely. I was at my chiropractor's office flipping through one of my favorite food magazines – Eatingwell. Love.❤️ And there was this gorgeous salad on a two-page spread. I knew then it had to be mine.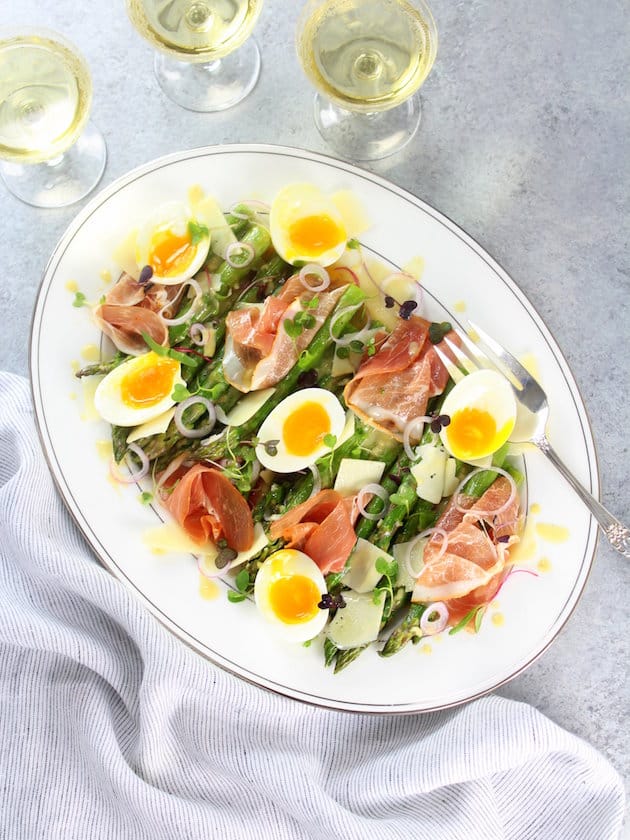 So I looked it up.
The original recipe is called Asparagus Salad with Eggs Jambon de Bayonne.✨ So fancy – right!? The recipe was created by Seamus Mullen, an award-winning New York chef, restaurateur and cookbook author known for his inventive yet approachable Spanish cuisine… and also a leading authority on health and wellness.
He's got it going on!🙌 But don't take my word for it check out his blog or his cookbook
for more tasty creations.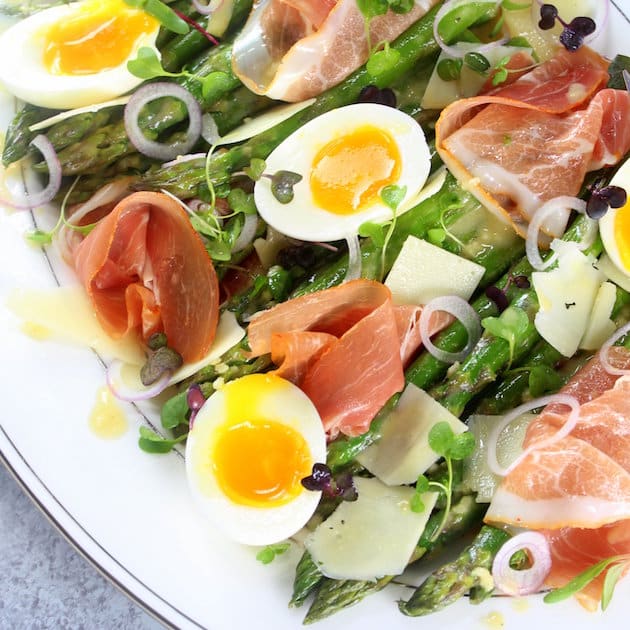 The original recipe calls for basil or tarragon leaves, jambon de Bayonne or other cured ham, like Serrano. The dressing is also a bit different. The original has white-wine vinegar and finely grated Parmigiano-Reggiano cheese.🧀
And as delicious as that all sounds I thought, "why not just use prosciutto?" It's readily available and most of us know what that is. And since I have a huge crush on lemons, and can't get enough of Asiago cheese, I thought why not swap out the vinegar for fresh lemon juice… and why not skip the cheese in the dressing and have shavings of it all throughout the salad. Yes – all good decisions!💯
Plus, it's so beautiful… the different shades of green, the bright yellow and the dusty rose. Truly, edible art.🌟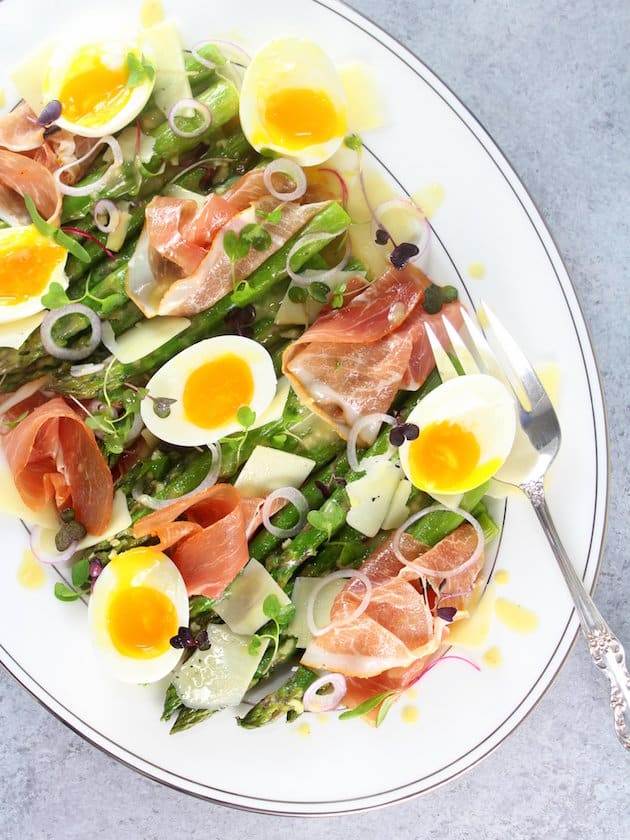 And since I not only like my food to taste amazing, but also look beautiful, this dish is winning on all fronts. Can I get a witness???🙋
Don't let all this fanciness intimidate you. You've totally got this.👊 It's as easy as boiling asparagus and eggs and whisking together the dressing. For reals.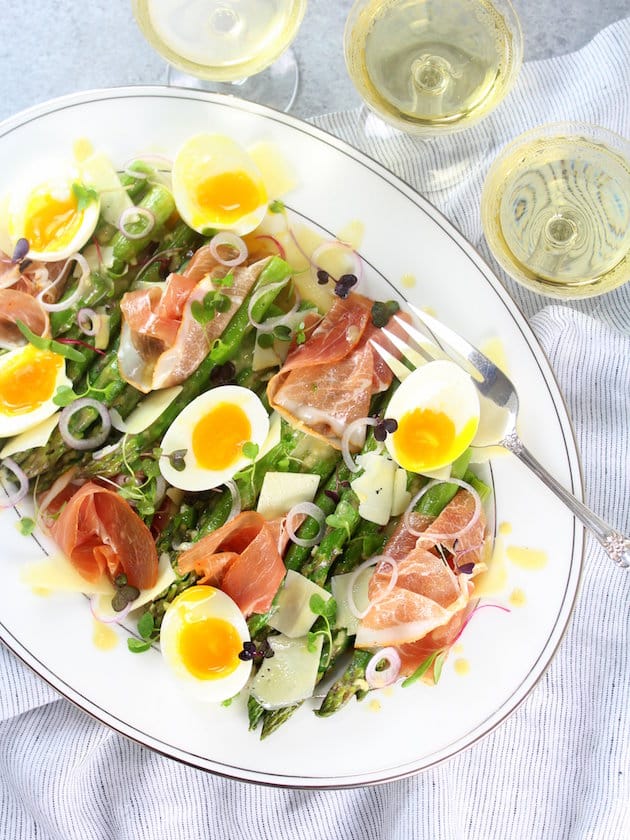 This Asparagus Salad with Eggs and Prosciutto is an easy and healthy feast for the eyes and the belly. And what mother, grandmother, or fabulous lady in your life wouldn't adore that!??
Happy Eating and Happy Spring!
I would love to connect with you! Leave a comment and follow me on Instagram, Twitter, Facebook, & Pinterest!
Yield: 4 servings
Asparagus Salad with Prosciutto, Soft Poached Eggs and a Dijon Vinaigrette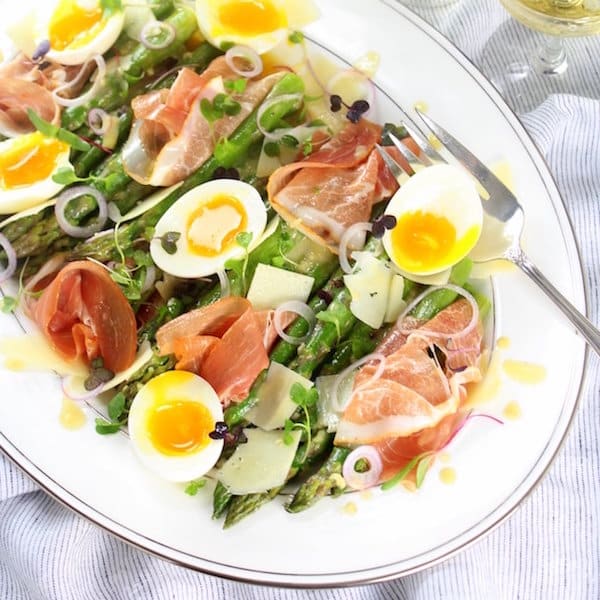 Asparagus Salad with Eggs and Prosciutto: with soft-boiled eggs, al dente asparagus, pea shoots, Asiago cheese, prosciutto and a lemon-Dijon Vinaigrette.
Ingredients
For The Salad:
2 bunches asparagus (24 stalks), , stalks trimmed
3 large eggs
1 small shallot, medium-to-thick trimmed
8 slices prosciutto
2 ounces pea shoots
1 ounce Asiago cheese, shaved
For The Vinaigrette:
1 tablespoon fresh lemon juice
2 tablespoons Dijon mustard
1 teaspoon honey (omit for Keto/Low-Carb)
1 clove garlic, minced
1 tablespoon extra virgin olive oil
pinch of pepper
pinch of salt
Instructions
For the Salad:
Put a large pot of salted water on to boil. Fill a large bowl with ice water and place next to the stove.
Once water is boiling, add asparagus and wait for water to return to a boil. Continue to cook asparagus for 2½ minutes, then immediately transfer to the ice water with a slotted spoon.
Return water to a boil and add eggs, then cook for 7 minutes. While the eggs are cooking remove the asparagus to a clean kitchen towel and pat dry.
Transfer the eggs to the ice water and let stand until cool. (Tip: When eggs are cool enough to handle, remove from the water and gently crack each egg on the counter in several different places. Then return back to the ice water to cool. This will help the egg shell to come off more easily.)
For The Vinaigrette:
Combine all Vinaigrette ingredients in a bowl, and whisk until dressing comes together.
To Serve:
Gently remove shell from each egg, and cut each egg in half.
Arrange the asparagus and eggs on a large platter and sprinkle with salt and pepper. Then drizzle with the vinaigrette. Top with prosciutto, shallot, sprouts and Asiago Cheese.
Notes
To add a slight smoky flavor sprinkle the salad with smoked paprika.
Nutrition Information
Yield
4
Serving Size
6 ounces
Amount Per Serving
Calories

238
Total Fat

15g
Saturated Fat

4g
Unsaturated Fat

0g
Cholesterol

138mg
Sodium

359mg
Carbohydrates

12g
Fiber

5g
Sugar

6g
Protein

14g
Looking for more great salad recipes? Try our Jalapeño Cilantro Corn Salad or this Grilled Mediterranean Chicken Salad.