These Turkey Meatloaves with Ranch Potatoes and Broccoli are the perfect homemade meal when you're craving something comforting and delicious.  Healthy and well-balanced with lean protein, tons of veggies and loads of yummy flavor – they've got it all!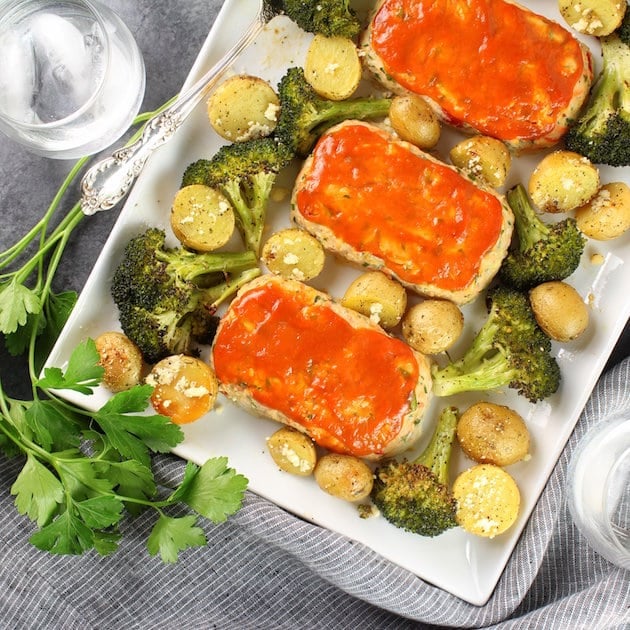 (This post contains affiliate links – read more here.)
So in case you didn't get the memo it's back-to-school season!  Number 2 pencils, spiral notebooks and backpacks are everywhere you turn.  And in case the onslaught of flyers, coupons and commercials weren't enough of a reminder, you always have social media to jog your memory.😄
I have to admit it's super sweet to see all those cute first day back-to-school photos on Facebook.   Aw, so presh.💕
But truth be told, the photos I'm really loving are those hilarious shots of moms commemorating this most wonderful time of the year.  I'm sure you've seen them… there's the one with mom on a floatie in the pool with a big glass of chardonnay and the kiddos standing by with those new backpacks and super sad faces.😂  It's good stuff people.👌
I'm sure most of the pictures were staged but you know what they say – there's some truth behind every joke.  If you missed the funny photos you can check them out here at Today.com  – that is AFTER you finish reading this very informative and enlightening blog post I wrote just for you.✨  Ahem.
Well, since I'm a team player I wanted to pitch in and do my part.  So I whipped up a little back-to-school meal to help a family out.  I give you… Turkey Meatloaves with Ranch Potatoes and Broccoli.  You're so welcome.🙏
As the name states these little meat bombs are made with (low fat) ground turkey and a whole grocery cart full of veggies.  So, they're not only healthy but they're super flavorful and sooo moist.  No turkey jerky going on around here.🙌
AND since they're formed into adorable little portions they only take 15 minutes to cook.  Whaaaa!!😳  Like I said; me = team player.😊
If that wasn't enough, we've got everyone's favorite flavor in world – ranch – coated on our broccoli and little yellow potatoes.😋  All baked to perfection in only 20 minutes.💚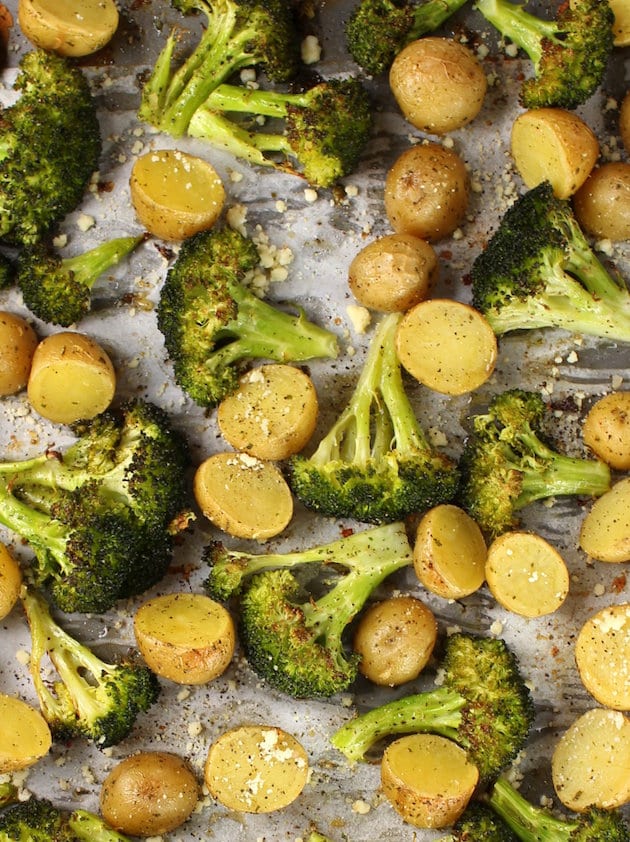 Here's where it gets really good… if you follow my carefully crafted meal prep timeline, you can have this entire meal ready and on the table in 40 minutes.👍🎉  What can I say?  I'm a giver.
Let me break it all down for you…
First, preheat your oven to 425 degrees.
Now rinse and cut up the broccoli and potatoes.  Toss them with 3 tablespoons of ranch dip mix, 2 tablespoons olive oil, and juice from ½ a lemon.  Scatter them on your favorite baking sheet
lined with parchment paper and bake for 20 minutes.  (Just a suggestion – do us both a favor and PLEASE set a timer.⏲)
While those veggies cook, prepare the mini meatloaves.
Normally I would chop and cook my veggies before adding them into my meatloaf.  But in the name of getting this meal on the table quicker I shredded my carrot, onion and zucchini in the food processor.  That way it's small enough to mix into the meatloaf and cook all at once.  Brilliant – right!??👏
Next, I minced some garlic, chopped the parsley and cut up one jarred red bell pepper.  (This is another time saving move – the pepper is already cooked so just chop it up and mix it in.)  I added all the veggies into a large mixing bowl and folded them together.
I added in the egg, almond meal, salt, pepper, cayenne, and ground turkey.  Then gently mixed it together without overworking it.
Next, I scooped up 6 handfuls of the mixture and placed them on a baking sheet lined with parchment paper, then, formed my mini meatloaves into 2½ x 4 inch bricks.👇
Finally, in a small mixing bowl stir together some ketchup, mustard and a little maple syrup (or honey).  Now add one spoonful onto each meatloaf and smooth over just the tops.
At this point your ranch potatoes and broccoli should be finished cooking.  Remove them from the oven, but leave the oven heat on at 425.
Now toss those turkey meatloaves into the oven and cook for 15-20 minutes, or until a thermometer inserted into the middle of the loaves reads 165 degrees.♨️ No need to over-cook that meat when you have a handy dandy thermometer
telling you it's cooked to the proper temperature – amiright?
These Turkey Meatloaves with Ranch Potatoes and Broccoli are the perfect homemade meal when you're craving something comforting and delicious.😋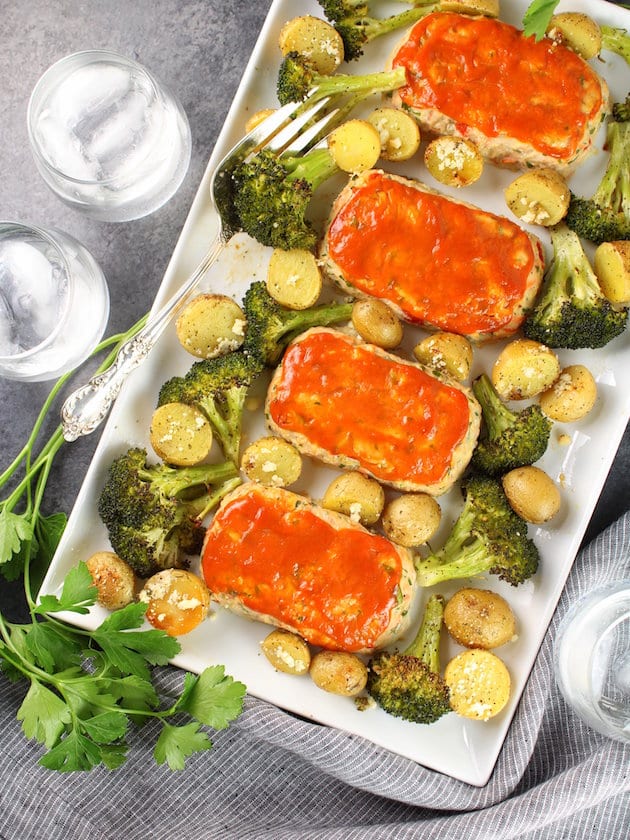 There you have it, another healthy and well-balanced meal with lean protein, tons of veggies and loads of yummy flavor.  Enjoy my friend!
I would love to connect with you!  Leave a comment and follow me on Instagram, Twitter, Facebook, & Pinterest!
 Looking For More Easy Weeknight Dinners?
Maple Sriracha Bone-In Grilled Pork Chops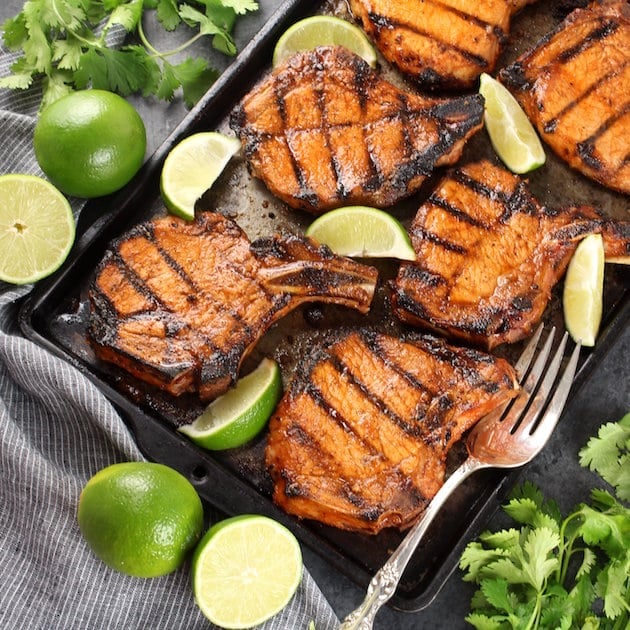 Grilled Chicken Caprese With Balsamic Sauce