Today we're highlighting a traditional Chinese dish from one of my favorite chefs: Ming Tsai's Mango Chicken Stir-Fry with Snap Peas. It's easy, healthy and so delicious! The perfect balance of savory, sweet and spicy. Plus, read my interview with Ming to learn about his favorite comfort food, his advice for cooking and life, and his thoughts on leaving the world a better place.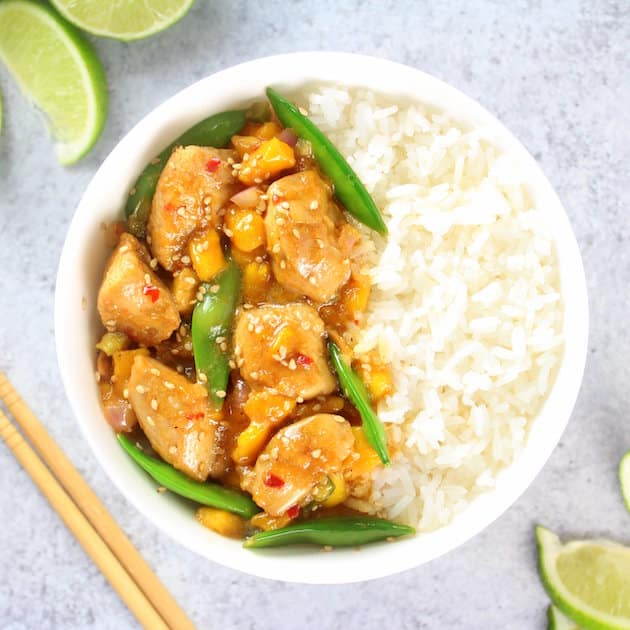 I love cooking Asian recipes at home! It's so easy to replicate the yummy dishes I enjoy so much when eating out. Plus, all the ingredients seem to be readily available at my local grocer. Not to mention it's all so good for me... fresh veggies steamed or par-cooked, lean protein, rice or rice noodles all gluten-free. Super healthy! And it's easy to whip up in a short amount of time.
No wonder we all love it so much!!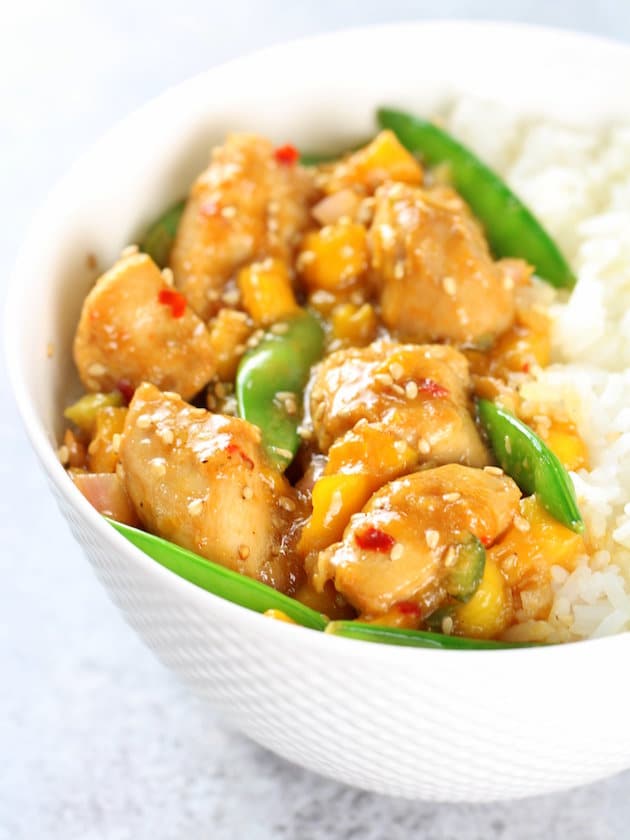 But before we get into the recipe I wanted to tell you more about the Emmy Award-winning chef and restaurateur behind this yummy dish.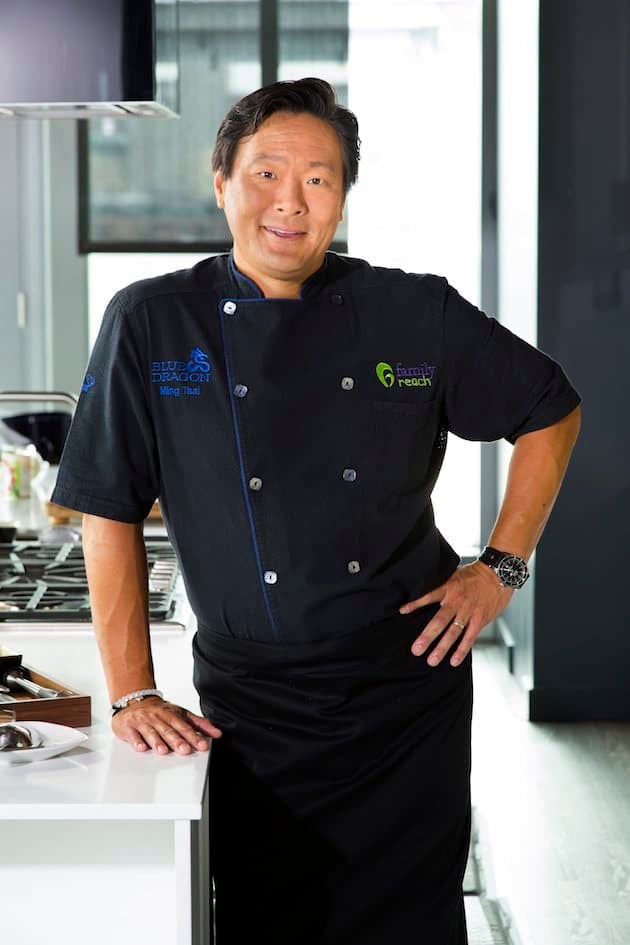 Ming Tsai is not only the James Beard Award-winning chef-owner of Blue Ginger (sadly closed now!) and Blue Dragon in Boston, he's also the star and executive producer of "Simply Ming'' - his long-running and Emmy-nominated show on PBS. But that's not all… Ming's also the President of the National Advisory Board for Family Reach and has helped raise over $5 million dollars for this incredible nonprofit organization that offers financial assistance to families afflicted with cancer.
There's no doubt Ming is a culinary genius but he's also a straight up cool guy. Recently I was able to chat with him and get his perspective on having a long-running successful TV show, his favorite go-to comfort food, and the amazing charitable organization that he's so passionate about.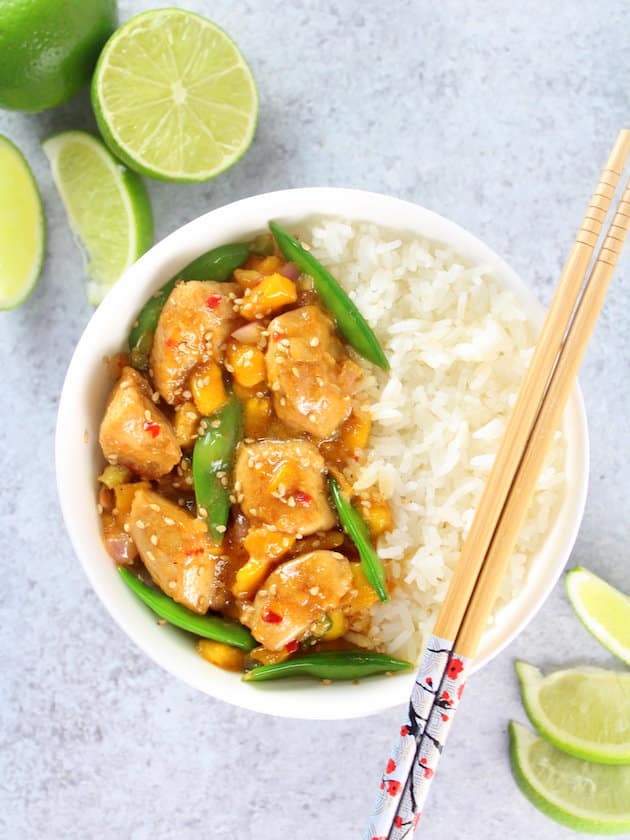 - - - - -
What inspired you to become a chef & restaurant owner?
You know what? The best way to connect with people is to cook for them and make them happy through food… and owning a restaurant you get the opportunity to touch a lot of people. Because my parents had a restaurant, I've been in restaurants since I was 14… so I've always had the restaurant bug.
What are some things you love about living in the Boston area?
Umm… it's BOSTON!!! I've been in the Boston area since 1979 and I fell in love with this city. It's like the east coast San Francisco... it's a small New York, and it has its own Chinatown with the necessities I need for quality of life.
I totally did fall in love with everything Boston: if you want symphony and opera and all that, you've got it… but more importantly we've got the Bruins, we've got the Celtics… we've got great sports. And we have the greatest quarterback of all time.
What's your go-to comfort meal?
For going out to dinner with kids, 7 of 10 times it's Chinese food. Of those, 6 out of 10 are at the Gourmet Dumpling House in Chinatown, on Beach street. Then 3 out of 10 are at CK Shanghai in Wellesley and we take it to go. Then 1 of 10 is some other random Chinese restaurant.
If I'm ever a little under the weather which is rare, I will have Gourmet Dumpling House's special Sliced Fish Szechuan-Style. It's a big bowl of stock and cabbage, and white fish that is very tender… it has more chili, chili oil, and citron peppercorn than you think you could ever humanly consume. The first bite you think "this is so hot, how the hell can I eat this?" But then within 30 seconds the peppercorn starts to numb you, and that's the whole point of Szechuan cuisine. So if you were sick, and had anything in you, you will get it the hell out of your body!
What's the secret to having a successful show running for 15 years?
That's a good question. I think just like with recipes you have to change with the times: we used to do only master recipes for a couple seasons, then we only did one-pot meals for a couple seasons, then we started added traveling. So now we do 18 in the studio here in Boston, then we do 2 different locations for 4 recipes each: Hawaii and Norway last year, then this year we are looking at Europe.
Also, having fantastic chef friends - that's important. Make sure you bring Mario Batali, Michael Symon, Rick Bayless, & Madhur Jaffrey. It's fun! Chefs are always asking other chefs to do stuff… whether it's to do a show, or do a segment on a show, or do a charity thing, it's a large give-and-take-circle that we're all a part of… which is half the reason it's great to be a chef.
Will there be another 15 yrs? We don't know… but we'll see.
What's your personal motto or advice you live by?
For chefs and cooks, and for life: "Taste as you go." You can't wait until you're plating to taste! Taste all the elements as they are being created: the sauce, the veg, the garnish, the protein, the secondary stock, everything.
But this also works for life: take that chance! You're never going to get higher if you don't jump for the next branch… so jump! I mean who wants mediocrity? That's boring. Maybe you will fall on your face… so OK! As long as you don't die… then just get up. I'd rather get hurt trying than not trying at all… and I'd rather ask forgiveness than permission.
You're very active in several charitable organizations. What charities are you most involved in and why?
I've pulled back from all but one: Family Reach. We are the only national charity that financially helps families with a child with cancer. You might not know this, but the number one cause of personal bankruptcy in this country today is actually cancer.
I've been with Family Reach for 7 years, have been the president of the national advisory board for the last 5, and I am on the board of directors. This is by far one of the best things I've done charity-wise. I'm very proud that I've raised over 5 million dollars for them in the time I've been with them.
And that's a real number. Before, I'd do a (charity) dinner, and it would be great and I knew the money went to the charity but I never knew where it went. But here it's very real: I know where it goes… I meet the families… these kids hug me!
For example, Mikalo is my hero…. He's 9 now, he's just celebrated 7 years in remission. When he was 2, he got cancer, was living 2 years in a homeless shelter while getting chemo radiation with a single mom… that's not "charity" that's "humanity." Could you imagine? TWO YEARS living in a homeless shelter while your son is getting chemotherapy? How hopeless are you? And that's when Family Reach stepped in and said "here's your apartment back for a year, you don't worry about your apartment, you worry about your son." At Family Reach, we don't call it a charity, we call it a mission.
And now like I said he's 6 years in remission. And I just saw him like a week ago, he came into Blue Dragon and gave me a big hug, and that's all I need. We saved that kid's life. We just have to keep them in their homes, paying the bills. We've been making great strides in the last 7 years.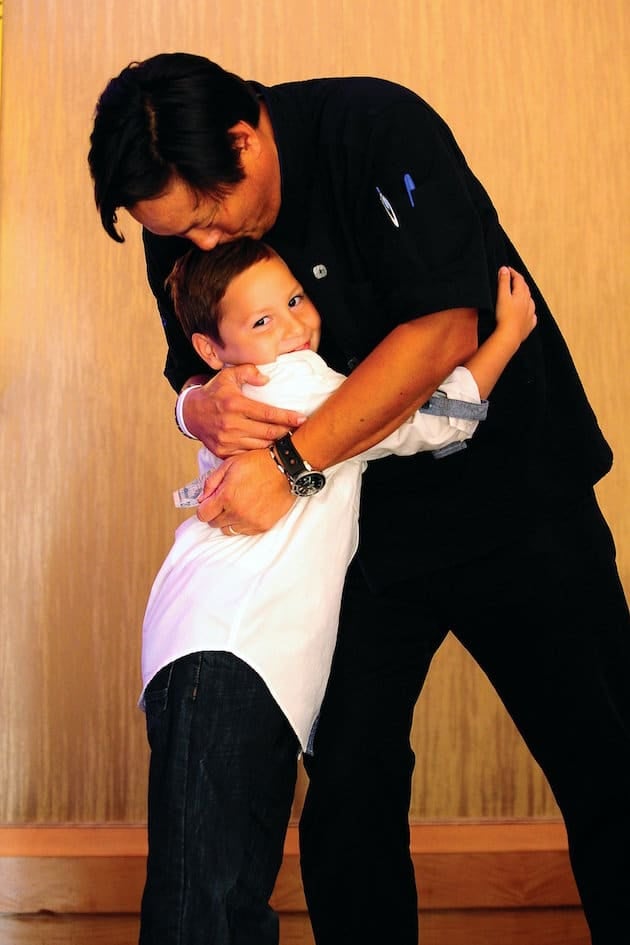 And ANYONE reading this can help. If you're reading this blog you probably have better means than 80% of the country already. If you put your mind to it, find your cause, then you can leave the world a better place. That's all I preach to my two sons… they could be plumbers, cooks, I don't care! Just leave the world a better place. If we would all do that, we'd be fine…
On a lighter note… martini or wine?
WINE! It's the reason to cook. There are more varieties of wine than there are martinis - yes you change the bitters or the alcohol but *for food* wine's the best. And secondly, I'd rather have tequila… it has more flavor, more oomph, more variety, than martinis.
So how did you come up with your version of this spicy mango chicken recipe?
I get influence from all over the world, this one from southeast Asia. And mango (if it's super ripe) by far is my favorite food in the world. My grandfather who lived in Taiwan would proudly serve me ice-cold mango from the fridge and… you'd just get it all over your face, get it all over the place… it's the best. It's the perfect fruit… I love it cooked, and raw. It's everything. And then there's the snap peas, they're so much better than snow peas –they give a crunchier crunch and bite to this dish. Plus, there's the spice of the sambal.
- - - - -
Is your mind blown? Is your mouth watering??? We have Chef Ming Tsai to thank for that.
I have to tell you his Mango Chicken Stir-fry with Snap Peas is such a tasty dish. Not only does it look gorgeous it's the perfect balance of sweet, spicy and savory. Just so good.
Think about it... super-sweet mangos that are diced with red onions, fresh grated ginger, and minced jalapeno. Tossed with fresh lime juice and spicy sambal. So fresh and flavorful and the "number one spice" for this Mango Chicken Stir-Fry.
The chicken is marinated in tamari (or soy sauce), sesame oil, a little cornstarch and stir-fried until it's just cooked through. Then the barely-cooked snap peas and the spicy mango salsa all gets tossed together and heated through. I added one tablespoon of tamari (or soy sauce), two tablespoons of honey and a little salt and pepper to finish off the dish.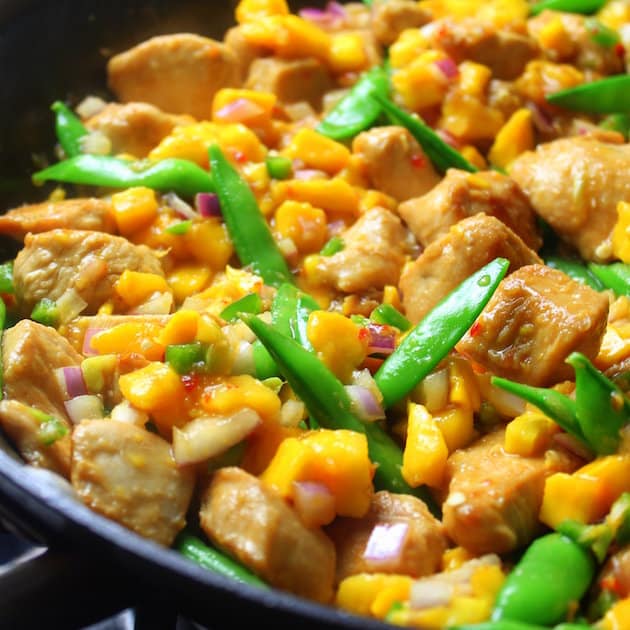 All of this amazingness gets served over a bed of your favorite rice or rice noodles. So easy and so good for you - this mango chicken stir-fry is sure to be making many repeat appearances on your monthly meal plan menu!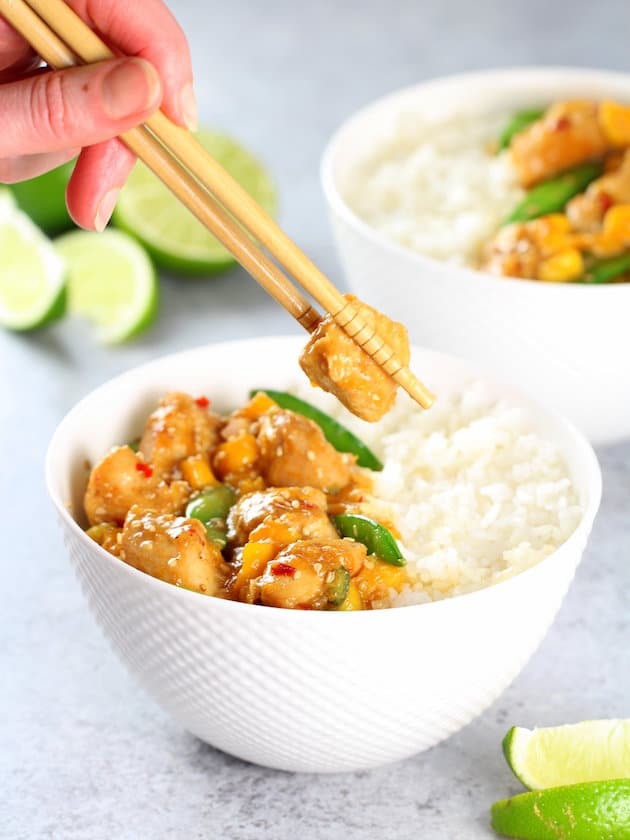 If you're in the Boston area be sure to check out Ming's fabulous restaurants. And if you're looking for a way to give back and a charity that is making a significant impact in people's lives, head over to Family Reach and show your support.
Happy eating, Happy giving back, and Happy Easter!
I would love to connect with you! Leave a comment and follow me on Instagram, Twitter, Facebook, & Pinterest!
Yield: 6 servings
Mango Chicken Stir-Fry with Snap Peas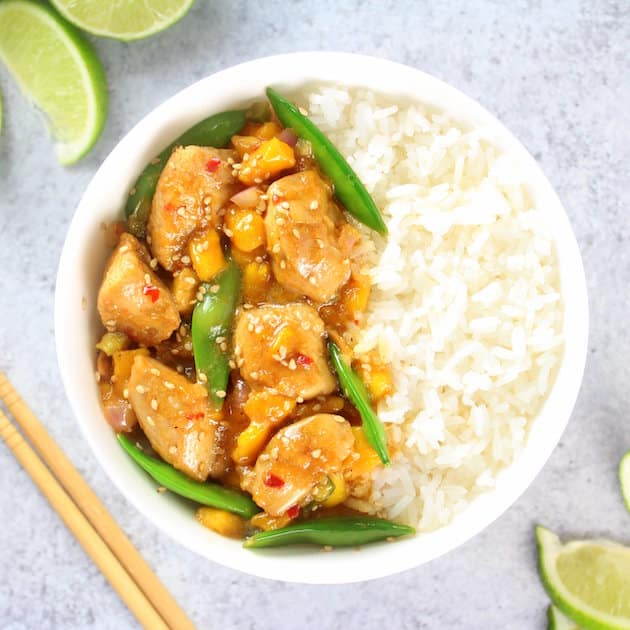 Mango Chicken Stir-fry is gorgeous, and it's the perfect balance of sweet, spicy and savory. The super-sweet mangos are diced with red onions, fresh grated ginger, and minced jalapeno... then tossed with fresh lime juice and spicy sambal.
Ingredients
For the Spicy Mango Salsa:
3 small mangos, or 2 larger mangos peeled and diced into ¼-inch pieces (I used 3 ataulfo "honey" mangos)
1 medium red onion, diced into ¼-inch pieces
1 jalapeño, stemmed and minced (I left the seeds in for spice)
½ tablespoon fresh ginger, peeled and minced
1 tablespoon Samba Oelek (or other hot pepper sauce)
2 tablespoons fresh lime juice
salt and pepper to taste
For The Mango Chicken:
2 pounds boneless skinless chicken breasts or thighs, cut into 1-inch pieces
1 tablespoon Asian sesame oil
1 tablespoon cornstarch (use a brand like Argo or Bob's Red Mill for gluten-free)
2 tablespoons soy sauce (or tamari for gluten-free)
1 pound snap peas, ends trimmed if needed
2 tablespoons grapeseed or canola oil
2 cups Spicy Mango Salsa
2 tablespoons honey
salt and pepper to taste
toasted sesame seeds for garnish
Instructions
For the Spicy Mango Salsa:
In a large, nonreactive bowl, combine the mangos, onions, jalapenos, ginger, sambal, and lime juice, and blend gently.
Season with salt and pepper to taste, then use or refrigerate.
For the Mango Chicken Stir-Fry:
In a large bowl, combine the chicken, sesame oil, cornstarch, and 1 tablespoon soy sauce and mix. Set aside for 10 minutes.
Fill a large bowl with cold water and add ice. Bring a large pot of salted water to a boil and add the snap peas. Blanch until they have brightened and lost their raw taste, 1 to 2 minutes. Drain the snap peas and transfer them to the ice water. When cold, drain.
Heat a wok or heavy saute pan over high heat. Add the oil and swirl to coat the pan. Add the chicken and stir-fry until just cooked through, 6 to 8 minutes. Add the snap peas and the salsa, along with another tablespoon of soy sauce and the honey. Allow it to heat through.
Season with salt and pepper, and if desired serve over your favorite rice or rice noodle. Garnish with the remaining mango salsa and toasted sesame seeds.
Nutrition Information
Yield
6
Serving Size
8 ounces
Amount Per Serving
Calories

338
Total Fat

18g
Saturated Fat

3g
Unsaturated Fat

0g
Cholesterol

54mg
Sodium

391mg
Carbohydrates

27g
Fiber

3g
Sugar

21g
Protein

17g
Looking for more amazing easy weeknight dinners?