These Slow Cooked Lamb Shanks are full of rich hearty flavor!  They're braised low and slow for hours in white wine, herbs, and veggies.  Creating the most tender, lush, and tasty meal perfect for a family dinner and worthy of any holiday celebration.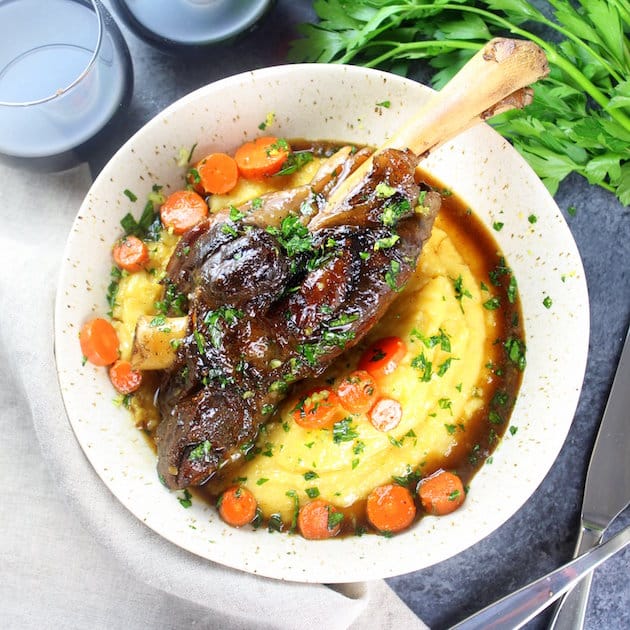 Jump to:
Ahhh lamb. What can I say... I'll start by mentioning I'm a huge fan of lamb. It's hearty and tender and the flavor is so delicious and unique. There's just nothing like it.💕
I'll admit I didn't always feel this way. Until I met the B man, I had never tasted lamb.
Growing up in my house, we had a less exotic menu plan. You know: crunchy tacos, goulash, tuna casserole? That was more our speed. And don't get me wrong - I loved every bite. Cause momma could cook, ya'll. But less about my mom's superpowers and more about this luscious lamb.👇 Hello.✌️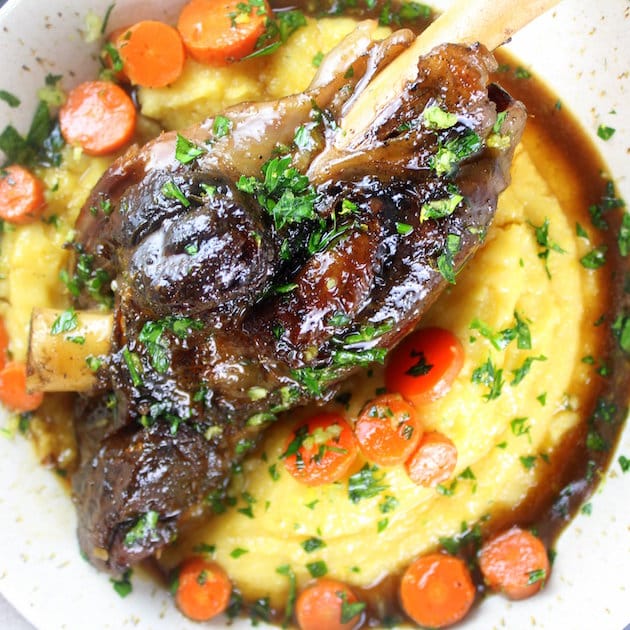 So, in case you didn't know, the B Man is of Jewish descent. He didn't grow up going to synagogue or wearing a kippah… but he did tap into Middle Eastern cuisine. And that most assuredly includes lamb.💯
What can I say? He's a cultured guy. And he showed me the way. And now thanks to him, I'm a lamb lovin' girl.❤️
I could go on and on about the first leg of lamb I cooked… or a more accurate description might be "a lamb leg I dried." But I've told you that story before so we're movin' on.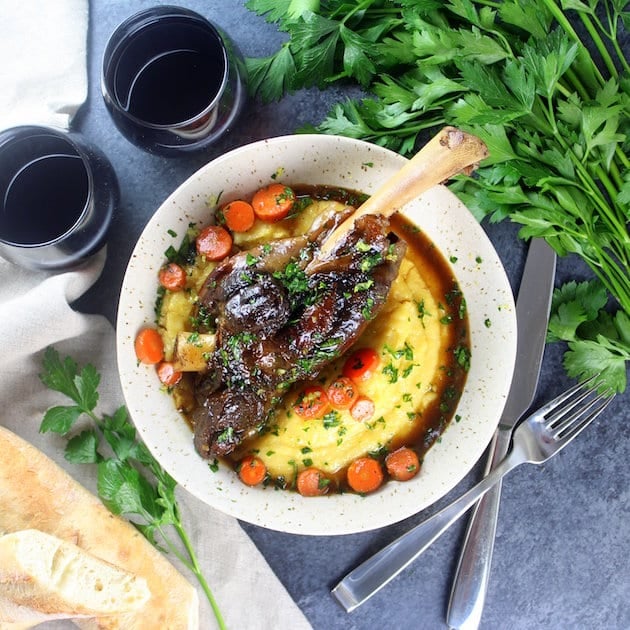 Some of my favorite lamb dishes include lamb meatballs with tzatziki served with feta cheese, fresh dill, and cucumber…  Then there's the lamb lasagna – oh myyum!  It will change your life.👌  And then, of course, today's recipe… Slow Cooked Lamb Shanks with Polenta – be still my heart.💓
My first experience with this lamb shank recipe was at a little restaurant that no longer exists in Fredericksburg, VA. "Jake & Mike's" was this cute little house in Old Towne F-burg turned into a 20-seat purveyor of yumminess. It was two brothers, one the maître d' and the other a chef making some of the tastiest meals my mind can remember. Lots of magic coming out of that kitchen.✨
Slow-cooked lamb shanks were a specialty there.   The sauce was aromatic and savory, yet lite – the perfect backdrop to let the lamb shine.  I couldn't stand it, I had to know how this masterpiece was created.
So, I asked.  And then took notes.  And I've been making these lamb shanks with white wine ever since.🙌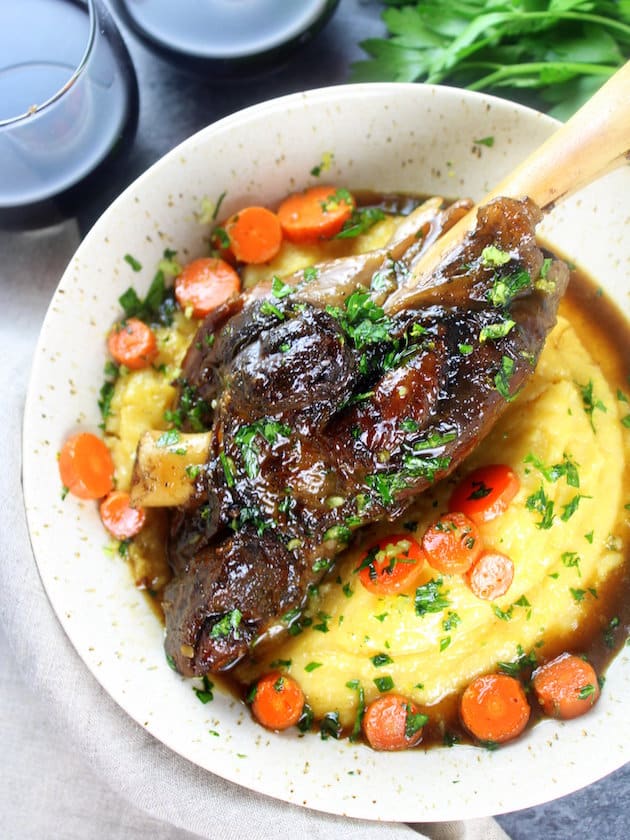 Think braised unctuous meat, slow-roasted for hours in a pot with white wine, onions, carrots, celery, garlic, and herbs. Heaven on earth, my friend.🙏
The liquid is strained and reduced to make the most divine sauce. The meat is so lush and tender and almost falls off the bone. The Parmesan polenta makes the perfect soft cheesy sponge to soak up all that savory goodness. There's just no way my words can accurately describe the aromas, flavors, and textures of this special dish.
You have to experience it for yourself. For the love of lamb, people!💖
This is a wonderful dish to serve for a special occasion, like say Tuesday night.😄 Or you know maybe Christmas dinner or Easter!! Yes – so perfect.👌
I definitely recommend this for Easter. It's special and yummy and so easy to prepare. The perfect main event, for your main event.
You may be wondering what goes with lamb shank.🤔  Of course, I have suggestions.🙋
You could serve it over a mound of garlic mashed potatoes, some yummy Parmesan risotto, or even some whipped white beans or pureed cauliflower for a low-carb approach.  Then there's always my favorite - lamb shanks with polenta.  This Parmesan Polenta is so easy to make and so forgiving.  If it cools down before you're ready to serve it, just turn up the heat, add some chicken stock, and start whisking.
Voila - amazingness every time.🌟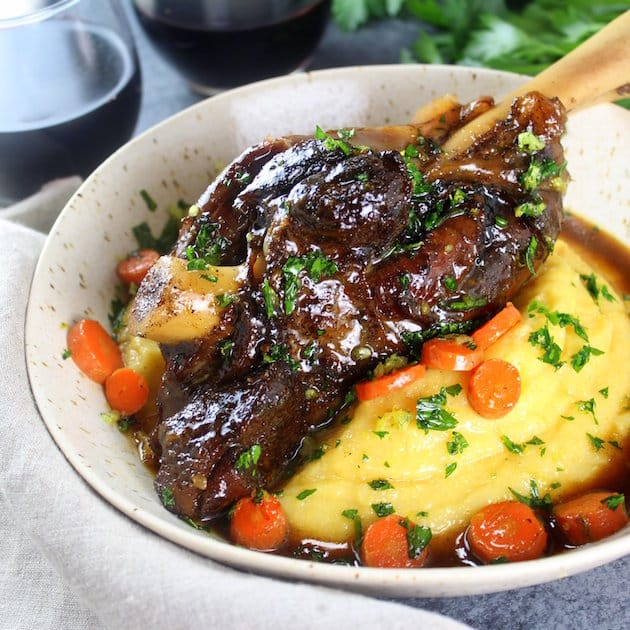 Here's how easy it is…
How to Cook Lamb Shanks
First, you trim any excess fat from the shanks.  Then brown both sides in a hot Dutch oven over high heat.  The high sides make this pan ideal to prevent grease splatters.  Set the shanks aside and pour off any fat in the bottom of the pan.
Now smash some garlic, rough chop some onions, carrots, and celery and add them to the pan. Tie off a few bouquets of parsley, thyme, and sage and place them on top of the veggies.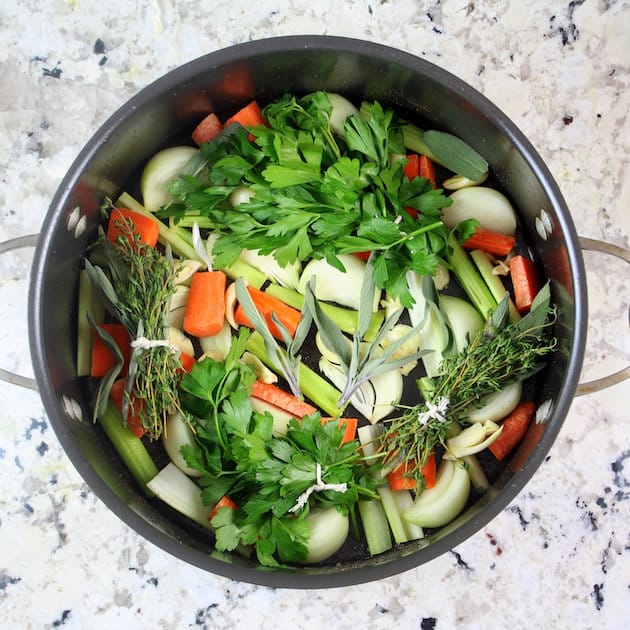 Add your seared lamb shanks and any liquid that has run out of them while sitting. Now add your wine, water (or chicken stock), salt and pepper.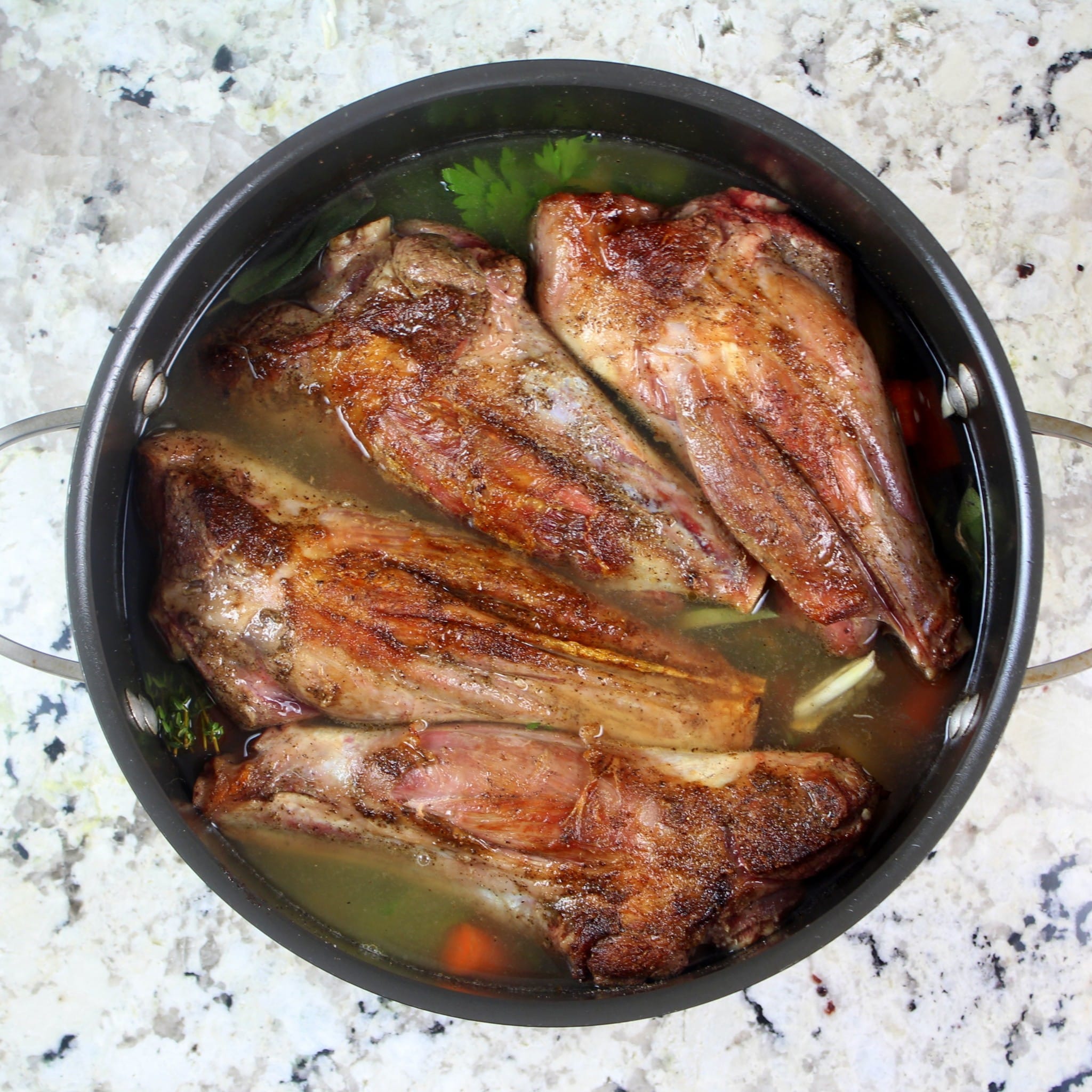 Cover and slow cook in a 300-degree oven for 4-5 hours, cooking uncovered the last hour.
See easy peasy.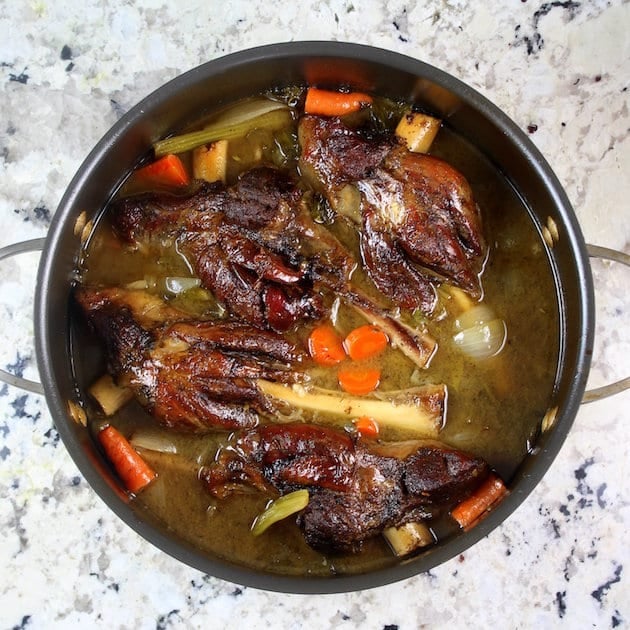 Now you have plenty of time to set the table, make a salad, or just pour yourself a glass of wine and prop your feet up.
Trust me you deserve it... one bite of this yummy meal and you and your dinner guest will agree, that these slow-cooked lamb shanks are the perfect meal for sharing and celebrating, whatever the occasion.🎉
I would love to connect with you! Leave a comment and follow me on Instagram, Twitter, Facebook, & Pinterest!
Yield: 6 servings
Slow Cooked Lamb Shanks With Polenta
This Slow Cooked Lamb Shanks Recipe is full of rich hearty flavor! They're braised low and slow for hours in white wine, herbs, and veggies.
Total Time
5 hours
10 minutes
Ingredients
For The Lamb Shanks:
2 tablespoons olive oil
4 lamb shanks
3 carrots, rough chopped
3 celery sticks, rough chopped
1 large onion, skin removed and cut into 6 wedges
8 garlic cloves, smashed
8-10 parsley stems
16 thyme sprigs
12-14 sage leaves
2 cups water
4 cups white wine
1 teaspoon salt & pepper
½ teaspoon of sugar
For The Gremolata:
zest from one lemon
2 tablespoons finely chopped parsley
1 clove garlic, minced
Instructions
Rinse herbs and tie them into one or two bunches using cooking twine.
Trim any excess fat from the shanks.
Preheat oven to 300 degrees F.
In a Dutch oven, add olive oil and warm over high heat until it starts to shimmer. Season the shanks with some of the salt and pepper and sear for about 2-3 minutes per side. Don't overcrowd the pan. You may need to do this in batches. Remove the shanks and place them in a bowl, then pour off any remaining fat in the bottom of the pan.
Keeping the Dutch oven off the heat, add the garlic, onions, carrots, celery, and herbs. Now add the lamb shanks along with any liquid that has drained from them while resting. Pour in wine, water, chicken stock, and add the rest of the salt, & pepper. Cover and cook for 4 ½ hours, uncovering for the last hour.
Meanwhile, make a gremolata by combining the lemon, chopped parsley, and minced garlic in a small bowl. Refrigerate until ready to serve.
Remove the shanks from the dutch oven and set aside. Strain the liquid, skim off any fat, then pour into a large saucepan. Bring the liquid to a boil and turn down to a simmer. Add the sugar and allow it to reduce down for about 20 minutes… the longer you reduce the thicker it will get. Taste to see if it needs more seasoning.
While the sauce is reducing, make your Parmesan polenta (recipe here).
Serve lamb shanks over Parmesan polenta, drizzle some of the reduction on each shank, then top with the gremolata.
Nutrition Information
Yield
6
Serving Size
1 shank
Amount Per Serving
Calories

365
Total Fat

9g
Saturated Fat

2g
Unsaturated Fat

0g
Cholesterol

86mg
Sodium

593mg
Carbohydrates

12g
Fiber

1g
Sugar

4g
Protein

28g
Looking for more amazing comfort food?