Thanks to our friends at al fresco all natural for sponsoring this Marsala Chicken Orzo Skillet! It's a creamy and delicious one-pan meal that's ready in less than 30 minutes.
With butter, mushrooms, chicken sausage, orzo pasta, sweet Marsala wine, and chicken stock – it's sure to become a family favorite you'll make again and again!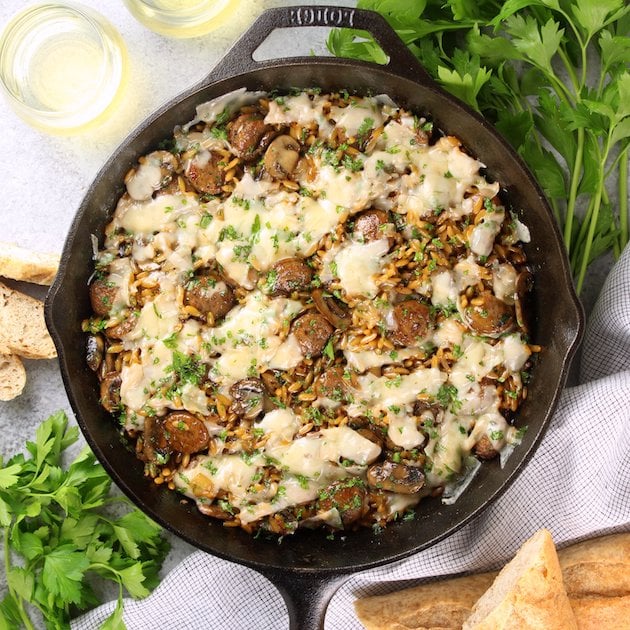 I love a big ole' pot of comfort food. Especially when it involves hearty fall flavors like this Chicken Marsala Orzo Skillet. Mmm, so good.
Did you know that Chicken Marsala was one of the top 10 most Googled recipes in 2016? Just a little food trivia for you to tuck away and pull out at your next dinner party. I'm all about making you look good.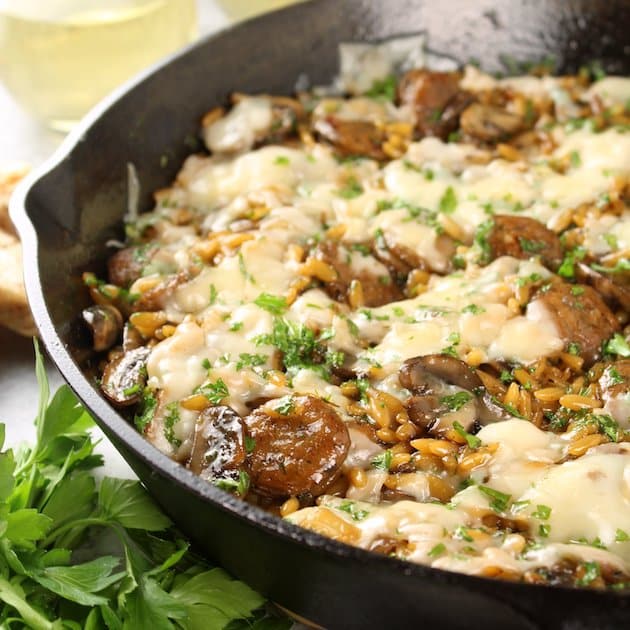 And speaking of making you look good, this yummy winner of a chicken dinner will do just that! With butter, mushrooms, chicken sausage, orzo pasta, and sweet Marsala wine cooked down with rich chicken stock.
And yes – I said chicken sausage. We've swapped out chicken sausage for the usual chicken breast. It's the perfect pro move to cut down on cook time for this recipe.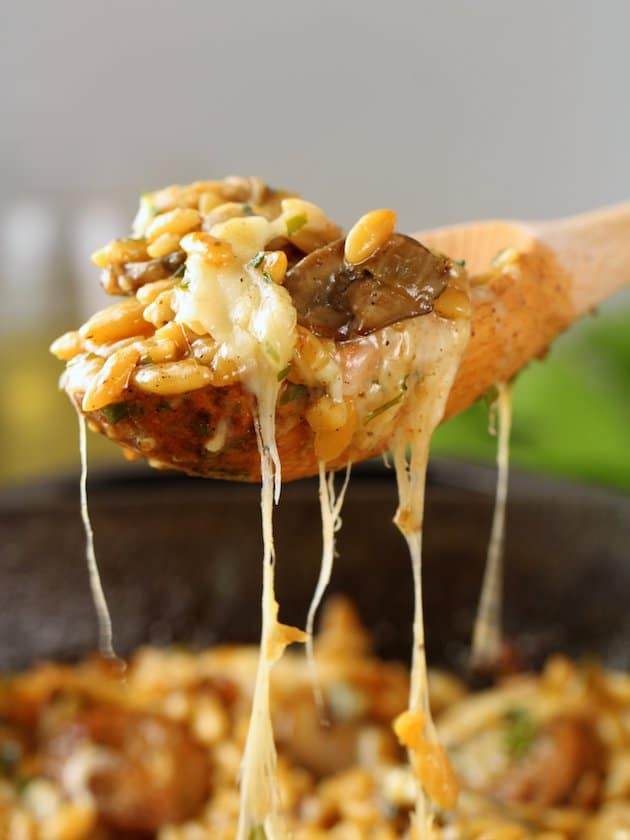 I know what you're thinking… where does she get these fabulous ideas?? I can only attribute it to divine inspiration and, well, al fresco all natural!
Thanks to their fully cooked Roasted Garlic Chicken Sausage with onions and herbs, this ever-popular meal just got even better. This Chicken Marsala Orzo Skillet is truly the trifecta of recipes: easy, delicious and skillet-to-tummy in less than 30 minutes!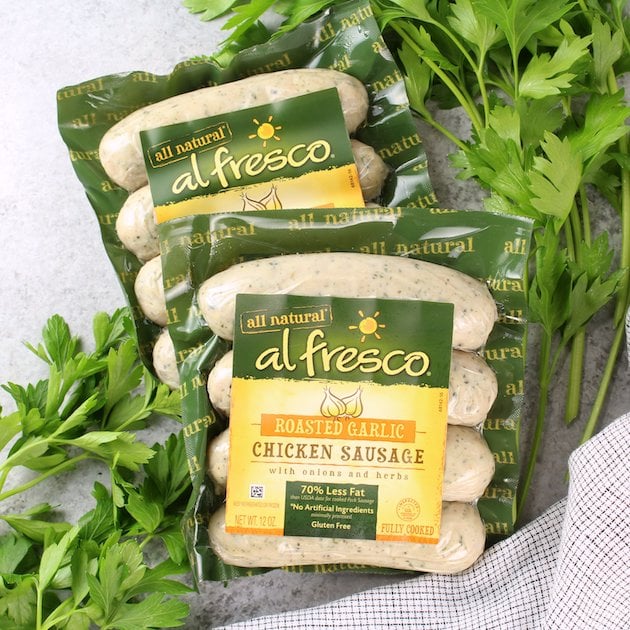 As you know I LOVE me some al fresco chicken sausage. It's gluten free, made with lean skinless chicken meat and they have the best variety of tasty flavors - like Buffalo Style with Blue Cheese, and Sweet & Smoky BBQ. Plus, it's fully cooked so it makes getting dinner on the table that much quicker.
I know, I'm selling past the close. You're so sold on this deliciousness - aren't you!? #HookLineandSinker
Well, you've got really good taste.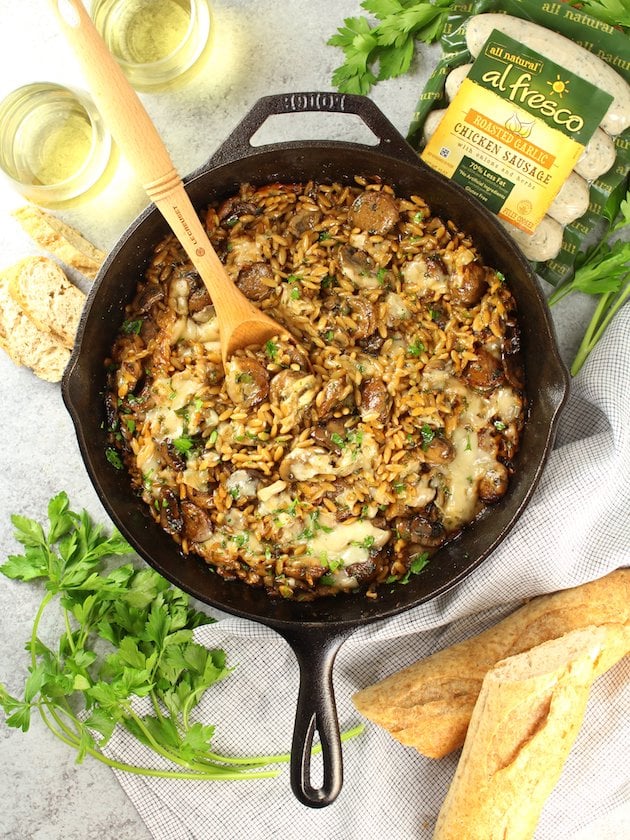 Less about how fabulous you are, and more about how to make this delicious 30-minute one-pan meal!
First, you sauté a large chopped yellow onion in olive oil. Then add in some sliced mushrooms, salt and pepper.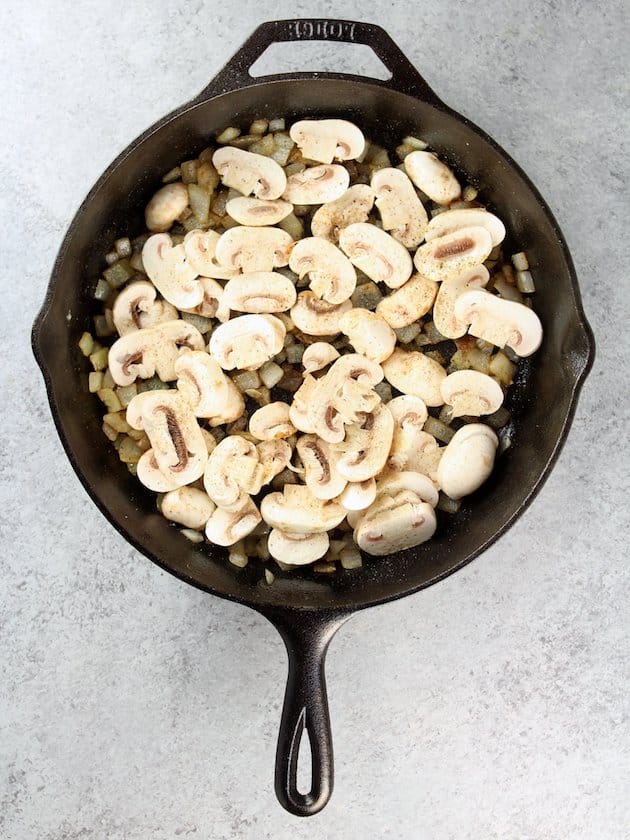 Allow the mushrooms to cook down, then stir in the sliced garlic chicken sausage.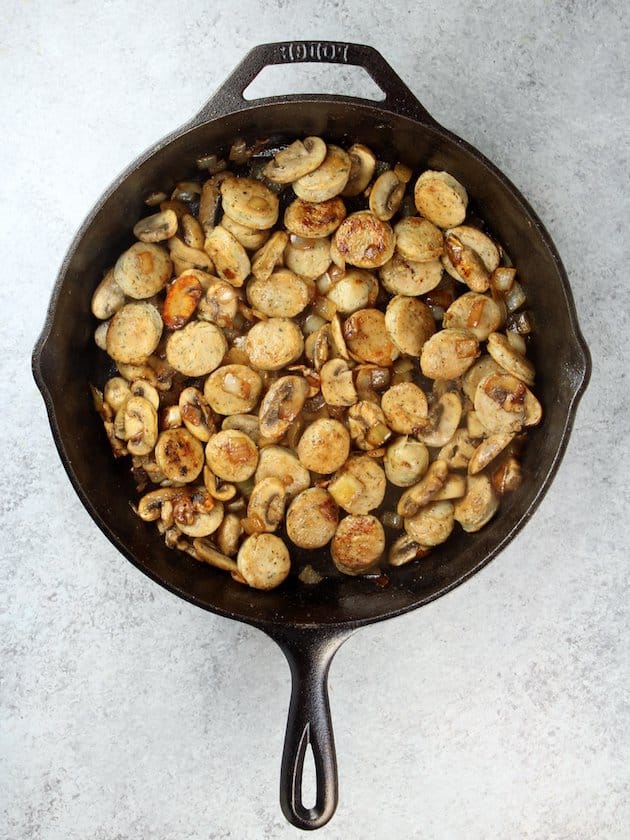 Now add the sweet Marsala wine and chicken stock and bring to a boil. Add in your orzo pasta, stir, cover and cook for about 10 minutes.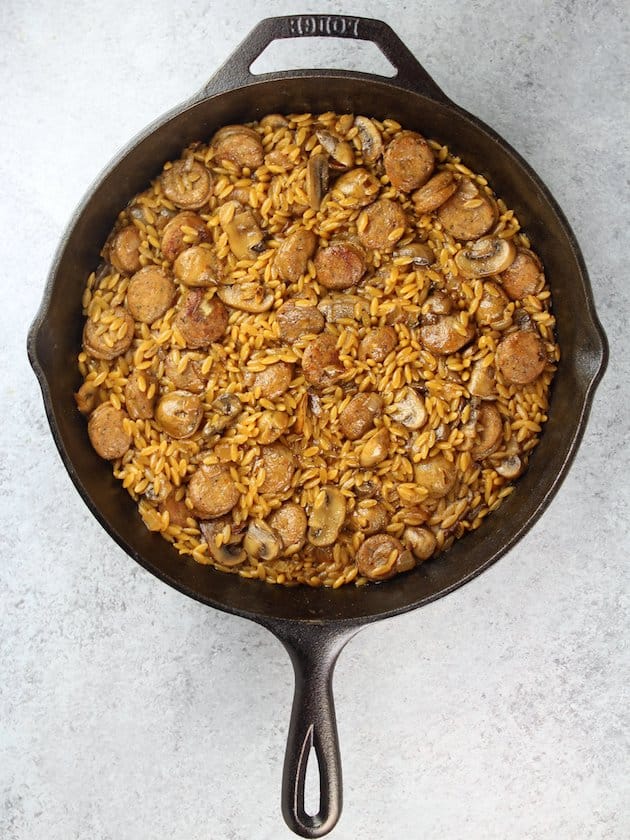 Finally, sprinkle in some chopped parsley and shaved Parmesan cheese and you're ready to eat!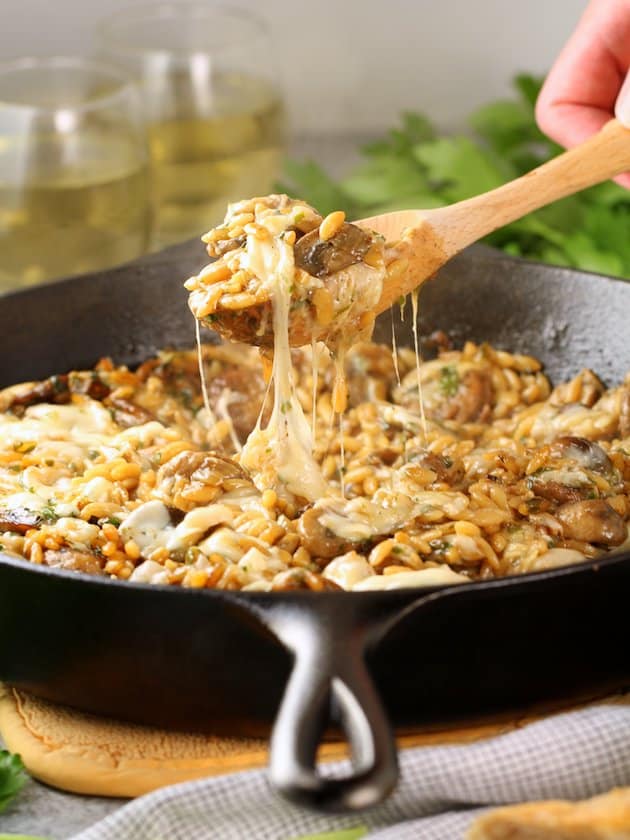 A few things about this Marsala Chicken Orzo Skillet:
Be sure to use "sweet" Marsala wine not dry Marsala wine. It will taste completely different if the wine is not sweet.
You can use other types of pasta if preferred. Just realize you may need to add more chicken stock during the cooking process.
You can skip the butter. The butter gives the dish its creaminess but it's not essential if you'd prefer to not use it.
I used shaved Parmesan for this recipe because I like how the thin pieces melt. You can actually find it packaged that way in the specialty cheese area in your grocery store. If you can't find it, you can always buy a wedge of Parmesan and use a vegetable peeler to shave your own. Or just use shredded Parmesan if you'd prefer.
I like using chicken stock rather than chicken broth because I believe it has more flavor. But you can use either one for this recipe.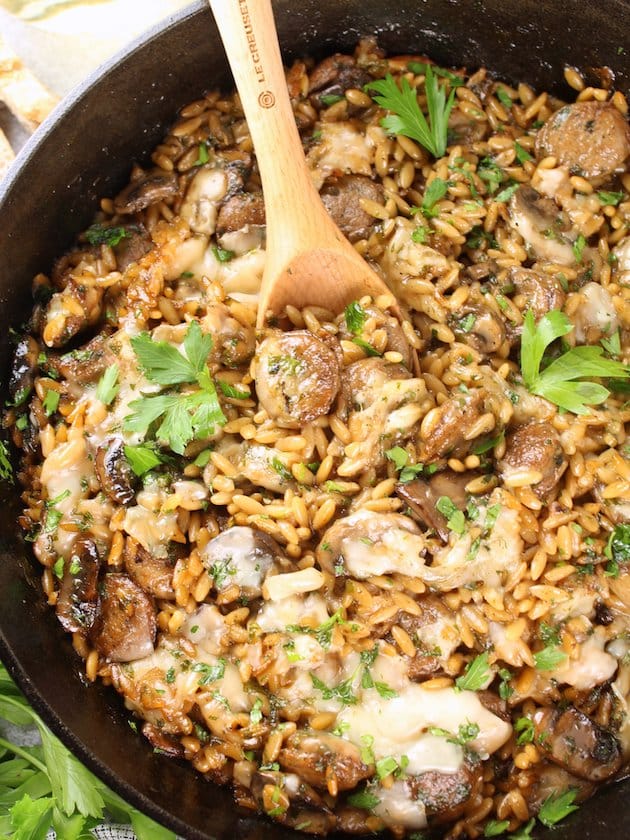 This hearty Marsala Chicken Orzo Skillet is such a quick and delicious one-pan meal. Tasty fall comfort food at its best!
I would love to connect with you! Leave a comment and follow me on Instagram, Twitter, Facebook, & Pinterest!
Yield: 6 servings
Marsala Chicken Orzo Skillet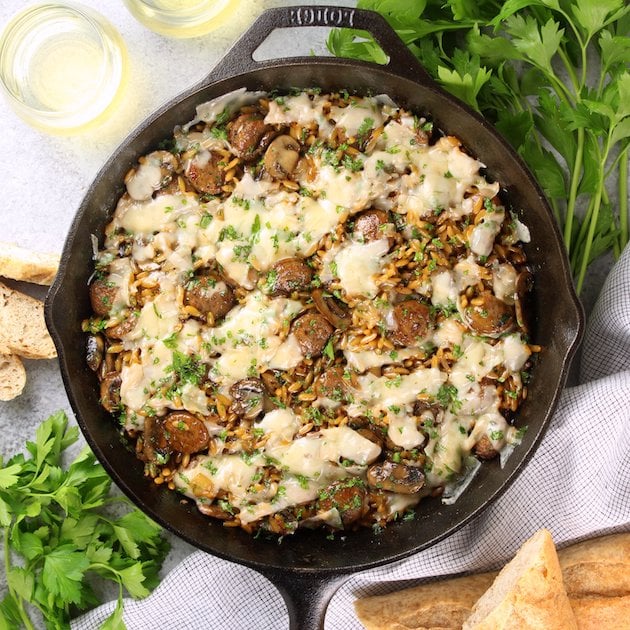 A creamy and delicious one-pan meal that's ready in less than 30 minutes.
Ingredients
1 tablespoon olive oil
1 large onion, diced
8 ounces button mushrooms (aka "white mushrooms")
12 ounces al fresco all natural Roasted Garlic chicken sausage, sliced
½ teaspoon salt
½ teaspoon pepper
½ cup sweet Marsala
2 cups chicken stock (more if pasta is sticking to the pan)
⅓ cup parsley rough chopped, plus more for garnish
8 ounces orzo pasta
2 tablespoons butter
4 ounces shaved Parmesan cheese (or shredded if you can't find shaved)
Instructions
Heat olive oil to medium-high in a large saucepan. Add onion and saute about 3-5 minutes, leaving it slightly firm.
Add mushrooms, salt, and pepper, and saute about 5 minutes, stirring occasionally so they don't burn
Add sliced chicken sausage, then saute about 1 minute, allowing it to sear slightly.
Add Marsala, chicken stock and bring to a boil.
Add orzo then cover and cook for 10-12 minutes then remove from heat. Stir a few times while pasta is cooking.
Stir in butter and chopped parsley, then sprinkle Parmesan evenly across the top of the skillet. Replace lid for 1-2 minutes allowing the cheese to melt slightly.
Garnish with additional parsley and serve.
Nutrition Information
Yield
6
Serving Size
8-10 ounces
Amount Per Serving
Calories

459
Total Fat

20g
Saturated Fat

7g
Unsaturated Fat

0g
Cholesterol

65mg
Sodium

1232mg
Carbohydrates

40g
Fiber

2g
Sugar

6g
Protein

23g
Looking for more easy weeknight chicken dinners?
Andouille Chicken Sausage Kabobs