Baked Lasagna Stuffed Peppers – full of traditional hearty Italian flavors like ground beef sautéed with marinara, ricotta, parmesan and mozzarella cheese… all packed in sweet bell peppers. A delicious and easy way to make low-carb, gluten-free lasagna the whole family will love!
Are you enjoying this unseasonably warm fall weather? I'm kind of torn: I love warm weather and summer is my favorite, but those crisp fall days are pretty amazing too.
It's kind of hard to get into the mood of eating chili and pumpkin pancakes when it's 80 degrees outside. Or in my case 100 degrees with 100 percent humidity. Did I mention we moved to Florida??? Say whaaa!?? Not kidding my friend.
Forgive me for not updating you sooner but life has been a little crazy for me and B!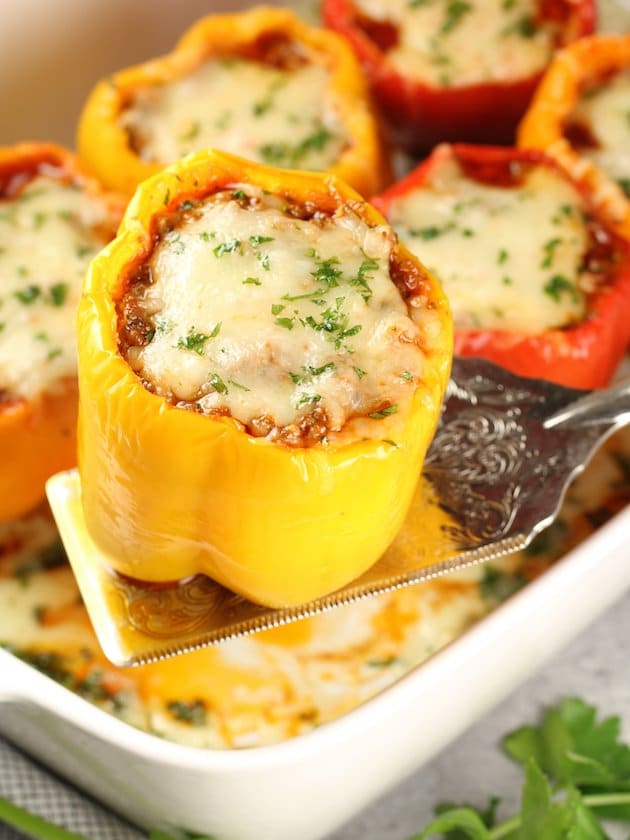 For multiple reasons we decided to pack up and head south to the Orlando area back in late July. As much as we love Boston our desire has always been to move back to the southeast. So the opportunity presented itself and here we are in the land of sunshine, alligators and palm trees. And a huge bonus is that the B man's parents live here as well! #familytime #familymatters
So 100 degrees and 100% humidity is my situation right now. We're down here basking in the sunshine, grillin' and chillin' with Sriracha Pork Chops and Caprese Chicken. But I must admit I'm missing some good ole' fall comfort food and the weather that goes with it. Sooo today's recipe is a nod in that direction… Baked Lasagna Stuffed Peppers!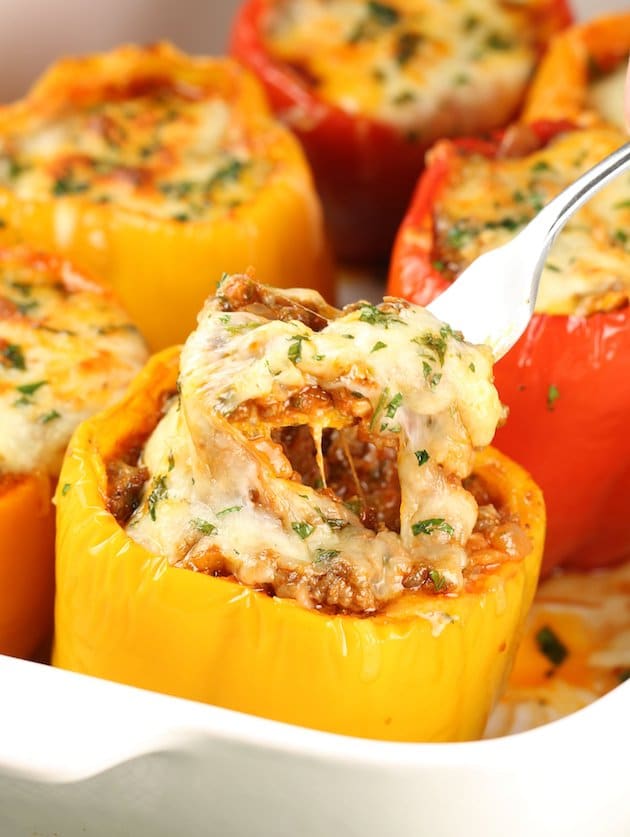 This delicious recipe has all the yummy flavors of the traditional dish we know and love. With the addition of some healthy tricolored peppers, sans noodles. A tasty and complete meal all packaged in each bright and beautiful pepper.
And if you follow my directions closely you should be able to have dinner on the table in about 45 minutes, start to finish.
Now I've got your attention - right!?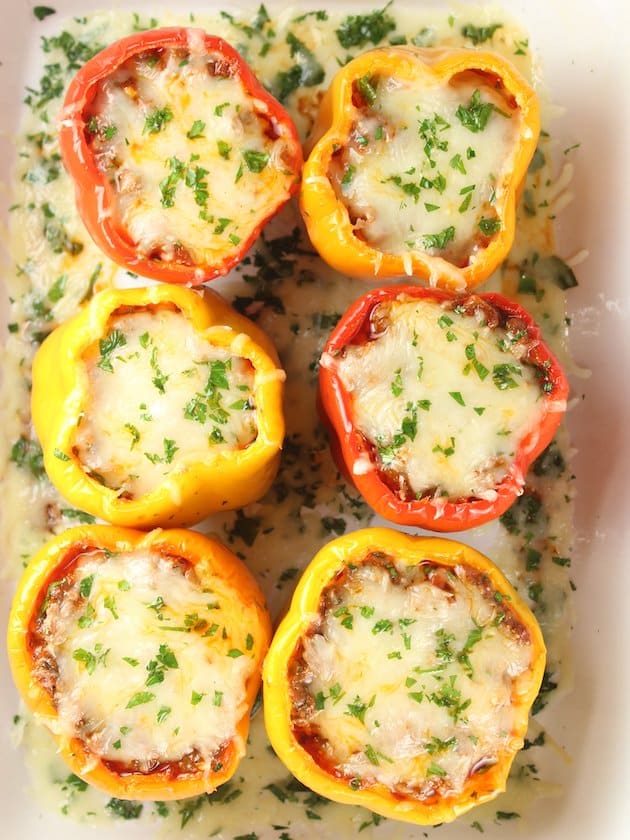 I start by cutting the top off each pepper.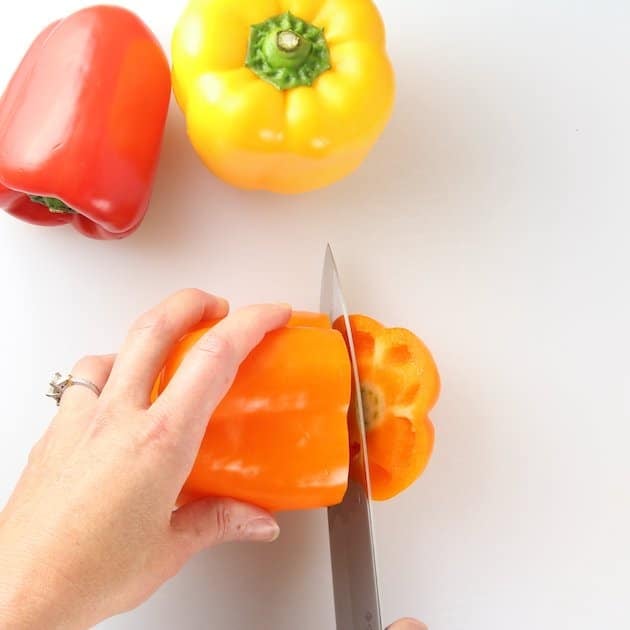 Then I cut out the core, seeds and membranes.
Next, I slice off just the very bottom of the pepper to create a flat area so they don't tip over. (Careful! Don't cut too much off or the sauce will leak.)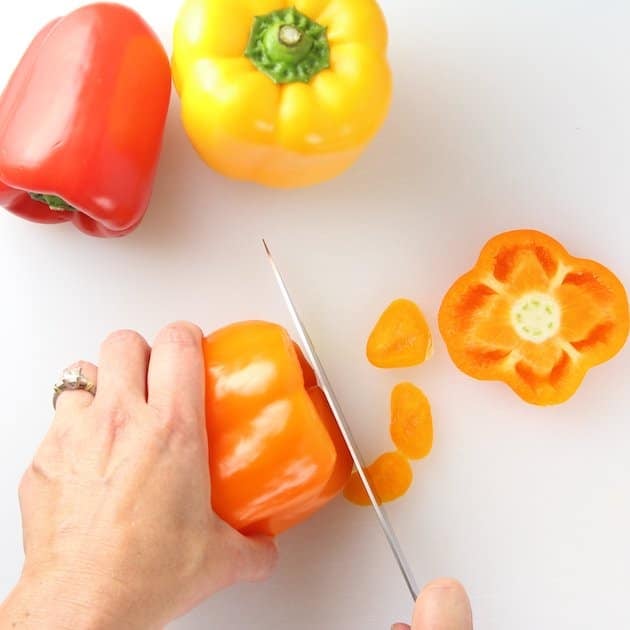 Then, into a 400 degree oven for 15 minutes.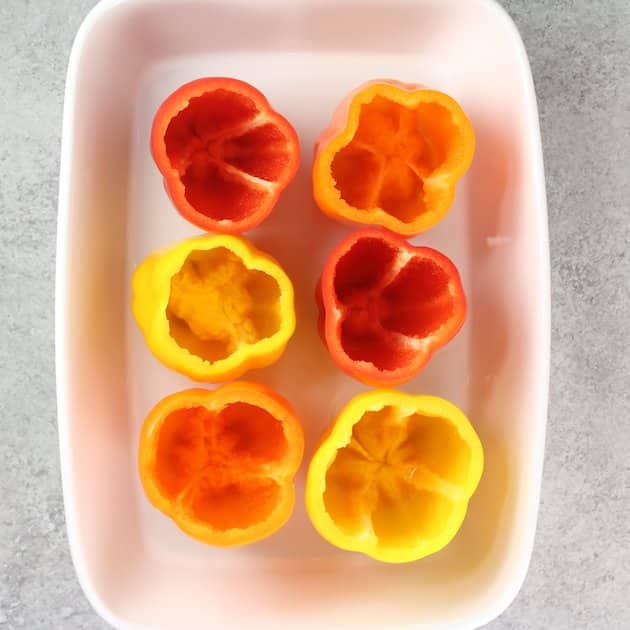 While they're cooking I sauté some onions and garlic…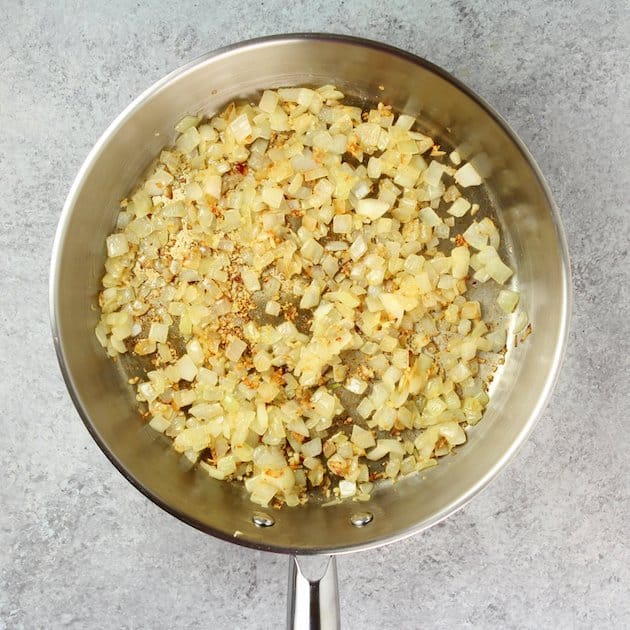 … then add the ground beef, salt, pepper, red pepper flakes (optional), parsley, basil, and cook until the meat is no longer pink. Next, I stir in some marinara sauce, cook for a few minutes, and set aside.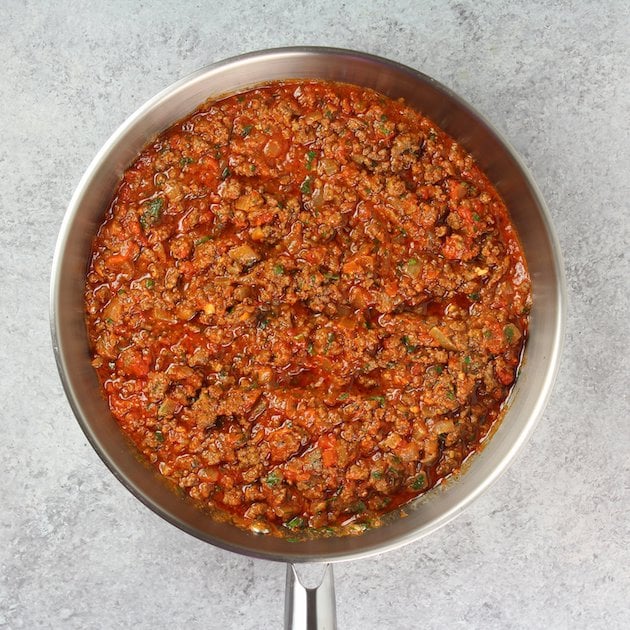 Then it's onto the ricotta layer. I mix together ricotta cheese, nutmeg, parsley and Parmesan cheese.
Now it's time to assemble. I layer 2-3 tablespoons of the meat mixture into the bottom of each pepper.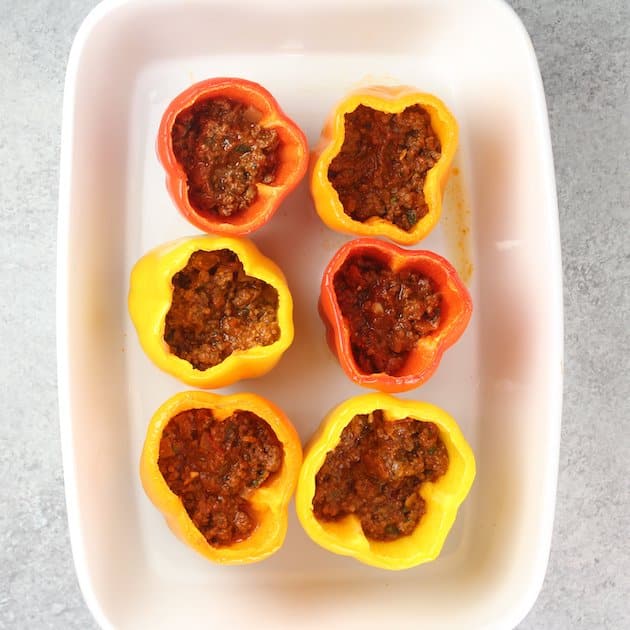 Then add the ricotta mixture and more meat sauce. Into a 350 degrees oven they go (covered with tin foil) for 20 minutes.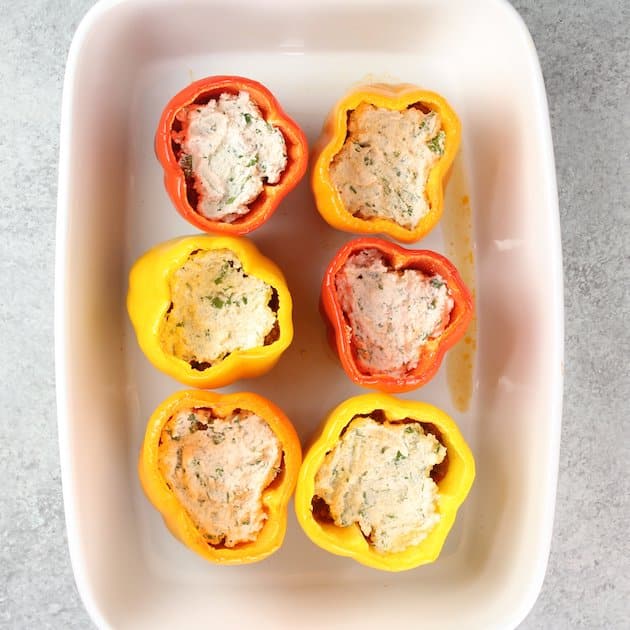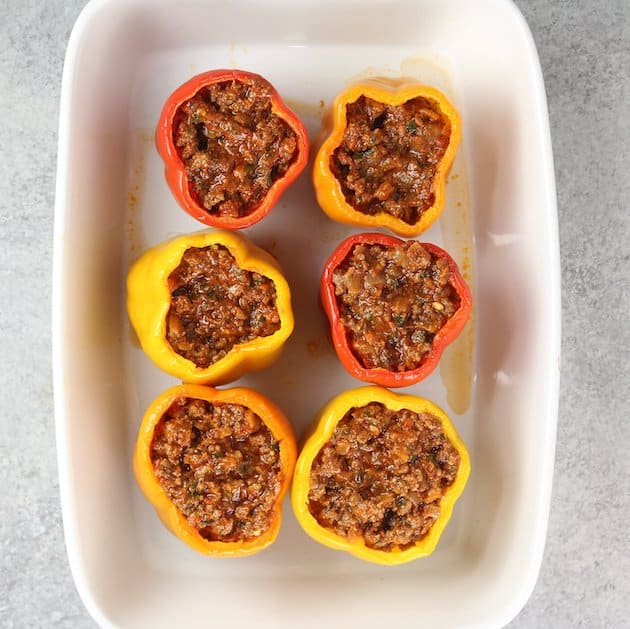 Finally, each pepper is topped with shredded mozzarella cheese and baked uncovered for 5 minutes or until the cheese melts. I sprinkle on a little more parsley and it's time to eat.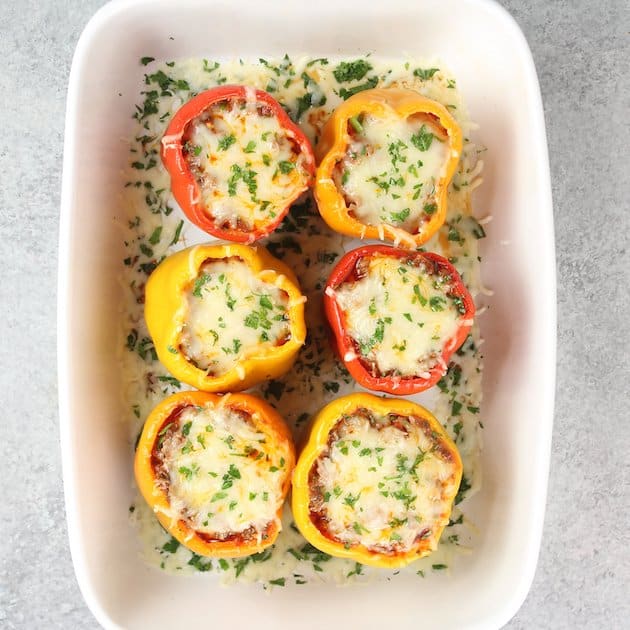 We love these hearty lasagna stuffed packages of yumminess. They're a great way to enjoy this Italian classic favorite with more healthy veggies, minus carbs and totally gluten free.
They're a tasty all-in-one meal the whole family will enjoy!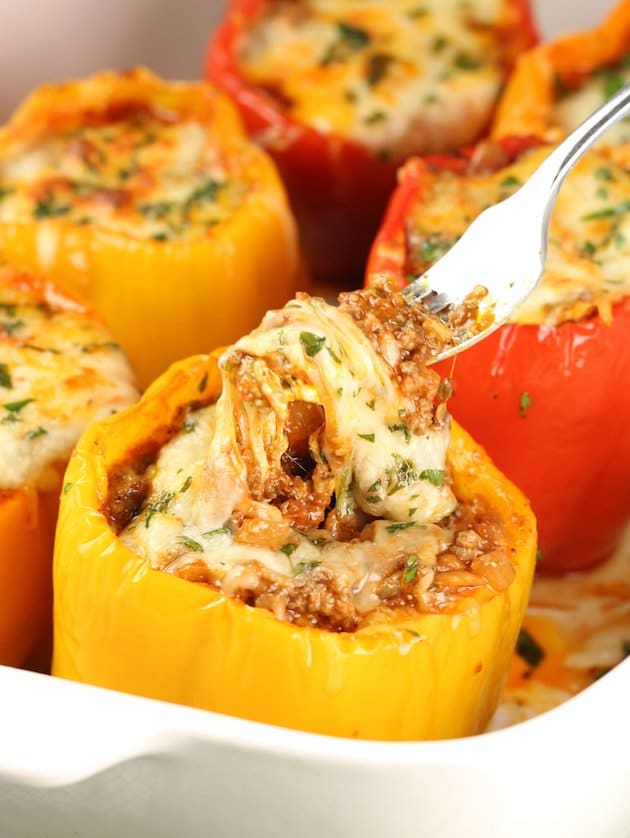 A few things about these Lasagna Stuffed Peppers:
I used jarred marinara for this recipe. I actually read the nutritional label to decipher which sauce had the least amount of sugar to keep them as low-carb as possible.
This is a freezer friendly meal. You can make a double batch and freeze some of them to have on hand later for a quick weeknight meal.
You can use green peppers for this recipe, but I prefer the sweetness of the red, yellow and orange ones.
Peppers can be a bit pricey so I always purchase mine from Costco. They come in 6-pack bags, which is perfect for this recipe. I'm sure BJ's and Sam's carry them as well.
The peppers are pre-cooked before the meat and cheese are added. This cuts down on the overall cook time of this recipe. We're all about getting dinner on the table as quick as possible.
I would love to connect with you! Leave a comment and follow me on Instagram, Twitter, Facebook, & Pinterest!
Yield: 6 servings
Baked Lasagna Stuffed Peppers
Baked Lasagna Stuffed Peppers - full of traditional hearty Italian flavors like ground beef sautéed with marinara, ricotta, parmesan and mozzarella cheese… all packed in sweet bell peppers
Ingredients
6 tricolored bell peppers (red, yellow, and orange)
1 small onion, chopped
3 garlic cloves, minced
2 tablespoons olive oil
1 pound lean ground beef
⅓ rounded cup chopped parsley
1 teaspoon oregano
2 tablespoons chopped fresh basil
½ teaspoon salt
½ teaspoon pepper
¼ teaspoon crushed red pepper flakes (optional)
1½ cups marinara sauce
1 cup ricotta cheese
¼ teaspoon nutmeg
8 ounces shredded mozzarella cheese
¼ cup Parmesan cheese, grated
Instructions
Preheat oven to 400 degrees.
Wash peppers and dry. Cut off the tops and remove seeds/core, then carefully slice off just the very bottom of each pepper to create a flat surface. Don't cut off too much or the sauce will leak.
Spray a 9X13 cooking dish with cooking spray then place the peppers upright in the dish.
Cook the peppers, whole, for approximately 15 minutes. (This will result in al dente doneness. If you prefer your peppers to have a softer texture, cook 5-10 minutes longer.)
While the peppers are cooking in the oven, bring olive oil to medium heat in a large saucepan. Saute chopped onions and olive oil for 3-5 minutes, then add garlic, and cook for another minute.
Add ground beef, salt, and pepper, red pepper flakes (optional), then saute until cooked, about 5 more minutes. Add oregano, basil, 2 tablespoons of the parsley, and marinara sauce. Cook for another 5 minutes.
In a small bowl combine ricotta, parmesan, nutmeg, and 3 tablespoons of the parsley.
As soon as the peppers have cooked for 15 minutes, remove them from the oven and reduce oven temp to 375 degrees.
Layer 2-3 tablespoons of the meat mixture into each pepper. Add the ricotta layer next, dividing it equally among all 6 peppers. Then add another layer of meat sauce.
Cover the baking dish with tin foil and bake at 375 for 20 minutes. Remove foil and top each pepper with mozzarella. Bake uncovered 5-10 more minutes, until mozzarella is melted. Garnish with remaining chopped parsley and serve.
Nutrition Information
Yield
6
Serving Size
1 stuffed pepper
Amount Per Serving
Calories

410
Total Fat

23g
Saturated Fat

11g
Unsaturated Fat

0g
Cholesterol

101mg
Sodium

905mg
Carbohydrates

15g
Fiber

3g
Sugar

8g
Protein

33g
PS: If you're looking for even more veggies to pair with this meal, try our amazing Parmesan Broccoli!
Looking for more easy weeknight dinners?