These Cheesy Kale Mashed Potatoes (aka Irish Colcannon Potatoes) are creamy, cheesy, hearty and filling. This recipe combines rich and creamy mashed potatoes with kale, green onions, garlic and cheddar cheese. A delicious side dish with comforting and rich flavors!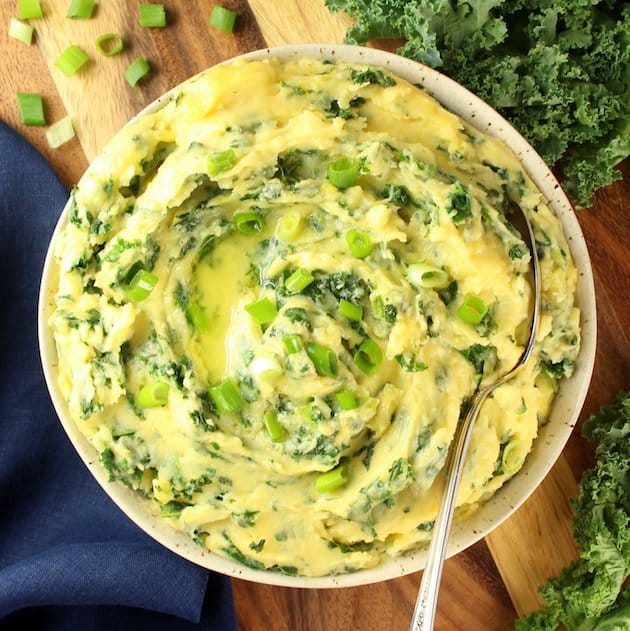 "Mashed Potatoes, Mashed Potatoes," … not sure why I've got the Hot Potato song from the Wiggles playing in my head right now. It probably has something to do with being around little people who used to watch the show on repeat. Oh, what we do for those little precious cherubs in our lives.
Friends, I've got a news flash… these aren't your mom's mashed potatoes.
And some of you have just clicked to another post. It's ok – you'll be back. But a big THANKS to the rest of you who have decided to stay around for today's D-Licious culinary adventure.
These Cheesy Kale Mashed Potatoes are so worthy of your time and calories!!!
This dish is actually a spin on an Irish favorite called Colcannon. A mashed potato dish with kale (or cabbage) butter, salt, pepper. It can also include other ingredients like scallions, leeks, onions and chives. It was eaten year round as a economical staple food but now it's consumed more in the Fall/Winter when kale comes into season.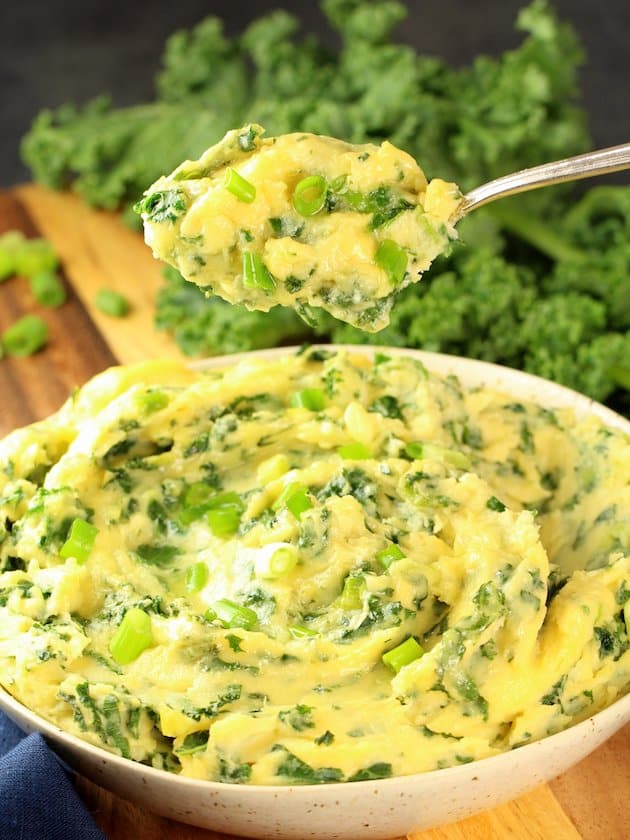 In a word these cheesy mashers are scrumptious. It's like eating your veggies and your carbs all in one… plus there's even a little protein from that ooey gooey cheddar cheese! Can I get a Woot Woot!??
So, I love carbs. Healthy ones, not so healthy ones…. all the carbs! I want to eat them all the time but I can't because then my jeans won't fit and I can't mentally handle going up one more size. So I refrain. Sometimes.
I'm always looking for ways to enjoy pizza, wraps, desserts and still eat a balanced diet. And I do believe it's possible. Well, as long as it's all in moderation – right?
Sharpen your pencils my friends, cause Health and Nutrition 101 is getting ready to start.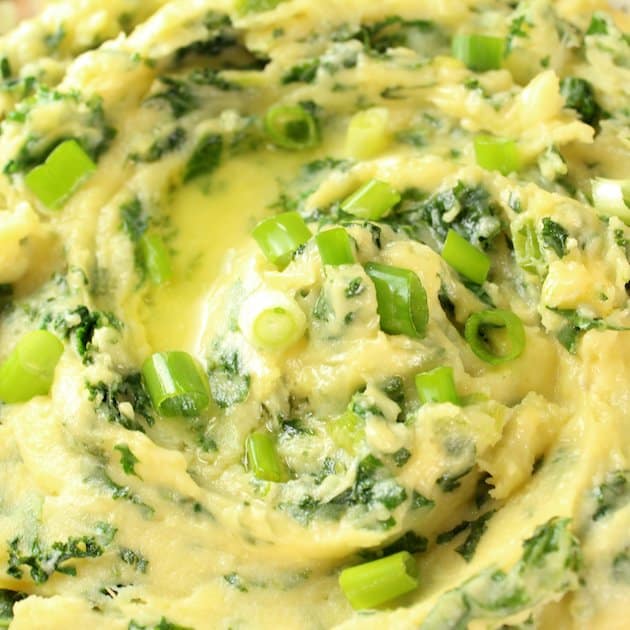 Carbohydrates are not the enemy. "They are the main source of calories in a healthy diet and are the primary fuel for the brain and muscles. Typically, about three-fourths of daily calories should come from carbohydrates. But it's also important to choose the best carbohydrate sources."
Yes, most of us know that there are both complex carbohydrates and simple carbohydrates.
They are exactly what their names suggest… simple and complex. Simple carbs are made of just one or two sugar molecules. They are the quickest source of energy, and they are digested very fast. They are found in processed and refined sugars such as candy, table sugar, syrups, and soft drinks.
Complex carbs are a little more complicated. They consist of three or more sugar molecules and they are rich in fiber. They are found naturally in foods such as fruits, veggies, dairy products, and whole grains.
And this probably goes without saying, but the majority of our carbohydrate intake should come from complex carbohydrates and naturally occurring sugars, rather than processed or refined sugars.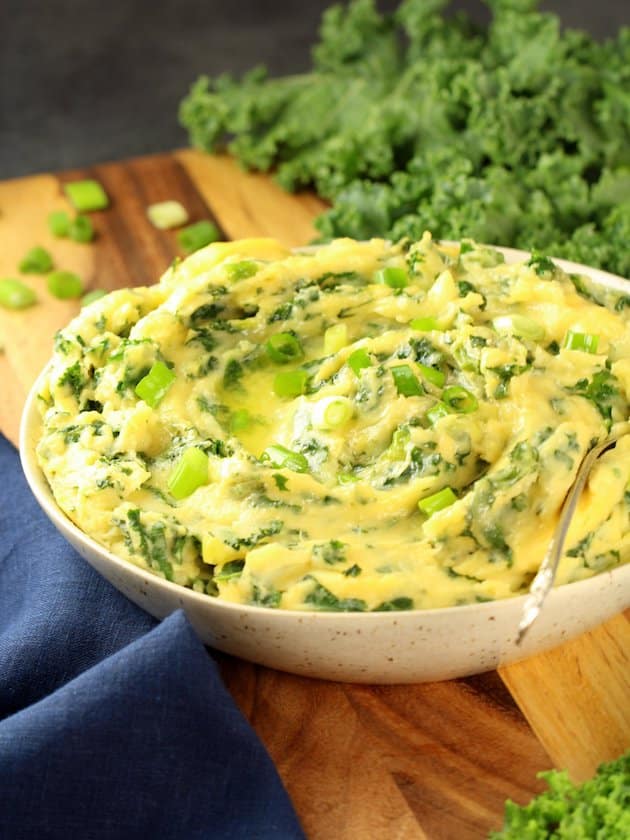 Ok let's do a little exercise. (PS: Class participation is required to pass this course).
I'm gonna give you an ingredient and you decide if it's a simple carb or a complex carb.
Ready – Go:
Snickers bar:
Beans:
Seven Grain Bread:
Saltine Crackers:
Cotton Candy:
Strawberries:
Rolled Oats:
FYI – in this class you have to grade your own paper and remember we are on the honor system here people.
Here's the answer key:
Snickers bar: Simple
Beans: Complex
Seven Grain Bread: Complex
Saltine Crackers: Simple
Cotton Candy: Simple
Strawberries: Complex
Rolled Oats: Complex
How did you do??? I'm sure you got an A++. The extra plus is because just for reading this informative and slightly long blog post. Awww, you're the best!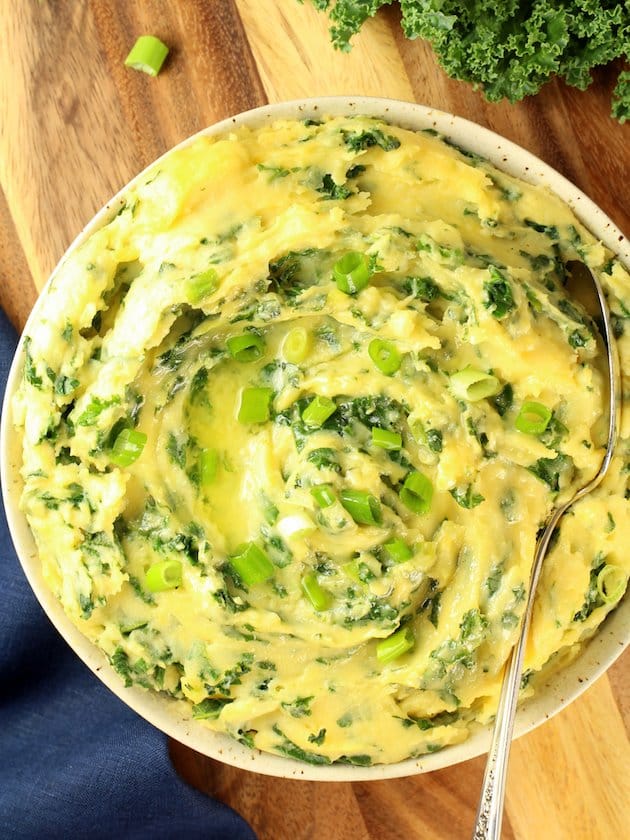 So, let's put today's recipe under the microscope - or just a magnifying glass. Where do these mashers with kale and cheddar cheese fall?? (This one is extra credit if you're still participating.)
Today's recipe is all kinds of complex but….
Even though potatoes contain a decent amount of starch, they are still considered complex because they're nutrient-rich and a source of dietary fiber. BUT because of their high starch content they score high on the glycemic index, which means they cause spikes in blood sugar similar to, say, eating a piece of white wheat flour bread.
And that takes us to the final part to today's lesson.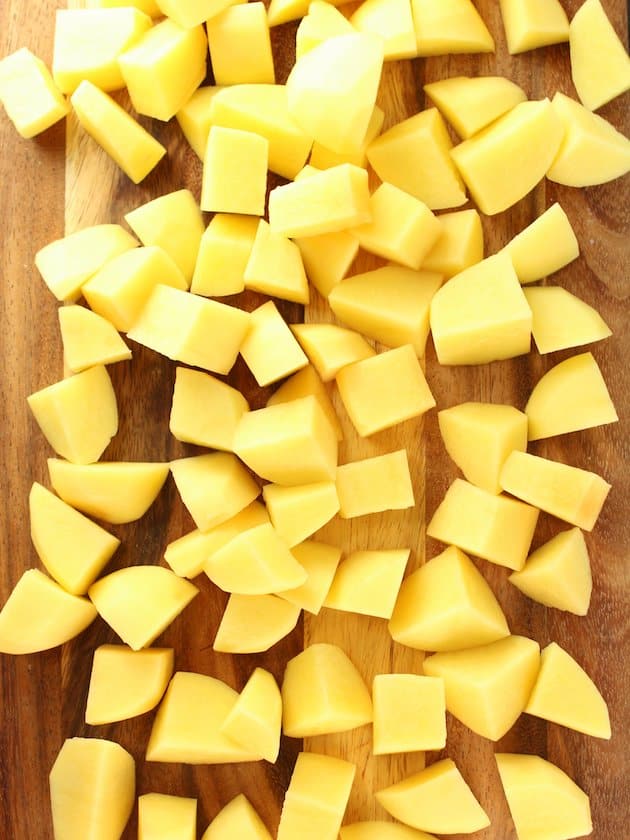 What Is The Glycemic Index?
"It ranks carbohydrates on a scale from 0 to 100 based on how quickly and how much they raise blood sugar levels after eating. Foods with a high glycemic index, like white bread, are rapidly digested and cause substantial fluctuations in blood sugar. Foods with a low glycemic index, like whole oats, are digested more slowly, prompting a more gradual rise in blood sugar."
We're not getting too deep into this, so just know that consuming a lot of high-glycemic index foods can lead to an increased risk for health conditions like diabetes, heart disease, and weight challenges.
Many factors can affect a food's glycemic index…
Processing: Grains that have been milled and refined (which removes the bran and the germ) have a higher glycemic index than minimally processed whole grains.
Physical form: Finely ground grain is more rapidly digested than coarsely ground grain. This is why eating whole grains - in their "whole" form - like brown rice or oats can be healthier than eating highly processed whole grain bread.
Fiber content: High-fiber foods don't contain as much digestible carbohydrate, so it slows the rate of digestion and causes a more gradual and lower rise in blood sugar.
Ripeness: Ripe fruits and vegetables tend to have a higher glycemic index than un-ripened fruit.
Fat content and acid content: Meals with fat or acid are converted more slowly into sugar.
So back to today's recipe and how all of this applies: we talked about where potatoes fall in all of this but what about the other main component in our recipe – KALE?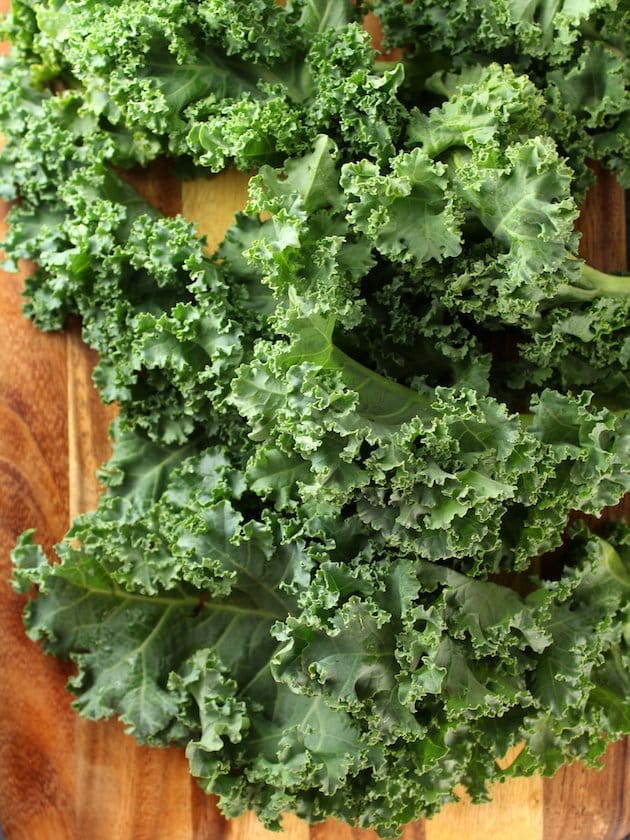 Here's why kale is so healthy! It's:
Low in calories.
High in fiber.
Fat-free.
High in iron, vitamin K, A, C, Calcium
And filled with powerful antioxidants.
AND studies show that the adverse metabolic effects of high-carbohydrate diets are neutralized when fiber and carbohydrate are increased simultaneously in the diet for diabetic patients. Whaaaa?? No kidding.
What does that mean for you and me and today's recipe??
Well, potatoes (although a complex carb) are high in starch and our bodies will turn this into glucose (AKA sugar) in a moderate amount of time. But if we add a bunch of fiber simultaneously, it "neutralizes" the spike in blood sugar.
I could go on and on about all of this, but that is covered in Health and Nutrition 201, and none of us signed up for that this semester.
So plain and simple: Cheesy Kale Potatoes are full of healthfulness and are a great idea if you want to eat a fabulously nutritional veggie and a ridiculously delicious side dish all at once.
Want to know more about carbs and their effects on the body? Check out these great sources referenced in this post!
I would love to connect with you! Leave a comment and follow me on Instagram, Twitter, Facebook, & Pinterest!
Yield: 10 servings
Cheesy Kale Mashed Potatoes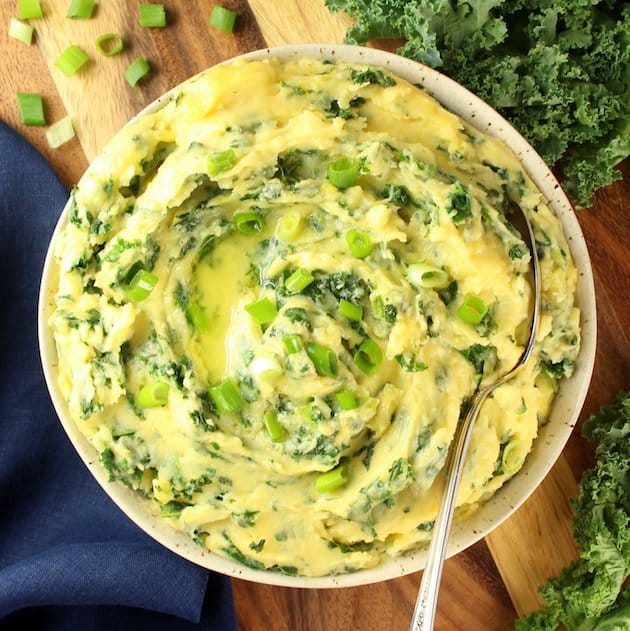 Cheesy Kale Mashed Potatoes - a fabulously nutritional veggie and a ridiculously delicious side dish all at once.
Ingredients
2 tablespoons salt
2½ pounds Yukon gold potatoes peeled and cut into 1½ to 2-inch cubes
⅔ cup warmed milk or half and half
1 cup cheddar cheese, shredded
4 green onions thinly sliced (reserve 1 tablespoon for garnish)
4 cloves garlic, minced
4 cups kale, cooked
1 tablespoon olive oil
2 tablespoons butter melted, plus more for serving
Instructions
Add salt and potatoes to a pot of cold water, then bring to a boil. Reduce to a simmer then cook for 18 minutes, or until fork-tender.
Meanwhile, bring olive oil to medium heat in a large saucepan. Sauté kale for 3 minutes, then add garlic and green onions and cook for one more minute.
When potatoes are cooked, drain them then rice them into the empty pot. Add warm milk, melted butter and cheddar cheese then stir. Fold in the cooked kale & veggies.
To serve, top with remaining chopped onions and more melted butter if desired.
Nutrition Information
Yield
10
Serving Size
6 ounces
Amount Per Serving
Calories

144
Total Fat

5g
Saturated Fat

2g
Unsaturated Fat

0g
Cholesterol

10mg
Sodium

1513mg
Carbohydrates

18g
Fiber

2g
Sugar

1g
Protein

7g
Looking for more yummy potato recipes??
Smoky Salt & Vinegar Roasted Potatoes